Iced Sugar Cookie Hearts are bite-sized love. Share your love and caring with these sweet, crunchy treats.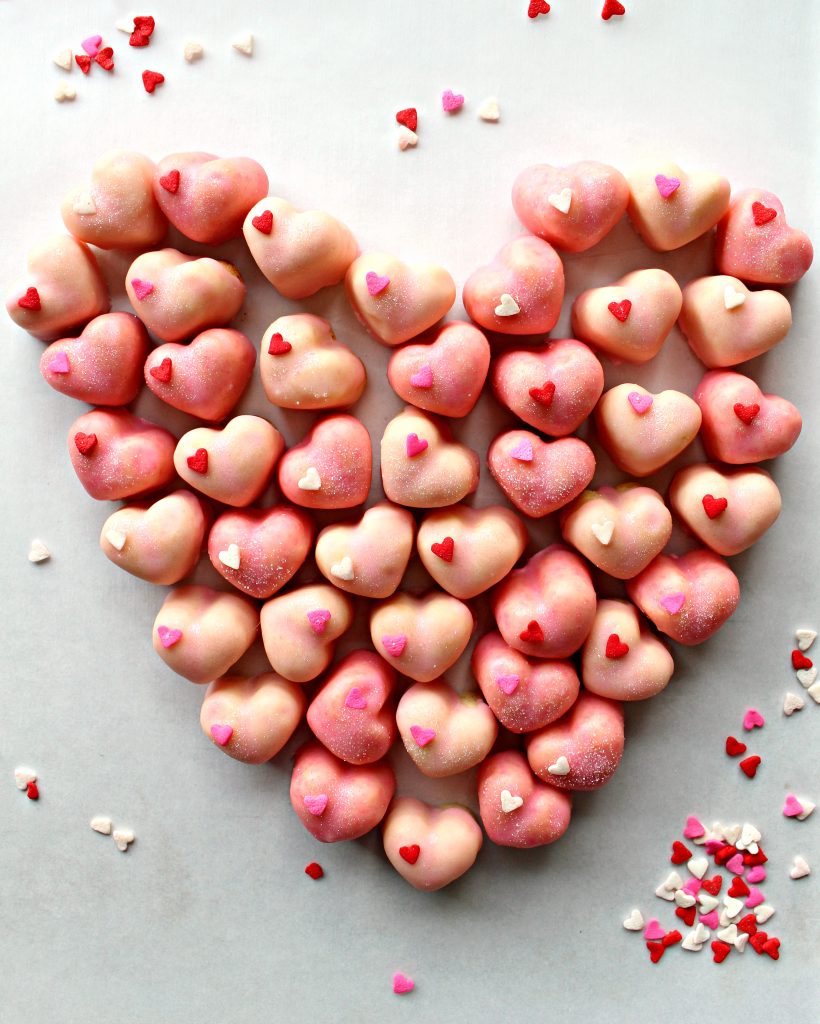 (The Monday Box participates in affiliate marketing programs. As an Amazon Associate I earn from qualifying purchases. Additional affiliate programs may be linked when applicable. If you choose to purchase a product after following a link on this page, I will receive a small commission, at no cost to you, which helps make The Monday Box possible.)
By the time you read this post, Valentine's Day will be over, but I am still posting heart shaped goodies. Why? Because, The Monday Box is all about sharing home baked love all the time. Hallmark (Target, Walgreens, etc.) says that February 14 is a good time to stop and say, "I love you!" Go for it! I believe that all year is a good time to tell those we love just how much they mean to us. You should say it frequently with words and actions. You can sweeten the love with cookies. Iced Sugar Cookie Hearts can be bite-sized love messengers.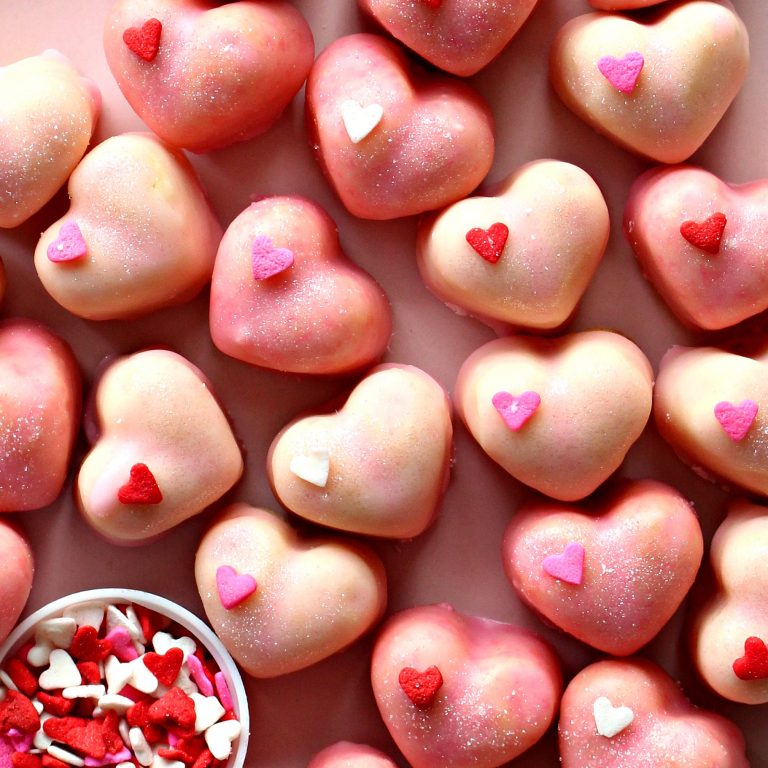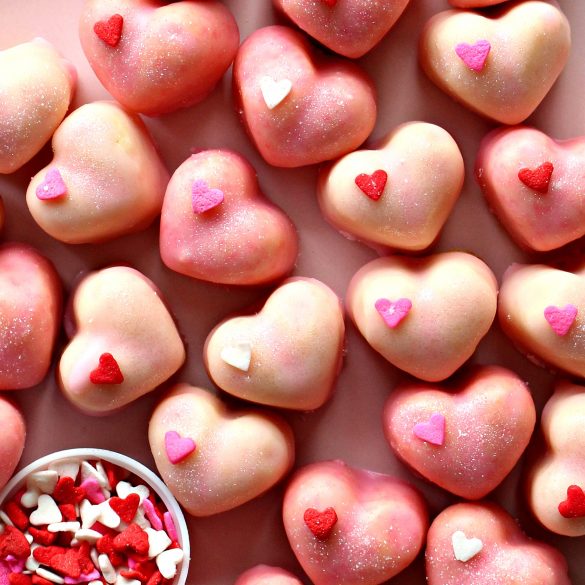 This is a very versatile cookie dough. It is super easy to work with and is full of lovely vanilla flavor. Though I used tiny 1 teaspoon portions for my heart mold, this dough could be used many ways.
To use this dough in any shape of silicone mold: Fill each mold cavity ½ -¾ full. The dough does rise a bit while baking. Adust the timing for the size and thickness of the mold.
To use this dough for scooped cookies covered in sugar or sprinkles: Scoop portions of dough. Roll each portion into a ball. Roll each dough ball in decorating sugar or sprinkles. Bake on a parchment paper lined baking sheet.
To roll out this dough to use with cookie cutters: Chill dough after mixing for at least 1 hour. Roll out chilled dough between sheets of parchment paper to about ¼". Use cookie cutters. Bake on a parchment paper lined baking sheet.
To freeze the dough: Cover completely in plastic wrap and freeze until needed, for up to 1 month.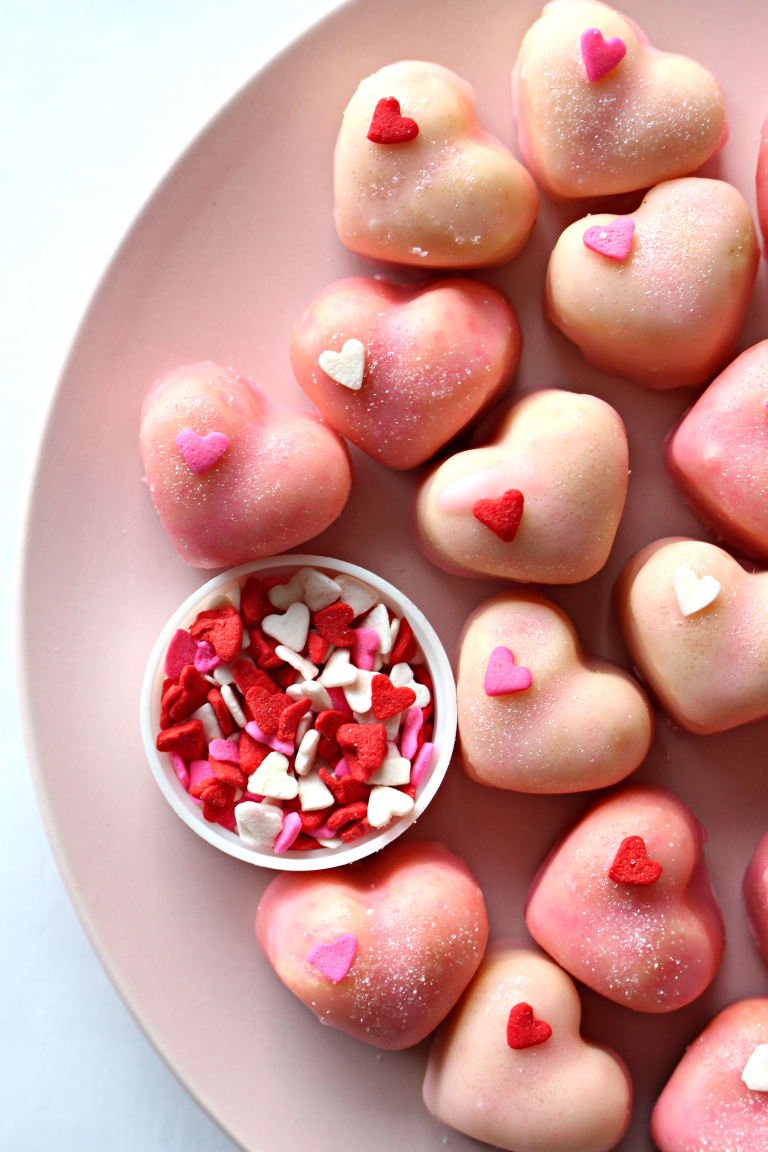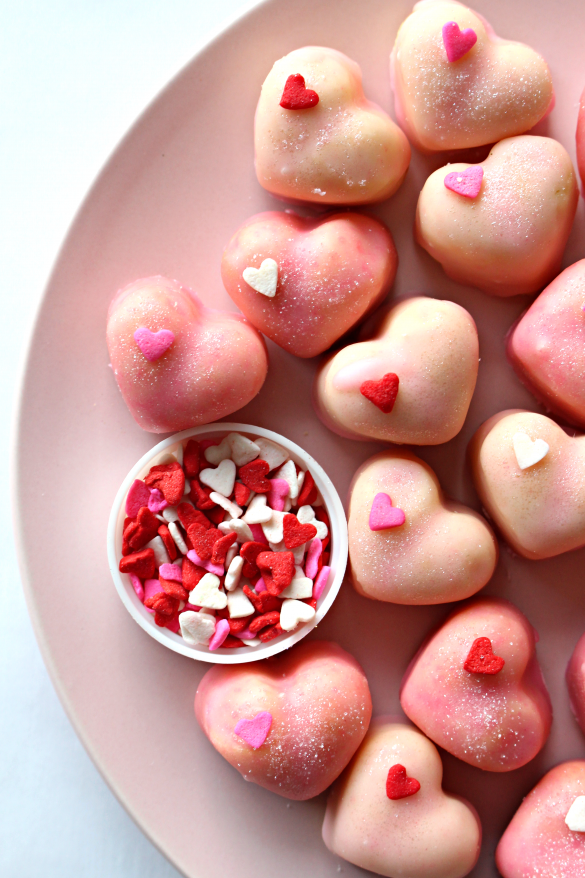 One more tip about these pop-in-your-mouth cookies: I made these Iced Sugar Cookie Hearts with vanilla extract in the dough, but I used Fiori di Sicilia flavoring in the icing. Fiori di Sicilia is a citrus/vanilla flavoring traditionally used when baking panettonne, an Italian Christmas bread. I love the flavor, but you have to be careful to use only a tiny bit. It is strong! If too much is added, there will be a bitter aftertaste to the icing. I recommend starting with ¼ teaspoon, tasting the icing, then, if need, adding additional flavoring in ⅛ teaspoon increments.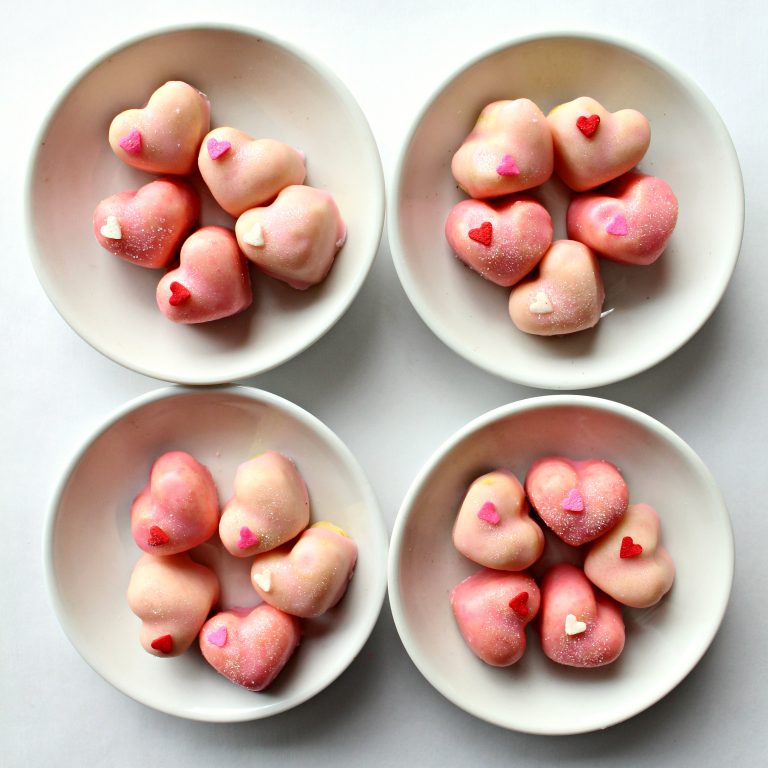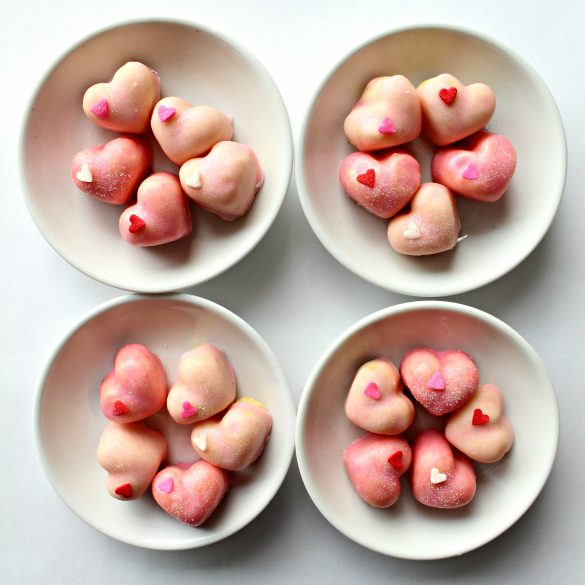 My heart shaped silicone mold has earned its coveted spot in my baking cabinet. So many adorable mini-heart possibilities! In addition to these Iced Sugar Cookie Hearts, I used the mold this week to make Chocolate Marshmallow Hearts and Honey Sesame Brittle. All three recipes for little heart sweets help share love in every bite.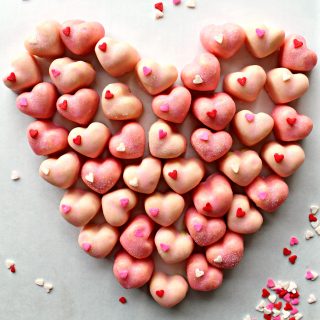 Ingredients
COOKIES:

¾

cup

unsalted butter

room temperature

1

cup

granulated sugar

2

large eggs

1

teaspoon

vanilla extract

2 ½

cups

all-purpose flour

1

teaspoons

non-aluminum baking powder

ICING:

4

cups

confectioner's sugar

4

tablespoons

plus 1 teaspoon water

3

tablespoons

corn syrup

1

teaspoon

vanilla extract

or ¼ - ½ teaspoon Fiori di Sicilia

DECORATIONS:

edible glitter

small heart sprinkles
Instructions
Preheat oven to 400° F.

In the bowl of an electric mixer, cream together the butter and sugar until light and fluffy (about 3 minutes).

Beat in eggs, one at a time. Stir in vanilla.

Gradually mix in flour and baking powder, just until combined.

Place silicone molds on a baking sheet. Press 1 tsp of dough into each mold cavity. (Any mold can be used with this recipe by adapting the amount of dough used. Fill each cavity ½-¾ full, as the dough does rise slightly in the oven.)

Place the baking sheet with filled molds in the oven for 12-14 minutes (depending on the cookie size and thickness).

Remove from the oven and leave the molds cooling for a few minutes before unmolding the cookies.

Place the cookies on a wire rack to cool completely before icing.

TO MAKE ICING: In the bowl of an electric mixer, combine the confectioner's sugar, water, corn syrup, vanilla (or Fiori di Sicilia) and food coloring. Mix until smooth.

TO ICE THE COOKIES: Line a baking sheet with wax paper.

Set a cookie on to a fork and hold over the bowl of icing. Spoon icing over the cookie to coat. Tap the fork gently against the bowl to remove excess icing from the cookie.

Use the tip of a knife or toothpick to gently move the iced cookie off the fork and onto the prepared baking sheet.

After icing about 4-6 cookies, while icing is still wet, sprinkle with edible glitter and add sprinkle hearts.

When all cookies are iced and decorated, allow icing to harden for at least 2 hours or overnight.

Store in an airtight container at room temperature for up to 1 week.
Notes
Be sure to allow the icing to harden completely. Overnight drying is recommended. Once the icing is set, cookies can be packed in an airtight container or freezer weight ziplock bag. For a pretty presentation, place each heart cookie in a mini cupcake liner and nestle snugly in a storage container. Add crinkled wax paper between the cookies and the lid to ensure that there is no movement during shipping.
Baking tools I used and recommended in this post: