Dia de los Muertos (Day of the Dead), celebrated on November 2, is a holiday with many traditions. Some of those traditions are both colorful and sweet! The swirls of colorful dots on Dia de los Muertos Sugar Cookies are inspired by the festive, cut-paper banners that decorate the holiday alters in Mexico.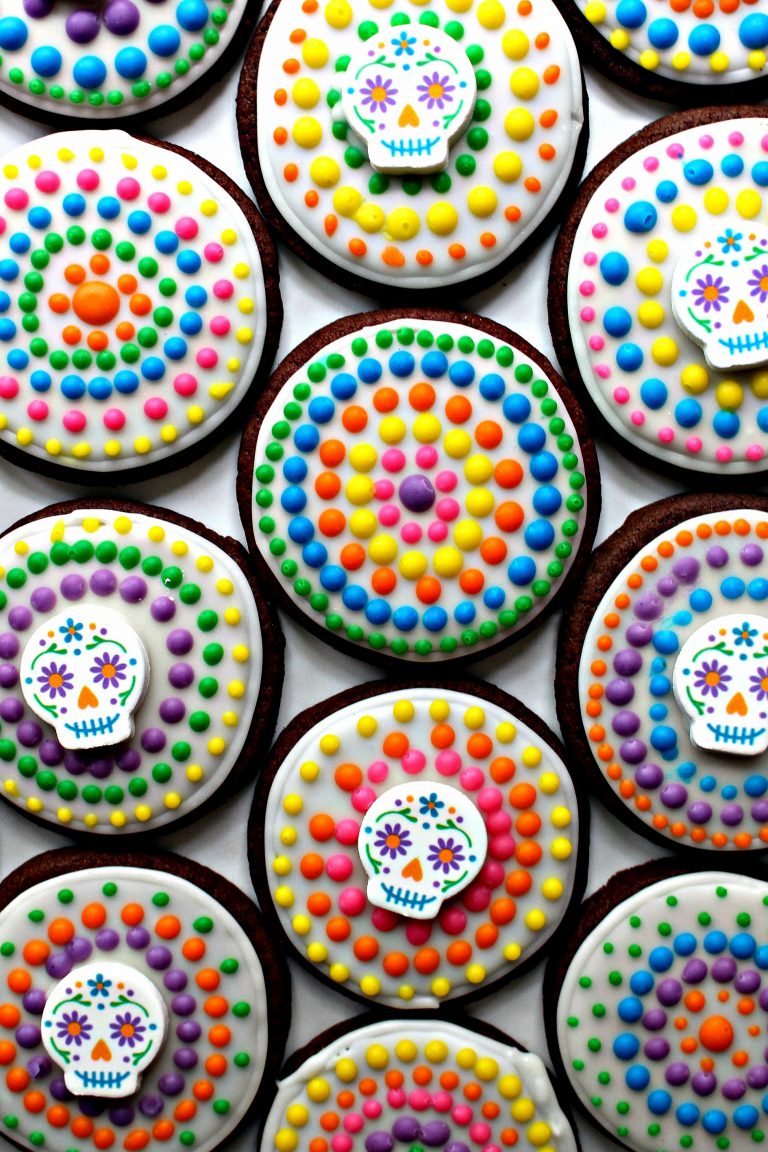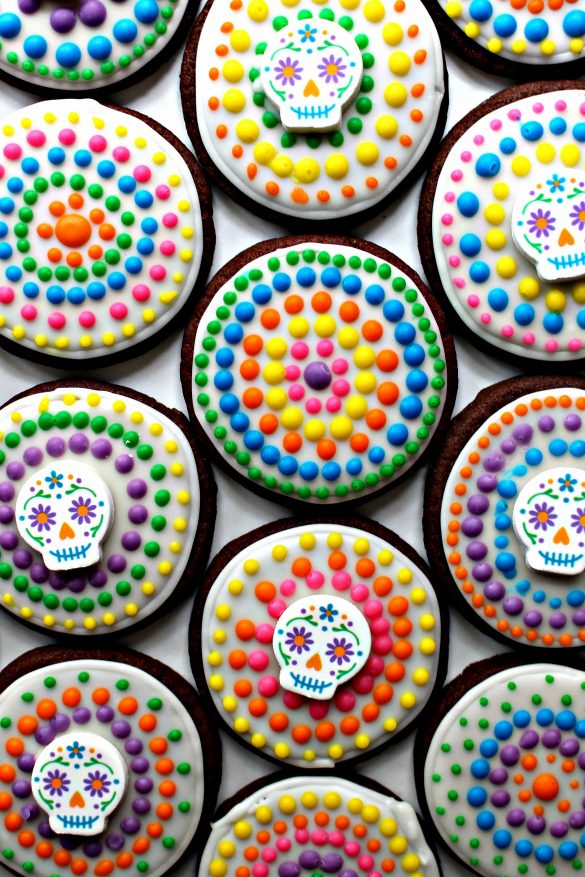 Last week I shipped a "celebration in a box" to Soldier L. in Kuwait. For something a little different than the Halloween themed boxes I usually send in October, this box was over-filled (quite literally) with a Dia de los Muertos celebration. When I first thought of the idea a few months ago, I wasn't sure if I would find enough things to fill the box. So for several months, every time I saw something that fit the theme, I bought it and stored it away.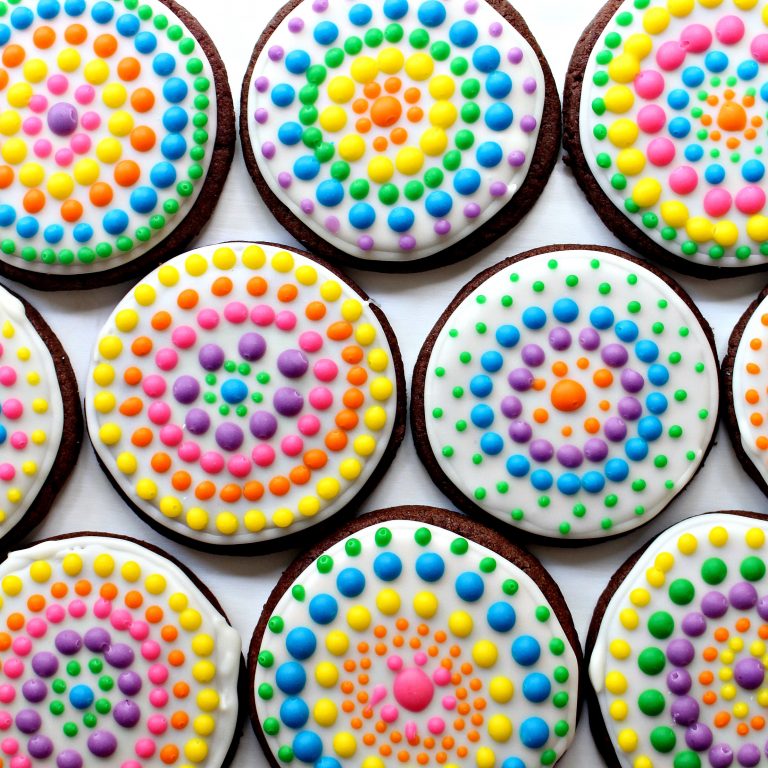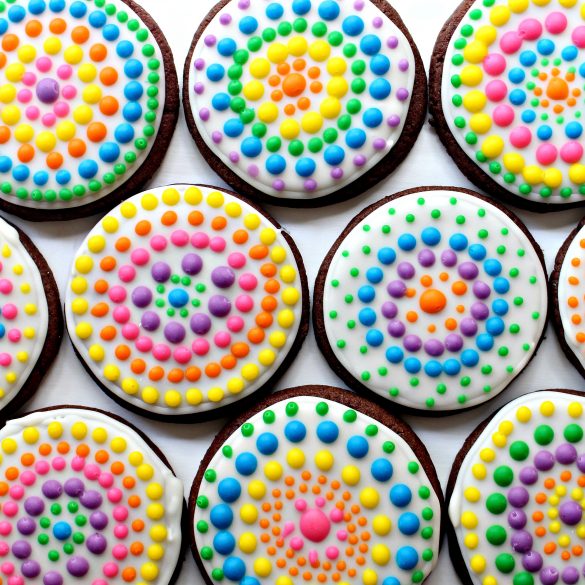 Then I baked. I baked Pabassinas and I baked Dia de los Muertos Sugar Cookies. The recipes made a LOT of cookies. No worries. The soldiers share with each other, so there is no such thing as too many. Unless you are trying to fit everything in one "large" (but only "large" relative to the other available sizes) USPS box. No matter how I played Tetris with the contents, I couldn't fit it all in. So I mailed two boxes instead.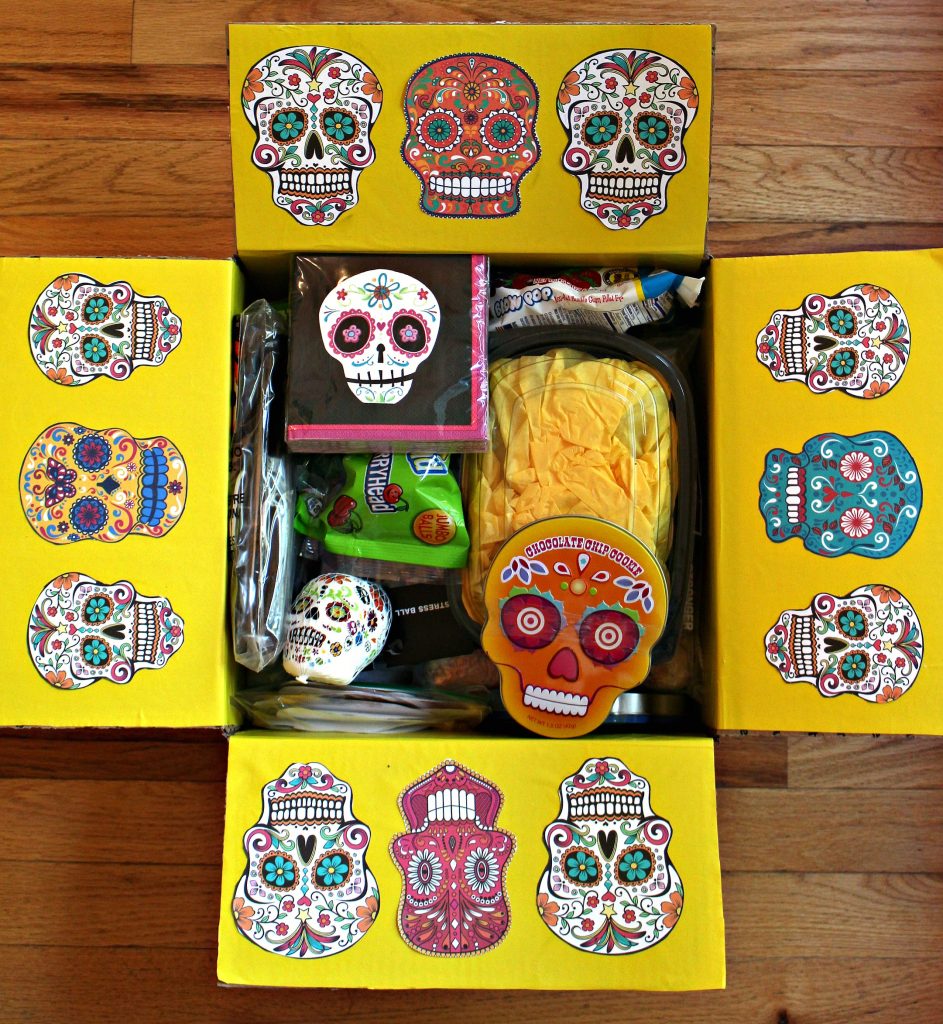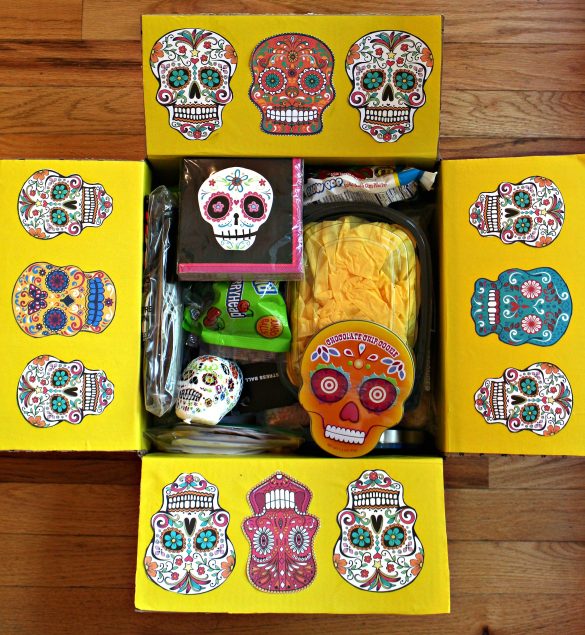 Part 1: Care Package Contents: I lined the boxes with bright yellow wrapping paper. I found a variety of colored images of Dia de los Muertos skulls online. I printed them out on regular paper and on card stock, then cut them out. The skulls on regular paper were glued onto the box flaps and on the inside bottom of the boxes.
Keep in mind that the contents of the first box ended up overflowing into a second box. In addition to 5-6 dozen Pabassinas and Dia de los Muertos Sugar Cookies, I packed Bat Gliders and Skeleton Paratroopers (Thank you, Gina for the idea!), skull tins with a packaged cookie inside, magazines, Dia de los Muertos coloring pages and colored pencils, napkins, candy, a candle, and a skull shaped stress ball. I also included some homemade decorations.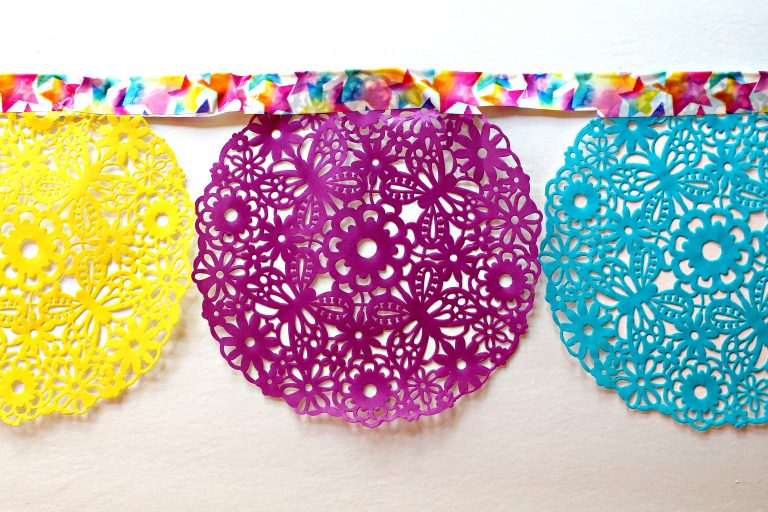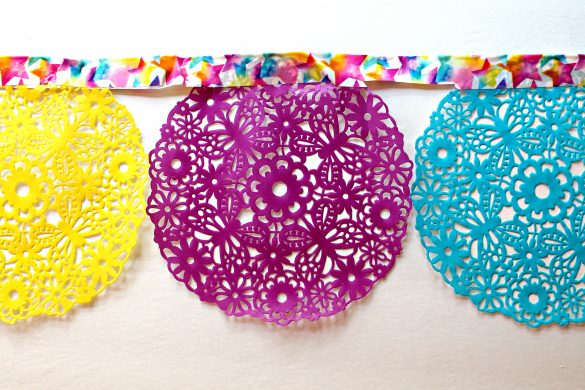 Traditionally, Dia de los Muertos decorations include papel picado, banners made of cut tissue paper. I made a quick version of papel picado using doilies from Michael's and decorative duct tape.  I strung the skulls I had printed on cardstock with ribbon to create hanging decorations.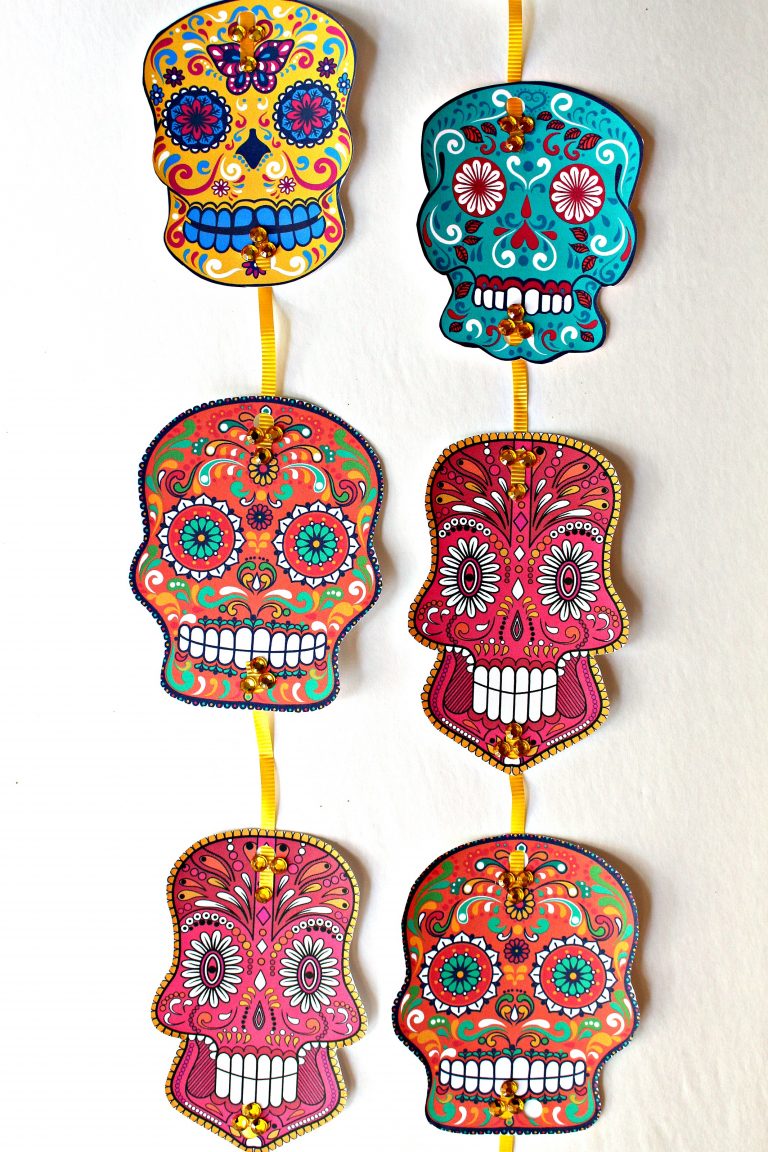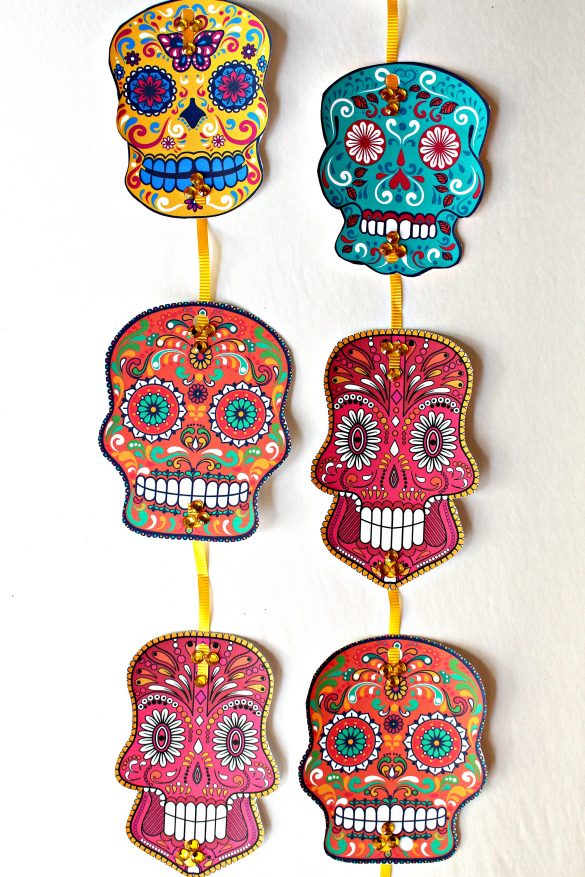 Part 2 Circle Sugar Cookies: The vibrant colors of Dia de los Muertos decorations swirl around these festive cookies. All of the designs I use on iced sugar cookies for Monday Box military care packages have to be both easy (so that I am actually capable of making them) and eye catching. The dotted patterns on these cookies definitely caught my eye when I first saw the design on Pinterest, but the pin didn't lead to the creator. I can't give credit to the original artist, but I appreciate the inspiration and the simplicity of this Dia de los Muertos Sugar Cookies design!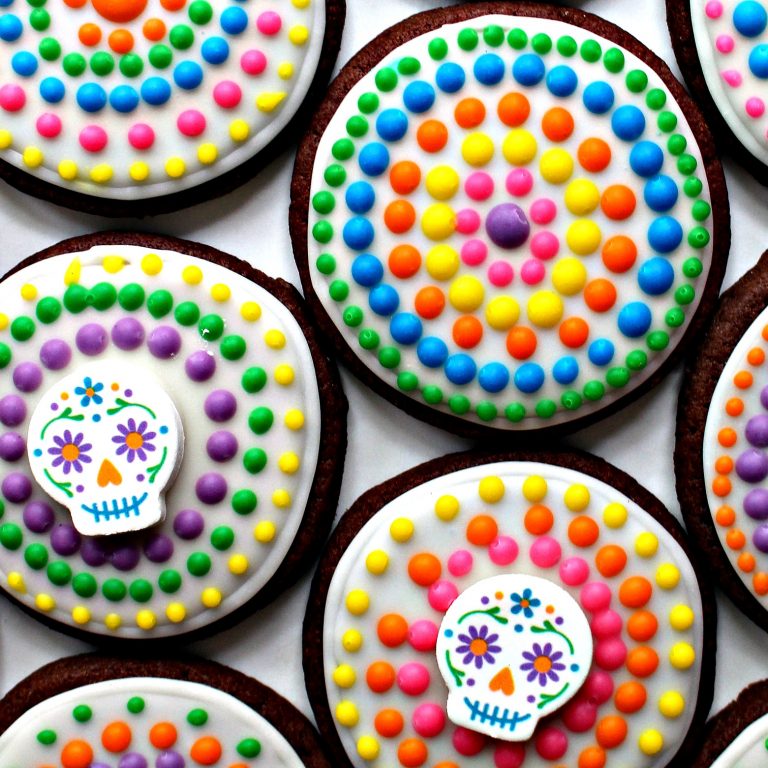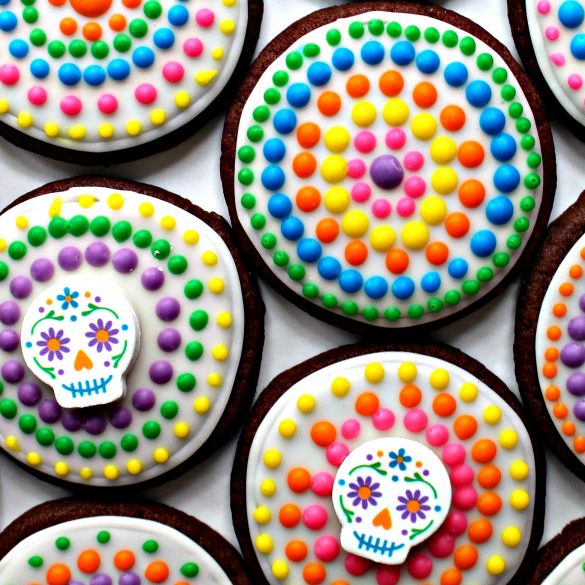 I tried decorating a few skull cookies, but I was not happy with the results. The skulls were ugly. Dia de los Muertos skulls have pretty designs and flowers. Mine looked more appropriate for a spooky Halloween. Luckily, I found Wilton candy skulls and added them to some of the dotted cookies for Dia de los Muertos flair.
One batch of chocolate sugar cookies makes about 32- 2" circles cookies. Two batches of corn syrup icing are needed. The first batch of icing is used white, to cover the surface of the cookies. It should be the consistency of white glue. The icing is spooned into a piping bag or plastic bag. A tip with a small opening (I used Wilton #3) or a tiny corner cut from the bag is used to pipe the icing, outlining the cookie, then filling in the outline. Allow the surface to set until dry to the touch (at least 2 hours).
The second batch of icing, a little thicker than the white icing, is divided into 6 bowls and colored with a few drops of food coloring gels. The colored icing is spooned into separate piping bags or plastic bags. Use a very small piping tip (I used Wilton #1), or very small corner cut from the tip of the bag, to pipe circles of dots on the white surface. If using pre-made decorations at the center of the cookie, only pipe two circles of dots, leaving the center empty. Allow the dots to set for a few hours before attaching the decorations with a dab of icing as glue.
Always air dry iced sugar cookies overnight to allow the icing to harden before packing. I place each cookie individually in a self-sealing plastic bag. The bagged cookies are then placed snugly either in an airtight plastic storage container or stacked snugly in a freezer weight ziplock bag.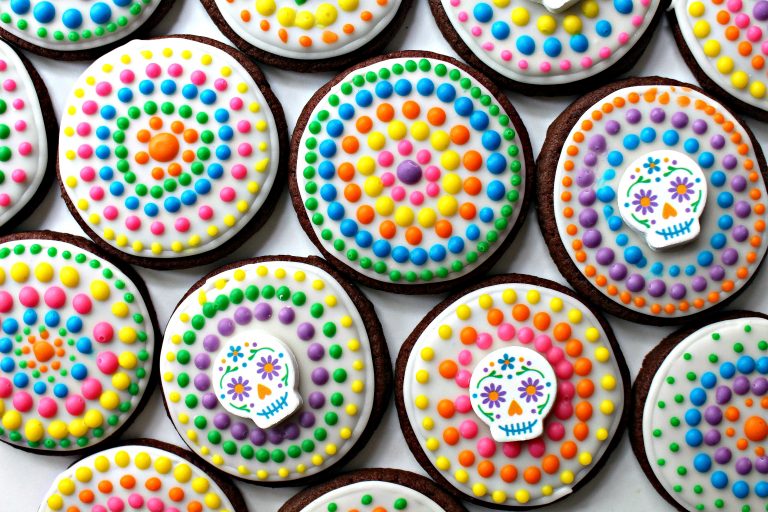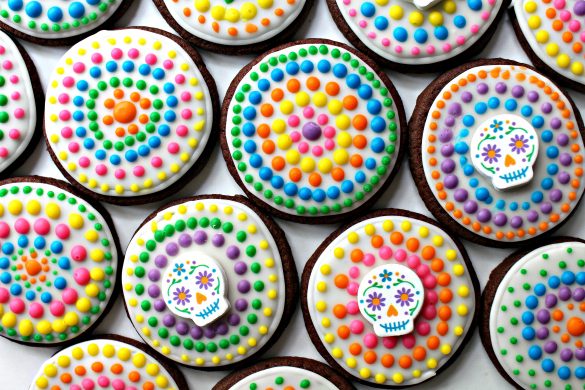 Part 3 New Recipe: Pabassinas are the new recipe included in this care package. These iced raisin cookies have delicious citrus and anise flavor. A coating of orange flavored icing seals in freshness for at least 10 days. A sprinkling of sparkling sugar and these Day of the Dead cookies are ready to celebrate!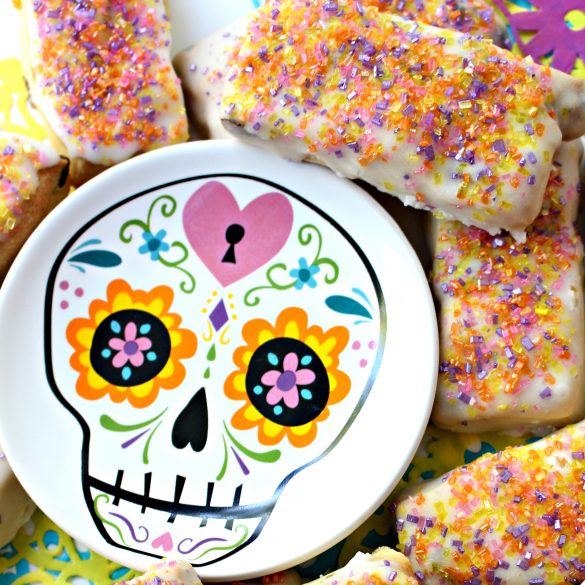 Whether the cookies come from a jar in your kitchen or from a care package far away, Dia de los Muertos Sugar Cookies and Pabassinas add sweetness to the day!
Save
Save
Save