Today is reveal day for the 5th annual Great Food Blogger Cookie Swap, a fund raising event benefiting Cookies for Kids' Cancer! This year alone, 400+ food bloggers and three wonderful corporate sponsors have raised over $7,000. This year's Monday Box cookie swap recipe is for chocolate dipped Honey Gingerbread Cookies; chewy cookies with lots of honey flavor warmed with cinnamon and ginger. These cookies are made with an easy-to-work-with dough that makes using a cookie stamp or mold a breeze!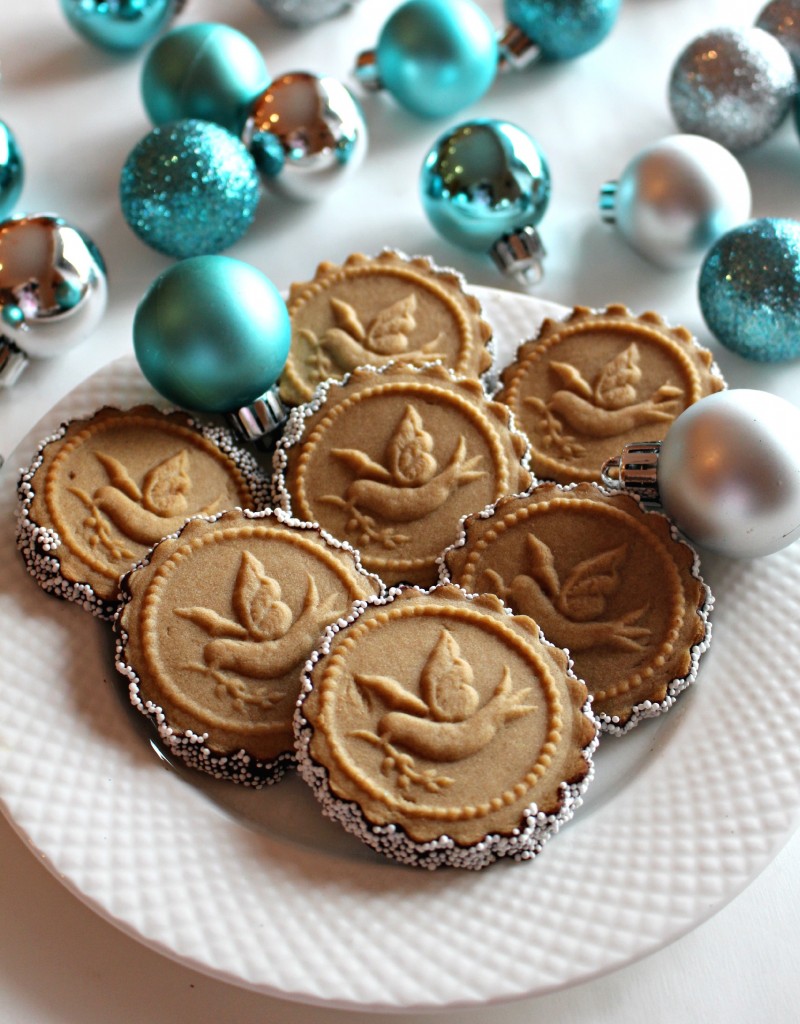 The Monday Box has participated in this fun blogger cookie exchange for the past four years. In addition to raising funds for an important cause, the swap is a great way to make new blogging friends.
Each blogger participating in the swap sent out three dozen cookies, a box of twelve cookies each to three assigned food bloggers. In return, each blogger receives three dozen cookies (a box of twelve cookies from three different food bloggers). That's a LOT of cookies!
Today all of the participants will post their cookie swap recipes on their own blogs. This week end, Julie and Lindsay, who organize and orchestrate the swap, will post a round-up of all 476 recipes! Once the round-up is posted, I will update a direct link here.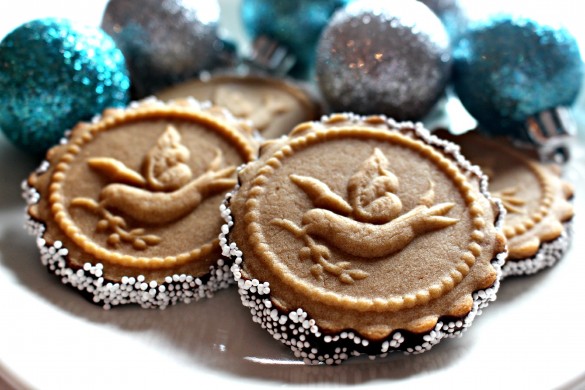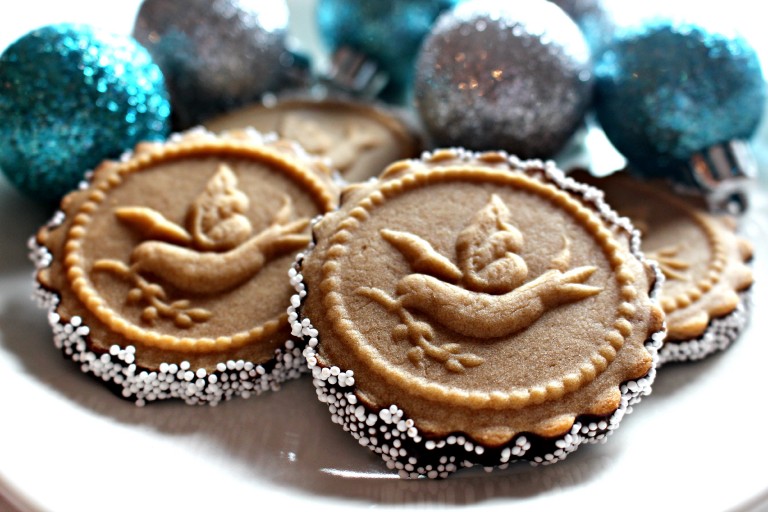 Each year, as the cookie swap approaches, I ponder what cookie to send from The Monday Box. I try to make the gift special, a tasty cookie that holds up to care package travel, and stands out on a cookie tray once it arrives.
Each recipe I have chosen has taught me new skills. I've posted about my adventures with Chocolate Marshmallow (Mallomar) Cookies, Smiling Snowmen Cookie Stacks, and Double Dipped Chocolate Shortbread Cookies.
This year, I decided to tackle cookie stamps/molds. The beauty of a stamped cookie is hard to beat, and for a long time, I have wanted to learn how to create them.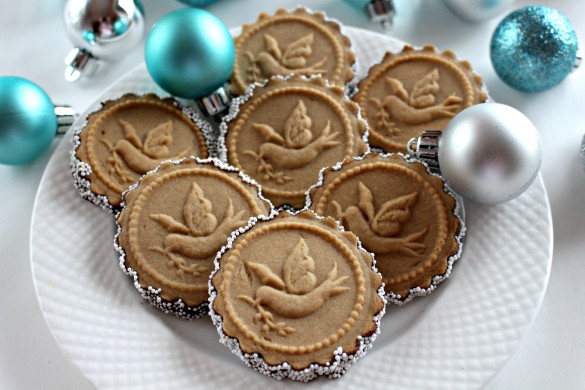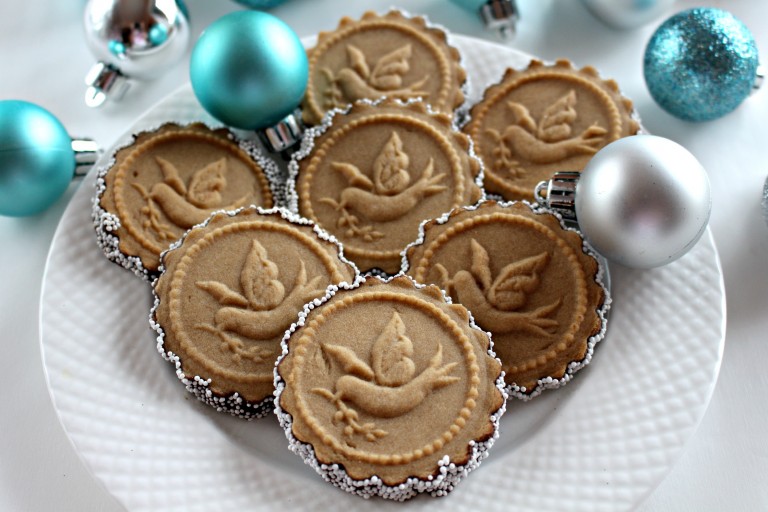 Just like many things, using cookie molds turns out to be easy, once you know how. It helped a lot that I did my research and found a wonderful book by an expert to help me choose the right recipe for a cookie mold beginner.
Baking with Cookie Molds by Anne L. Watson is a must for anyone interested in creating molded and stamped cookies. (And possibly starting a new collection/hoard of cookie molds?) This book clearly explains the art of using cookie molds and provides lots of photos.
There are trouble shooting tips and methods for avoiding the trouble in the first place. These Honey Gingerbread Cookies are my first attempt with cookie molds, and I am delighted with the results. I think I am hooked!
This Friday, I am going to a German-style Christmas fair in Belleville, Illinois because Hobi Cookie Molds (the artist who carved this Peace Dove mold) will be there. Chances are good my new collection will grow.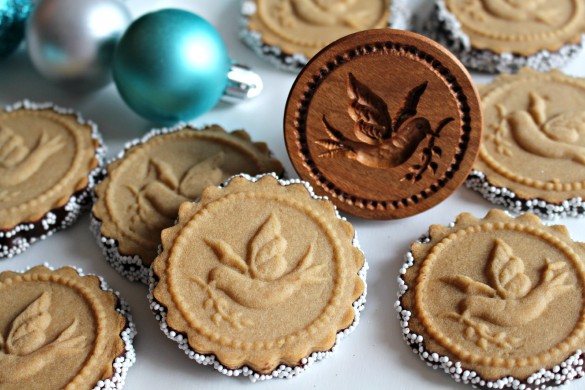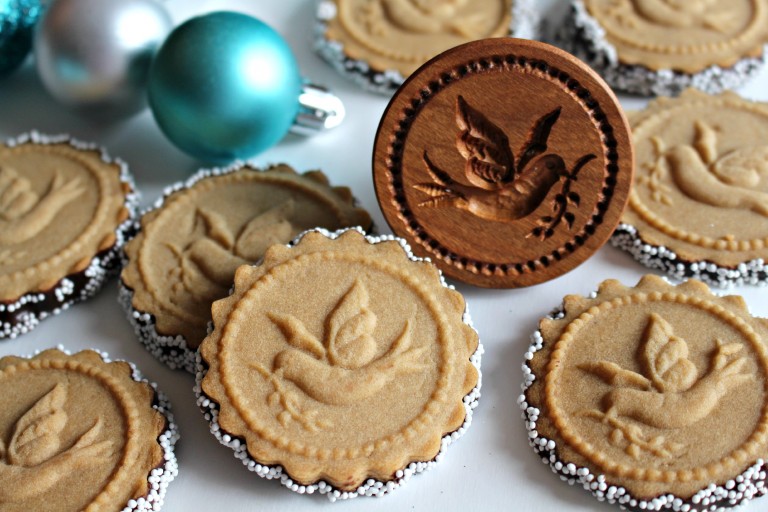 This Honey Gingerbread dough is very easy to work with. Though it's a great dough to use as I did with a cookie mold, Honey Gingerbread Cookies could be made super easily as simple cut-out cookies as well.
Several of the ingredients are chosen specifically to make cookie molding easier. Butter can be used in this recipe, however, margarine (due to its higher melting point) makes the dough easier to work with because it stays firm longer without needing to be re-chilled.
The use of a liquid sweetener, in this case honey, helps with unmolding the cookies.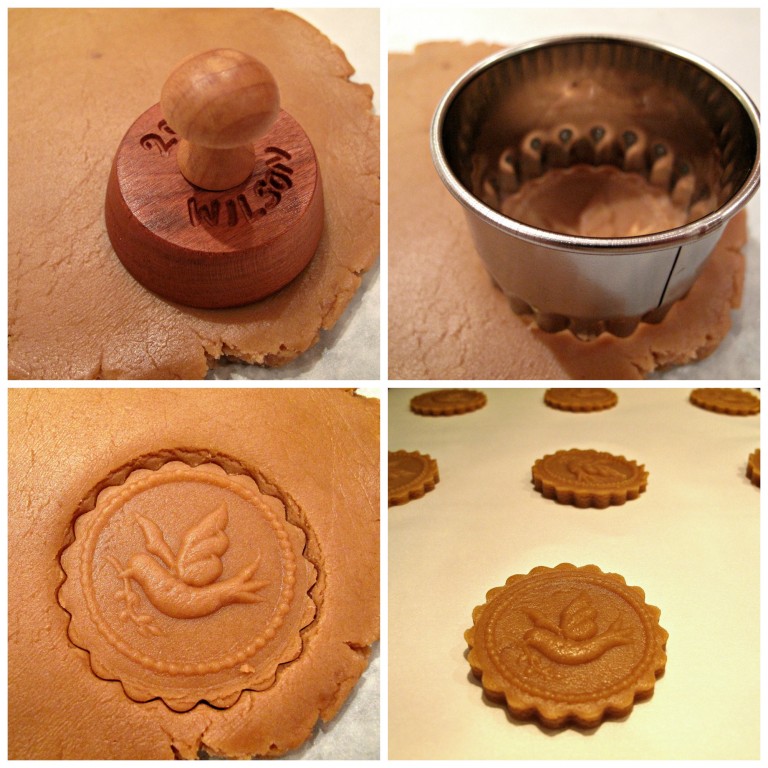 I'm especially enjoying learning about the international traditions associated with cookie stamps and molds. This recipe is close to the types of cookies made at Christmas in the Netherlands, often stamped with windmills.
Honey Gingerbread Cookies are a great care package cookie. They retain their chewiness for weeks and the cinnamon-ginger flavor gets better and better over time. Next, I plan to work on German Springerle, another great care package cookie!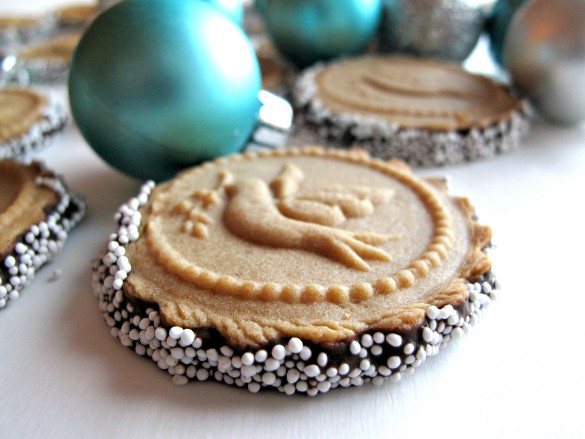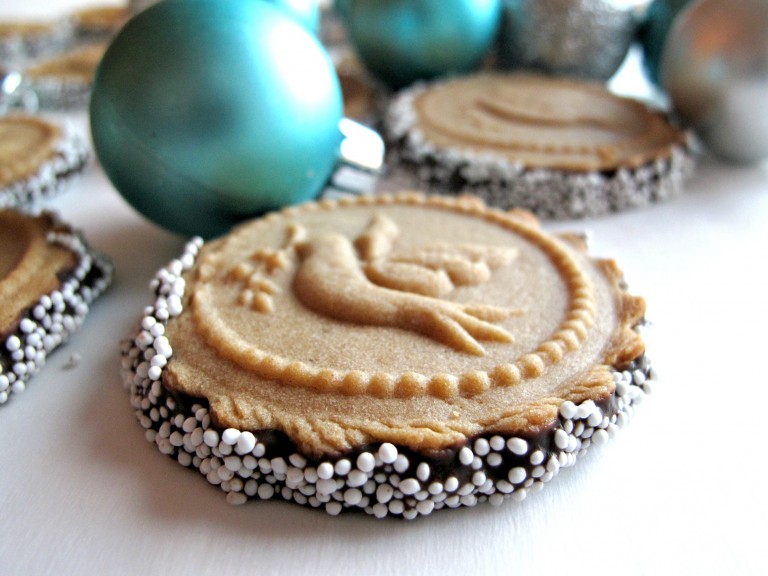 The Monday Box participates in the Amazon Affiliate Program. If you chose to purchase a product after following a link on this page, I will receive a small commission, at no cost to you, which helps make The Monday Box possible.
BAKING TOOLS FOR HONEY GINGERBREAD COOKIES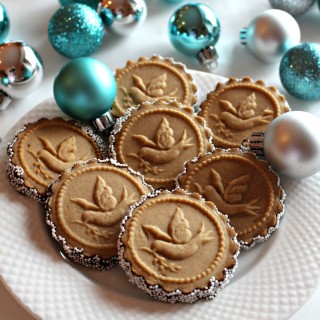 Honey Gingerbread Cookies
Ingredients
1

cup

unsalted margarine

1

large egg

beaten

½

cup

honey

1

tablespoon

milk

1

teaspoon

vanilla

½

cup

brown sugar

packed

2

teaspoons

cinnamon

¾- 1

teaspoon

ginger

¼

teaspoon

salt

omit if salted margarine is used

4 ½

cups

all-purpose flour

Optional decorating:

2

cups

melting chocolate

½

cup

nonpareil sprinkles
Directions
In a small bowl, melt the margarine in the microwave. Cool slightly.

In a large bowl, mix together the beaten egg, honey, milk, and vanilla.

In a medium bowl, stir to combine the brown sugar, cinnamon, ginger, and salt. Beat into the egg mixture.

Slowly mix in the melted margarine.

Gradually add in the flour, just until the dough is a solid kneading consistency. Knead the dough, adding more flour as needed, to form a soft, slightly sticky dough.

Wrap the dough in plastic wrap and refrigerate until firm but pliable (about 30 minutes).

When ready to bake, preheat oven to 350° F. Line a baking sheet with parchment paper.

Work with one half of the dough and keep the other half refrigerated until needed. Roll out the dough, between two sheets of plastic wrap or parchment paper, to slightly thicker than ¼".

One cookie at a time, press the cookie stamp/mold into the dough, then use a circle cookie cutter to cut out the design. Move the cookie onto the prepared cookie sheet before repeating for the next cookie. Place cookies at least 1" apart on the cookie sheet.

When the baking sheet is full, refrigerate for 15 minutes, then bake for 10-12 minutes until the bottom edges turn golden.

Cool for 10 minutes on the baking sheet before transferring to a wire rack to cool completely.

FOR OPTIONAL DECORATING WITH CHOCOLATE AND SPRINKLES: Line several rimmed baking sheets with wax paper. The baking sheets need to be rimmed to contain the excess sprinkles that do not stick to the cookies.

In a bowl wider than the cookies, melt the chocolate in the microwave at 50% power for one minute. Stir. Continue to microwave for ten second intervals until all of the chocolate is melted.

Place a cookie on to the chocolate to coat the bottom. Remove the cookie using 2 forks or a spatula, and place on the prepared lined baking sheet. Immediately sprinkle nonpareils onto the melted chocolate on the sides of the cookie.

When about 6 cookies have been completed, put the baking sheet into the refrigerator for 10-15 minutes to set the melted chocolate.

Store in an airtight container at room temperature. Separate layers of cookies with wax paper. The flavor of these cookies improve with age for at least 2 weeks.
Packing Tips
Layer cookies between sheets of wax paper in an airtight container. Use wadded up tissue paper or wax paper between the top layer of cookies and the top of the container to prevent any movement in transit.
The Monday Box participates in the Amazon Affiliate Program. If you chose to purchase a product after following a link on this page, I will receive a small commission, at no cost to you, which helps make The Monday Box possible.
Baking tools I used and recommended in this post: