I made these Apples and Honey Cookies for Rosh Hashanah (Jewish New Year) last week and have already received requests to make them again! Eating apples dipped in honey is a Rosh Hashanah tradition representing hope for a sweet new year.
These symbolic flavors are the essence of fall. Apples and Honey Cookies are soft and chewy. They get their sweet apple flavor from apple butter and are topped with honey icing.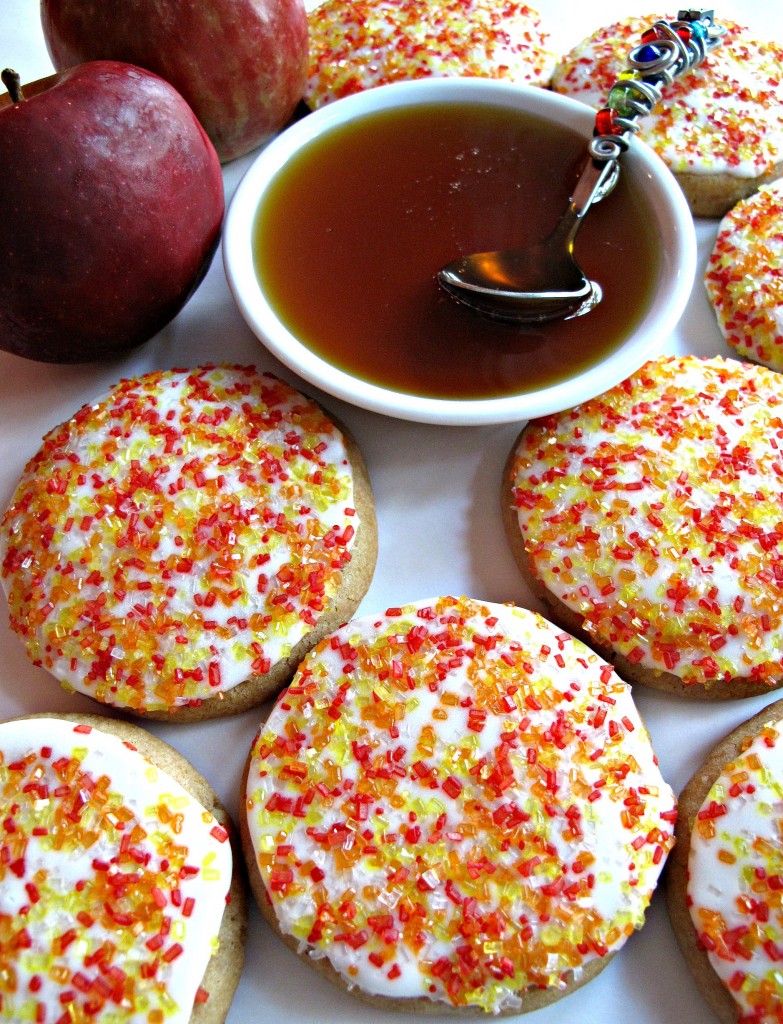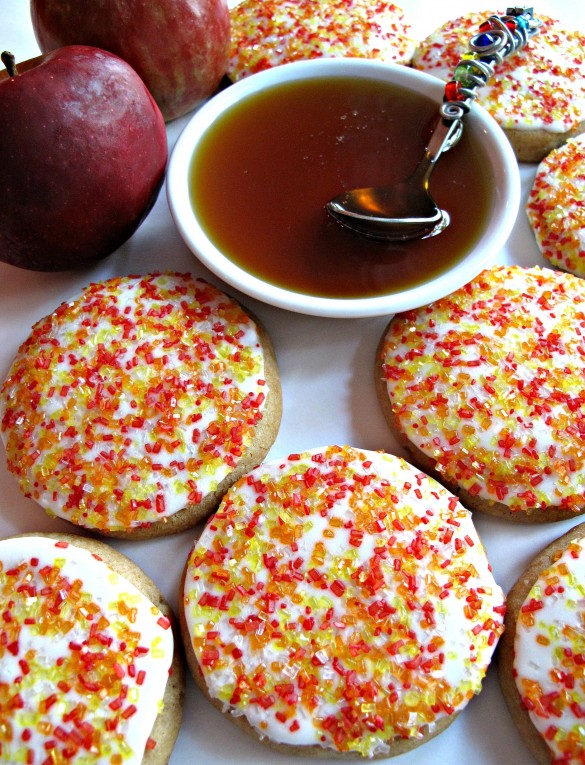 When I first tried this recipe I was immediately hooked. There is something about a soft, chewy cookie that I find irresistible.
Apple and Honey Cookies continue to impress with their softness for up to a week! The cookie on its own is only mildly sweet. There is even a bit of tartness from the apple butter.
The honey icing is a perfect pairing to this apple cookie and dries firm enough to ship, yet soft enough to bite into. The only crunch is the decorative sugar on top.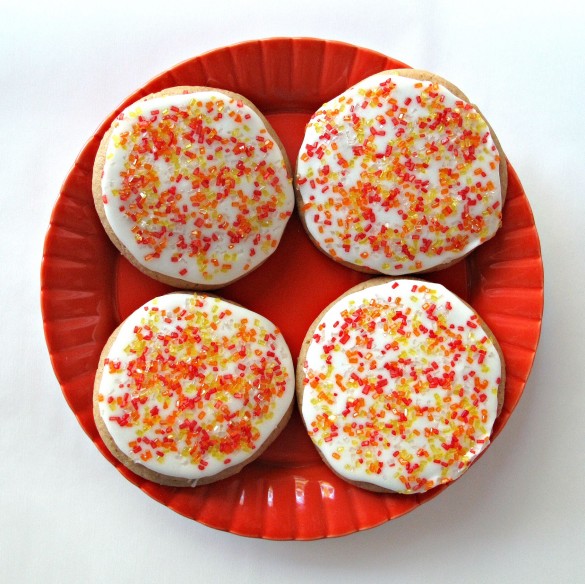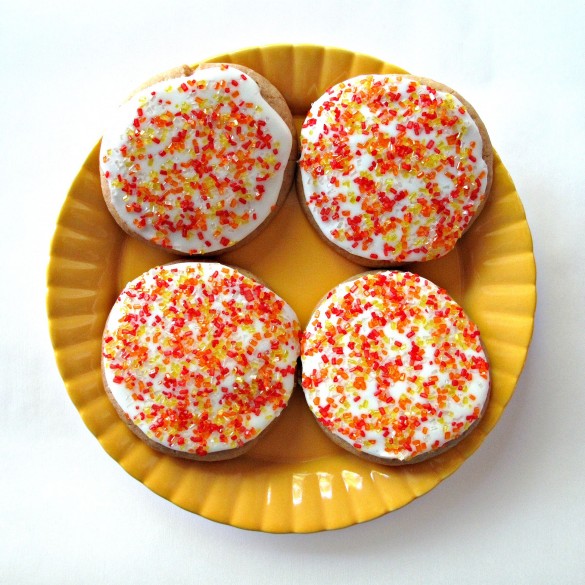 I wasn't sure if my son would like a fruity cookie. When I packed up his Rosh Hashanah Monday Box with honey cake, plastic honey bears, and apples, I only included a handful of these cookies.
That is where the request to make more comes in. After four years of taste testing Monday Box baking, my son rarely comments on a particular item without prodding. It's understandable. There have been a lot of cookies.
This time I was surprised by a text message within an hour of delivery saying, "The Apples and Honey Cookies were great! I really like frosted cookies where the frosting/cookie is soft!"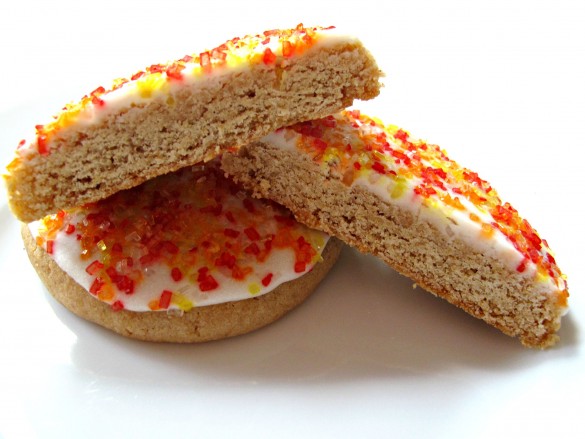 Four years of care package baking and I had no idea soft cookies were his favorite. Now that I know, chances are good that there will be additional soft, chewy, iced cookie recipes on The Monday Box soon!
In the meantime, I am going to bake more Apples and Honey Cookies. I think you will receive the same rave reviews if you bake some too for your cookie jar and care packages!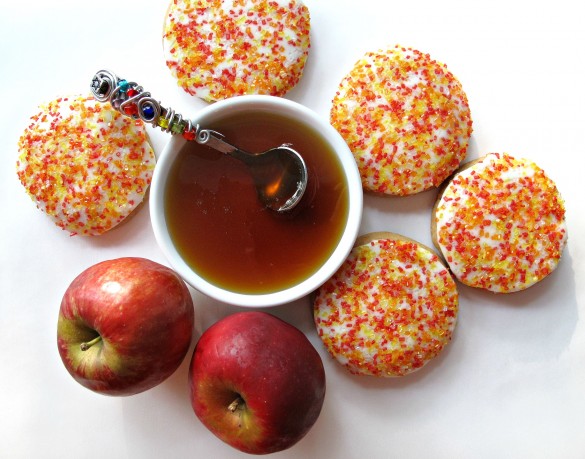 Wishing everyone a healthy, peace filled, and sweet New Year! L'Shanah Tovah Tikatevu!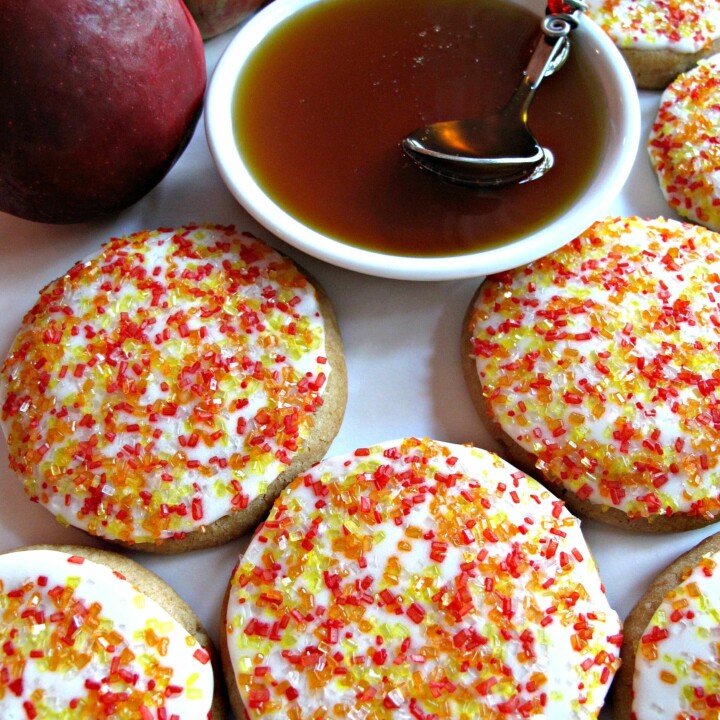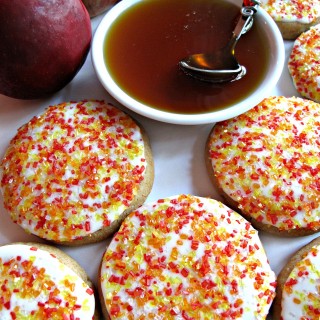 Ingredients
¾

cup

unsalted butter

room temperature

½

cup

granulated sugar

¼

cup

brown sugar

¼

cup

apple butter

½

teaspoon

cinnamon

2

teaspoons

vanilla extract

½

teaspoon

salt

2 ¼

teaspoons

baking powder

2 ¼

cups

all-purpose flour

Icing:

1 ¼

cups

confectioners' sugar

1

tablespoon

honey

1

tablespoon

water

To decorate: 3-4 tablespoons colored decorating sugar
Instructions
In the bowl of an electric mixer, cream butter and sugars.

Mix in apple butter, cinnamon, vanilla, salt, baking powder, and flour.

Cover in plastic wrap and refrigerate for at least 1 hour or until firm.

When ready to bake: Preheat oven to 350 F. Line a baking sheet with parchment paper.

Scoop dough with medium (2 tablespoon) cookie scoop and place at least 2" apart on prepared baking sheet.

Gently flatten dough balls into ½" thick discs.

Bake for 10-12 minutes.

Cool on baking sheet for 5 minutes then cool completely on wire racks.

To prepare icing: Mix confectioners' sugar, honey, and water in a medium bowl, adding additional water if necessary until the icing is a spreadable consistency.

Ice each cookie and sprinkle immediately with colored decorating sugar.

Allow icing to dry completely before storing.

Store in an airtight container at room temperature for up to 7 days.
Notes
Double wrap pairs of cookies (with bottoms together) in plastic wrap, then place snugly in an airtight container or zip lock bag.