To paraphrase the optimistic proverb, "When life gives you tropical weather, make cookies with tropical flavors." One can complain about the heat and/or one can bake Coconut White Chocolate Biscotti. I do both. These crunchy coconut cookies coated in white chocolate, are a tropical delight for the taste buds.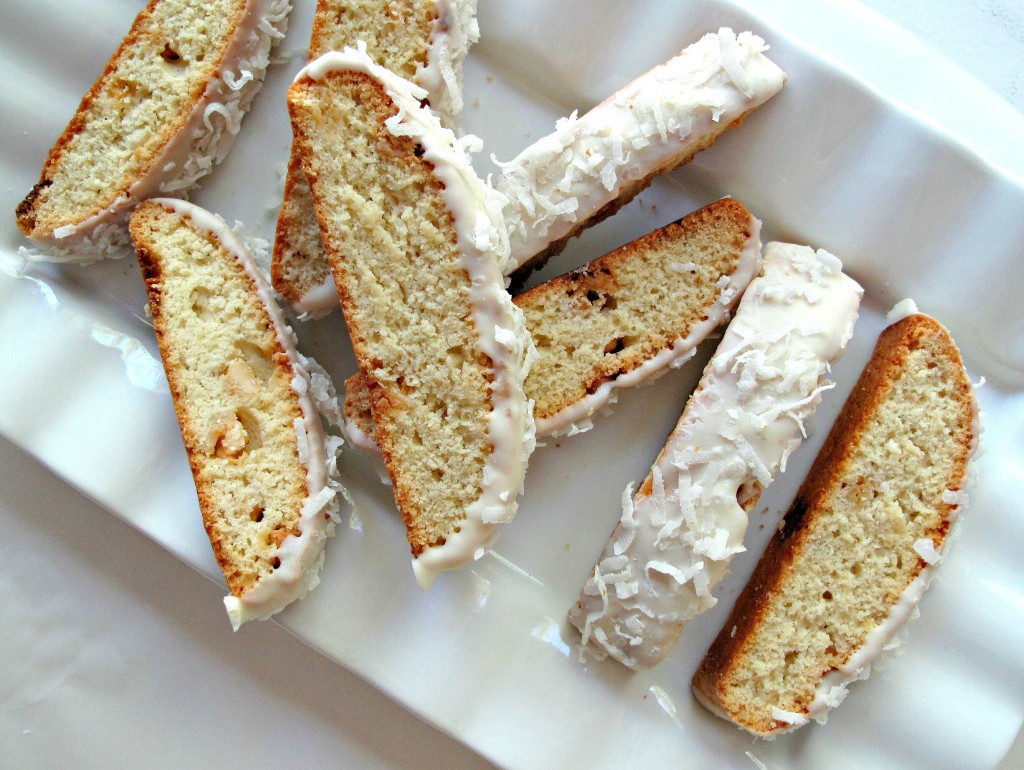 I was not compensated for this post, however I did receive free product from Chocoley.com for use in this recipe. All opinions are 100% my own. I only use and recommend products I believe in.

It's August in St. Louis. That means lots of heat and even more humidity.
I'm not fond of the extreme humidity and heat of summer, and I do complain that it's too hot to move or breathe, but I'll take summer highs over winter lows. In a few months I'll be freezing in the cold and risking life and limb on the ice and snow.
Too bad it can't always be spring time. So for now, I'll pretend that I love tropical humidity and embrace tropical flavors like coconut.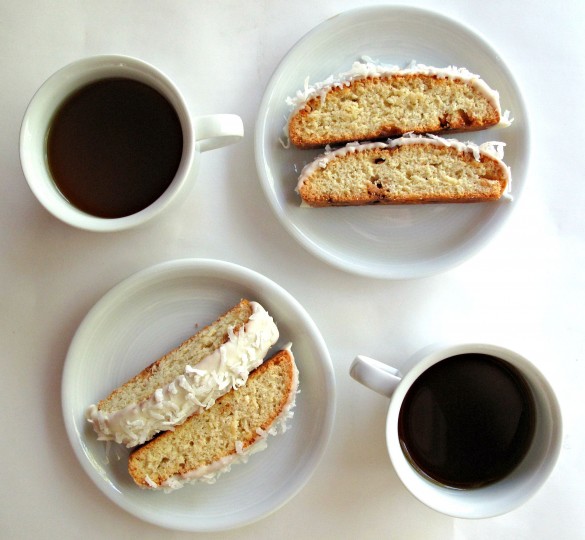 I originally imagined this desert safe recipe as pineapple coconut biscotti. Creating desert safe pineapple flavor turned out to be a challenge.
Chopped candied pineapple is delicious in this recipe. If shipping in the heat isn't a concern, I highly recommend adding some to your Coconut White Chocolate Biscotti.
However, candied fruit (prone to mold in high heat, over time) shouldn't be used in hot weather care package recipes. I tried substituting chopped or pulverized freeze dried pineapple with disappointing results.
Both made the cookies a bit soft and sour. The next thought was pineapple flavoring. I had no idea that pineapple flavoring was so hard to find. Eventually, I did find some at a cake decorating store (and online), but I try to avoid using hard-to-find ingredients in my Monday Box recipes.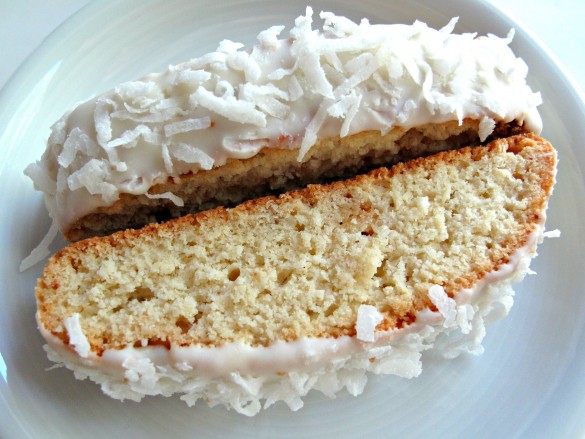 As long as I started this post with a mangled proverb, I might as well continue. For my fourth round of recipe testing, I decided that, "If at first you don't succeed, try something different."
The final version of these crunchy treats skipped pineapple altogether. The biscotti are majorly coconuty inside and out, with a creamy sweetness from white chocolate chips and an optional white chocolate coating.
I use white chocolate dipping and coating formula from Chocoley.com. The smooth consistency makes it super easy to dip just the tops of the biscotti and the real white chocolate flavor is the perfect match for the coconut. Biscotti traveling in hot weather should pass on the white chocolate coating (though the chips inside are ok) and opt for a sparkling white sugar coating instead.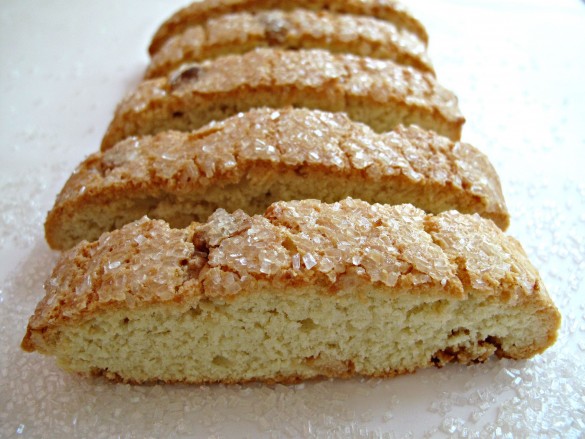 Even if you aren't normally a biscotti kind of person, I urge all coconut lovers to give this recipe a try. One of my cookie testers said these taste like crunchy coconut doughnuts! I say, "Make Coconut White Chocolate Biscotti, while the sun shines!"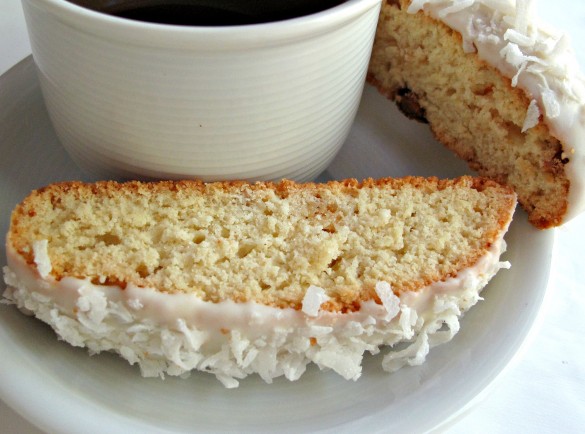 These Coconut White Chocolate Biscotti were backed for a military care package with a tropical theme.
Check back later this week to see the rest of the care package!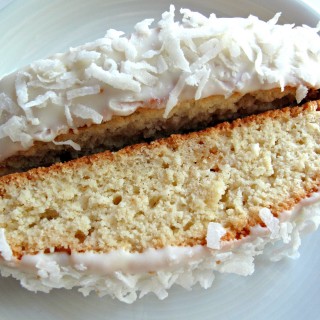 Print
Coconut White Chocolate Biscotti
As an Amazon Associate I earn from qualifying purchases.
Ingredients
2

cups

+ 2 tablespoons all-purpose flour

½

teaspoon

baking powder

¼

teaspoon

salt

¼

cup

unsweetened finely shredded

dried coconut

½

cup

vegetable shortening ** or butter

at room temperature

¾

cup

granulated sugar

1 ½

large or 2 medium eggs

room temperature

3

tablespoons

water if using vegetable shortening

2 tablespoons water if using butter

¾

teaspoon

coconut extract

½

cup

white chocolate chips

FOR DECORATING: ¼ cup white decorating sugar or 1 cup melting white chocolate

I use Chocoley.com dipping and coating formula and ½ cup of sweetened or unsweetened shredded coconut

**NOTE: For desert-safe baking for military or hot weather care packages

use vegetable shortening, not butter. Decorate with coarse white sugar, not white chocolate.**
Directions
In a medium bowl, whisk together flour, baking powder, salt, and shredded coconut.

In the bowl of an electric mixer, cream together the vegetable shortening/butter and sugar until fluffy.

Add the eggs and mix to combine. (To measure ½ egg, beat the egg to combine yolk and white, then add half by weight or tablespoon measure to the batter.)

Beat in water and extract.

Gradually add the flour mixture until combined, then fold in the white chocolate chips.

Cover with plastic wrap and refrigerate for 10 minutes to firm the dough slightly.

WHEN READY TO BAKE: Preheat oven to 350° F. Line a baking sheet with parchment paper.

Divide the dough into 2 equal parts and form each into a log about 7" long and 2" wide. Place the dough logs on the prepared baking sheet at least 3" apart.

If using decorating sugar, sprinkle over the dough logs and press gently to make sure the sugar sticks.

Bake for 25-30 minutes. The logs should feel firm and be barely golden on the bottom edge. The tops will not look browned.

Allow the logs to cool for about 10 minutes, then cut into ¾" slices. If the biscotti are crumbly, wait to cut until the dough is a little cooler.

Stand the cookies on the baking sheet and return to the oven for 15 minutes.

Cool completely on the baking sheet.

If decorating with white melting chocolate: Melt the white chocolate in a cereal/soup bowl in the microwave at 50% power for 1 minute. Stir. If the chocolate is not completely melted, return to the microwave for 10 second intervals. Dip the tops of the biscotti into the melted chocolate then sprinkle with shredded coconut. Refrigerate the biscotti for 10 minutes to set the chocolate.

Store at room temperature in an airtight container for up to 2-3 weeks.
Notes
Do not chocolate coat the biscotti if mailing to or from a hot location. Double wrap 2 or 3 biscotti in plastic wrap, cut sides together. Place bundles in an airtight container or zip lock bag.