Savor the flavors of fall with crunchy Apple Cinnamon Biscotti. Occasional dips in temperature, a few yellow leaves on the ground, and the kids back at school are all signs that fall is upon us. Fill your kitchen (and your cookie jar and care packages) with the smells of baking apple and cinnamon and embrace the deliciousness of autumn.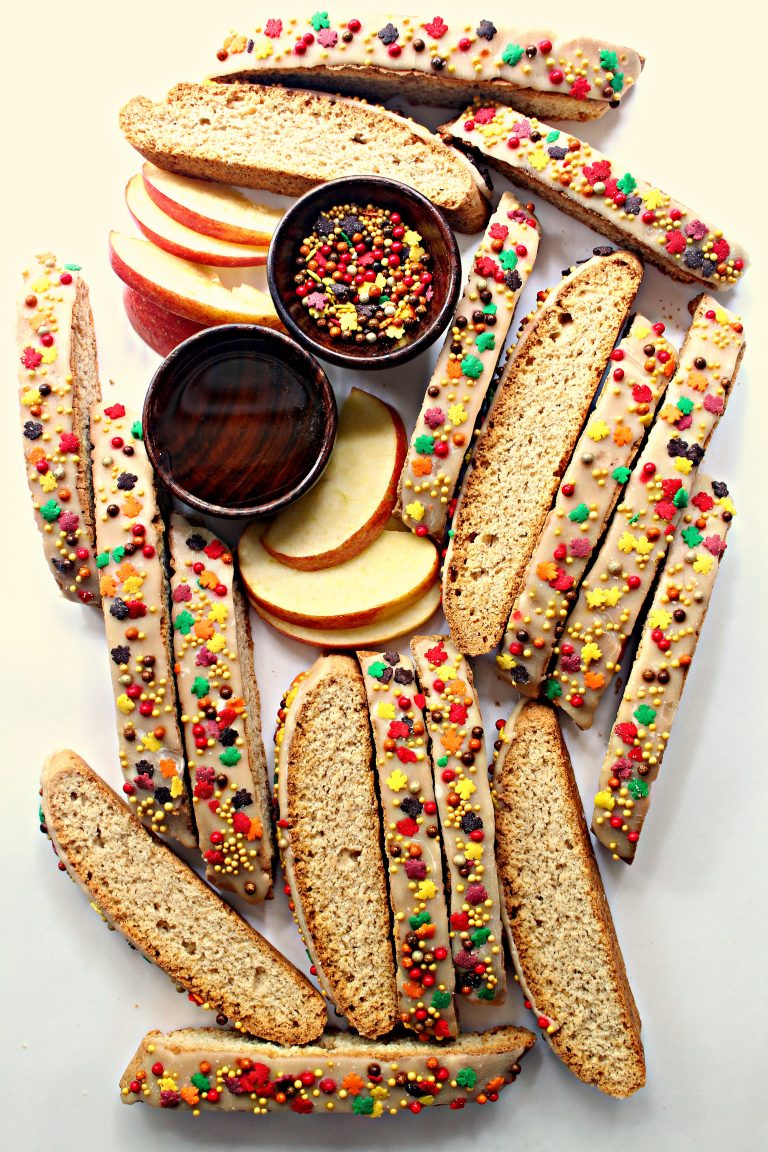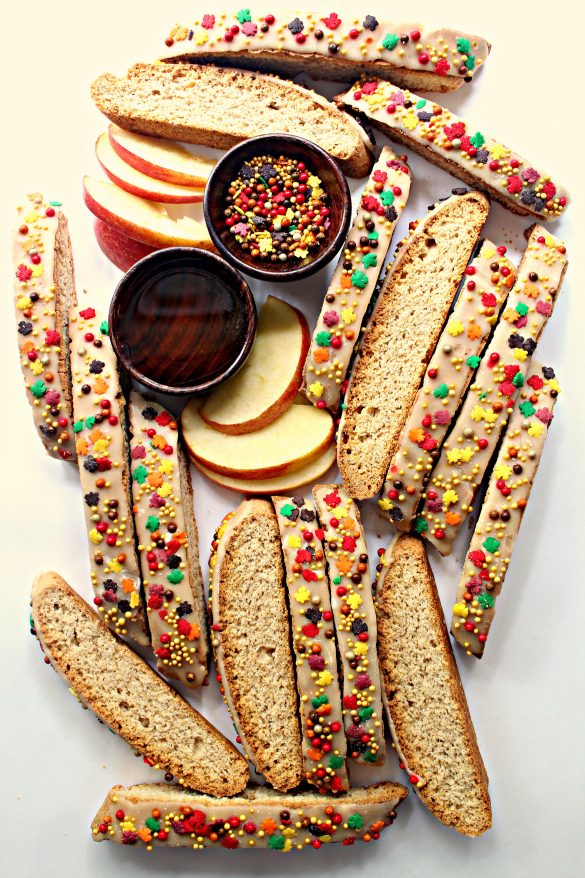 A tradition on Rosh Hashanah, the Jewish New Year, is to dip apples in honey to represent our hopes for a sweet New Year. When I think of fall baking, the flavors of apple and honey are inseparable in my head.
So, when I made Honey Cake Biscotti for Rosh Hashanah nibbling and gifting, I needed something apple flavored to share along with them. Apple Cinnamon Biscotti along with the Honey Cake Biscotti, brought extra crunch to our holiday flavor tradition.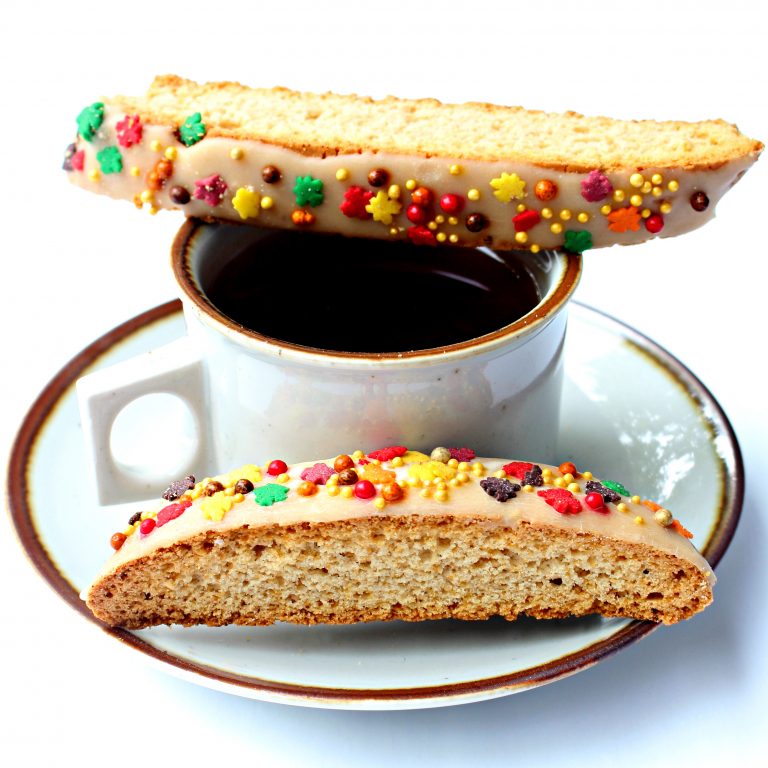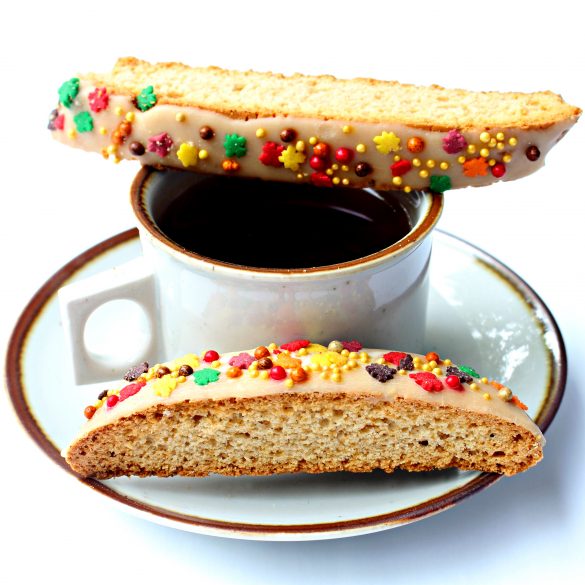 Biscotti are generally ideal care package cookies. The usually dry, crunchy texture which makes biscotti the ultimate dipping cookie, promotes a long shelf life.
However, when moisture is added to biscotti with jams or fruits, biscotti don't stay fresh for much longer than a week. In order to give Apple Cinnamon Biscotti lots of apple flavor without actually adding apples, I used apple juice concentrate as the liquid in this recipe which provides lots of apple flavor without changing the crunch.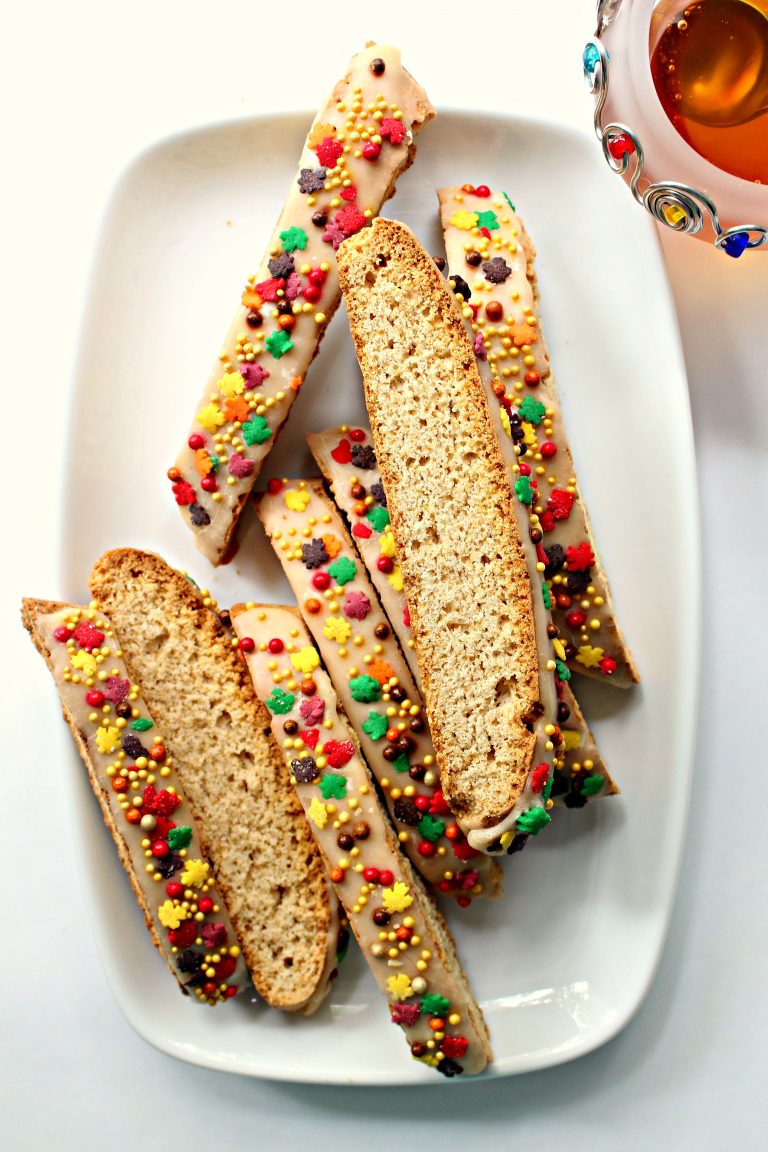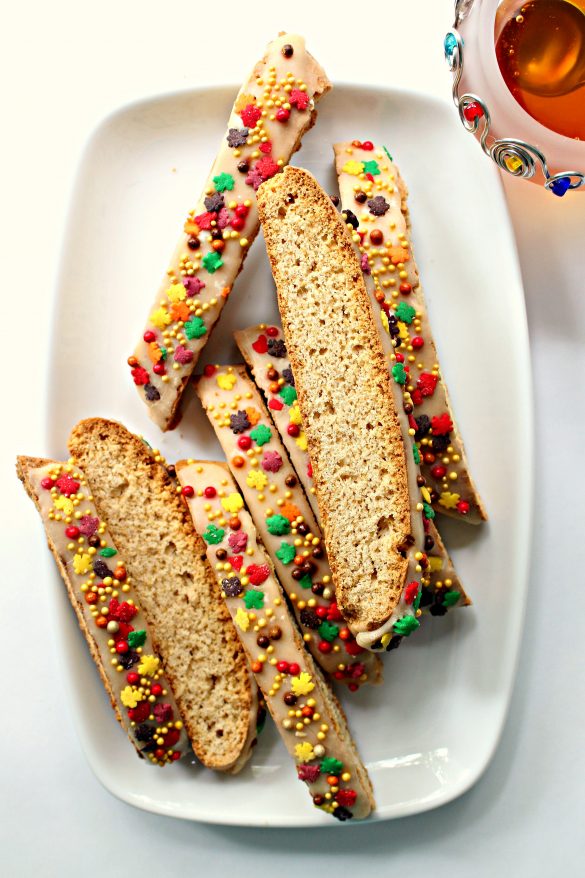 Because I was gifting the Apple Cinnamon Biscotti, I wanted them to be eye catching. First, the biscotti are iced with luscious apple cinnamon icing that dries firm for storing and shipping ease.
Then, I combined a variety of sprinkles to make my own "Autumn Mix". Any sprinkles in fall colors will work. I used a combination of fall leaves and two sizes of nonpareils in gold, browns, and red. Sprinkles make Apple Cinnamon Biscotti a celebration cookie.
APPLE CINNAMON BISCOTTI BAKING TIPS
This recipe uses defrosted frozen apple juice concentrate. Homemade concentrate can be created by cooking down apple juice or cider until it is reduced in half. For this recipe 1 ¼ cups of juice would be reduced to ½ cup plus 2 tablespoons of concentrate.
This dough can be sticky. To make handling and shaping easier, moisten your hands and rubber spatula when forming the dough log so that the surface is smooth and the dough doesn't stick to your fingers.
Keep in mind that all biscotti continue to firm up after removing them from the oven. Don't overcook the biscotti because they aren't completely crisp in the allotted time.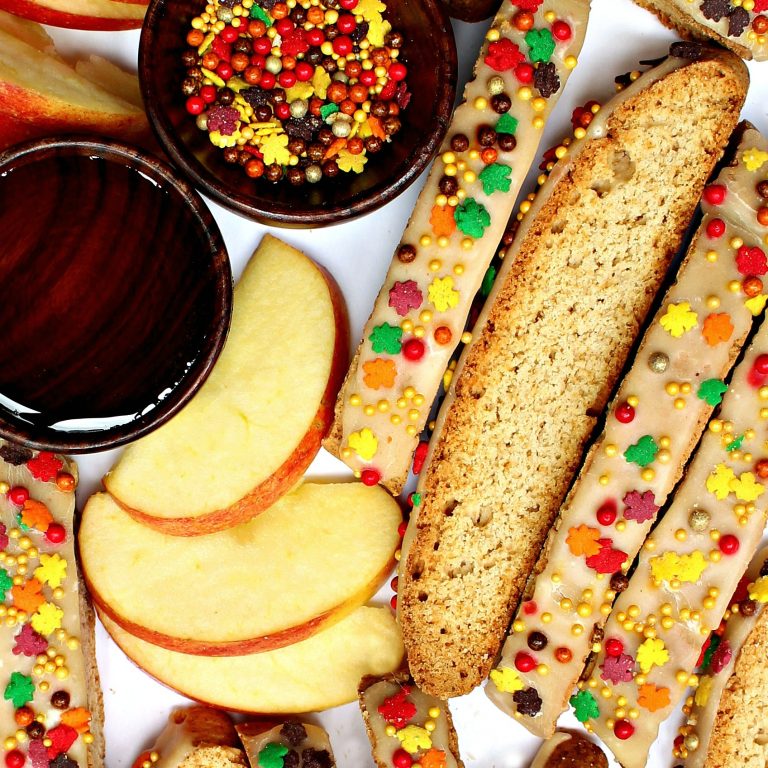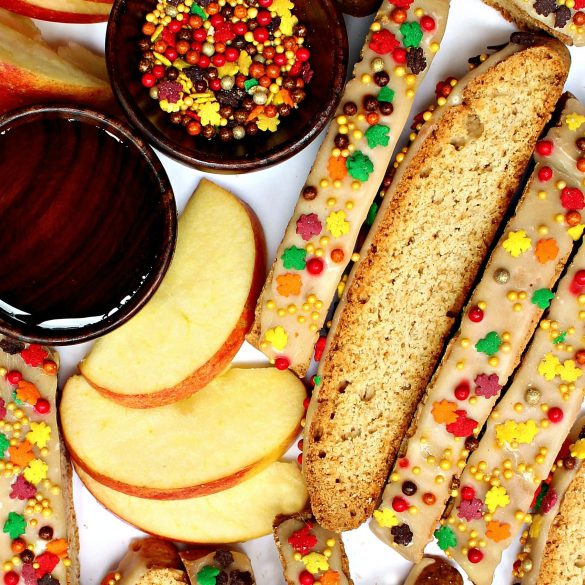 As the fruity-spicy aroma of baking Apple Cinnamon Biscotti filled my kitchen, I got excited for the many fall baking projects I have planned! If you love baking and cooking with apples, you will get excited too about #AppleWeek, September 23-29.
More than 40 blogs, including The Monday Box, will be sharing apple recipes of all kinds. #AppleWeek will include more than 200 recipes and seven different prize packages from #AppleWeek sponsors! Keep an eye out here on The Monday Box for links to the recipes and a link to where you can register for the prizes.
In the meantime, bake some Apple Cinnamon Biscotti to usher in the fall with a bit of sweetness and a lot of crunch.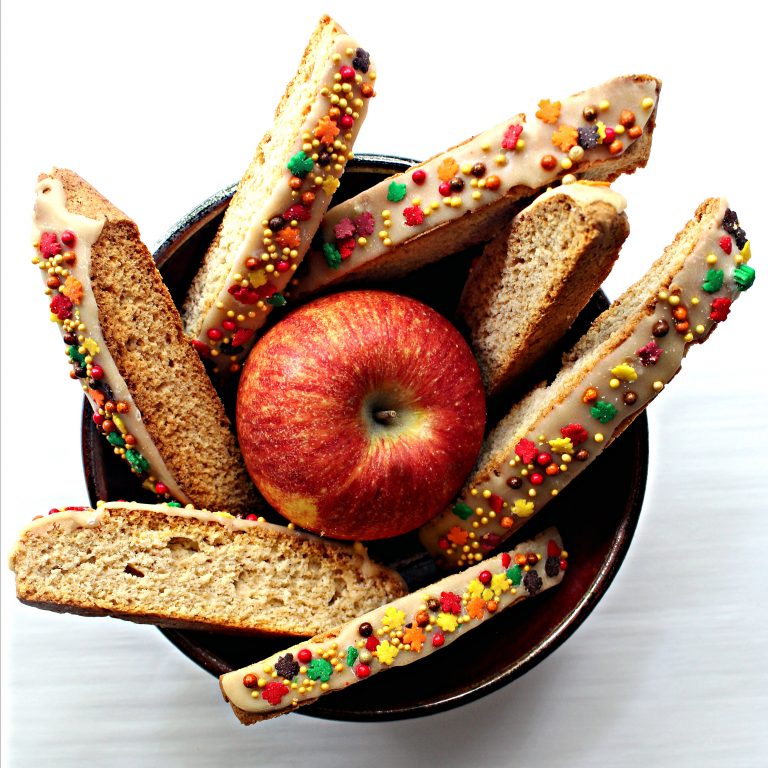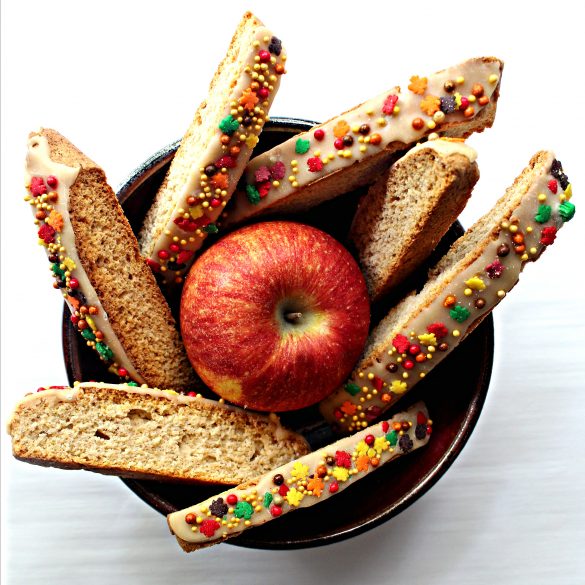 MORE ROSH HASHANAH RECIPES
Apples and Honey Chocolate Bars
Rosh Hashanah Care Package Guide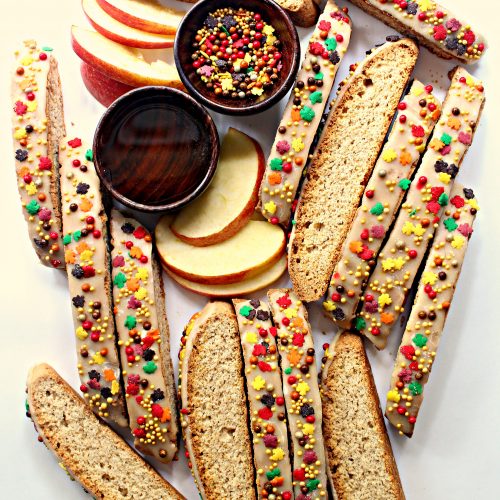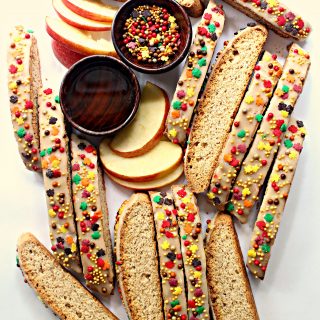 Print
Apple Cinnamon Biscotti
As an Amazon Associate I earn from qualifying purchases.
Ingredients
Biscotti dough
3¼

cups

all-purpose flour

2

teaspoons

baking powder

1

teaspoons

cinnamon

¼

teaspoon

salt

½

cup

butter

room temperature

1

cup

granulated sugar

2

large eggs

¼

cup

plus 1 TBS apple juice concentrate
Apple Cinnamon Icing
2

cups

confectioners' sugar

¼

cup

apple juice concentrate

slightly more if needed

¼

teaspoon

cinnamon

Sprinkles

fall leaves combined with fall color nonpareils
Directions
Preheat oven to 350° F. Line baking sheet with parchment paper.

In a large mixing bowl, whisk together the flour, baking powder, cinnamon, and salt.

In the bowl of an electric mixer, cream together the butter and sugar.

Mix in the eggs and apple juice concentrate.

Gradually, mix in the flour mixture until combined.

Divide the dough in half and place each half on the prepared baking sheet 3 inches apart.

Form the dough into two logs approximately 11 inches long and 3 inches wide. If the dough is sticky, moisten hands to form the logs. A moistened spatula can also be used to form the dough logs.

Bake for 25 minutes or until golden brown.

Remove from oven and cool for about 10 minutes.

Cut the logs at an angle into ¾" slices.

Stand the slices on the baking sheet, slightly separated, and return to the oven for 10-15 minutes, until firm. Biscotti will continue to firm as they cool.

Remove from oven and transfer biscotti to a wire cooling rack until completely cool.
To prepare icing:
In a medium mixing bowl, stir together confectioners' sugar, apple juice concentrate, and cinnamon until smooth and spreadable. Add more confectioners' sugar if the icing is too runny or more juice concentrate if the glaze is too thick.

Use an offset spatula or butter knife to spread the icing on one biscotti at a time and immediately add sprinkles.

Place on a sheet of wax paper to allow the icing to firm for about 2 hours.

Store in an airtight container at room temperature, with wax paper between layers, for at least two weeks.
Notes
Wrap 3-4 biscotti, cut edges together, in plastic wrap. Stack wrapped bundles in a freezer weight ziplock bag or plastic storage container.