I realized, just this week, that I have been sending care packages for far longer than I had remembered. I was only thinking about college care packages. My daughter, my older child, went off to the wintry wonders of Iowa 6 years ago. I thought that was when my food-in-boxes obsession began, but I suddenly realized that I actually have been baking for mailing purposes for several decades. Over the years I have mailed 100's of these Hamantashen Pocket Cookies.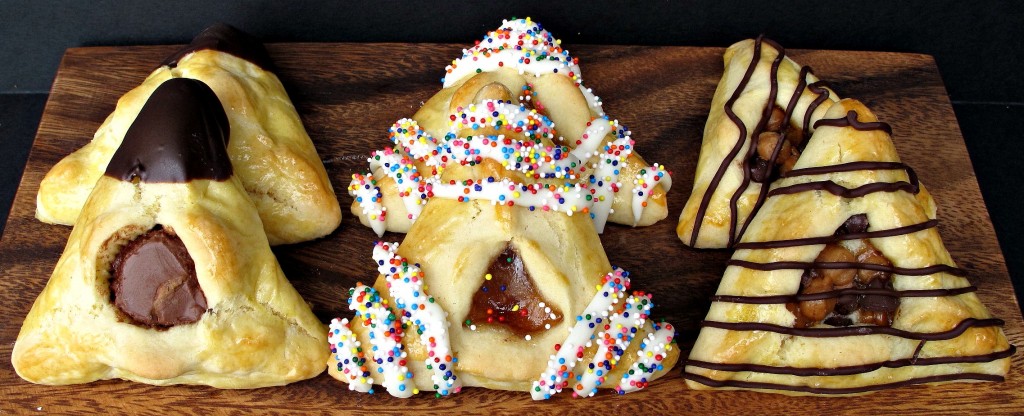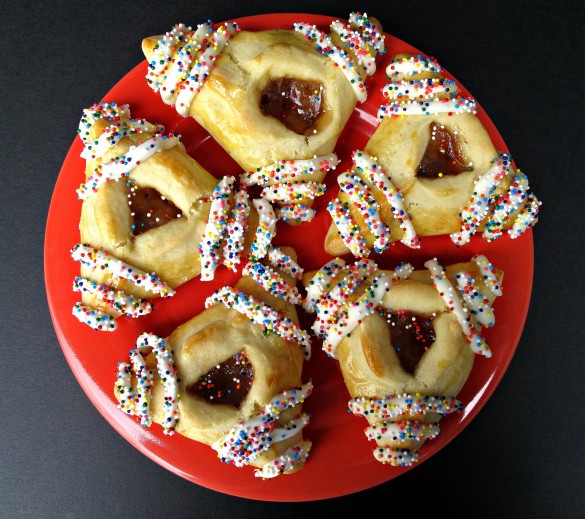 This Saturday, February 23, begins the Jewish holiday of Purim. It's a great holiday filled with merriment; costumes, noise making, a story with an evil bad guy and a beautiful queen who saves the day, and cookies. The three-cornered cookies are named after the bad guy, Haman, which is kind of odd because you would think there would be cookies named after the heroine of the story. Anyway, these cookies are named Hamantashen, which is a Yiddish word meaning Haman's pockets. Traditionally, they are cookie pockets filled with prune or poppy seed filling. Non-traditionally they can be filled with anything.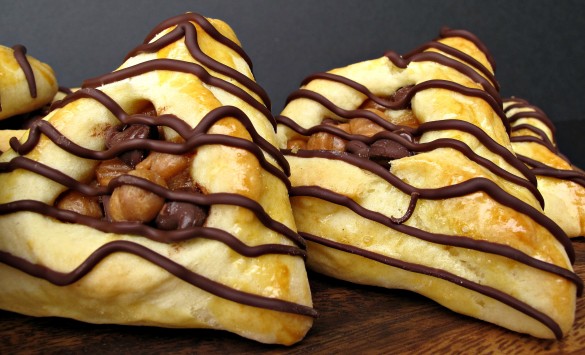 A Purim tradition is to give food baskets to friends and family, usually containing the hamantashen pocket cookies. No problem handing out goodies to my friends nearby, but my extended family lives all over the place. I have lived in St. Louis for most of my life. I came here for college (a long time ago), and except for quick detours to Chicago and New Jersey, basically stayed. None of my extended family live anywhere close. So when I wanted to bake hamentashen for family, the cookies had to be mailed. Apparently, long before the internet and blogging were twinkles in anyone's eye, I was already taking notes on the art of mailable baked goods.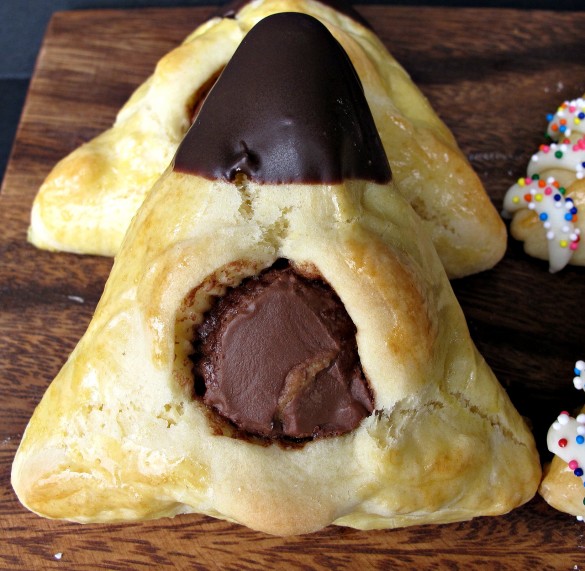 At one point, I was mailing out close to 20 Purim goodie boxes. This year, though I only mailed out 7 boxes, one box (for my son's fraternity house) contained 6 dozen pockets of deliciousness.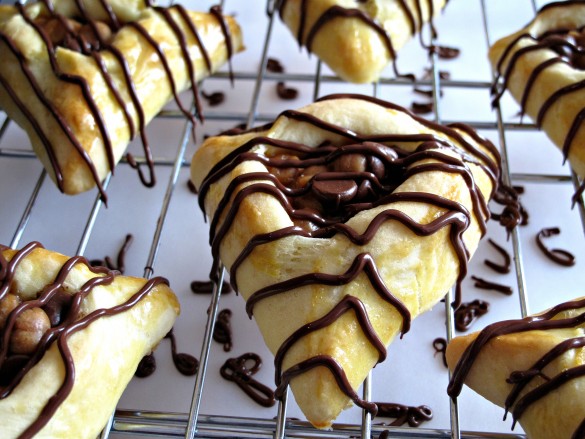 Google the word "hamantashen" and you will find links to gazillion recipes. Some are traditional. Some are creative. Some are astounding. I thought about trying to develop something astounding, but decided to leave that to the professionals. Instead, I realized that the recipe I have been using for the last several decades, though not earth shaking, has it's own special characteristics, not the least of which is that it's delicious and everyone that eats one cookie, wants more.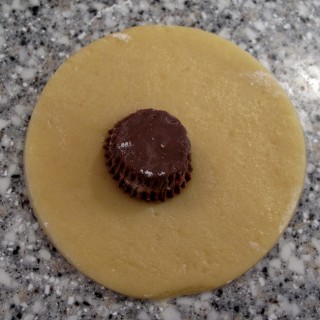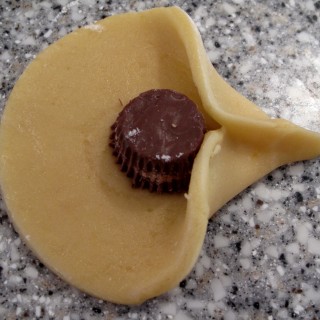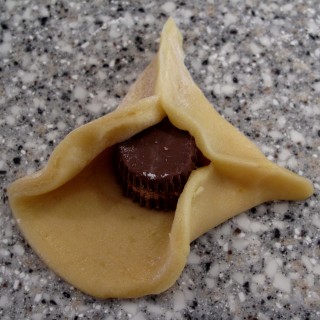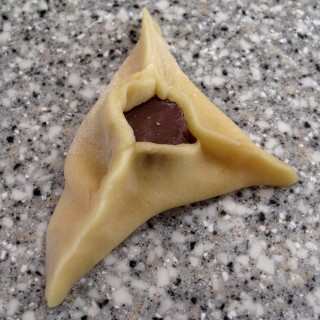 I do not know the original source of this recipe. Many years ago, I taught at a school in New Jersey. My co-teacher used this recipe to bake with the kids because, though it is not easy toward the end, the recipe can be made without using a mixer. It produces a dough that bakes up soft and a little cakey. Though it contains orange juice, you can't taste it in the cookie. The same batch of dough can be used with a variety of fillings. Additional flavors or extracts can be added to the dough if you prefer. These cookies are perfect for sending to far flung family and friends because they actually taste better over time. Quite tasty on day 1, these hamantashen taste even better on day 3. Stored at room temperature in an airtight container, we have enjoyed these pocket cookies for up to 10 days after baking.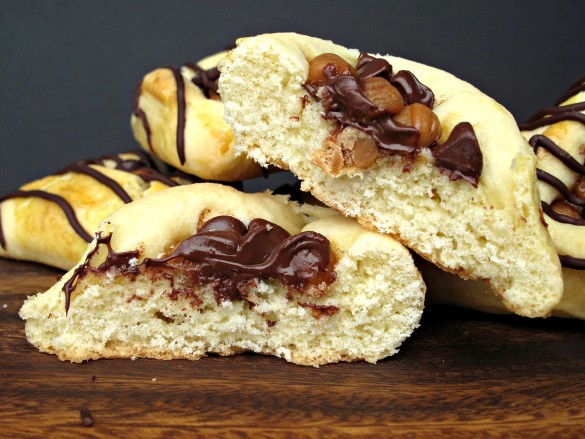 You certainly don't have to be Jewish or celebrate Purim to enjoy hamantashen pocket cookies. Consider it exploring ethnic baking. Use one of my suggested fillings or be adventurous and try your own. Traditional hamantashen are not embellished but creative license allows for drizzling, dipping or sprinkling to your hearts content. (Just remember that if you are mailing these, any topping must set firmly. I personally prefer not to embellish the cookies I am mailing. )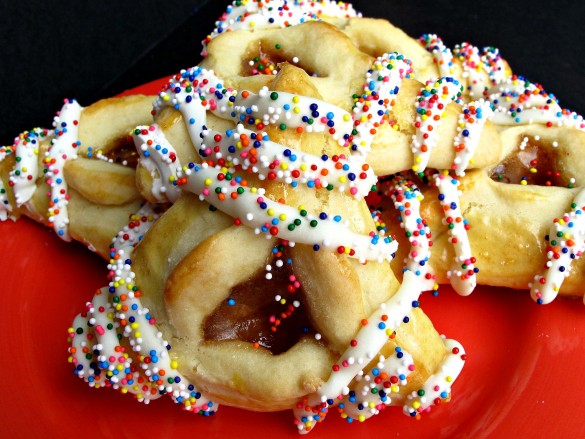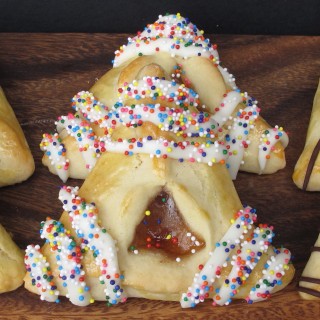 Print
Hamantashen Pocket Cookies
Servings
26
cookies (using a 3 ½ " circle cookie cutter)
As an Amazon Associate I earn from qualifying purchases.
Ingredients
4 ½

+ cups all-purpose flour

up to 1 extra cup is needed for flouring the rolling surface

1

tablespoon

baking powder

¼

teaspoon

salt

3

+ 1 large eggs

1

cup

granulated sugar

¾

cup

oil

1

teaspoon

vanilla extract

½

cup

orange juice

POSSIBLE FILLINGS FOR 24 COOKIES:

Jam: ½ cup

Chocolate-Caramel: ½ cup chocolate chips

½ cup caramel bits

Reese's Cups

or other round miniature chocolate candy: 24 mini candies, unwrapped

TOPPING

OPTIONAL:

Chocolate Drizzle : 1 cup melted chocolate in a plastic bag with the corner cut off

Chocolate Corner Dip: 1 cup melted chocolate in a small deep bowl

Stripes: 1 cup melted white chocolate in a plastic bag with the corner cut off

plus

sprinkles
Directions
n a medium mixing bowl, whisk to combine flour, baking powder, and salt. Set aside.

In the bowl of an electric mixer(or large bowl if mixing by hand) beat together 3 eggs, sugar, and oil until color lightens (about 2 minutes).

Add vanilla and orange juice, mixing until blended in.

Add dry ingredients. Mix until completely combined. Dough will be wet and soft (about the consistency of thick brownie batter).

Dump dough onto wax paper. Wrap. Chill for 2 hours or overnight in the refrigerator or 20-30 minutes in the freezer.

***Important: see Baking Notes #1 below***

When ready to bake, pre-heat oven to 350 degrees F. Line baking sheet with parchment paper.

Liberally flour (about 2 heaping tablespoons) the rolling surface.

Working with ½ of the dough at a time, knead the dough on the floured surface, adding more flour as needed, just until the dough is smooth and no longer sticks to the counter surface.

Roll out (on flour dusted surface) to ¼" thickness. Use cookie/biscuit cutter or glass rim to cut out circles. ( Trimmings can be re-rolled )

Place ½ heaping teaspoon of jam filling, one candy piece, or about 12 chips, in the center of each circle. (This sounds like and looks like very little filling but it is plenty. Any more than this and the filling will erupt during baking)

Fold up edges to form triangles, pinching seams together.

Place pockets on prepared cookie sheet about 2" apart.

In small bowl, beat 1 egg for egg wash.

Brush egg wash over cookie surfaces, then wipe a finger dipped in egg wash over all seams. ***Important: see Baking Notes #2 below***

Bake for 12-15 minutes until cookies are very lightly browned.

Cool on wire racks.

Optional: once completely cooled, embellish with chocolate drizzle or dip a cookie corner in melted chocolate or candy melts.

Store hamantashen in an airtight container at room temperature for up to 10 days.

***Baking Notes*** 1. This is a moist and soft dough. Chilling is essential. The colder the dough, the less extra flour will be needed for rolling consistency. If the dough isn't easy to work with, add more flour in small increments. 2. A very common problem in making hamantashen is the seams opening during baking (at which point all of the filling leaks out). This shouldn't happen with this recipe for two reasons. First, it is a very moist dough and the edges should mush together easily. Second, is the egg wash. The egg wash creates a pretty shiny surface on the cookies but also functions like glue on the seams, holding the edges together.
Packing Tips
Cookies can be wrapped in pairs (with bottoms together) or singly in plastic wrap or placed 2 or 3 together into small zip lock bags. For maximum freshness place wrapped cookies or small bags of cookies into a larger zip lock bag or air tight container.
There are Gluten-Free treats for Passover on The Monday Box! Click on the photo for the recipe.
Save
Save