This Apple Oatmeal Cutout Cookies recipe is sponsored on behalf of #AppleWeek. Our generous sponsors Envy Apples, Bob's Red Mill, Republic of Tea, Flahavan's Irish Oats, Nairn's, Taylor & Colledge, Zyliss, Chocoley, and Torani have provided us with products for recipe creation and a giveaway for our readers. As always, all opinions are my own.
I wish this post for Apple Oatmeal Cutout Cookies could be scratch-and-sniff. The spiced apple scent is amazing! You will just have to bake some yourself so that you can enjoy the spiced apple scent and flavor! This recipe has several surprises for easily creating a scrumptious apple spiced oatmeal cookie with easy watercolor icing!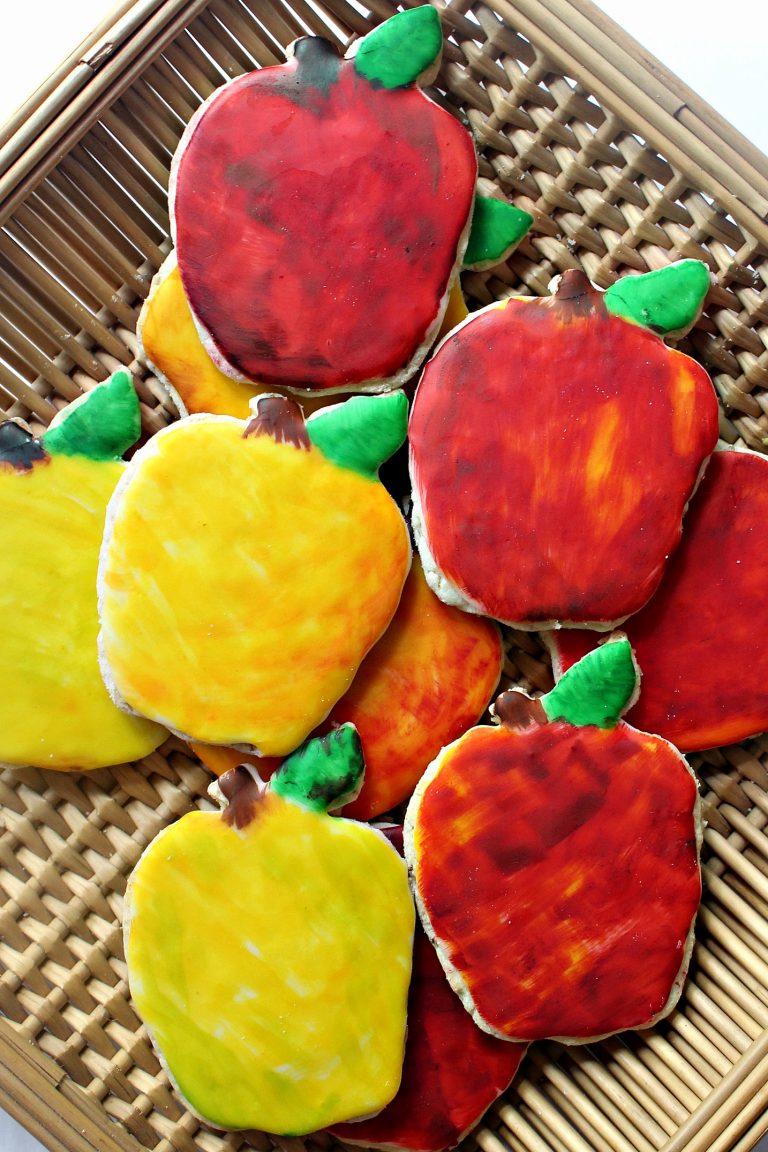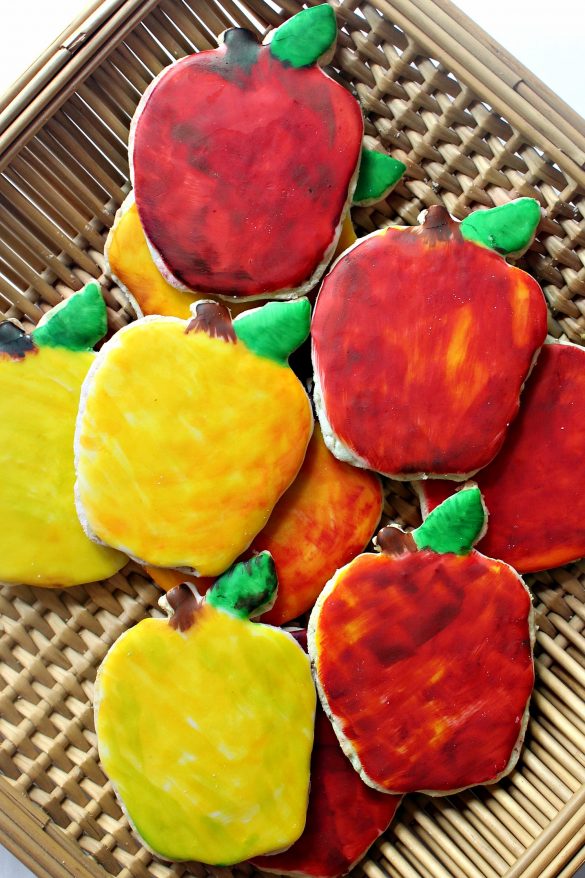 Apple Oatmeal Cutout Cookies are another recipe for #AppleWeek 2019, a week filled with so many great apple recipes. I hope you also enjoy the chewy Oatmeal Fruit Bars recipe and Apples and Honey Chocolate Bars recipe.
Long ago, before computers, printers, and smart phones, people sometimes found recipes printed in magazines and newspapers. The recipe would be cut out and placed in a box or a file. There were always more clippings than time to cook.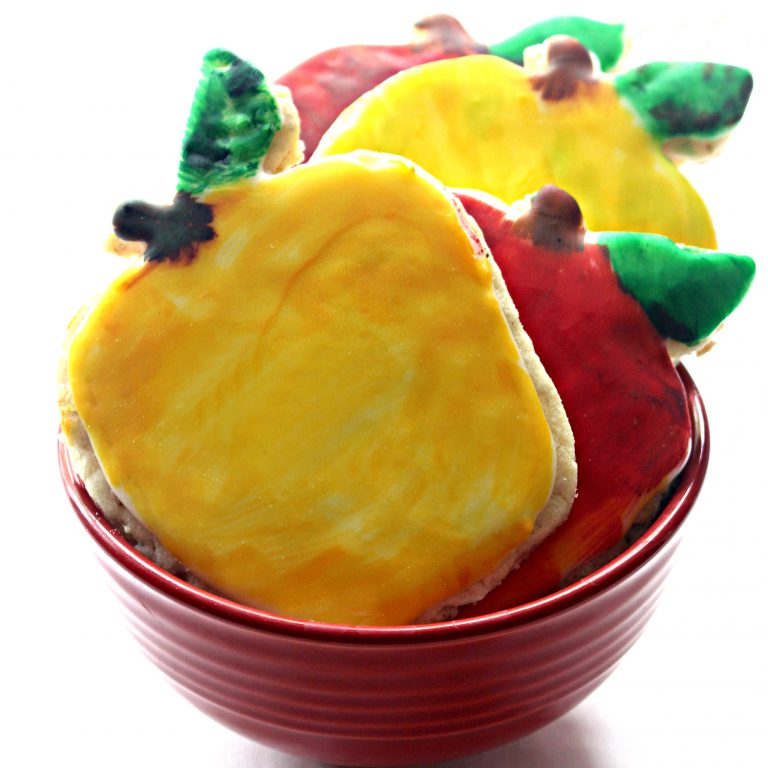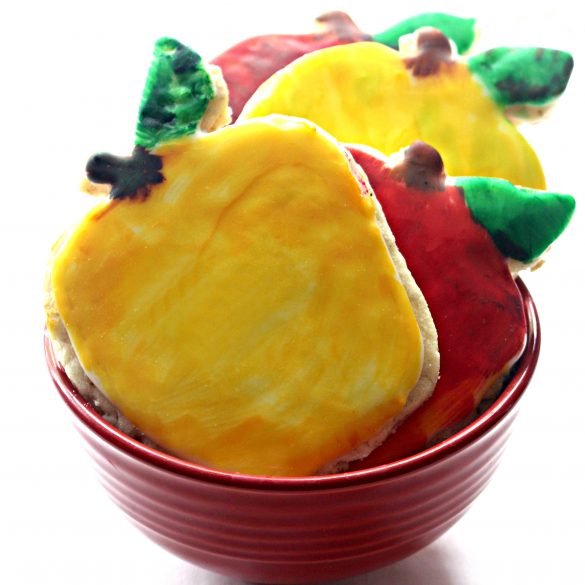 I am a bit of a pack rat, and still have boxes and files filled with recipe clippings. Occasionally, I actually look at them. Despite the yellowing paper, some of those recipes are hidden treasures.
A thirty year old newspaper clipping led me to this Apple Oatmeal Cutout Cookies recipe. The only cutout cookies I had ever made were sugar cookies or shortbread. A rolled out oatmeal cookie sounded like it was worth a try.
The cookies are just as tasty as I had imagined they would be. I tweaked the recipe a bit to add the apple flavor. A possibly surprising ingredient that adds that flavor boost is butter infused with Hot Apple Cider Tea!
Infusing butter with tea leaves or herbal mixes, is an easy way to add lovely aroma and flavor to baked goods. I learned the simple infusing method while baking Peach Tea Shortbread Cookies.
Tea leaves are seeped in melted butter. When the tea leaves are strained out, the butter retains the flavor and scent of the tea.
When Republic of Tea supplied the Apple Week bloggers with their Hot Apple Cider Tea to try, I knew just how I wanted to use it! The recipe for oatmeal cutout cookies was the perfect match for tea infused butter.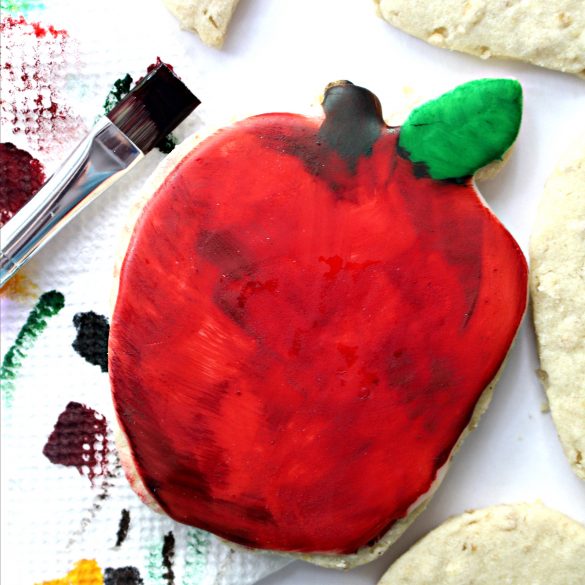 The baked cookies are highly aromatic, minimally sweet, and have a distinct apple spice flavor. The texture is firm with a bit of chew from the rolled oats.
Straight out of the oven, however, the cookies are rather beige. Adding color with icing is a plus to the flavor and to eye appeal.
The method I used for adding that punch of color is the second recipe surprise. To create a watercolor look (I was thinking Eric Carle), I coated the cookies in white icing, then painted the color on top. The painting is so quick and easy, that it makes a great project to do with kids!
Be sure to do the computer age version of clipping and filing this recipe. Decorated Apple Oatmeal Cutout Cookies are super tasty to snack on and make beautiful gifts for Rosh Hashanah or for teacher appreciation.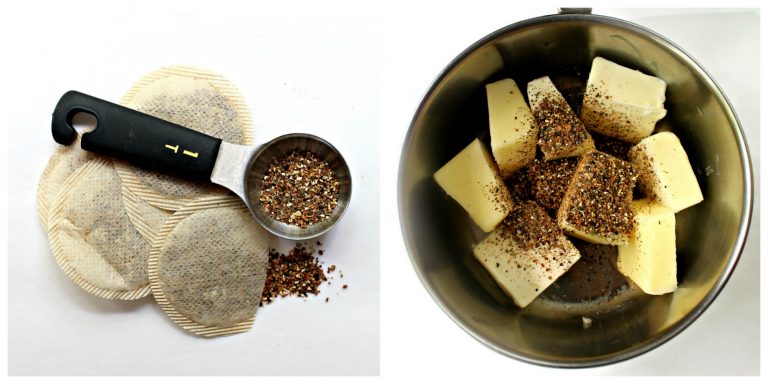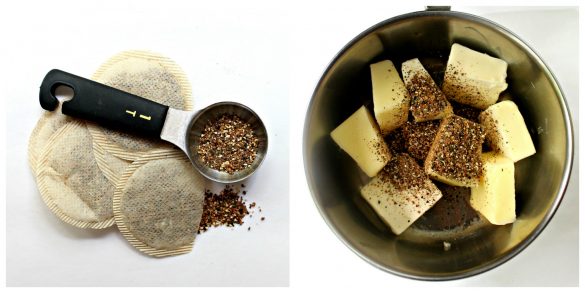 HOW TO MAKE TEA INFUSED BUTTER
To make the infused butter, melt the butter with the tea in a small saucepan over low heat.
Allow the mixture to seep for 10 minutes before straining and discarding the tea.
Chill the butter until firm.



HOW TO MAKE APPLE OATMEAL CUTOUT COOKIES
To make the cookie dough, cream the tea infused butter and sugar, then add the egg, vanilla, flour, and oats.
Chill the dough for one hour before rolling and cutting out cookies.
Bake the cookies. Cool completely before icing.
To make the icing, mix together confectioners' sugar, corn syrup, milk, and vanilla.
Pipe the icing to coat each cookie. Allow the icing to dry for at least 6 hours.
In small shallow bowls, mix a few drops each of food coloring and extract.
Paint the coloring onto the cookies.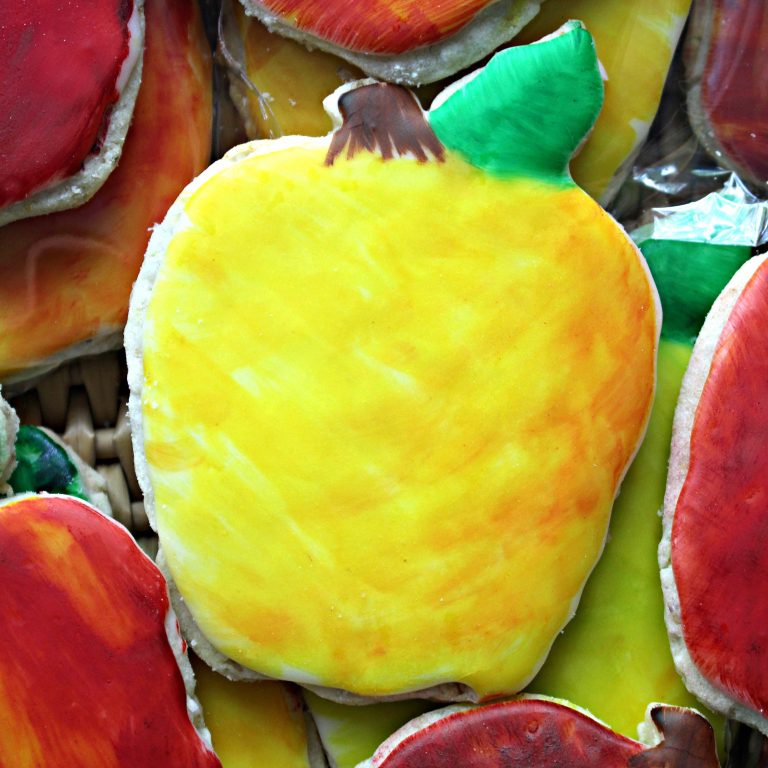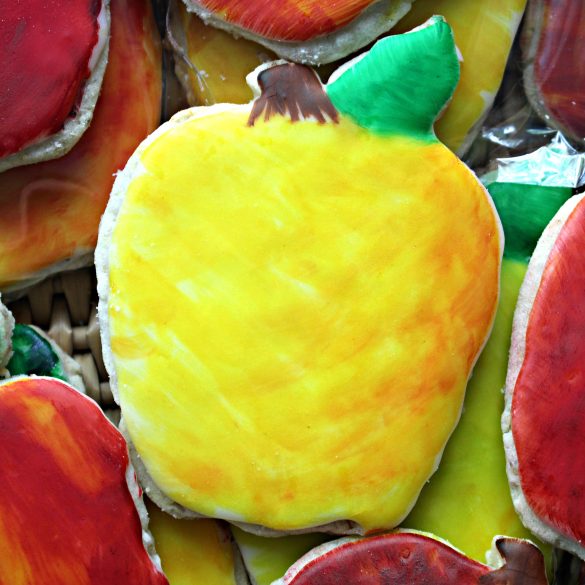 TIPS FOR MAKING OATMEAL CUTOUT COOKIES
This is not a dough that can be refrigerated overnight. The dough toughens and and doesn't roll out without crumbling. I suggest sticking with the times given in the recipe.
A decorating alternative, if you don't have time for fully iced cookies to dry overnight, is to color the icing red, yellow, or green and drizzle it over the cookies.
Though the Republic of Tea Hot Apple Cider Tea is ideal for adding spiced apple flavor to these cookies, any favorite tea can be used for infusing.
Tea infused butter stays fresh in the refrigerator for at least one week. It can be used in baking and is delicious on toast or pancakes.
Not interested in infused butter? Use plain butter plus 1 teaspoon of vanilla extract instead.
Cut out in other shapes and flavored however you wish, these oatmeal cookies offer delicious variety to standard roll out cookies year round.
(The Monday Box participates in affiliate marketing programs. As an Amazon Associate I earn from qualifying purchases. If you choose to purchase a product after following a link on this page, I will receive a small commission, at no cost to you, which helps make The Monday Box possible.)
TOOLS YOU MAY NEED FOR APPLE OATMEAL COOKIES


MORE EASY CUTOUT COOKIE RECIPES
Lemon Sugar Cookie Lemon Slices
Pumpkin Spice Cutout Sugar Cookies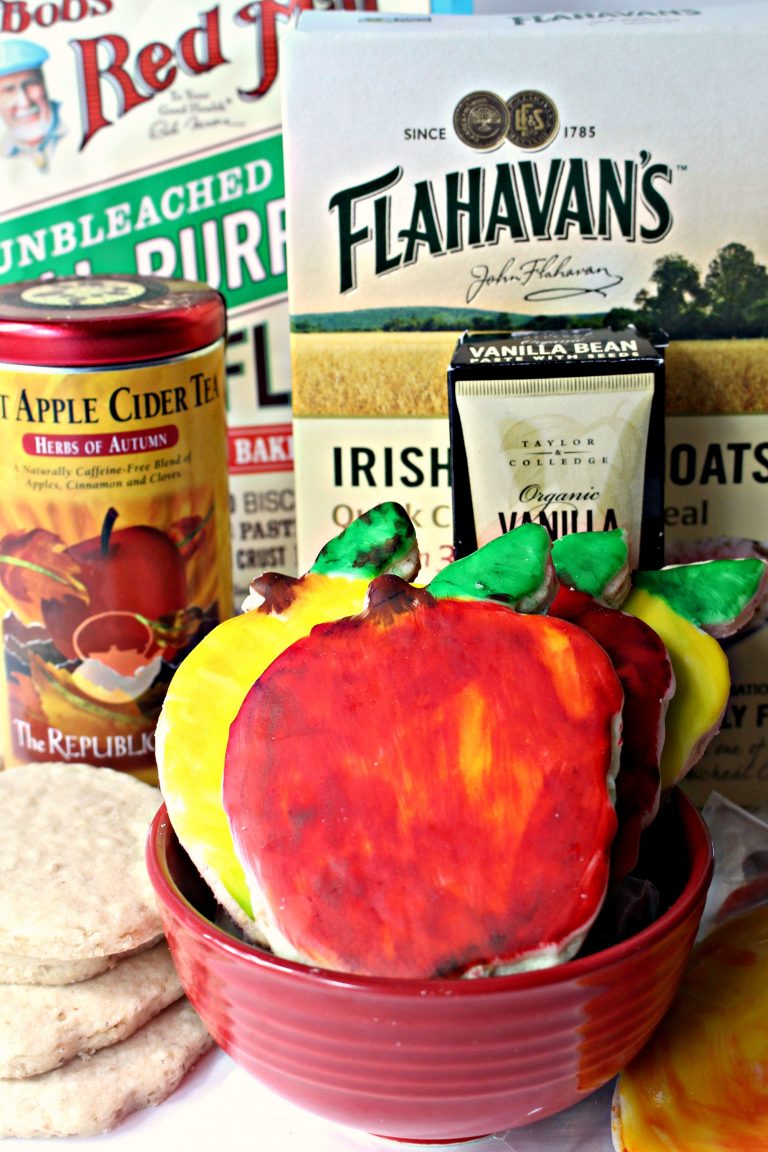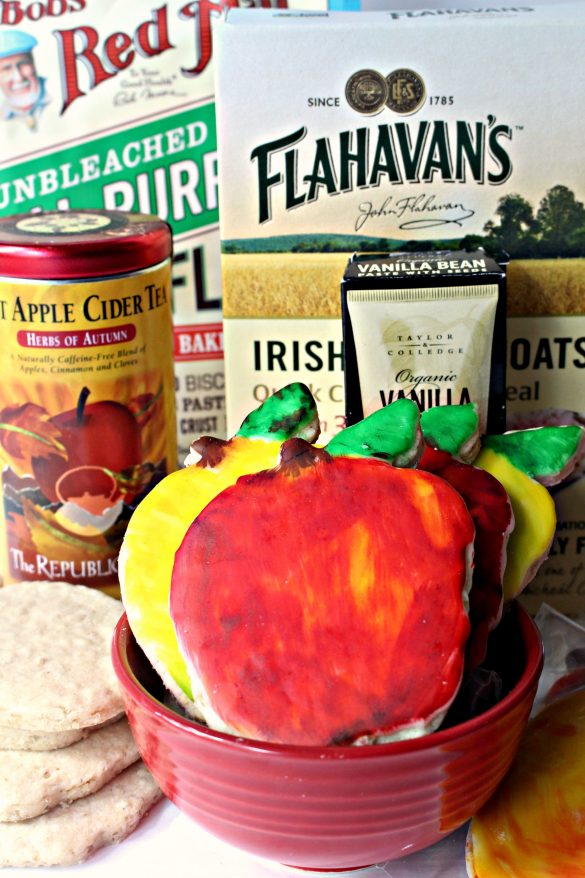 APPLE OATMEAL CUTOUT COOKIES RECIPE
The heavenly aroma of apples and spices will fill your kitchen while baking these tea infused oatmeal cookies. A delicious snack and a great gift for teachers or for Rosh Hashanah too.
Apple Oatmeal Cutout Cookies
As an Amazon Associate I earn from qualifying purchases.
Ingredients
Directions
Infused Butter
In a small saucepan over low heat, melt butter with tea leaves. When the butter is completely melted, remove from heat and allow to seep for 10 minutes.

Remove the tea leaves from the butter by pouring the butter through a fine mesh strainer into a small mixing bowl. Discard the tea leaves. Refrigerate the butter until firm (2 hours- overnight).
Cookie Dough
Preheat oven to 350° Line a cookie sheet with parchment paper.

In the bowl of an electric mixer, cream the infused butter and sugar.

Mix in the egg and vanilla.

Add the flour and oats and mix until dough forms.

Chill dough for 1 hour.

Roll out the dough to ¼" between two sheets of parchment paper.

Cut out apple shapes and transfer to prepared cookie sheet, about 2" apart.

Bake for 12-14 minutes (less for smaller cookies).

Remove from oven and transfer to wire cooling racks to cool completely before icing.
Icing
In the bowl of an electric mixer, combine sugar, milk, corn syrup and vanilla until smooth and glossy

Add additional milk in teaspoon increments until the consistency of thin white glue.

Spoon icing into piping bags fitted with a round tip (Wilton #5).

Outline, then fill in each cookie with the white icing.

Leave out overnight (or at least 6 hourfor the icing to firm completely.
Decorating
For each color, in a small shallow bowl use a paint brush to mix a few drops of food coloring gel with a few drops of vanilla extract.

Paint the cookies with the diluted food coloring.

Allow the food coloring to dry completely (about 30 minutebefore packaging in cellophane cookie bags or in plastic containers in layers separated by wax paper.

Store at room temperature in air tight containers for up to 10 days.
Notes
Wrap cookies individually or in pairs, with bottoms together, in plastic wrap or in cellophane cookie bags. Stack the cookie in a column in a freezer weight ziplock bag or in a plastic storage container.
WEDNESDAY'S #APPLEWEEK 2019 RECIPES