Looking for Rosh Hashanah gifts to brighten someone's Jewish New Year? This Rosh Hashanah Care Package guide includes everything needed to share your New Year wishes in a care package or gift basket.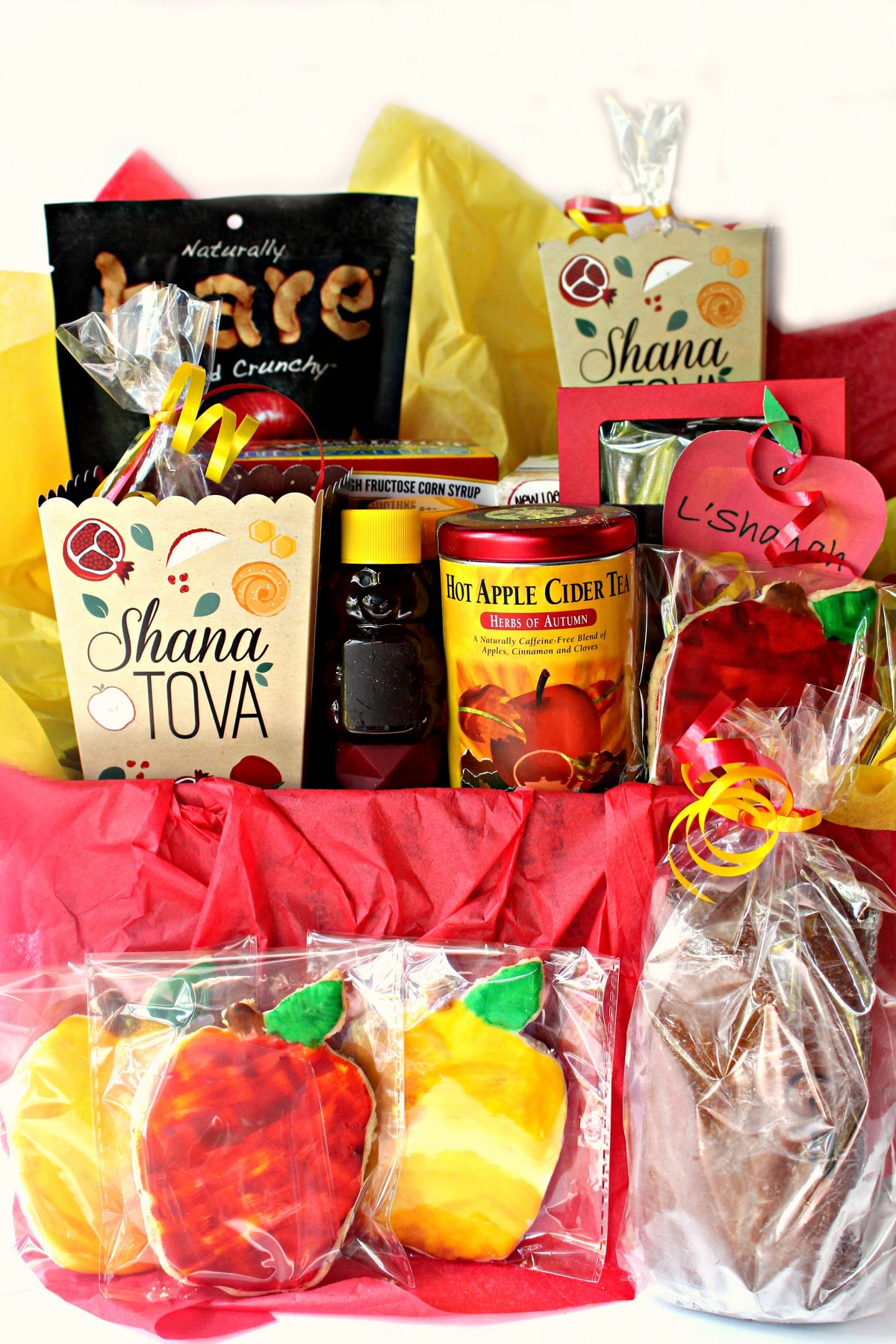 For Jewish people all over the world, Rosh Hashanah is one of the most significant holy days of the year. Gifting a New Year's present or care package is a wonderful way of adding your good wishes to the celebration.
For those who haven't grown up observing Jewish holidays, the symbols and traditions of Rosh Hashanah can be a bit of a mystery. However, this short explanation of the holiday will make it easy for anyone to create great Jewish new year packages!
What is Rosh Hashanah ?
Rosh Hashana is the Jewish New Year according to the Hebrew calendar. The words "rosh hashana" translate as "head of the year".
Rosh Hashanah and Yom Kippur (the Day of Atonement) are referred to as the High Holy Days, and are the most important holidays in Judaism. The High Holy Days are traditionally a time of personal reflection , prayer and family gatherings.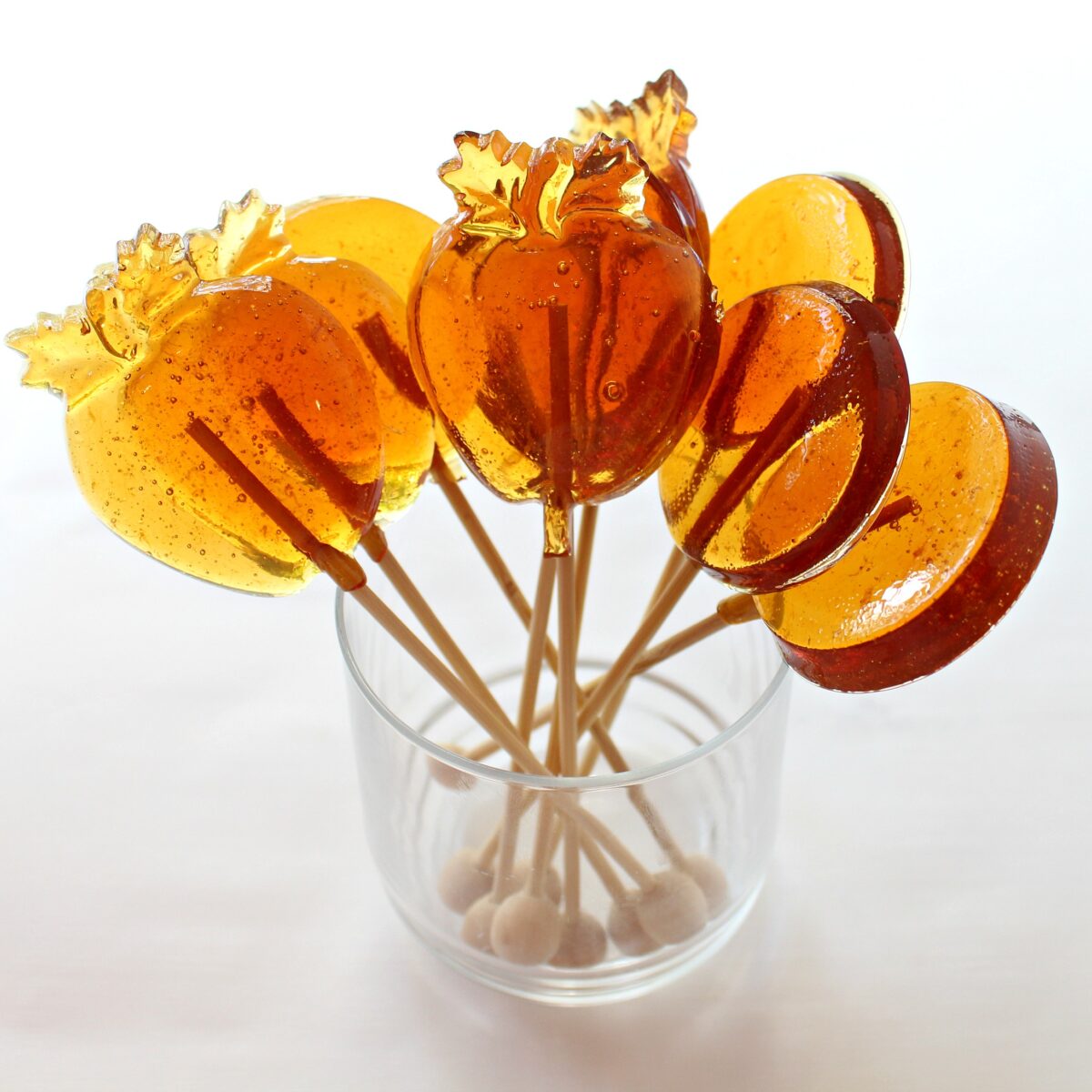 Traditions
It is traditional to go to synagogue on Rosh Hashanah. Even many people who do not regularly attend services, make a point to attend on this important holiday.
During services the Shofar, a wind instrument made from a ram's horn, is blown..The meaning behind blast of the Shofar, and its different rhythms, have many interpretations. One purpose of the Shofar blast is a "wake up call" to reflect on our deeds and how to improve ourselves and the world.
The festive meals in celebration of this holiday includes a round challah (egg bread) often with raisins, instead of the usual plain, braided loaf. The round shape represents the continuity of life. The raisins are for sweetness in life.
The round challah and slices of apple are eaten dipped in honey to symbolize our hopes for a sweet New Year.
Eating pomegranate is symbolic of the wish for our merits be many, like the many seeds of the fruit.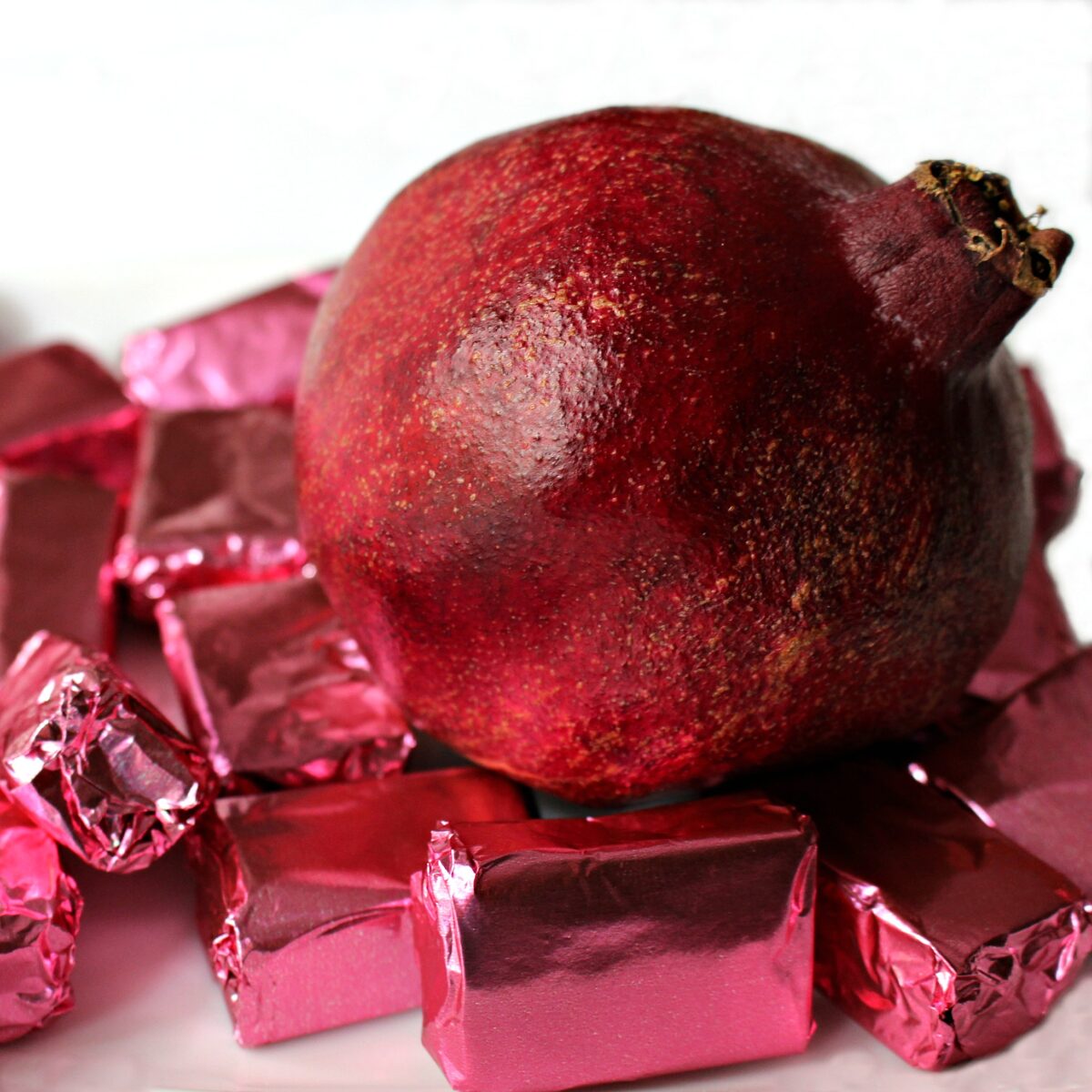 Care package tips
Rosh Hashanah, the first day of the New Year on the Jewish calendar, usually correlates with a September or October date on our Gregorian calendar. Cooler, fall weather may be starting in parts of the United States, but in many areas of the world it is still very hot.
Temperatures should always be considered when sending a care package. When mailing to hot weather locations, be sure to choose foods and gifts that can withstand the heat without spoiling or melting.
In addition to the suggestions in this gift guide, your local supermarket or online grocery store has many shelf stable apple, honey, and pomegranate products that make tasty treats for a holiday package! See item 9 below.
Gifts for care packages and gift baskets
(The Monday Box participates in affiliate marketing programs. As an Amazon Associate I earn from qualifying purchases. Additional affiliate programs may be linked when applicable. If you chose to purchase a product after following a link on this page, I will receive a small commission, at no cost to you, which helps make The Monday Box possible.)
The items on this list make thoughtful gifts that can easily be presented in person as a beautiful Rosh Hashanah basket or mailed in a care package. Any of these gifts will surely help bring sweet new beginnings to the New Year for friends and family members.
Clicking on any photo or link in the description will take you directly to a product page for more information or to purchase.
HOT APPLE CIDER TEA  
Apples being a symbolic Rosh Hashanah fruit, apple cider tea fits this gift theme perfectly. The seasonal herbal tea full of apples and cider spices makes a cozy beverage that smells and tastes like fall.
Need a festive cookie with your tea? Apple and Honey Cookies make beautiful and tasty holiday treats!
BEE CAUSE HONEY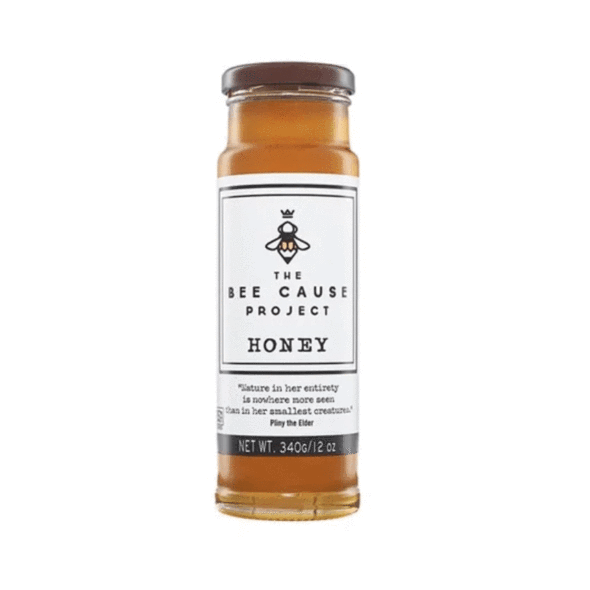 It's doubly gratifying to give a gift made by companies with missions to make the world a better place. All of the proceeds from honey sold by the Bee Cause Project go to providing schools with bee hives so that students can learn about bees and their importance to the environment.
While ordering, you may want to get a jar for yourself to use in baking! Moist and flavorful Honey Cake (a traditional Rosh Hashanah dessert) uses ½ cup of honey. This is a great cool weather care package loaf. It travels well and tastes even better after a few days!
HONEY STICKS
Individually packaged honey sticks are especially great for care packages going to deployed military or college students. These straws are easy to mail and easy to store when they arrive.
This honey is great for drizzling on apples and challah or for adding to a cup of tea!
SERVING BOWL FOR HONEY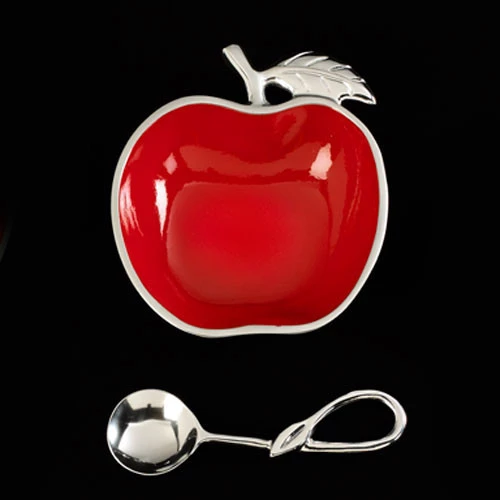 This apple shaped bowl and honey spoon is a fun holder for holiday honey! This set makes a special gift for anyone hosting a holiday gathering.
SHANA TOVA (HAPPY NEW YEAR) DECORATIVE BANNERS

Banners are the perfect way to decorate a college dorm or military barracks for holiday celebrating. Include thumb tacks or a roll of tape to make hanging the banners easy.
MARZIPAN ROSH HASHANAH LOLLIPOP SET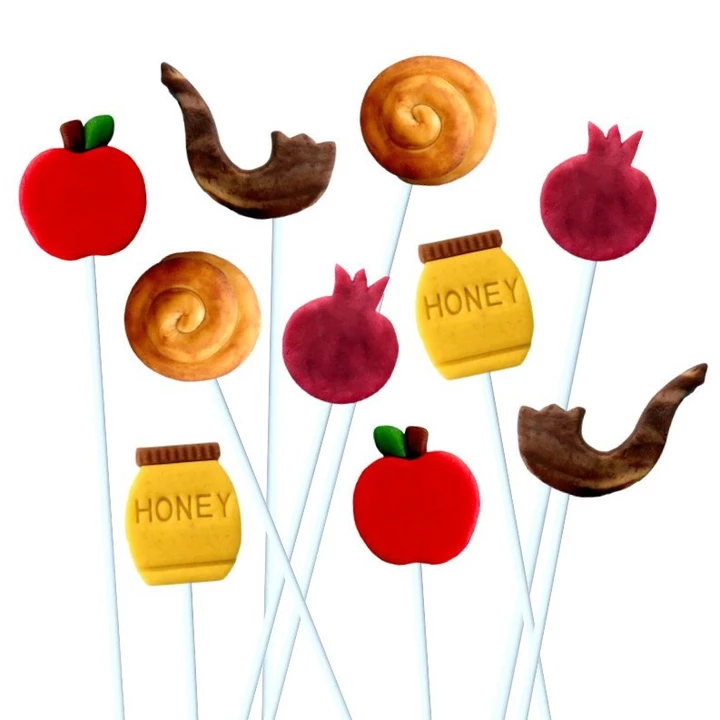 Who wouldn't love a set of lollipops in Rosh Hashanah shapes ?! Given as hostess gifts or in care packages, these sweet treats are bound to create smiles.
POPCORN TREAT BOX

Popcorn isn't the only snack that can be packaged in these fun boxes! Wrap Honey Cake Biscotti and Apple Cinnamon Biscotti in plastic gift bags then stand the bags in the treat box! Homemade treats are always appreciated.
The treat boxes make gift wrapping simple and can be used in care packages to help protect baked goods being shipped.
ROSH HASHANAH COLORING BOOK

Coloring books aren't just for children. Many adults find coloring to be a relaxing activity. A Rosh Hashanah themed coloring book could provide some much needed stress relief for deployed military and college students.
Include fine tipped markers or colored pencils and a pencil sharpener, so that your care package recipient can start the New Year by de-stressing immediately!

ROSH HASHANAH FOOD

There are all kinds of apple, honey, and pomegranate snacks that would be fun to add to a Rosh Hashanah gift basket or care package. Many of these can be found in your local grocery store.
Another option is to pick and choose a variety of items with traditional flavors, and let Amazon mail your box of New Year treats!
Apple treats include: apple chips , apple fruit leather, applesauce pouches, and apple pie toaster pastry.
Some pomegranate treats are: chocolate pomegranate seeds ,pomegranate toaster pastry, and pomegranate licorice.
In addition to symbolic foods, add some favorite treats like chocolate chip cookies or chocolate chip biscotti. It's a great way to make someone smile.
Have a good and sweet year!
Shanah Tovah Umetukah
שנה טובה ומתוקה