Crunchy, buttery honey caramel and tiny bits of apple chips coat every piece of Apples and Honey Caramel Popcorn for a mouthwatering snack that is positively addicting, one handful after another! Enjoy this flavorful treat and share it in Rosh Hashanah care packages and gift baskets.
Why you'll love this recipe
Apples and honey are a delicious combination with added Judaic symbolism this time of year. Apples are dipped in honey during Rosh Hashanah, the Jewish New Year, in the hope of a sweet New Year to come.
In addition to honey on apple slices, honey cake is traditional. I bake my honey cake as mini loaves which I gift to friends and family.
When my kids left for college and beyond, I began a tradition of sending Rosh Hashanah care packages heavy on the apples and honey theme. In addition to honey cake (it just wouldn't be Rosh Hashanah without it), I've included goodies like Apples and Honey Cookies and Honey Cake Biscotti.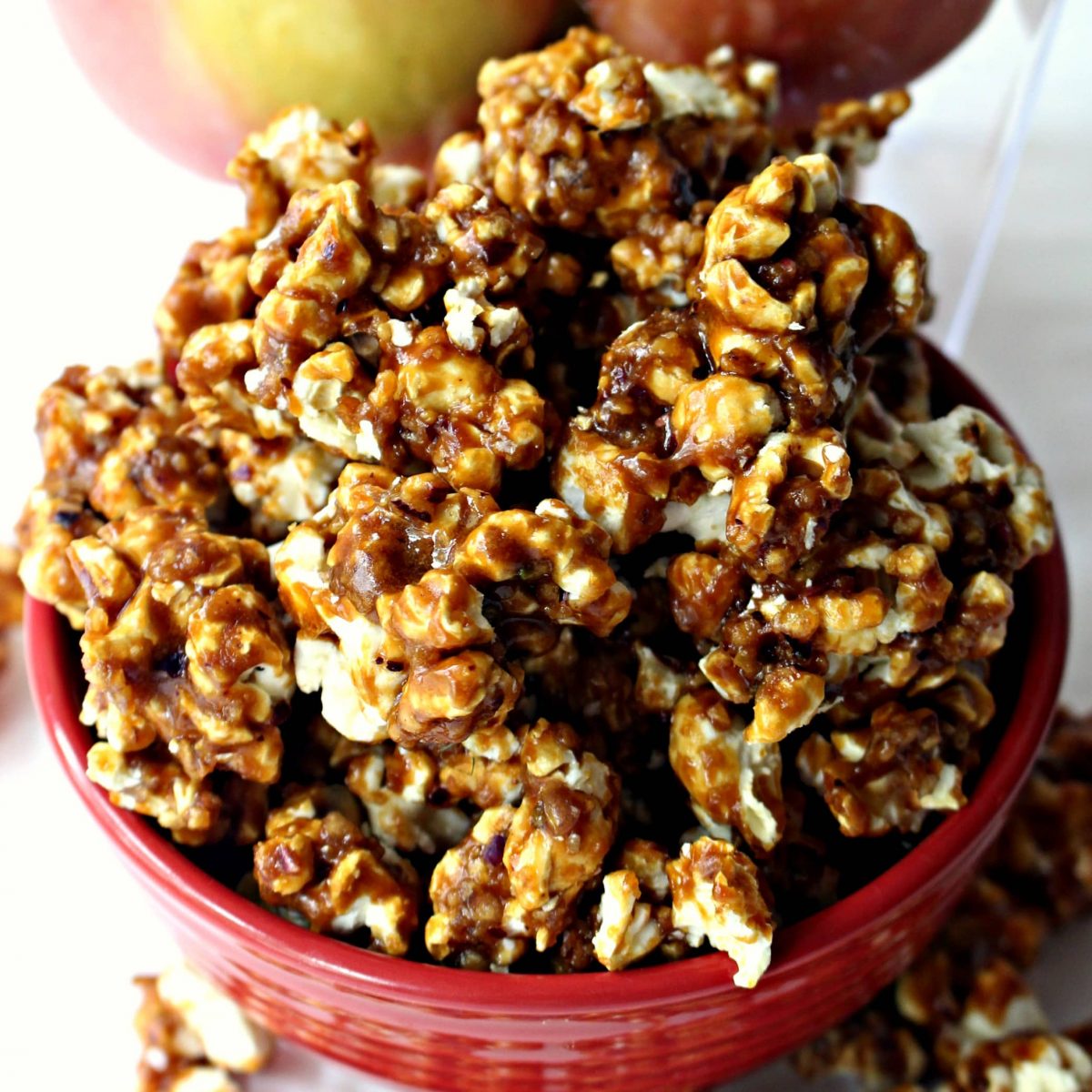 This year's care package will also include caramel corn with a twist. I tweaked my favorite caramel popcorn recipe adding honey to the caramel coating and mixing in chopped apple chips. The result is an apples and honey snack that's hard to stay away from!
If you want homemade caramel popcorn that stays crunchy, not sticky, for weeks I have all the tips and tricks for you.
Most important is to bake the caramel onto the popcorn and to store it as airtight as possible to keep out humidity.
Instructions
This is an overview of the instructions. The full instructions are in the recipe card below.
Make the popcorn and transfer it to a parchment lined roasting pan.
Finely chop the apple chips in a food processor and sprinkle over the popcorn.
In a 2 quart saucepan, bring the butter, brown sugar, corn syrup, and honey to a boil over medium low heat, stirring constantly. Continue cooking, about 5-10 more minutes, until a candy thermometer reads 300°F. The caramel will be thicken and become foamy.
Remove the pan from the heat and stir in the baking soda and flavorings. The mixture will foam up, but won't overflow. Be careful, as the caramel is very hot
Pour the caramel over the popcorn and stir to coat as much as possible. At this point the popcorn will not be fully coated.
Bake at 250° F for 45 minutes, stirring every 10 minutes to coat the popcorn. By the end of the 45 minutes, the popcorn should be completely coated.
Remove from the oven and cool, then break into bite sized pieces.
Store any popcorn not being eaten immediately in airtight containers.
Baking tips
When transferring the popcorn into the roasting pan, scoop rather than pour the popcorn to avoid transferring unpopped kernels.
This recipe has been tested with varying ratios of corn syrup and honey. The final recipe include the amounts found to provide the best honey flavor and long lasting crunch. That said, this recipe can be made using only honey, however, the flavor is very intense and the caramel is more likely to absorb moisture from the air and become sticky.
The apple flavor using only chopped apple chips is almost indistinguishable. Though optional, adding a tiny bit of apple candy flavoring brings the apple flavor forward.
I strongly recommend using a candy thermometer. Without accurate temperature readings, it is easy to under cook or burn the caramel.
Before you start a candy recipe, be sure your thermometer is accurate. Dip the thermometer in boiling water. It should read 212° F degrees.
Use a large roasting pan or pan with tall sides, when making caramel corn. The popcorn is stirred with the very hot caramel several times during baking and a tall sided pan keeps the contents from spilling out.
Don't worry about coating the popcorn completely at first. Each time the popcorn is stirred, the caramel will cover more.
It is important that as much of the popcorn is coated as possible by the end of baking. The crunchy coating keeps the popcorn from being exposed to the air which keeps it fresh.
Store in an airtight container as soon as the popcorn cools. Humidity causes stickiness.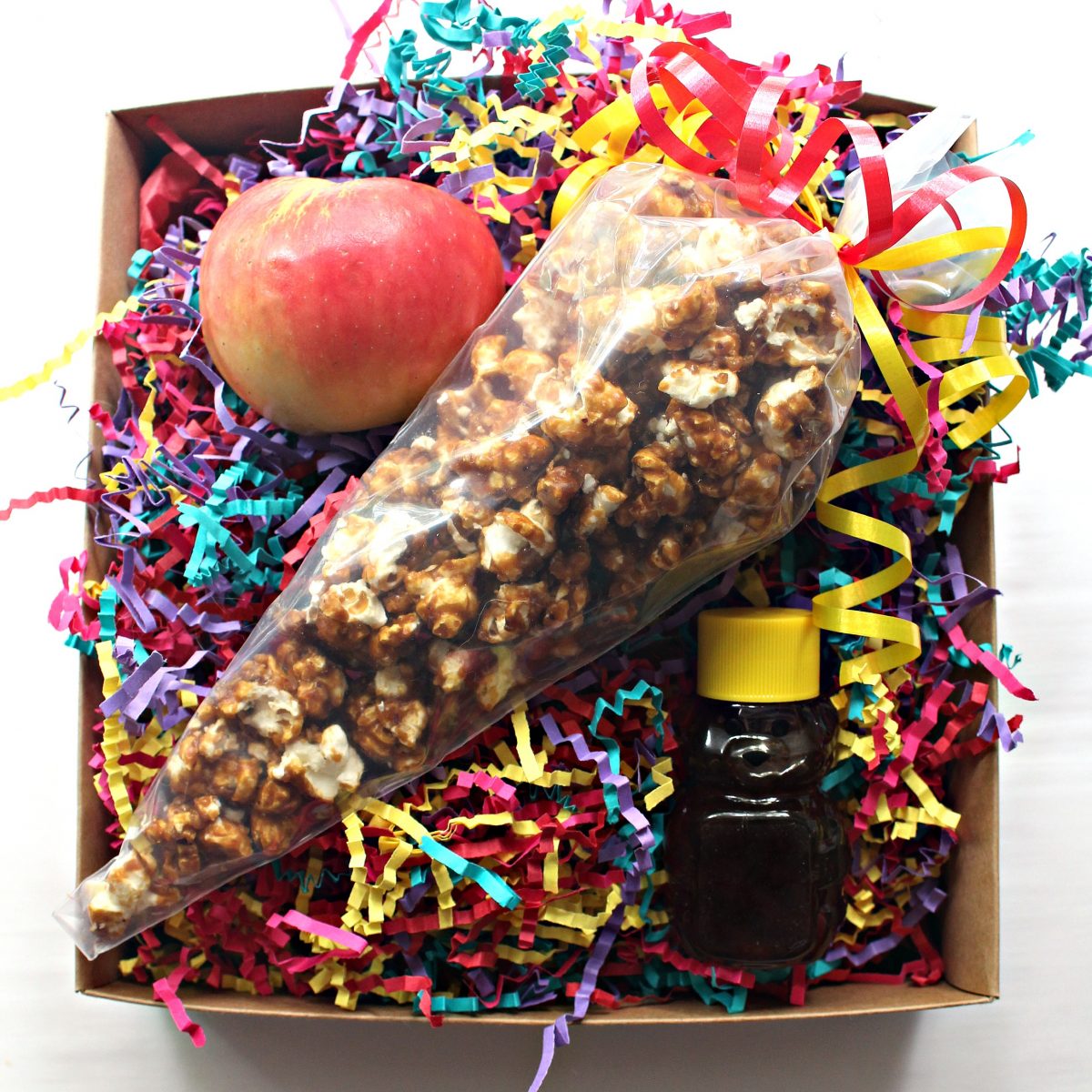 Packaging tips
This crunchy snack makes a wonderful gift. To keep it crunchy, be sure that the storage container is as airtight as possible. These are suggestions for decorative packaging.
Clear or decorated plastic gift bags (goodie bags), tied closed with ribbon
Sealed plastic bags inside of decorative popcorn boxs
Large, clear disposable piping bags tied with ribbon
Clear plastic or glass jars
More Rosh Hashanah treats
Apple Oatmeal Cutout Cookies are beautiful cookies that make wonderful gifts as well as tasty snacks.
Apples and Honey Chocolate Bars put traditional flavors into an untraditional treat! Bits of honey comb candy and dried apple make these chocolate bars exceptional.
Crunchy Apple Biscotti are firm enough to dunk in your tea, but tender enough to munch on their own.
This Honey Applesauce Cake recipe will become your new holiday favorite. This loaf is soft, moist, and totally delicious.
These soft and chewy apple butter cookies are topped with honey icing. Perfect Rosh Hashanah cookies.
Honey Lollipops can be molded in any shape you want! Enjoy them as honey candy or stir them into a hot mug of tea!
Baking tools and ingredients
(The Monday Box participates in affiliate marketing programs. As an Amazon Associate I earn from qualifying purchases. If you choose to purchase a product after following a link on this page, I will receive a small commission, at no cost to you, which helps make The Monday Box possible.)
To provide this recipe with a boost in apple flavor, I added a tiny bit of Loranne Oils Apple Flavor candy flavoring. Loranne is my favorite brand for delicious flavorings for candy and baking. This flavoring is super strength, which is 4 times the strength of regular flavorings, so only a tiny bit is needed.
The size and high sides of a turkey roasting pan is ideal for this recipe. A pan with lower sides won't contain the popcorn as it's being tossed in the hot caramel coating.
To avoid over or under cooking, a candy thermometer is an essential tool. The thermometer doesn't have to be expensive, just accurate!
Ready to bake? Join the free membership group to get new recipes and a newsletter delivered to your inbox! You can also stay in touch on Facebook, Pinterest, and Instagram. I'd love to stay in touch!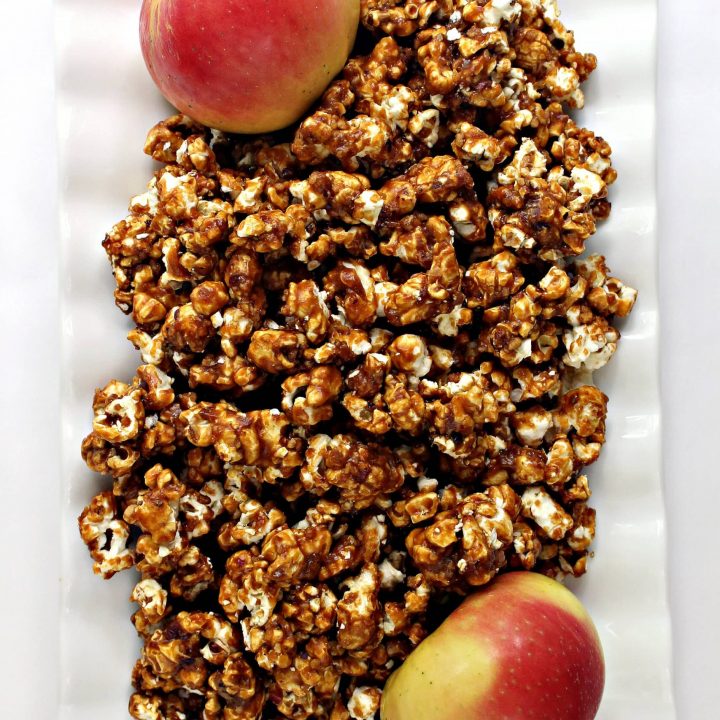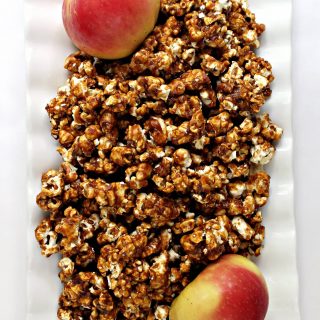 Apples and Honey Caramel Popcorn
Crunchy honey caramel popcorn with tiny bits of apple chips baked on for an irresistible snack and great Rosh Hashanah treats.
Print
Rate
Ingredients
½

cup

popcorn kernels

about 10 cups popped

2

bags apple chips

2.5 ounce bags

1

cup

butter

1

cup

brown sugar

packed

¼

cup

light corn syrup

6

tablespoons

honey

1

teaspoon

baking soda

1

teaspoon

vanilla extract

¼

teaspoon

apple flavoring

super-strength
Instructions
Preheat the oven to 250° F. Line a large roasting pan with parchment paper, covering the bottom of the pan and up the sides.

Pop the corn kernels. If using the microwave, pop the corn in two ¼ cup batches. When the popping is finished, shake the popping bowl so that unpopped kernels will settle to the bottom. Scoop, rather than pour, the popcorn into the prepared roasting pan to avoid transferring any of the unpopped kernels.

Use a food processor to chop the apple chips into a fine crumb. Sprinkle the apple crumbs over the popcorn.

To make the caramel coating, combine the butter, brown sugar, corn syrup, and honey in a two quart sauce pan over medium-low heat. Stir constantly. Bring the mixture to a boil and continue to cook (about 5 minutes) until the caramel thickens and a candy thermometer reads 300° F ( 5-10 minutes).

Remove the pan from the heat and stir in baking soda, vanilla, and apple flavoring. The mixture will foam up.

Immediately, pour the hot caramel over the popcorn. Stir to distribute the caramel. The popcorn will not be completely coated at this time.

Bake for 45 minutes stirring every 10 minutes to coat the popcorn completely with caramel. If there is still a lot of uncoated popcorn after 45 minutes, add 10 more minutes to the cooking time and stir again.

Remove from oven. Using the sides of the parchment, lift the caramel corn out of the pan and cool completely on the counter.

Once cool, break into small clusters. Store at room temperature in an airtight container or freezer weight ziplock bag for at least two weeks.
Notes
Fill airtight storage containers or freezer weight ziplock bags to the top of the container or bag to restrict movement of the popcorn, and remove as much air as possible.
Nutrition
Calories:
193
kcal
|
Carbohydrates:
46
g
|
Protein:
2
g
|
Fat:
1
g
|
Saturated Fat:
1
g
|
Cholesterol:
3
mg
|
Sodium:
147
mg
|
Potassium:
91
mg
|
Fiber:
1
g
|
Sugar:
40
g
|
Vitamin A:
40
IU
|
Calcium:
47
mg
|
Iron:
1
mg