Happy 2016, everyone! The calendar says it's January, but until recently Mother Nature hasn't noticed around here. I am not complaining when I say that until this week we've only had a few days below freezing. As a matter of fact, I am delighted that the only snowballs around here are this Coconut Snowball Mug Cake!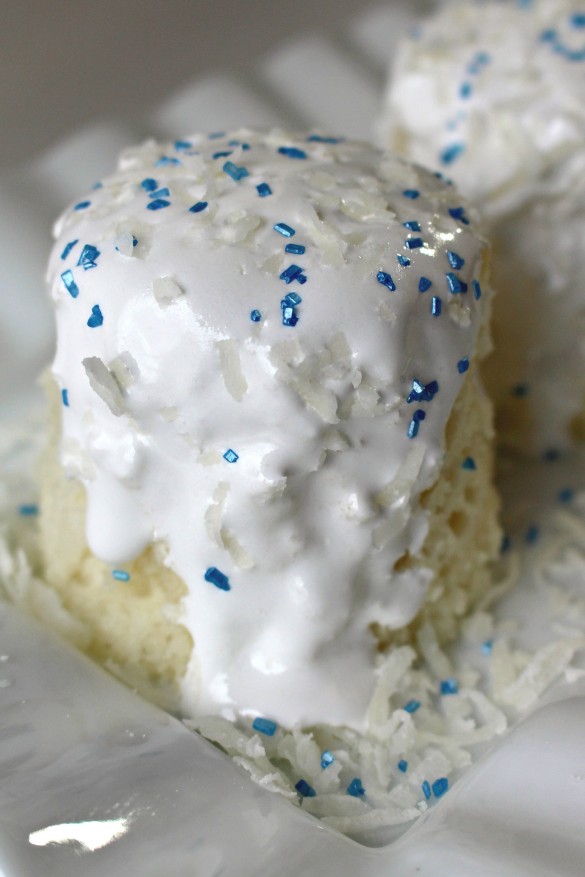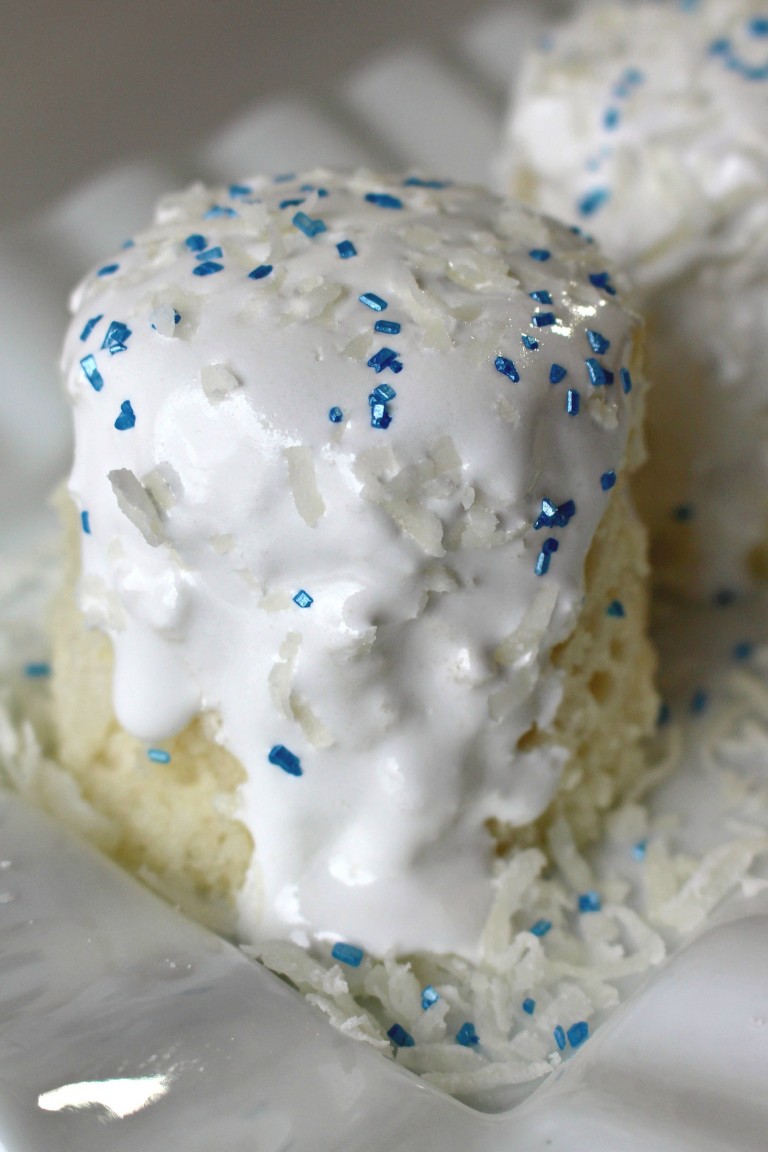 Snow is beautiful to look at, but no fun to drive in. I am not a skier and have no one at home hoping for a Snow Day off from school (though my daughter, a teacher, has been known on occasion to do a Please Let It Snow dance).
So, really, I have no use for the stuff. I like living where there is a change of seasons, but prefer mild changes. That probably makes me sound old.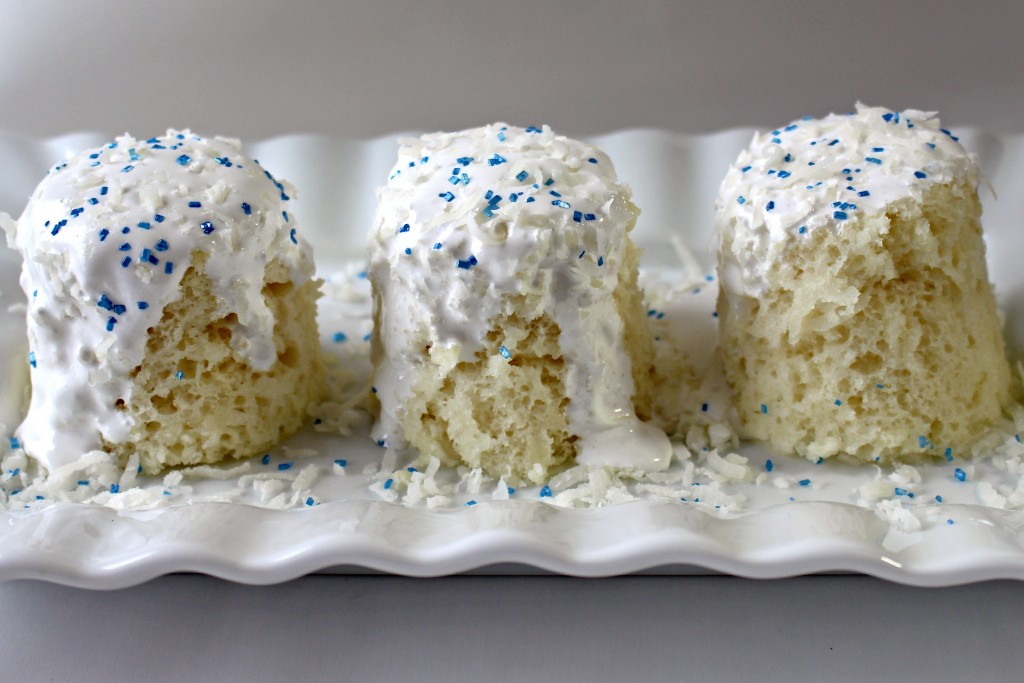 My energetic Sheltie insists that we spend a couple of hours outside every day regardless of the weather. The winter cold temperatures are his favorite. He adores snow.
I own multiple layers of dog park clothes and boots so that I can accompany Pax on his outdoor adventures. Even without snow and ice, the cold weather makes me crave a mug of something hot every time I walk in the door.
What better to accompany that coffee/tea/chai/hot chocolate than an individual serving of cake? And even better if that sweet treat can be ready to enjoy in just one minute!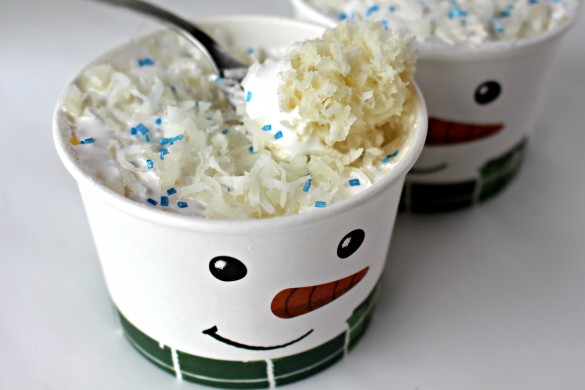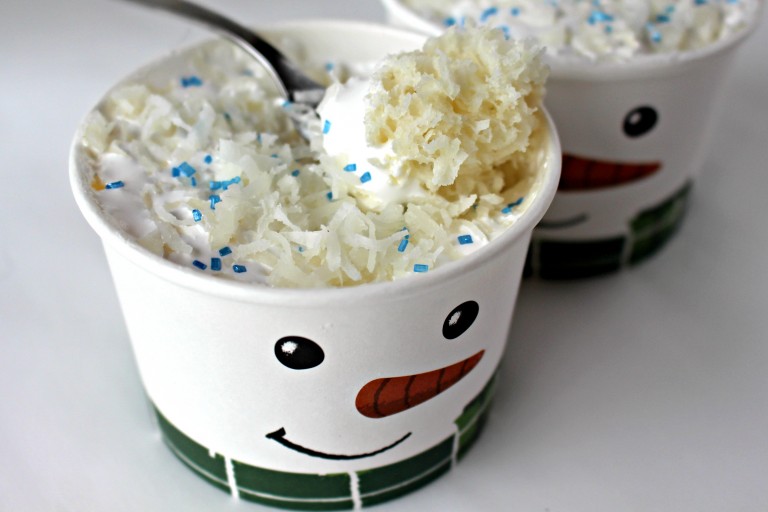 Like most of the microwave mug cake recipes on The Monday Box, Coconut Snowball Mug Cake starts with the "magic mix" of one box of angel food cake mix and one box of flavored cake mix.
This recipe uses white cake for the flavored mix. To make one mug of cake, 3 tablespoon of the "magic mix" and 2 tablespoons of water are combined right in the mug. A tablespoon of sweet cream of coconut and shredded coconut flakes are added to the mix.
One minute in the microwave produces a cup of moist coconut cake which is then topped with one or two tablespoons of marshmallow cream and a sprinkling of more shredded coconut. A warm cup of indulgence.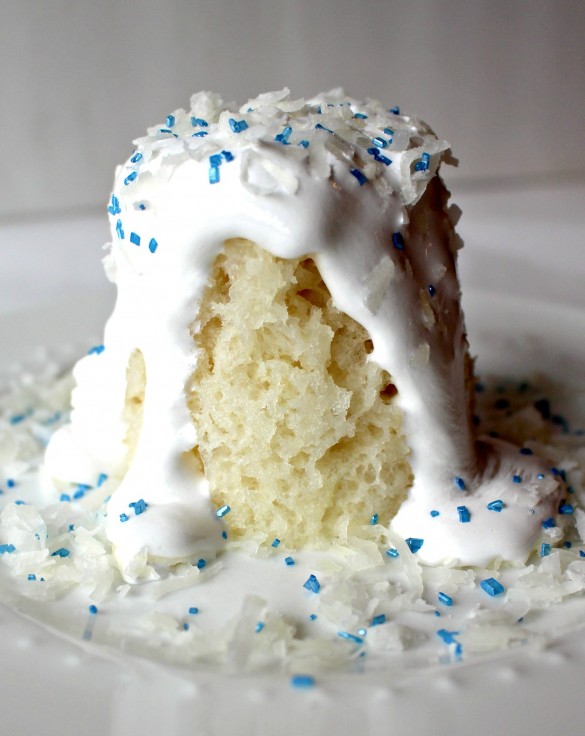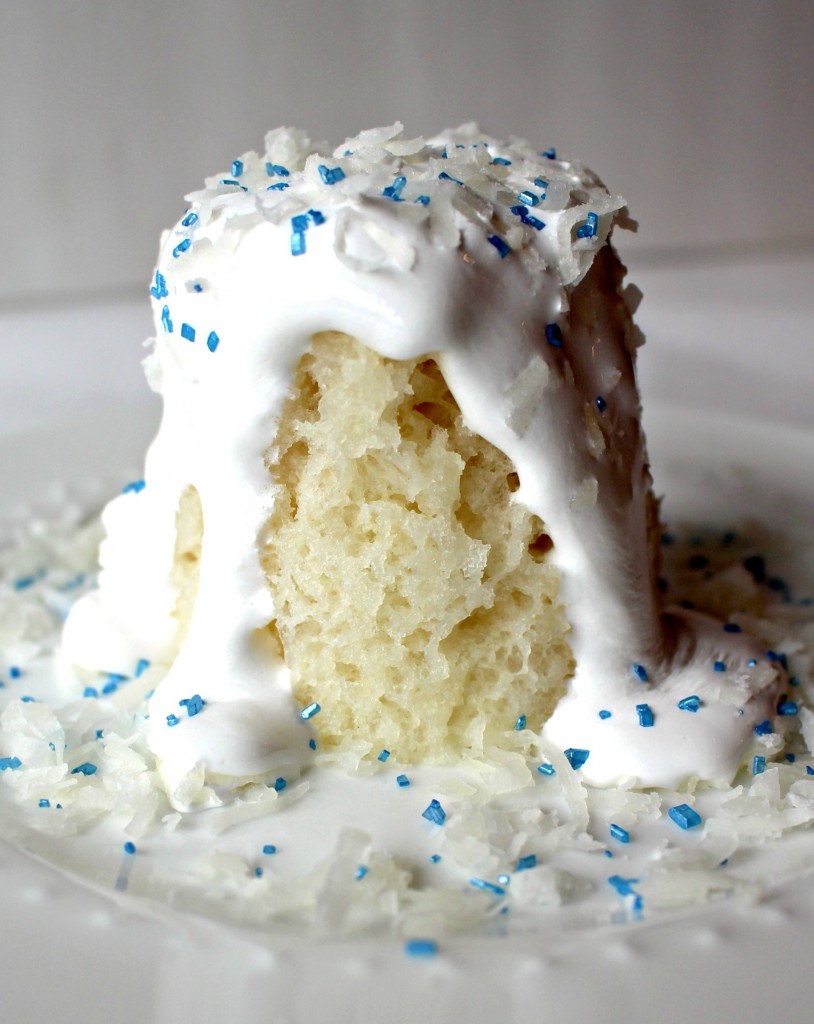 There are many benefits to Coconut Snowball Mug Cake over real snow. This microwave mug cake is sweet, and delicious, and goes well with any cozy beverage of your choice.
Snowflakes are fun to catch on your tongue, but don't taste great. Snow doesn't ship well, nor can it be stored easily in a kitchen cabinet.
The ingredients for Coconut Snowball Mug Cake, on the other hand, are shelf stable and make a great winter care package. Plus, microwave mug cake only requires a spoon or fork for shoveling…..into the nearest mouth.
Enjoy!


MORE MUG CAKES TO ENJOY
Coconut Snowball Mug Cake
Servings
12
cakes with left-over cake mix
Ingredients
1

box Angel Food Cake mix

1

box white cake mix

Non-stick spray

if not using disposable cups

Water

1

bag sweetened shredded coconut

1

can/bottle coconut cream or coconut syrup

1

jar marshmallow cream

Blue decorating sugar
Directions
In a gallon sized ziplock bag, combine the two boxes of cake mix. Shake the bag to mix thoroughly.

Lightly coat the inside of a microwaveable mug with non-stick spray or use a disposable microwave safe paper cup. (Without the spray the cake will not transfer out of the mug and the mug is harder to clean.)

(Here comes the 3-2-1 part) Into the prepared mug, stir together 3 tablespoons of cake mix and 2 tablespoons of water. Mix in a tablespoon of coconut and a tablespoon of coconut cream/syrup.

Microwave on high for 1 minute.

Immediately place 1-2 tablespoons of marshmallow cream on top of the cake and allow to sit a few minutes until melted. Sprinkle the top of the cake with a little coconut and a dash of colored sugar. Then eat the cake right out of the mug. If you want to transfer the cake onto a plate, run a knife around the edge between the cake and the mug to loosen, dump out onto a plate, then add the marshmallow, coconut, and coconut colored sugar.
Packing Tips
Combine the two cake mixes into a labeled gallon-size ziplock bag. Include a measuring spoon, a bag of sweetened shredded coconut, a can/bottle of coconut cream/syrup, a jar of marshmallow cream, and blue decorating sugar. If the care package is international, include microwave safe paper cups. If the care package is domestic, add either a can of non-stick spray (for use with a ceramic mug) or microwave safe paper cups. Don't forget to include a copy of this recipe!