If you are a fan of jelly doughnuts, with their fried, sugary outsides and gooey, fruity insides, you know that jelly doughnuts are really only good the day they are made and are at their very best while warm. Definitely not care package material. So, I invented  Jelly Doughnut Cookies, soft, cakey cookies rolled in cinnamon sugar with a "jelly" center. They looks sort of like a jelly doughnut,  tastes sort of like a jelly doughnut, and stays soft and delicious for over a week.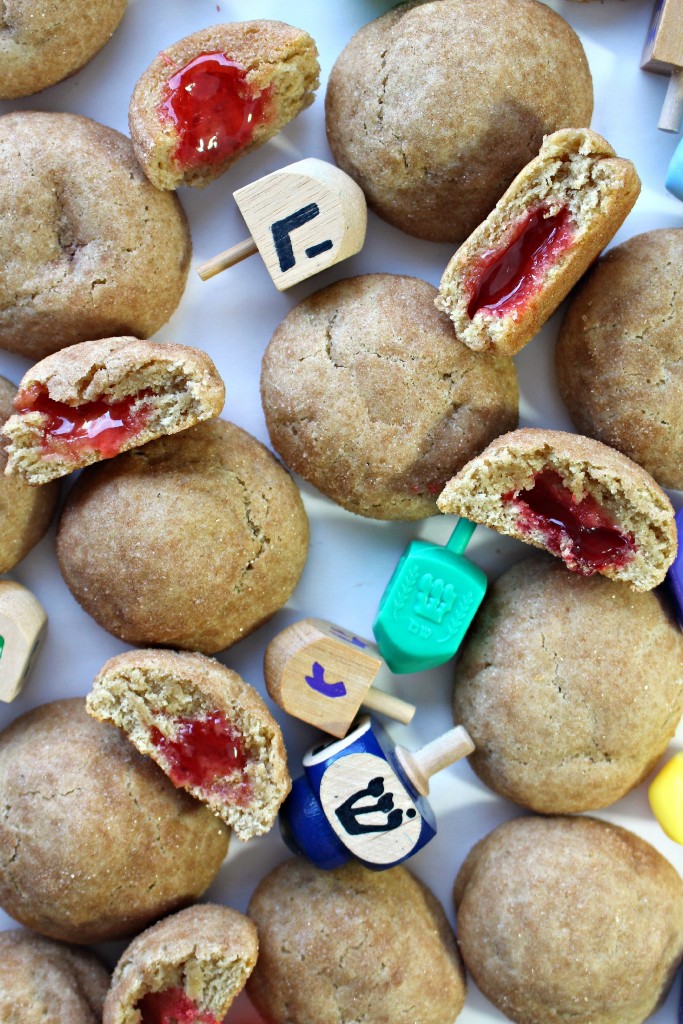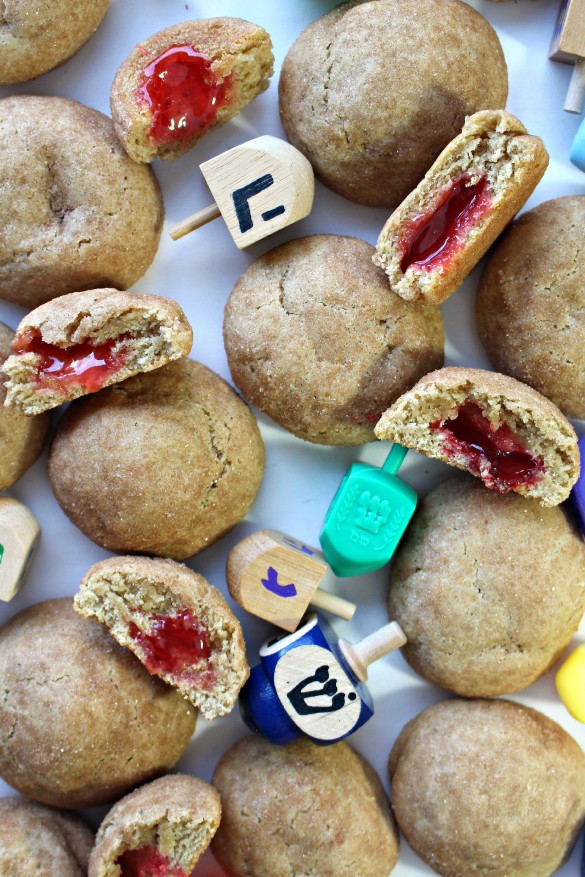 For many Jews, jelly doughnuts are a traditional Chanukah food. The Chanukah story involves a miracle with oil, so traditional Chanukah food includes oil or is prepared in oil. Examples are potato pancakes called latkes, and jelly doughnuts called sufganiot.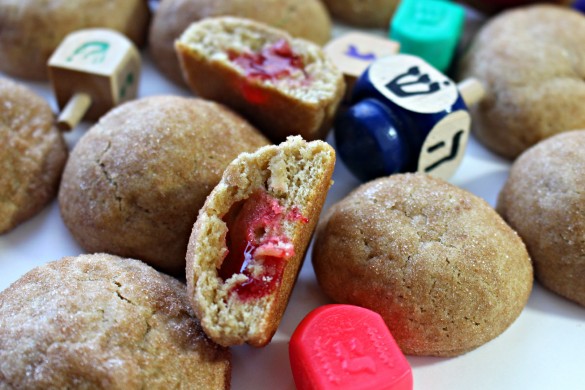 This jelly doughnut look-alike makes a tasty addition to a Chanukah care package (or any care package, really). Making a soft pillowy vanilla cookie was the easy part. I adapted my recipe for Soft Italian Cookies into a vanilla version. Figuring out the jelly center proved a bit trickier. Regular jam was messy and didn't end up looking like a pocket of jam at the center of the cookie. After much trial and error with jam stand-ins, the winning ingredient is Lifesavers Gummies (I used wild berries flavor). I was trying for a molten fruity center. The Lifesavers Gummies melted perfectly. A warm Jelly Doughnut Cookie has a center so gooey it will drip. Once cool, the jelly remains soft but not liquid.


There may be other brands of gummies that also work. I wasn't successful in finding anything else that melts as well as the Lifesavers. To save you trial and error time, I can tell you that Welch's Fruit Snacks, Dots, Gumdrops/Spice Drops, and Jelly Belly jelly beans don't melt. They provide a colorful cookie center that remains solid and very chewy.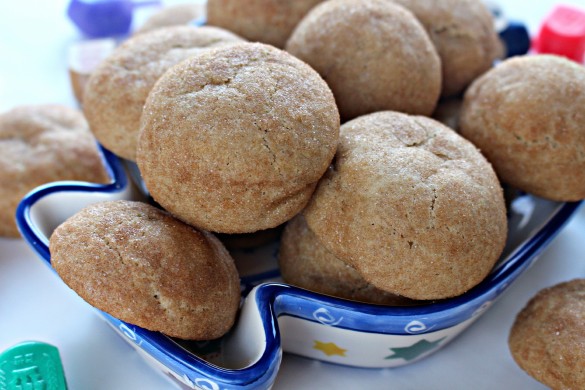 I rolled my Jelly Doughnut Cookies in cinnamon sugar to imitate the browned outside of a real jelly doughnut. It turned out that the cinnamon tastes delicious with the vanilla cookie and the fruity center. For a more festive presentation, though less faux doughnut look, roll the cookies in colored sugar.
Jelly Doughnut Cookies are fun for Chanukah care packages or snacks. They would also offer flavor variety to any cookie platter! For anyone planning a baby shower, Tricia got me thinking that Jelly Doughnut Cookies, with strawberry and blueberry centers, would work well for gender reveal cookies, too!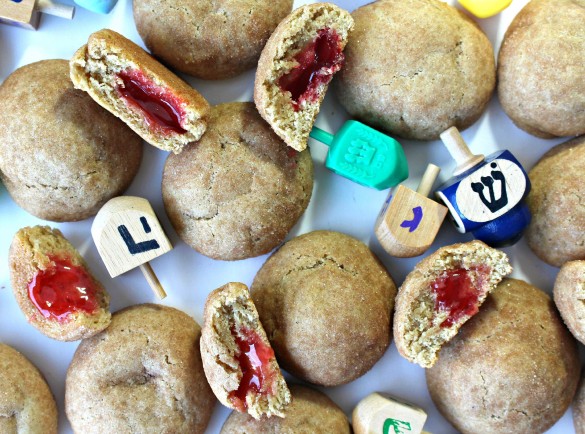 Happy Chanukah!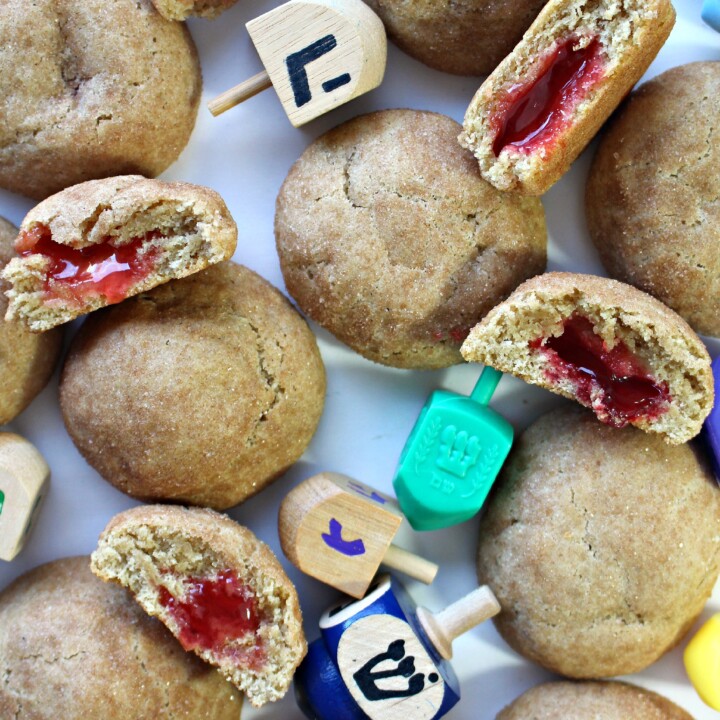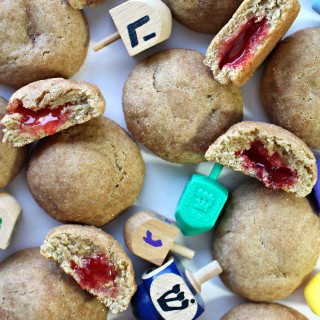 Jelly Doughnut Cookies
These jelly donuts are really a soft, cake-like cookie with a melted jelly center.
Print
Rate
Ingredients
Cookies
½

cup

unsalted butter

2 ½

cups

all-purpose flour

2 ¼

teaspoons

baking powder

½

teaspoon

baking soda

¾

teaspoon

cinnamon

¼

teaspoon

salt

¾

cups

granulated sugar

1

large eggs plus 1 yolk

1

egg yolk

2 ½

tablespoons

plain yogurt

3

tablespoons

milk

1

teaspoon

vanilla extract

30

Lifesaver gummies
Cinnamon Sugar Coating
¼

cup

granulated sugar

1

teaspoon

cinnamon
Instructions
In a small bowl, microwave butter until melted. Set aside to cool slightly.

In a large bowl whisk together flour, baking powder, baking soda, cinnamon, and salt.

In the bowl of an electric mixer, beat butter and sugar until combined, about 2-3 minutes.

Mix in the eggs, yogurt, milk, and vanilla.

Reduce speed of mixer and slowly add dry ingredients until just combined.

Chill in the refrigerator for 1 hour-overnight.

When dough is chilled and ready to bake: Preheat oven to 350 degrees F. Line a cookie sheet with parchment paper.

In a small bowl mix together the granulated sugar and cinnamon for the coating. Set aside.

With a small 1 tablespoon scoop, form golf-ball sized dough balls.

Tear the dough ball in half and place a Life Saver gummy on one of the torn sides.

Put the dough ball halves back together with the Life Saver gummy in the middle.

Roll the dough back into a ball shape, enclosing the Life Saver in dough.

Roll the dough in the cinnamon-sugar to coat.

Place on prepared cookie sheet about 2" apart, and bake for 10 minutes.

Cool completely on cookie tray before storing.

These cookies are soft and cake-like. They will remain soft for at least 1 week if stored at room temperature in an airtight container. Separate layers of cookies with wax paper to prevent sticking together due to exposed "jelly".
Notes
Packing tips
Wrap pairs of cookies, with bottoms together, in plastic wrap. Place in an airtight container or ziplock bag.
Nutrition
Calories:
98
kcal
|
Carbohydrates:
15
g
|
Protein:
1
g
|
Fat:
4
g
|
Saturated Fat:
2
g
|
Polyunsaturated Fat:
1
g
|
Monounsaturated Fat:
1
g
|
Trans Fat:
1
g
|
Cholesterol:
20
mg
|
Sodium:
74
mg
|
Potassium:
20
mg
|
Fiber:
1
g
|
Sugar:
7
g
|
Vitamin A:
116
IU
|
Vitamin C:
1
mg
|
Calcium:
27
mg
|
Iron:
1
mg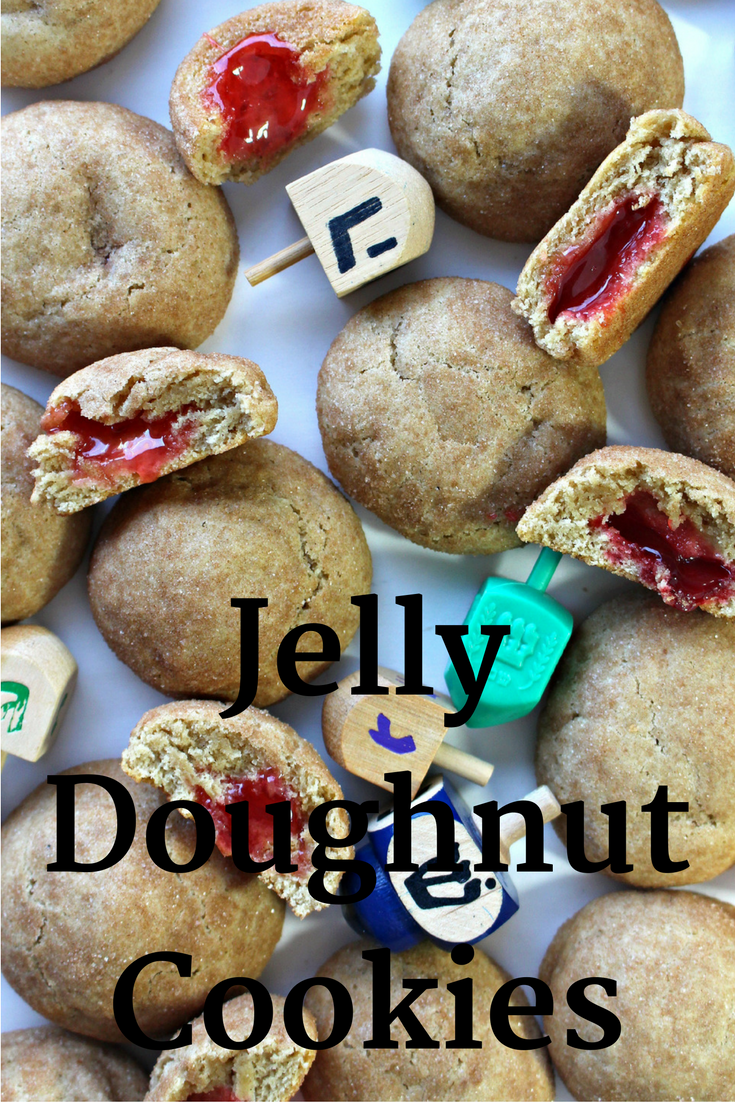 Here are more popular Chanukah treats!
Save