Very Chocolate Chanukah Gelt Cookies are soft, chewy and fudgy. Sparkling with golden glitter dust, these brownie cookies are celebration ready. Gelt cookies may become more popular than the chocolate candy!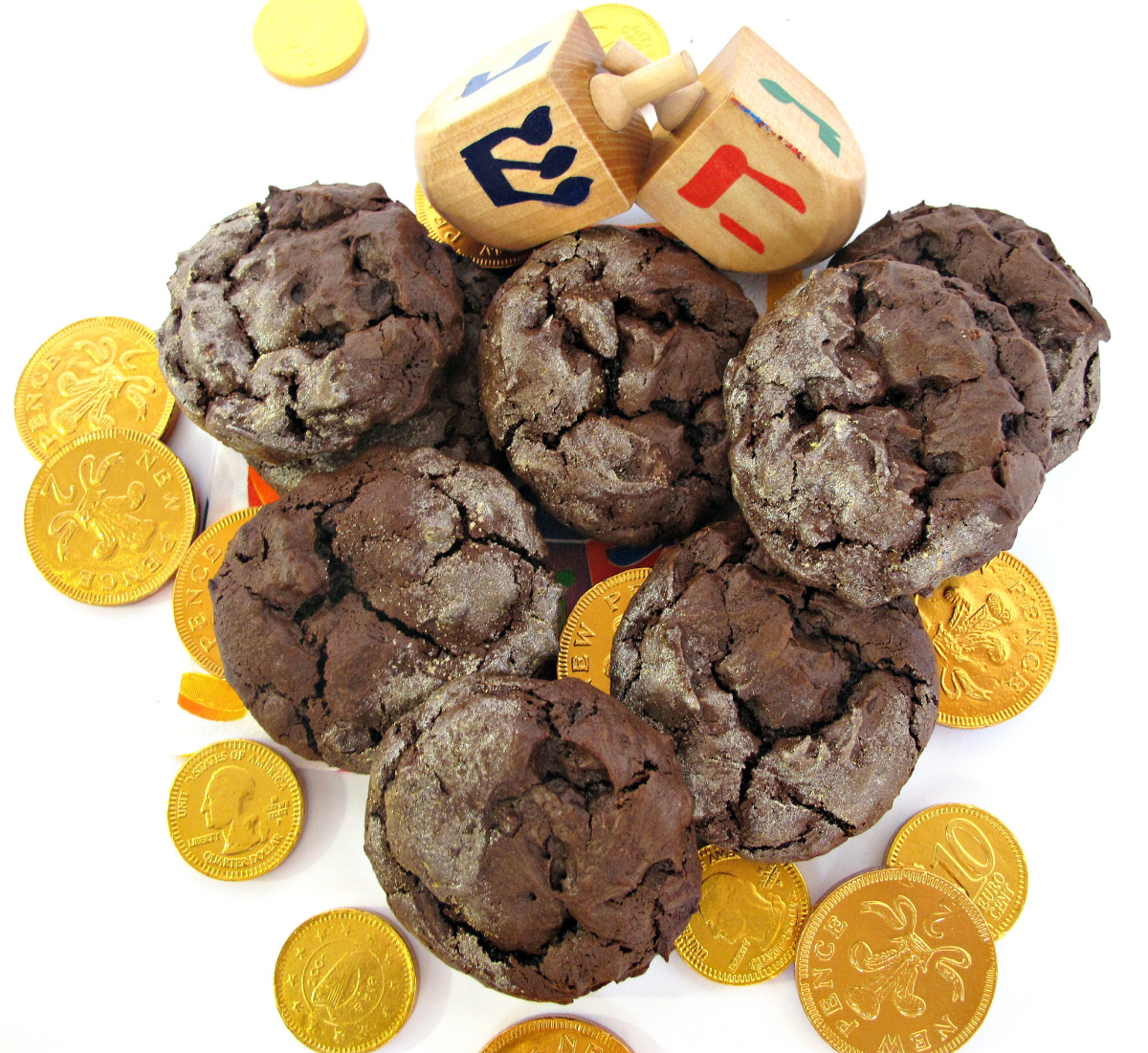 Why you'll love this recipe
When you grow up with holiday traditions, you tend not to question the history or significance of the traditions. Those traditions are simply a part of that holiday.
You have no reason to wonder why the traditions exist. I grew up receiving Chanukah gelt; foil wrapped chocolate coins in yellow mesh bags. My children grew up receiving Chanukah gelt; foil wrapped chocolate coins in yellow mesh bags.
It wasn't until I sat down to write this post explaining Chanukah gelt to those who don't celebrate Chanukah, that I realized I had no idea why those foil wrapped chocolate coins are a part of Chanukah tradition.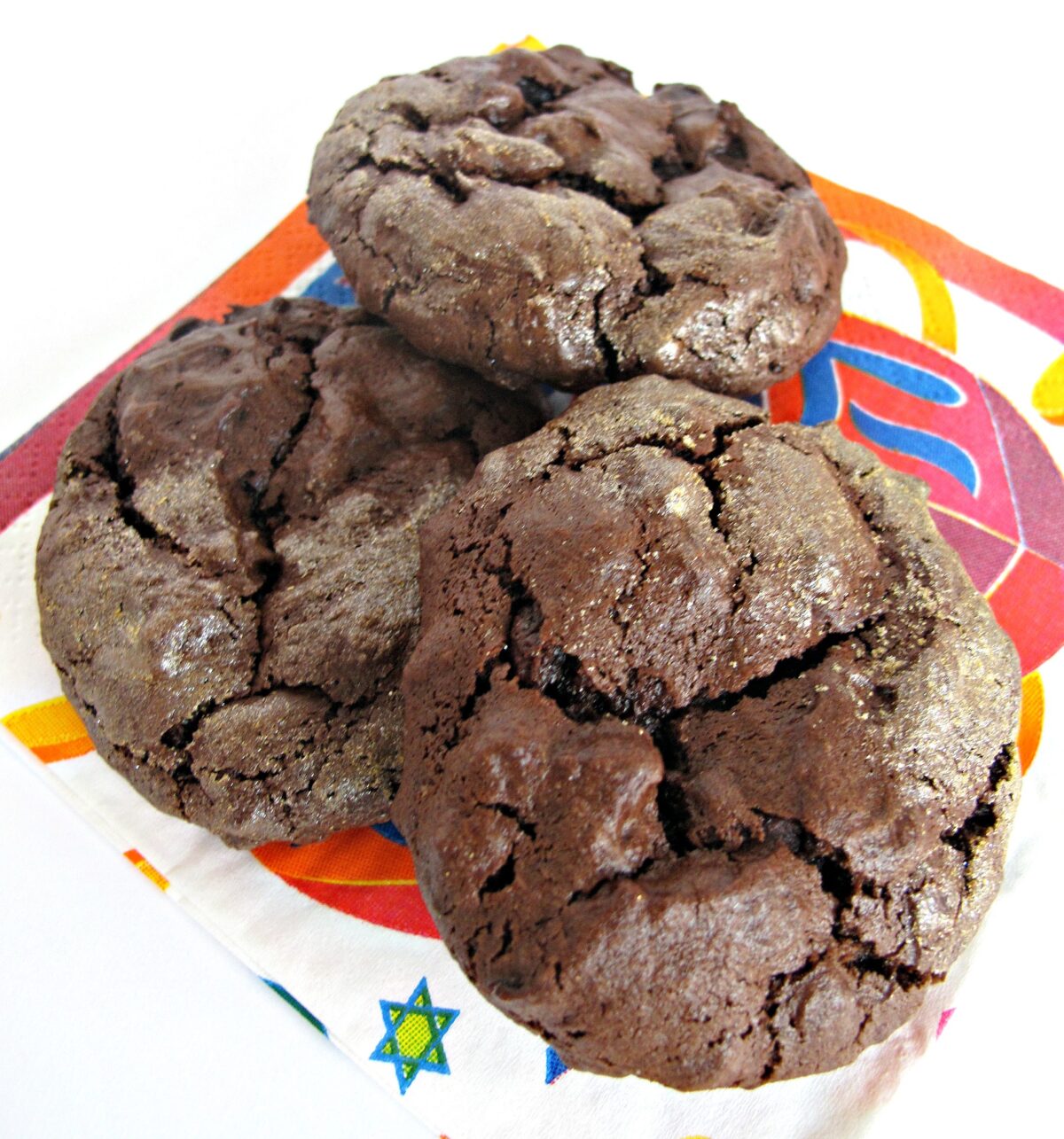 Researching the origins of giving children gelt (Yiddish for "money") on Chanukah, I came across a variety of explanations. The history of the Jews goes back a long way.
Along the way, there are different explanations and descriptions of events. The explanations I am sharing here are the ideas I found that are most meaningful to me.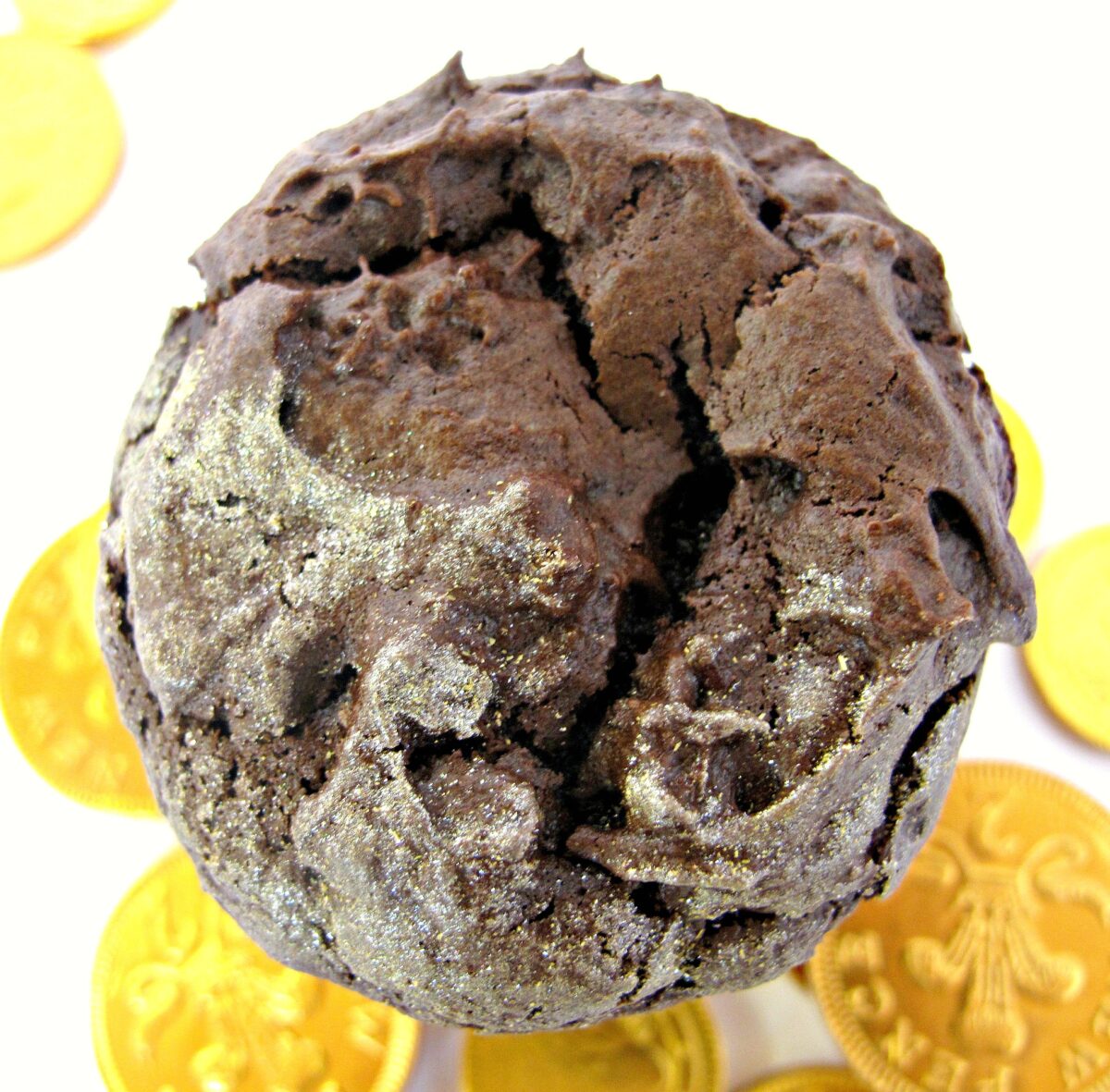 First, a summary of Chanukah, the festival of lights. Chanukah means dedication. The holiday celebrates the rededication of the Temple after years of Jewish persecution during Syrian-Greek occupation of the Holy Land. Rededicating the Temple required oil to light the menorah (candelabra) in the sanctuary.
There was only enough oil for 1 day and miraculously the oil lasted eight days until new oil was available. This is why the celebration lasts for eight days and each night of Hanukkah includes the lighting of candles on a candelabra (chanukiah) with 9 stems. One candle symbolizes the original oil and the others symbolize each night the original oil burned.
Chanukah is not a major Jewish holiday. It's not the Jewish Christmas and didn't originally include the exchanging of gifts. However, because Chanukah falls around the same time as Christmas most years, which commercial interests have turned into a gift giving frenzy, the tradition of gift giving is often observed this time of year by American Jews.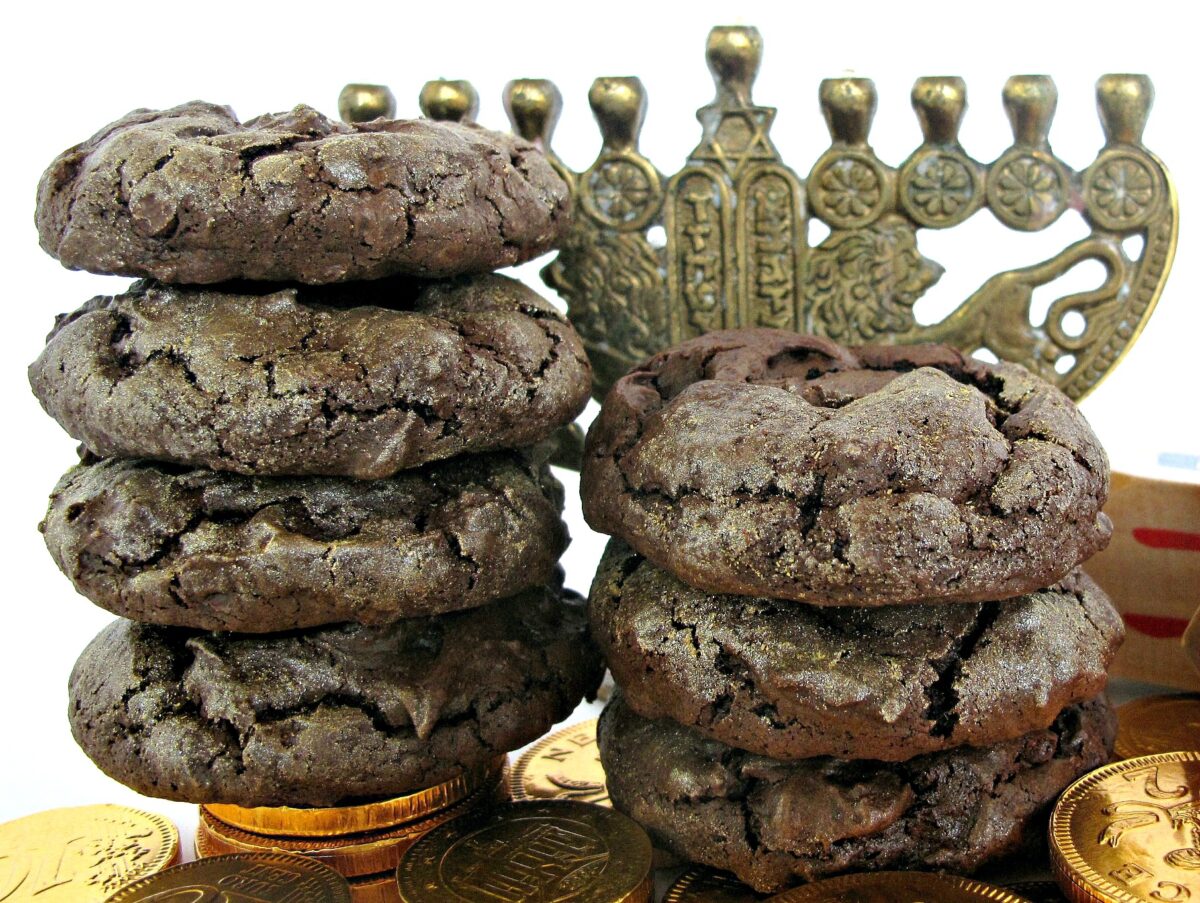 Now finally, the connection to the chocolate coins. The word Chanukah is also related linguistically to the Hebrew word for education, "hinuch".
Centuries ago, it became a tradition in some European communities to give children coins during Chanukah to give to their teachers in thanks for the freedom to have a Jewish education. Later coins were also given to children at Chanukah as an incentive to study Torah.
Many families today, including mine, give their children Chanukah money to donate to charity, to teach them the importance of giving to those in need.  In the early 20th century, an American chocolatier introduced foil covered chocolate coins as symbolic Chanukah "gelt" for children. The candy is eaten as a treat and is also used in playing the dreidle (spinning top) game.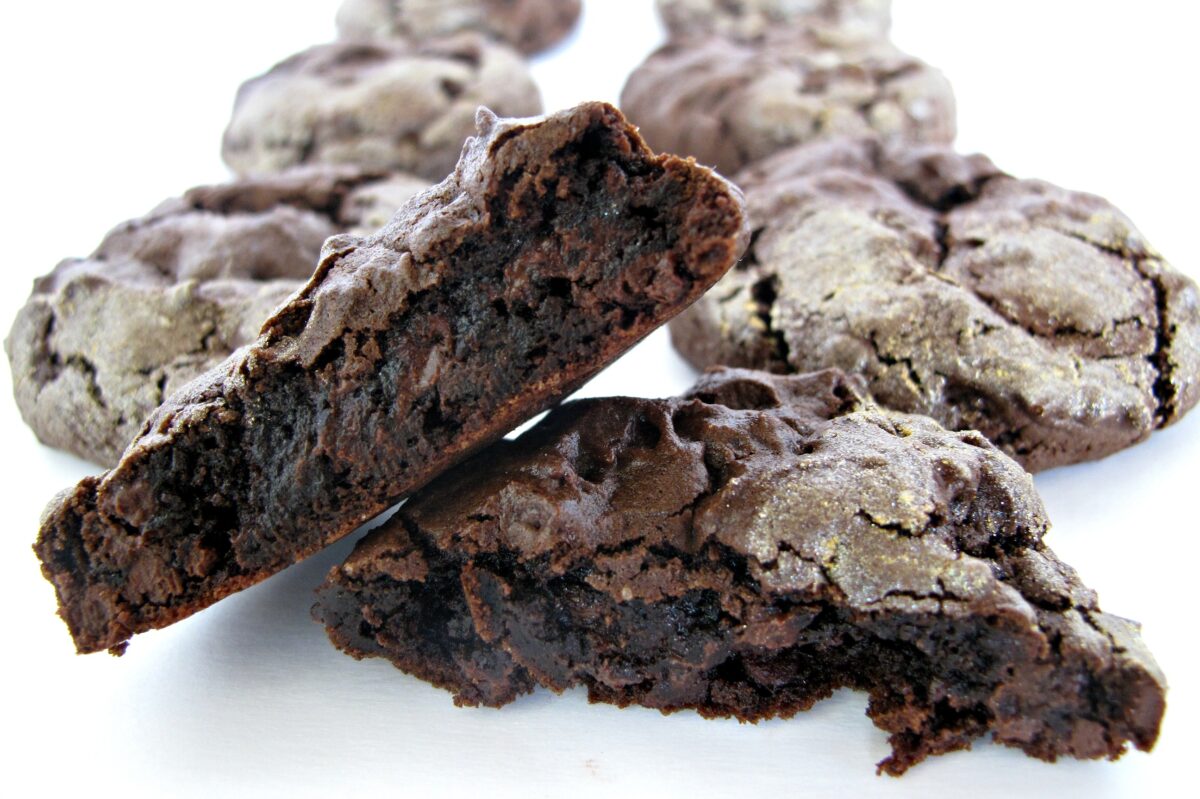 Because of the importance of oil in the Chanukah story, food items cooked in oil, like latkes (potato pancakes) and jelly doughnuts are traditional. Both are delicious. Neither travels well in a care package.
These Chanukah Gelt Cookies do travel well and stay fresh for about five days. They aren't cooked in oil but are made with olive oil instead of butter. They are soft-chewy and are, as the name indicates, very chocolaty.
I rubbed a bit of edible golden glitter on top to make the cookies resemble golden coins. They are all sparkly and glittery in person. I had a very hard time trying to capture some of that sparkle in the photos.
It was extremely frustrating to end up with pictures that look like cookies dipped in flour. Take my word for it. Chocolate Chanukah Gelt Cookies adorned in gold would dress up any holiday cookie tray or care package.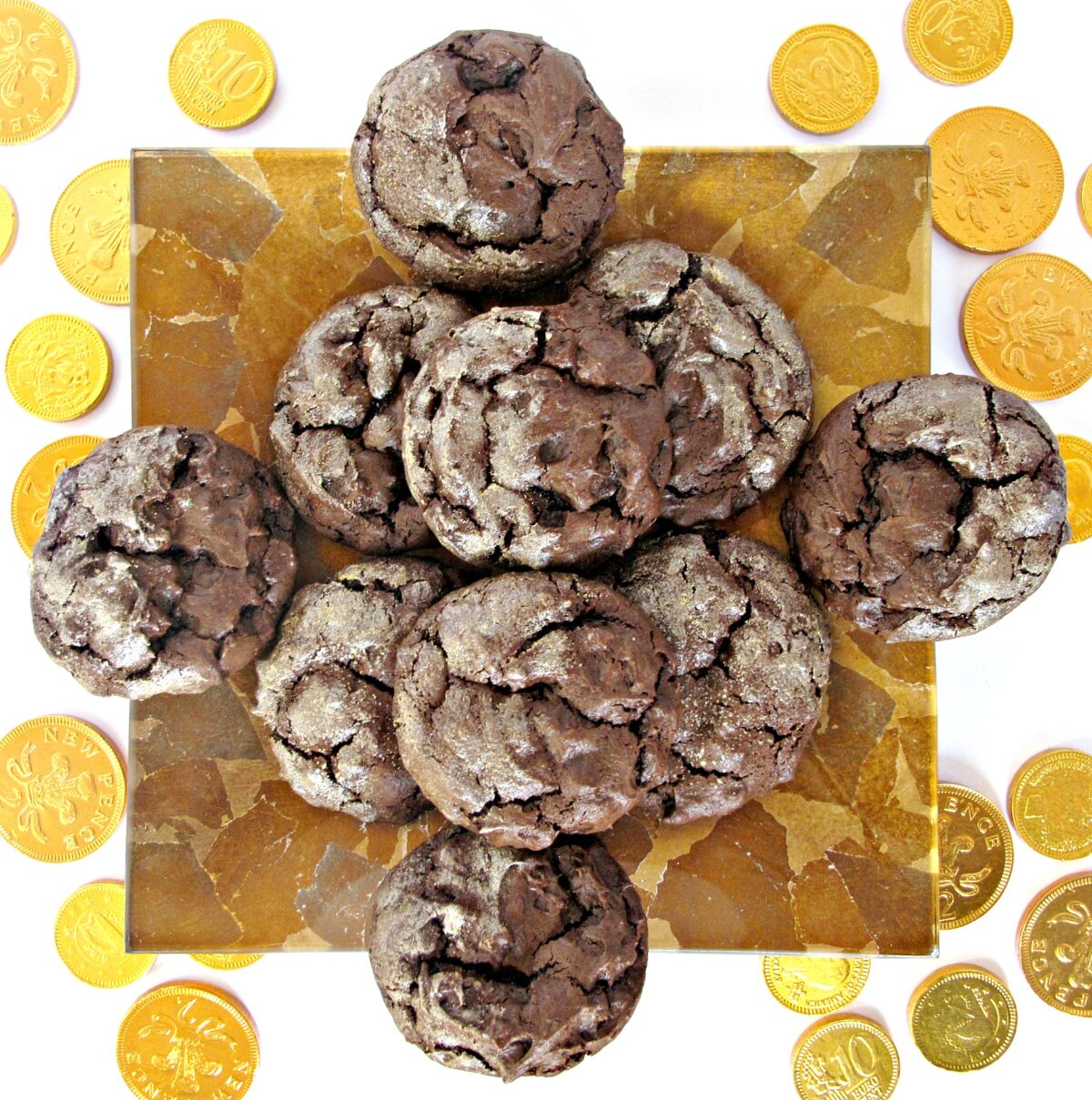 More Hanukkah recipes
Homemade Chocolate Coins are a fun project for the whole family. Your choice of chocolate molded and wrapped in gold paper.
Lemon Stars are a classic sugar cookie brightened with tangy lemon juice. Use Hanukkah cookie cutters in Star of David, Hebrew letter or dreidel shapes.
Raspberry Rugelach are crisp pastry dough with jam filling rolled into crescent shapes.
Chocolate Rugelach
are made with the flaky pastry dough rolled up around a fudgy chocolate filling and sliced into thin, spiral cookies.
Hanukkah Jelly Cookies are faux jelly doughnuts. These soft cinnamon cookies have a molten jelly center.
Ready to bake? Join the free membership group to get new recipes and a newsletter delivered to your inbox! You can also stay in touch on Facebook, Pinterest, and Instagram. I'd love to stay in touch!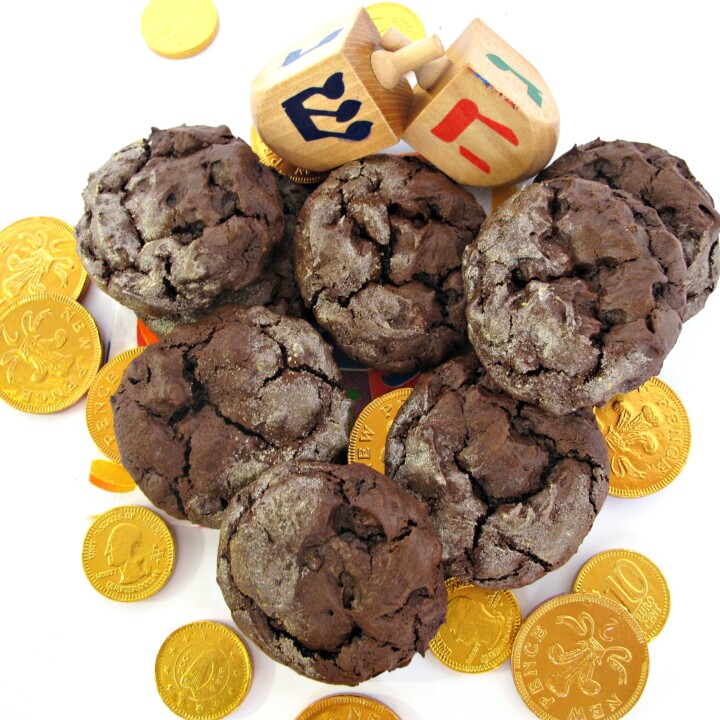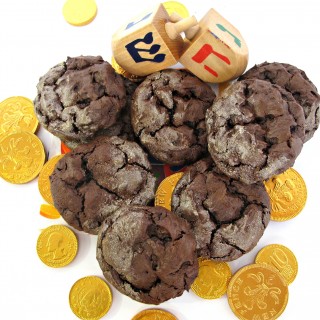 Chocolate Hanukkah Gelt Cookies
You won't need to use cookie cutters or a rolling pin for these easy Hanukkah cookies! These brownie cookies with a golden shine are soft, fudgy, and dairy free.
Print
Rate
Adapted From:
SomethingSwanky.com
Ingredients
¾

cup

all purpose flour

¾

cup

natural cocoa powder

not Dutch process

¼

teaspoon

salt

1

teaspoon

baking soda

1

tablespoon

hot water

½

cup

extra virgin olive oil

2

large eggs

room temperature

1

cup

granulated sugar

2

teaspoons

vanilla extract

1- 1 ½

cups

mini semi-sweet chocolate chips

Edible gold pearl dust

I used Wilton brand
Instructions
Pre-heat oven to 350 degrees F. Line two baking sheets with parchment paper.

In a large bowl whisk together flour, cocoa, and salt. Set aside.

In a small bowl, dissolve baking soda in hot water. Set aside.

In the bowl of an electric mixer, beat olive oil and eggs for at least 3 minutes until combined and slightly thickened.

Add in sugar and vanilla, mixing until thoroughly combined.

Add the flour mixture. Mix at low speed just until dough forms.

Beat in baking soda/water mixture.

Stir in chocolate chips.

Divide the dough using a medium (1 ½ tablespoon) scoop. Place dough balls on prepared cookie sheet about 2" apart.

Bake for 9-11 minutes or just until edges are set. The cookie will still look wet in the surface cracks.

Cool completely on baking sheet.

To decorate, pour a small amount of edible gold dust onto a plate. Using a soft brush or finger tip, apply the dust lightly to ½ of the top surface of each cookie.

Store cooled cookies at room temperature in an airtight container for up to 5 days.
Notes
Packing tips
Double wrap pairs of cookies in plastic wrap with bottoms together. Stack wrapped cookies in a column before packing in an airtight container or ziplock bag (with as much air squeezed out as possible).
Nutrition
Calories:
263
kcal
|
Carbohydrates:
28
g
|
Protein:
3
g
|
Fat:
16
g
|
Saturated Fat:
7
g
|
Trans Fat:
1
g
|
Cholesterol:
16
mg
|
Sodium:
85
mg
|
Potassium:
208
mg
|
Fiber:
3
g
|
Sugar:
19
g
|
Vitamin A:
35
IU
|
Calcium:
24
mg
|
Iron:
2
mg
First Published: November 20, 2013. Last Updated: December 2, 2021. Updated for additional information and better reader experience.