Bite Sized Sugar Cookie Nibbles are fun to eat by the handful! Their tiny size and their delicious crunch, makes these cookies irresistible. Bake a batch of these cuties for snacks, lunch boxes, and care packages!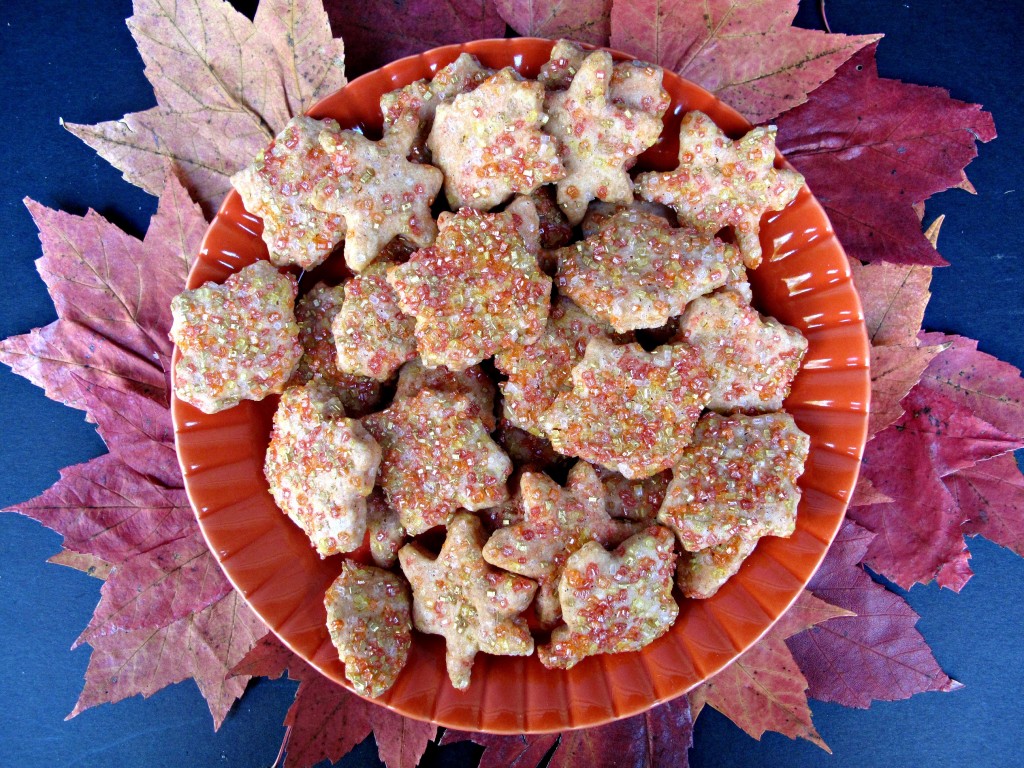 Some of you may remember that at the beginning of this summer my family adopted a 6 month old Sheltie who we named Pax. Somewhere in the back of my brain was the clear understanding that puppies are active little creatures, but I somehow ignored that fact when I decided that a puppy was just what we needed. Some breeds are more active than others. Shetland sheepdogs are on the "more" end of the scale. I have learned the hard way that if Pax doesn't get out to do some running during the day, we will have to deal with "Devil Dog" from 7 to 9 pm. that night. "Devil Dog" is a barking, hyperactive lunatic. He demands to be played with. He leaps. He chews (people, shoes and newspapers are favorite chewables). Making time for walking was imperative.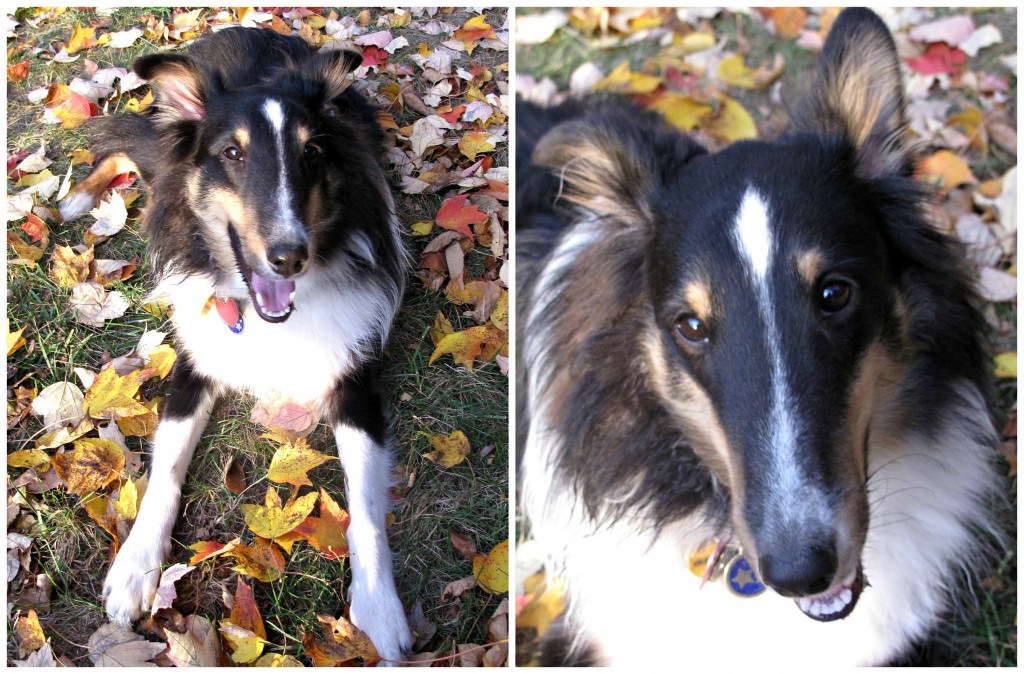 Unfortunately, Pax is afraid of cars. Every time a car goes by he tries to hide. We are working on that, but in the meantime trotting down the subdivision side streets is not an option. Luckily, I stumbled upon a hidden gem of a public park with a two acre fenced dog park, just a five minute drive from my house. Almost every afternoon, Pax and I go to the dog park where, for more than an hour, Pax wrestles and runs. He is genetically programmed to herd, and apparently in lieu of sheep, he is happy to herd other dogs.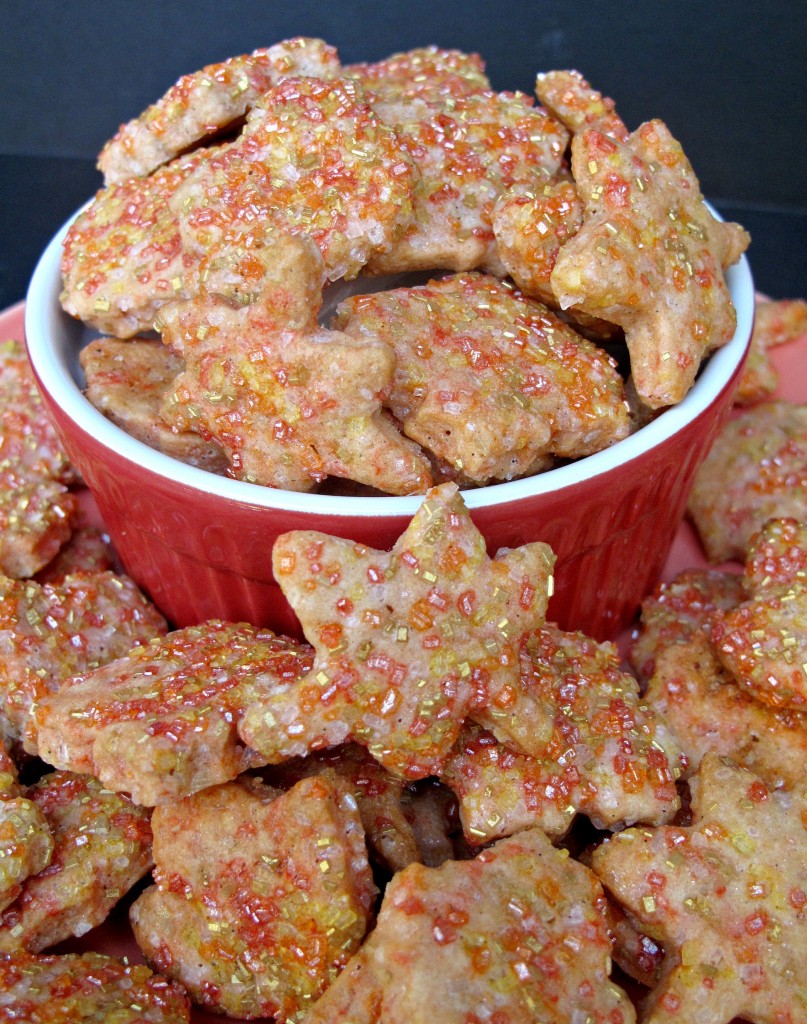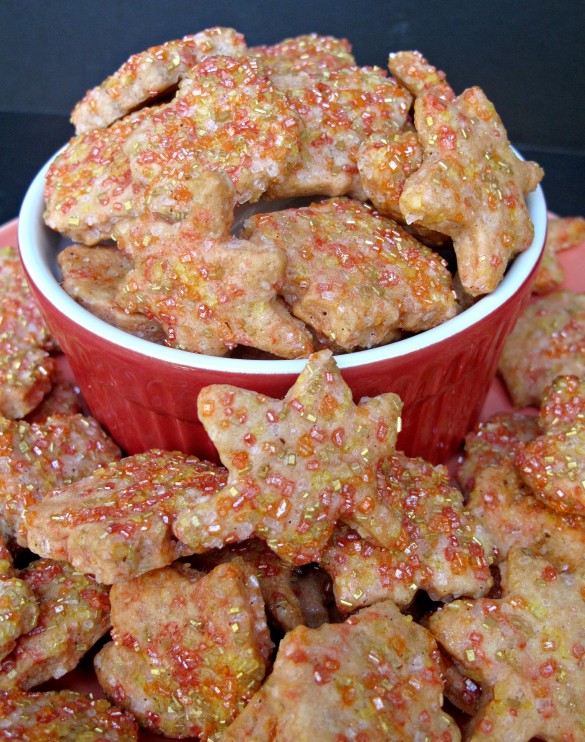 Afterwards, we walk the one mile path around the lake. It's a gorgeous walk, especially now with the trees draped in fall colors.
All of that time spent admiring fall foliage made leaves the obvious shape choice when I decided to make these roll-out cookies. The original recipe was for animal crackers, which aren't really crackers in the savory sense, but mildly sweet, crunchy, plain, little cookies. Bite Sized Sugar Cookie Nibbles end up with a flavor and crunch very similar to animal crackers but, because of the sugar topping, they are a bit sweeter. I mixed four colors of large crystal decorating sugar (gold, red, yellow, and orange) to make the topping. The color combination seems to capture the autumn glow. The gold sugar was purchased but the other colors were homemade using white crystals and food coloring. I put about ¼ cup of white sugar crystals into a zip lock bag along with 2 or 3 drops of gel food coloring. Then I mushed it together until the color was uniform (No, the sugar doesn't disolve. I don't know why.) I opened the bag and let the sugar dry for about an hour before using.
A note about tiny little cut out cookies:
Bite Sized Sugar Cookie Nibbles are adorable.They are tasty and fun to eat by the handful, which means they disappear quickly. Cutting out 100 tiny shapes is time consuming and, honestly, I am not sure that the tiny leaves end up looking like leaves. Cutting the sprinkled dough into little squares would be a whole lot quicker.(No need to re-roll out the scrapes either.) All the crunch and sparkly color without the time intensive cookie cutter use. Just a suggestion.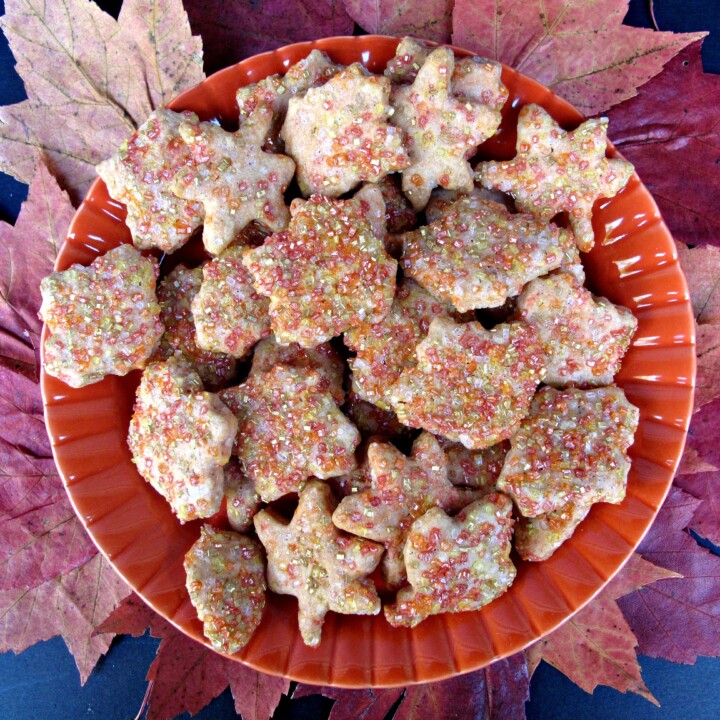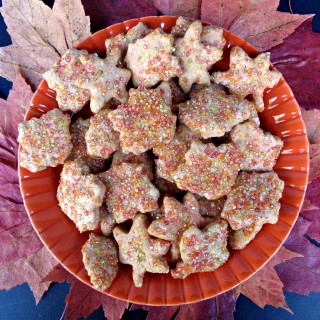 Bite Sized Sugar Cookie Nibbles
Tiny, crunchy sugar cookies that you will want to eat by the handful.
Print
Rate
Adapted From:
Bravetart.com
Ingredients
1 ¾

cups

all purpose flour

1

tablespoon

powdered milk

½

teaspoon

cinnamon

⅛

teaspoon

baking soda

6

tablespoons

unsalted butter

room temperature

1

teaspoon

vanilla extract

2

large egg whites

¼

cup

decorating sugar
Instructions
In a medium bowl, whisk together flour, powdered milk, cinnamon, and baking soda.

In the bowl of an electric mixer beat butter, vanilla and egg whites until combined.

Alternate adding flour then egg whites. Mix until a smooth dough forms.

Form the dough into a disc, wrap in plastic wrap and refrigerate until firm, 2 hours to overnight.

When ready to bake: Preheat oven to 350 degrees F. Line a baking sheet with parchment paper.

Remove half of the dough from the refrigerator. The other half should remain refrigerated until ready to use.

Roll the dough out between two sheets of parchment paper to ¼".

Remove the top sheet of parchment and sprinkle the surface of the dough with some of the decorating sugar .Replace the top sheet and gently use the rolling pin to embed the sugar into the dough.

Remove the top sheet of parchment and cut out shapes. The scraps can be re-rolled and re-sprinkled (Re-rolled dough will have decorating sugar inside the dough as well as sprinkled on top, but that will not adversely effect the cookies.)

Place the cookies on the baking sheet about ½" apart. These cookies spread very little while baking.

Repeat with the second half of the dough.

Bake for 10-12 minutes until firm and edges begin to brown.

If the cookies are too small for cooling on a wire rack, cool completely on the baking sheet.

Store for up to one month in an airtight container at room temperature.
Notes
Packing tips
If shipping these cookies in an airtight container, fill any empty space on the top of the container with wadded waxed paper so that the cookies will not move during mailing.
If using a large ziplock bag, squeeze out as much air as possible before closing the bag, then use packing material in your shipping box to ensure that the cookies don't move around during mailing.
Nutrition
Calories:
14
kcal
|
Carbohydrates:
2
g
|
Protein:
1
g
|
Fat:
1
g
|
Saturated Fat:
1
g
|
Trans Fat:
1
g
|
Cholesterol:
2
mg
|
Sodium:
3
mg
|
Potassium:
4
mg
|
Fiber:
1
g
|
Sugar:
1
g
|
Vitamin A:
21
IU
|
Vitamin C:
1
mg
|
Calcium:
1
mg
|
Iron:
1
mg