Apple Pie and Pumpkin Pie Cookies have all of the luscious spiced flavors of your favorite holiday pies packed into chewy soft cookies. Piping a basket weave topping with caramel frosting provides the finishing touch to these little faux pies!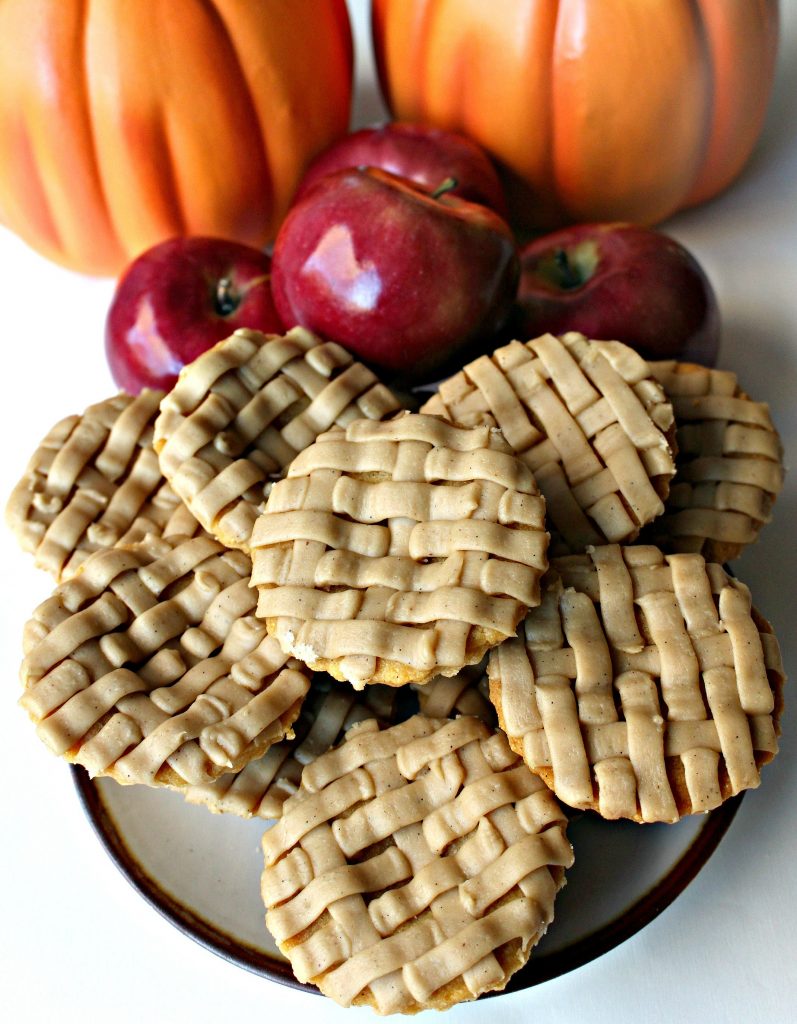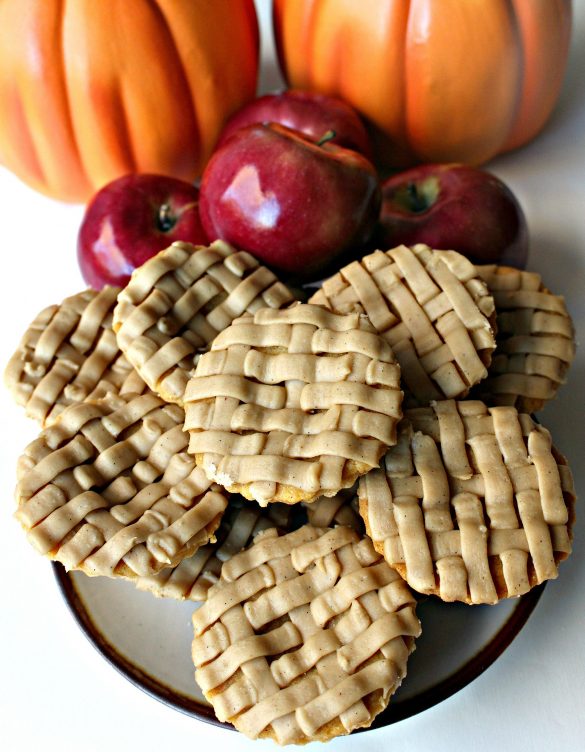 Everyone seems to have a favorite Thanksgiving food. Without that particular food, Thanksgiving isn't quite right. My own favorite must-have is stuffing, a rather common Thanksgiving food. I make a regular and a gluten free version each year.
When I first started having Thanksgiving with my husband (years ago), I thought his holiday favorite was weird. He grew up eating stuffed cabbage with his Thanksgiving turkey. Using his grandmother's recipe (including directions like " Add one eggshell of water."), my husband makes stuffed cabbage every Thanksgiving.
This year my son and daughter will both bring their significant others to our Thanksgiving. I am incredibly excited to have everyone together and to be able to share our Thanksgiving traditions. It's important to me that everyone will have that one special Thanksgiving favorite food.
I insisted on finding out what foods we might need to add to our usual Thanksgiving menu, so that our guests would feel at home. Mashed potatoes turned out to be the request from both guests! No problem. Let's see what they think of the stuffed cabbage!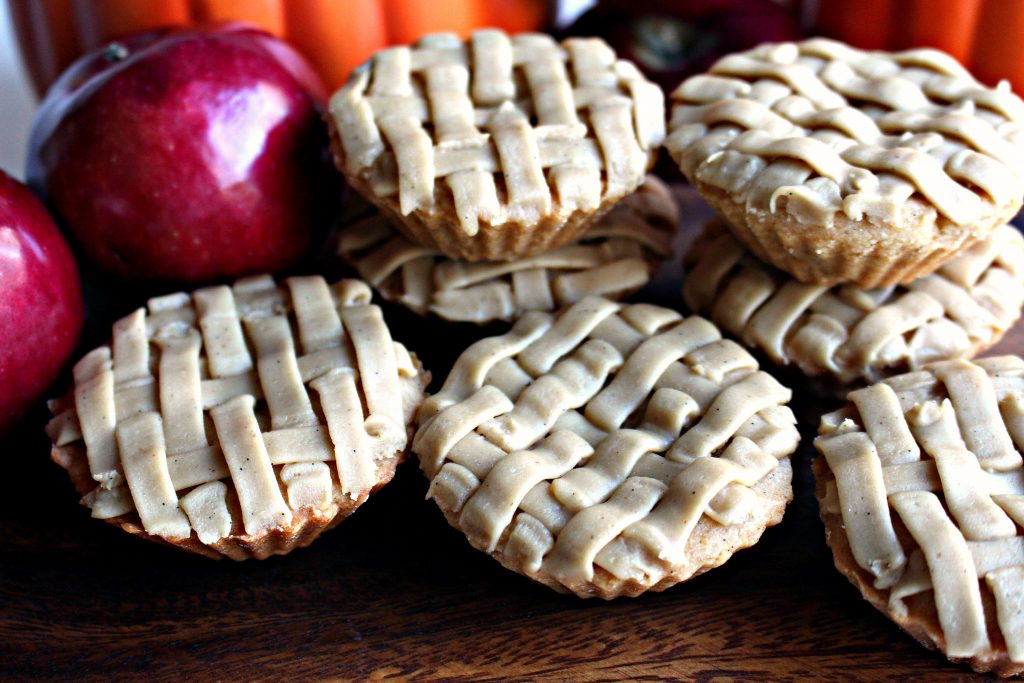 I wanted to send a taste of Thanksgiving in my November military care package. The Thanksgiving military care package I sent to Soldier L., was very similar to last year's Thanksgiving themed package.
Because I don't know if Soldier L. has access to a microwave, I sent foods that are symbolic of traditional Thanksgiving foods, like turkey jerky/sausage, sweet potato chips, stewed apples, pumpkin snack cake, and cranberry-nut mix.
A nerf football is also symbolic of Thanksgiving traditions. This year, I decorated the box to look like a turkey.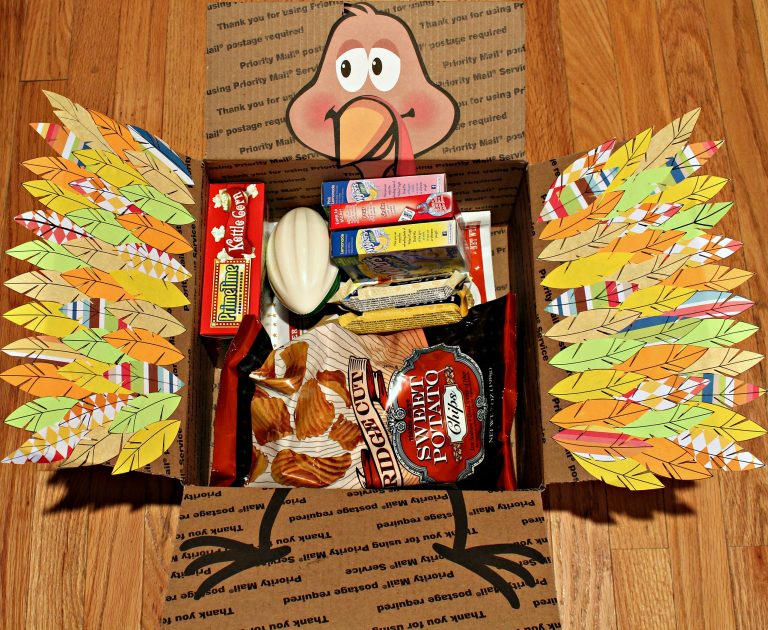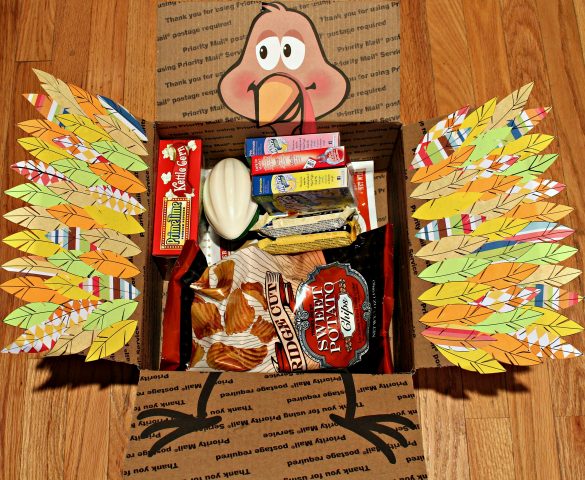 As I searched the internet for Thanksgiving cookie decorating inspiration, I came across several blogs giving advice on mailing baked goods for the holidays. Despite the detailed descriptions of what to send and what to avoid, commenters still had more questions.
Several times readers asked, "How can I send a pie in a care package?" There is a simple answer to that question. Don't. Pies are moist, perishable, and fragile. None of those things work for shipping. The desire to share favorite recipes often overshadows common sense.
However, those questions did give me the cookie inspiration I was looking for. Instead of my usual decorated sugar cookies with a turkey theme, I decided to create faux Thanksgiving pies. Apple Pie and Pumpkin Pie cookies aren't really pies, but they are fully delicious, fully adorable, and fully shippable.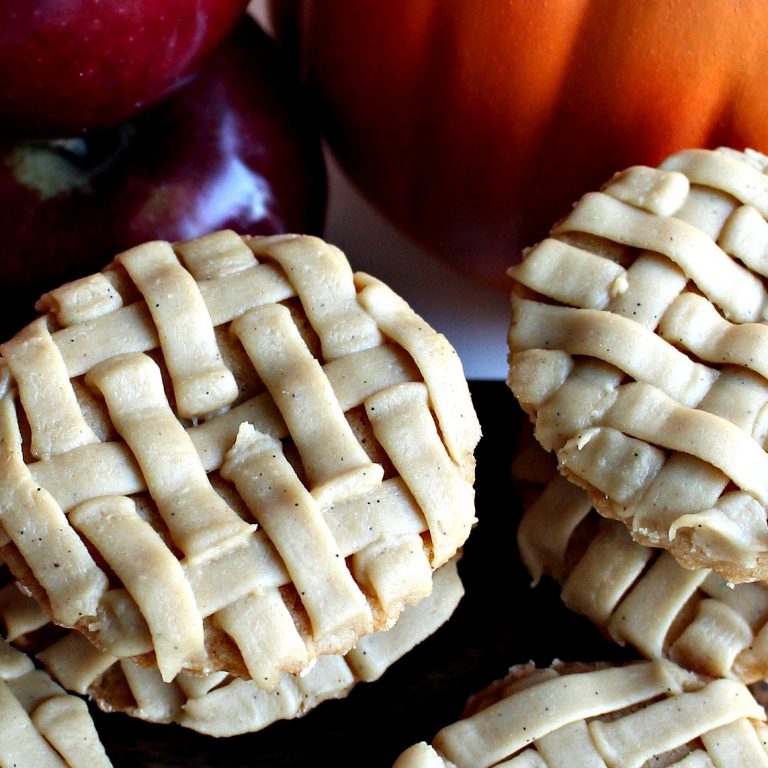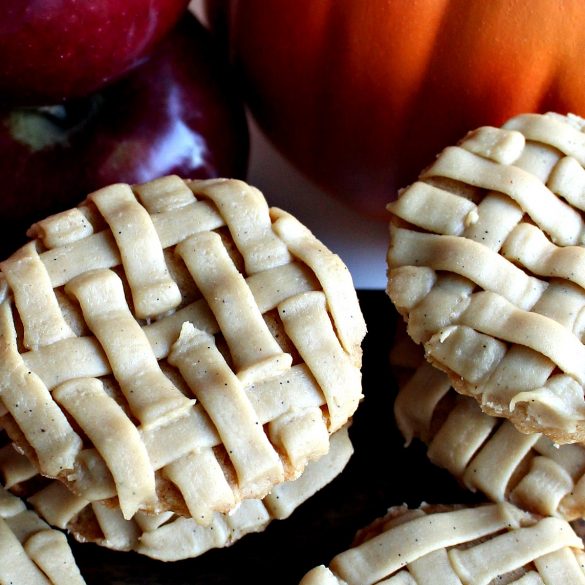 I used Penzey's Pie Spice for Apple Pie and Pumpkin Pie Cookies, but any commercial or homemade pie spice mixture would work. I don't like clove, so I usually avoid apple pie or pumpkin pie spice.
The Penzeys spice intrigued me because it's sold as flavoring for all kinds of pies. The ingredient list includes cinnamon (China, Korintje, Ceylon, Vietnamese), vanilla sugar (sugar, vanilla bean), mace, ginger, nutmeg, anise seed and clove. With clove as the final ingredient, it is hardly detectable. My kind of pie spice!
I decided that if pie spice can be adaptable to different flavored pies, then a pie cookie could be adaptable too. Any fruit butter can be used with this recipe to create different faux pies. For my Thanksgiving military care package, I made one batch using apple butter and one using pumpkin butter.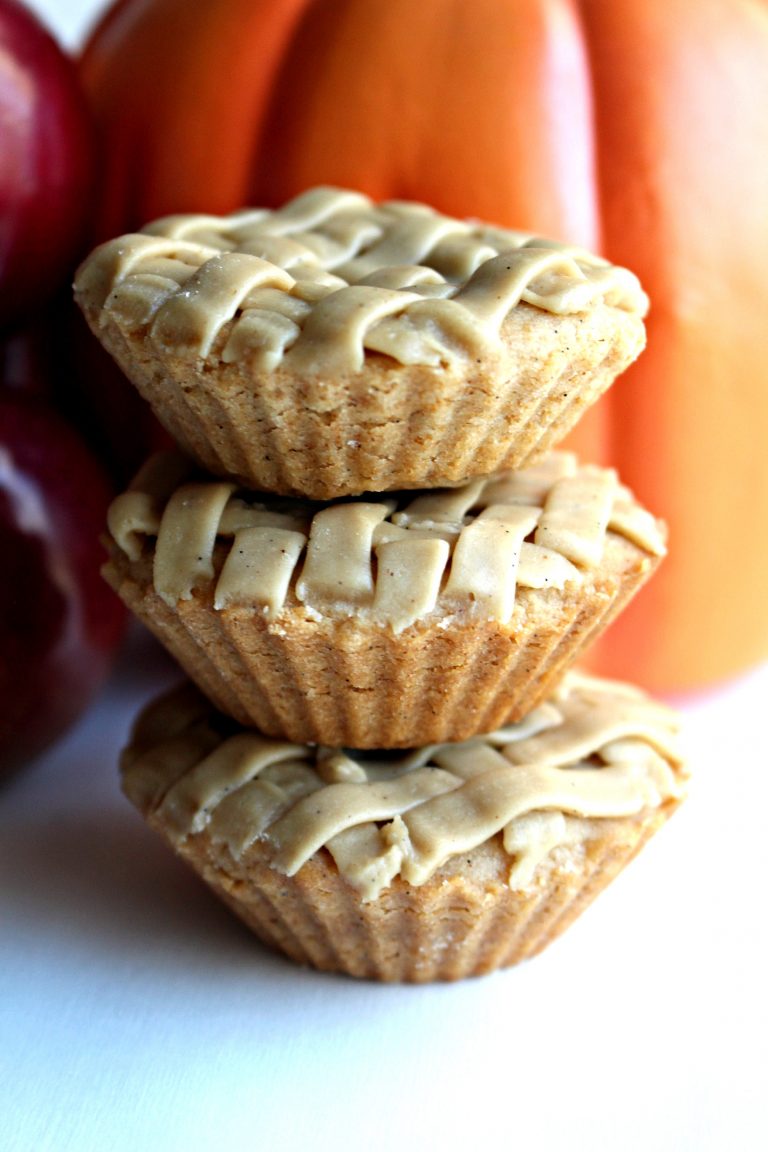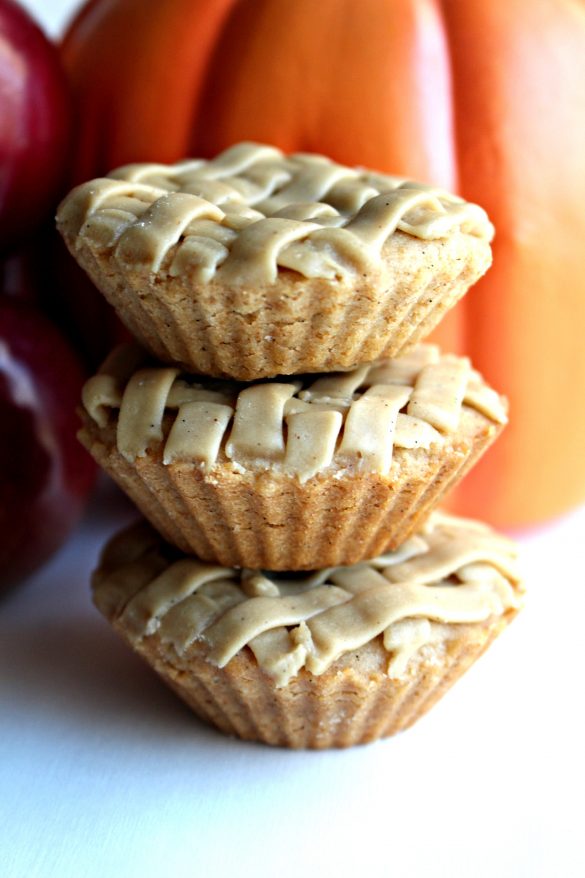 I baked the Apple Pie and Pumpkin Pie Cookies in my Nordic Ware tartlette pan. The shape was perfect for little faux pies!
When I bought the tartlette pan for baking Bosnian Butter Cookies, I thought it might be a specialty pan that wouldn't get used much. Not true. The tartlette shape has been great for a bunch of recipes lately!
If you don't have a tartlette pan, a muffin pan will produce similar faux pie shapes. This recipe can also be made as regular scooped cookies and the frosting spread on top (see Caramel Apple Cookies), if you are short on time and don't want to fuss.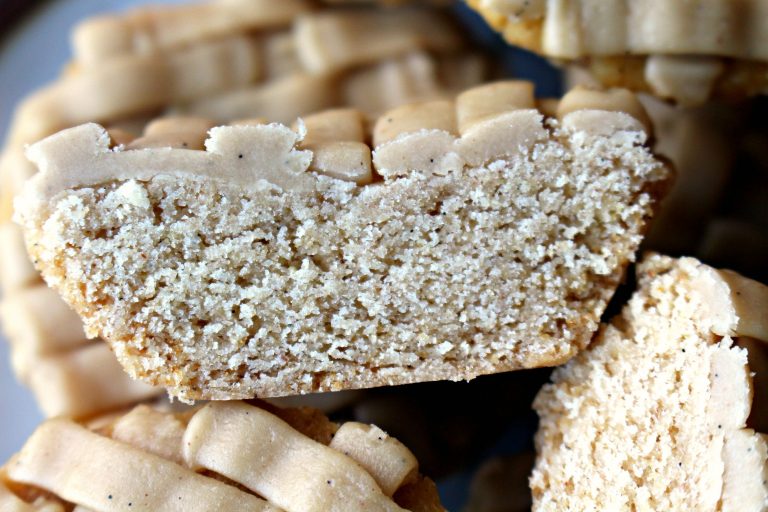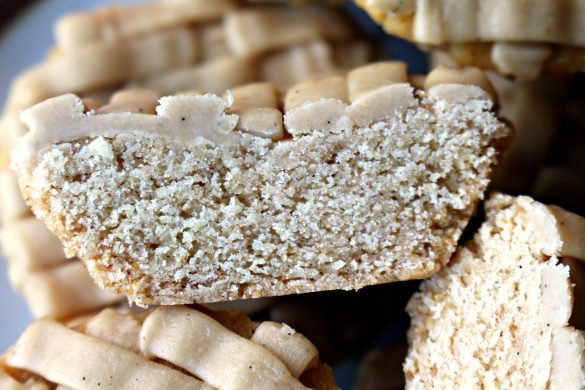 To create the faux lattice pie crust, I used a Wilton #46 basket weave tip. The piping of the frosting was really easy to do and went quickly after the first few. This was the first time I had attempted a basket weave pattern, and was able to frost two dozen cookies in under an hour.
Deployed military men and women, like Soldier L., will spend this Thanksgiving far from loved ones. This is one of the many sacrifices they make in order to serve their country.
We owe them our thanks. I hope these Apple Pie and Pumpkin Pie Cookies will sweeten Soldier L.'s Thanksgiving and help convey my gratitude.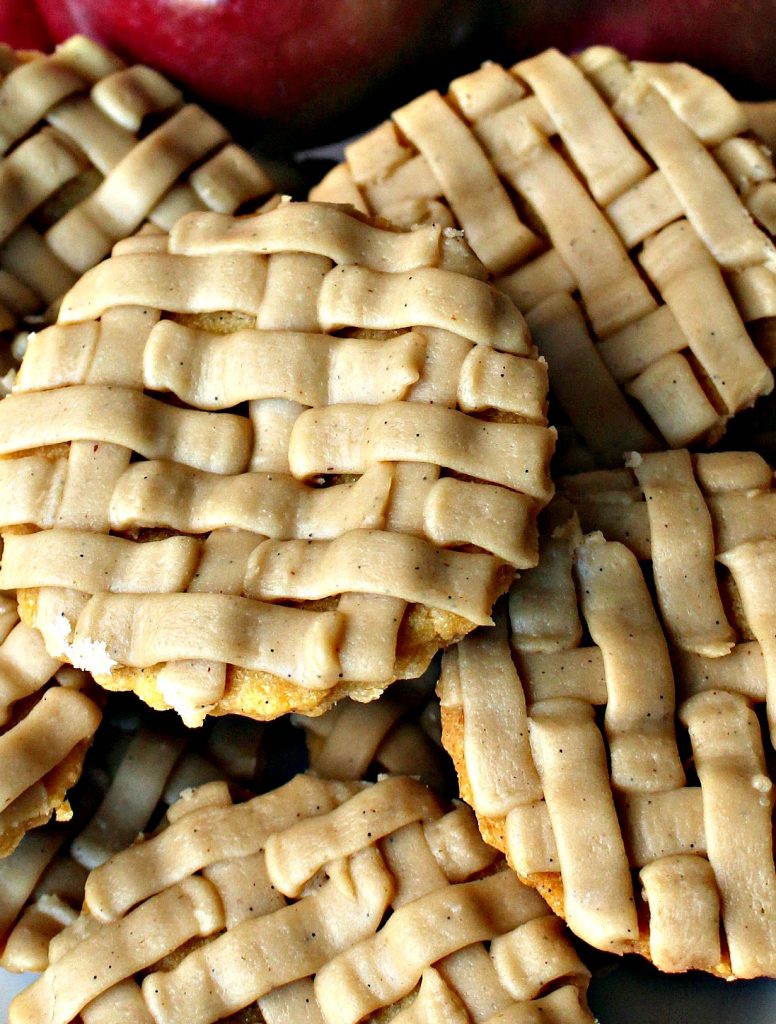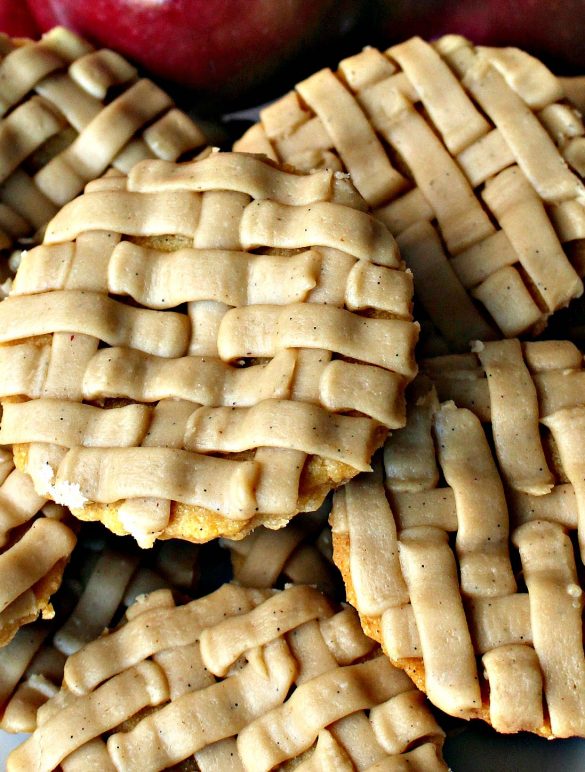 Wishing everyone, whether at home or far away, a peace-filled Thanksgiving.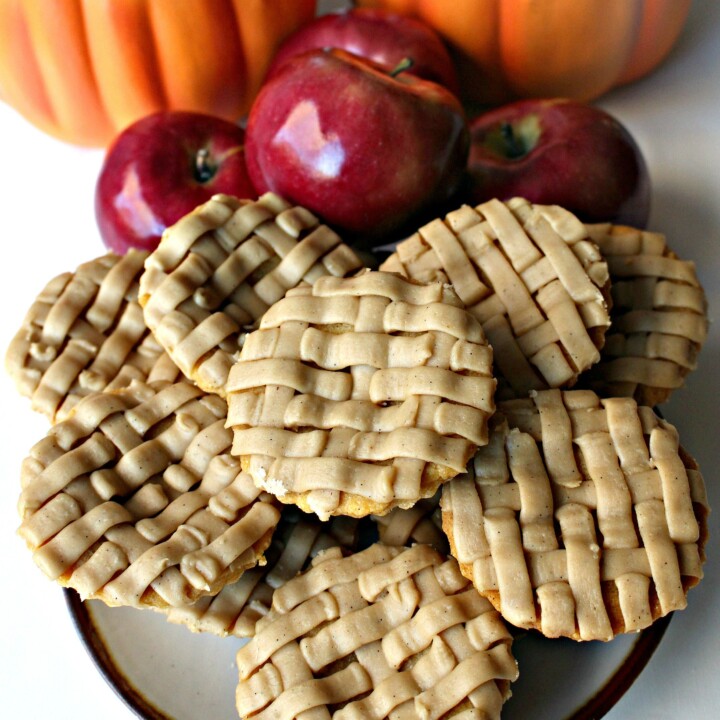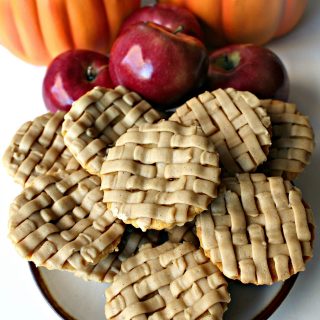 Apple Pie and Pumpkin Pie Cookies
Piped caramel frosting makes these soft cookies look just like little pies.
Print
Rate
Adapted From:
keepitsweetdesserts.com and tastesbetterfromscratch.com
Ingredients
Cookies
¾

cup

unsalted butter

room temperature

½

cup

granulated sugar

¼

cup

brown sugar

¼

cup

apple butter or pumpkin butter

½

teaspoon

pie spice

2

teaspoons

vanilla extract

½

teaspoon

salt

2 ¼

teaspoons

baking powder

2 ¼

cups

all-purpose flour
Caramel "Pie Crust" Frosting
3

tablespoons

unsalted butter

¼

cup

heavy cream

½

cup

brown sugar

packed

1

teaspoon

vanilla extract

¼

teaspoon

pie spice

1 ½ - 2

cups

confectioners' sugar
Instructions
In the bowl of an electric mixer, cream butter and sugars.

Mix in apple butter or pumpkin butter, pie spice, vanilla, salt, baking powder, and flour.

Cover in plastic wrap and refrigerate for at least 1 hour or until firm.

When ready to bake: Preheat oven to 350° F. Line a baking sheet with parchment paper.

Scoop dough with medium (2 tablespoon) cookie scoop into the cups of a 12- mold tartlette pan.

Gently press to flatten the tops of the dough balls.

Bake for 10-12 minutes.

Cool on baking sheet for 10-15 minutes, then invert the pan to remove the cookies and cool completely on wire racks. If the cookies don't pop out easily, sip the tip of a knife between the cookie and the pan to lift.

To prepare frosting: In a medium saucepan over medium heat, combine the butter, cream, and brown sugar. Stir constantly until boiling.

Remove the pan from the heat and stir in vanilla, pie spice, and 1 cup of the confectioner's sugar.

Cool to room temperature, then add additional confectioner's sugar slowly until the frosting is piping consistency. If you add too much sugar and the frosting is too thick, a bit of cream can be added to adjust the consistency.

For easier handling, divide the frosting into two piping bags. Using a #46 Wilton basket weave piping tip with the smooth edge facing up, pipe on the frosting "lattice pie crust" .

Allow icing to dry completely before storing.

Store in an airtight container at room temperature for up to 7 days.
Notes
Packing tips
Wrap cookies individually in plastic wrap, then place snugly in an airtight container using wrinkled wax paper to fill any empty spaces to eliminate any wiggling while shipping.
Nutrition
Calories:
253
kcal
|
Carbohydrates:
42
g
|
Protein:
1
g
|
Fat:
9
g
|
Saturated Fat:
6
g
|
Polyunsaturated Fat:
1
g
|
Monounsaturated Fat:
2
g
|
Trans Fat:
1
g
|
Cholesterol:
24
mg
|
Sodium:
102
mg
|
Potassium:
33
mg
|
Fiber:
1
g
|
Sugar:
32
g
|
Vitamin A:
282
IU
|
Vitamin C:
1
mg
|
Calcium:
37
mg
|
Iron:
1
mg
There is more Thanksgiving cuteness on The Monday Box!
Save
Save
Save