This thoughtful Thanksgiving Care Package is filled with ideas that will bring smiles as well as the cozy, homey feelings needed when spending the holidays away from home. Delicious treats and fun crafts make this fall box special.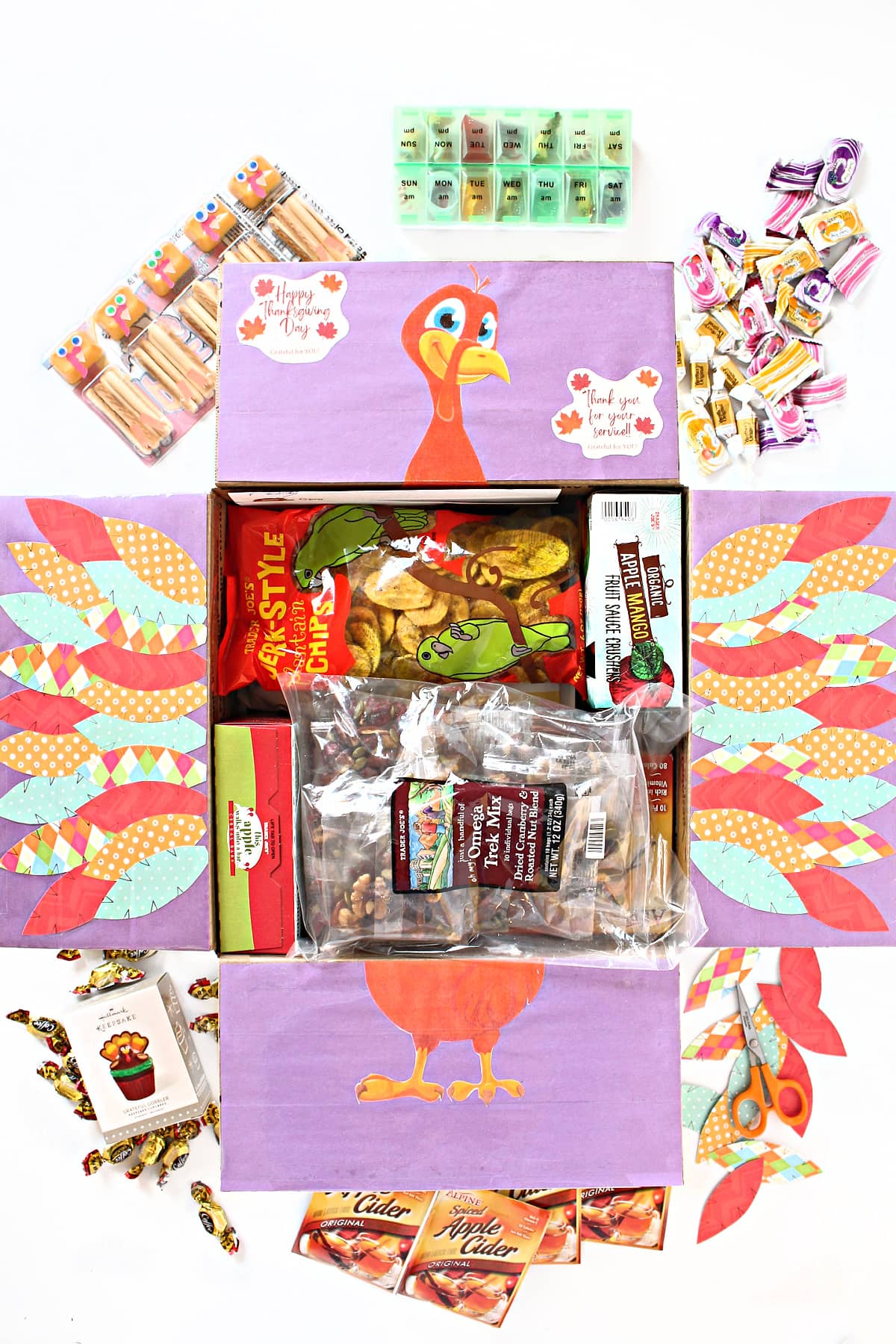 Why you'll love this care package theme
This adorable care package is fun and easy to create by adults and children using the stencils and templates provided.
The shelf stable treats arethe perfect gift for a service member far from home or college students in their dorm room.
Customize the contents with all of your fall favorites.
Being away from friends and loved ones during holidays is especially hard. This fun Thanksgiving Care Package is packed with love, smiles, and delicious treats to make being away a little easier.
Obviously, you can't ship an actual Thanksgiving dinner, but you can ship purchased snacks that are symbolic of all of the traditional Turkey Day flavors.
Adding a few simple crafts is a wonderful way to share smiles.
Decorating supplies
Choose a printable turkey head and feet and a stencil for printing the feathers from this turkey and feathers printable.
The Thanksgiving wording quotes were printed from online images found by searching Google for "happy thanksgiving grateful for you".
Scrap book paper is a great choice for making multicolored feathers. It's sturdy and comes in a huge variety of colors and patterns. Feathers could also be printed on construction paper.
Instructions
Cut the construction paper to the measurements of the box flaps. Use the glue stick to attach the words and decorations to the paper.
Glue the decorated paper to the box flaps.
To ensure that the decorations won't fall off during shipping, cover the box flaps with clear packing tape.
Fill the box with Thanksgiving treats, activities, and gifts.
Care package contents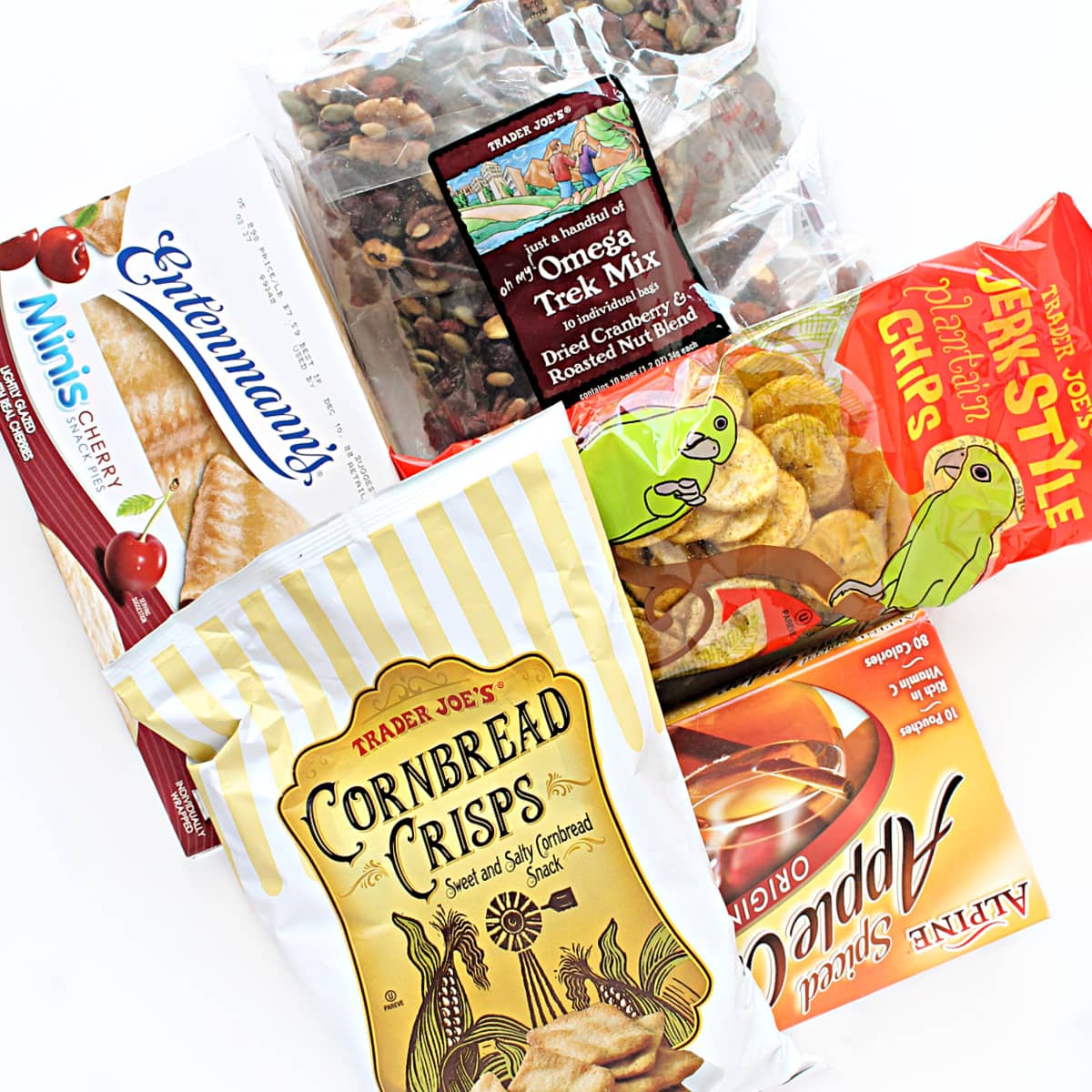 In addition to home baked goodies, like Pumpkin White Chocolate Chip Cookies, and Thanksgiving themed crafts, this box was filled with purchased sweet and savory snacks whose flavors symbolize traditional Thanksgiving day foods.
Pie: Numerous brands offer packaged hand pies in favorite fall flavors like apple, cherry, and pumpkin. Poptarts and fruit bars in these flavors are also good standins for apple or pumpkin pie.
Corn: Crunchy crackers and chips provide a corn taste. Microwave popcorn would be another great addition. Even sweet treats like candy corn are a great way to customize this Thanksgiving box.
Apple Cider: Individual packets of instant cider are warming and delicious.
Cranberry sauce: Trail mix provides the nuts and cranberries for this faux Thanksgiving meal.
Potatoes: Potato chips or potato sticks in cans ship well without crumbling. Sweet potatoes are available as chips too.
Turkey cracker snacks craft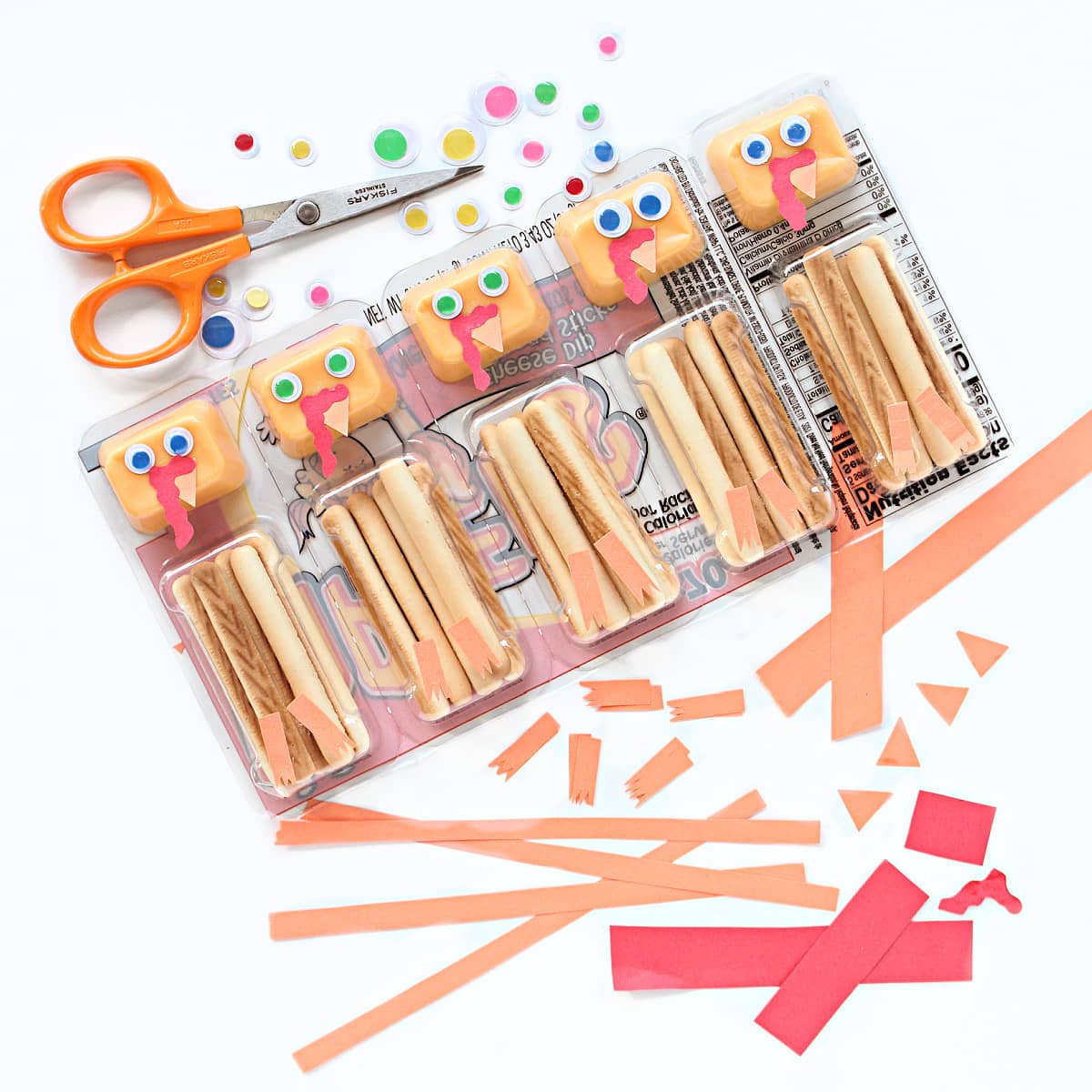 This adorable pack of turkeys are an easy way to send Thanksgiving poultry that won't spoil in the mail! This is a craft you can throw together in minutes. (Kids love these in lunch boxes too!)
Cut orange construction paper into thin strips, then cut the strips into small sections for the feet.
Cut strips slightly thicker than the strips for feet, and cut those into triangles for the beaks.
Cut red construction paper into strips just slightly wider than the strips used for beaks. Cut into sections longer than the beaks and cut into wavy wattles.
Turn over the snack package so that the bottom of the compartments is facing up.
Use a gluestick to attach the feet to the bottom of the cracker/bread stick compartment. Glue the googly eyes, beak, and wattle to the cheese compartment.
Pill box encouragement craft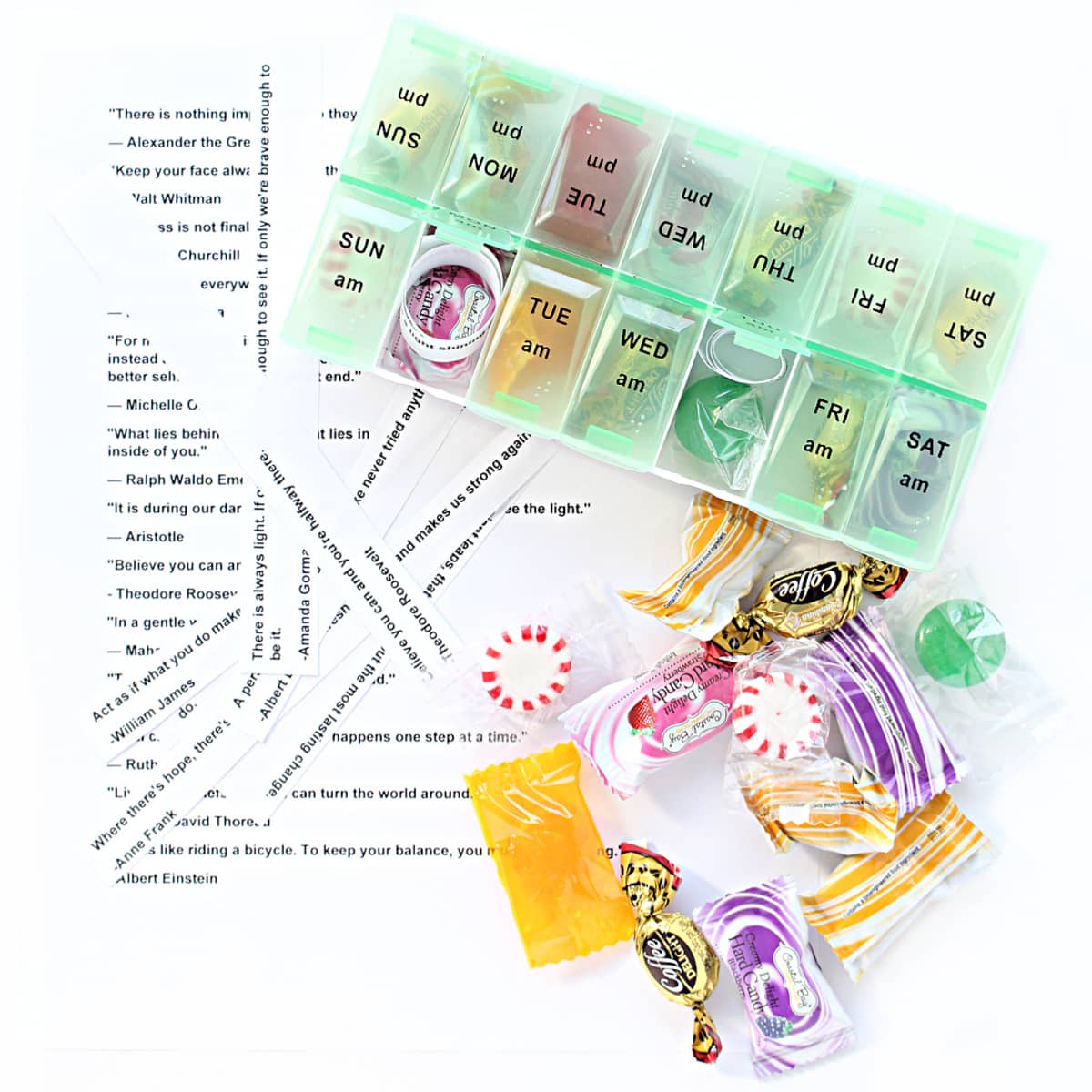 This caring prescription doesn't require a doctor. Use a pill minder box (available at Dollar Stores), small candies, and inspirational quotes to raise spirits and offer encouragement.
Print the motivational quotes and cut apart into strips.
Add a quote and a candy to each compartment.
Attach prescription instructions: "Rx: Take one every 12 hours as needed for inspiration,motivation, and encouragement."
Tips and variations
Other materials for covering box flaps include construction paper, contact paper, gift wrap, and plastic party tablecloths.
Before sealing the box, close the flaps and shake the package. If there is any movement inside, use tissue paper or other packing material to fill any unused space.
Use more packing tape than you think is necessary! Packing tape helps the box hold together despite rough handling. It also keeps sand out in dessert locations.
Many people consider football to be an essential part of their Thanksgiving celebration. Add a personal touch with a foam football and something with the logo of a favorite team.
Recipes for a Thanksgiving Care Package theme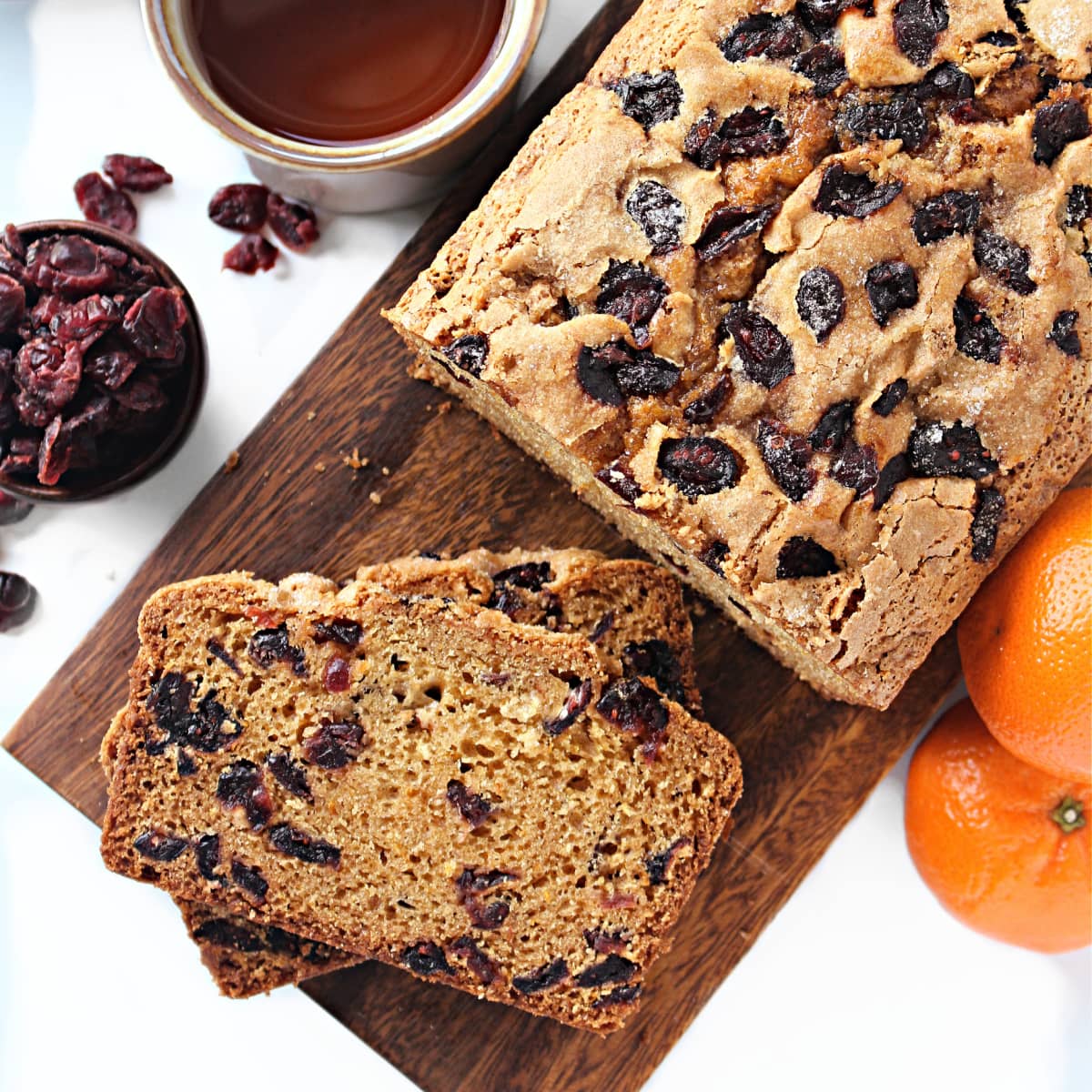 Cranberry Orange Bread is a soft and delicious quick bread full of fall flavor.
Painted Turkey Sugar Cookies are three dimentional cookies with color "sponge painted" on top. Great Thanksgiving desserts.
Apple Gingerbread Cakelets are chewy little spice cakes baked in an apple shaped pan.
Thanksgiving White Chocolate Bark makes a great edible decoration for Thanksgiving table place settings.
Pumpkin Pie Cookies are chewy pumpkin butter cookies iced to look like little pies. Perfect care package pies!
Chocolate Bark Thanksgiving Turkeys are a colorful, delicious Thanksgiving treat. A festive way to add color and cuteness.
Decorating Fall Leaf Sugar Cookies is a fun project for the whole family. The iced cookies are covered in fall colors like real fall leaves.
More care package themes
Day of the Dead Theme Care Package is a colorful box filled with treats and decorations tied to hispanic culture.
Harry Potter Care Package is magical fun for Hogwarts fans.
This Halloween Care Package has corny jokes and candy galore.
Any dog parent would appreciate this Paw Prints Dog Care Package for their treasured pup!
You'll love this Nutcracker Care Package for a Christmas theme with easy to decorate sugar cookies that look like nutcracker soldiers.
Ready to create? Join the free membership group to get new care package ideas, recipes and a newsletter delivered to your inbox! You can also stay in touch on Facebook, Pinterest, and Instagram. I'd love to stay in touch!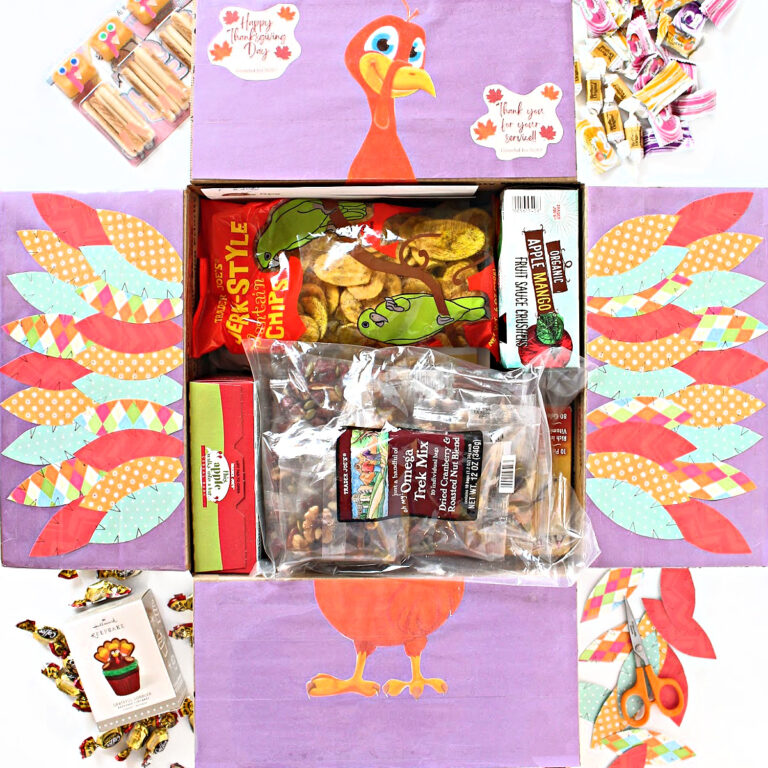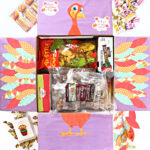 Print
Thanksgiving Care Package
This Thanksgiving gift box brings the fun and fall flavors of the Thanksgiving holiday to friends and loved ones away from home. Perfect for sharing holiday wishes with military members and college students.
As an Amazon Associate I earn from qualifying purchases.
Materials
4

sheets

scrap book paper

variety of colors and patterns

4

sheets

construction paper

cut to box flap size

1

large USPS flat rate box

1

heavy duty glue stick

1

roll

clear packing tape
Instructions
Print and cutout turkey head, feet, and "Happy Thanksgiving" greetings.

Print feathers on scrap book paper and cut out about 40 feathers.

Cut 4 sheets of construction paper to 6" x 11 ¾" ,the size of the box flaps.

Glue the turkey head and some greetings to flap paper #1 .

Glue the feathers in a spread out wing pattern (about 20 feathers for each wing) on flap papers #2 and #3.

Glue the turkey legs and feet to flap paper #4/

Glue the decorated flap papers to the box flaps.

Cover the flaps with clear packing tape to hold the decorations in place.

Fill the box. Be sure there is no movement in the carton before sealing.
Notes
Large flat rate boxes from the US Postal Service are expensive to mail (about $20), however you can fit quite a bit inside and don't have to worry about weight (up to 50 pounds). Not only are the cartons themselves free, but you can order them online and the postal service will deliver them to your door.
Covering the inside flaps is like wrapping a gift inside-out. The purpose is to make the box bright and cheerful. In addition to the construction paper used on this box, flaps can be covered with scrap book paper, wrapping paper, contact paper, patterned duct tape, or plastic table cloths.
When mailing a short distances, taping over the flap decorations probably isn't necessary. However, military care packages have to withstand rough treatment and temperature extremes. Taping thoroughly inside and out, helps keep the care package intact.