Tchaikovsky's Nutcracker, the iconic Christmas ballet, captures the hearts of children and adults with its tale of innocence, love, and Christmas magic. Whether baking for fans of wooden soldiers or those who dream of dancing, Nutcracker Sugar Cookies are sure to delight.
When I was around six years old, my mother took me to see the New York City ballet production of The Nutcracker. I remember my wonder as I watched the stage. A Christmas tree grew before my eyes. Ballerinas floated on the tips of their toes. I was transfixed. I became a believer in Nutcracker magic. Over the years, I've enjoyed sharing that magic.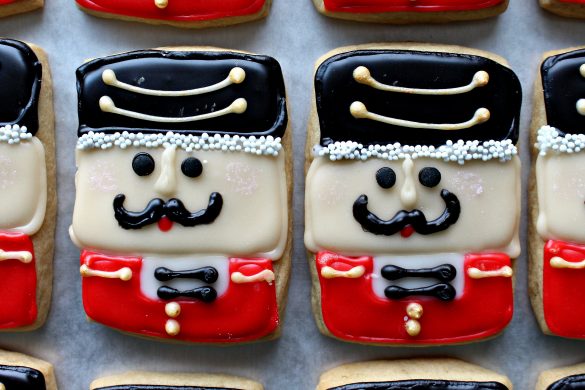 My first year teaching, I taught 5th and 6th grade at Holy Trinity Elementary in the inner city of Chicago. The school was a very special place with a wonderful staff and an amazing principal. Most of my 19 students lived in the projects. I was a young, naïve, inexperienced teacher, with big ideas and no reason to believe I could fail. When I read that a professional dress rehearsal of The Nutcracker was available for school field trips, I decided it would be wonderful to share that Nutcracker magic with my students, none of whom had ever been to a ballet.
Before thinking the idea through completely, I casually mentioned the field trip to my principal. I am sure she thought of the many ways that taking my class to a ballet could be a disaster, but for some unknown reason, she supported my idea. The Nutcracker field trip became a reality. For the month before our trip, I immersed my students in everything Nutcracker; the story, the music, the instruments, the ballet. A special classroom meeting was held to discuss ballet theater etiquette. I gave my street-smart, cocky 5th and 6th graders ample opportunity to laugh and joke about men in tights, but made it clear that they needed to "get over it" before the performance.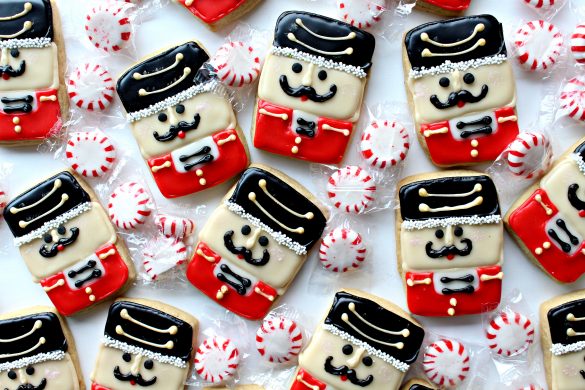 The day of our field trip, The Nutcracker worked its magic on my students. I could not have been more proud of their behavior or more delighted with their enjoyment. They sat mesmerized, only occasionally whispering in excitement when they recognized a piece of music or a character. Though I taught for many years, that Nutcracker field trip was the most impactful experience of my career.
For my December Military Care Package, I shared some Nutcracker magic with Soldier L. It's always hard for our service members to be away from their loved ones, but missing holidays together is especially hard. I sent a Santa box at the end of November, with decorations and a filled Christmas stocking to help bring a little holiday spirit. A few weeks later, I sent this Nutcracker box, with a note summarizing the story of The Nutcracker and expressing my wish that the power of love and Christmas magic will be with him all year long.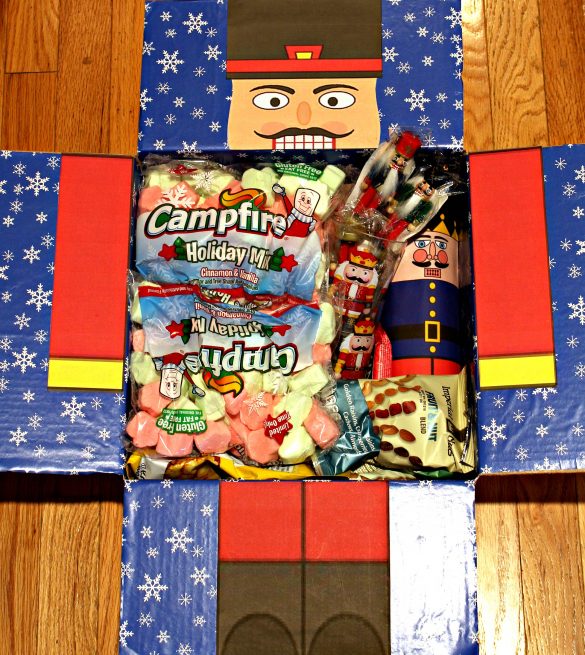 Part 1 Care Package Contents: After making my Thanksgiving Turkey package, I'm hooked on creating characters using the four open flaps of the box. After lining the box with snowflake wrapping paper, I found a free printable nutcracker online and increased the size of the head, arms, and legs to fit the box flaps. In addition to the Nutcracker Sugar Cookies, the care package includes Christmas marshmallows, packaged nut mixes, holiday flavors of protein bars, Nutcracker coloring sheets and colored pencils, Nutcracker ornaments, and Nutcracker plates and cups. Two cans of Pringles chips are wrapped in Nutcracker printables I found online.
Part 2 Sugar Cookies: I usually try to make circle sugar cookies, because that shape (with no corners) ships well. However, Nutcrackers aren't shaped like a circle. These Nutcracker Sugar Cookies are rectangular. I first saw this design several years ago, on Ada's, "New Sweets on the Blog". Though her videos are in Greek, she makes everything look so easy. The design for Nutcracker Sugar Cookies can be broken down step-by-step for beginners like me. For 36 cookies I used one batch of vanilla sugar cookie dough and doubled the recipe for corn syrup icing made to an outlining consistency, slightly thicker than white glue. The icing is divided in thirds. One third is colored beige. I used Americolor gel Beige. One third is mixed with a tablespoon of cocoa to make it dark, then colored with Americolor gel Super Black. Before coloring the final third red (Americolor gel Super Red), remove about 1 cup of the icing to leave white. For the beige, red, and black icing: Place ⅓ of each color of icing in separate piping bags with #3 tips. Thin the rest of each icing to flooding consistency, slightly thinner than white glue, and place in separate piping bags with a small piece of each tip cut off. The white icing should all be thinned to flooding consistency and placed in a piping bag with a small piece of the tip cut off.
Roll out dough ⅜" thick and cut into 2" x 3" rectangles. To create "cheat lines" that make it easier add icing uniformly to all of the cookies, divide the rectangle into 1" segments making shallow indentations in the dough. Bake for 10 minutes and cool completely before icing.
Outline each segment using the thicker icing. Start with the center beige. The white isn't outlined.
Fill in each segment with flooding icing. Allow the icing to firm slightly for at least one hour before adding details.
Use the black outline icing to add the mustache and details on the shirt. Black sequin sprinkles or the black icing can be used for the eyes. Use the beige outline icing to create a nose. The hat details, shoulder details, and buttons can be added with the beige icing (as in the photo) and in an additional step painted with gold luster dust or the remaining beige icing can be colored yellow and used for these details. Let the icing dry at least another hour before continuing.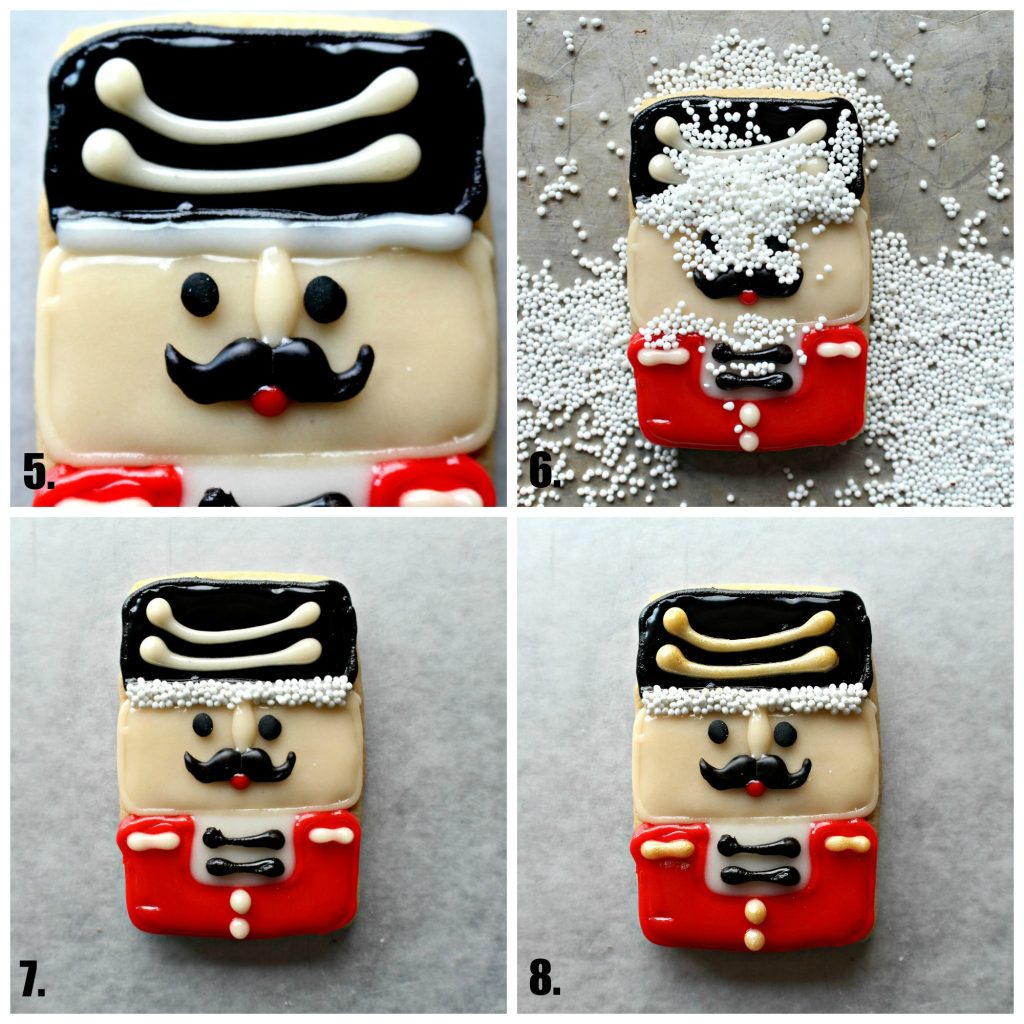 5. Place the cookie on a baking pan with sides. Draw a stripe of white icing between the hat and the face.
6./7.Sprinkle white nonpareil sprinkles over the wet white icing stripe to cover completely. Gently pick up the cookie and dump excess sprinkles into the pan.
If using gold luster dust, mix a tiny amount of alcohol (vodka works well) with luster dust to form a paintable paste, and paint the beige details.
Dry the Nutcracker Sugar Cookies overnight to allow the icing to harden before packing. I enclose each cookie in a self-sealing cellophane cookie bags, but plastic wrap would also work. The cookies are then securely packaged for shipping in a freezer weight ziplock bag or plastic storage container. When stored in an airtight container at room temperature, Nutcracker Sugar Cookies stay fresh for at least 2 weeks.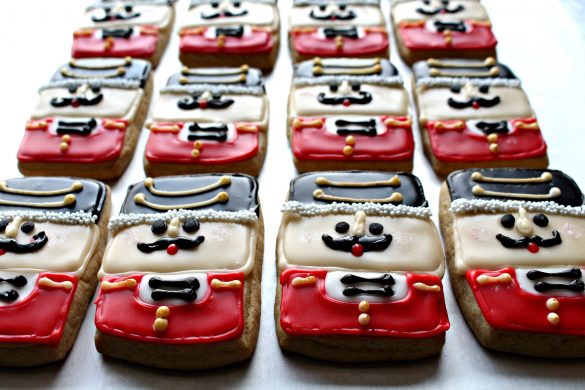 Part 3 New Recipe: Cinnamon Chip Biscotti are the new recipe created for this care package. The biscotti are part of the Time Saver Recipe series. Starting with a box of yellow cake mix as a shortcut, ground cinnamon and cinnamon chips spice up the dough. Creamy cinnamon-white chocolate coating on the bottom is the finishing touch.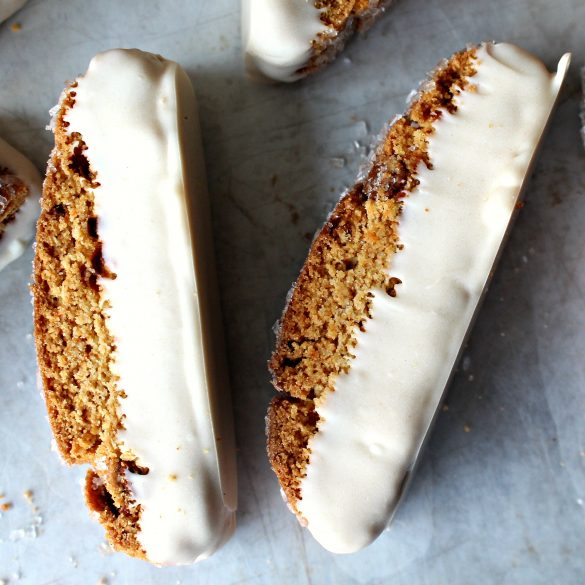 Part 4 Other Recipes for a Nutcracker Theme
Any recipe made with nuts would certainly go well with this theme, but there are no tree nut recipes on The Monday Box due to my allergies. Instead, here are some decorated Christmas cookies and fudge that would make anyone's sweet tooth happy.
Chocolate Covered Oreos (Christmas Trees and Rudolph)
Snowflake and Christmas Wreath Fudge
Wishing everyone a magical and peace-filled holiday season!
Save