You will fall in love with Penguin and Polar Bear Oreos with their beady little eyes and chocolate tuxedos. Crunchy chocolate sandwich cookies coated in chocolate are always a hit with both children and adults.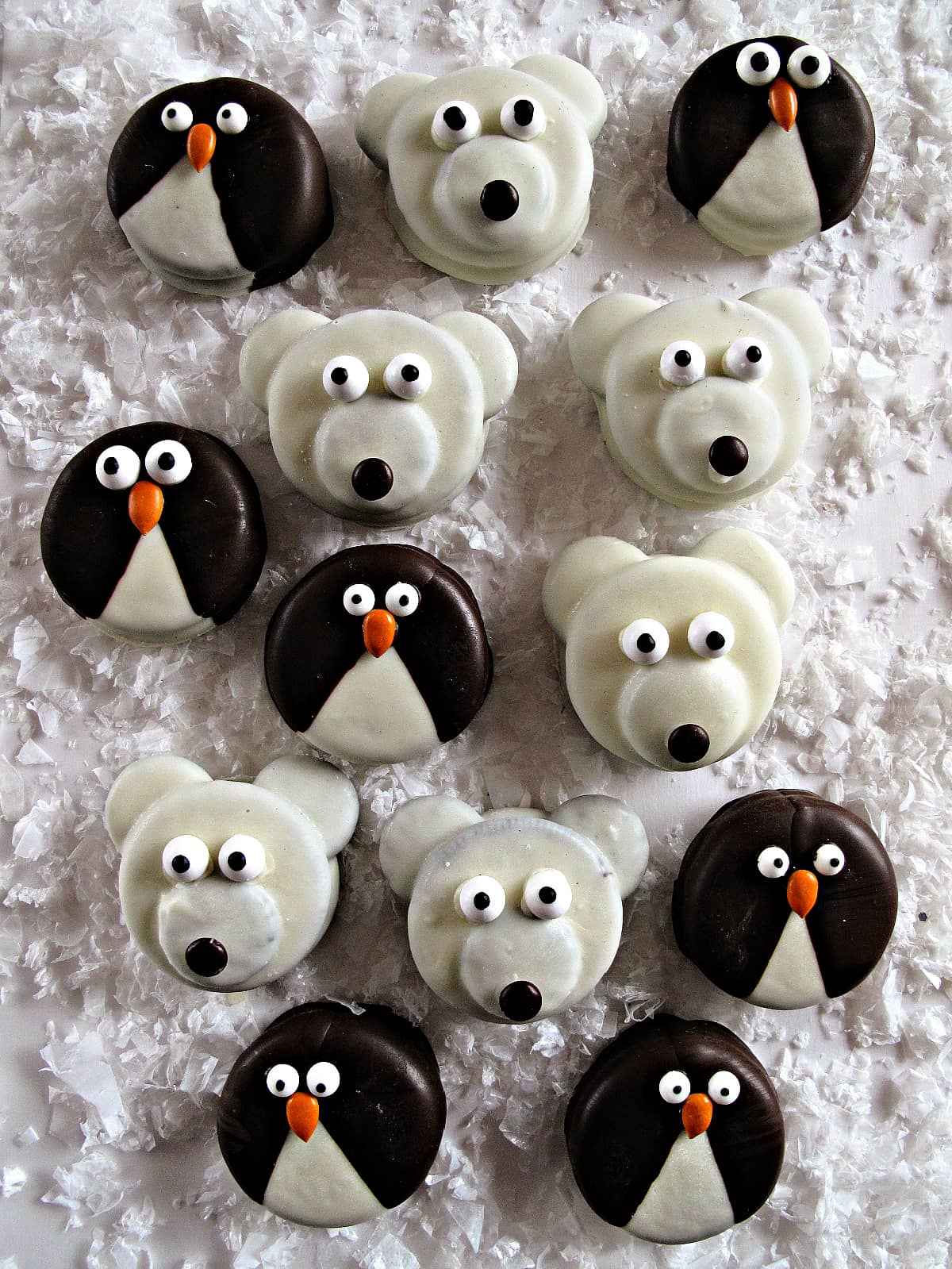 Why you'll love this recipe
These adorable creatures were created for a polar themed military care package. I thought polar bears and penguins went together until I did a little googling.
As it turns out, both animals ARE polar, but live at opposite poles! Penguins live in the southern hemisphere and polar bears live in the northern hemisphere. That's probably a good thing for the penguins, who would most certainly become polar bear snacks.
My other discovery could almost make me seem like a blogger who plans ahead. I learned that January 20th is "officially" Penguin Awareness Day (with its own Facebook page). Though the banks and schools won't close for this holiday, it would be an excellent reason to make some Penguin Oreos.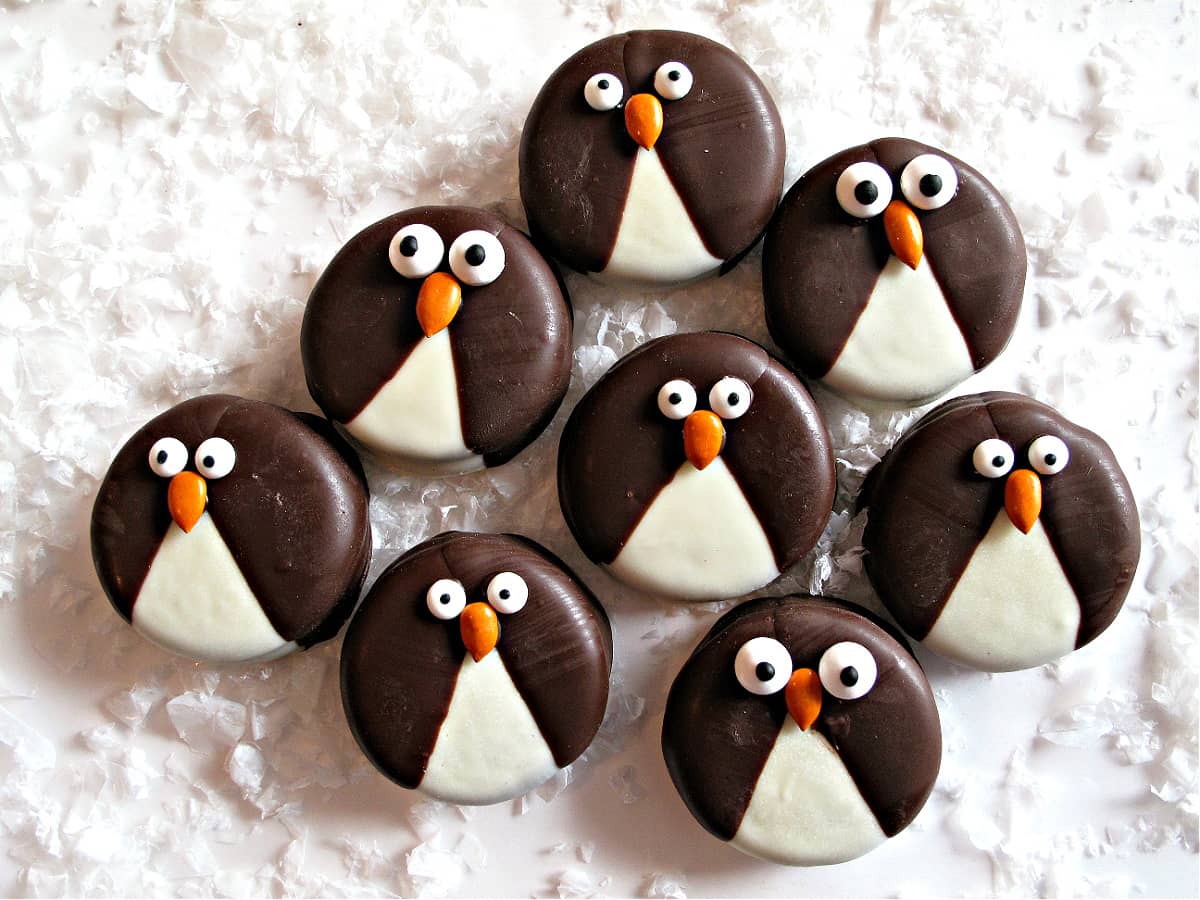 I mentioned in my previous post that I "adopted" a female sailor through Soldiers Angels and will be sending her monthly care packages until her deployment ends. My intent is to communicate through cookies, my gratitude for her service and a small taste of home.
The rest of the box is filled treats and trinkets that will hopefully cause some smiles. I share my recipes and theme suggestions as a resource to anyone looking for care package ideas.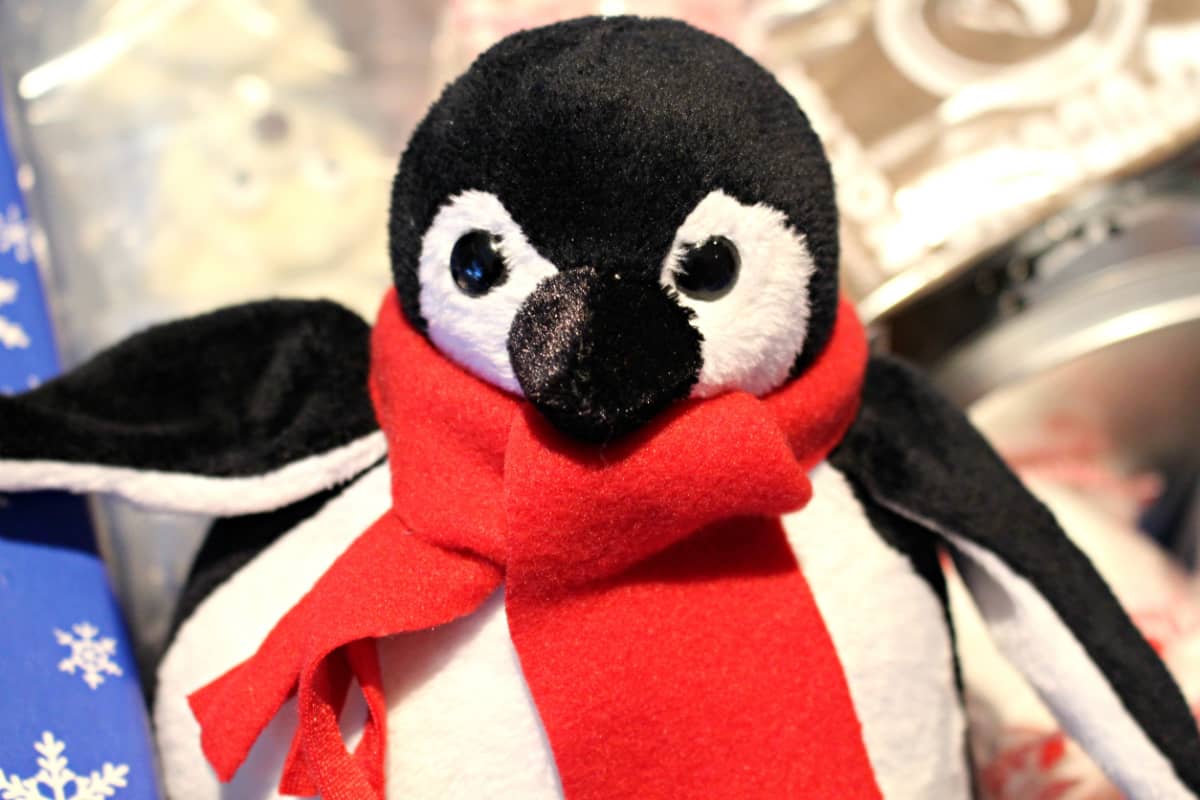 Care package contents
Had I known I would be working on a Penguin and Polar Bear theme a little sooner, I probably could have found some cute penguin wrapping paper in the Christmas aisle. On half price clearance would have been even better.
The real trick to ongoing care packages is to keep your eyes open at all times for potential themes and contents, and collect goodies as you find them. I didn't find penguin wrapping paper, but I did find penguin stickers on clearance.
The large flat rate box was lined with snowflake paper (left over from last January's snow theme) and dotted with penguin and polar bear stickers.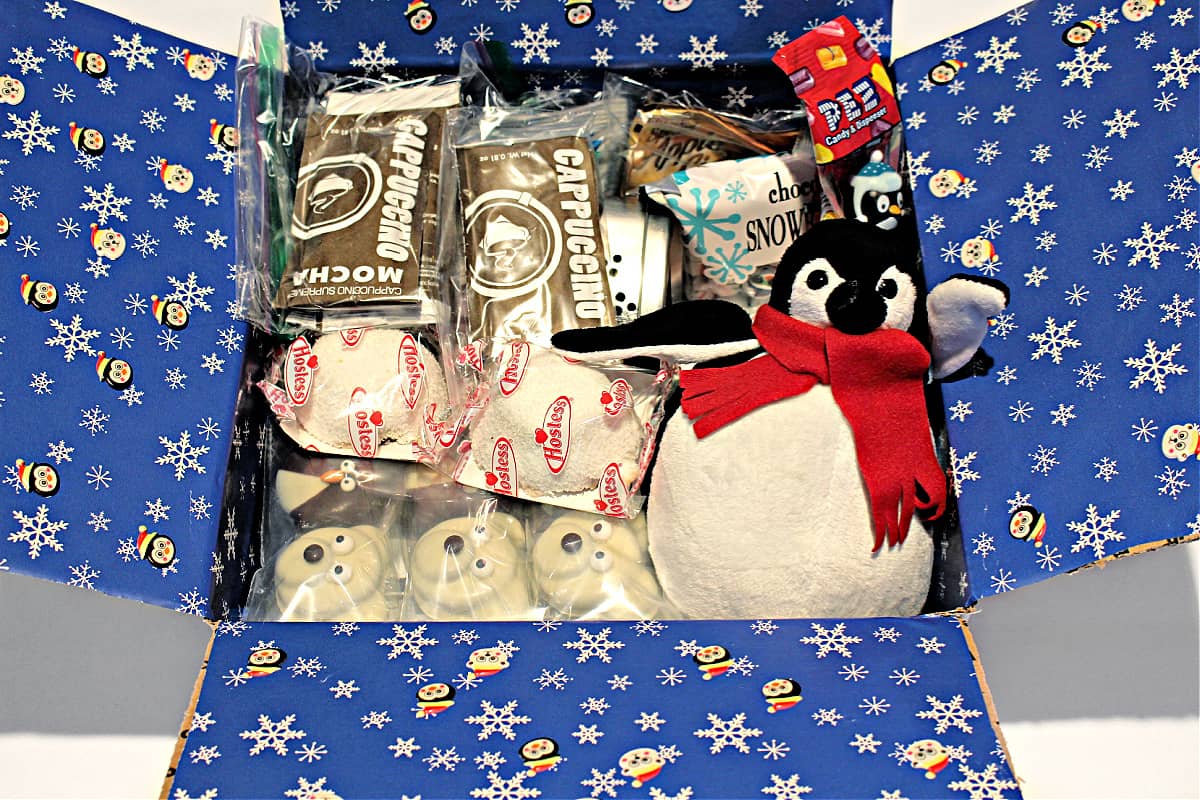 I didn't get a separate photo of the contents this time, but I can assure you the box was filled to capacity.
In addition to my baked/decorated cookies this care package transported a stuffed penguin, a Pez penguin, chocolate snowball candies, packaged Hostess Snowball cupcakes, hot drink mix for cappuccino, cider, and hot cocoa, and a canister of caramel corn that, when empty, doubles as a flickering lantern with a battery operated candle.
This was a very sweet snack driven package!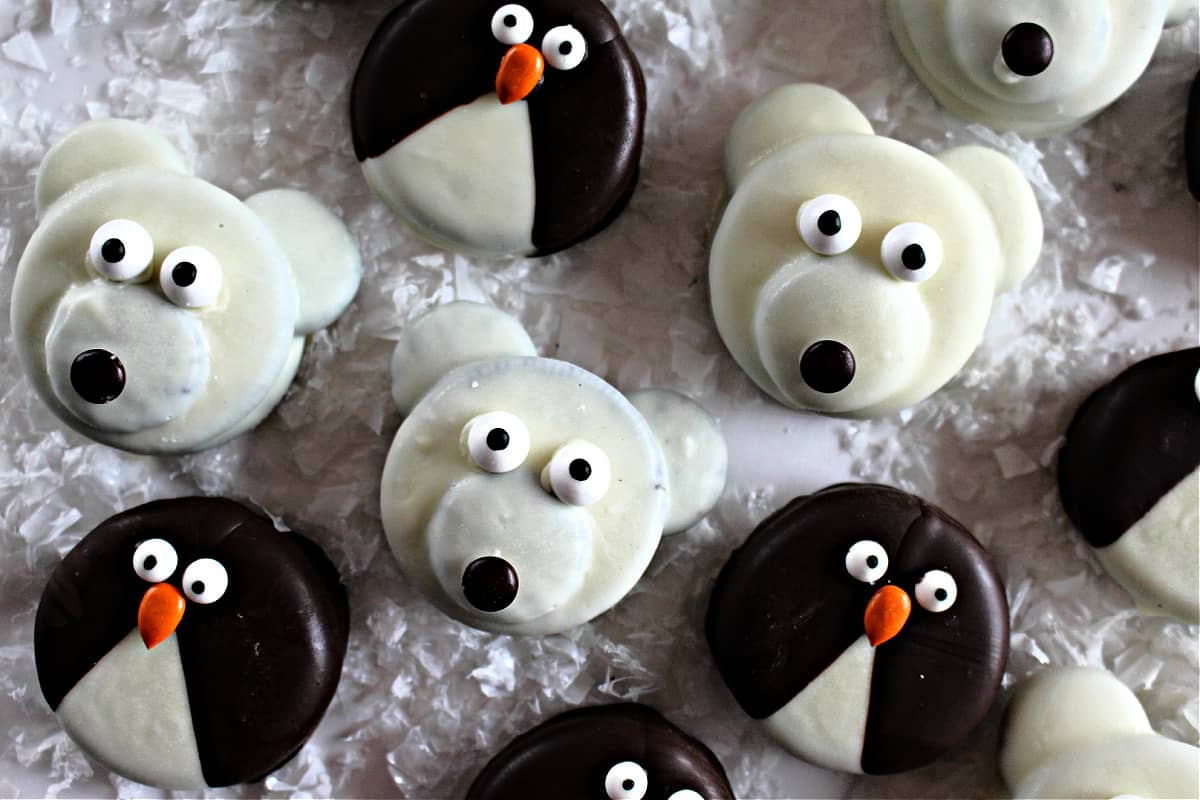 Instructions
The Penguin and the Polar Bear Oreos are very easy to make, but require a little patience. I made all of the mistakes for you. Follow these simple directions and you can avoid any frustration I encountered.
Both designs use regular Oreos (NOT double stuff) and mini Oreos. For 24 decorated cookies, 12 of each design, I used 2 ½ cups of melted white chocolate and 1 cup of melted dark chocolate .
Each Polar Bear Oreo requires 2 regular Oreos, 2 mini Oreos, 1 brown mini M&M, and two candy eyes. In preparation for assembly, twist open the 2 regular Oreos and the mini Oreo so that the filling remains on one side and the other side is just cookie.
The 2 filling sides of the regular Oreos, and 1 filling side plus 2 plain sides of the mini Oreos will be used. Store the unused sides for another project or eat them as you go.
To assemble, press the 2 plain mini Oreos (ears) very gently onto one of the regular Oreos. Gently press the second regular Oreo on top. Using the filling as "glue", attach the mini Oreo with filling (snout) on top.
Dip the assembled polar bear in melted white chocolate, tap to remove excess, place on a wax paper lined baking sheet, and refrigerate until the chocolate is set (about 15 minutes). Use a toothpick to apply a dot of melted chocolate to "glue" the candy eyes and mini M&M nose in place.
Penguin Oreos are almost assembly free. The only patience needed is for waiting for each layer of dipped chocolate to set.
Each Penguin Oreo requires 1 regular Oreo, 2 candy eyes, and 1 orange chocolate coated sunflower seed.
To assemble, dip the Oreo in melted white chocolate, tap to remove excess, place on a wax paper lined baking sheet, and refrigerate until the chocolate is set (about 15 minutes). Dip one third of the coated Oreo in melted dark chocolate, tap to remove excess, and refrigerate again until set (about 5-10 minutes).
For the final chocolate dip, coat the opposite side of the Oreo ⅓ into the dark chocolate. Refrigerate to set. Use a toothpick to apply a dot of melted chocolate to "glue" the candy eyes and beak in place.
Store Penguin and Polar Bear Oreos in an airtight container at room temperature for several weeks. For shipping, wrap 2-3 cookies in plastic wrap or sealed plastic bags.
Place several wrapped bundles into a larger freezer weight zip lock bag. Pack securely ensuring no movement in transit.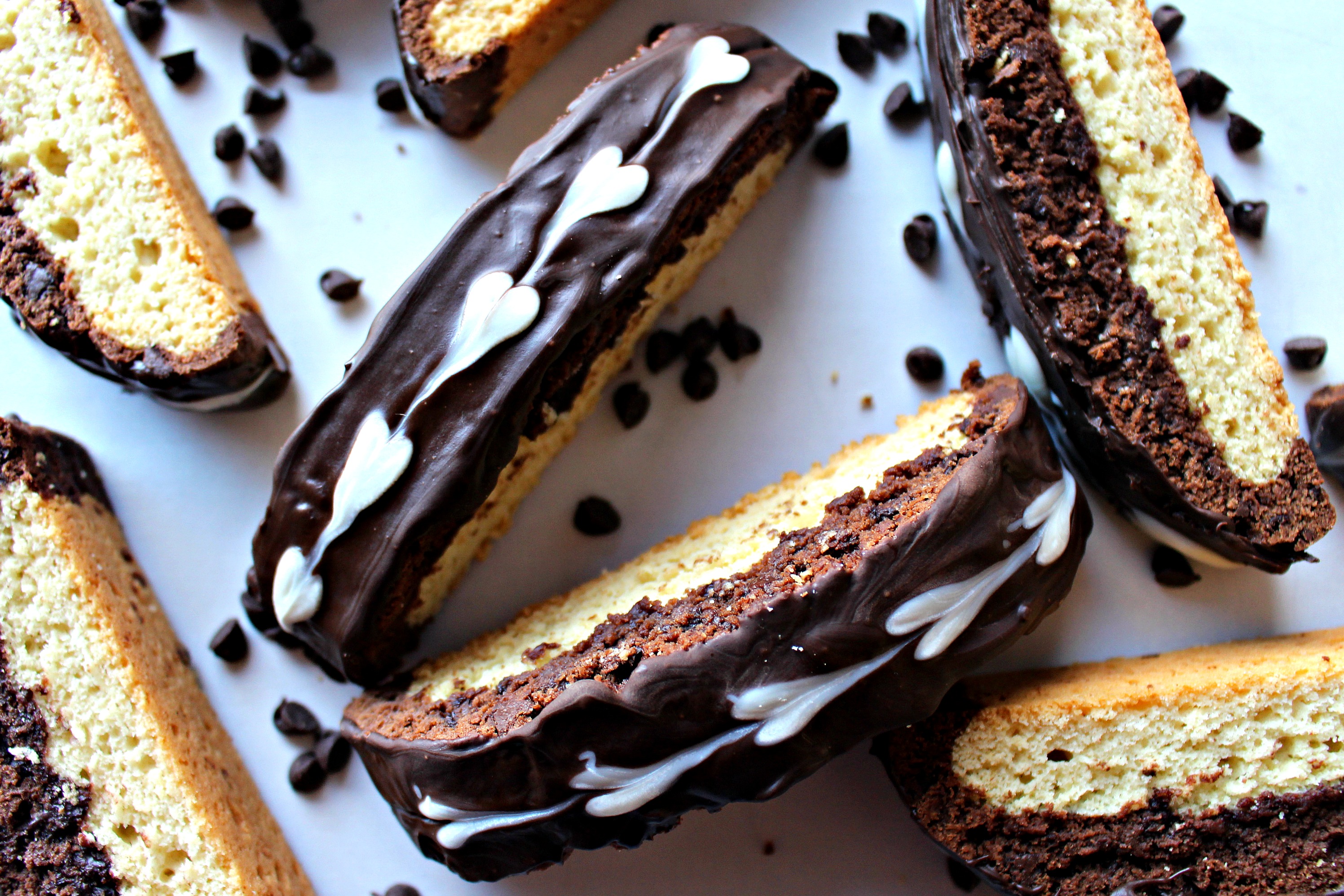 New Recipe: Black and White Biscotti
Black and White Biscotti (a.k.a. Penguin Biscotti due to their black and white attire) are the new recipe included in this care package. Coconut White Chocolate Biscotti (a.k.a. Polar Bear Biscotti) would have gone well with this theme too.
Black and White Biscotti are made with a layer of vanilla dough encased in a layer of chocolate dough. The crunchy-but-not-hard texture of these cookies is perfect for dunking in the beverage of your choice, or munching on their own.
I have no experience with deployed Navy care packages and have been told that mail to ships can take three weeks. Biscotti are the perfect cookie for longer storage. I can be assured that whenever Sailor J. gets her care package, the Black and White Biscotti will be crunchy and delicious.
Related recipes
These Winter Wonderland Cookies are a beautiful treat for the whole winter season! The decorating is easy and the results are impressive.
With a handful of ingredients, you can easily make these chocolate covered Christmas Tree and Rudolph cookies. They are SO cute.
Christmas Pretzels are an easy and fun project the whole family will enjoy! Pretzel Christmas Treats are great gifts as well as tasty snacks!
Ready to bake? Join the free membership group to get new recipes and a newsletter delivered to your inbox! You can also stay in touch on Facebook, Pinterest, and Instagram. I'd love to stay in touch!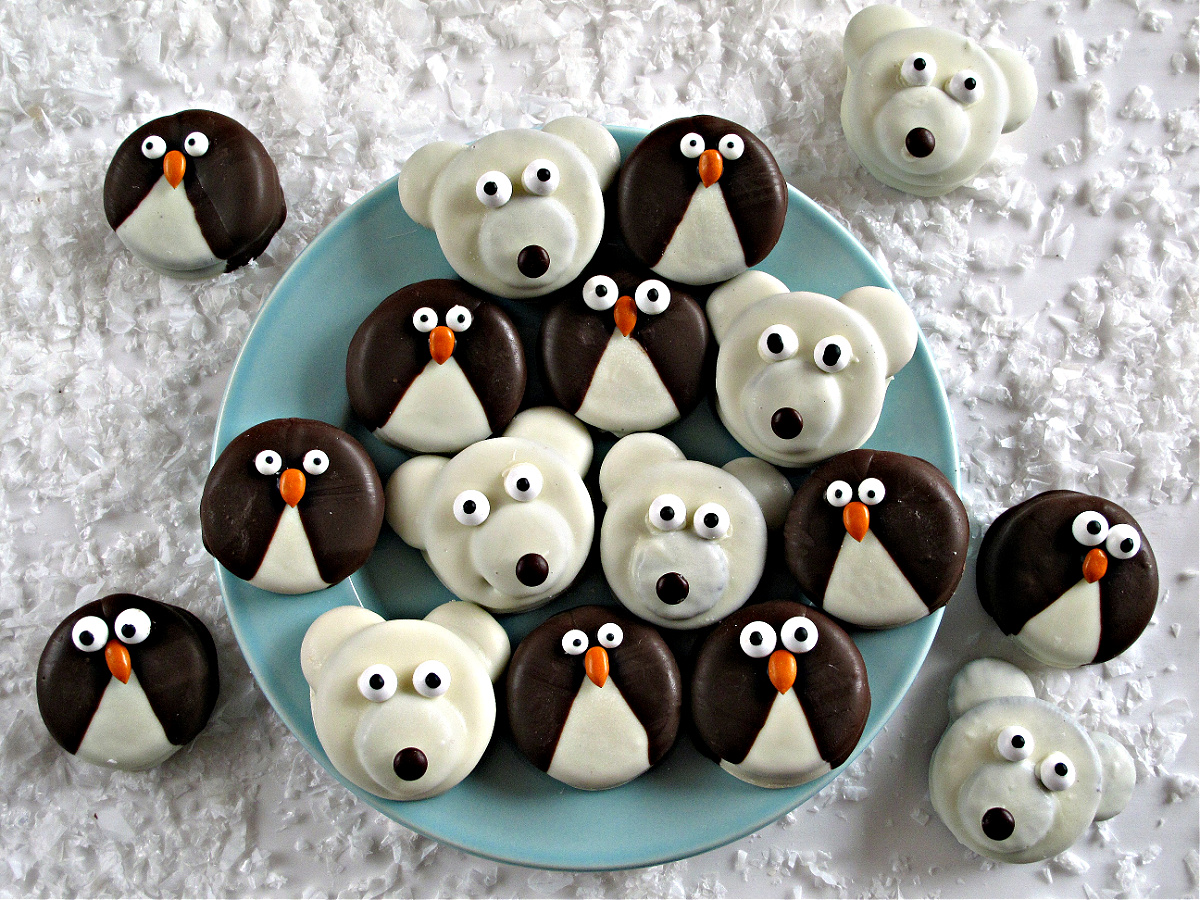 First Published: January 17, 2016. Last Updated: December 4, 2021. Updated for additional information and better reader experience.