Fabulous food gifts don't have to be difficult to make or time consuming. Chocolate Covered Graham Crackers are a quick project,that is easy and delicious. Using packaged graham crackers, there is no baking involved. After a dipping the grahams in melted chocolate, let your inner sprinkle artist go wild, creating colorful treats for any season.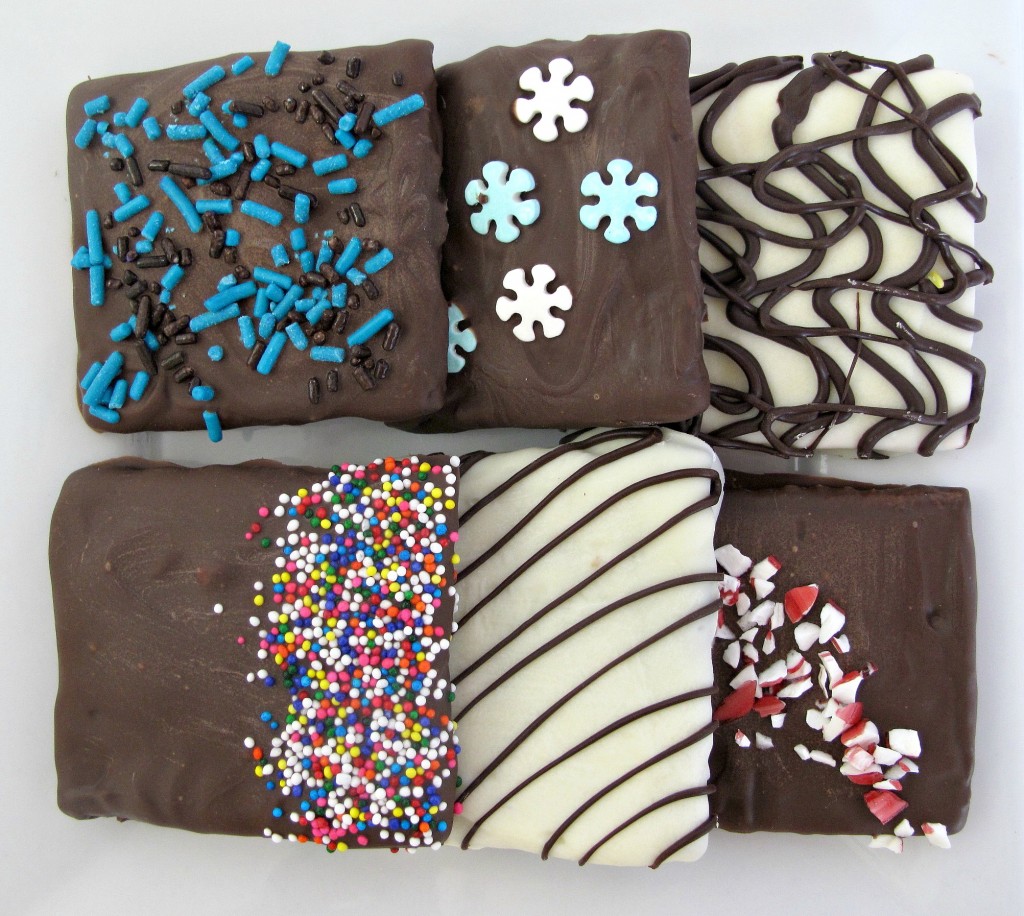 I was in South Carolina this past week visiting my mother and celebrating her 80th birthday. I love spending time with my mom, and I hate that we live so far apart. So, off to the South I go, whenever circumstances allow. Really, not nearly often enough. Now I am home playing catch up. It takes me awhile. Whole forests of trees go into the junk mail that accumulates while I am gone.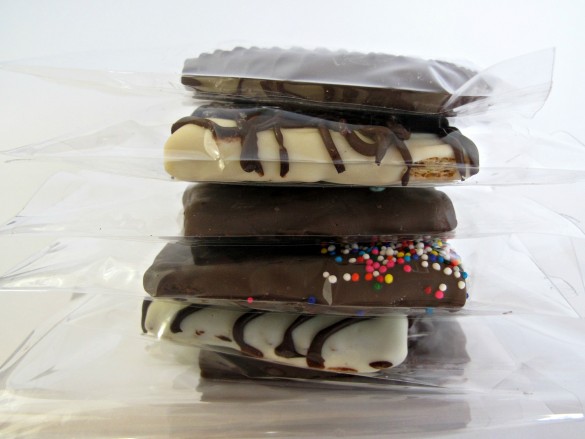 I am trying to catch up on The Monday Box as well. I had hoped to have this post ready and waiting to be magically published while I was away. It obviously didn't work out that way. Instead, I will post twice this week! Today, I'll share easy no-bake directions for Chocolate Covered Graham Crackers, a tasty and impressive care package or in-person gift.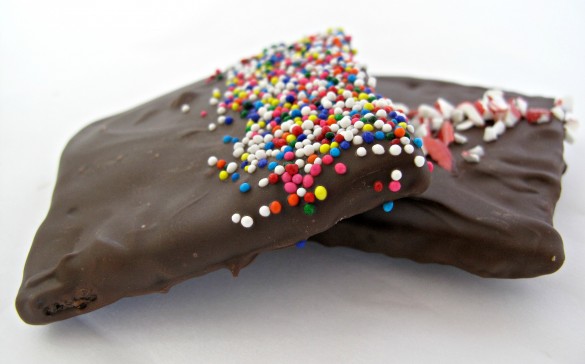 This is a busy time of year. One holiday after another arrives with foods to prepare and gifts to share. Chocolate Covered Graham Crackers look like a fancy gourmet treat but are easy to make and can be stored for weeks. Chocolate covered anything is recommended only for cold weather shipping.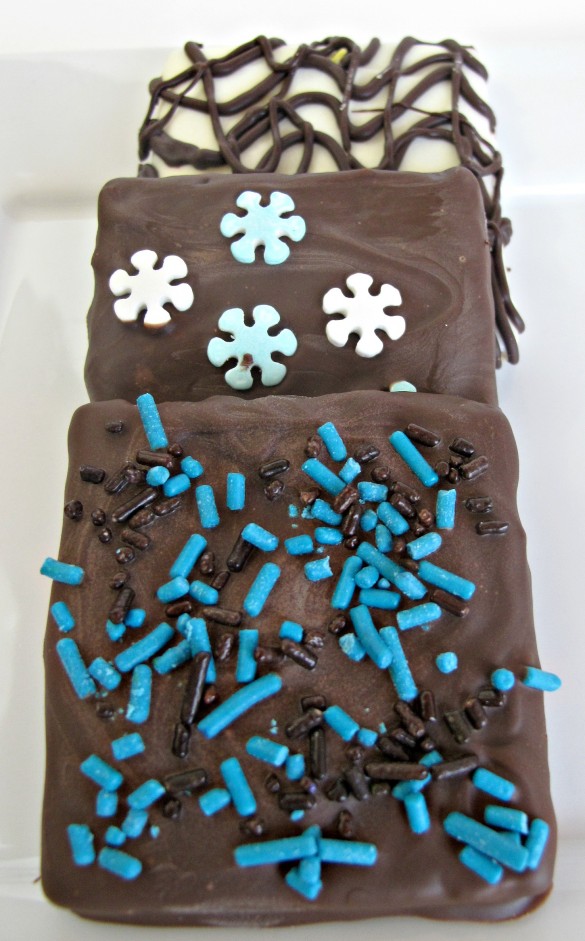 The easiest way to make Chocolate Covered Graham Crackers is with packaged graham crackers. I used both regular honey grahams and chocolate grahams, breaking each large rectangle cracker into 2 squares. My crackers weren't breaking evenly by hand, so I used a knife in a gentle sawing motion to split them. An advantage to making your own graham crackers is that the dough can be cut into any size or shape. I have posted two homemade graham cracker recipes here.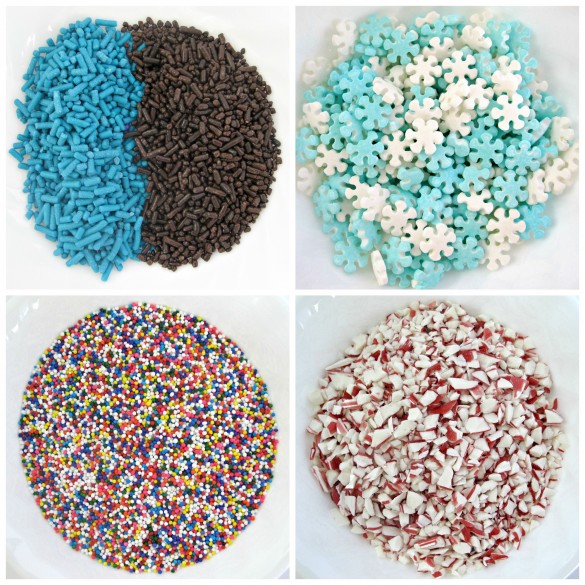 Due to my unfortunate ineptitude with tempering chocolate ( see my Mallomar post for evidence), I chose to use Ghirardelli melting wafers for the chocolate candy coating. Wilton also makes candy coating discs. Candy coating melts very smoothly and is supposed to set with a slight sheen if hardened in the refrigerator. I think the Ghirardelli tasted more like real chocolate but none of my dipped grahams came out shiny. One 12- ounce bag of melting wafers covered about 12 graham squares. If using additional melted wafers for decoration, you will need an additional bag.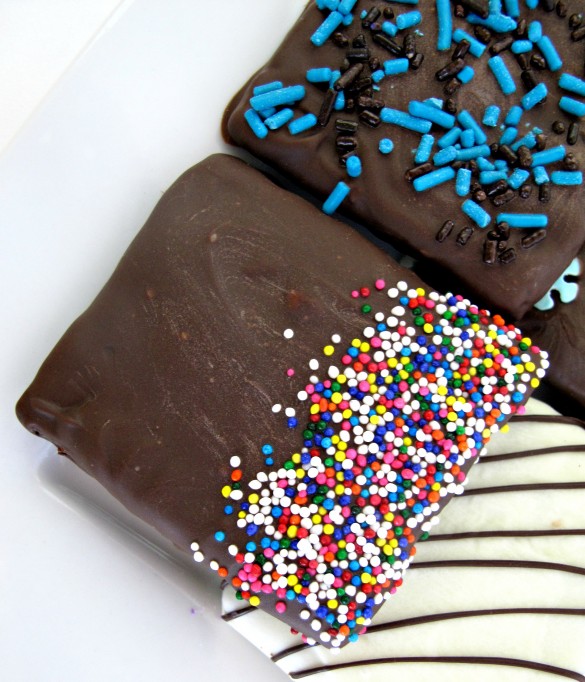 The Chocolate Covered Graham Crackers take about 1 hour to dip, set, and decorate. To decorate with anything that needs to stick to the coating (sprinkles, candy, etc.), the decorations should be added immediately after dipping each cracker. To decorate with melted chocolate drizzle, refrigerate to set the dipped cracker then drizzle and refrigerate again to set the drizzle. Another easy way to add interest to the surface of the dipped cracker is to add texture with a fork. Straight or curvy lines can be made with by dragging the tines of a fork over the melted chocolate. Little bumps can be made by touching the tines of the fork to the melted surface and lifting straight up. Chocolate waves are created when the flat side of a fork (or knife) is touched across the surface of the cracker and lifted straight up. Playing in melted chocolate is almost as therapeutic as eating it.

I wrapped my finished Chocolate Coated Graham Crackers in self-sealing bags from a candy supply store, but plain plastic wrap can be used to provide airtight storage. The little bags are easy and make the cookies look professional. Stored at room temperature in an airtight container, Chocolate Coated Graham Crackers stay fresh for at least 3 weeks.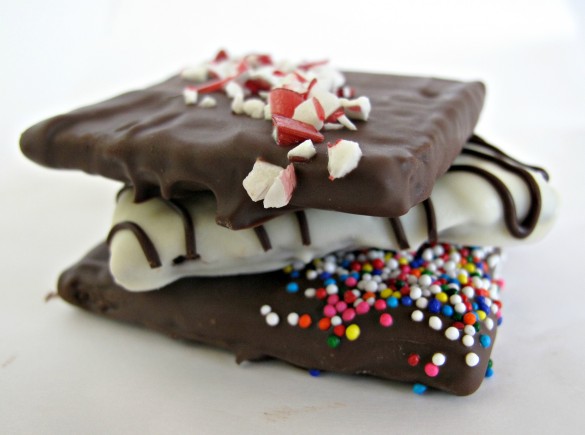 MORE CHOCOLATE COVERED GRAHAM CRACKERS
Salted Chocolate Covered Graham Crackers
Chocolate Covered Graham Crackers
Simple to make and delicious to eat, these gourmet cookies make great gifts.
Print
Rate
Ingredients
12

graham crackers

regular and/or chocolate each cracker broken in half into 2 squares

24

ounces

chocolate melts

dark chocolate, milk chocolate, or white chocolate

Decorations: another bag of chocolate melts

sprinkles, crushed peppermint candy, crumbled cookies
Instructions
Cover two cookie sheets with wax paper.

In a shallow microwave-safe bowl wider than the grahams, melt the candy/ chocolate wafers in the microwave at medium power for one minute. Stir. If not completely melted, return to the microwave an heat for 15 second intervals until melted.

Place a graham cracker into the bowl of chocolate. Using two forks, press the cracker into the chocolate then turn it over to coat the underside.

Using a fork, lift the coated graham, scrape excess coating back into the bowl, and place the graham onto the prepared cookie sheet.

While the coating is still melted, add sprinkles or texture.

Repeat until the first cookie sheet is full then place in the refrigerator for 10-15 minutes to set the coating. The candy melts must set in the refrigerator and not at room temperature in order to dry slightly shiny.

Complete coating the remaining graham crackers, placing onto the second cookie sheet, and refrigerate to set.

To decorate with contrasting or same color drizzle, in the microwave melt candy/chocolate wafers in a small ziplock bag. Cut off a tiny bit of a bottom corner of the bag and drizzle onto the set surface of a coated graham cracker. Refrigerate again to set the drizzle.

When all of the coating and decoration has hardened, wrap the grahams individually in plastic bags or plastic wrap. Store in an airtight container at room temperature for at least 2-3 weeks.
Notes
If your melted chocolate is too thick, thin it with a teaspoon of melted coconut oil or vegetable oil for easy dipping.
Graham cracker treats make the perfect gift or holiday treat using your favorite toppings and seasonal sprinkles.
Packing tips
Pack the individually wrapped crackers closely in a box or tin to prevent movement while shipping.
Nutrition
Calories:
173
kcal
|
Carbohydrates:
22
g
|
Protein:
2
g
|
Fat:
10
g
|
Saturated Fat:
6
g
|
Sodium:
51
mg
|
Potassium:
95
mg
|
Fiber:
2
g
|
Sugar:
16
g
|
Calcium:
12
mg
|
Iron:
1
mg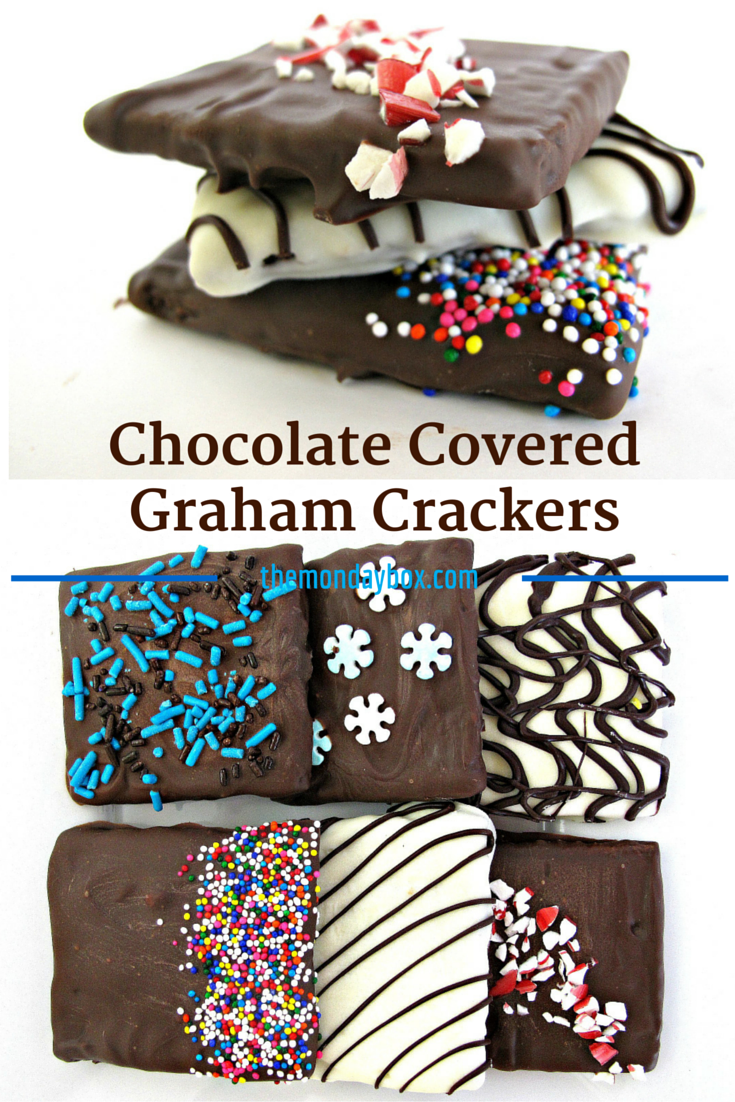 Save