Unicorn Sprinkle Chocolate Covered Graham Crackers disappear (almost) magically as soon as they are set out! Coated in creamy white chocolate and sparkling with sprinkles, hearts, and stars, these dipped graham crackers are a party in every bite.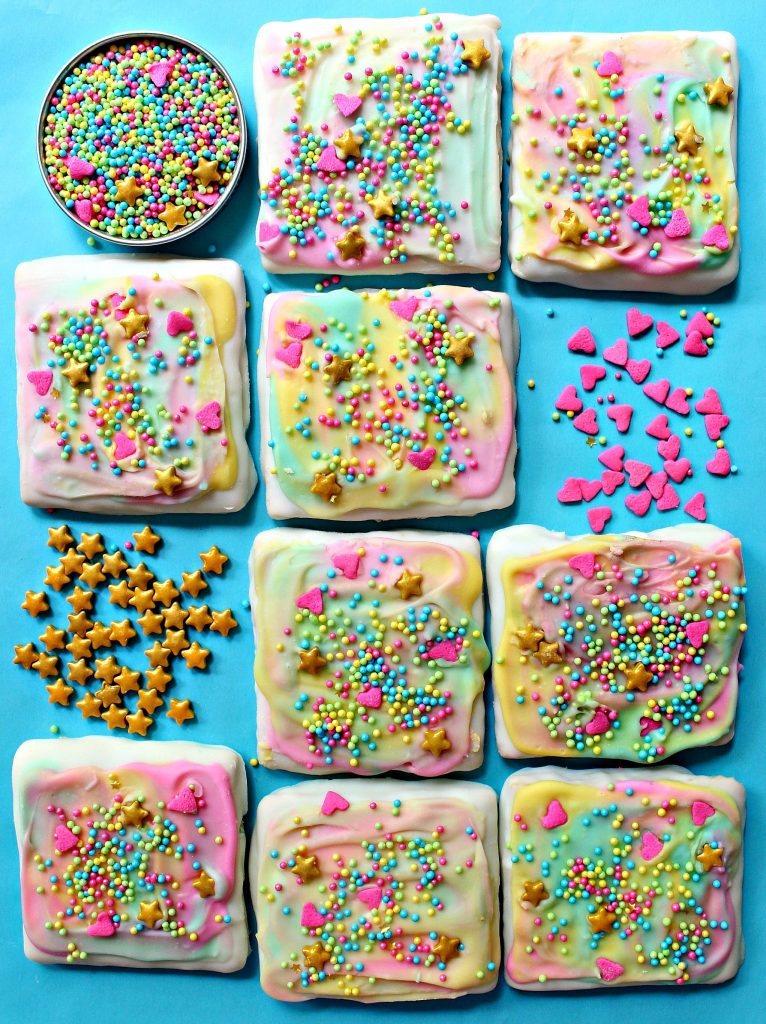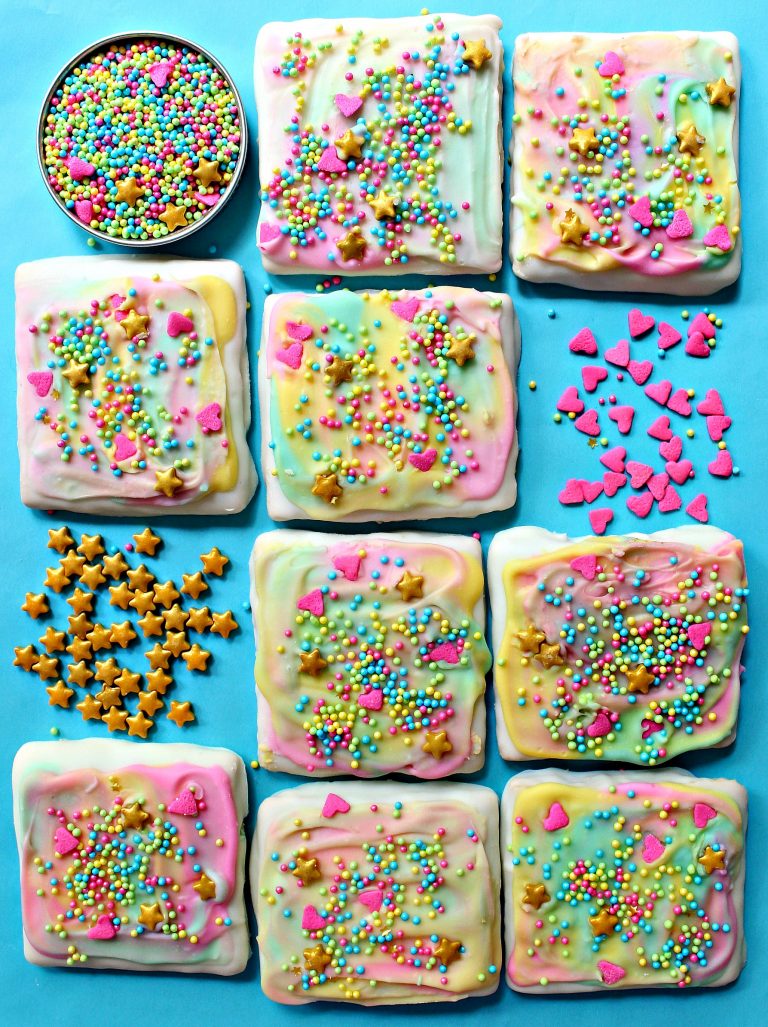 Monday Box readers are well aware of my obsession with sprinkles. So it should be no surprise that I pay rapt attention to sprinkle trends.
Though I admit that it's odd that there even is such a thing as "sprinkle trends", spend any time on a visual social media, and you can't miss it. Galaxy sprinkles were the rage even before the upcoming solar eclipse. My Galaxy Brownies twinkle with celestial sparkle.
Unicorns and unicorn sprinkles are an even more ubiquitous decorating craze. The only surprise is that I haven't posted a cookie adorned with unicorn sprinkles sooner!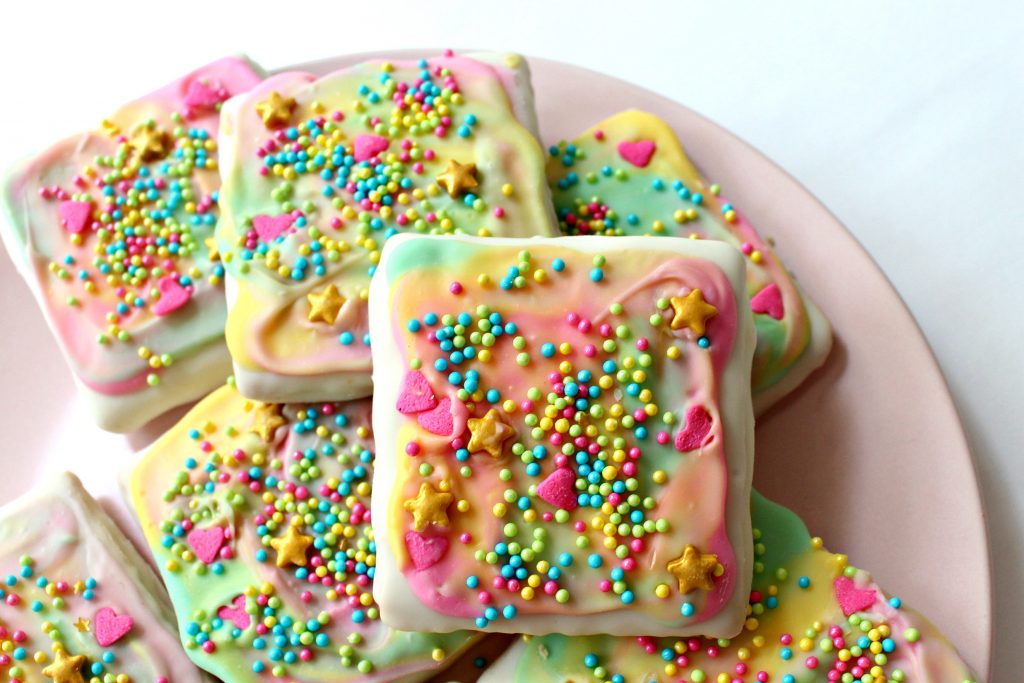 For those not fully conversant in sprinkle jargon, a definition of unicorn sprinkles is open to creative interpretation. Often, unicorn sprinkles are mostly pink, lavender, yellow, and aqua-blue.
Sometimes, the colors are a muted pastel and other times bright, almost neon, colors are used. The mix usually includes metallic stars, because what good is magic without stars?
I used only nonpareil sprinkles (plus hearts and stars) on these Unicorn Sprinkle Chocolate Covered Graham Crackers, but jimmies, sparkling sugar, and pearls of various sizes are all welcome.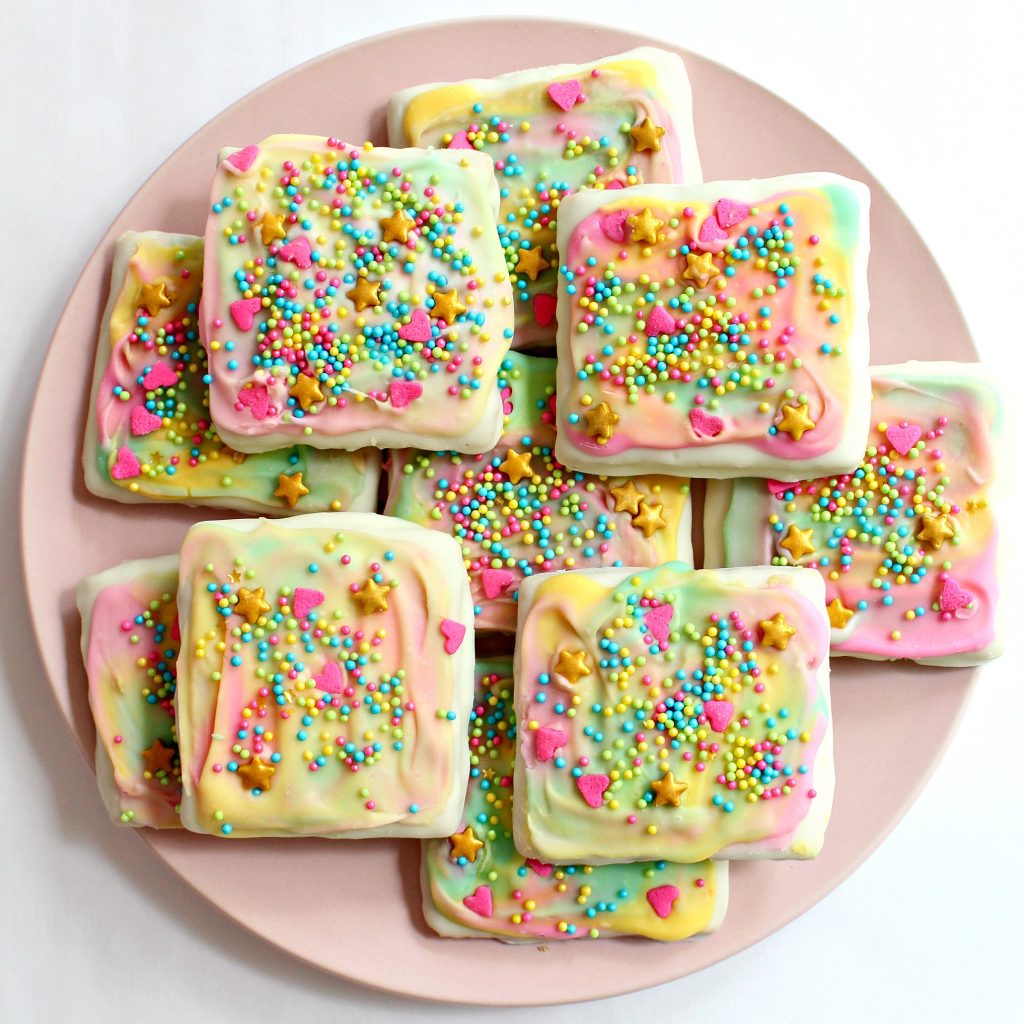 Homemade chocolate covered graham crackers are easy to make and so much more economical than buying ready-made. The fastest and easiest no-bake method uses packaged graham crackers, though making homemade grahams allows for an infinite choice of size and shape.
Choosing a delicious tasting chocolate makes a big difference. For chocolate flavor, candy melts won't do. I prefer using Chocoley.com melting chocolate for several reasons.
Chocoley melting chocolate tastes great. No tempering is required. That means I don't have to prep the melting chocolate in order to end up with a chocolate coating that stays brown for weeks with none of the white "blooming" that happens when untempered chocolate is used.
With Bada Bing Bada Boom melting chocolate, I can choose the viscosity I need for my recipe. Most important to me, is that the cocoa used in Bada Bing Bada Boom is ethically sourced.
HOW TO MAKE UNICORN SPRINKLE CHOCOLATE COVERED GRAHAM CRACKERS
The process for how to make Unicorn Sprinkle Chocolate Covered Graham Crackers is so simple, no real recipe is required.
For 6-8 graham cracker squares, about 2 cups of melted white chocolate (I use Bada Bing Bada Boom dipping and coating formula) are required. I melted the white chocolate discs in a shallow bowl in the microwave at 50% power. Watch melting white chocolate carefully, as it burns easily.
I zapped for one minute, stirred, then zapped and stirred some more until completely melted.
Using a fork underneath the cracker, the grahams are dipped in the melted white chocolate, excess chocolate is tapped off, then the grahams are placed on a wax paper lined baking sheet.
After dipping 6-8 grahams, place the baking sheet in the refrigerator for about 10 minutes to set the chocolate.
While the chocolate is setting, divide the remaining melted white chocolate into three small bowls. Color each with oil based candy coloring. (Do not use regular food coloring! The chocolate with seize and harden, and will be unusable.)
When the coated grahams have set, remove from the refrigerator.
Re-melt the colored chocolate.
Place a few random drops of each color onto a graham. Use a knife or offset spatula to gently swirl the colors to cover the top of the cracker. Sprinkle immediately.
When all of the graham crackers have been decorated, return the baking sheet to the refrigerator for about 10 minutes to firm.
I can think of so many occasions to share Unicorn Sprinkle Chocolate Covered Graham Crackers: parties, care packages, first day of school, holiday presents, anytime that calls for something sweet and magical.
Wrapped in a cellophane bag with a bit of ribbon, Unicorn Sprinkle Chocolate Graham Crackers stay fresh for at least 2 week. These chocolate dipped treats make such beautiful gifts.
Pin them now for future reference. Gift giving season is around the corner!
MORE CHOCOLATE COVERED GRAHAM CRACKERS
Chocolate Covered Graham Crackers
Chocolate Covered Graham Cracker Easter Eggs
Chocolate Peanut Butter Grahams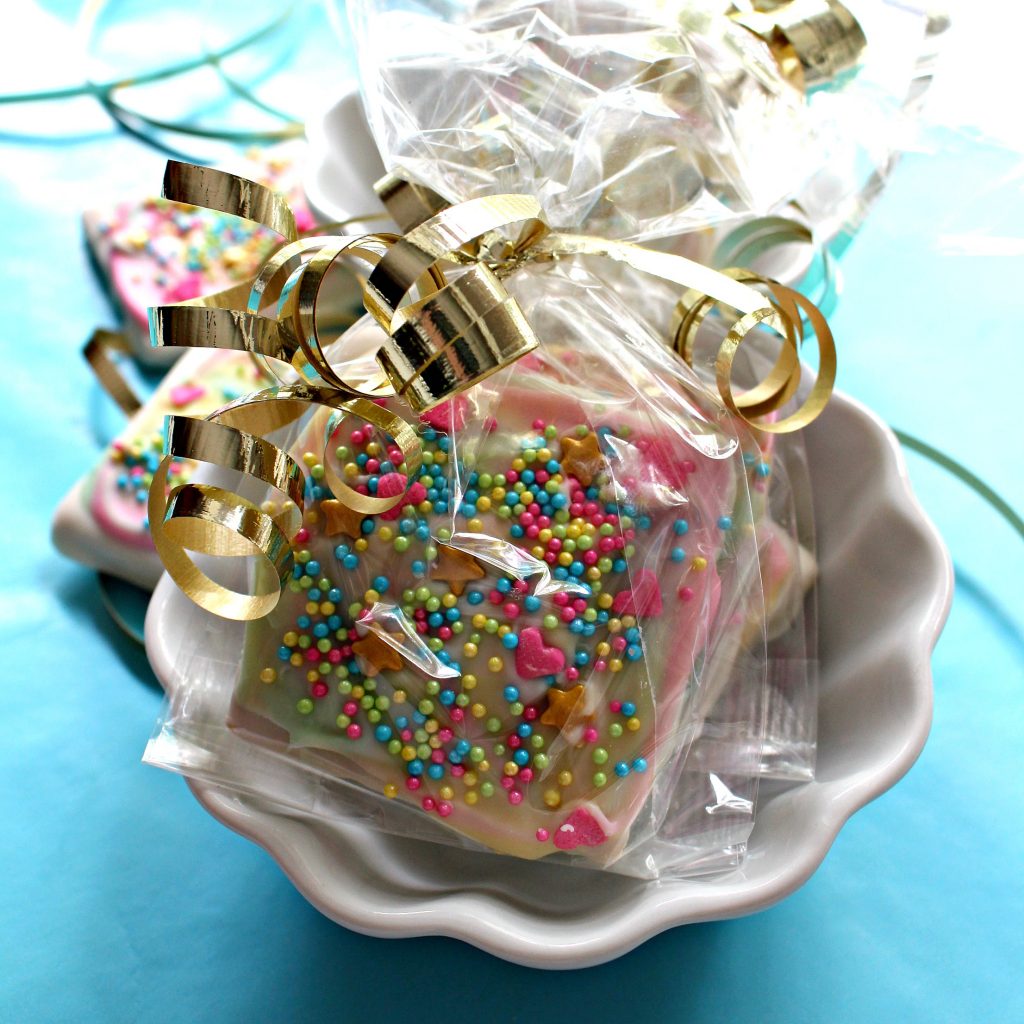 I was not compensated for this post, however I did receive free product from Chocoley.com for use in this recipe. All opinions are 100% my own. I only use and recommend products I believe in.