There are a lot of holidays in March! For this month's military care package, I had to choose between shamrocks and rainbows or bunnies and jelly beans. The almost overwhelming selection of Easter candy was too much to resist. I created an Easter themed care package for Sailor J. and made chocolate dipped Milano Cookie Easter Eggs to sweeten her holiday.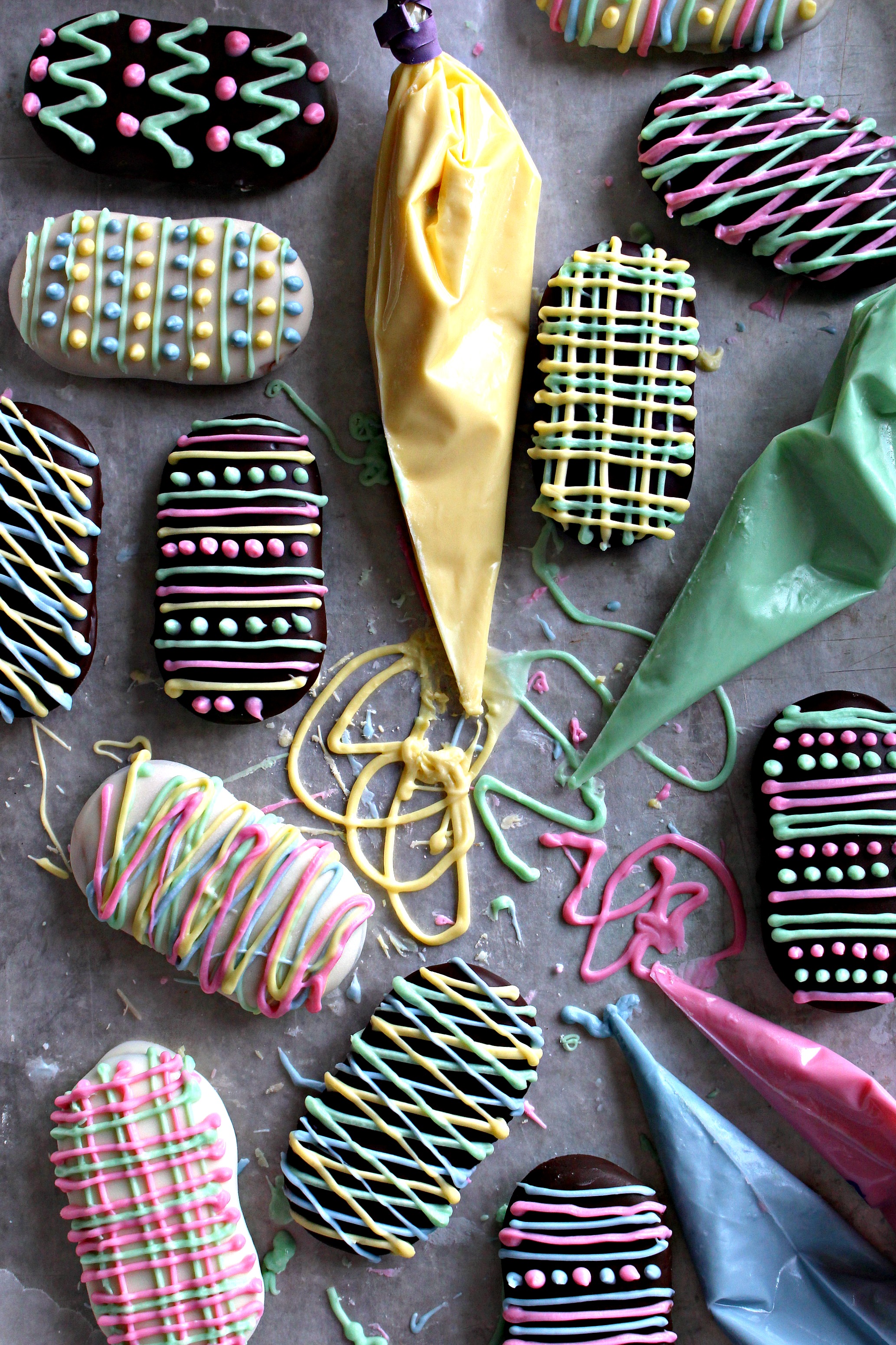 Why you'll love this recipe
It is hard for me to believe that this is the third Easter military care package I have sent. When I first started my "Smiles and Thanks from Home" project, I had no idea how meaningful it would be both to me and to the troops I have had the honor of adopting.
I get to bake and gather fun treats. The troops get cookies and candy. I get to thank the troops for the sacrifices they and their families make as they serve our country. The troops feel the appreciation and support included in each package.
There are so many ways to help support our military and their families with one-time or long term commitments. If you are interested, I recommend checking out Operation Gratitude, Cup of Joe, and Soldiers Angels. One word of warning. Making people smile is addicting.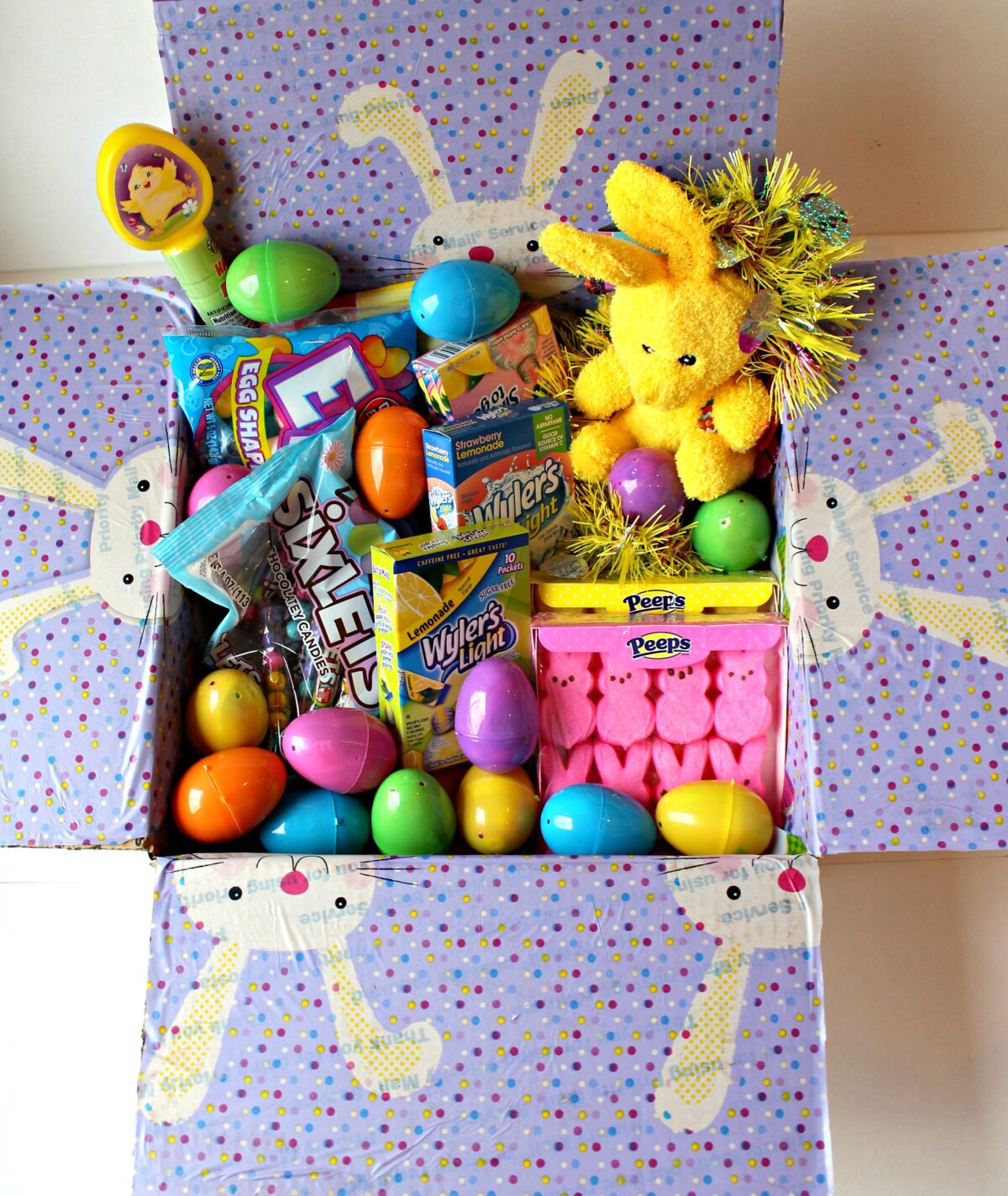 Care Package Contents
A small, but strong, yellow Easter rabbit is traveling for the next few weeks to deliver this Easter basket/box. A plastic table cloth from the Dollar Store provided the polka dotted lining for the box flaps and cushioning for the bottom of the box.
The goodies inside include: pastel colored boxes of drink mix, numerous containers of candy (heavy on the jelly beans), decorative garland, fruit flavored marshmallows, Peeps, and lots of plastic eggs filled with more candy.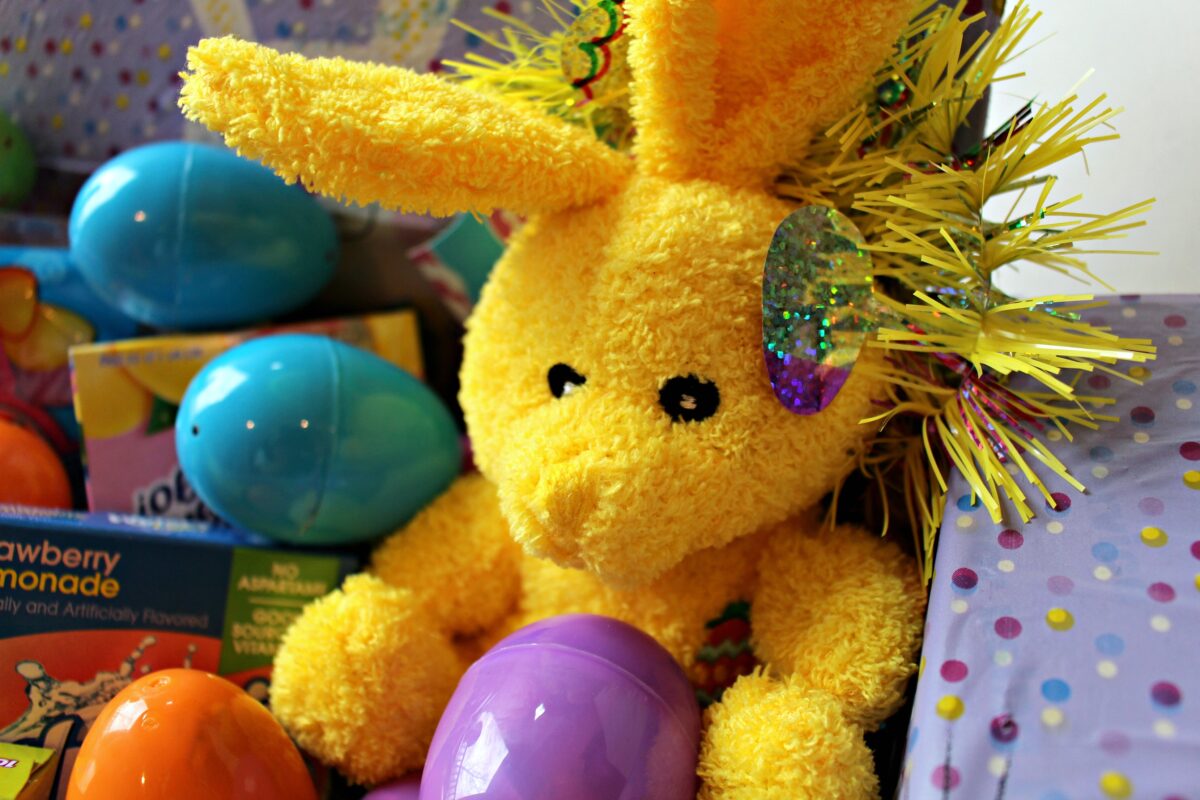 Decorated Cookies
I always include some kind of easily decorated cookie in my military care packages. Sometimes I send vanilla and chocolate sugar cookies iced, colored, or sprinkled. Other times I use a packaged cookie that I embellish to match the theme.
For this box I used mint Milano cookies coated in dark and white chocolate then decorated with colored white chocolate designs. Milano Cookie Easter Eggs are a pretty addition to a care package or holiday platter. Making the squiggles and dots is easy and would be a fun project to do with children.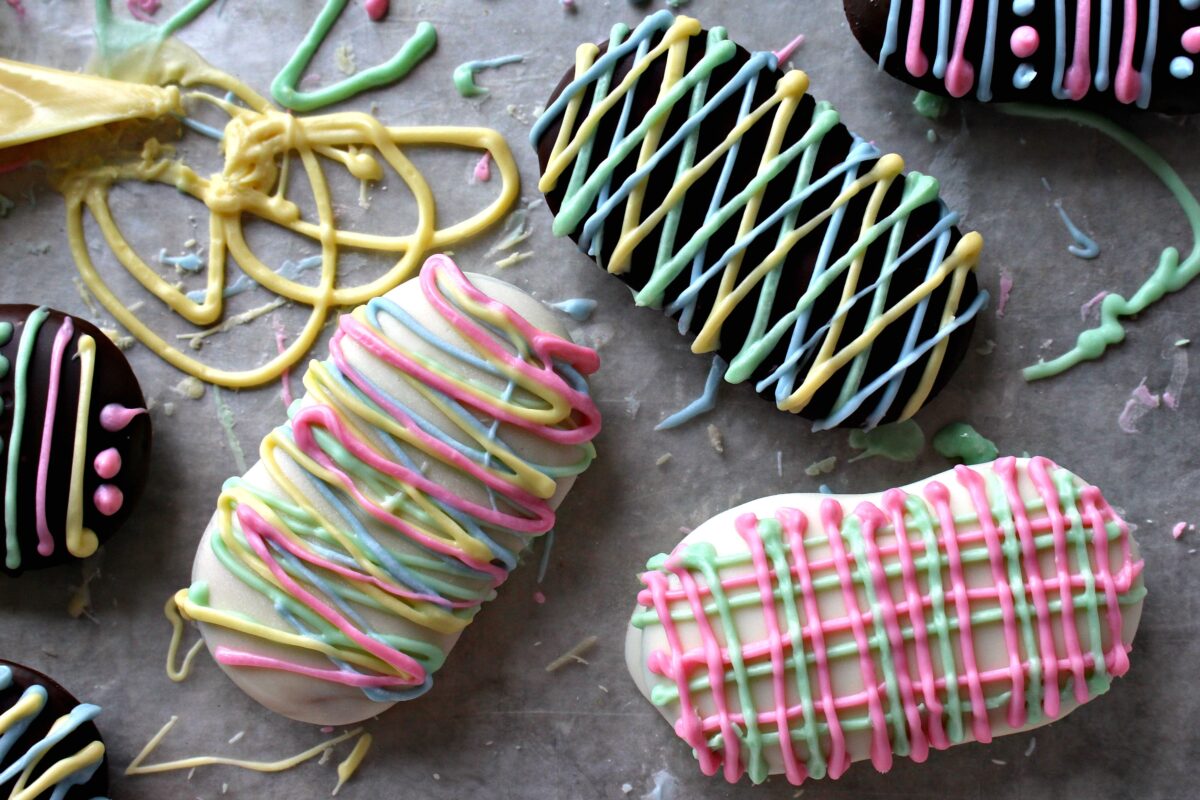 Ingredients
There are 15 Milano cookies in each package.
To coat 15 cookies I used 1 ½ - 2 cups total of melted chocolate.
To make the cookies half white chocolate and half dark, I used about 1 cup of each.
In addition, for decorating about 1 ½ cups of melted white chocolate is needed.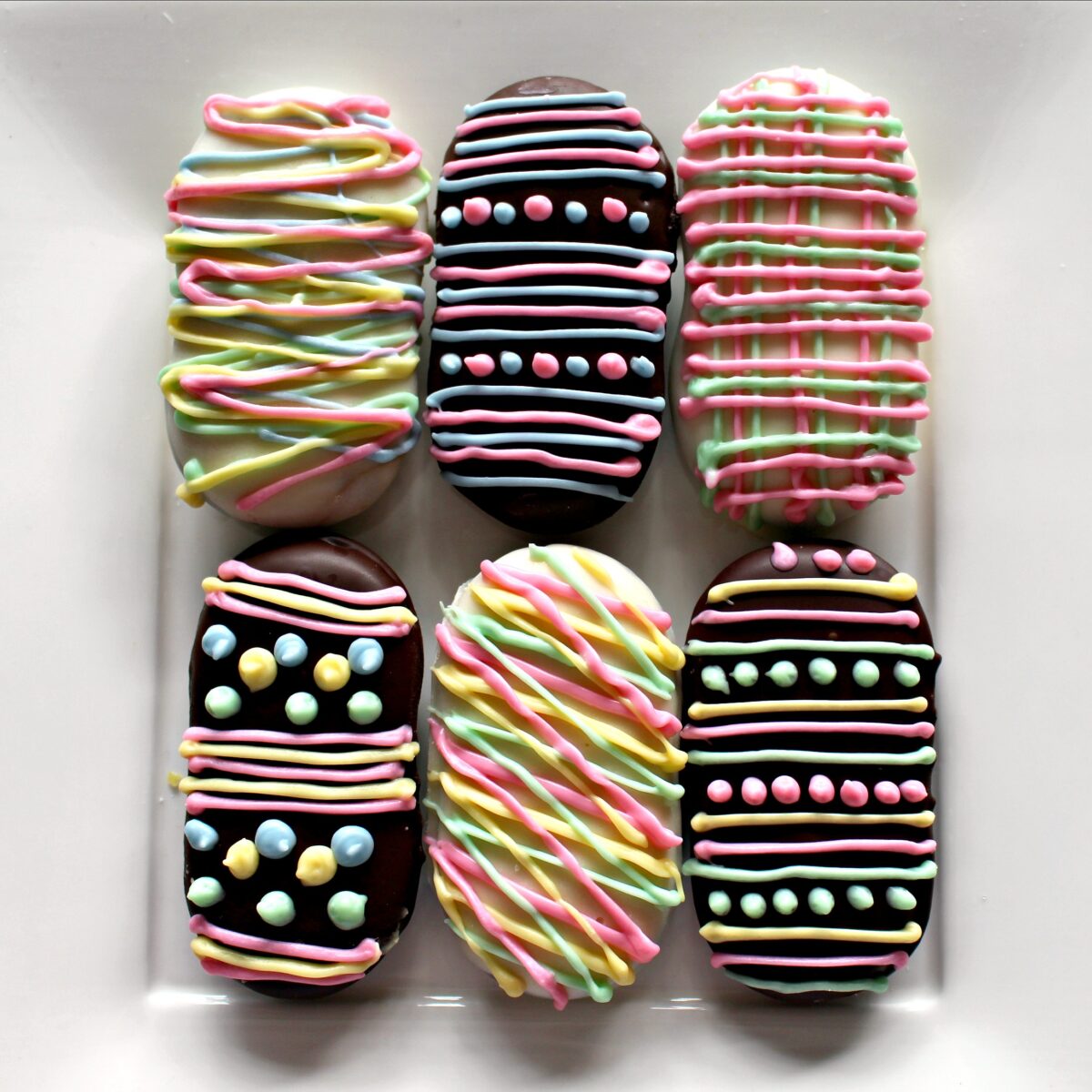 Instructions
Dip the cookies in the melted chocolate to coat completely then placed on a wax paper lined baking sheet. Chill the baking sheet of cookies in the refrigerator for 10-15 minutes until the chocolate is set.
When ready to decorate, divide the white chocolate for decorating into a separate small bowl for each color. Microwave on 50% power for about 1 minute until melted. Add oil based candy coloring to each bowl and mix to create an even color.
Transfer the chocolate to piping bags or plastic sandwich bags. Cut off a tiny bit of the bottom tip of the bags to pipe the colored chocolate onto the coated Milanos. If the colored chocolate begins to cool and harden in the bag while you are decorating, re-melt it in the microwave for 10 seconds. Refrigerate the cookies again, to set the decorating chocolate.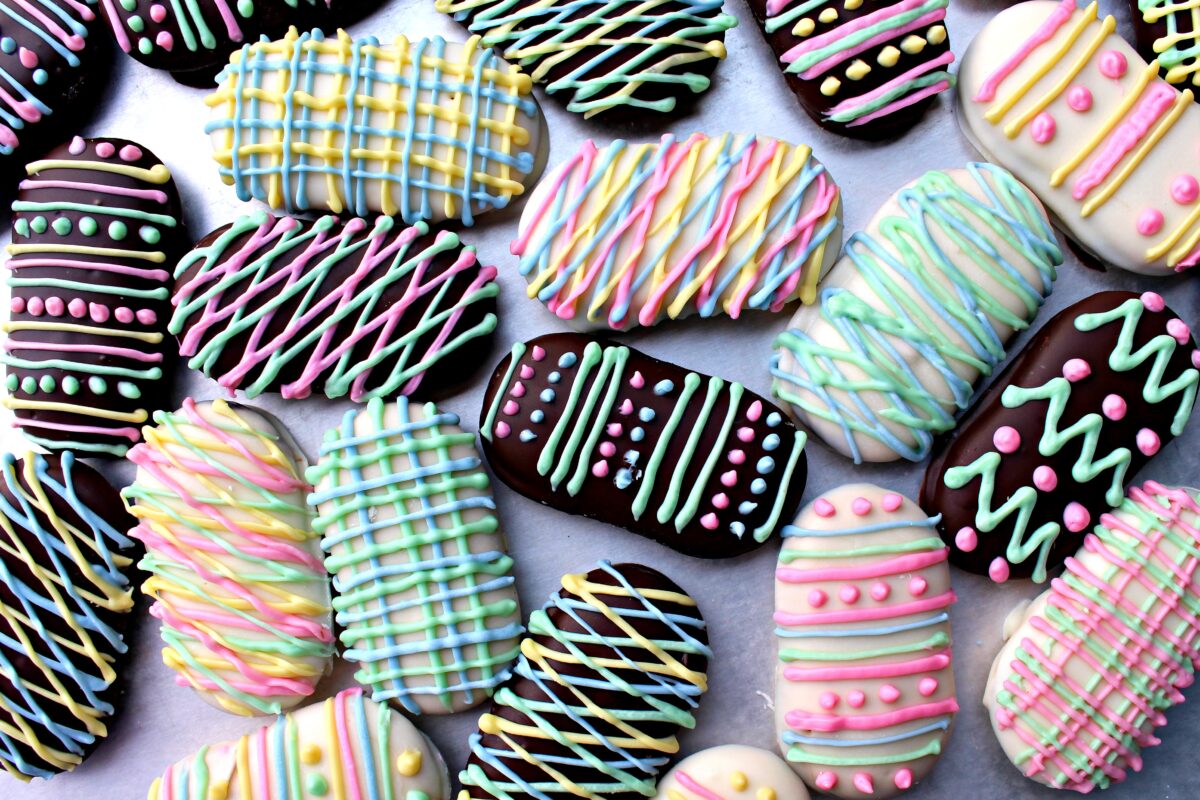 Tips
Be sure to keep weather in mind when shipping chocolate coated cookies. Milano Cookie Easter Eggs should only be mailed to and from cool weather locations.
Usually, it is considered safe to send chocolate in military care packages to Afghanistan until the end of March.
Wrapped the Milano Cookie Easter Eggs individually in a strip of wax paper, then in plastic wrap. Then place the wrapped cookies snuggly in plastic storage boxes.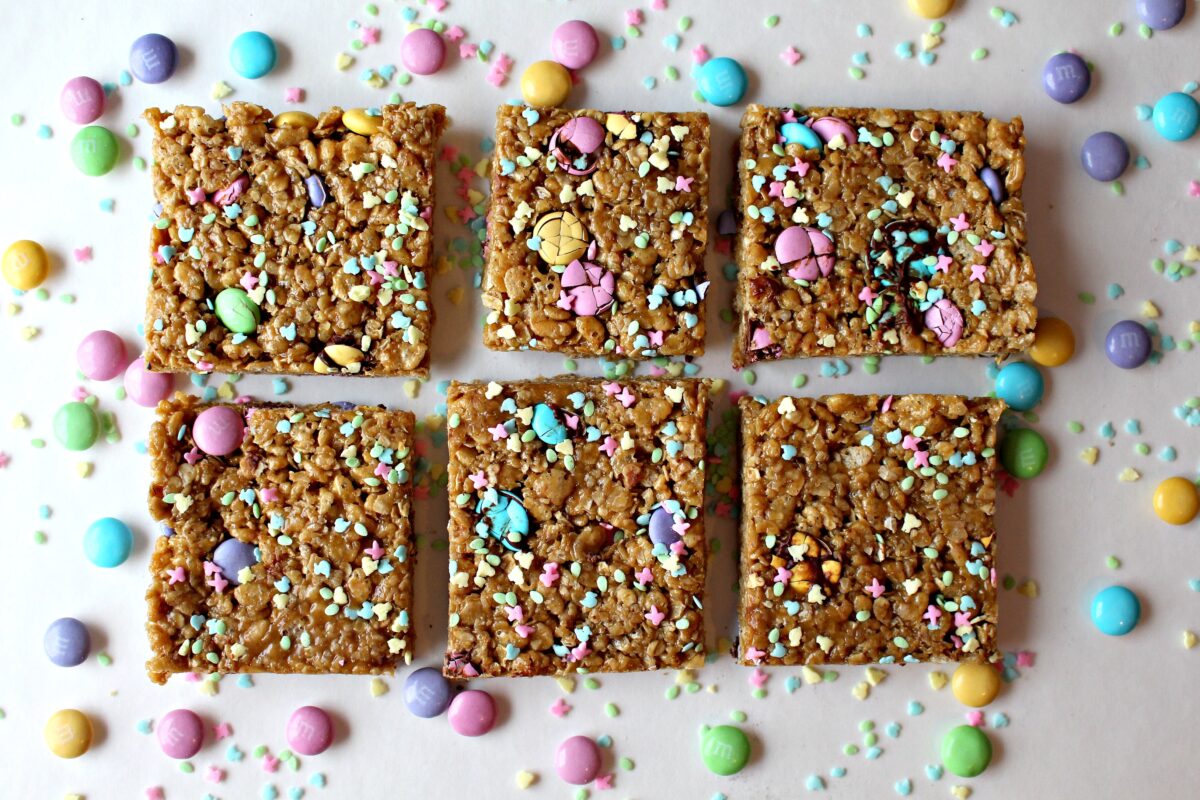 New Recipe
Easter Krispie Bars are the new recipe included in this care package. The chewy Krispie Bars are an easy, no-bake treat speckled in spring colors.
Rice cereal and oatmeal provide crunch. Peanuts, m&m's, and honey provide yum! Great for home or care package, these bars stay fresh for several weeks.
Related recipes
Crunchy, lemon Bunny Cookies with colorful candy melt decorations are another adorable Easter treat.
Decorated Sugar Cookies that look like chicks and bunnies would be a great Easter Basket or care package addition.
Sheep Decorated Sugar Cookies are almost too cute to eat!
Polka Dot Decorated Sugar Cookies are the easiest iced cookie you will ever make.
Italian Easter Cookies are ideal with a cup of coffee any time of the year.
First Published: March 13, 2016. Last Updated: February 28, 2023. Updated for improved better reader experience.