This is a big holiday weekend. Passover begins at sunset on Friday and Easter is on Sunday. Both are occasions for gathering with friends and family. While celebrating with these Easter Sugar Cookies , take a moment to send thankful, supportive thoughts or prayers to the military families whose loved ones are deployed. Holidays apart are especially difficult. Our military families sacrifice so much.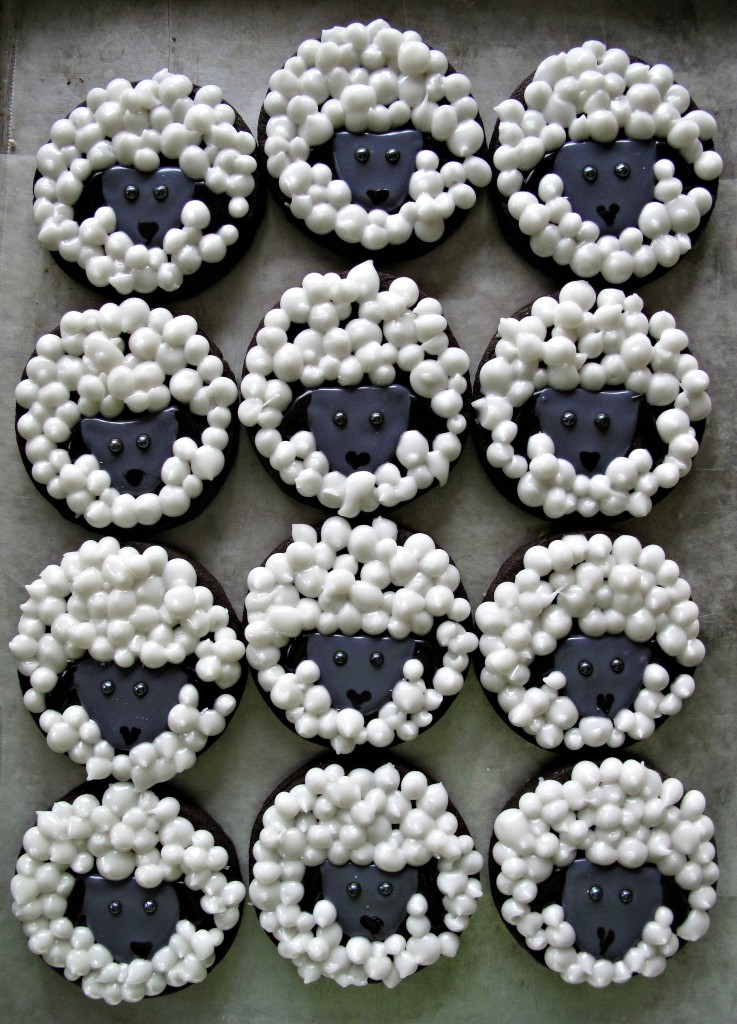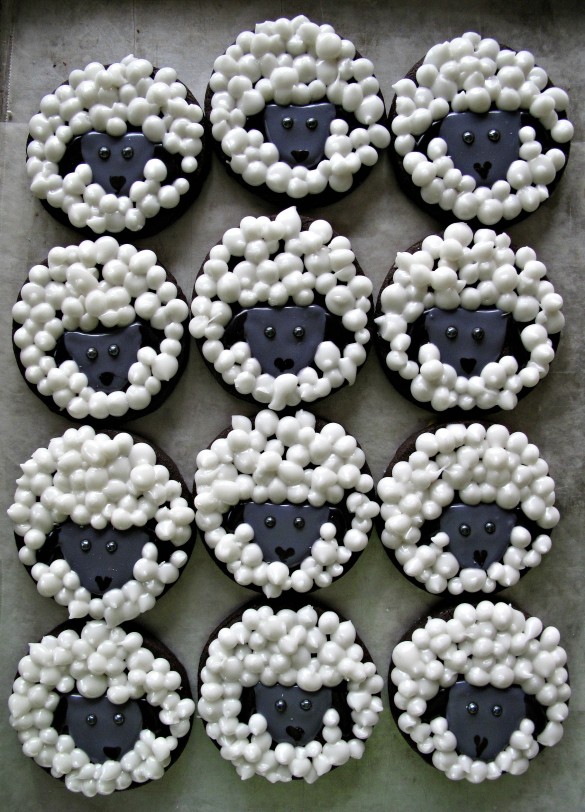 Another care package is in route to Afghanistan on Monday Box Operation "Smiles and Thanks from Home". This is the second time I am sending an Easter box to the desert, and I've learned that April is already warm there.
It may be sacrilegious to create an Easter basket without chocolate, but warm weather and chocolate don't go well together in a care package.
There is still plenty of candy included in this parcel (there is even a rabbit), just no chocolate rabbit. When it gets really hot, even these non-chocolate candies can melt.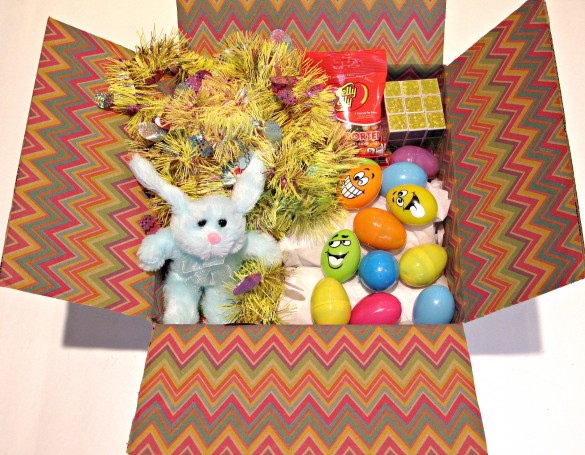 Part 1 Care Package Contents: I lined the box in wrapping paper with a geometric design in spring colors.
The box is filled with Easter cheer in the form of candy (jelly beans, Life Savers, gum, Tootsie Rolls, and Sixlets) in bags, boxes, and smiling plastic eggs. For Easter fun there are puzzle books and a puzzle cube, decorations, and a non-chocolate stuffed rabbit. (To read about the many uses soldiers have for stuffed toys, read this post from Operation Gratitude. They have sent out more than one million care packages, each including a stuffed animal.)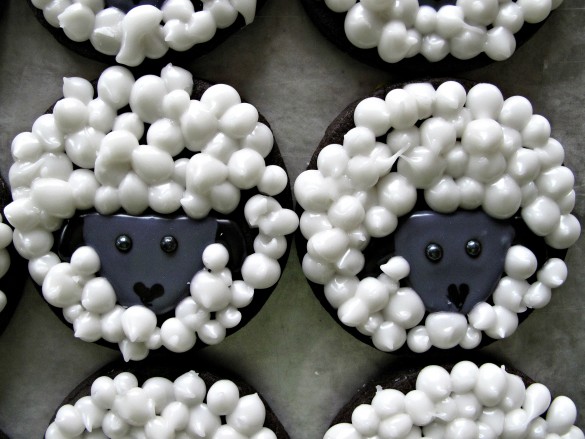 Part 2 Circle Sugar Cookies: Both of these Easter Sugar Cookies designs are easy. The polka dots are quick to make. This would be a great design to use on egg shaped cookies. My polka dotted circles are more like Easter balls. The other cookies are either a dog hiding in a pile of cotton balls, or a sheep. A sheep is a more appropriate design for spring and Easter, so let's call these sheep. Creating the sheep( adapted from lilaloa.com) is a bit more time consuming. Using one batch of chocolate dough I made two dozen cookies (12 of each design) and had 6 cookies left over to freeze for later.

Decorating the polka dot cookies requires 1 batch of faux royal icing. If you are making only a dozen cookies, half a batch of the icing would probably be enough, but I am always worried about running out, so I make a full batch and refrigerate any left overs for another project. The icing should be thinned to the consistency of white glue. Put ½ cup of white icing into a decorating bag with a small circle tip (I used #4). Divide the remaining icing evenly into small bowls, one for each color desired. Mix a few drops of food coloring into each bowl, then transfer the colored icing into decorating bags with small circle tips (I used #5).


Using colored icing, outline a circle on top of a cookie, then fill in. Immediately use the white icing to make dots on top of the colored icing. The white dots will sink into the colored icing leaving a smooth surface.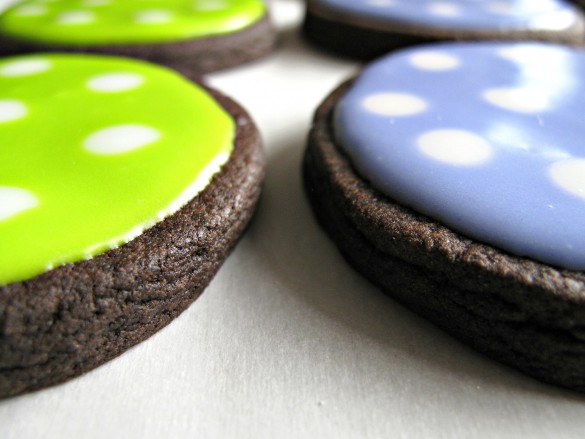 Decorating the sheep cookies requires 1 batch of faux royal icing, a consistency thick enough to hold its shape when dripped. Remove ½ cup plus 2 tablespoons of the icing into a small bowl. Use a tiny drop of black food coloring to make it gray, then thin the gray icing to the consistency of white glue. Place ½ cup of the gray icing into a decorating bag with a small circle tip (#4). To the remaining gray icing, add additional food coloring to create black icing. Place the black icing into a decorating bag with a very small circle tip (#2). Place the remaining thick white icing, in a decorating bag with a small circle tip (#4).


Slightly below the center of the cookie, use the gray icing to outline, then fill in, an elongated "U". Use a tweezer to add black sprinkle pearls for eyes. To make the nose, use black icing to pipe two tiny dots at the bottom of the "U". Use the tip of a toothpick to drag each dot downward to create a heart shape. Use the black icing to make small oval ears.
The wooly body of the sheep is made with the thick white icing. Starting on the outer edge of the cookie, pipe dots of varying sizes around the cookie. Continue piping around the cookie (3 or 4 times) until the body is filled.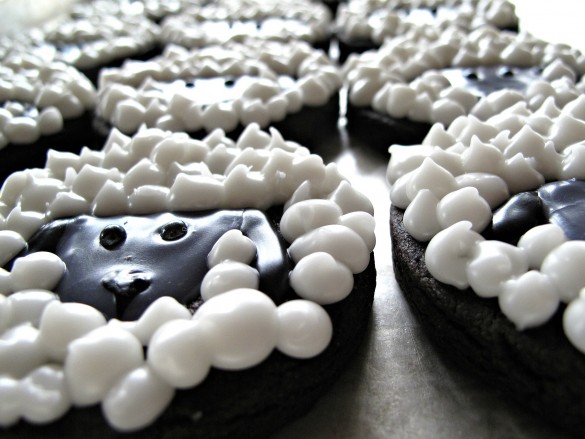 Always air dry iced sugar cookies overnight to allow the icing to harden before packing. I used plastic wrap to double wrap each cookie. The wrapped cookies were then placed snuggly in a column in freezer weight ziplock bags.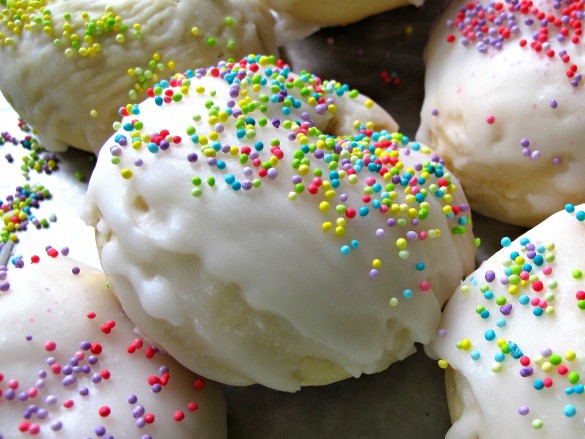 Part 3 New Recipe: Italian Easter Cookies (Taralli Dolce Di Pasqua) are the new recipe included in this care package. Taralli are lightly sweet vanilla cookies encased in crisp citrus icing. Topped in brightly colored nonpareil sprinkles, these cookies will arrive in Afghanistan, Easter ready. They are firm cookies and stay fresh for munching or coffee dipping for at least a week.
Wishing everyone at home or away, a safe and peace-filled holiday.
Save
Save