Though it has been awhile since I shared a cake in a cup recipe, I have been experimenting behind the scenes in The Monday Box test kitchen with ideas for mug cakes. One of the deliciously great experiments resulted in Biscoff Mug Cake.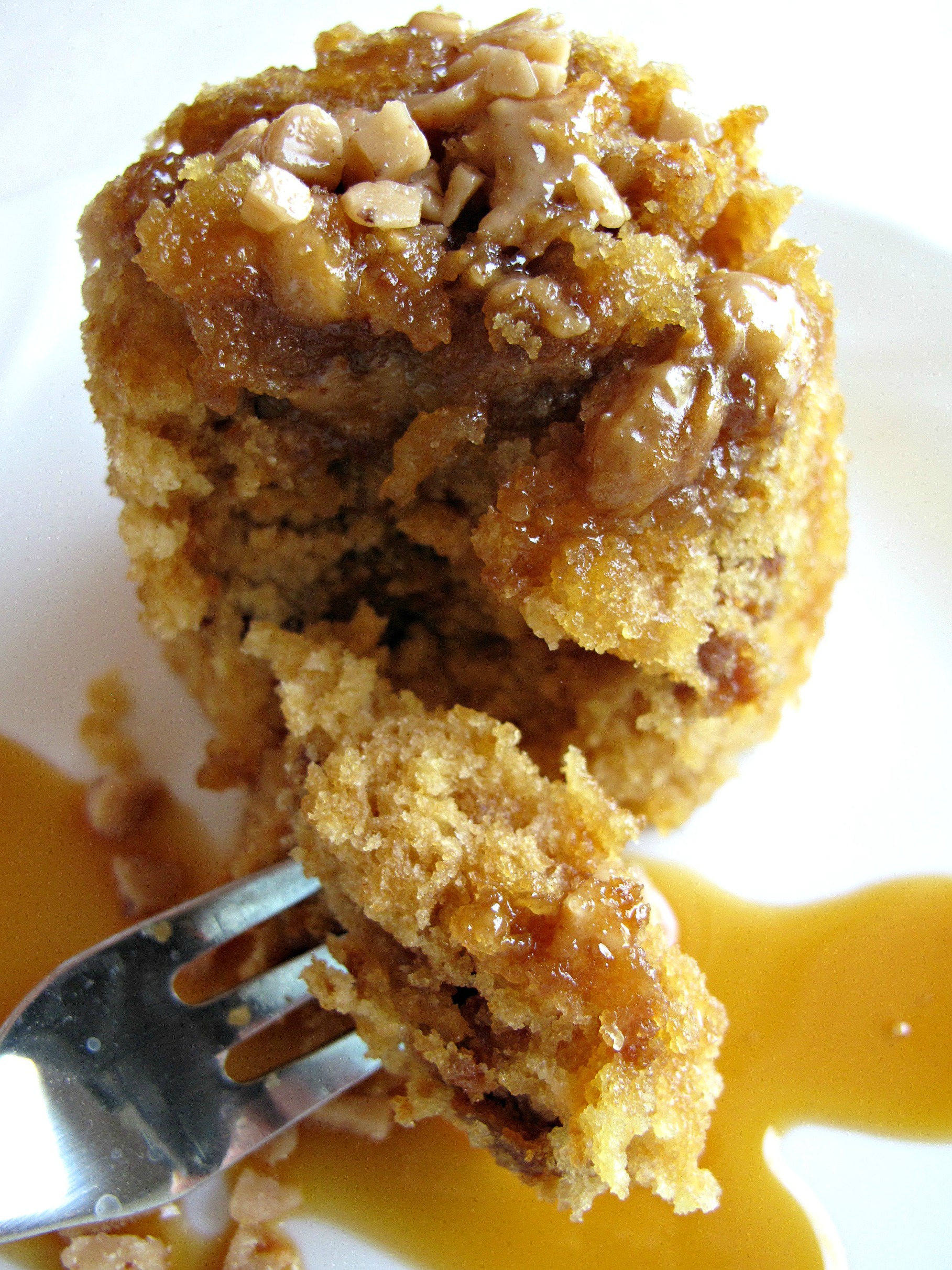 Why you'll love this recipe
This wondrous creation is the next best thing to Biscoff cookie butter on a spoon. 3-2-1 Biscoff Crumble MugCake uses that spoon of cookie butter to flavor a fluffy individual mug cake sprinkled with crunchy bits of crumbled Biscoff cookie and toffee and topped with caramel syrup.
Like all 3-2-1 cakes, Biscoff Crumble Mug Cake starts with the magic mix of regular cake mix plus angel food cake mix. This cake is especially awesome because not only is it ready to eat in one microwave minute, but it is made with ingredients that are all shelf stable for care package mailing.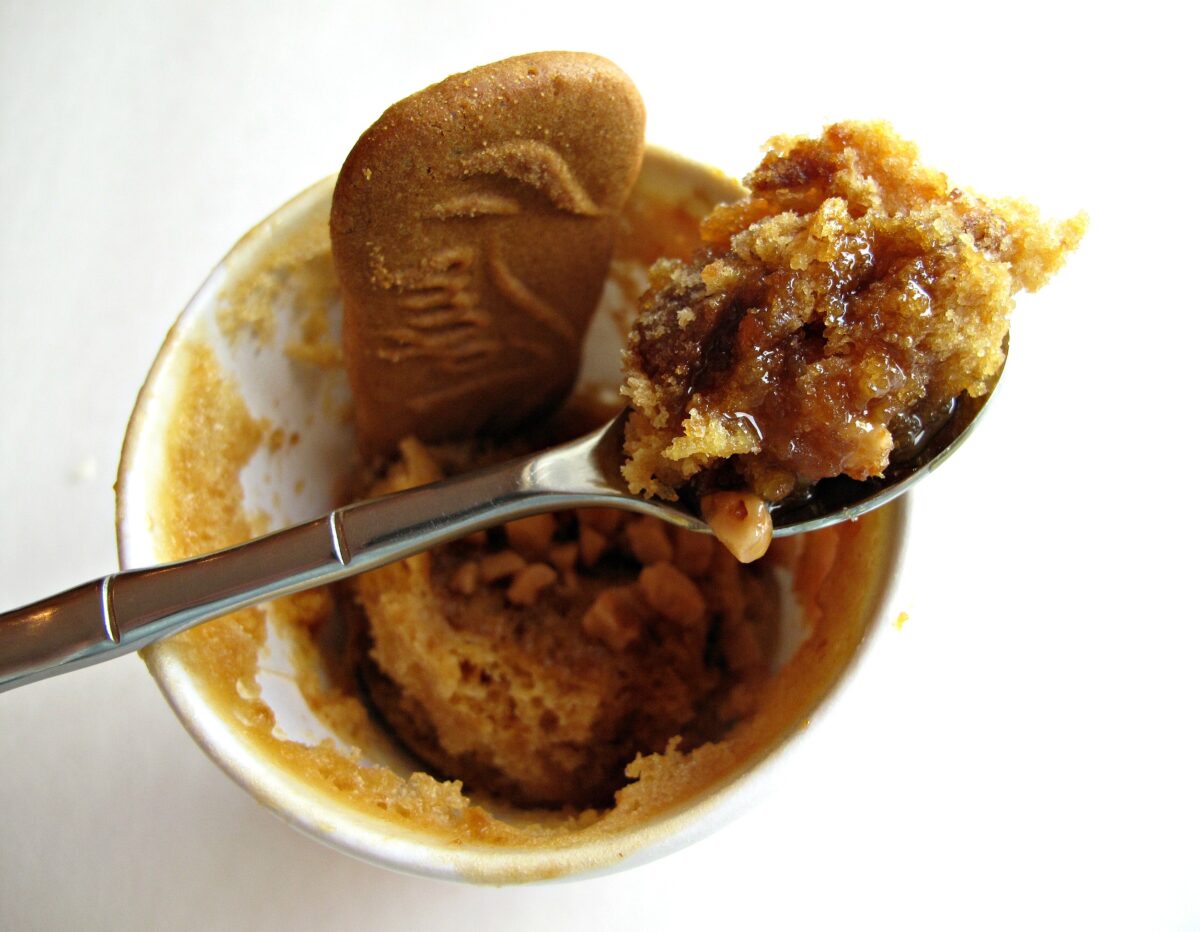 Each time I make a new version of 3-2-1 cake, I tweak the process just a little. Sometimes an ingredient tweak improves flavor or texture.
This time, 3-2-1 Biscoff Crumble Mug Cake needed a procedural tweak to keep the batter from flowing out of the mug and all over the microwave. Think erupting mug volcano. The solution is easy, but does require paying attention to the cake while it is in the microwave.
Set the microwave for 1 minute as usual, then watch the mug through the microwave window. When the batter begins to puff up above the edge of the mug (about 20 seconds in my microwave), pause the microwave, and gently tap the mug on the counter a few times to deflate the cake slightly. Return the mug to the microwave and resume cooking.
Pause and tap the mug again if needed. The cake is done when the top no longer looks wet.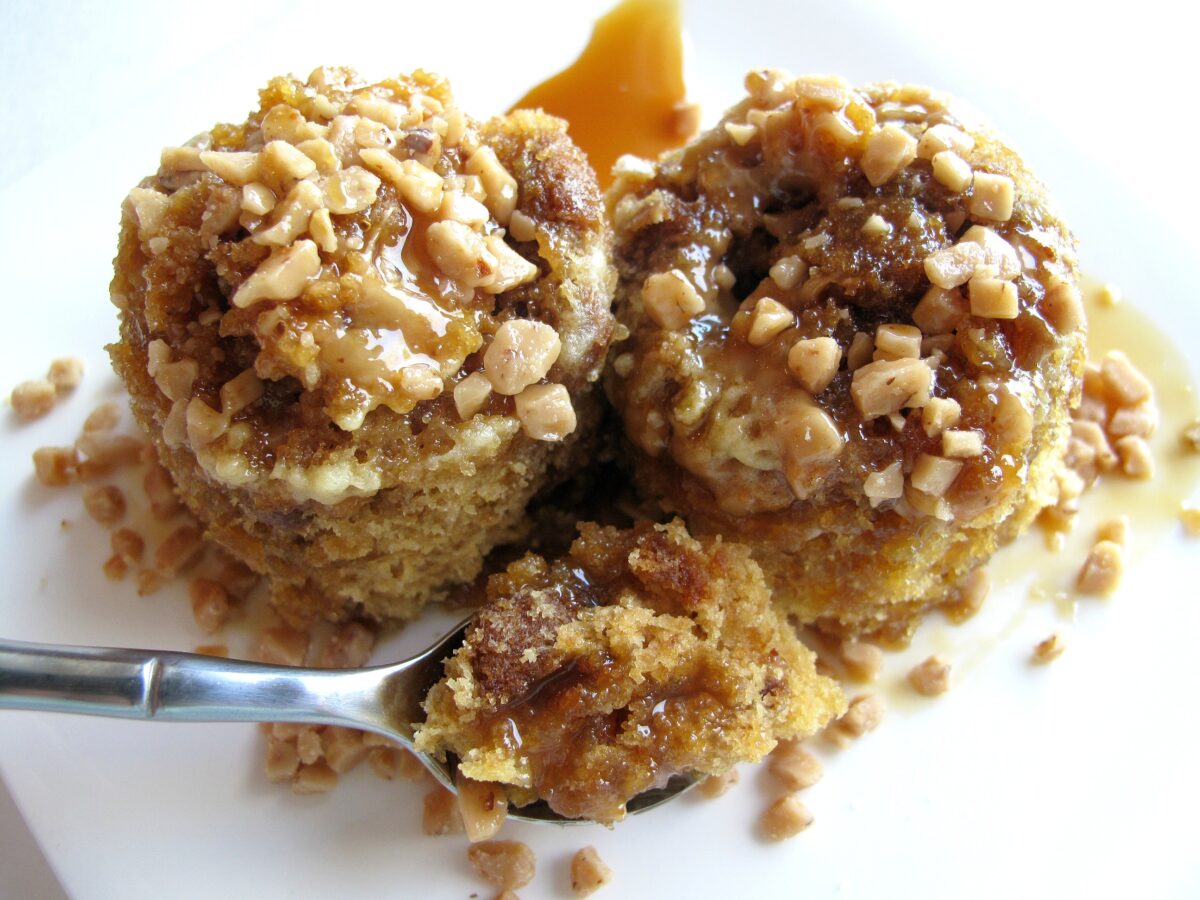 3-2-1 Biscoff Mug Cake has moist crumbles of cake infused with cookie butter flavor. Toffee and cookie bits add flavor and crunch.
Though this cake can be served on a plate, the crumbly texture is better suited for eating straight from the mug. Swirl on some caramel syrup and indulge.
Ingredients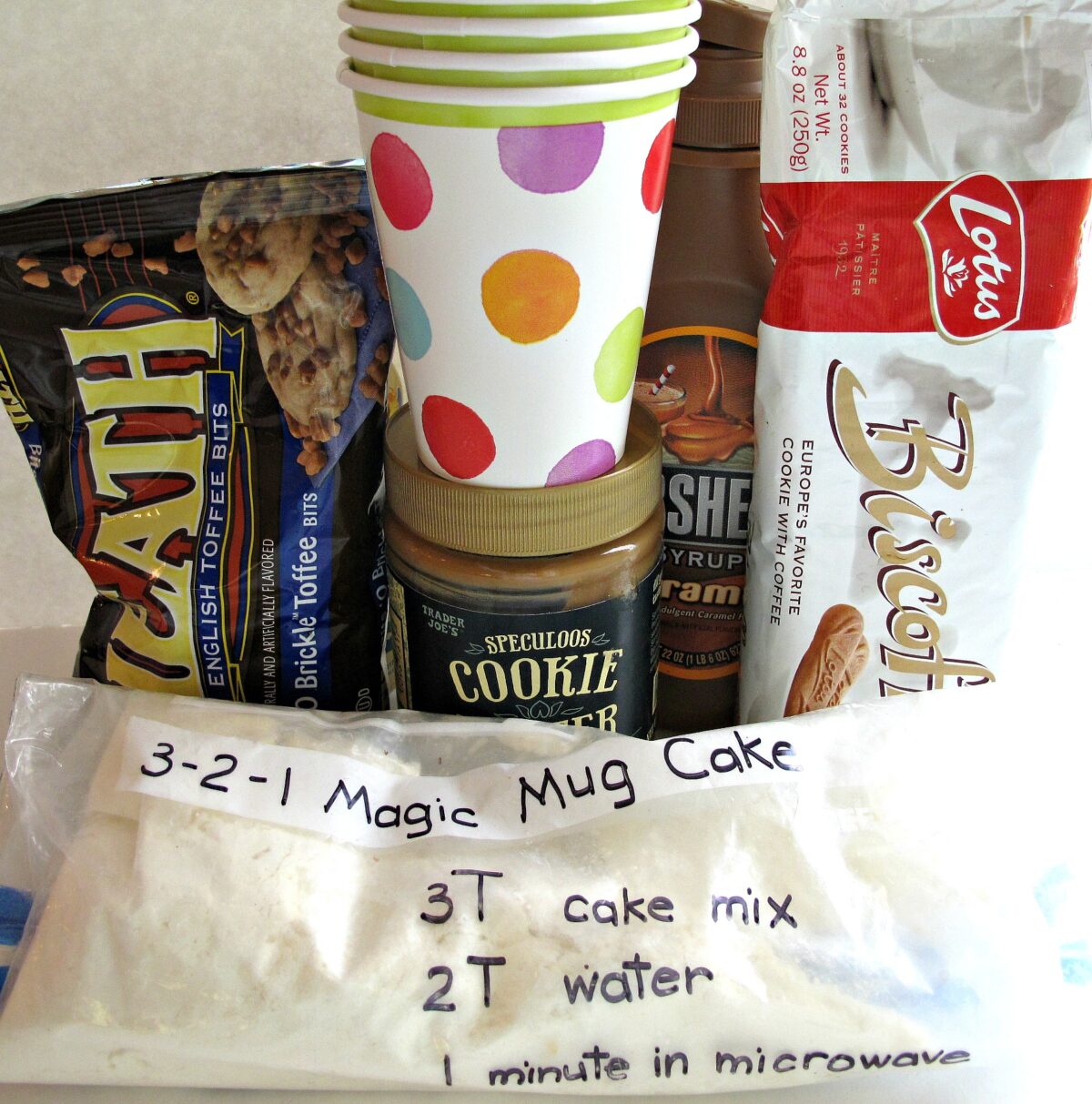 Please remember when sending 3-2-1 cake ingredients in a care package, to send microwave safe hot/cold paper cups. Aerosols cans are not allowed in overseas mailing and college kids appreciate no dishes to wash.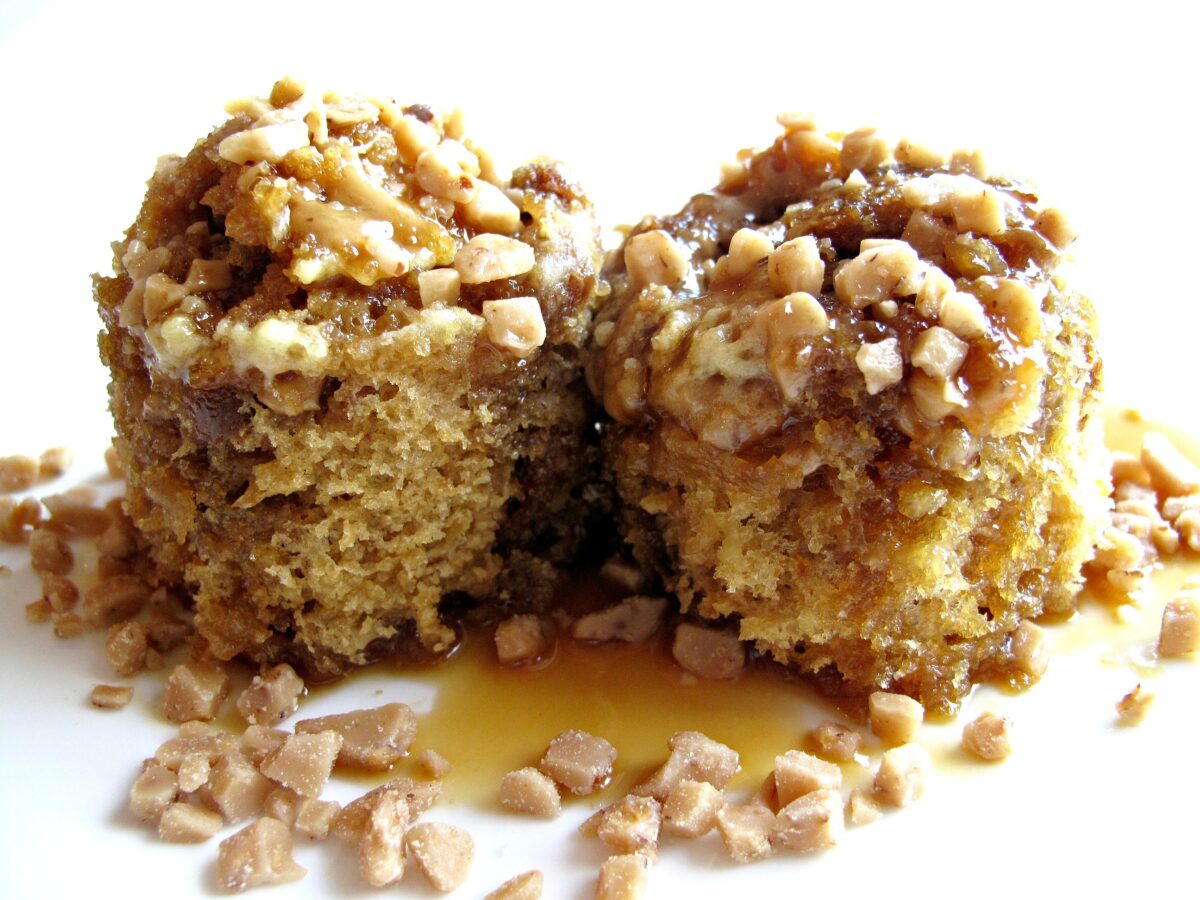 More microwave mug cake recipes
Boston Cream Pie Cake in a Mug is a one minute microwave cake with two layers of vanilla sponge cake filled with vanilla custard and topped with a chocolate glaze!
Strawberry Lemonade Mug Cake has soft, fluffy strawberry cake topped with creamy lemon filling and crunchy freeze dried strawberries.
Red, White, and Blueberry Mug Cake is an individual serving of patriotic funfetti cake bursting with sweet cherry and blueberry pie filling.
Ready to bake? Join the free membership group to get new recipes and a newsletter delivered to your inbox! You can also stay in touch on Facebook, Pinterest, and Instagram. I'd love to stay in touch!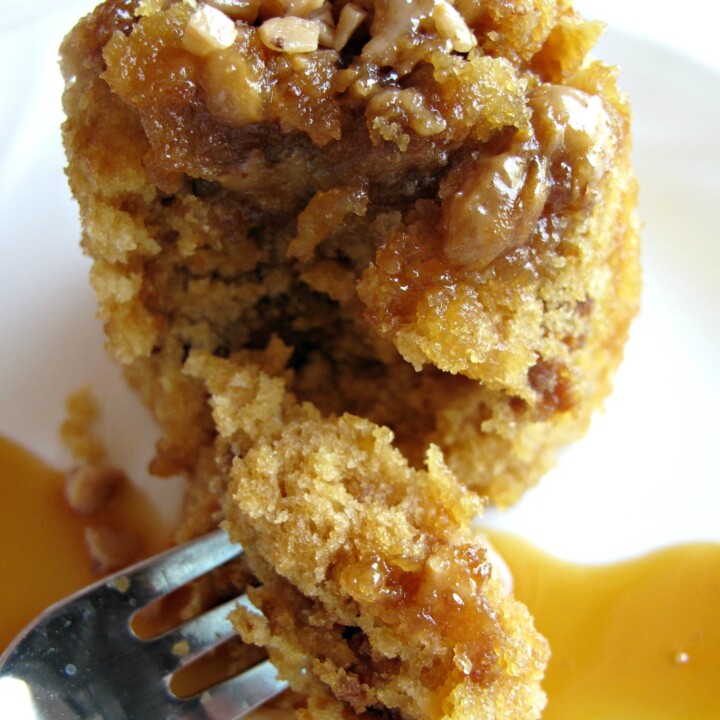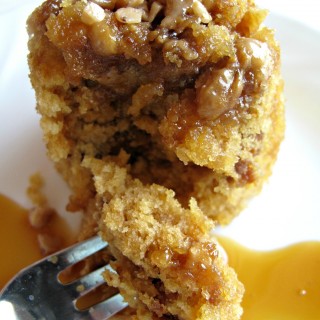 Biscoff Mug Cake
Luscious microwave mug cake with warm Biscoff butter spices. Cooks in just one minute!
Print
Rate
Ingredients
1

box

Angel Food Cake mix

1

box

vanilla cake mix

Non-stick spray

if not using disposable cups

Water

1

bag

Heath toffee bits

1

bottle

Caramel Syrup

1

jar

Biscoff Cookie Butter

1

package

Biscoff speculoos cookies
Instructions
In a gallon sized ziplock bag, combine the two boxes of cake mix. Shake the bag to mix thoroughly.

If using a microwaveable mug, lightly coat the inside of a with non-stick spray. Without the spray the cake will stick to the mug and the mug is harder to clean. If using a disposable, microwave safe paper cup, no non-stick spray is needed.

(Here comes the 3-2-1 part) Into the prepared mug/cup, stir together 3 tablespoons of cake mix and 2 tablespoons of water. Stir.

To this basic magic cake mixture add 1 tablespoon of caramel syrup and 1 tablespoon of Biscoff Cookie Butter. Stir to combine thoroughly (about 50 strokes). Stir in ½ -1 tablespoon toffee bits and 1 Biscoff cookie crumbled.

THIS CAKE HAS A RENDENCY TO OVERFLOW. WATCH CAREFULLY. Total microwave time will be about 1 minute. Place the mug in the microwave and set for 1 minute. When the batter rises to the top (about 20 seconds) pause the microwave, and tap the mug gently on the counter a few times to slightly deflate the rising batter. Resume cooking. If the batter reaches the top again, repeat the pause and tapping of the mug. (My cakes required 2 pauses to keep the batter from overflowing). The cake is done when the top doesn't look wet.

Top the hot cake, a dousing of caramel syrup, and a sprinkle of toffee bits and/or crumbled cookie. Then eat it right out of the mug. If you want to transfer the cake onto a plate, run a knife around the edge between the cake and the mug to loosen, dump out onto a plate, then add toppings.
Notes
Packing tips
Combine the two cake mixes into a gallon-size ziplock bag labeled with directions.
Include a measuring spoon, packages of toffee bits and Biscoff cookiess, and a bottle of caramel syrup.
If the care package is international, include microwave safe paper cups.
If the care package is domestic, add either a can of non-stick spray (for use with a ceramic mug) or microwave safe paper cups.
Don't forget to include the "recipe".
Nutrition
Calories:
150
kcal
|
Carbohydrates:
34
g
|
Protein:
2
g
|
Fat:
1
g
|
Saturated Fat:
1
g
|
Trans Fat:
1
g
|
Cholesterol:
1
mg
|
Sodium:
305
mg
|
Potassium:
31
mg
|
Fiber:
1
g
|
Sugar:
21
g
|
Vitamin A:
1
IU
|
Calcium:
76
mg
|
Iron:
1
mg
Save