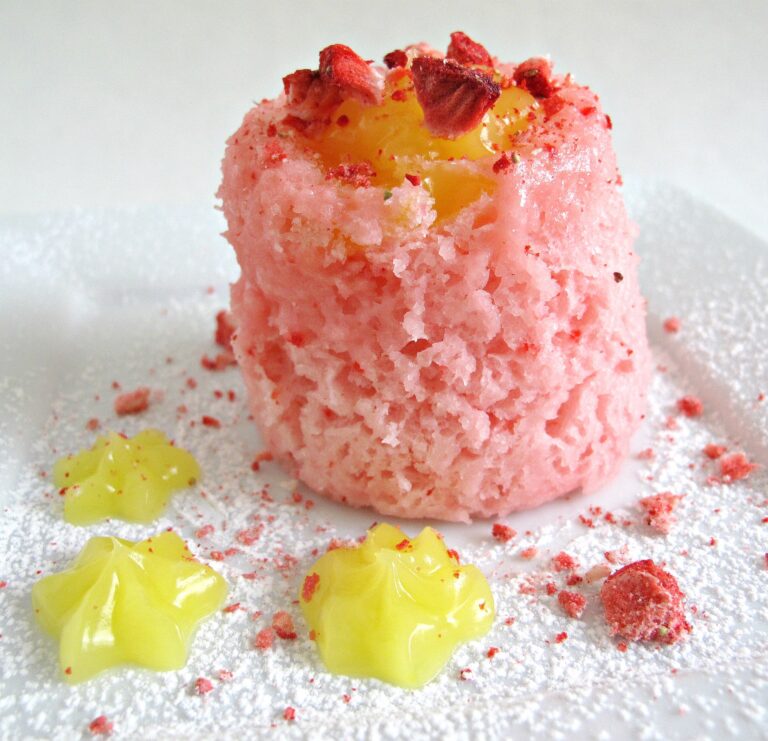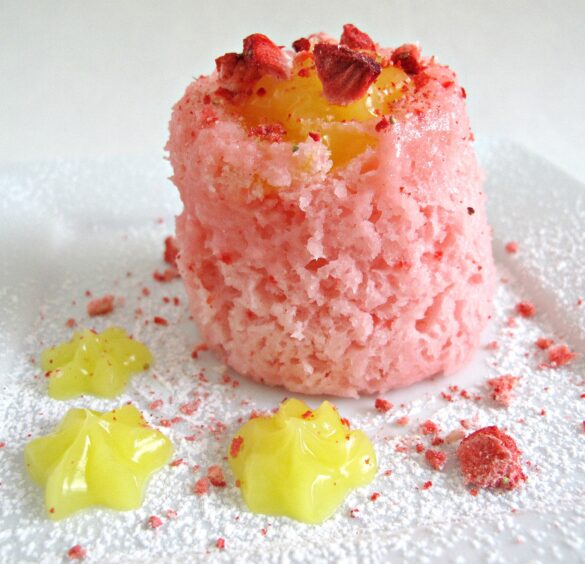 Periodically, I sing the praises of 3-2-1 Magic Mug Cakes such as this 3-2-1 Strawberry Lemonade Cake. What started as a quick vacation post has, by popular demand, become a regular feature. These magical microwave marvels are adored for many reasons. They are by nature, instant gratification. What other dessert cake is ready to eat, in all of its gooey splendor, in under a minute? Mug cakes are painless portion control, unless you choose to make and eat them by the dozen. There are an infinite number of 3-2-1 cake variations to zap and enjoy. For the care package purposes of The Monday Box, countless amazing variations can be made with shelf-safe ingredients (more about this in a moment).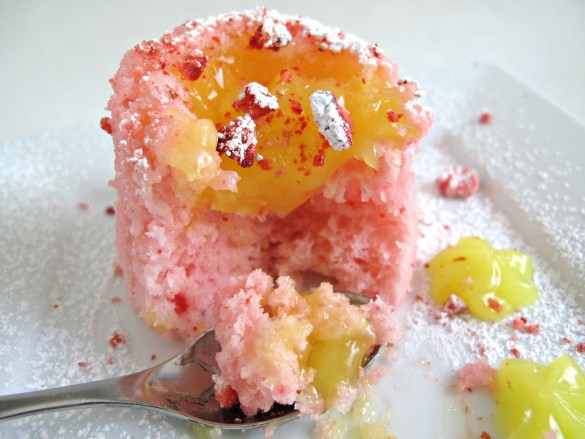 This month, the cast on my broken ankle led me to add another entry to the list of 3-2-1 cake virtues. 3-2-1 cakes can easily be prepared by cast wearing bakers with limited mobility. Other than eating ice cream out of the container with a spoon (not care package friendly), dessert doesn't get any easier than zapping a 3-2-1 mug cake.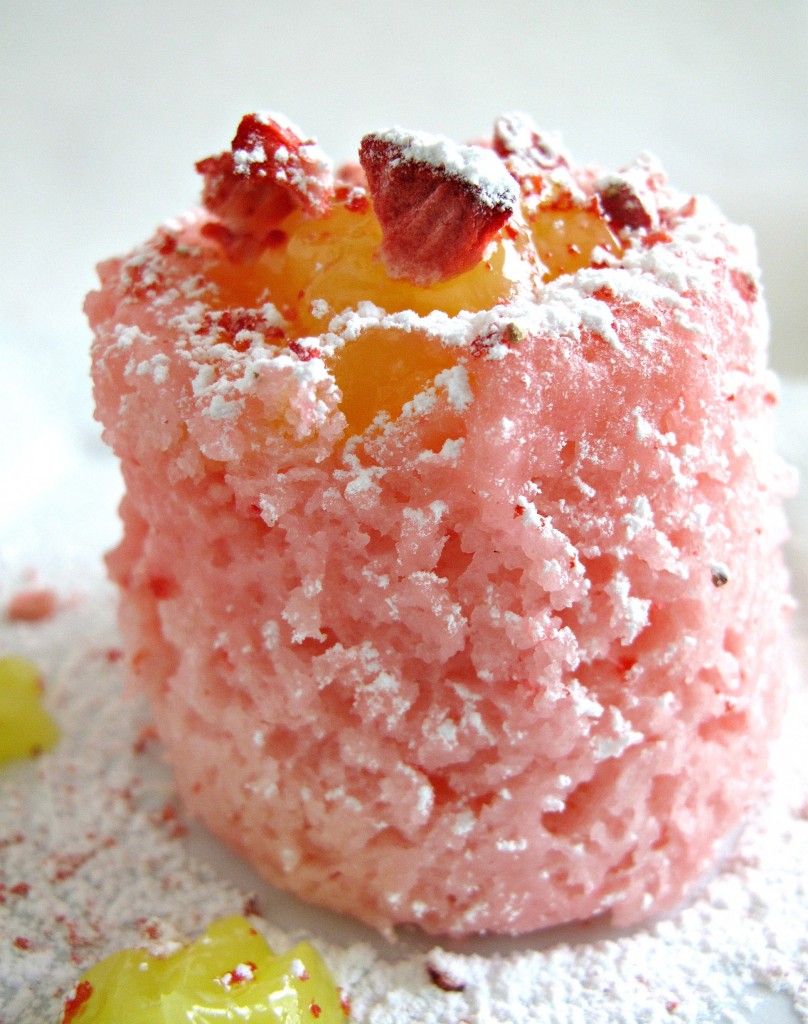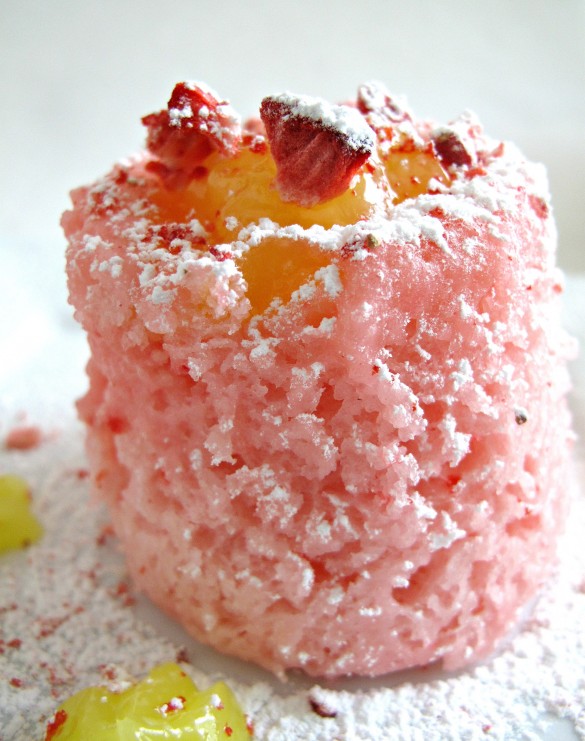 Some readers have been confused by 3-2-1 cake as a care package goodie. I would like to try to clear up this confusion. The cooked 3-2-1 cake can NOT go into a care package. The INGREDIENTS for the 3-2-1 cake and the easy-to-follow directions CAN be mailed to anyone with a microwave and a love of sweet treats. All of the ingredients for the 3-2-1 cake variations here on The Monday Box are shelf-stable, therefore mailable. The summer time/hot weather variations, like these 3-2-1 Strawberry Lemonade Cakes, use ingredients unlikely to melt or spoil in transit. If you are enjoying a 3-2-1 cake at home, then shelf-stable ingredients aren't an issue. In that case, I highly recommend the liberal addition of fresh fruit, ice cream, or whipped cream!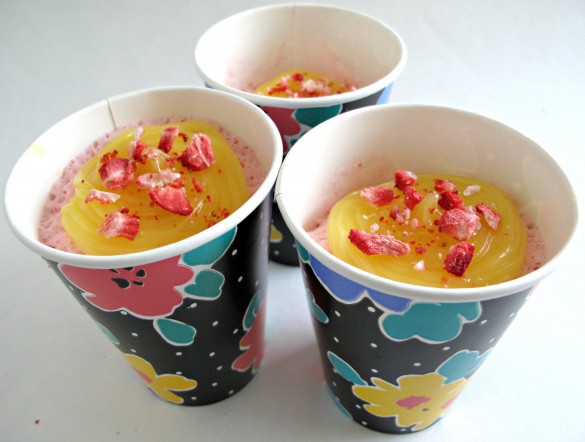 3-2-1 Strawberry Lemonade Cake delivers a mouthful of sweet strawberry and tart lemon flavors. Soft, fluffy strawberry cake is topped with creamy lemon filling and crunchy freeze dried strawberries. Use lemon pie filling for mild tartness or lemon curd for extra tart lemon flavor. 3-2-1 Strawberry Lemonade Cake is a taste of summer that quickly satisfies sweet cravings.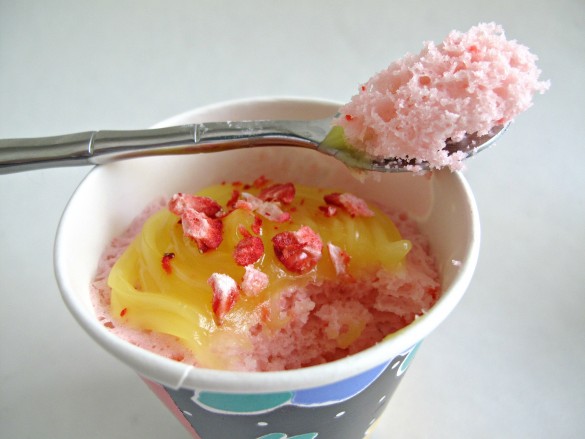 You can read more about desert safe ingredients and find an index of all of the desert safe recipes on The Monday Box by clicking here.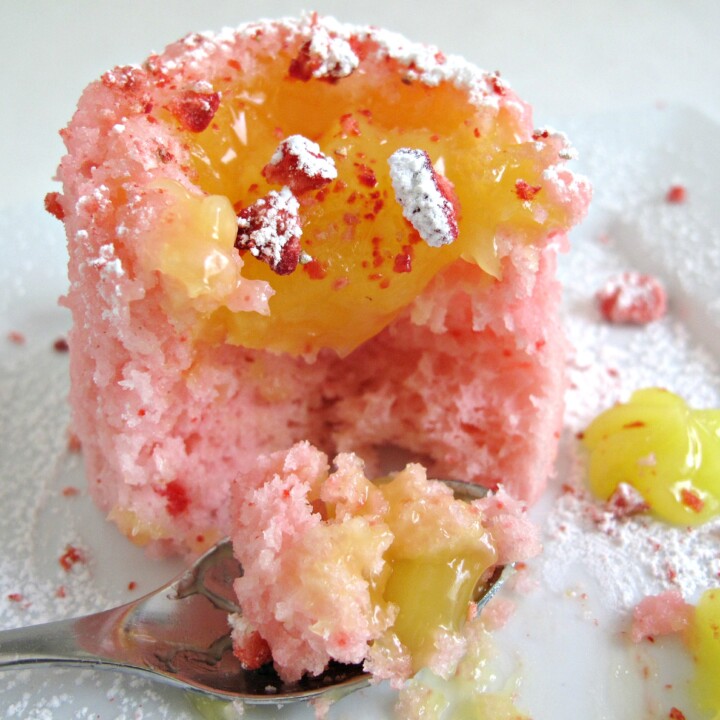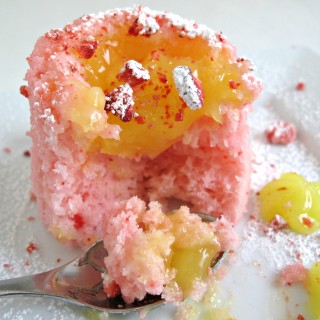 3-2-1 Strawberry Lemonade Cake
This sweet strawberry microwave cake is topped with tart lemon pie filling and cooks in just 1 minute!
Print
Rate
Ingredients
1

box

Angel Food Cake mix

1

box

strawberry cake mix

Non-stick spray

if not using disposable cups

Water

2

cups

freeze dried strawberries

2

cups

lemon pie filling
Instructions
In a gallon sized ziplock bag, combine the two boxes of cake mix. Shake the bag to mix thoroughly.

If using a microwaveable mug, lightly coat the inside of a with non-stick spray. Without the spray the cake will not transfer out of the mug and the mug is harder to clean. If using a disposable microwave safe paper cup, no non-stick spray is needed.

(Here comes the 3-2-1 part) Into the prepared mug/cup, stir together 3 tablespoons of cake mix and 2 tablespoons of water. Add a rounded tablespoon of lemon pie filling.

Microwave on high for up to 1 minute until cooked. (My microwave takes 40 seconds.)

Add a generous dollop of pie filling on top of the 3-2-1 cake and a sprinkle of crumbled strawberries. Then eat it right out of the mug. If you want to transfer the cake onto a plate, run a knife around the edge between the cake and the mug to loosen, dump out onto a plate, then add the pie filling and crumbled strawberries.
Notes
Packing tips
Combine the two cake mixes into a gallon-size ziplock bag labeled with directions.
Include a measuring spoon, a can of lemon pie filling and a bag of freeze dried strawberries.
If the care package is international, include microwave safe paper cups. If the care package is domestic, add either a can of non-stick spray (for use with a ceramic mug) or microwave safe paper cups.
Don't forget to include the "recipe".
Nutrition
Calories:
107
kcal
|
Carbohydrates:
25
g
|
Protein:
1
g
|
Fat:
1
g
|
Saturated Fat:
1
g
|
Cholesterol:
4
mg
|
Sodium:
55
mg
|
Potassium:
263
mg
|
Fiber:
2
g
|
Sugar:
19
g
|
Vitamin A:
1
IU
|
Vitamin C:
241
mg
|
Calcium:
4
mg
|
Iron:
4
mg
If you enjoy this 3-2-1 cake, you might also enjoy: