Funfetti Sandwich Cookies are crunchy sugar cookies bursting with sprinkle happiness and sandwiched with your favorite frosting flavor. A do-it-yourself treat that is perfect for snacking or care package celebrations. Heat resistant ingredients help to ensure this treat will arrive ready to enjoy.
First Published: August 20, 2014 Last Updated: July 10, 2020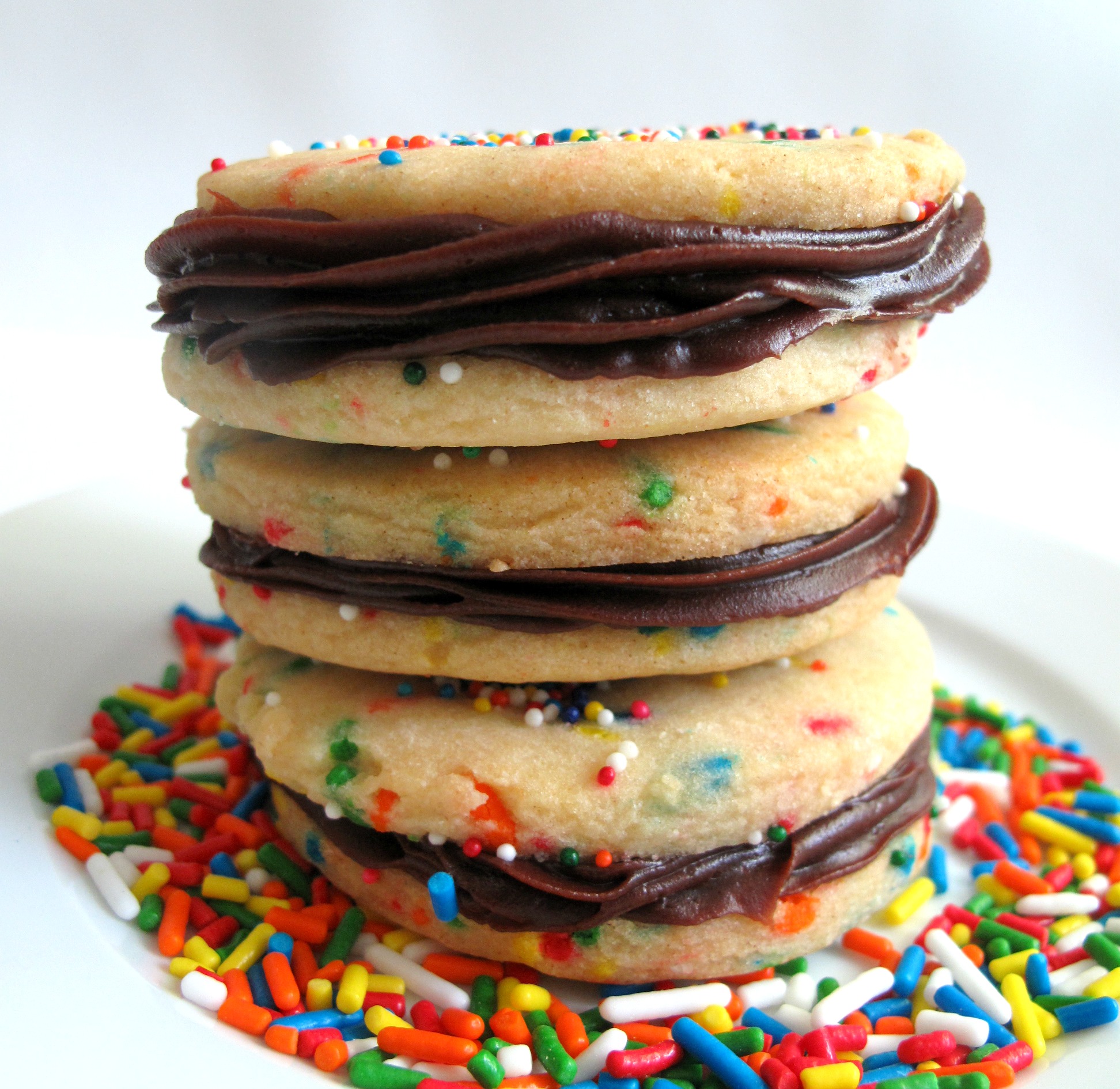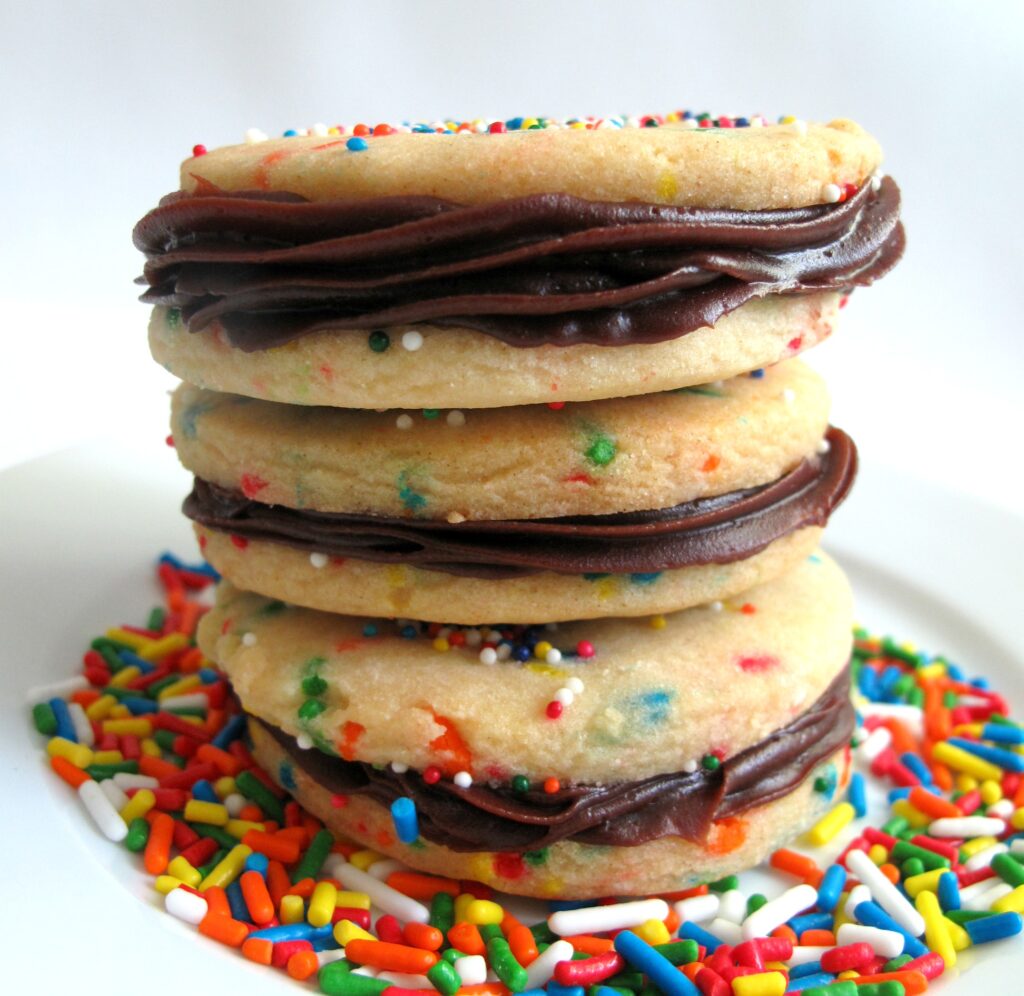 July came and went with little baking (or anything else) accomplished as I sported my bright blue cast. In the last few weeks, my walking boot has made me mobile again, though a bit slow and wobbly.I have to prioritize. My broken ankle got in the way of my baking plans for a July military care package, but this August package was important. Paratrooper Derik turned 23 this month and a Monday Box birthday care package filled with celebration cookies was imperative.
Care package contents
This birthday celebration box has a balloon theme. The napkins, horns, and decorations have a balloon print. The battery powered birthday candle (a fabulous dollar store find), not only twinkles and changes color, but is also decorated with balloons.
Birthdays call for candy, but desert safe candy is probably non-existent. I have been told that even Jolly Ranchers (hard fruit flavored candies) can melt.
I thought I would give it a shot anyway, trying for some candy that was at least less likely to melt. I included boxes of Sweet Tarts and Spree, gum, and a bouquet of balloon lollipops. A few puzzle books completed the party loot.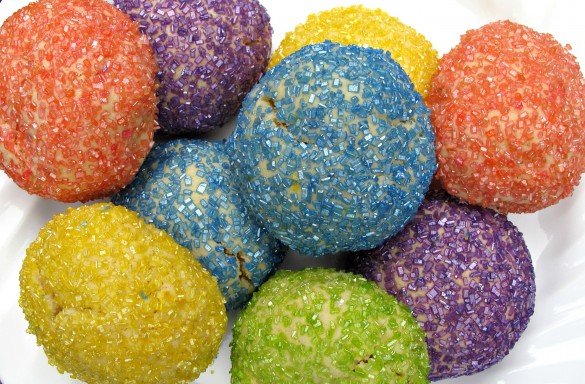 In keeping with the balloon theme, Vanilla Bean Balloon Cookies were perfect.
The round cookies coated in colorful decorating sugar ended up being balloons without strings because the sticks were taking up too much room in the box.
Sparkling Lemon Cookies can be used for these balloons as well.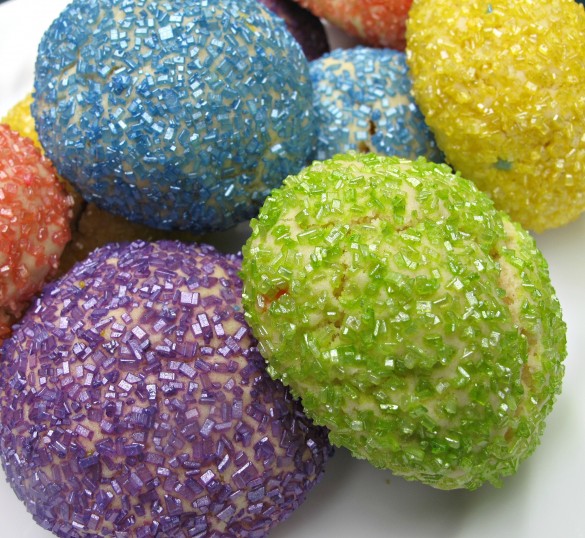 There was a noticeable lack of chocolate in this care package due to summer heat. A batch of desert safe brownies helped to restore balance to the universe.
These soft and chewy brownies were developed by the Nestle's test kitchens especially for military care packages using desert safe guidelines.
For long distance shipping, I always recommend that brownies/blondies/bar cookies be mailed uncut, the whole pan well wrapped first in foil then in plastic wrap before sealing in a large ziplock bag.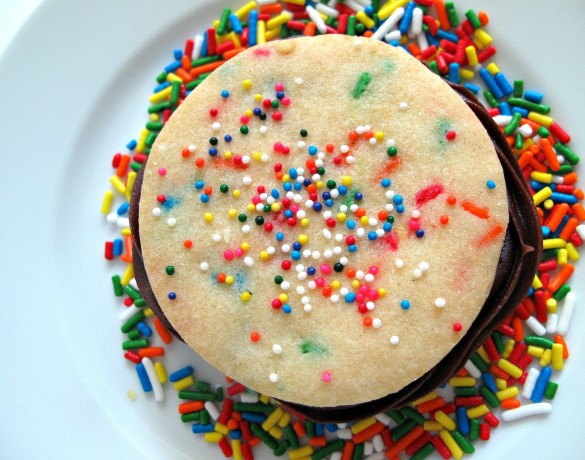 Circle sugar cookies and new recipe
Funfetti Sandwich Cookies are both the circle sugar cookies and the new recipe in this care package. I love the sugar cookie recipe that I usually use. It holds its shape, it tastes delicious, and it stays delicious for weeks.
Part of that deliciousness is the butter in the recipe, and baked goods made with butter don't always travel well in hot summer weather. I was excited to find sugar cookies on the Crisco site.
Vegetable shortening is considered a desert safe ingredient because it is the fat that is least likely to go rancid in extreme desert temperatures.
This vegetable shortening sugar cookie is good! Like the cookies made from the butter based recipe, these cookies hold their shape and last for weeks.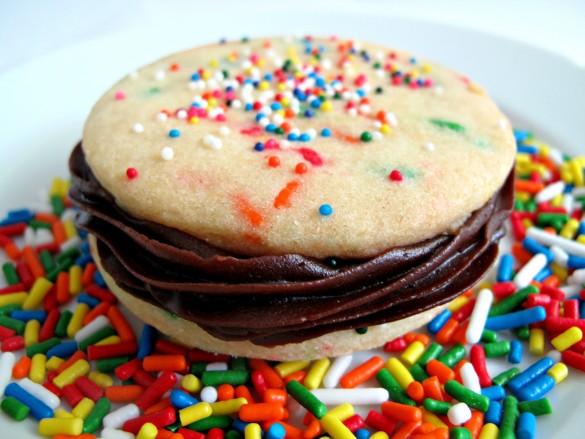 My solution to the "no icing in the heat" dilemma was sprinkles. Sprinkles ease many of life's dilemmas. In this case, funfetti (jimmies) sprinkles in the batter and nonpareil sprinkles on top turn these cookies into a celebration.
The cookies taste even better when turned into cookie sandwiches. When homemade butter cream or canned frosting is spread or piped between two cookies, a sandwich cookie worthy of a birthday celebration is the result.
I included a can of chocolate fudge frosting and plastic knives in the care package and taped directions onto the can stating, "Spread between two cookies to make a sandwich. Enjoy!"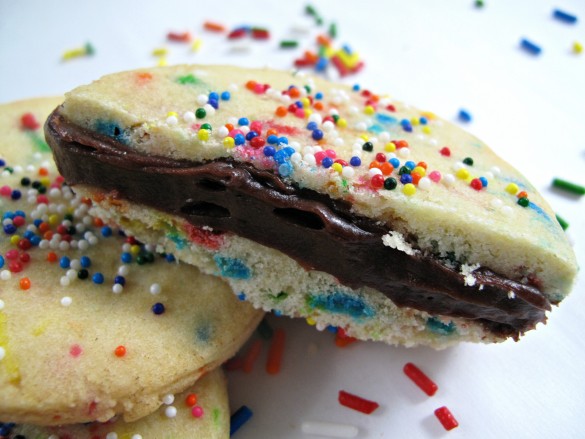 Happy 23 birthday, Paratrooper Derik!
As you celebrate your birthday far from home while you serve your country, please know that you and your fellow paratroopers are in our thoughts. Thank you for the job you do!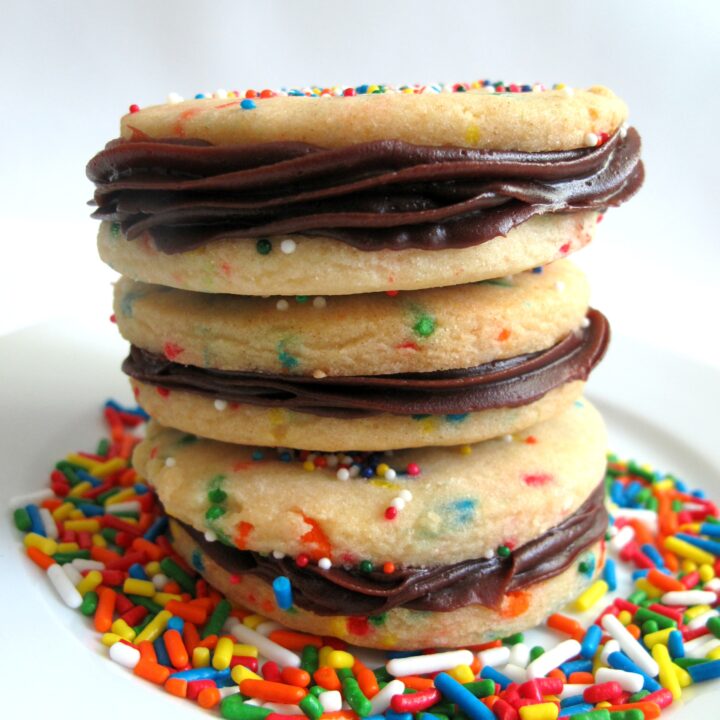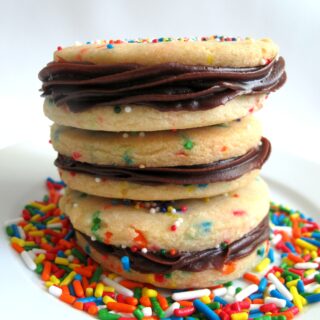 Funfetti Sandwich Cookies
Crunchy sugar cookies sandwiched with buttercream frosting.
Pin Recipe
Print
Rate
Ingredients
1

cup

butter flavor vegetable shortening

Crisco

1

cup

granulated sugar

1

large egg

2

tablespoons

milk

1

tablespoon

vanilla extract

3

cups

all-purpose flour

1 ½

teaspoons

baking powder

½

teaspoon

salt

½

cup

multi-colored jimmies sprinkles

Optional: additional sprinkles for decorating tops of cookies

1

cup

buttercream

or canned frosting
Instructions
In the bowl of an electric mixer, cream together vegetable shortening and sugar.

Add egg, milk, and vanilla and beat until combined.

In a medium bowl, whisk together flour, baking powder, and salt.

Gradually add the flour mixture to the shortening mixture.

Stir in jimmies sprinkles.

Wrap dough in plastic wrap and chill for at least one hour.

When ready to bake:

Preheat oven to 375˚F. Line a baking sheet with parchment paper.

Roll out dough to ⅛" thickness on floured surface or between two sheets of parchment paper.

Cut out 2 ½" circles with a cookie cutter or drinking glass rim. Re-roll excess dough to cut out more cookies.

With a spatula, transfer the circles of dough onto the prepared cookie sheet about 2" apart. (The cookies spread only slightly.)

Optional: Sprinkle tops of cookies with sprinkles and press gently with fingertips to help the sprinkles adhere to the cookies.

Bake for about 10 minutes, until the bottom edges begin to turn golden brown.

Cool for 5 minutes on the cookie sheet before transferring to a wire rack to cool completely.

Store at room temperature in an airtight container for up to 10 days.

Optional for making frosting sandwich cookies: Spread or pipe icing onto one cookie bottom side up. Cover the frosted cookie with a second cookie. Serve immediately or refrigerate for several days. The frosting will firm when cold and will lose its glossy appearance but will still taste good.
Notes
Packing tips
Double wrap stacks of 2-4 cookies in plastic wrap, then place in an airtight container or zip lock bag.
Add a can of frosting, a plastic knife and sandwich cookie directions for care package shipping.
I attached a label to the frosting can which read, "Spread between two cookies to make a sandwich. Enjoy!"
Nutrition
Calories:
223
kcal
|
Carbohydrates:
30
g
|
Protein:
2
g
|
Fat:
11
g
|
Saturated Fat:
3
g
|
Trans Fat:
1
g
|
Cholesterol:
7
mg
|
Sodium:
96
mg
|
Potassium:
25
mg
|
Fiber:
1
g
|
Sugar:
17
g
|
Vitamin A:
12
IU
|
Calcium:
20
mg
|
Iron:
1
mg