School is back in session and the internet is filling with pumpkin recipes, sure signs that fall is supposed to be here. Apparently, the weather here in St. Louis hasn't gotten the seasonal change memo. Temperatures have been in the high 90's with a heat index of over 100. Toasty. Muggy. Hot. I am not ready to embrace cool weather foods. Instead I offer 3-2-1 Mandarin Orange Microwave Mug Cake, a sweet treat full of sunshine, cooked to deliciousness without turning on the oven!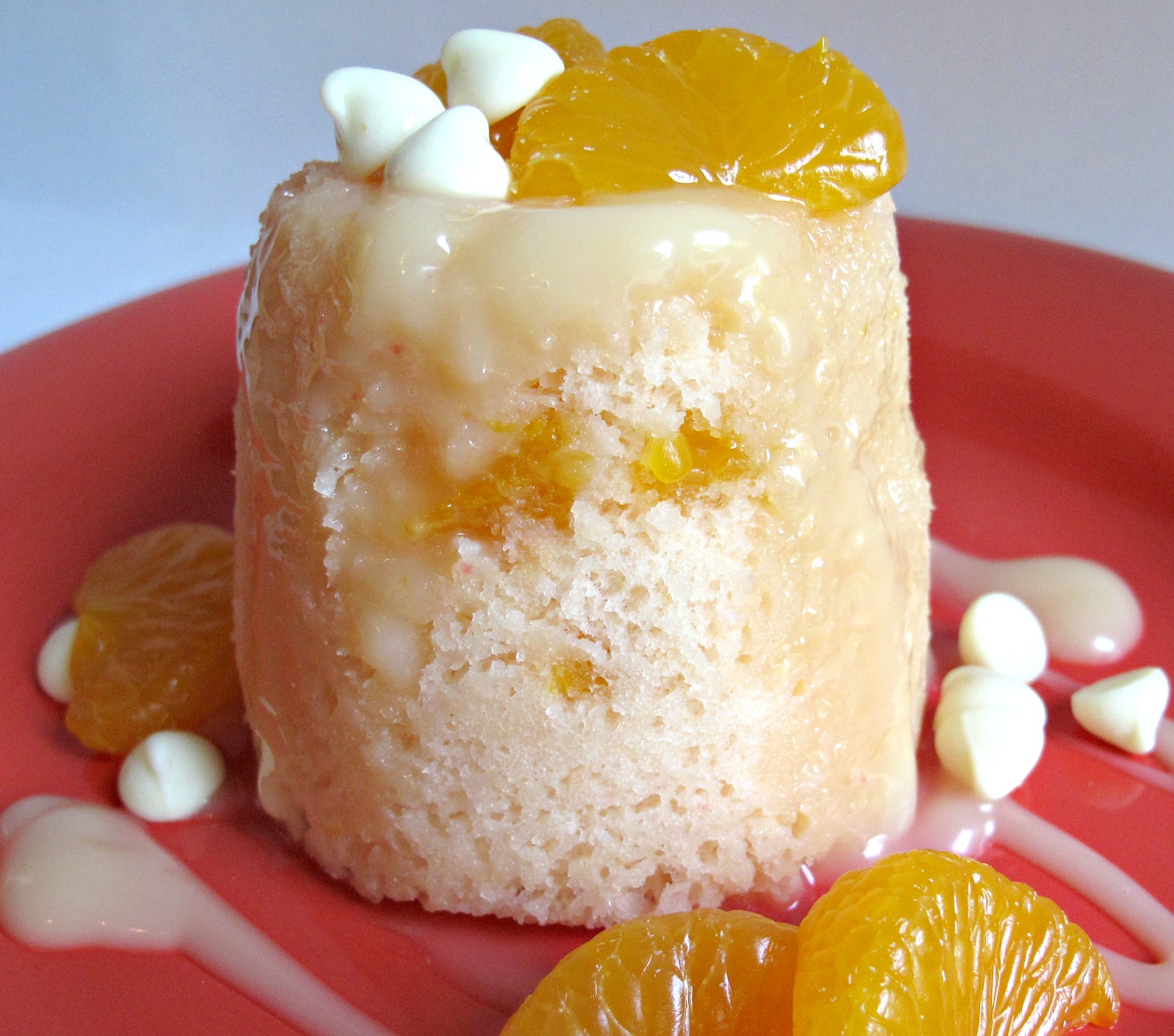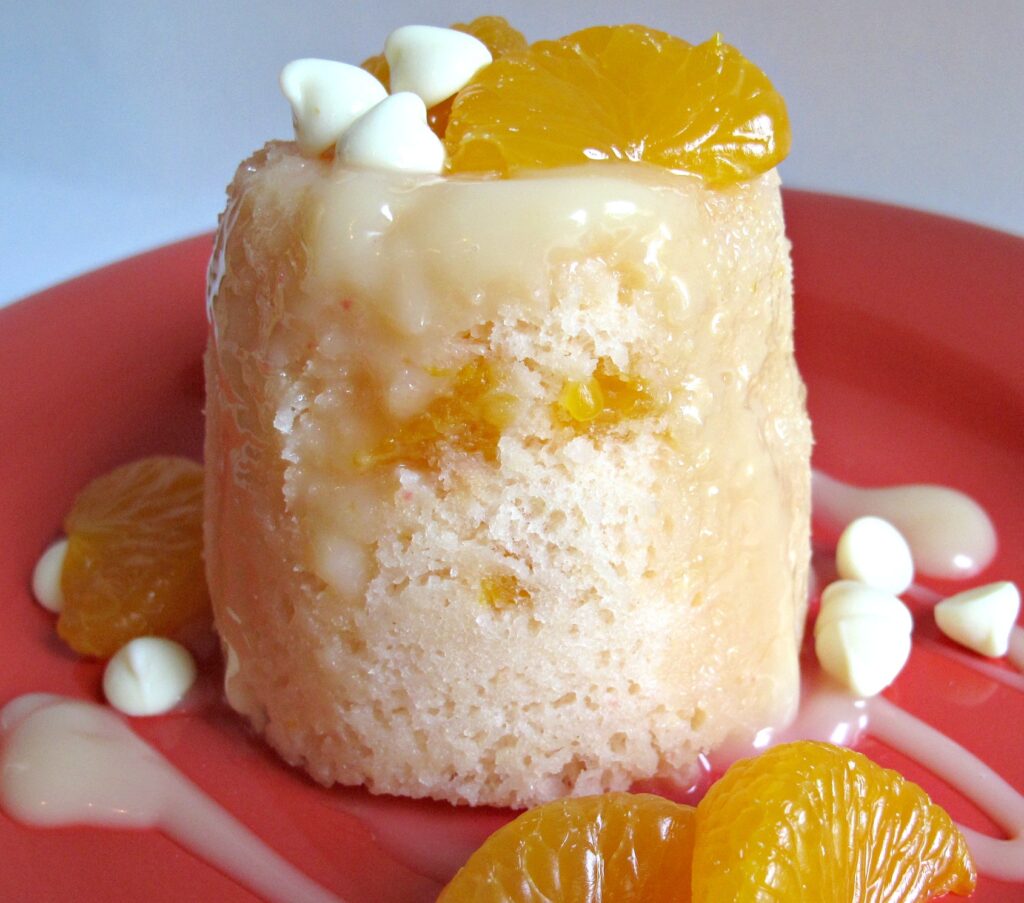 Ever since I began dreaming up 3-2-1 Cake combinations, my grocery cart frequently contains seemingly random items as I peruse store shelves searching for potential shelf-safe ingredients. Syrups, canned fruits and fruit fillings, candy, chocolate chips, all are fair game.
I bake mostly from scratch, yet boxed cake mixes are a standard in my cart. It is absurd how excited I get when Betty or Duncan or that adorable Dough Boy come out with a new flavor offering.
I was embarrassed to find that I had exclaimed out loud when I found white chocolate syrup in the coffee aisle.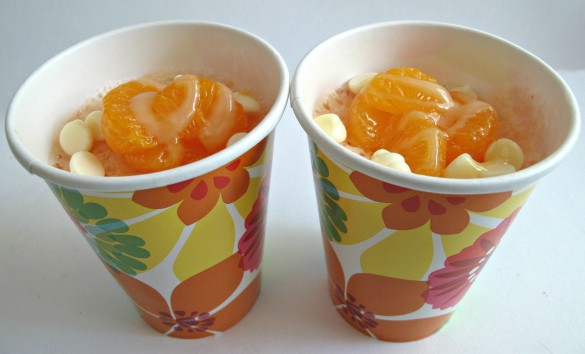 This box of Orangesicle cake mix has been waiting for inspiration to strike for much of the summer. I wanted to add white chocolate for the creamy taste but couldn't figure out a white chocolate ingredient that could be shipped in a hot weather care package.
White chocolate syrup was just what this 3-2-1 Mandarin Orange Microwave Mug Cake needed. Syrup makes a big flavor and texture improvement to 3-2-1 Cakes. White chocolate syrup provides creamy flavor while adding glistening moisture to the cake.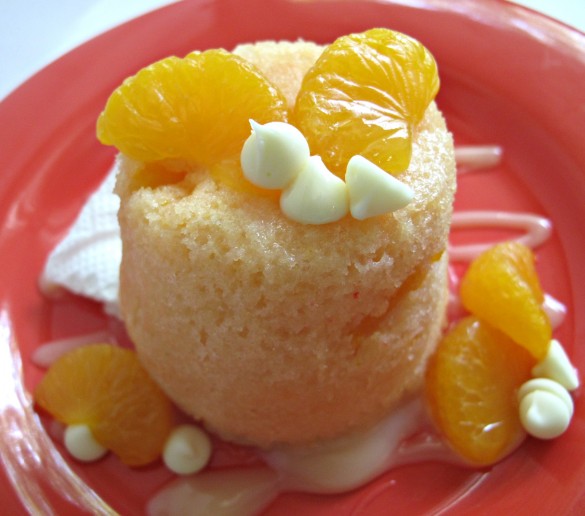 If orange cake mix is not available, vanilla mix is an excellent substitute. The white chocolate chips in the photos are not included in the recipe.
They are in the photos to suggest white chocolate flavor and would melt if shipped in hot weather. However, if 3-2-1 Mandarin Orange Microwave Mug Cake ingredients are shipped in cold weather, white chocolate chips would be a tasty addition.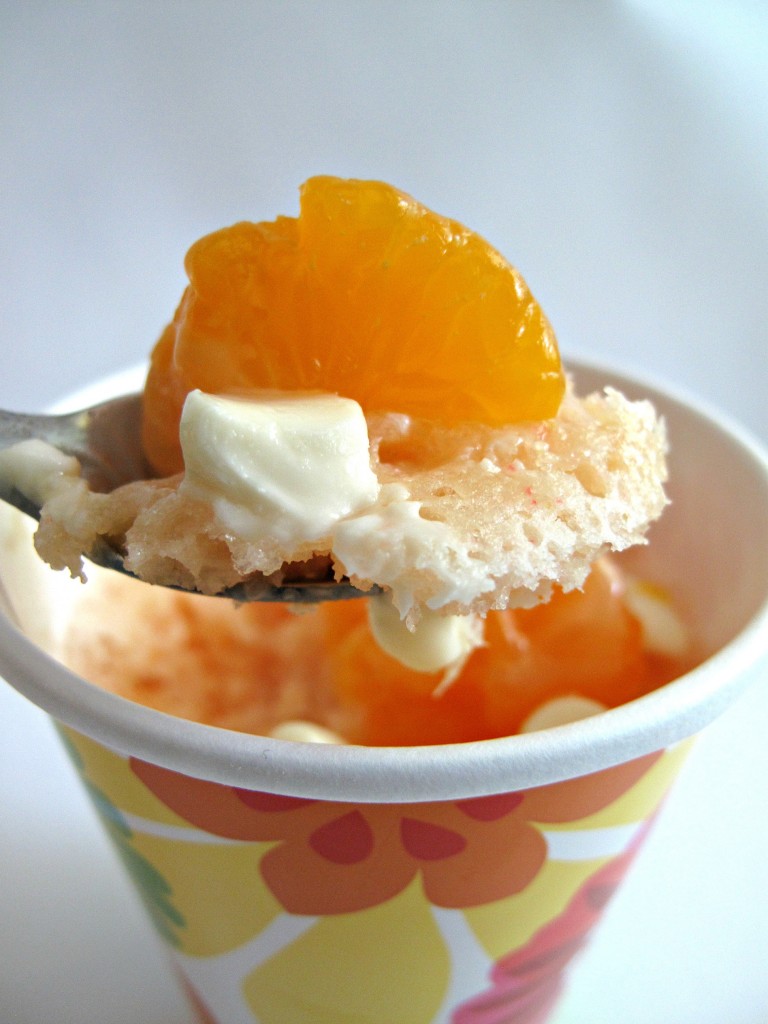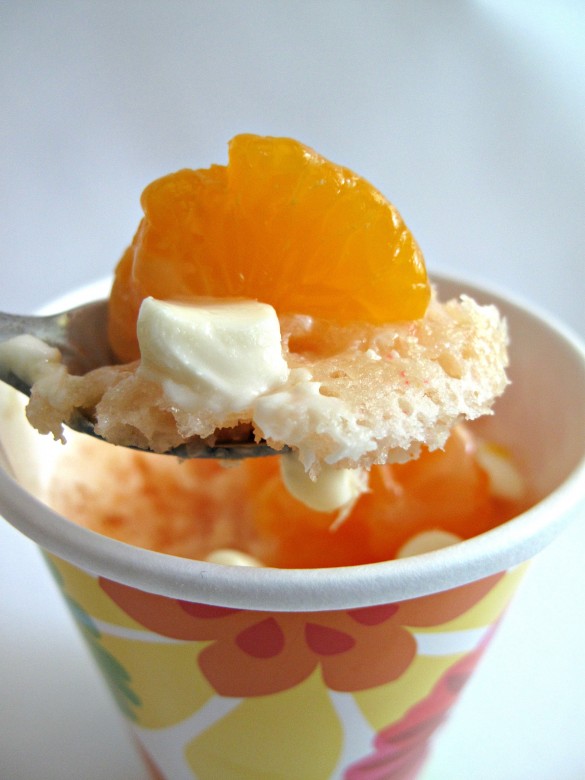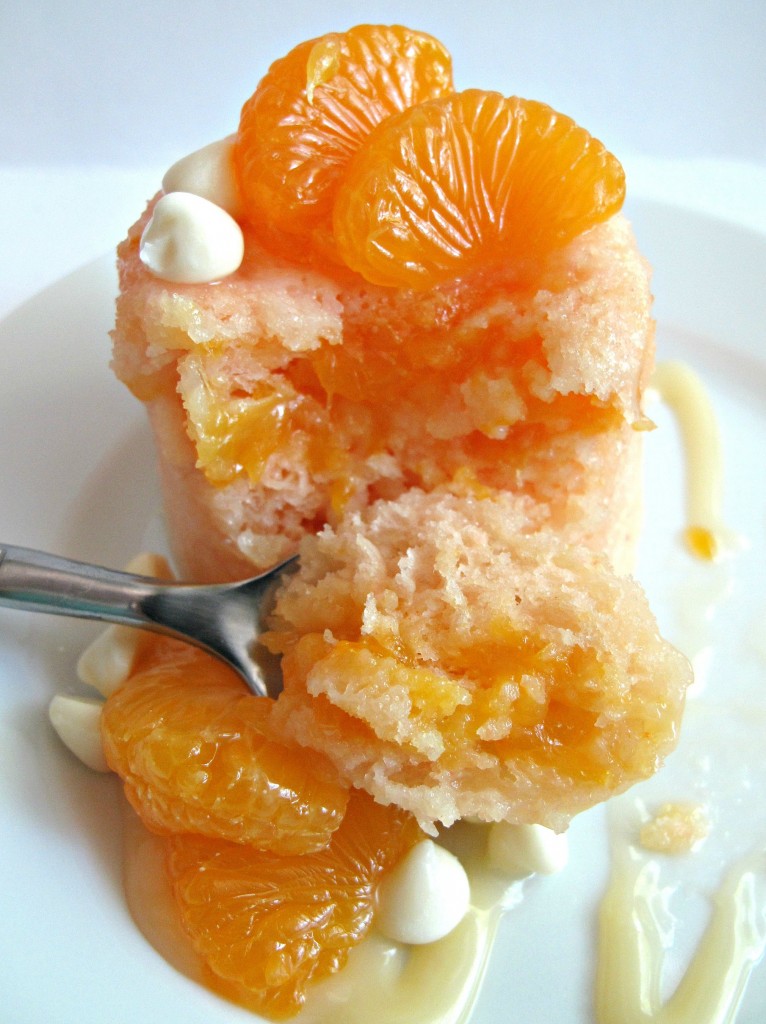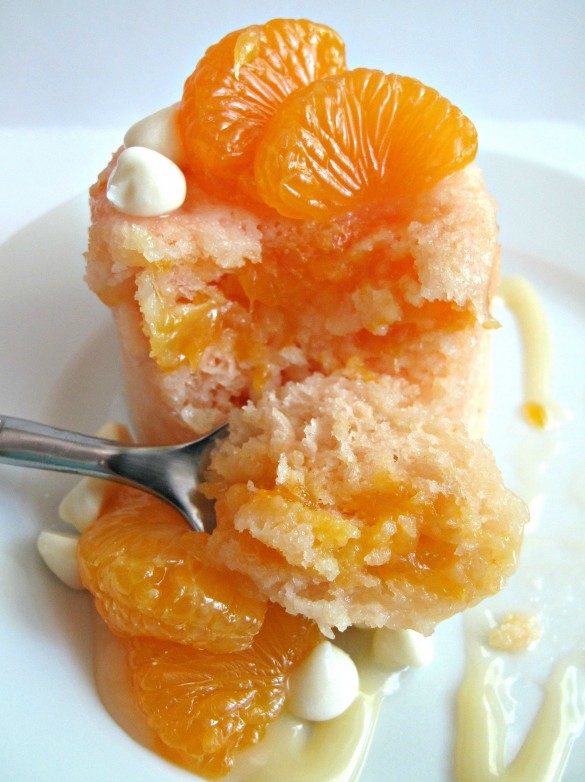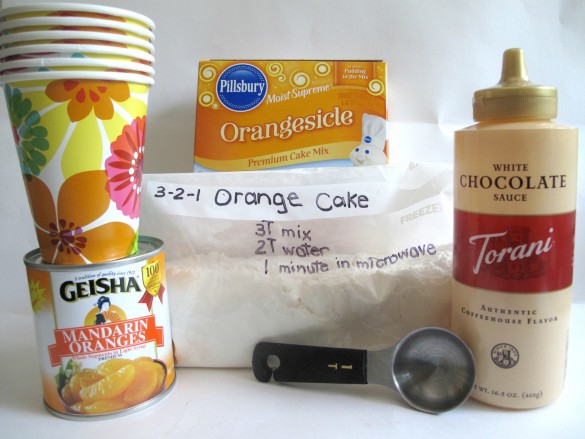 You can read more about desert safe ingredients and find an index of all of the desert safe recipes on The Monday Box by clicking here.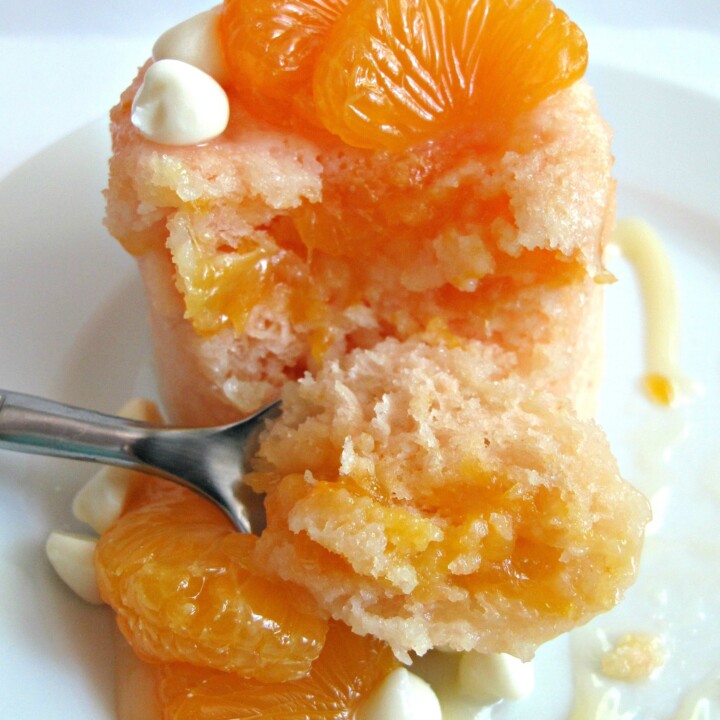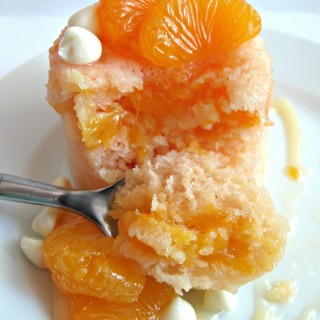 3-2-1 Mandarin Orange Microwave Mug Cake
Luscious orange mug cake drenched in white chocolate and mandarin slices.
Print
Rate
Ingredients
1

box

Angel Food Cake mix

1

box

orange or vanilla cake mix

Non-stick spray

if not using disposable cups

Water

4

cans

mandarin oranges

1

bottle

white chocolate sauce
Instructions
In a gallon sized ziplock bag, combine the two boxes of cake mix. Shake the bag to mix thoroughly.

If using a microwaveable mug, lightly coat the inside of a with non-stick spray. Without the spray the cake will not transfer out of the mug and the mug is harder to clean. If using a disposable, microwave safe paper cup, no non-stick spray is needed.

(Here comes the 3-2-1 part) Into the prepared mug/cup, stir together 3 tablespoons of cake mix and 2 tablespoons of water. Add a rounded tablespoon of halved mandarin orange segments. Stir.

Microwave on high for up to 1 minute until cooked. (My microwave takes 45 seconds.)

Add a few orange segments and a generous dousing of white chocolate sauce on top of the 3-2-1 cake. Then eat it right out of the mug. If you want to transfer the cake onto a plate, run a knife around the edge between the cake and the mug to loosen, dump out onto a plate, then add the oranges and white chocolate sauce.
Notes
Packing tips
Combine the two cake mixes into a gallon-size ziplock bag labeled with directions.
Include a measuring spoon, a can of mandarin oranges, and a bottle of white chocolate sauce. If the care package is international, include microwave safe paper cups.
If the care package is domestic, add either a can of non-stick spray (for use with a ceramic mug) or microwave safe paper cups.
Don't forget to include the "recipe".
Nutrition
Calories:
89
kcal
|
Carbohydrates:
18
g
|
Protein:
1
g
|
Fat:
2
g
|
Saturated Fat:
1
g
|
Cholesterol:
1
mg
|
Sodium:
67
mg
|
Potassium:
123
mg
|
Fiber:
1
g
|
Sugar:
11
g
|
Vitamin A:
283
IU
|
Vitamin C:
11
mg
|
Calcium:
25
mg
|
Iron:
1
mg
If you enjoy this 3-2-1 cake, you might also enjoy: