Valentine's Day has come and gone. Got any left over Hugs and Kisses? I have a suggestion for how to use the candy ones as well as the real ones. Sunday, February 17th, is Random Acts of Kindness Day. Hugs and Kisses Brownies are so fudgy and delicious you will want to make left over chocolate a tradition.The Cup of Joe program is a very easy and inexpensive way to do a random act of kindness that has a huge impact.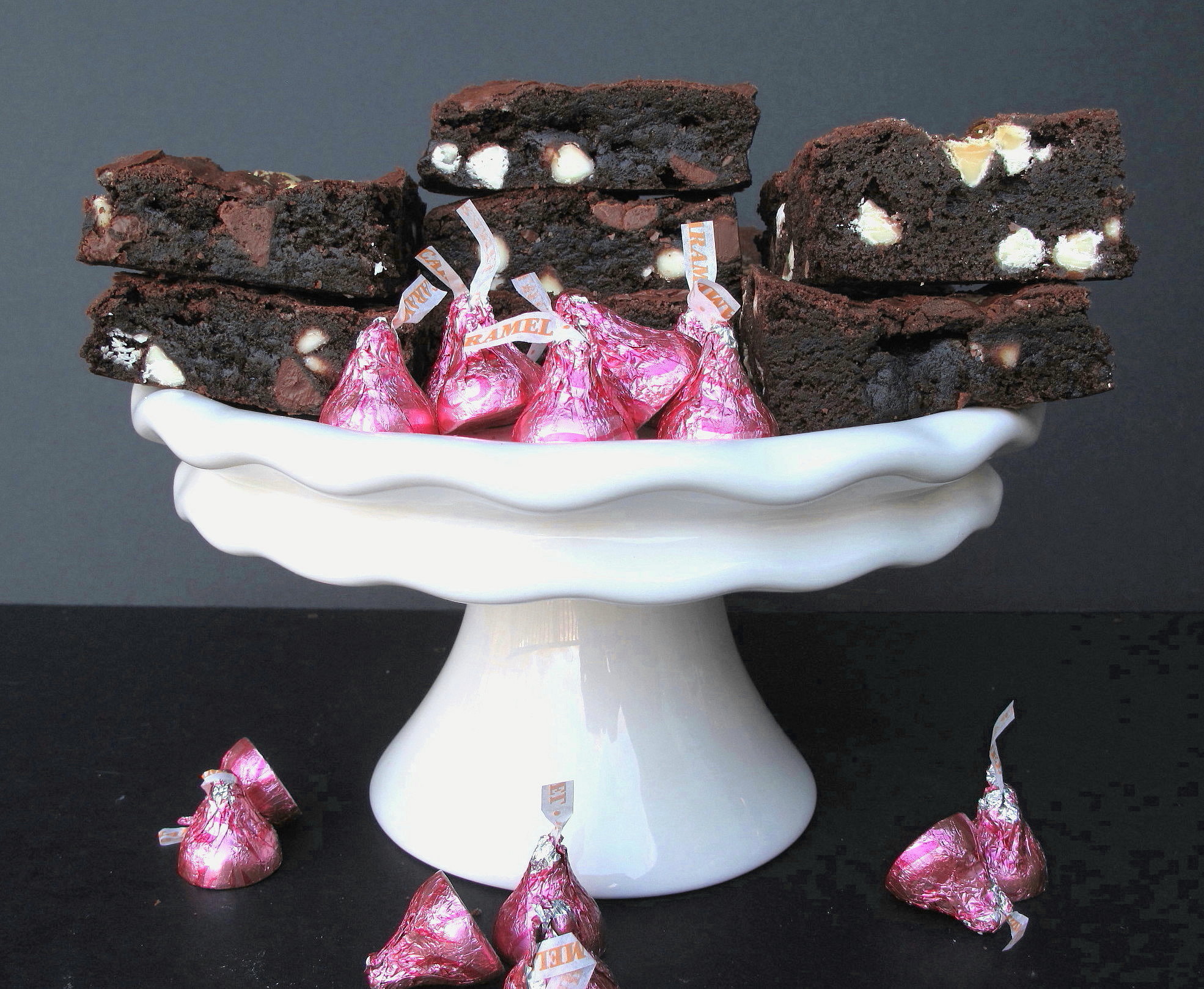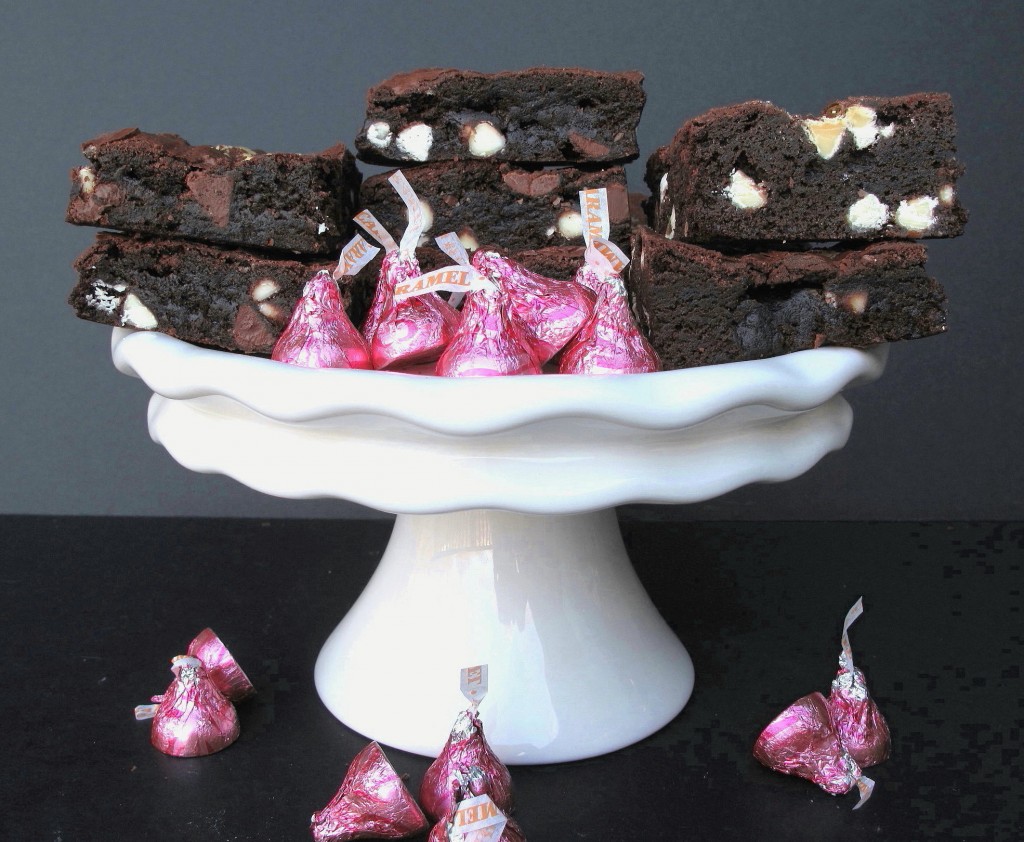 This blog is focused on recipes for care packages. My "expertise" is college care packages. However, all Monday Box recipes certainly apply to anyone looking for a treat to enjoy at home.
But what about military care packages? Those take 2 weeks to a month or more to reach their destination. I knew nothing about the rules or recommendations for care packages being sent to the desert!
I began researching. That's when I became acquainted with Gina and her eye opening blog, Gina Has Left the Mall. Please read it. Gina hopes that through her blog she will, "inspire other to care, maybe put that care into action, and help close the divide between military and civilians."
If you are familiar with deployed troops you will find yourself nodding your head in agreement. If, like me, you aren't familiar, you will find a window to a different world.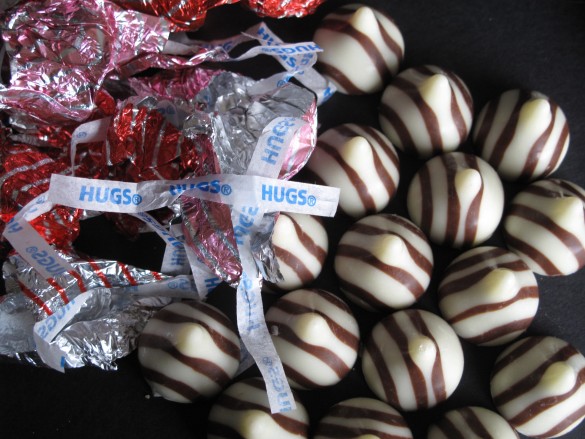 This post has nothing to do with politics or personal feelings toward wars or international relations. This is about men and women who are serving their country in often dangerous and difficult jobs, located in often uncomfortable conditions.
Each one of these service people is somebody's son or daughter. As a mom, my heart goes out to each one and their families.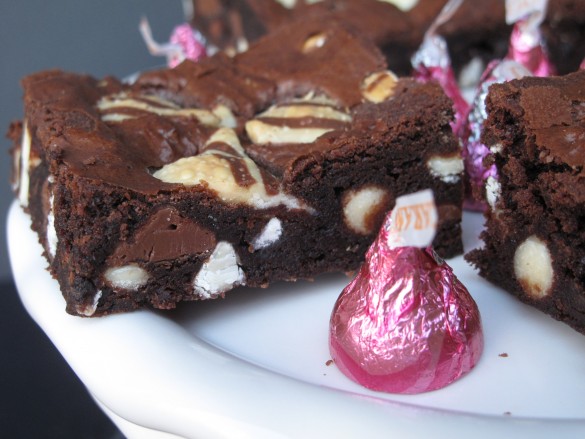 OK, Gina. You have opened my eyes. Our troops need to know they are not forgotten and that their sacrifices are appreciated. Now what? How about a Cup of Joe?
Gina introduced me to this easy and inexpensive Random Act of Kindness that I was telling you about. Cup of Joe is a program provided by Green Beans Coffee which has cafes on military bases throughout the world.
Anyone can click on their site and, for only $2, donate a cup of coffee to a service person. There is also the option to write a short message of support to go with the coffee.
That random act, from one stranger to another, is so effortless and yet reaches across continents to communicate kindness. This Sunday, why not celebrate Random Acts of Kindness Day by baking some Hugs and Kisses Brownies and virtually sharing a cup of coffee with a service person, providing a combination morale and caffeine boost?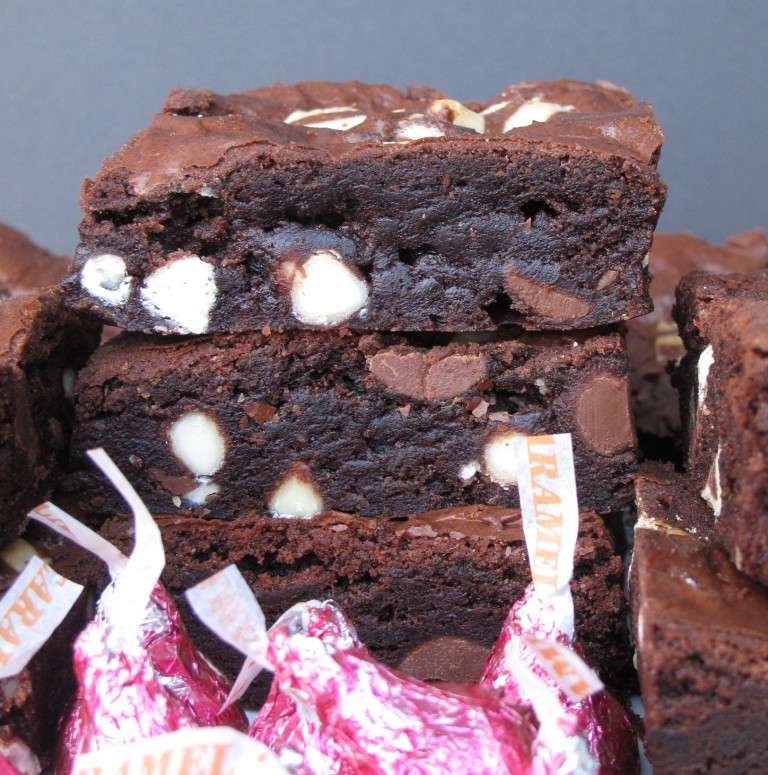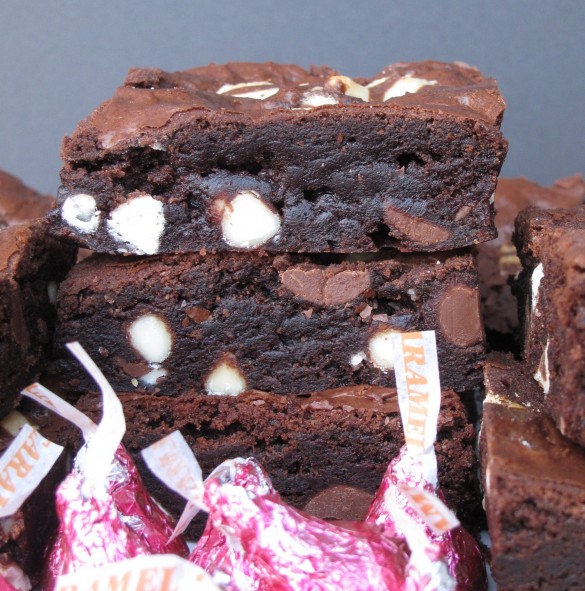 These brownies are simply delicious and they are care package perfect. You don't have to send them anywhere. You can hide them and keep them all for yourself. You will be temped to.
Hugs and Kisses Brownies are rich, chocolaty, and chewy and best of all they stay that way for a ridiculously long time. After two weeks, ours tasted fresh. But then we finished them, so I can't personally vouch for the claim that they are good for a month, however, I wouldn't be surprised.
The original recipe comes from Nestle's test kitchens and was developed especially for military care packages, following the guidelines for desert safe food (withstanding high temperatures) and mailing regulations to Middle Eastern nations. Any adaptations I made, remain within those guidelines.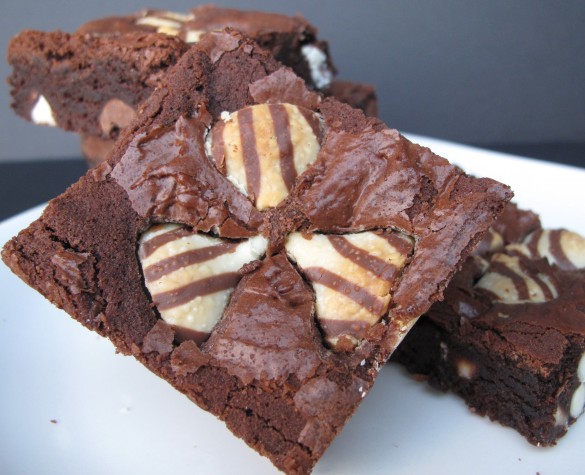 Basically, this means using vegetable shortening (Crisco) instead of butter, margarine, or nut butters. Apparently, those are more likely to go rancid in high temperatures.
I never use Crisco. Usually, I can taste it in cookies and bars. I was very skeptical about this recipe at first. But the proof is in the tasting. They really are amazing.
Chocolate chips, oddly enough, are desert safe once baked. If you aren't mailing Hugs and Kisses Brownies far away, and have an aversion to vegetable shortening, go ahead and substitute butter or margarine or even coconut oil.
I hope you will share some Hugs and Kisses Brownies with someone you love and offer a random act of kindness to a stranger.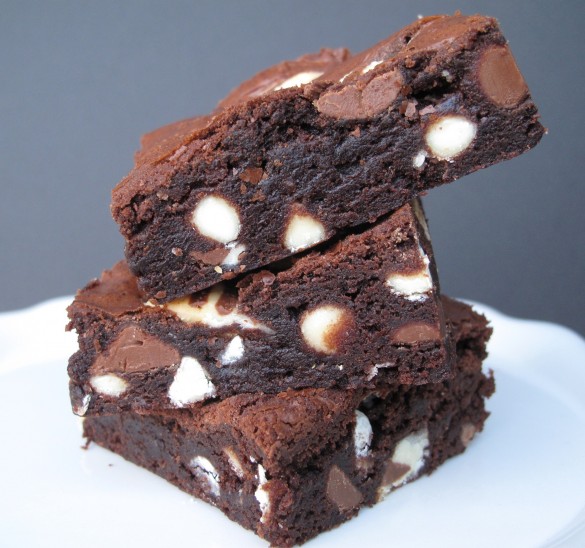 You can read more about desert safe ingredients and find an index of all of the desert safe recipes on The Monday Box by clicking here.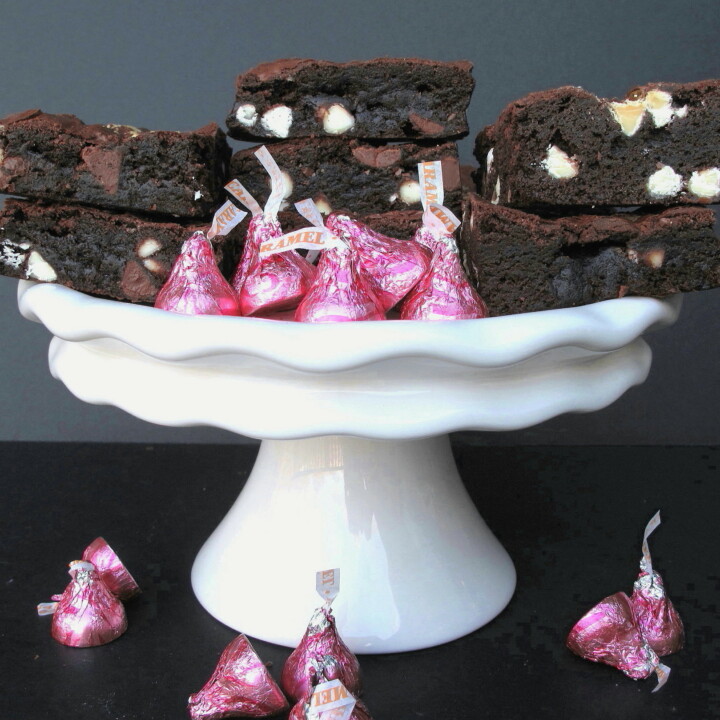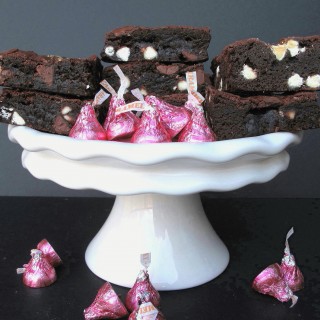 Chocolate Chip Brownies
Super fudgy brownies filled with white and dark chocolate chips.
Print
Rate
Adapted From:
Nestle's verybestbaking.com
Ingredients
1 ½

all-purpose flour

1

cup

baking cocoa

I use Whole Foods 365 fair trade brand

½

teaspoon

baking powder

½

teaspoon

salt

1

teaspoon

espresso powder

⅔

cup

butter-flavored vegetable shortening

2

cups

granulated white sugar

4

large eggs

1

cup

white chocolate chips

I use Whole Foods 365 fairly traded brand

1

cup

milk chocolate chips

I use Whole Foods 365 fairly traded brand
Instructions
Preheat oven to 350 degrees F.

Prepare one 9" x 13" pan depending on use. If you plan to mail the entire pan of brownies in a disposable pan, lightly grease the disposable pan with vegetable shortening. If you plan to remove the brownies from the baking pan ( to wrap whole, to wrap after cutting, or to cut and eat at home), foil line the width of the pan allowing for a little overhang (for easy lifting later) and spray with non-stick spray.

In a medium bowl, whisk together the flour, cocoa, baking powder, salt and espresso powder. Set aside.

In the bowl of an electric mixer, combine the shortening, sugar, and eggs. Beat until light in color and fluffy (about 3 minutes).

Gradually add in the flour mixture, until combined.

Stir in the white chips and mini kisses.

Scoop the batter into the prepared pan (it will be thick), using a spatula or spoon to even out the batter into the entire pan and smooth the surface.

Place halved Hugs in any design you wish on surface of brownie batter. (No need to press. The batter will rise around the Hug as it bakes.)

Bake for 25-30 minutes. The toothpick test doesn't work very well because of all of the melting chocolate chips. If the top is firm after 25 minutes, take it out. (Mine baked for 28 minutes). Cool completely in the pan.

To remove the brownies from the pan for cutting, slide a knife around the pan edges that are not covered in foil then lift the over hanging foil.

Store brownies at room temperature in an airtight container or zip lock bag for at least 2 weeks.
Notes
Packing tips
If using a disposable pan, make sure to cool completely before wrapping the pan in foil then in plastic wrap. Cut brownies can be double wrapped in plastic or wrapped in foil then plastic before storing in an airtight container or zip lock bag.
Nutrition
Calories:
209
kcal
|
Carbohydrates:
28
g
|
Protein:
2
g
|
Fat:
11
g
|
Saturated Fat:
4
g
|
Cholesterol:
35
mg
|
Sodium:
91
mg
|
Potassium:
105
mg
|
Fiber:
1
g
|
Sugar:
25
g
|
Vitamin A:
50
IU
|
Vitamin C:
1
mg
|
Calcium:
34
mg
|
Iron:
1
mg