Craving Starbuck's seasonal winter flavors out of season? Barista Brownie Cookies deliver all the flavor you are dreaming of in chewy, chocolate, cookie form!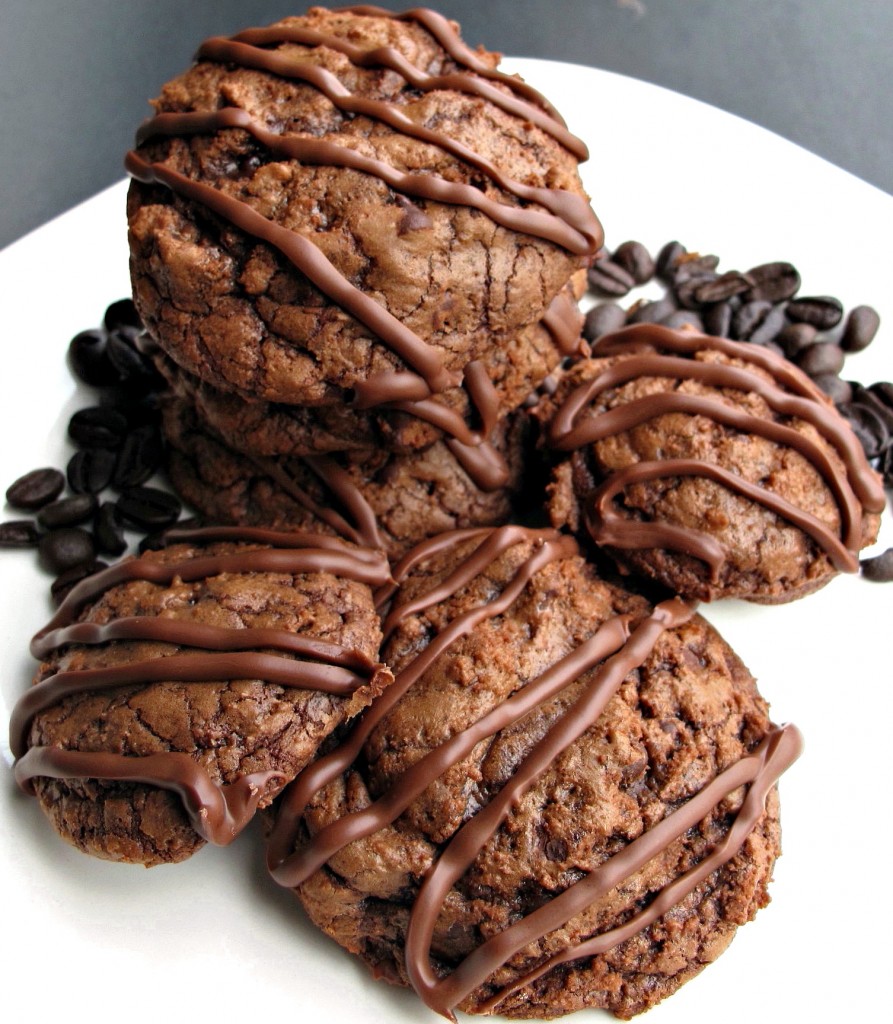 My son spent his college winter break in Israel. The trip was organized to coincide with his break from classes. That was good timing. It was also scheduled (very coincidentally) with the period of time in which Starbucks promotes their peppermint beverages. This saddened my son, who loves their peppermint beverages, but not enough to make him stay home. That was a good decision. Upon his return through JFK airport in New York, he happily discovered that he had been misinformed about Starbucks, and that the promotion was still going on.  Jet lagged, but with a grande non-fat peppermint latte in hand, he maneuvered the  subsequent flight delays, ticket changes, mad dash to a different airport, sprint through security, and finally a safe flight home. A success due, no doubt, to the peppermint latte.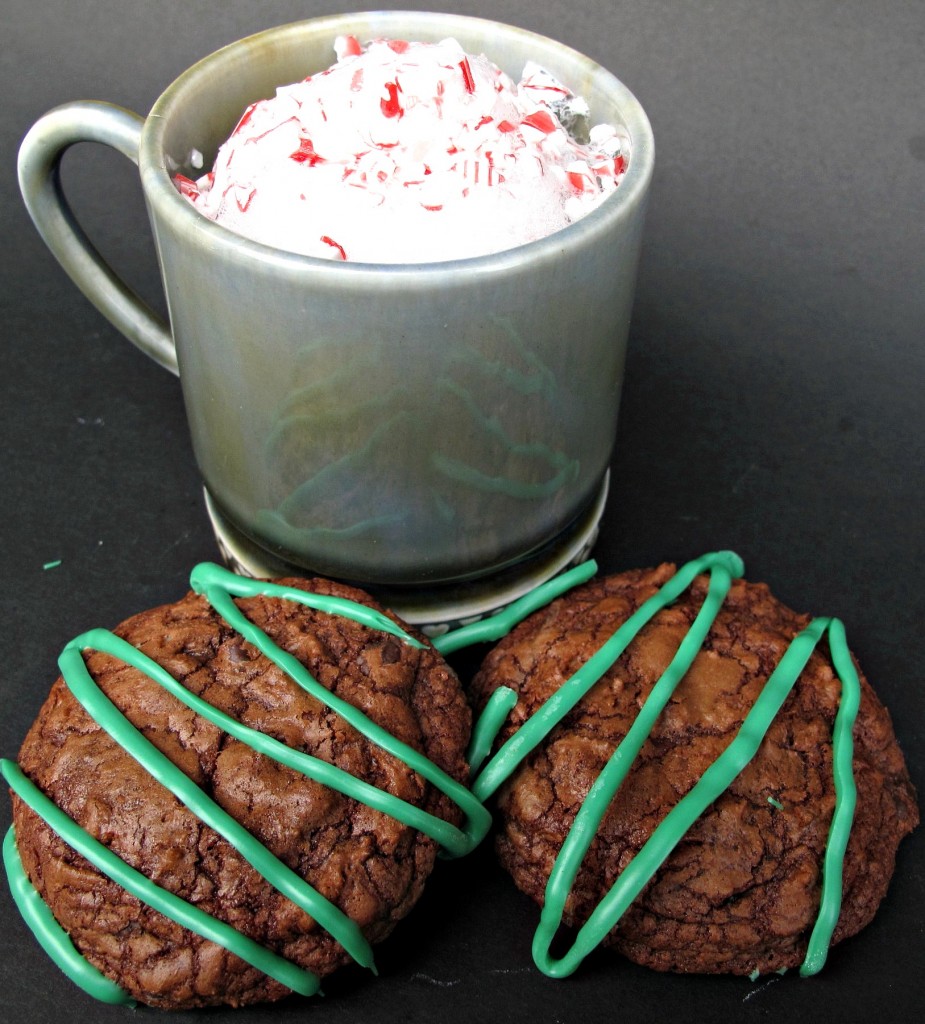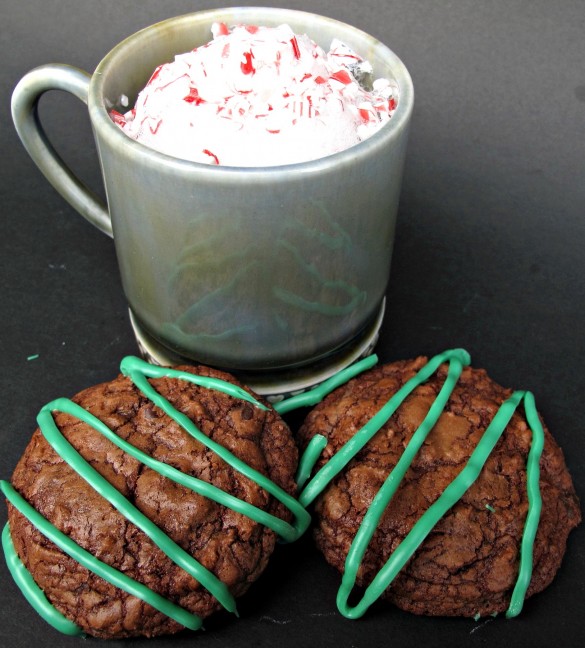 Those of us who are caffeine addicted, have favorite ways of consuming our caffeinated beverage. If you are uncomplicated (coffee with or without cream/milk/sugar) or make your own drink at home, life is simple. However, if you even occasionally order your drink in a coffee shop, you should learn how to talk to a barista. Baristas are talented multi-taskers with a language all their own. There are actually web sites dedicated to this subject. I'm not kidding. Just Google it.  There are literally billions of possible variations on drink orders.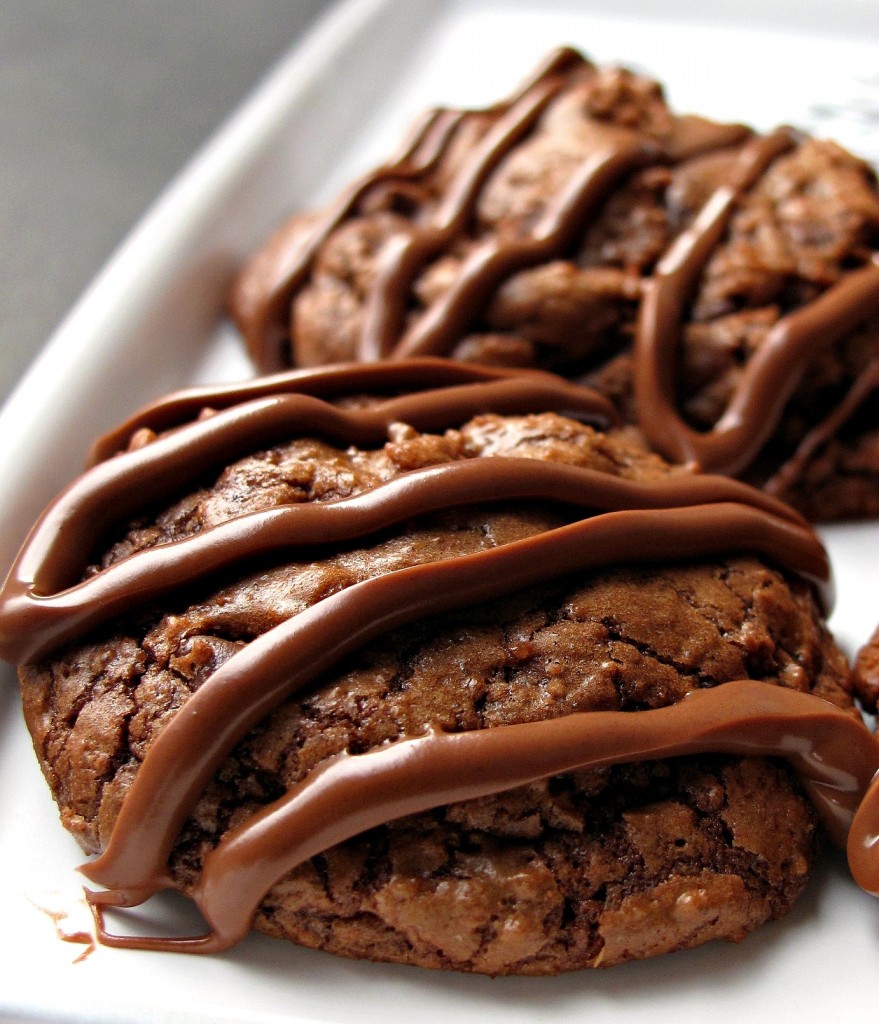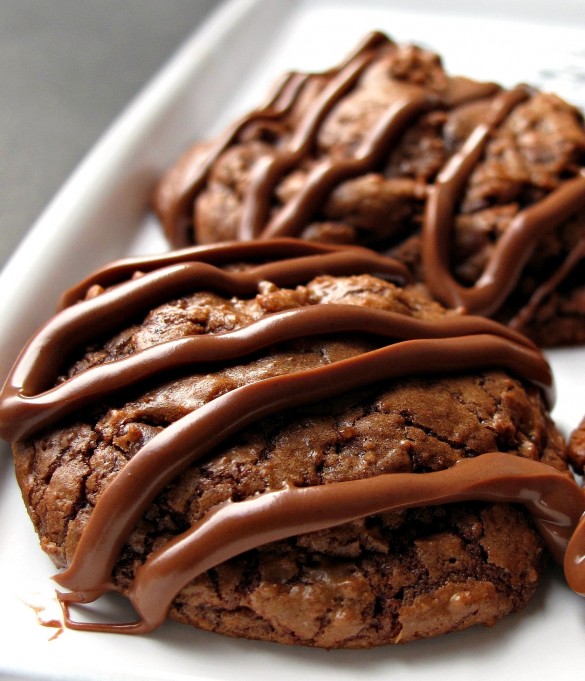 This Barista Brownie Cookie recipe enables you to channel your inner barista to create your own favorite chocolaty  beverage in cookie form. I don't know about billions of variations, but there are lots; from just gooey chocolate deliciousness to espresso kissed or peppermint laced. Just vary the flavoring and chips.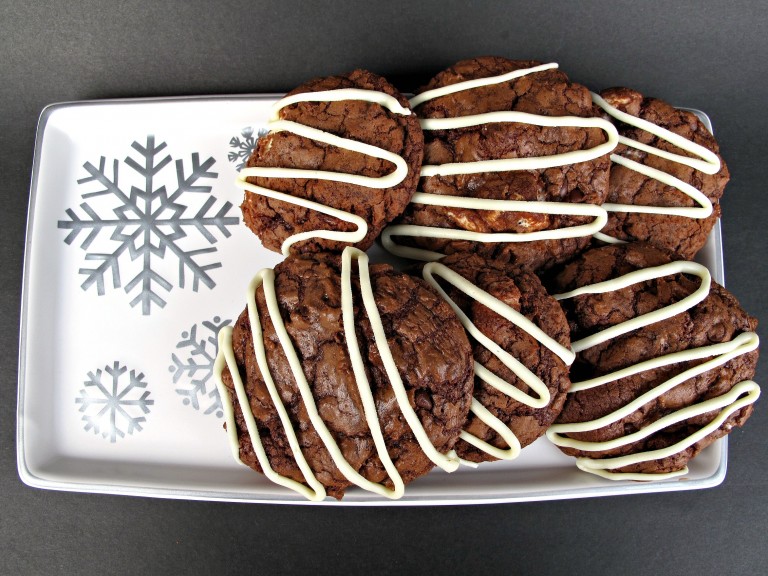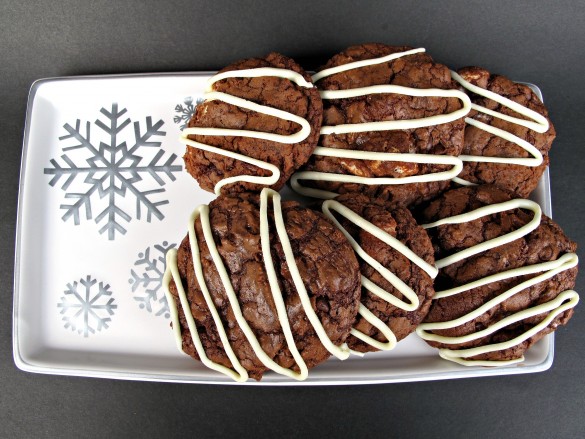 Using the basic recipe creates a Hot Chocolate Barista Brownie Cookie. I added mini marshmallows for authenticity, though it made the cookies kind of lumpy.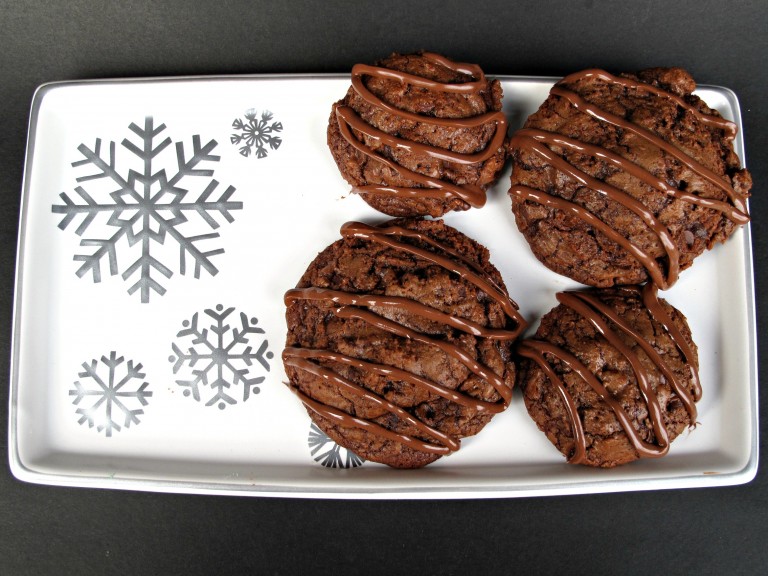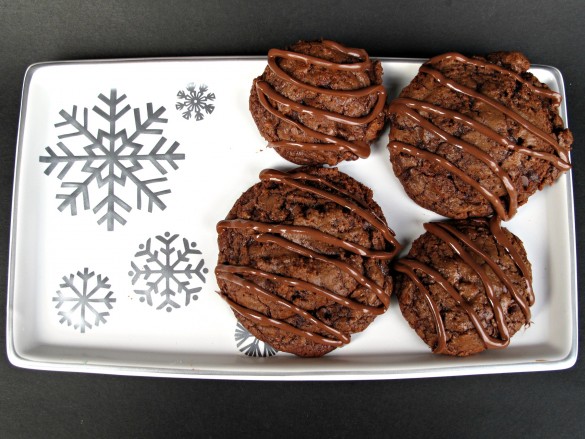 Upping the coffee flavor with espresso powder creates Espresso Mocha Barista Brownie Cookies.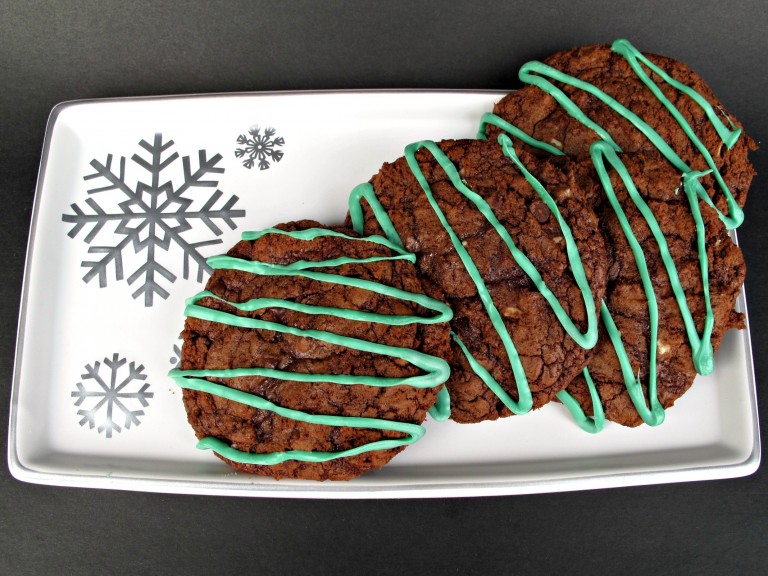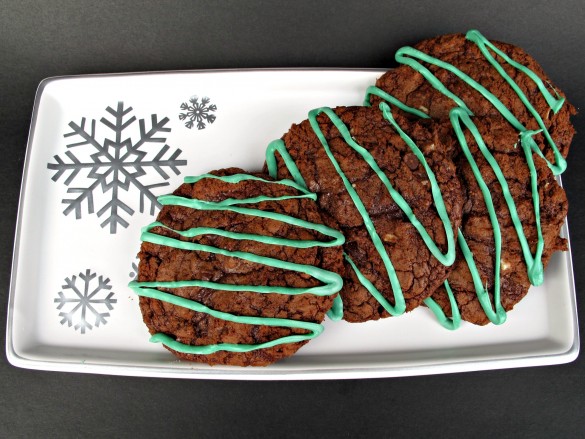 And for my son, some peppermint extract and Andie's peppermint baking chips (or any chopped up chocolate mint candies) provides year round Peppermint Espresso Barista Brownie Cookies.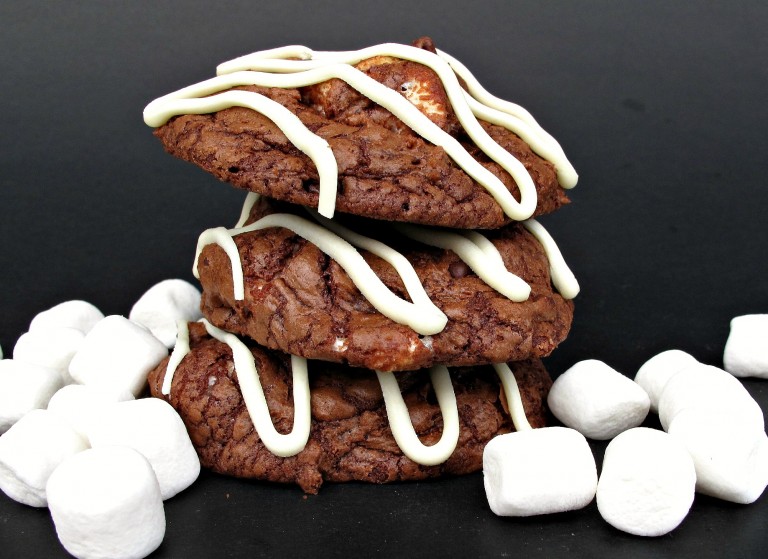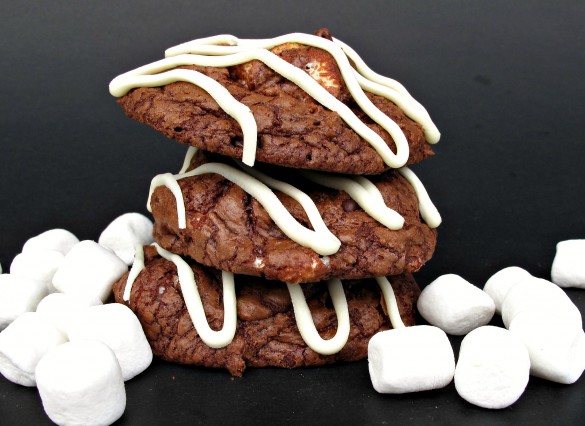 Because I was making all three kinds at once, I drizzled a little melted mint, milk, or white chocolate over the cookies to be able to tell them apart. This looks pretty but it really isn't necessary for these chewy, sweet brownie bites. Also, I use mini chocolate chips in the cookies because I like a more even distribution of chips. Regular size or chunks won't give you the even distribution but will make up for that with pockets of gooey chocolate. Barista's choice.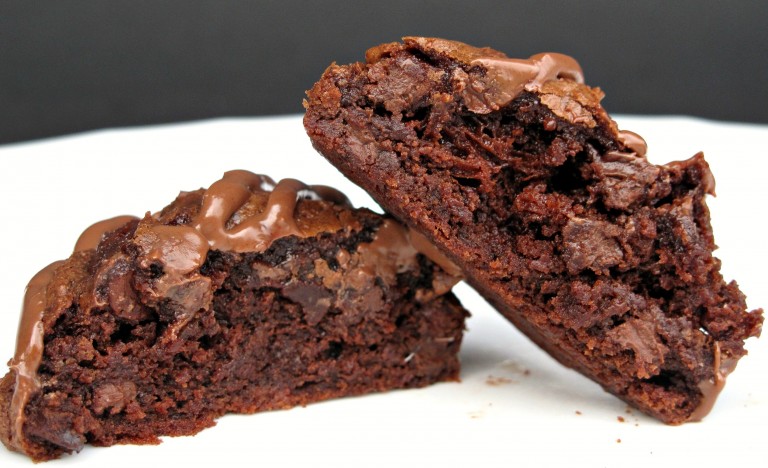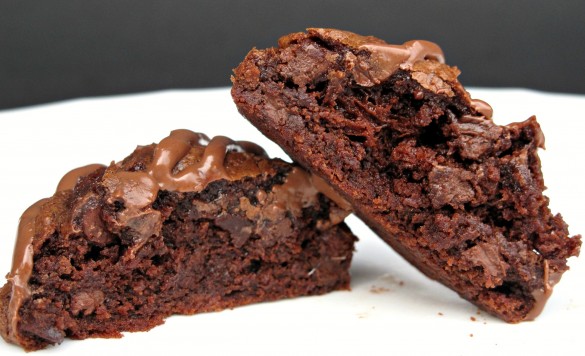 Barista Brownie Cookies will stay soft for up to 5 days, especially if stored with a slice of bread. This is a tip I've learned from people who send military care packages that can take weeks to arrive. Placing a slice of white bread on the top of a storage container or zip lock bag (separated from the cookies with a piece of wax paper) will help keep moist cookies moist. The bread dehydrates and the cookies maintain their fresh texture.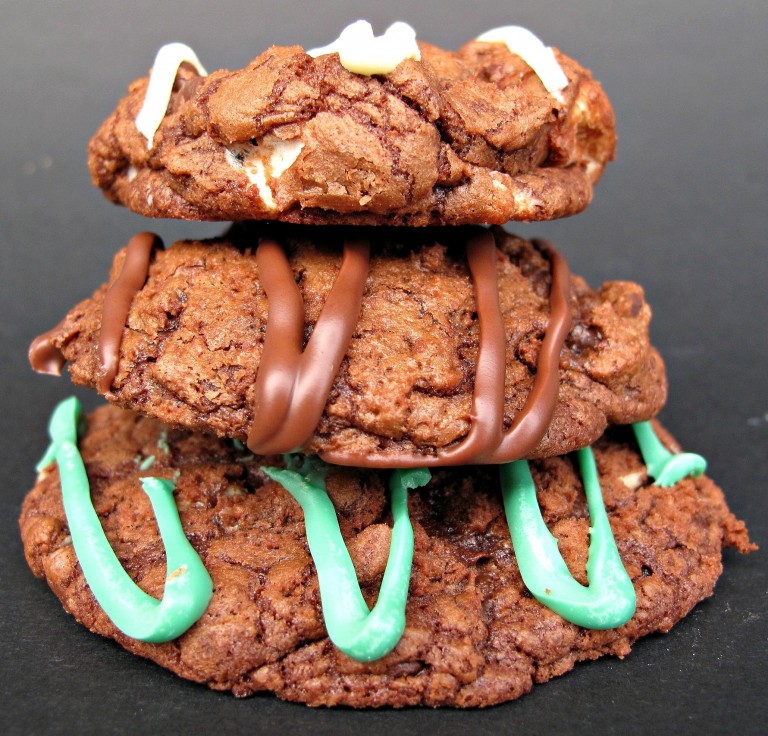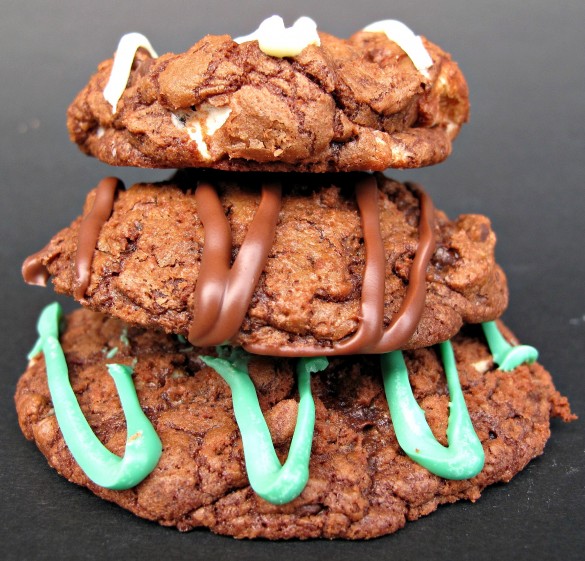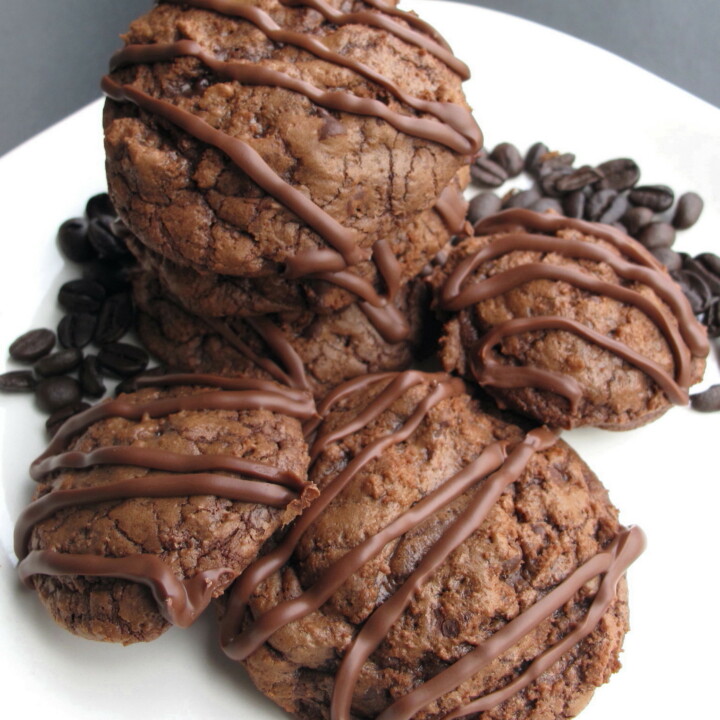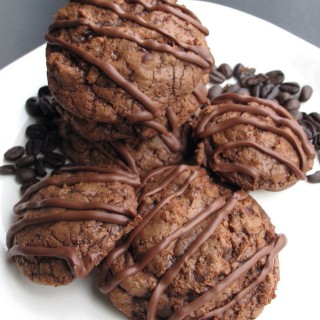 Barista Brownie Cookies
Coffee shop flavor in chewy, chocolate, cookie form!
Print
Rate
Adapted From:
JustATaste.com and Gourmet Magazine
Ingredients
3

ounces

unsweetened chocolate

broken into small pieces

1

cups

semisweet chocolate chips

1

cup

mini chocolate chips

8

tablespoons

unsalted butter

cut into chunks

¾

cup

all-purpose flour

⅓

teaspoon

baking powder

I didn't have a ⅓ measure so I used a heaping ¼ teaspoon

¼

teaspoon

salt

3

large eggs

1

cup

+ 2 tablespoons granulated sugar

1

teaspoon

espresso powder

VARIATIONS:

Hot Chocolate Brownie Cookies: Use only ½ cup of mini chips or white chocolate chips

for a creamy flavor and 1 cup of mini marshmallows. The 1 teaspoon of espresso powder only enhances the chocolate flavor and can't be tasted in the cookies.

Peppermint Espresso Brownie Cookies: add ½ teaspoon peppermint extract when adding the melted chocolate to the batter

use ½ cup Andie's mint baking chips and ½ cup mini chips. The teaspoon of espresso powder only enhances the chocolate flavor and can't be tasted in the cookies.
Instructions
Preheat oven to 350 degrees F. Line a baking sheet with parchment paper.

Place unsweetened chocolate, 1 cup of semisweet chips, and butter in a medium microwave safe bowl. Heat for 30 second intervals, stirring after each 30 seconds, until melted. Set aside.

In a medium bowl whisk together flour, baking powder, and salt.

In the bowl of an electric mixer, beat eggs, sugar, and espresso powder at high speed for 3-6 minutes, until very thick.

Beat in the melted chocolate.

Stir in the flour mixture just until combined.

Fold in additional 1 cup of semisweet chips. ( See below for barista variations)

Refrigerate for about 15 minutes until batter is firm enough to scoop.

Use large (2 tablespoon) cookie scoop (recommended) for 2"-3" diameter cookies or small scoop (1 tablespoon) for 1 ½ "-2" diameter cookies. (Larger cookies stay soft longer and are recommended for mailing freshness). Place dough balls at least 2" apart on baking sheet.

Bake for 8-10 minutes until tops are cracked (like brownies) and puffed.

Cool for 3 minutes before transferring to wire cooling racks.

Store at room temperature in an air tight container for up to 5 days. For maintaining soft texture, place a slice of white bread at the top of the storage container. Separate the bread slice from the cookies (if they are not individually wrapped) with a sheet of wax paper.
Notes
Packing tips
Double wrap pairs of cookies in plastic wrap with bottoms together. Store in an airtight container or ziplock bag.
Nutrition
Calories:
374
kcal
|
Carbohydrates:
43
g
|
Protein:
5
g
|
Fat:
22
g
|
Saturated Fat:
13
g
|
Trans Fat:
1
g
|
Cholesterol:
64
mg
|
Sodium:
91
mg
|
Potassium:
173
mg
|
Fiber:
3
g
|
Sugar:
32
g
|
Vitamin A:
334
IU
|
Vitamin C:
1
mg
|
Calcium:
50
mg
|
Iron:
3
mg