Soft, pillow-y Sparkling Lemon Pillow Cookies are packed with citrus sunshine. Their crunchy sugar exterior gives way to a melt-in-your-mouth interior! Enjoy a bite of sunshine at home or pack these desert-safe cookies up in a care package. These cookies are summer memories in the making!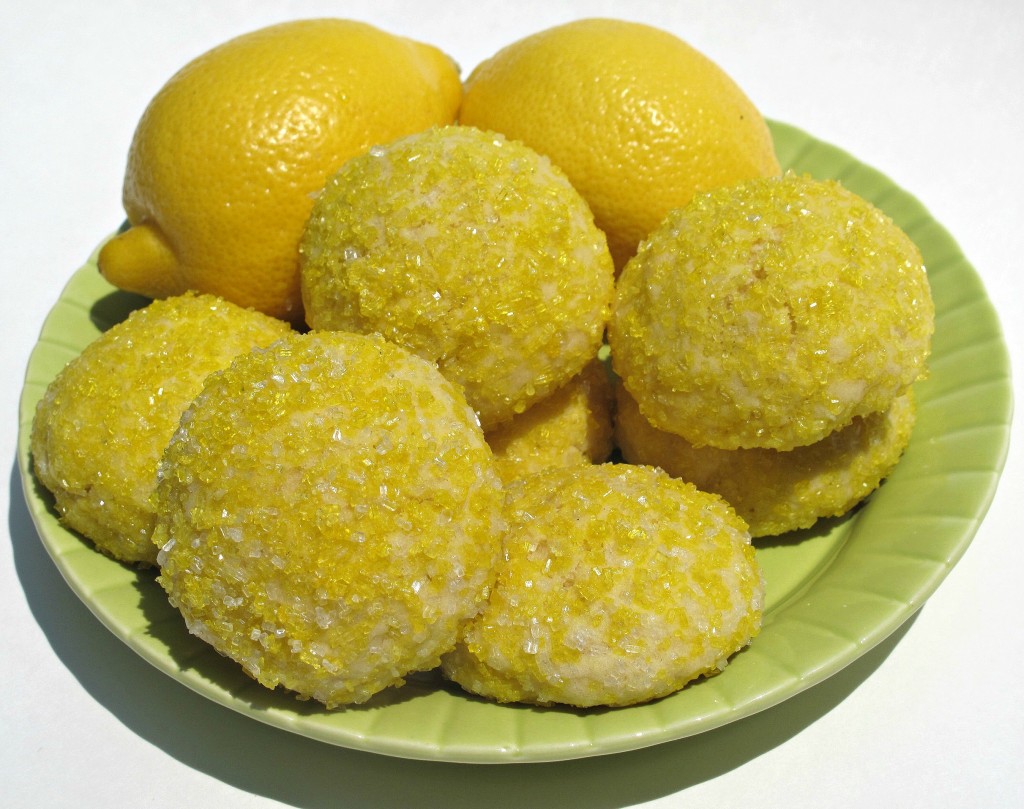 Parents have favorite stories about memorable moments in their children's lives. The stories are snippets of behavior or verbal expression that sometimes foreshadow the personality or talents of our children fully grown.
These stories are often repeated, much to the dismay/amusement/boredom of the "children", throughout their lives. I don't remember ever being angry at my parents' stories though I am sure I rolled my teenage eyes.
Most of the time, my daughter and son seem to view my stories about them as inside jokes, even bringing the stories into conversation themselves.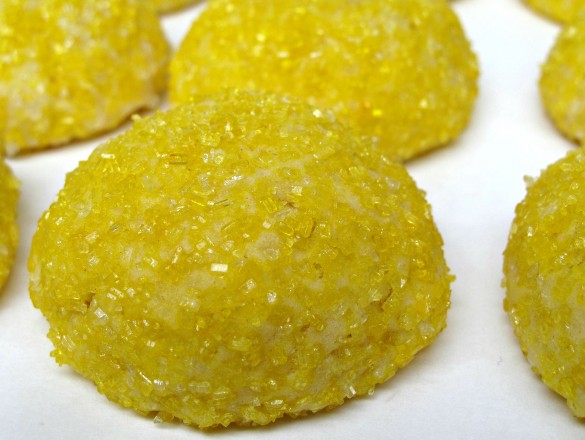 The childhood anecdotes my parents most often brought up about me, all attest to my independent, talkative nature (Some might say overdeveloped talkative nature, but not my parents!) starting at a very young age.
Family legend records that, as a not yet 2 year old, I looked out of the back of a New York City public bus, and announced to the bus at large, "Look at that yellow Volkswagon!" Yes, it appears I was verbally precocious, at least when it came to identifying colorful German automobiles.
According to my parents (I was their first child, so these details were noted) one of my first words was, "self". When adults would try to assist my toddler attempts, I am purported to have rejected assistance, insisting to do the activity "self". I will admit that even now, I do have a bit of an independent (a.k.a . stubborn) streak.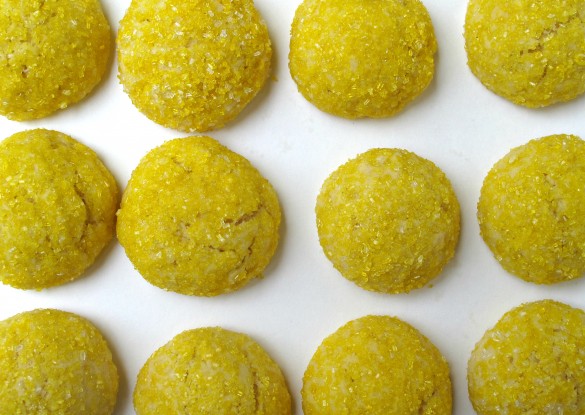 Stubborn can be a useful trait when baking. Some might call it obsessively stubborn to spend days thinking about and reworking a recipe that isn't producing the desired results.
I think stubborn is a negative name for determined. An experienced or trained baker doesn't need to invest many brain cells in this process. I am neither experienced nor trained. Luckily, I really enjoy playing with flour.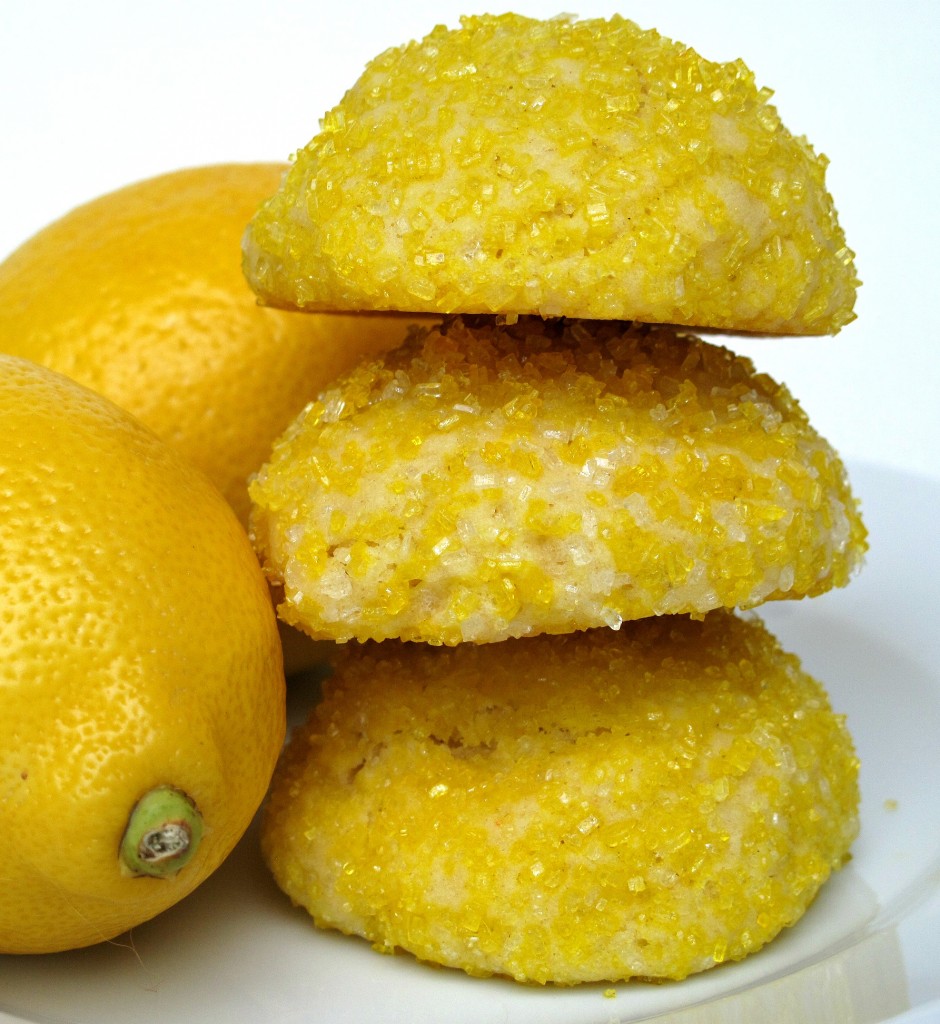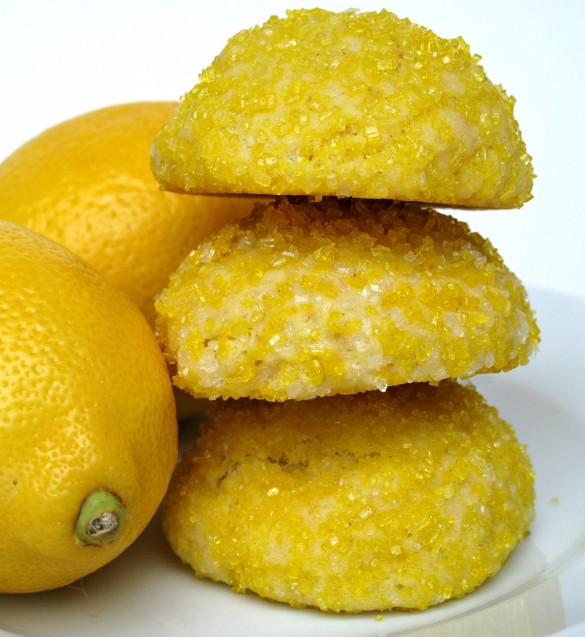 This recipe for Sparkling Lemon Pillow Cookies required my stubborn/determined mind set. This is a lovely soft, pillow-y, cakey cookie. It can be made delicately lemon flavored with extract or boldly lemon flavored with juice and zest. Both versions have a crunchy sugar exterior and a melt-in-your-mouth soft interior.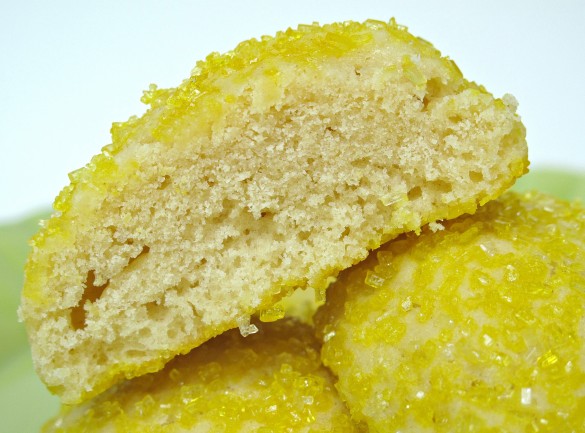 The internet is full of similar lemon cookie recipes (commonly called Italian Lemon Cookies or Lemon Drop Cookies). I baked three of them before stubbornly/determinedly developing my own.
In general, the recipes all produce a cakey lemon cookie with varying degrees of moist texture and lemon zing. To meet my Monday Box summer goal of all desert safe recipes, I was looking for a recipe in which vegetable shortening (Crisco) was the best choice, not just an acceptable substitution.
Also, I personally prefer my lemon cookies with lots of fresh lemony zing. Not being confident in the desert safe qualities of lemon juice and zest, I at least wanted a cookie that was definitely a lemon cookie even if the lemon came from extract.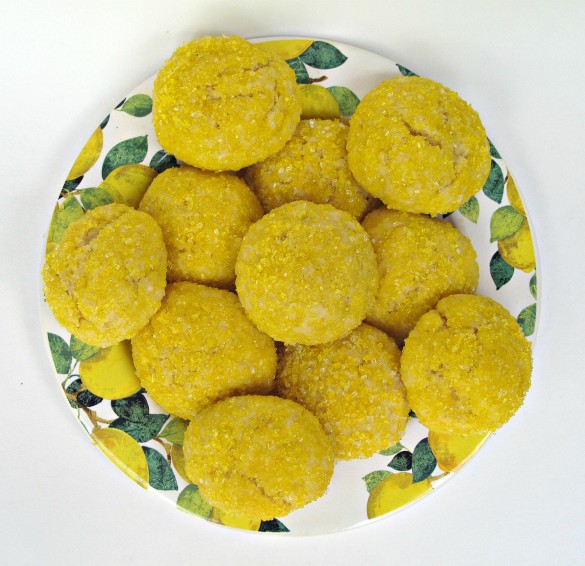 One of my failed attempts at upping the lemon flavor involved crushing lemon drop candies and using them as a coating on top of a confectioners sugar glaze. Don't do it unless you plan to eat these cookies immediately.
The flavor and crunch seemed great. I was excited. But within 2 hours, the crushed candy absorbed moisture from somewhere (humidity in the air or the frosting) and turned into a sticky wet mess. So I went with the large crystal colored sugar. No added lemon flavor, but a pretty, long lasting, crunchy coating.
Out of yellow sugar? Make it yourself in seconds! This post on the blog, Just Helen, has changed my colored sprinkles/sugar future! Knowing I can make any color myself, as needed, is like handing me a baking rainbow.

Stored in an airtight container at room temperature, Sparkling Lemon Pillow Cookies (using lemon extract) stay fresh for at least 2 weeks. If using fresh lemon juice and zest, the storage time may be less, but the cookies will definitely stay fresh for at least 1 week.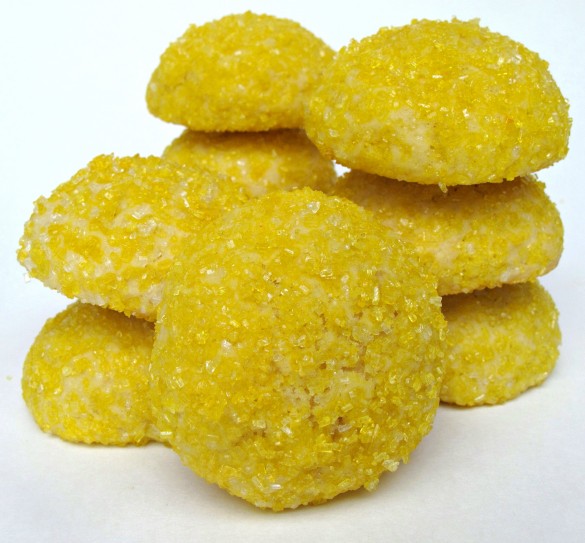 MORE LEMON COOKIES
Crunchy Lemon Poppy Seed Cookies
Lemon and Lime Butter Cookie Rosettes
Lemon Raspberry Thumbprint Cookies
Lemon Sugar Cookie Lemon Slices
Read more about desert safe ingredients for hot weather shipping and choose something to bake from the index of all of the desert safe recipes on The Monday Box!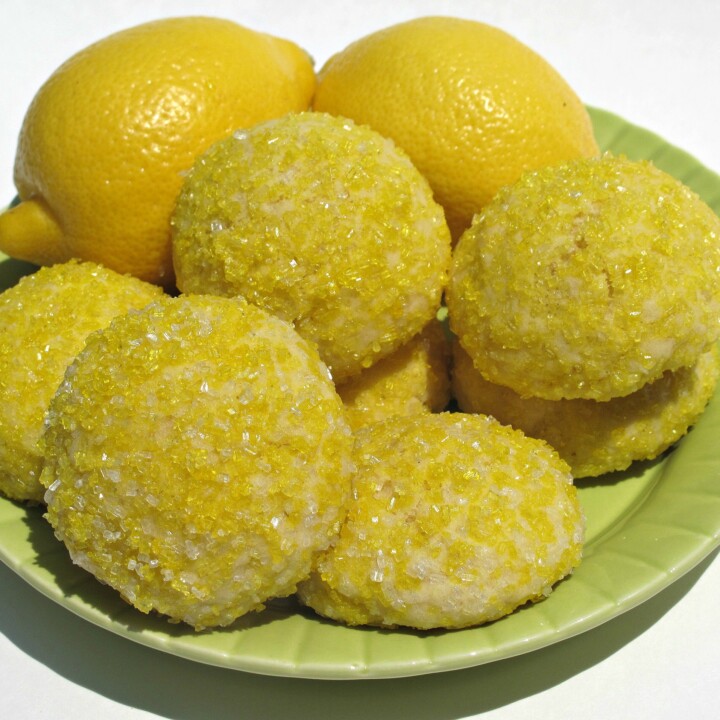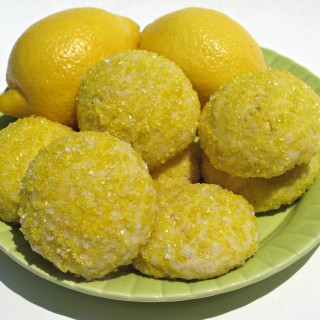 Sparkling Lemon Pillow Cookies
These soft, pillowy cookies are packed with luscious lemon flavor. Crunchy sugar on the outside and melt-in-your-mouth cookie on the inside.
Print
Rate
Ingredients
2

cups

all-purpose flour

2 ¼

teaspoons

baking powder

½

teaspoon

baking soda

½

cup

butter-flavored vegetable shortening

Crisco

½

cup

granulated sugar

1

large egg

1

egg yolk

3

tablespoons

water

2

teaspoons

lemon extract

or juice and zest of ½ lemon

⅔

cup

Yellow large crystal decorating sugar
Instructions
Preheat oven to 350 degrees F. Line a baking sheet with parchment paper.

In a small bowl, microwave vegetable shortening until melted. Set aside to cool slightly.

In a medium bowl whisk together flour, baking powder, and baking soda.

In the bowl of an electric mixer, beat melted vegetable shortening and sugar until combined, about 2-3 minutes.

Mix in the egg and egg yolk, water, and lemon extract or lemon juice and zest.

Reduce speed of mixer and slowly add dry ingredients until just combined. Overmixing will produce a less tender cookie.

Scoop 1 tablespoon of dough. Roll into a ball. Roll the ball in yellow sugar.

Place coated dough balls 1" apart on prepared cookie sheet.

Bake for 10-12 minutes. Tops of cookies will not darken. Bottoms of cookies will have just begun to turn golden brown.

Cool on baking sheet for a few minutes before transferring to wire racks to cool completely.

These cookies are soft and cake-like. They will remain soft for at least 2 weeks if stored at room temperature in an airtight container.
Notes
Packing tips
Double wrap pairs of cookies, with bottoms together, in plastic wrap. Place in airtight containers or ziplock bags.
Nutrition
Calories:
119
kcal
|
Carbohydrates:
18
g
|
Protein:
1
g
|
Fat:
5
g
|
Saturated Fat:
1
g
|
Trans Fat:
1
g
|
Cholesterol:
15
mg
|
Sodium:
66
mg
|
Potassium:
15
mg
|
Fiber:
1
g
|
Sugar:
10
g
|
Vitamin A:
21
IU
|
Calcium:
26
mg
|
Iron:
1
mg
Indulge your lemon cravings with these citrus treats! Click on the photo for the recipe!
Looking for additional Italian cookies? Try these!
Save
Save