It's raining again in St. Louis. The colors outside are muted. The ground is wet and my puppy's paws are muddy.  With no rainbow in sight, I decided to bake one. I baked Rainbow Chip Blondies!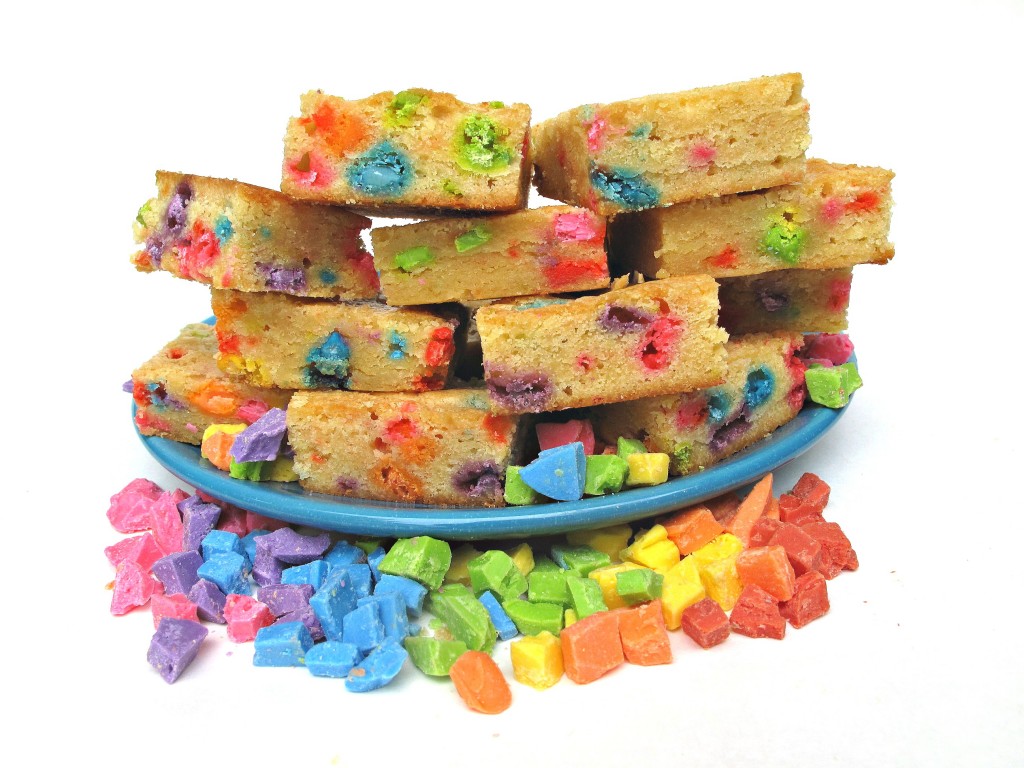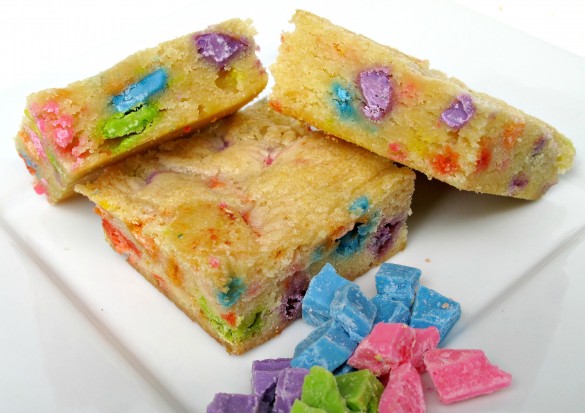 I promise that after this recipe I will give homemade colored chips a rest. Ever since I discovered that I could color white chocolate chips, they have been popping up as an ingredient in all of my recipes. Is there a difference between excited and obsessed?  First, I made my own pink chips. Then, I used melted green chips to make a swirly topping for brownie bites. Today, I give you a recipe for a rainbow.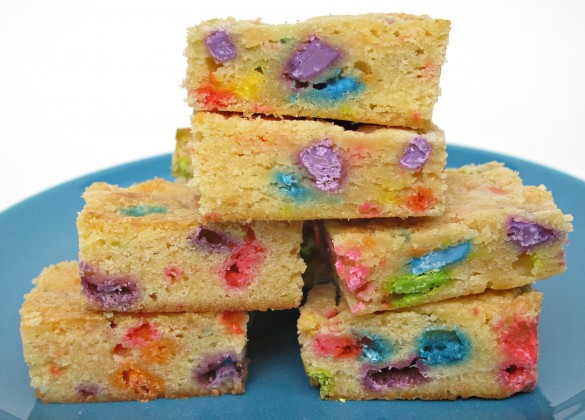 I wanted to dress up these golden blondies, but keep them desert safe. With frosting out of the question and add-ins limited, my thoughts went to chocolate chips, not your standard brown chocolate chips, but oodles of brightly colored white chocolate gems. I worried that not everyone has the time or the interest to pipe out their own colored chips, especially since I was thinking of chips in a variety of colors. That's when I came up with the idea of using brightly colored chocolate chunks instead.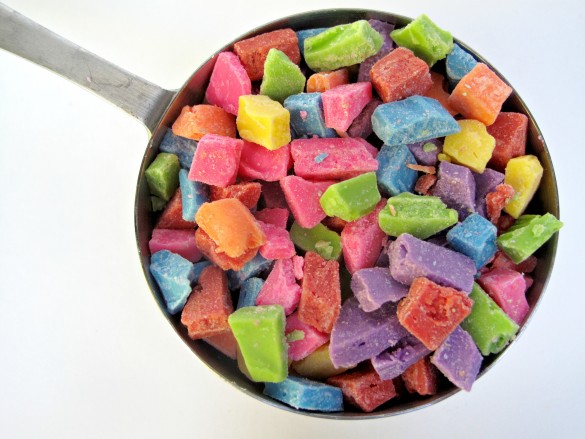 Technically, these blondies should be called Rainbow Chunks Blondies, but everyone would wonder what a rainbow chunk was. Rainbow Chips are readily understood and sound more appealing.  Creating colorful chocolate chunks is MUCH easier and quicker to make than piping individual chips. Once the chunks are baked into a bar or cookie, their original shape is unimportant.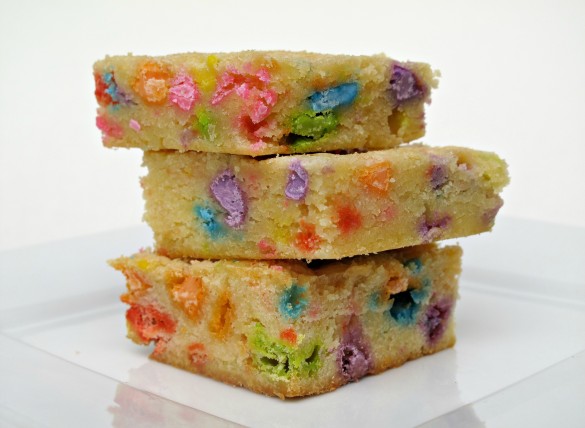 To make the colored bits, I melted ½ cup of white chocolate chips in the microwave, then mixed in a few drops of regular food coloring gel.  On a cookie sheet covered with parchment paper, I spread the colored chocolate into a small rectangle about ¼" thick. I made seven different colored rectangles (slight overkill in the color department), then put the cookie sheet into the freezer for 15 minutes, to allow the chocolate to set firmly. Once set, the rectangles can be chopped into chunks. This method gave me the colored morsels I needed for this recipe, with plenty of extra for future baking.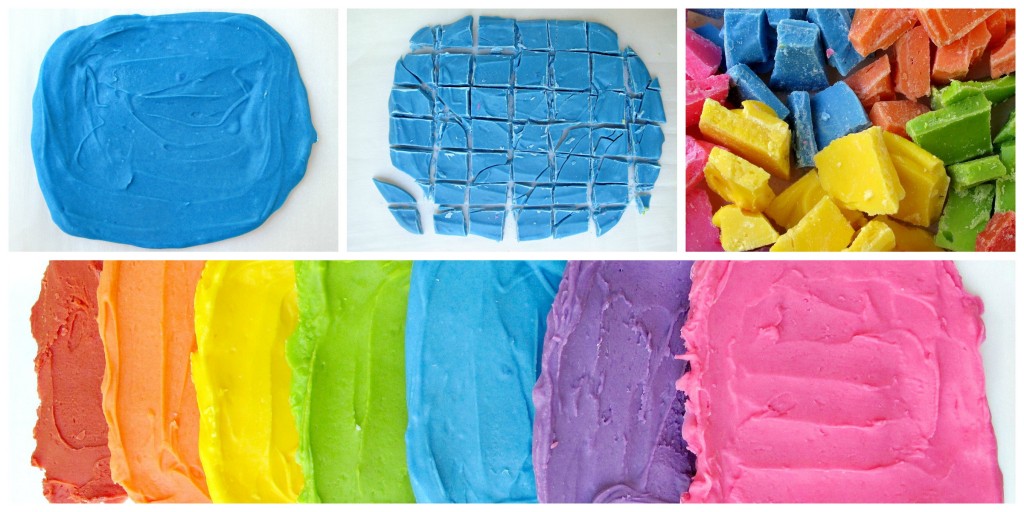 Everyone needs some cheerful color in their day. The rainbow in these sweet, chewy blondies is bake-able, mail-able cheer.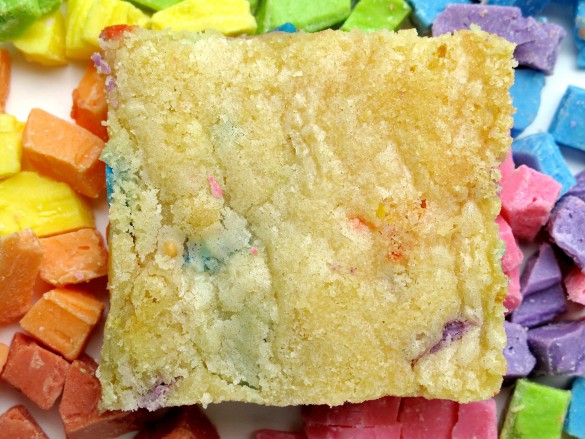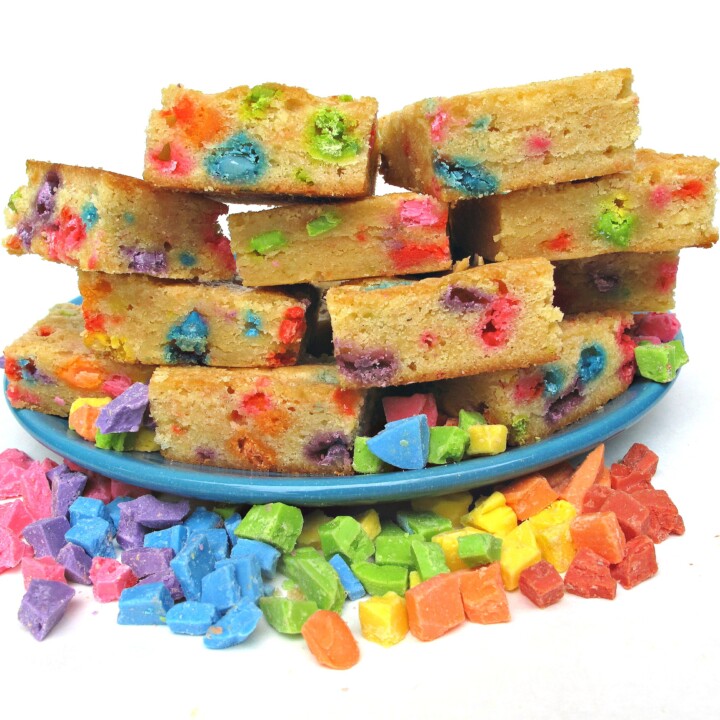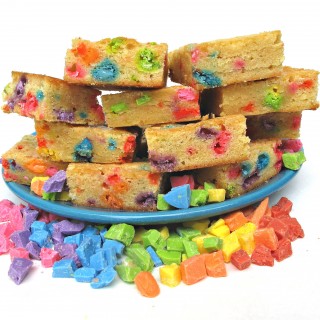 Rainbow Chip Blondies
These chewy, white chocolate blondies are filled with homemade rainbow colored chips.
Print
Rate
Adapted From:
Ghirardelli.com
Ingredients
Blondies
8

ounces

baking bars white chocolate

broken into chunks

½

cup

butter

or vegetable shortening

2

large eggs

⅓

cup

granulated sugar

1

tablespoon

vanilla extract

1 ¼

cup

all-purpose flour

½

teaspoon

salt

1

cup

rainbow chips

see directions for making rainbow chips
Rainbow Chips
½

cup

white chocolate chips for each color

Food coloring gel

***Desert safe adaptations: For desert safe baking use vegetable shortening.
Instructions
Rainbow Chips
In a small bowl, microwave ½ cup of white chocolate chips until just melted (about 1 minute on medium power).

Add 2-3 drops of food coloring gel and mix.

On a sheet of waxed paper or parchment, spread the colored chocolate, about ¼" thick , into a small rectangle about the size of a notecard (3"x5") .

Freeze or refrigerate the colored chocolate until firm, about 15 minutes.

Chop into chips.

Store in ziplock bags at room temperature or refrigerate until ready to use.
Blondies
Preheat oven to 350 degrees F. Butter or spray cooking oil onto 9"x9" brownie pan.

Place chocolate and butter/shortening in medium sized microwave safe bowl. Heat in microwave 1 minute. Stir. If not completely melted, return to microwave for 10 second intervals, stirring between heating, until completely melted and combined.

In bowl of electric mixer, beat eggs until foamy (about 3 minutes).

Mix in sugar, vanilla, and melted chocolate.

Add flour and salt and stir until incorporated.

Stir in rainbow chips.

Spread batter evenly into prepared pan.

Bake for 25 minutes, or until golden and toothpick inserted in center comes out clean. If mailing internationally, undercook by about 1 minute. (The extra moisture from undercooking will help keep the blondies soft while shipping)

Cool for 15-20 minutes in pan, then remove from pan to complete cooling on a wire rack.

Blondies can be stored in airtight container at room temperature for at least 2 weeks.
Notes
Packing tips
For 9"x9" pan blondies, wrap entire square of blondies (removed from pan or in disposable foil pan) in two layers of plastic wrap and insert into gallon zip lock bag.
For individual cut blondies, wrap each blondie in plastic wrap then place in an airtight container or zip lock bag.
Nutrition
Calories:
293
kcal
|
Carbohydrates:
31
g
|
Protein:
4
g
|
Fat:
17
g
|
Saturated Fat:
10
g
|
Trans Fat:
1
g
|
Cholesterol:
53
mg
|
Sodium:
133
mg
|
Potassium:
104
mg
|
Fiber:
1
g
|
Sugar:
21
g
|
Vitamin A:
284
IU
|
Vitamin C:
1
mg
|
Calcium:
61
mg
|
Iron:
1
mg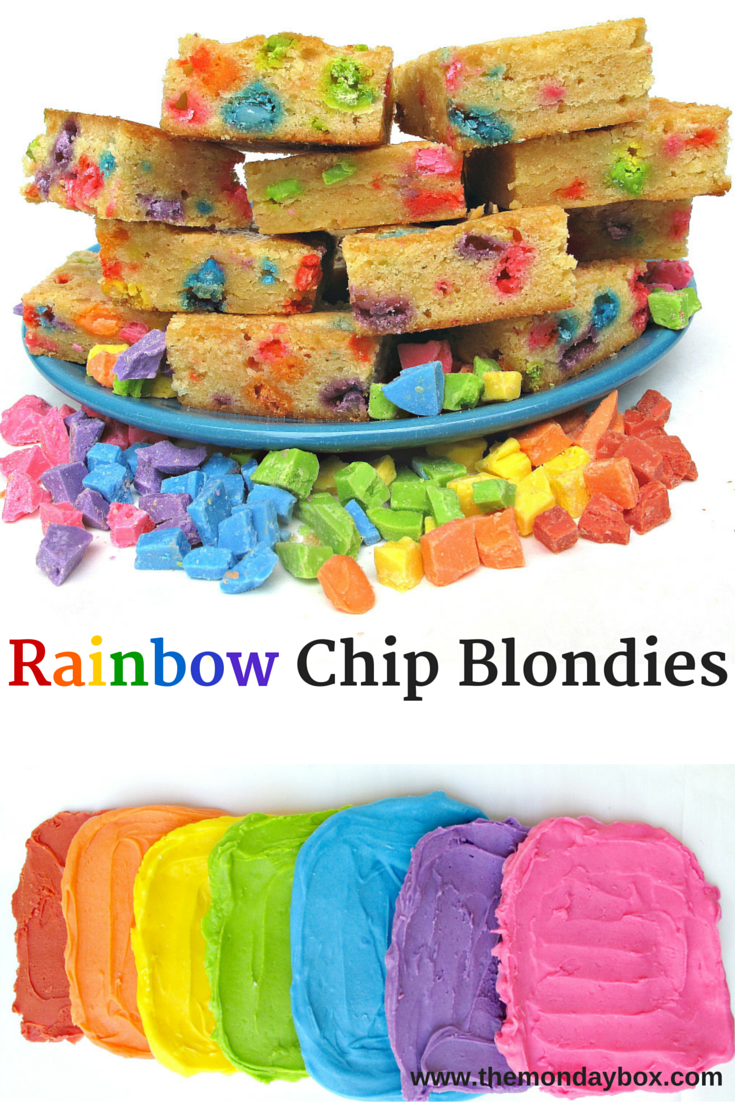 Blondies can be made in so many mouthwatering flavors! Click on the photo for some favorites!