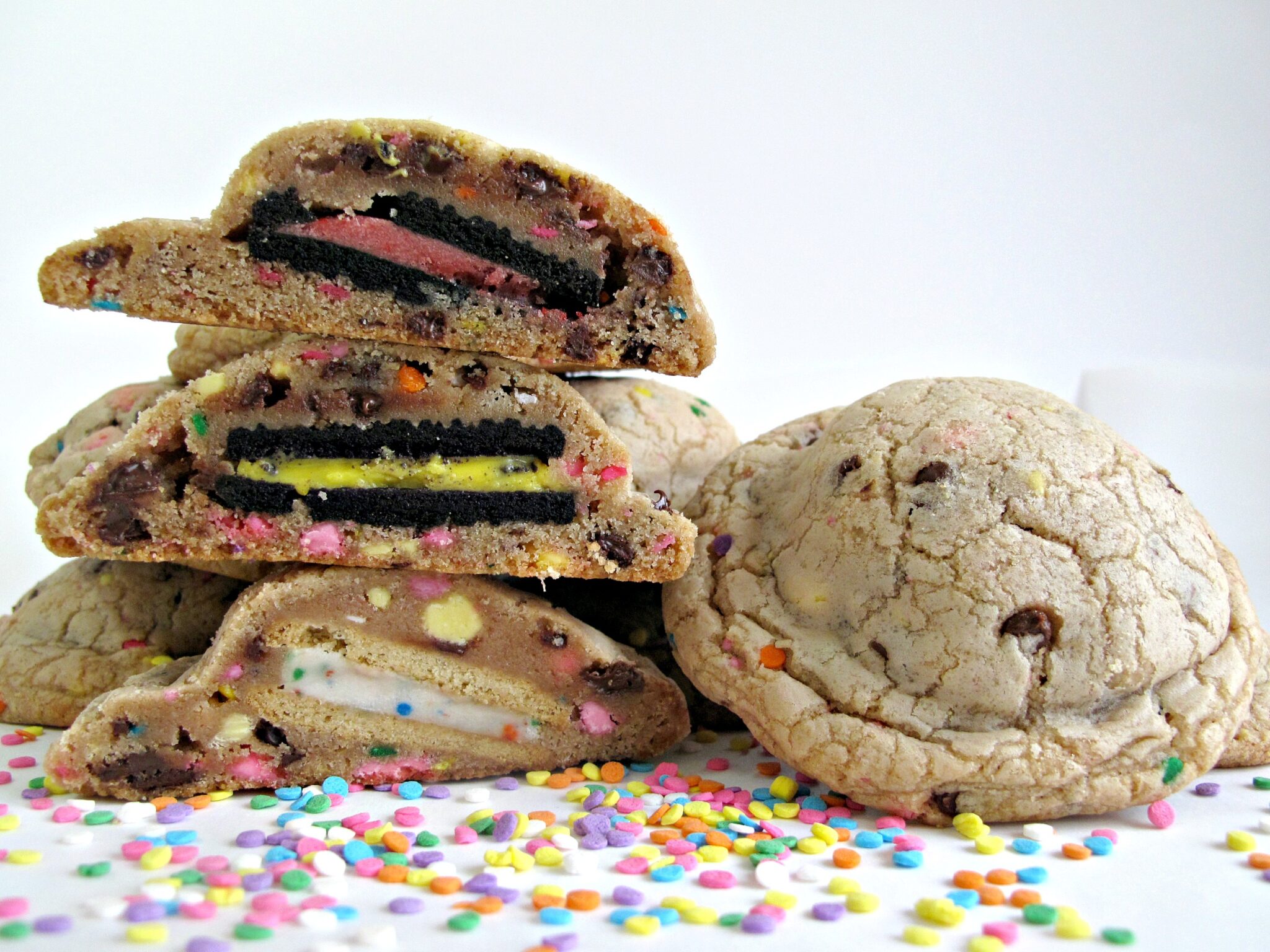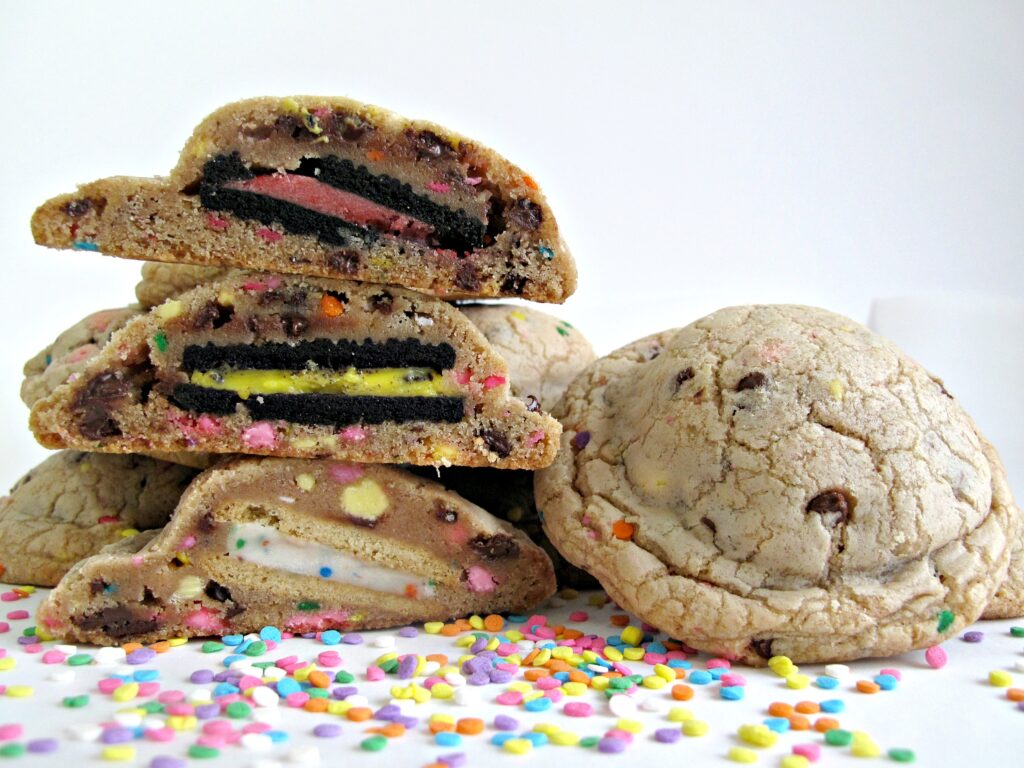 Military Care Package #2, a box crammed full of cookies, calories, smiles, thanks, and best wishes, is winging its way to Afghanistan as I write this. The first box reached Paratrooper Derik in just 8 days! Mail travel time to deployed military can take much longer. I have heard of shipments taking three or more weeks. All reports are that the International Monday Box arrived intact and accomplished its mission to provide thanks and a sweet taste of home.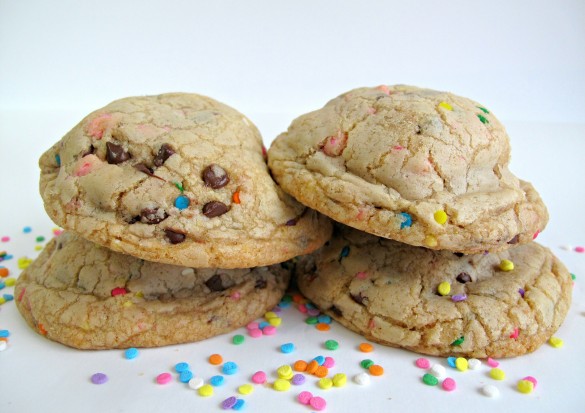 I send the military care packages in a large flat rate box from the post office. It's a deal. First, the post office provides you with the box. You can even order Military Care Kits from the post office that will be delivered to your door free of charge. The Care Kits include boxes, labels, customs forms, and packing tape! (Call 800-610-8734 to order) Large flat rate boxes to military addresses currently cost $15.45 to ship, a $2 discount off the domestic shipping rate. The care package contents are limited by the size of the box, but I use my ancient Tetris skills to squeeze in as many cookies as possible.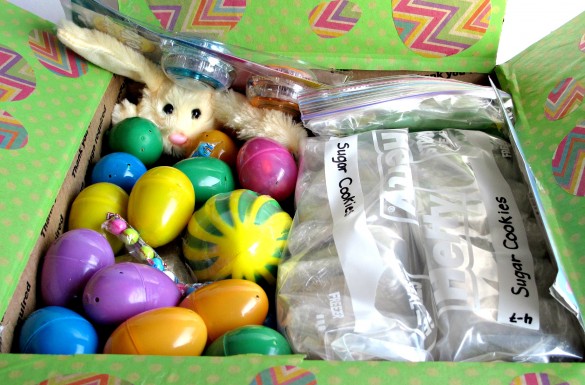 Part 1 Care Package Contents: I went with a holiday theme again for Care Package #2. This was the first Easter basket/care package this Jewish girl has ever created. I had fun. The quantity and variety of chocolate in the Easter aisle at Target is staggering. Too many choices, too little space in the flat rate box! Eventually I made my selections. Warm weather precautions for shipping to Afghanistan begin in May, so I didn't stick to desert-safe rules for this box. Ten brightly colored plastic eggs were filled with wrapped Jolly Ranchers (hard fruit candy), foil covered mini chocolate eggs, and cellophane strips of Sixlets (tiny candy coated chocolate balls). Just for fun, I also included packs of gum, Easter/spring decorations, yoyos, a small foam football, and a light up bouncing ball.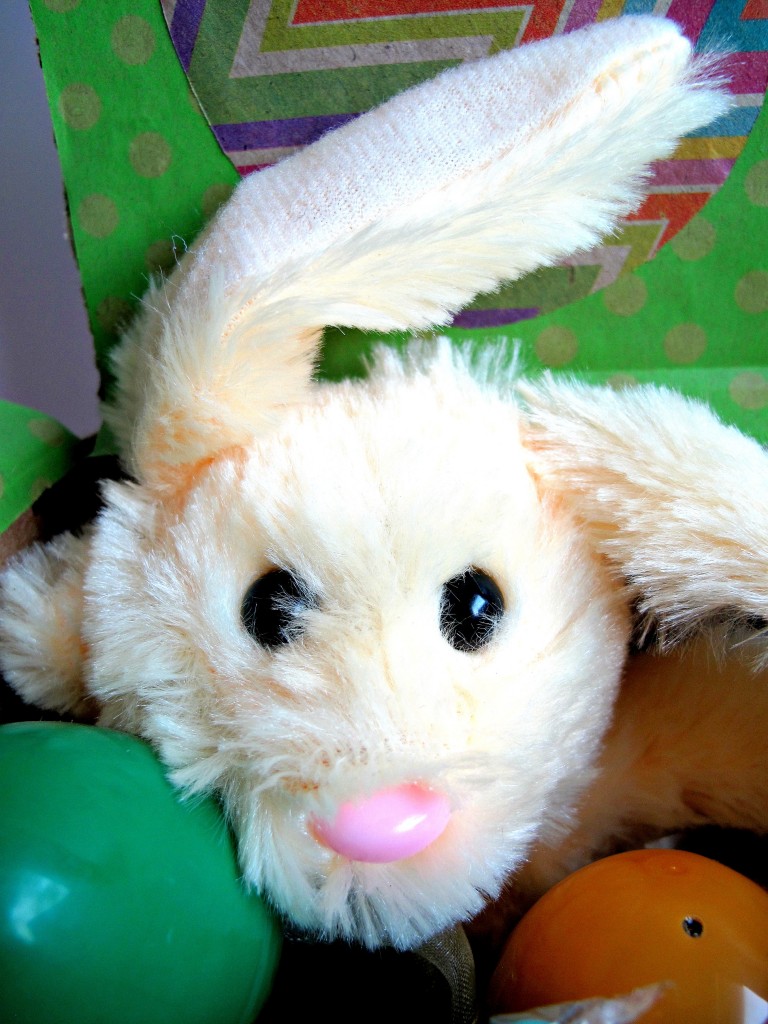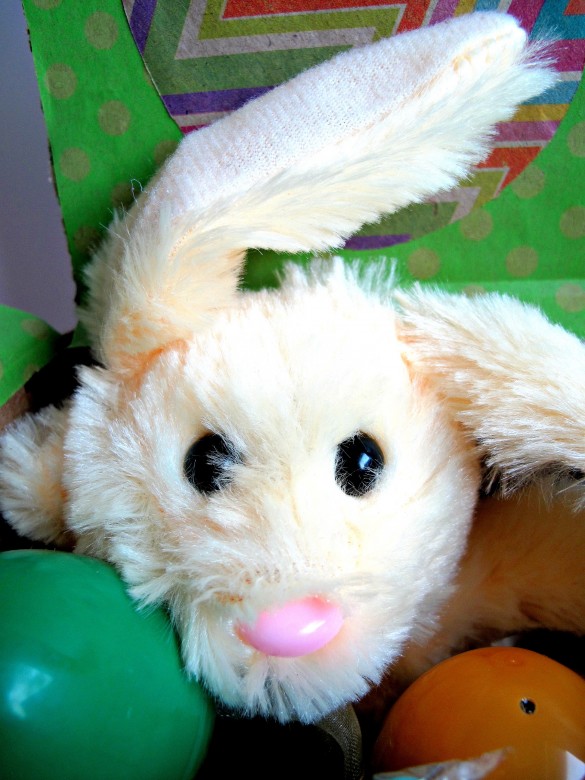 Yes, that is a little stuffed rabbit peeking out from under the yoyos. Yes, I am aware that sending a wee fuzzy bunny to a big, burly Paratrooper may seem odd, but I included the little guy based on the extensive experience of Operation Gratitude, who recently mailed their one millionth military care package. They include a small stuffed animal in every box. Recipients have used the toys as mascots, good luck charms, gifts to local children, and as gifts to their own children when they return home. Also, my research indicates that there has to be an Easter Bunny to deliver this Easter basket/care package.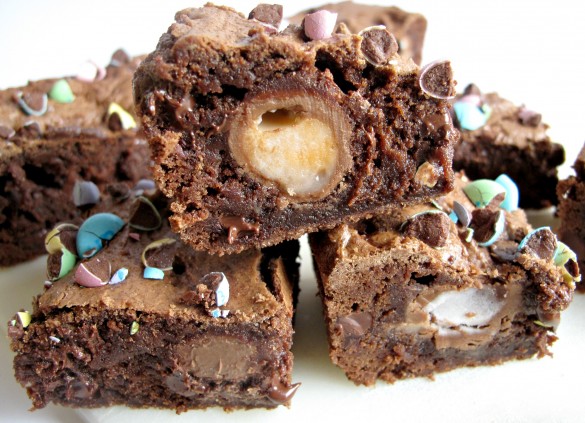 Hidden from view, under all of those cookies, is an uncut pan of Cadbury Crème Eggs Stuffed Brownies. I used the desert-safe recipe for Hugs and Kisses Brownies with two Easter candy adaptations. After spreading half of the batter into an 8" x 8" foil pan, I placed 16 (unwrapped) Cadbury Crème mini eggs on top. The remaining batter was spread on top of the chocolate eggs.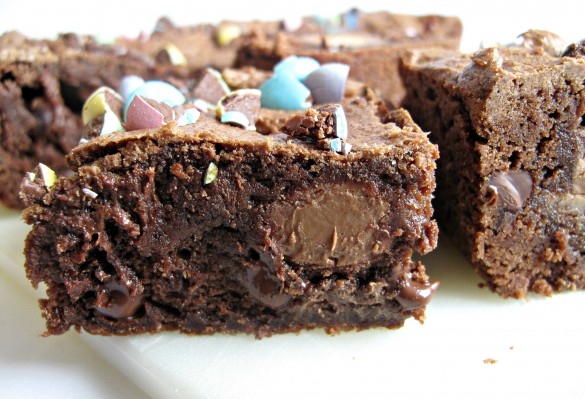 Just for color appeal (and because the Target candy aisle proved irresistible) I sprinkled chopped Easter m&m's over the batter before baking.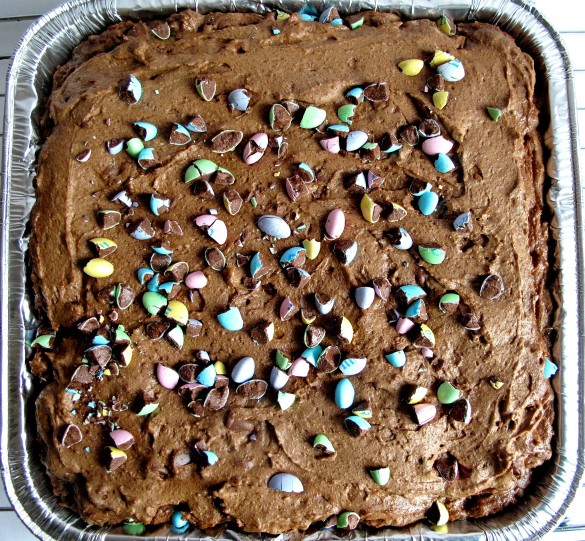 Part 2 Circle Sugar Cookies: I tried to follow my own advice to keep the decorating simple and easy. I think I accomplished that, but then blew it on time saving when I chose to do two different designs. In my defense, as I mentioned, this was my first time playing with Easter themes, and there were too many adorable possibilities on Pinterest to choose just one. Both the bunny and the chick designs are easy enough for decorating beginners.

I used the vanilla and chocolate sugar cookie recipes from Lilaloa (one batch each) and faux royal icing from Bakingdom (one batch for each design). (The same sugar cookies I used for my Birthday Cake Cookies and Snowmen.) Each design used one main color and one accent color. The cookies are outlined, then flooded in the main color. I used black confetti sprinkles for the eyes and pink heart sprinkles for the bunny noses. The sprinkles should be added while the icing is wet (easier) or can be glued on with a tiny dab of icing if you forget (voice of experience). Allow the icing to dry completely, preferably overnight, before piping on the chick wings/feet/beak or the bunny ears.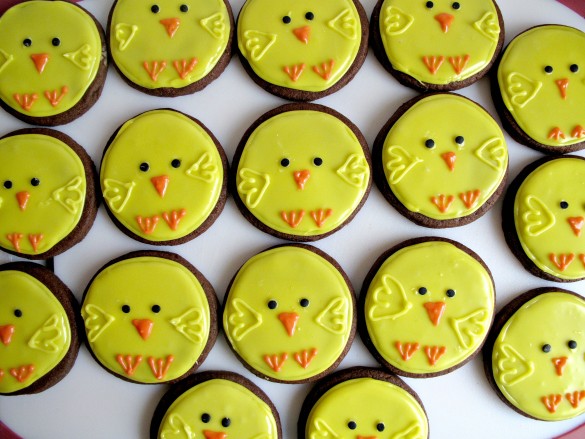 Full disclosure: I meant to add a white bunny tail and totally forgot. Luckily, the cookies taste great even without a tail. Make sure to allow plenty of drying time before wrapping. I double wrapped pairs of cookies, with bottoms together, in plastic wrap, then placed the bundles in a column, in a large, freezer weight ziplock bag.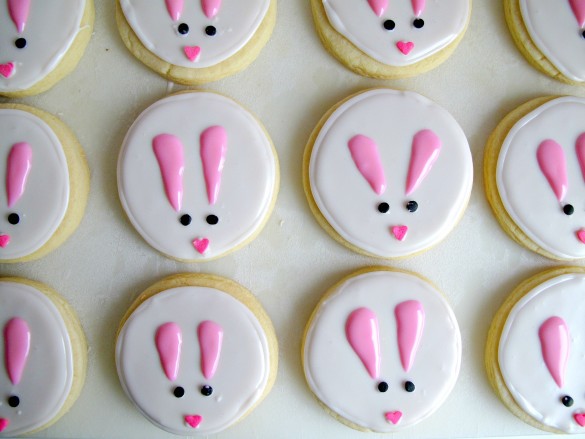 Part 3 New Recipe: Oreo Stuffed Chocolate Chip Cookies, the wondrous creation of Picky Palate, are as amazing to eat as they are to look at! These are enormous chewy-crunchy three- in-one cookies. An Oreo is sandwiched between two scoops of chocolate chip cookie dough.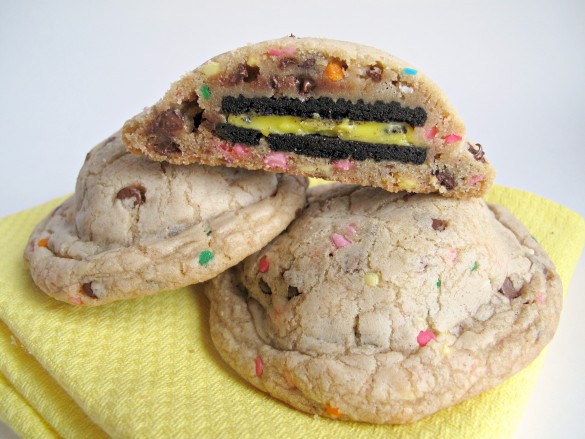 For diverse color and because I tend to over-do, I used Birthday Cake Oreos (white funfetti cream), Raspberry Oreos( pink cream), and Spring Edition Oreos (yellow cream). For additional Easter flair, I added some pink and yellow Nestle's Spring Edition chips and a few tablespoons of confetti sprinkles.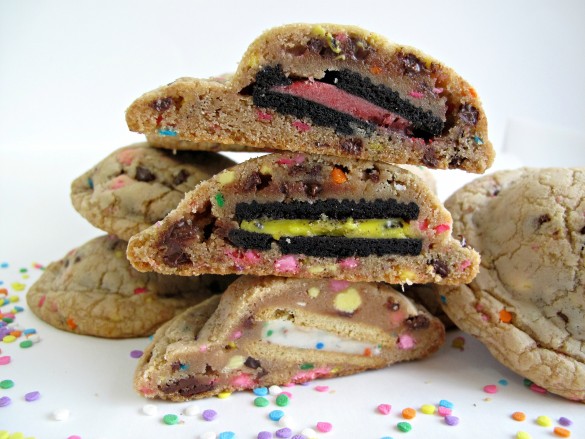 Baking note: To disperse the chips throughout the dough and to avoid chocolate chip lumps, I chopped the colored chips by pulsing them a few times in the food processor and used mini semi-sweet chips.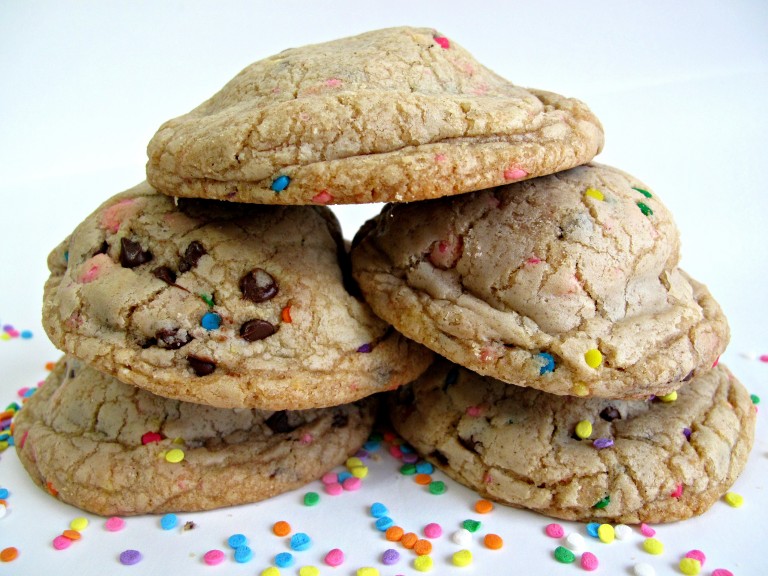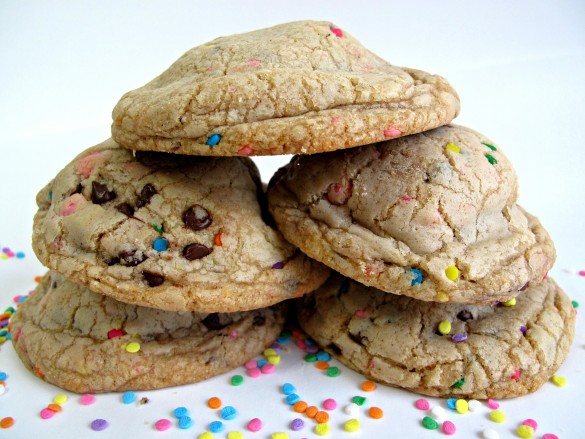 Oreo Stuffed Chocolate Chip Cookies definitely have "wow factor" but more importantly they also have "yum factor". They are a hefty cookie that made me glad that I was using flat rate rather than weight to ship these. Wrapped well and stored in an airtight container at room temperature, Oreo Stuffed Chocolate Chip Cookies stay chewy for at least 1 week and then become increasingly crunchy, not a bad thing where Oreos are involved. I recommend serving these cut in half, in order to fully appreciate their festive beauty.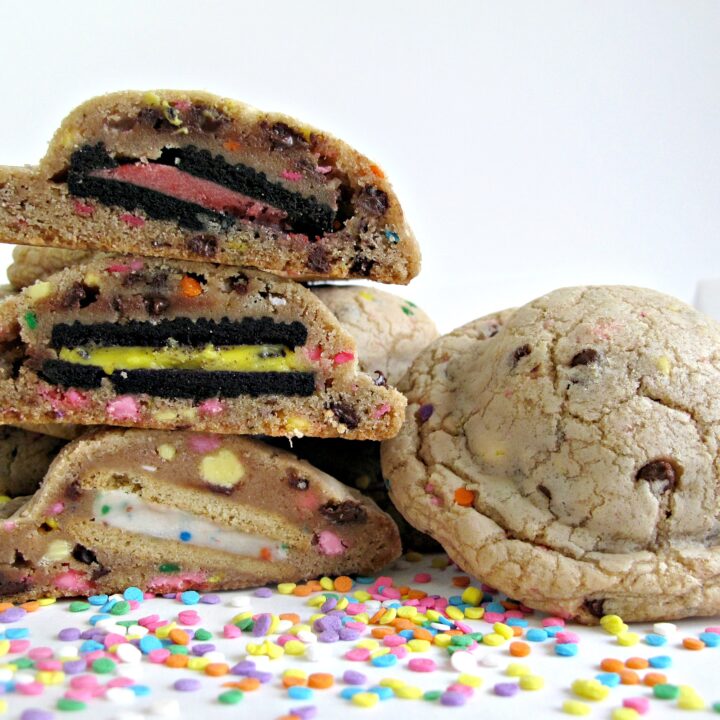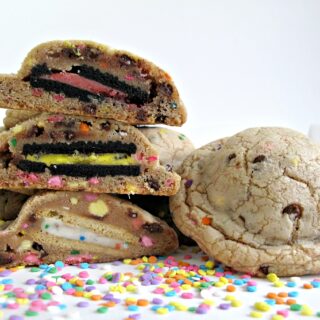 Stuffed Chocolate Chip Cookies
Two cookies in one! A chewy chocolate chip cookie stuffed with a crunchy chocolate sandwich cookie.
Print
Rate
Adapted From:
PickyPalate.com
Ingredients
3 ½

cups

all-purpose flour

½

teaspoon

salt

1

teaspoon

baking soda

1

cup

unsalted butter

room temperature

¾

cup

brown sugar

packed

1

cup

granulated sugar

2

large eggs

room temperature

1

tablespoon

vanilla extract

2

cups

chocolate chips

(I used 1 cup colored chips chopped and 1 cup mini semi-sweet)

3

tablespoons

confetti sprinkles

24

chocolate sandwich cookies
Instructions
• Preheat oven to 350˚F. Line a baking sheet with parchment paper.

• In a large bowl, whisk together flour, salt, and baking soda. Set aside.

• In the bowl of an electric mixer, cream together butter and sugars until fluffy (about 3 minutes).

• One at a time, mix in eggs and vanilla until well incorporated.

• Slowly add the flour mixture just until combined. Stir in chips and confetti sprinkles.

• Use a 2 tablespoon scoop to place one scoop of dough on top and one scoop of dough under an Oreo. Use hands and fingers to flatten the dough around the Oreo, covering the entire cookie and sealing the edges.

• Place at least 3" apart on the prepared baking sheet and bake for 12-14 minutes. (For longer storage times, be careful not to overbake. A moister cookie will stay soft longer.)

• Allow to cool on the baking sheet for 5 minutes before transferring to a wire rack to cool completely.

• When completely cool, store in an airtight container at room temperature for up to 1 week.
Notes
Packing tips
Double wrap pairs of cookies in plastic wrap with bottoms together. Place wrapped cookies in a column inside an airtight container or ziplock bag (with as much air squeezed out as possible).
Nutrition
Calories:
261
kcal
|
Carbohydrates:
39
g
|
Protein:
3
g
|
Fat:
11
g
|
Saturated Fat:
6
g
|
Trans Fat:
1
g
|
Cholesterol:
34
mg
|
Sodium:
158
mg
|
Potassium:
63
mg
|
Fiber:
1
g
|
Sugar:
21
g
|
Vitamin A:
256
IU
|
Calcium:
16
mg
|
Iron:
2
mg
Still hungry for Easter cookie recipes and care package ideas? Click these photos for the recipes!