Bake an edible bouquet for someone special! Cookie Press Butter Cookies are flower shaped and springtime pretty. These melt-in-your-mouth morsels are just right for Mother's Day or any time you want to share some baked love.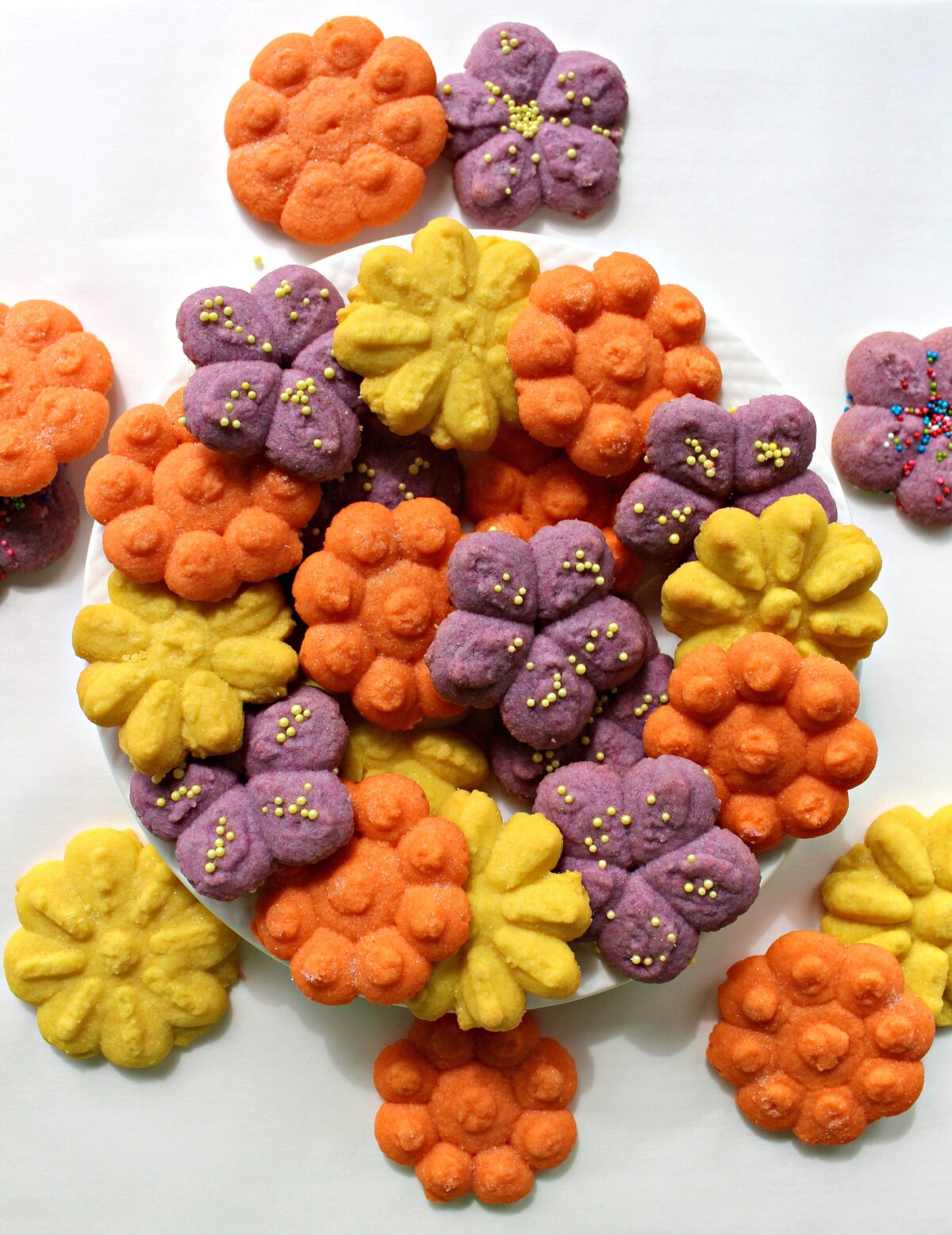 When I first met my husband, decades ago, he knew how to cook. Past tense. It is a skill he unfortunately abandoned the moment we got married.
However, when he was a young graduate student, on a tight budget and with limited free time, he would cook up amazing stews and soups on the weekends, to last him all week. It was impressive.
He also baked "Push Cookies" using a spritz cookie recipe and cookie press handed down from his paternal grandmother. The old metal press has a knob at the top.
When the knob is pressed, it pushes dough out of the cylinder, creating what was known in my husband's family as, "Push Cookies". The recipe was basic, but it was made delicious when flavored with memories.
Years later, I was at a Pampered Chef party where an updated (plastic) version of a cookie press was featured.
Not fully grasping the nostalgic importance to my husband of the old metal press, I thought a brand new one would be a great gift. Not so.
For the last 20 years, the Pampered Chef cookie press has sat unused at the back of a kitchen cabinet. The serendipitous discovery of this Cookie Press Butter Cookie recipe, while I was doing some online research, had me unburying the newer cookie press (now practically an antique, as well) to give it a try.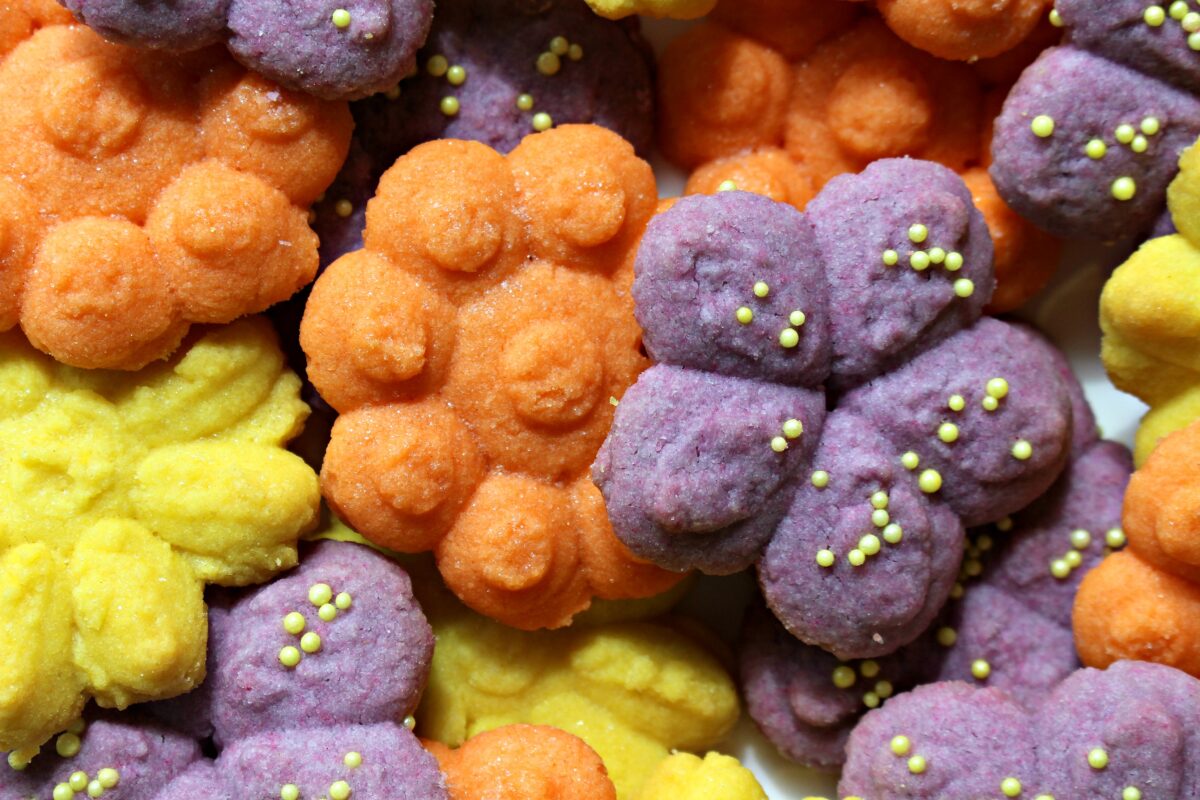 What intrigued me about this recipe, was that it uses a cake mix as a short cut. The cake mix not only simplifies the preparation, but lends flavor and longer shelf life to the cookies.
The longer shelf life makes them awesome for care packages. Cookie Press Butter Cookies keep their melt-in-your-mouth texture for up to 2 weeks and the flavor is even better with time.
I did discover that there is a bit of a learning curve to using a cookie press, but luckily this recipe makes a ton of cookies, allowing for lots of practice. I got better at creating a more uniform size and shape as I quickly pressed out dozens of butter cookie flowers.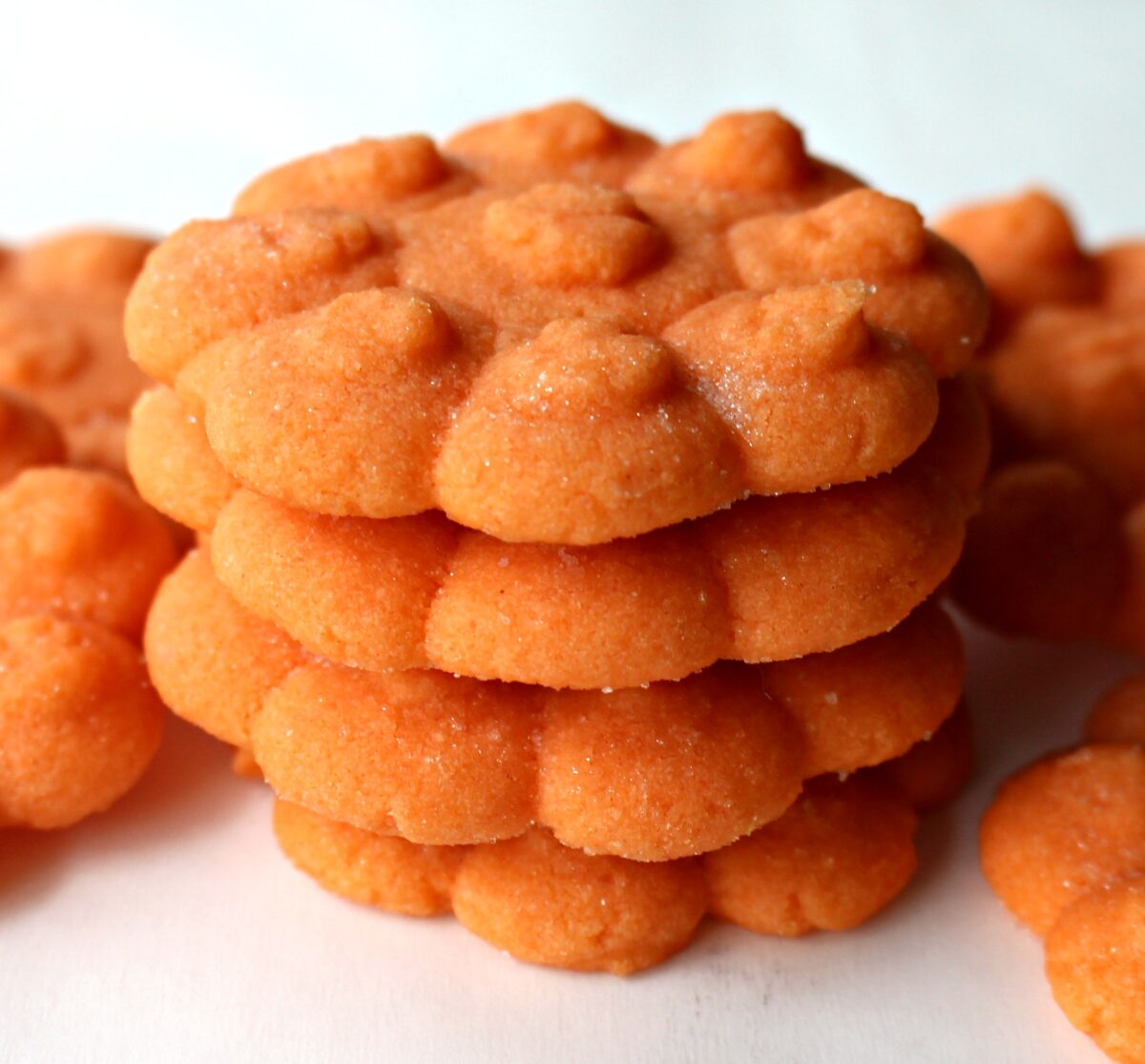 Though Cookie Press Butter Cookies are pretty on their own, I can never resist adding a bit of sparkle or sprinkle. I made these cookies to include in my next military care package (May Flowers theme).
Before I could pack them up, a timely email taught me an important rule that had me giving away the first batch of cookies and re-baking for my soldier. Anything with glitter is a scary no-no for care packages to combat zones.
Glitter sticks to everything, and can cause a reflective safety risk. I had used edible glitter on the orange cookies (in the photos) without thinking. It wasn't until after I saw the glitter on my fingers, while taste testing, that I realized my mistake.
If you are baking for military care packages, go to town with sprinkles and sugars, but forget the glitter, please!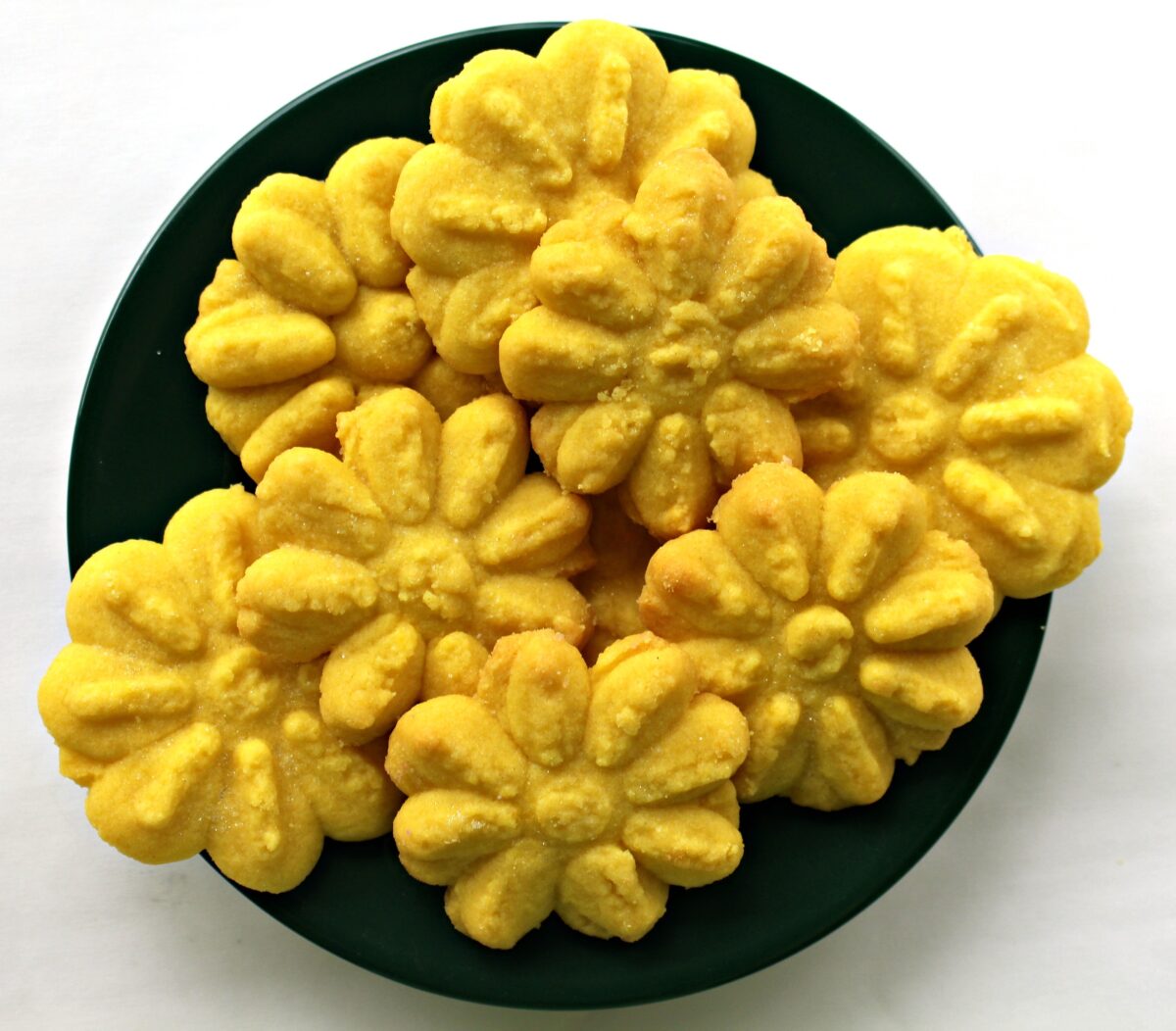 Cookie Press Butter Cookies can be made in any color and make a delicious floral gift for Mother's Day or care packages. If you have a cookie press that you only use for holiday baking (or have never used) dig it out for some springtime "Push Cookies".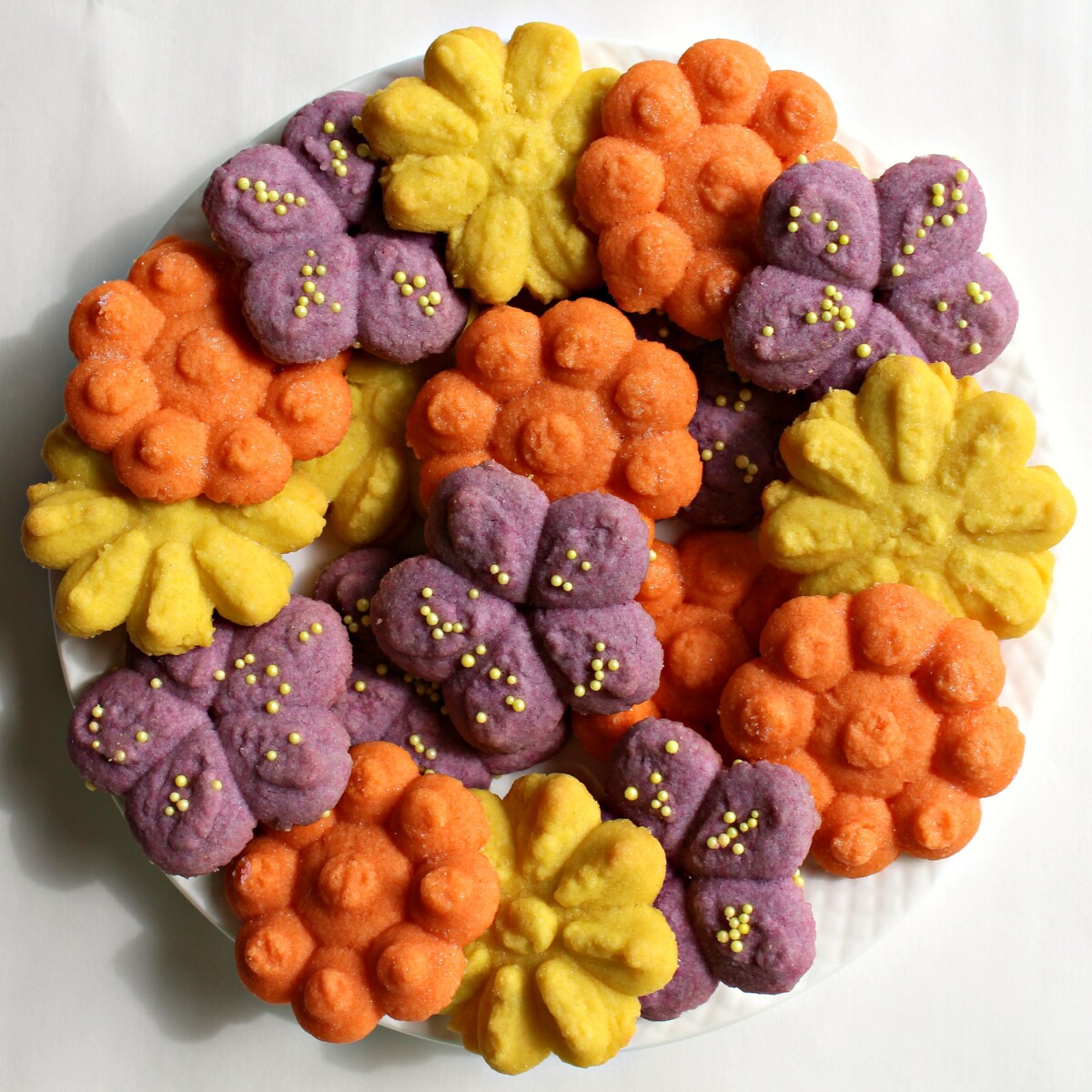 Ready to bake? Join the free membership group to get new recipes and a newsletter delivered to your inbox! You can also stay in touch on Facebook, Pinterest, and Instagram. I'd love to stay in touch!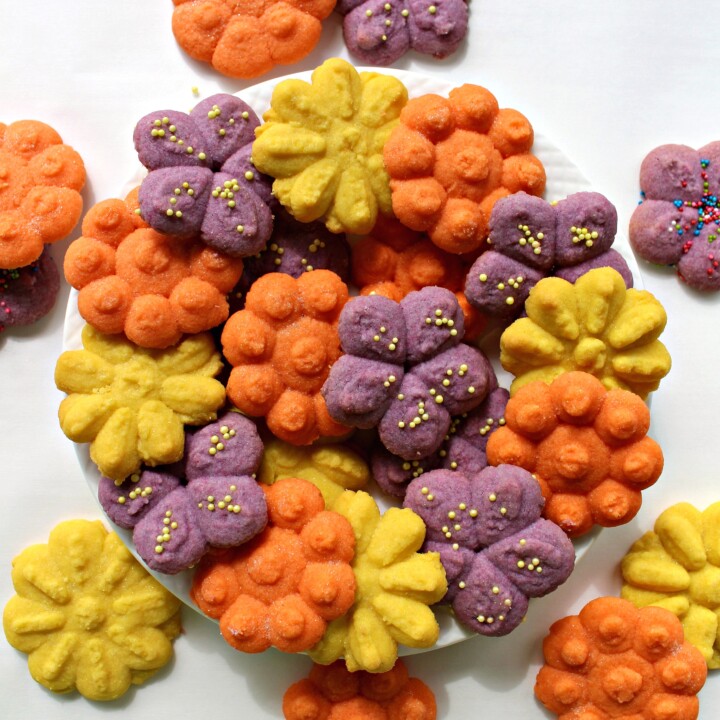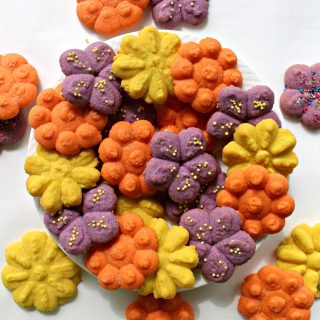 Cookie Press Butter Cookies
Using cake mix as a shortcut, these melt-in-your-mouth spritz cookies are quick, easy, and delicious.
Print
Rate
Adapted From:
Chefsuccess.com
Ingredients
2

cups

unsalted butter

1

box

white cake mix

2 ¾

cups

all-purpose flour

Food coloring gel

sprinkles or decorating sugar
Instructions
Preheat oven to 350° F. Line baking sheets with parchment paper. Insert desired disc into cookie press.

Slice 1 cup (2 sticks) of butter into chunks. Place in a medium size microwave-safe bowl and microwave on high for 1 minute or until just melted. Slice the remaining 1 cup (2 sticks) of butter into the melted butter. Allow to stand for 5 minutes, until softened, and stir to a creamy, pourable consistency.

In a large mixing bowl, whisk together cake mix and flour.

Add the butter to the flour mixture. Mix to combine completely into a smooth dough.

For three colors of cookies, divide the dough into three pieces and place in separate bowls. Add 1-3 drops of food coloring gel onto each piece of dough. Knead the coloring into the dough.

Fill the cookie press with one color of dough and press cookies onto the prepared baking sheets about 1" apart.

Bake for 12-15 minutes or until edges just begin to turn golden. Remove from oven and allow to cool on the baking sheet for 5 minutes before placing on wire racks to cool completely.

Store in an airtight container at room temperature for up to 2 weeks.

***NOTE: For military care packages, NO edible glitter can be used to decorate these cookies.
Notes
Packing tips
Wrap pairs of cookies, bottoms together, in plastic wrap.
Fit rows of wrapped cookies snuggly into freezer weight ziplock bags or plastic storage containers.
Be sure to pad the shipping box well so that nothing else inside the box presses against the cookies and there is no wiggle room inside the package.
Nutrition
Calories:
88
kcal
|
Carbohydrates:
8
g
|
Protein:
1
g
|
Fat:
6
g
|
Saturated Fat:
3
g
|
Polyunsaturated Fat:
1
g
|
Monounsaturated Fat:
2
g
|
Trans Fat:
1
g
|
Cholesterol:
14
mg
|
Sodium:
50
mg
|
Potassium:
26
mg
|
Fiber:
1
g
|
Sugar:
2
g
|
Vitamin A:
158
IU
|
Calcium:
11
mg
|
Iron:
1
mg
First Published: May 1, 2016. Last Updated: June 25, 2022. Updated for additional information, improved photos, and better reader experience.Save
Save