Galaxy patterns capture the eye as well as the imagination. Cosmic swirls of color against star speckled darkness can be found on cake rolls, candy bark, cookies, and now on ship-able brownies too! Galaxy Brownies feature swirls of colorful blondie with star speckled, fudgy brownie. Appropriately, this chewy, chocolate deliciousness is "out of this world"!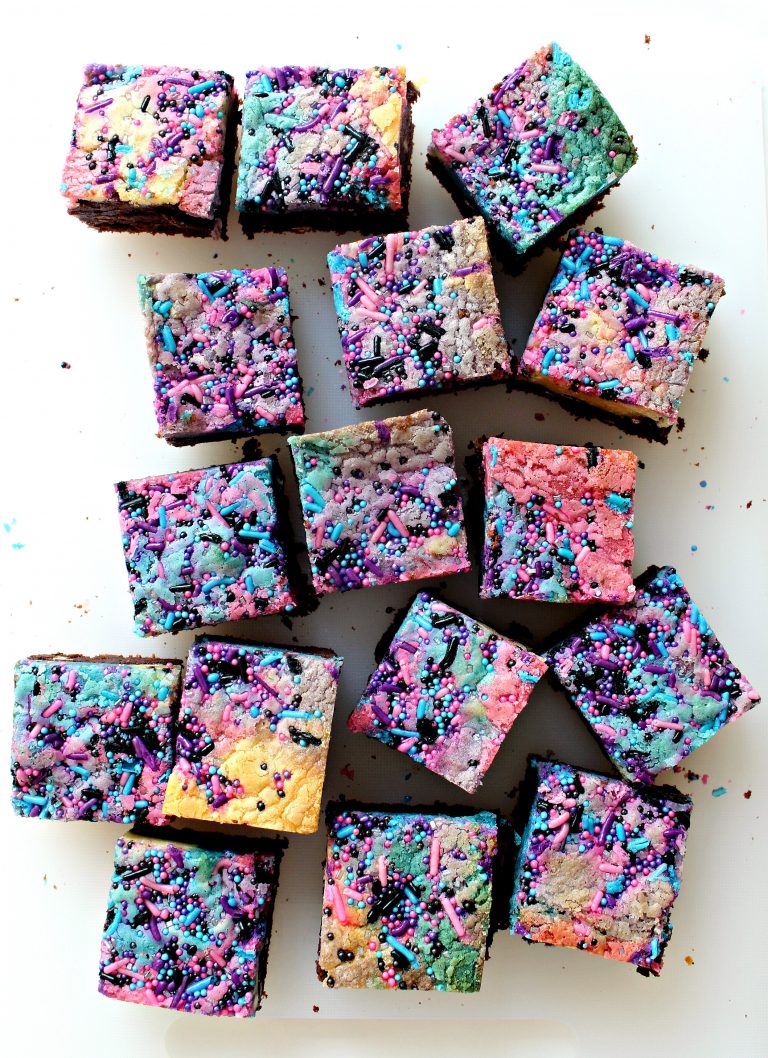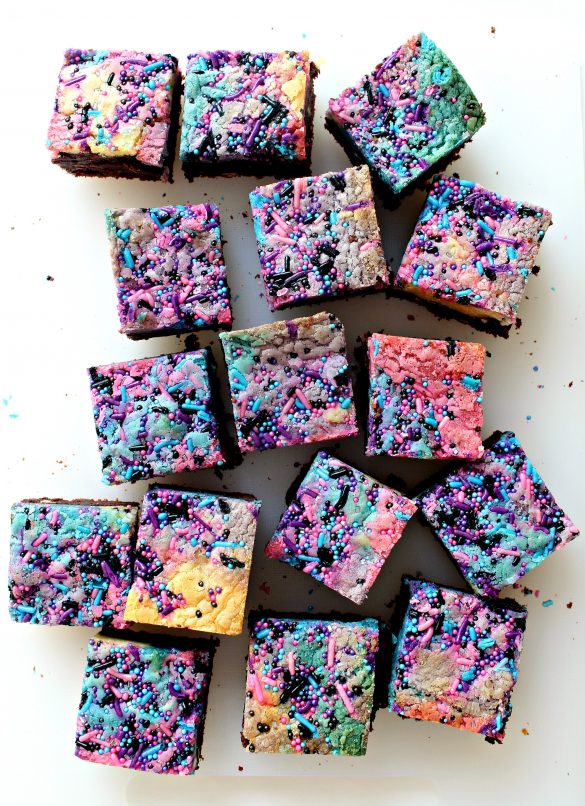 It's Spring-Summer. That time of year when rising temperatures make shipping baked goods just a little bit tricky. Hot weather care packages require some planning and careful recipe selection so that the goodies you bake don't melt or spoil in transit.
Though there are still some cooler weather places in the US and Canada in April, most military care packages go to locations that are "no-chocolate zones" from April through October. The high temperatures across the Middle East this week are around 100° F. My airman has already experienced 103° F this month and it's only going to get hotter!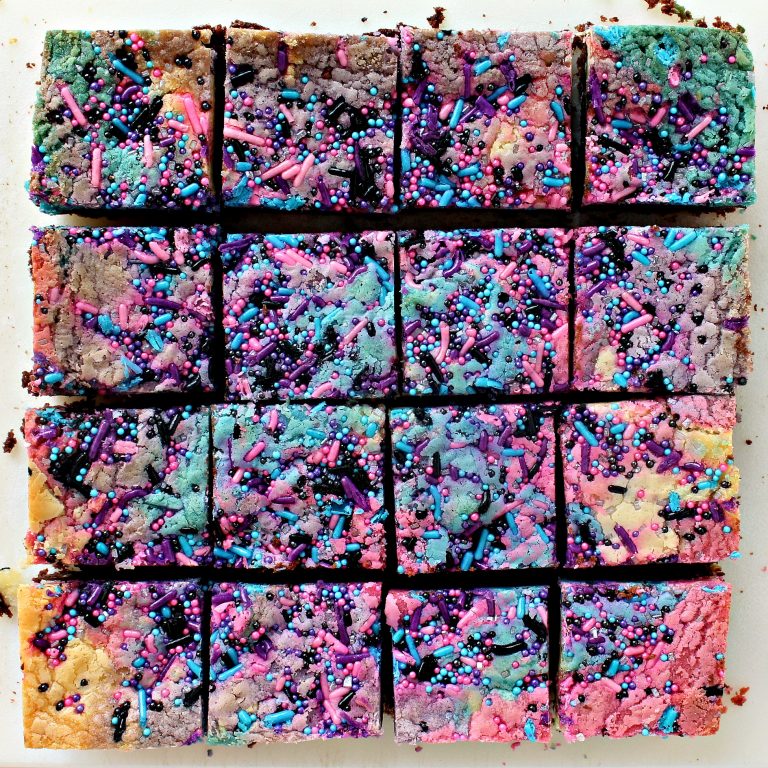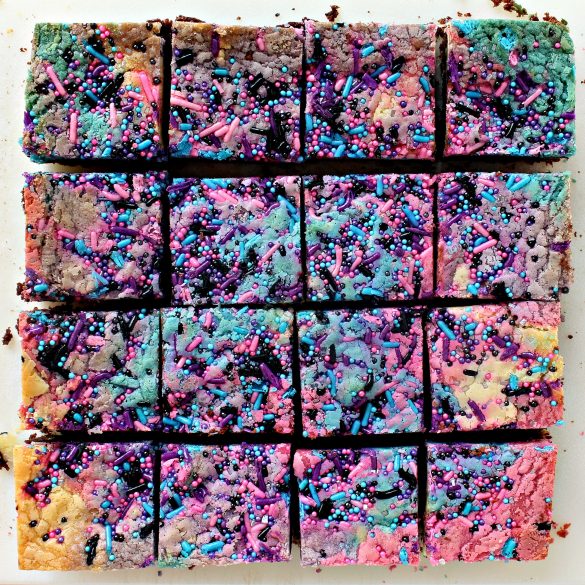 Using caution when you choose a hot weather care package recipe, increases the chances that the baked goods will be edible on arrival. The amount of caution you use, should take into consideration temperatures for the entire door to door travel and the amount of time involved.
Melted chocolate is sad, but spoiled (and possibly toxic) treats could be dangerous. I mention this every year because, though I know some people take no precautions and haven't had problems reported, I prefer erring on the side of caution and reduce every risk I can.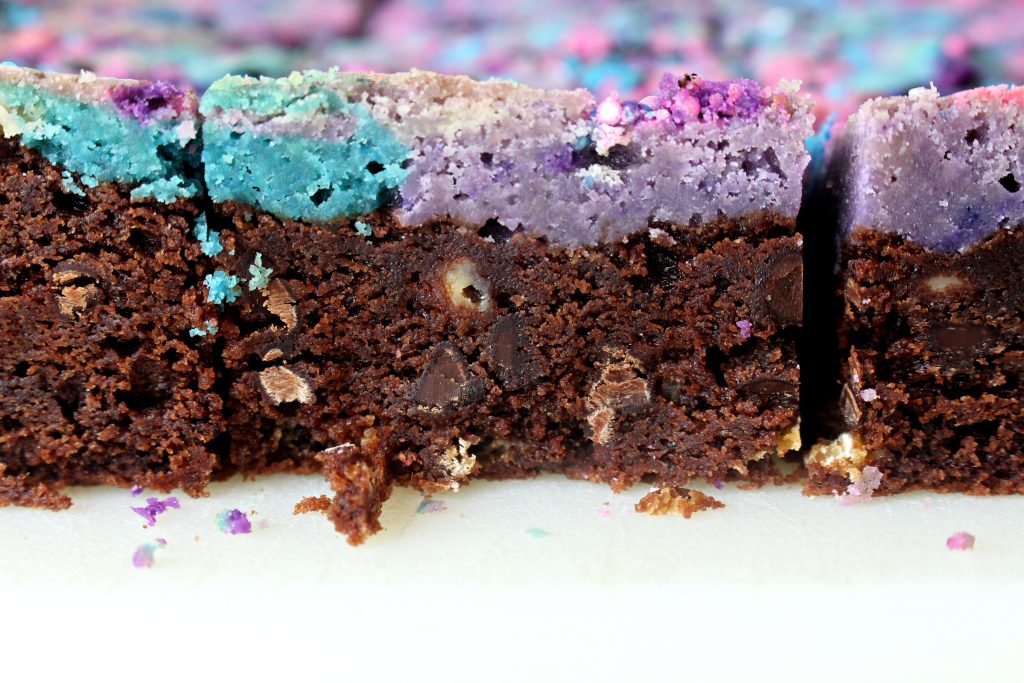 When I began writing Monday Box recipes 5 years ago, I did research about recipes recommended for military care packages. That is when I first heard of "desert safe recipes".
Desert safe recipes use ingredients that are least likely to cause mold or spoilage. I wrote to the food science experts at BestFoodFacts.org and asked for their input on the desert safe ingredient premise.
When asked what sweetener was least likely to promote mold, Dr. Londa Nwadike, the state extension consumer food safety specialist for Kansas State University, answered, "White sugar has a lower moisture content and generally has a longer shelf life than brown sugar and powdered sugar, so yes, products made with white sugar should generally be less likely to mold than products made with brown sugar. The inclusion of sugar in a recipe will lower its water activity, which helps to extend shelf life."
I also asked what fat was most desert safe for baking and was told that due to it's higher melting point, vegetable shortening (Crisco)is shelf stable at room temperature and should be less likely to go rancid than butter or margarine.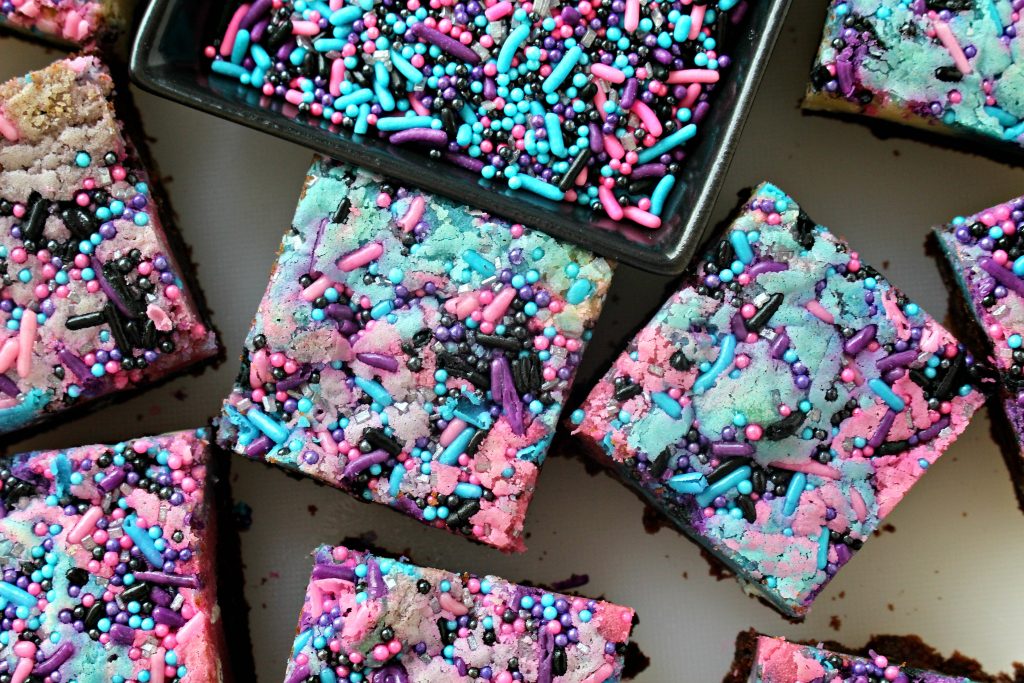 I choose to be super cautious when sending military care packages and in the hot months I use only desert safe recipes in the boxes. Galaxy Brownies are desert safe bars that can be enjoyed in any weather.
There is no possibility of melted frosting, because Galaxy Brownies are gorgeous and delicious without frosting. All of the color and bling are built right into the blondie-brownie bar!
I baked my Galaxy Brownies in two 8" square glass baking pans. The smaller size is easier to wrap and fit in a box. Send one pan of brownies and freeze the other for mailing later, or send both pans so that there are plenty of Galaxy Brownies to share.
Another option is to bake this recipe in a rectangular 9"x 13" pan. Galaxy Brownies baked in the larger pan will be slightly thinner.
These celestial treats are part of a themed military care package I sent off this week to celebrate an international holiday that falls at the beginning of May. Can you guess? No, not Cinco de Mayo.
The only hint I will give you, is that this holiday is not only international, it's intergalactic. Check back in a few days for my next post with package details and special themed cookies.
You can read more about desert safe ingredients and find an index of all of the desert safe recipes on The Monday Box by clicking here.
MORE BROWNIE RECIPES
Sugar Cookie Valentine Brownies
White Chocolate Peppermint Christmas Brownies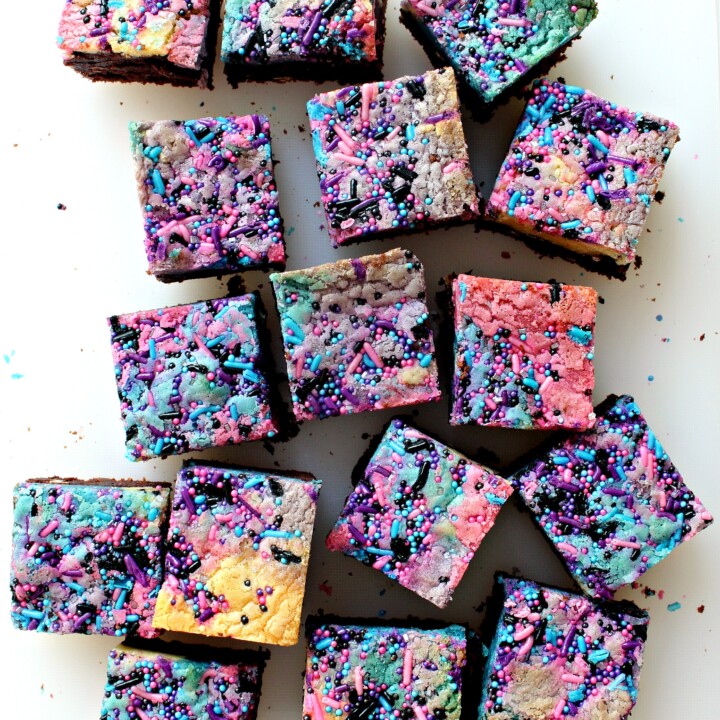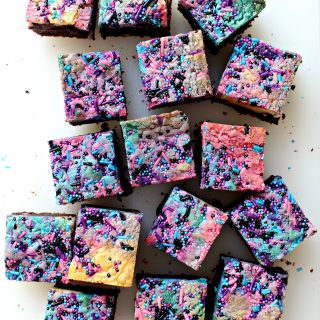 Galaxy Brownies
These stellar treats feature swirls of colorful blondie on top of star speckled, fudgy brownie. Chewy, chocolate deliciousness that ships well even in hot weather.
Print
Rate
Ingredients
Brownie layer
1 ½

all-purpose flour

1

cup

baking cocoa

I use Whole Foods 365 brand, Fair Trade cocoa

½

teaspoon

baking powder

½

teaspoon

salt

1

teaspoon

espresso powder

⅔

cup

butter-flavored vegetable shortening

Crisco

2

cups

granulated

white sugar

4

large eggs

½

cup

white mini chocolate chips

I use Whole Foods 365 brand, Fair Trade chips

½

cup

semi-sweet mini chocolate chips

I use Whole Foods 365 brand, Fair Trade chips
Colorful swirl blondie layer
8

ounces

white chocolate

broken into chunks

½

cup

butter flavored vegetable shortening

Crisco

2

large eggs

⅓

cup

granulated sugar

1

tablespoon

vanilla extract

1 ¼

cup

all-purpose flour

½

teaspoon

salt

Food coloring gel

I used Americolor Violet, Fuschia, and Royal Blue

2-4

tablespoons

Galaxy Sprinkles

nonpareils and jimmies in black, aqua, hot pink, and purple
Instructions
Preheat oven to 350 degrees F.

Line two 8" x 8" pans with foil, allowing for a little overhang (for easy lifting later) and spray lightly with non-stick spray.
For Brownie Layer
In a medium bowl, whisk together the flour, cocoa, baking powder, salt and espresso powder. Set aside.

In the bowl of an electric mixer, combine the shortening, sugar, and eggs. Beat until light in color and fluffy (about 3 minutes).

Gradually add in the flour mixture, until combined.

Stir in the white and semi-sweet chips.

Divide the batter in half and spread one half of the brownie batter evenly into each of the prepared pans.
For Color Swirl Blondie Layer
Break the white chocolate bars into chunks then place the white chocolate and shortening into a medium sized microwave safe bowl. Heat in the microwave 1 minute at 50% power. Stir. If not completely melted, return to microwave for 10 second intervals at 50% power, stirring between heating, until completely melted and combined. White chocolate burns easily. Though tempting, don't try to shorten melting time by using full power. Set aside.

In the bowl of an electric mixer, beat eggs until foamy (about 3 minutes).

Mix in sugar, vanilla, and melted chocolate.

Add flour and salt and stir until incorporated.

The batter will be thick and mallable. Divide the batter into 4 sections. One section will remain uncolored. Place each of the other sections into small bowls. Add a few drops of food color to each and mix until the colors are uniform.

Pinch off pieces of blondie dough ( 1-2 heaping tablespoons worth) and scatter randomly across the surface of the brownie batter in both pans until all of the blondie batter is used.

Use an offset spatula or spoon to swirl and spread the blondie dough pieces to cover the brownie dough completely.

Add sprinkles and press them gently into the dough surface with finger tips.

Lay a sheet of foil across the top of each pan (not touching batter). The foil should keep the blondie dough from browning and keep the colors vibrant. Bake for 12 minutes covered in a glass baking pan or 22 minutes in a metal baking pan. Then remove the foil and complete baking for another 15 minutes or until the top is set. The top may appear a bit moist, but will firm as the brownies cool.

Remove from the oven and cool completely in the pan (about 30 minutes).

Store Galaxy Brownies at room temperature in an airtight container or freezer weight ziplock bag for up to 2 weeks.
Notes
Packing tips
I recommend shipping Galaxy Brownies uncut for longer freshness. Wrap each entire square of brownies (removed from pan using the foil overhang) first in foil and then in plastic wrap. Then insert the wrapped brownies into a freezer weight gallon ziplock bag. Include a few plastic knives for cutting.
Nutrition
Calories:
422
kcal
|
Carbohydrates:
51
g
|
Protein:
5
g
|
Fat:
24
g
|
Saturated Fat:
9
g
|
Trans Fat:
2
g
|
Cholesterol:
59
mg
|
Sodium:
180
mg
|
Potassium:
194
mg
|
Fiber:
2
g
|
Sugar:
40
g
|
Vitamin A:
88
IU
|
Vitamin C:
1
mg
|
Calcium:
62
mg
|
Iron:
2
mg
Save