Peppermint Crunch Cookies are crisp sugar cookies full of peppermint-y holiday flavor, topped with two kinds of chocolate and peppermint candy bits. Quick, easy, and beautiful, Peppermint Crunch Cookies are ideal for sharing.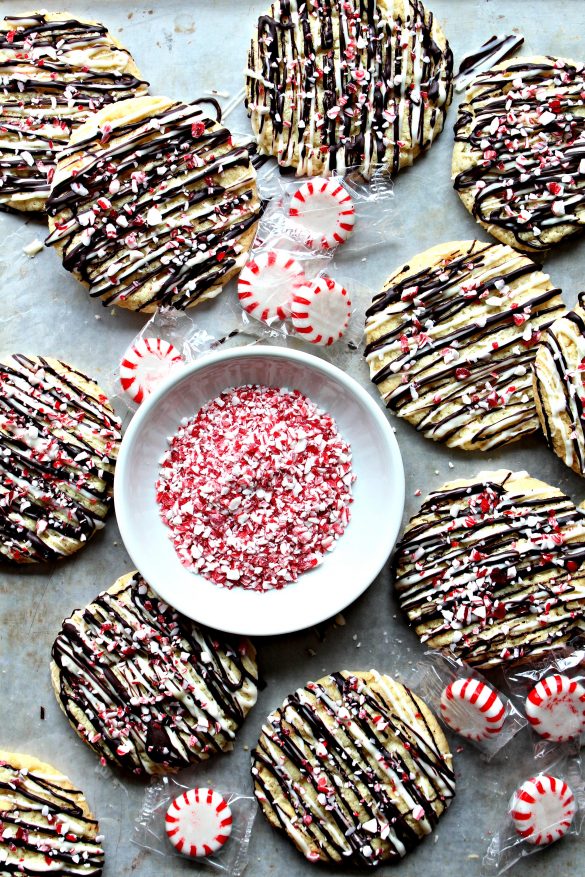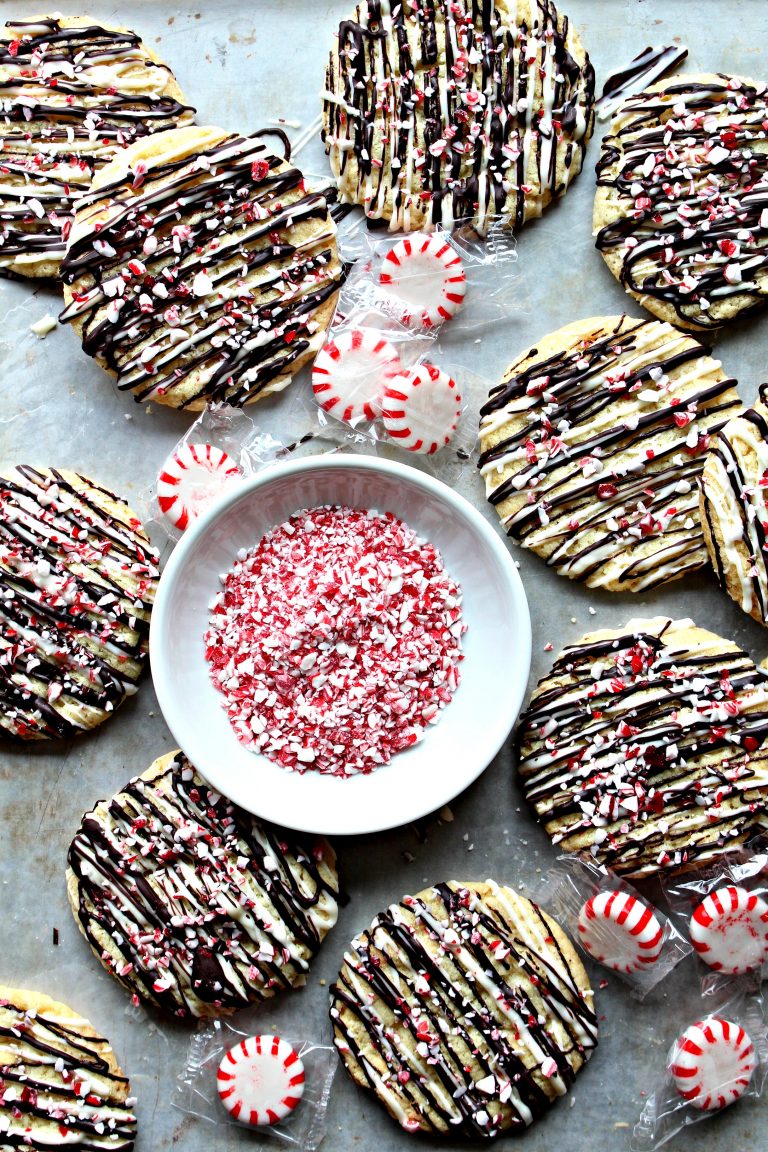 I was not compensated for this post, however I did receive free product from Chocoley.com for use in this recipe. All opinions are 100% my own. I only use and recommend products I believe in.

This is the sixth recipe in The Monday Box week of Time Saver Recipes. All of the recipes in this series are quick and easy, using cake mix or refrigerated cookie dough as a shortcut ingredient.
Peppermint Crunch Cookies start with a regular roll of refrigerated sugar cookie dough, but with a few tweaks, end up extraordinary.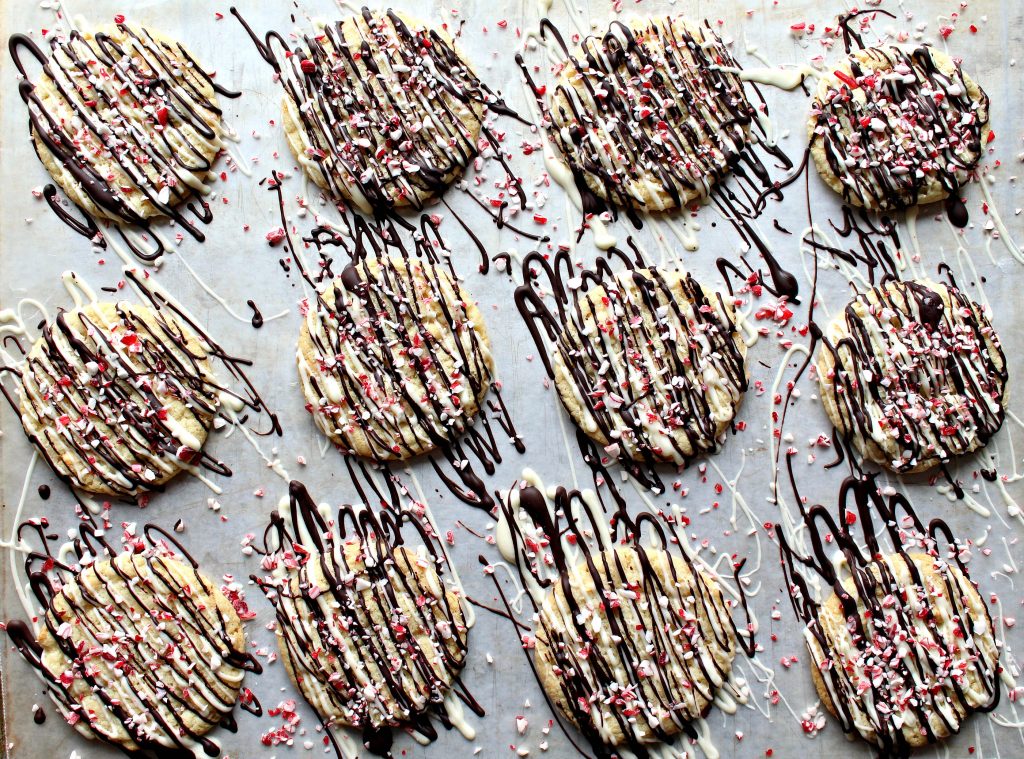 I was both surprised and delighted to find that Peppermint Crunch Cookies tasted as good, or better, a week after baking! The cookies gain a crisp crunch that is like "cookie bark".
That makes Peppermint Crunch Cookies an excellent make-ahead treat for holiday gatherings and gifts. They are also a good choice for peppermint care packages** (see shipping note below)!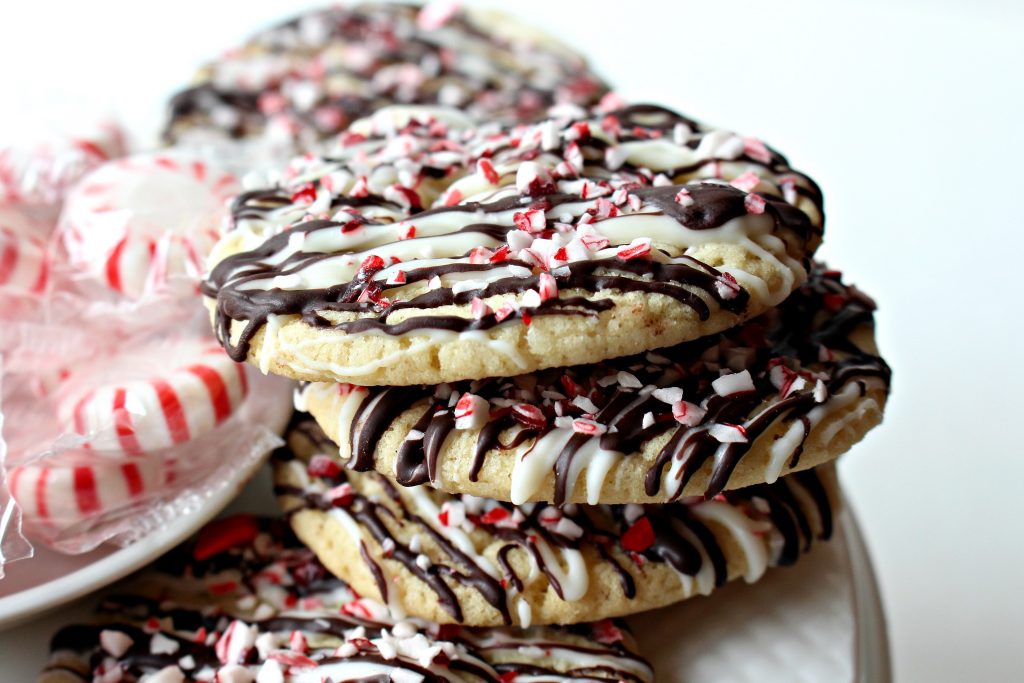 **Storage and shipping note:
Peppermint is a strong flavor and scent. Very little peppermint extract flavors an entire batch of cookies. That one batch of cookies can add peppermint flavor to other cookies if not stored separately. For care packages, wrapping different flavors of cookies in plastic isn't enough. The peppermint flavor can even sneak through plastic storage containers! When I send peppermint cookies, I use a peppermint theme where everything in the box is peppermint flavored!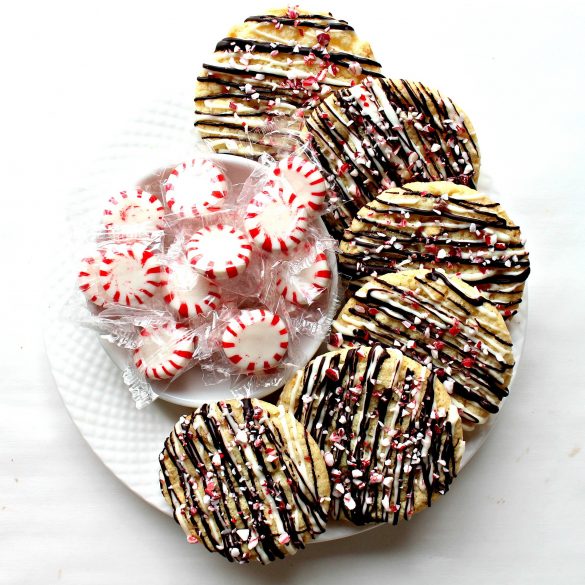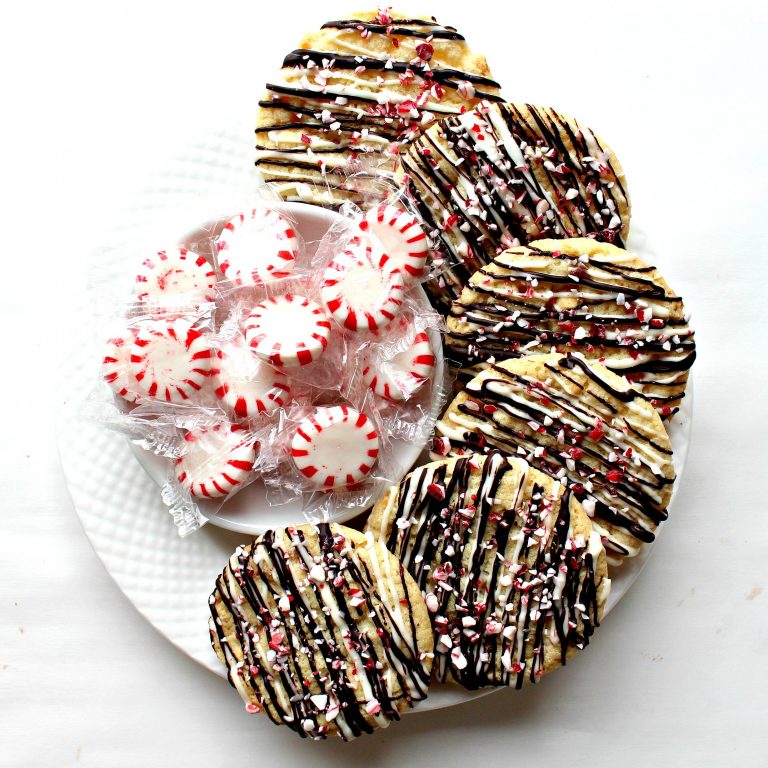 Don't miss the other Time Saver Recipes in this series. Chocolate Covered Cherry Bars, Cinnamon Chip Biscotti, Gingerbread Spice Cookies, Butterscotch Blondie Bars, and Mocha White Chocolate Biscotti are sure to bring smiles to everyone who tastes them! Check back tomorrow for the final Time Saver Recipe!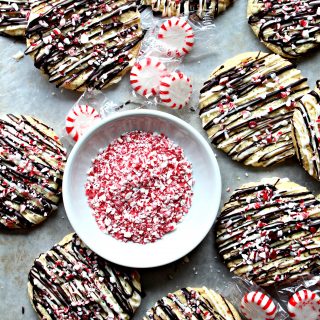 Peppermint Crunch Cookies (Time Saver Recipe)
Ingredients
1

16.5 ounce roll refrigerated sugar cookie dough, room temperature

¼

teaspoon

peppermint extract

1

cup

white chocolate chips

I use 365 brand fair trade white chocolate chips from Whole Foods

For decorating:

1/3

cup

crushed peppermint candy

1/3

cup

white melting chocolate

I use Chocoley.com Bada Bing Bada Boom white dipping and coating

1/3

cup

dark melting chocolate

I use Chocoley.com Bada Bing Bada Boom dark dipping and coating
Directions
Preheat the oven to 350° F. Line a baking sheet with parchment paper.

In a medium mixing bowl, using a spoon or rubber spatula, combine the cookie dough, peppermint extract, and white chocolate chips.

Use a small scoop (1 tablespoon) to portion the dough onto the prepared baking sheet about 2" apart.

Bake for 9-11 minutes or until edges begin to turn golden.

Cool on the baking pan for about 5 minutes, then transfer onto wire racks to cool completely.

To decorate: Put the cooled cookies onto a baking sheet lined with wax paper. Melt the white and dark chocolate in two separate bowls. Using a small spoon, drizzle the white chocolate, then dark chocolate onto 4 cookies. Sprinkle with peppermint bits. Repeat, until all of the cookies are decorated. Refrigerate for 5 minutes, until the chocolate is set.

Store Peppermint Crunch Cookies in an airtight container at room temperature for up to 10 days. These cookies get crunchier over time.
Packing Tips
Wrap pairs of cookies, bottoms together, in plastic wrap. Stack wrapped bundles in an airtight container or freezer weight ziplock bag. Ship peppermint flavored baked goods separately from other baked goods.