Chocolate Covered Cherry Bars are chewy and chocolaty, with a sweet-tart tang from dried cherries and preserves. These eye-catching bars are irresistible! Made with a super easy, time saver recipe, Chocolate Covered Cherry Bars are great for care packages, gifts, and holiday dessert platters.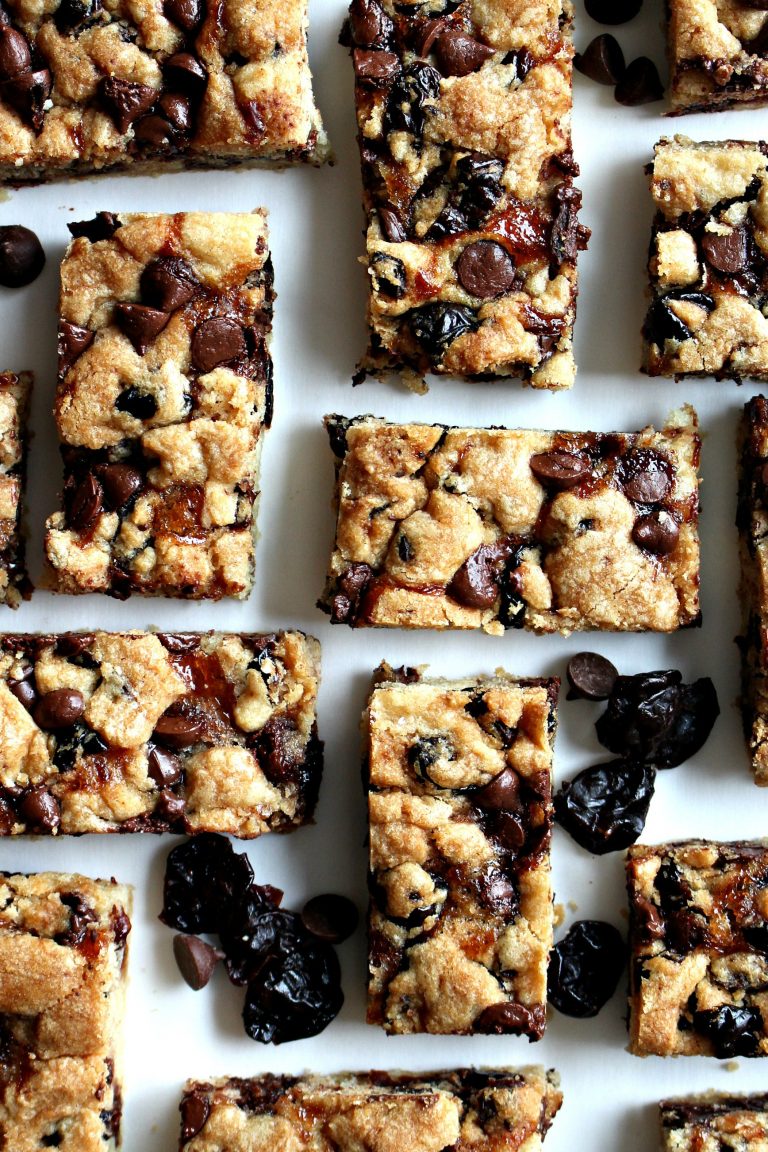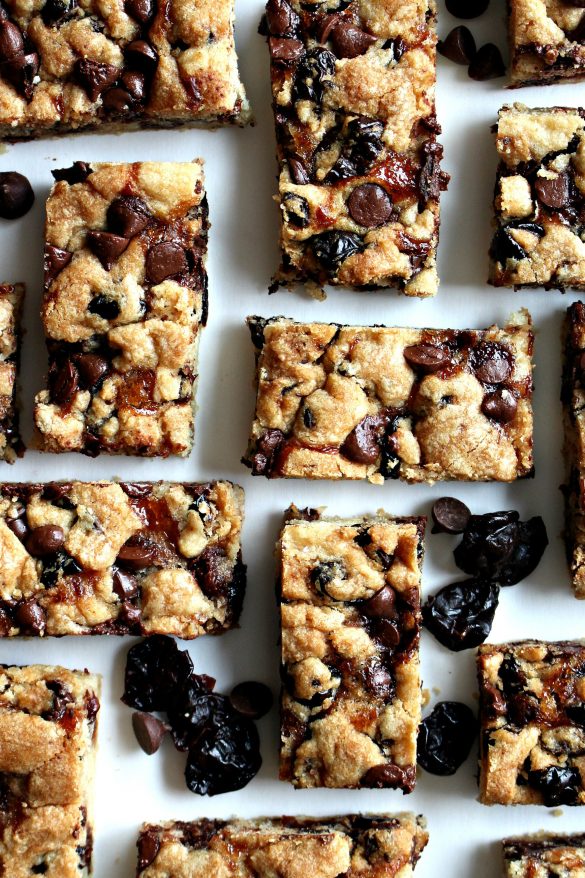 A few weeks ago, I placed an order with Better World Books for a pile of used (great condition) cookbooks. It may be "old school", but I love flipping actual pages as I search for baking ideas and blog inspiration. The cookbooks were all a bargain, $3 each, so I was willing to take a risk on a few books that appealed to me, with just the title to go on. I have also been known to judge a book by its cover. One of my gamble cookbooks is titled, "The Ultimate Shortcut Cookie Book" by Camilla Saulsbury. The time saving premise of the book seemed very appropriate for this very busy time of year and shortcuts with excellent results are always welcome.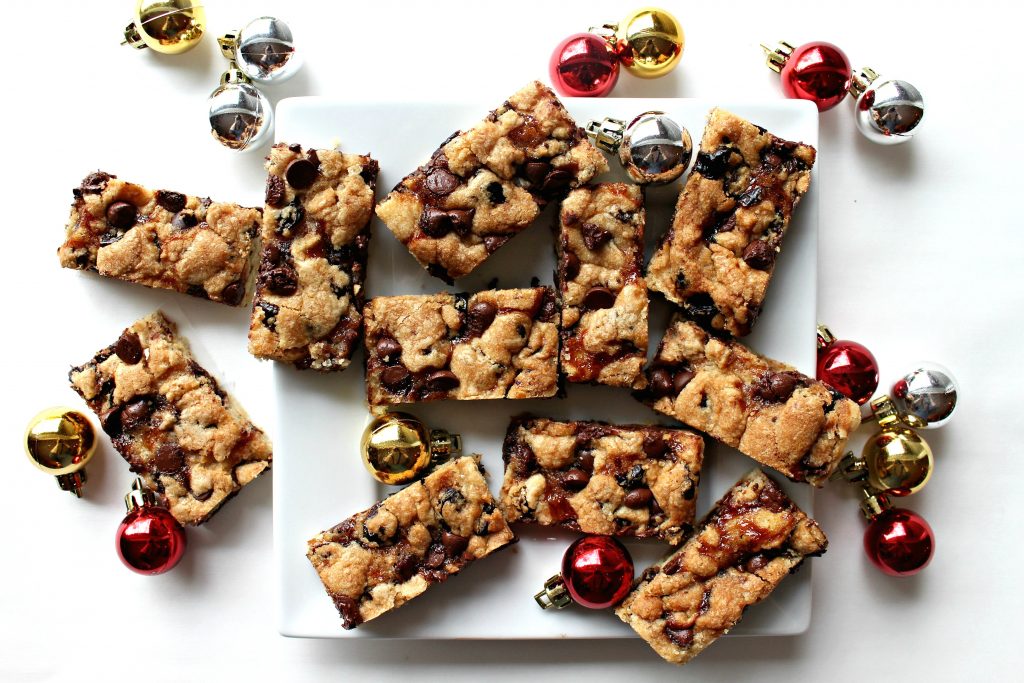 Everyone seems pressed for time in December. There is so much to do and only a limited time to get it all done. Baking is a big part of many holiday festivities, but finding time to bake can be stressful. I firmly believe that baking and celebrating with family and friends should only be joyful. To help make December baking a tiny bit easier, The Monday Box is sharing a week of time saver recipes for luscious cookies and bars that are amazingly quick and easy to make. Each recipe uses a "secret time saver ingredient" and a handful of add-ins. The "secret time savers" are cake mix, brownie mix, or refrigerator cookie dough!  No one will guess how simple these show stopper treats are to prepare!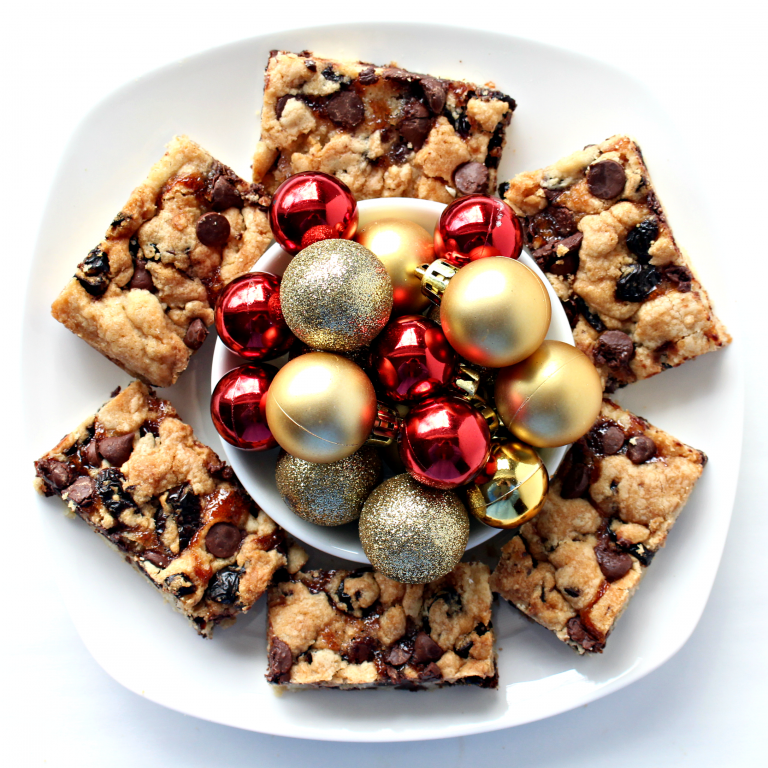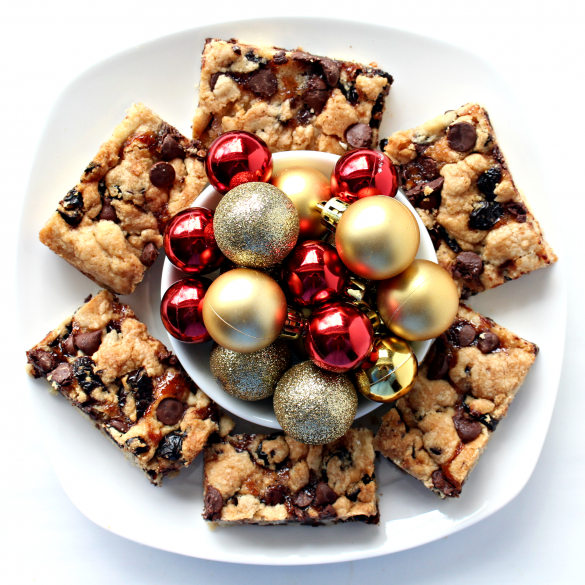 Time Saver Recipe #1 is for Chocolate Covered Cherry Bars. A roll of refrigerated sugar cookie dough quickly creates the chewy crust and crumble on the bars. Chocolate chip dough can be used, or I used sugar cookie dough and mixed in fair trade chocolate chips (Whole Foods 365 brand).  Tart dried cherries and cherry preserves, combined with more chocolate chips, complete the sweet-tart topping. These Chocolate Covered Cherry Bars couldn't be easier or more delicious!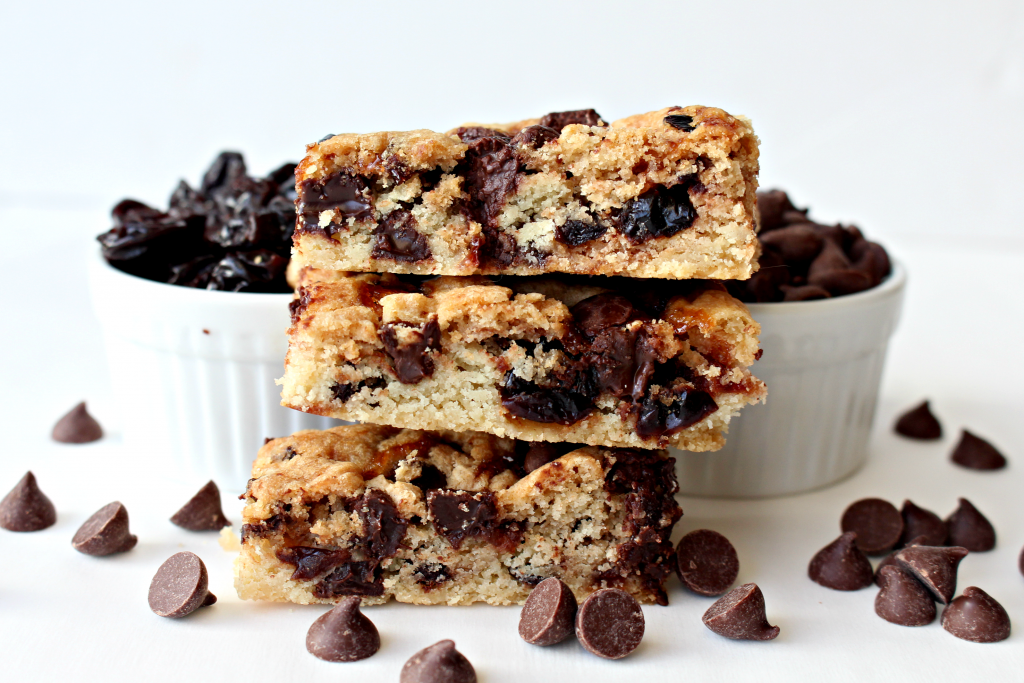 With a roll or two of refrigerated cookie dough stashed in the fridge, you will be ready at a moment's notice to whip up some quick home-baked love for all kinds of gatherings,  gifts, and care packages. If you want to keep the time saver ingredient a secret, I won't tell!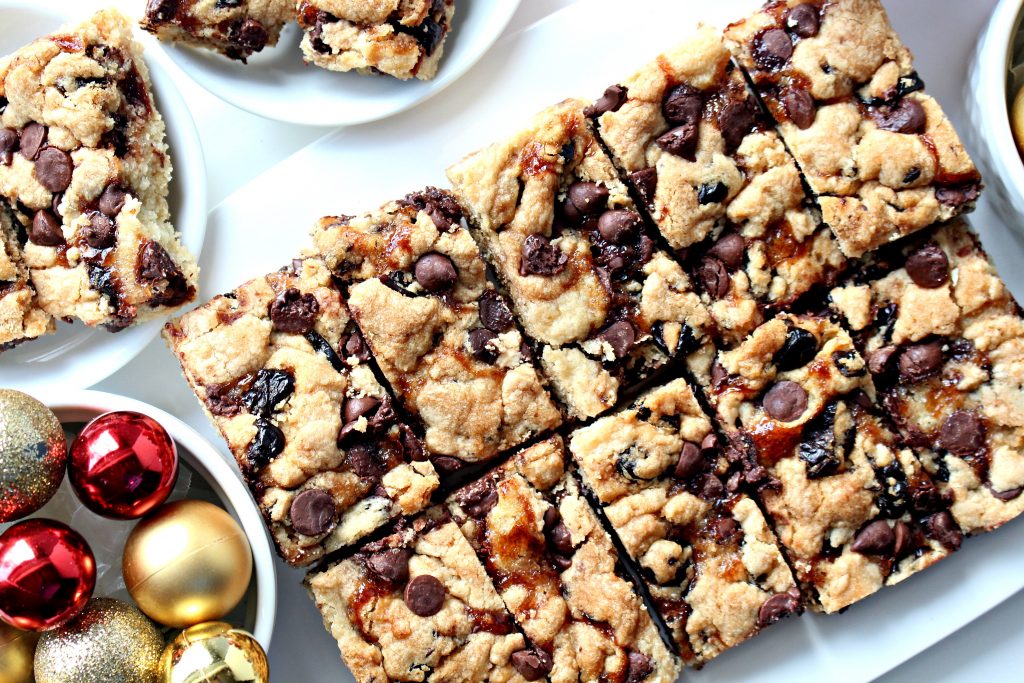 Be sure to come back to The Monday Box tomorrow for Time Saver Recipe #2!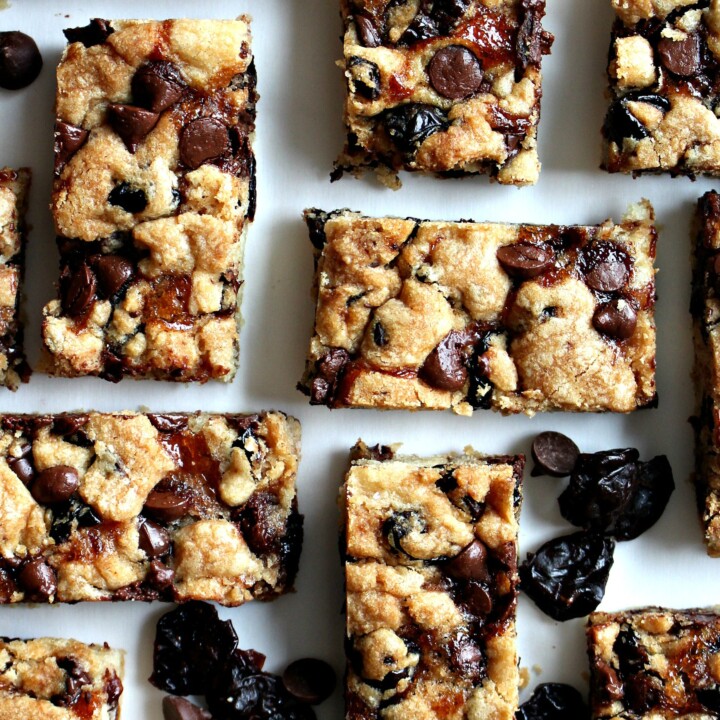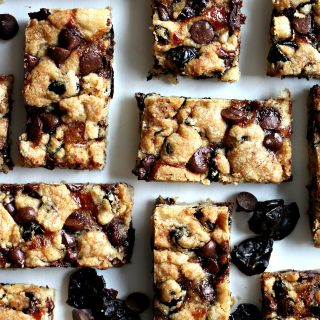 Ingredients
1

16.5 ounce roll refrigerated sugar cookie dough

½

cup

and ¼ cup chocolate chips

½

cup

chopped dried cherries

1

tablespoon

all-purpose flour

¼

cup

cherry preserves
Instructions
Preheat oven to 350° F. Coat an 8" x 8" pan with nonstick cooking spray.

In a medium mixing bowl, use a spoon or fingers to combine the cookie dough and ½ cup chocolate chips.

Crumble ⅔ of the cookie dough into the prepared pan. Use fingers to press the dough evenly into the pan forming a crust.

In the mixing bowl, combine by hand the remaining dough, chopped cherries, and flour.

Spread the preserves evenly over the dough crust. Sprinkle on the cherry-dough mixture and press gently into the preserves.

Top with ¼ cup chocolate chips.

Bake for 20-25 minutes, until the top is deep golden brown.

Cool completely in the pan.

Once cooled, cut into bars and remove from the pan for storage.

Store between layers of wax paper in an airtight container at room temperature for up to 5 days.
Notes
Send these bars only in cool weather. For longer shipping times, wrap each bar individually in plastic wrap. Store snuggly between layers of wax paper in an airtight container for 5-7 days.
Save
Save