3-D Turkey Cookies, "painted" in seasonal colors, are crunchy, iced, edible art for Thanksgiving gifting, holiday table decorating, or care package mailing.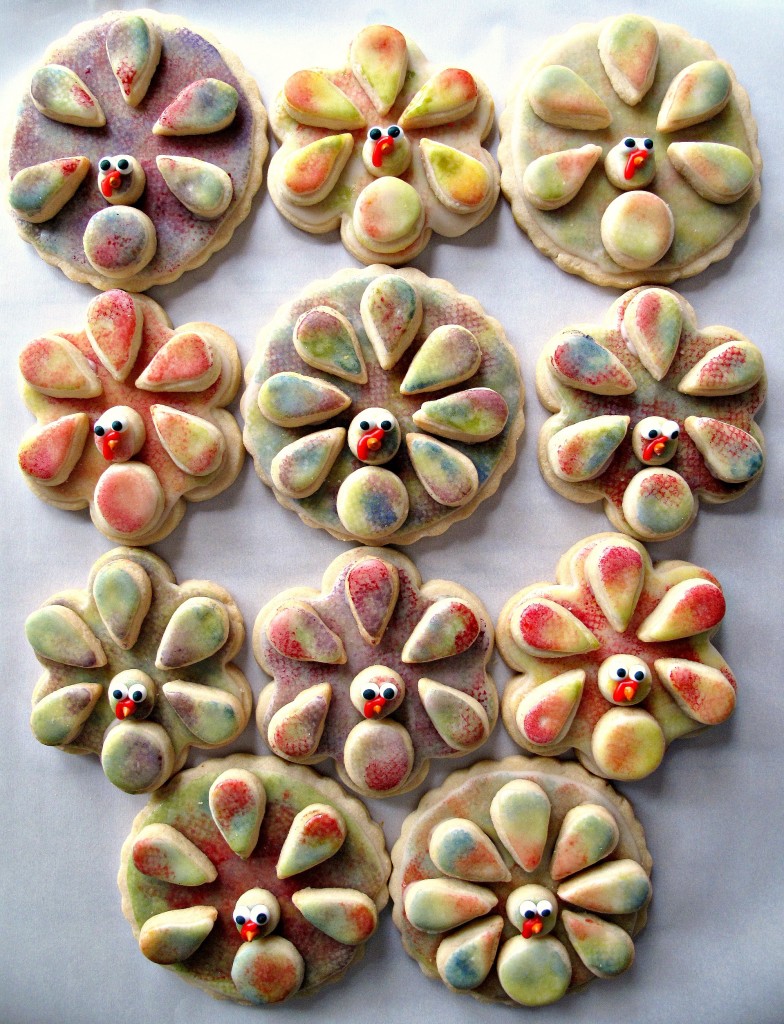 Last week the brilliantly colored fall leaves were still on the trees. This week the trees are increasingly bare.
As the leaves pile up underfoot, food thoughts change from the flavors of fall to the baking frenzy of the holiday season. Before we dive head first into the land of peppermint and gingerbread, there is Thanksgiving to be savored.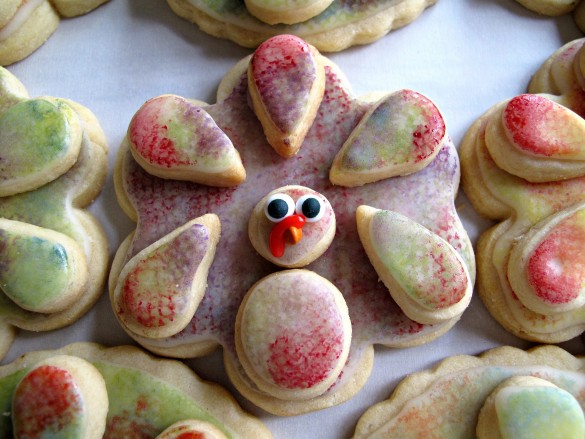 It's turkey time! Last year I made turkey cookies that winged their way all the way to Afghanistan! This year, my turkeys are staying closer to home.
Those who have followed my military care package posts may have noticed their absence lately. I am delighted to share that Soldier B., my second adopted troop, has safely returned home!
It's wonderful to know that Paratrooper Derik and Soldier B. are home with loved ones this Thanksgiving. Unfortunately, because I didn't know Soldier B. was returning home until he was already back, I wasn't able to ask him to get me the name of a troop who might enjoy Monday Box care packages.
Packages sent to troops no longer deployed, are either thrown out or returned, so my Afghanistan shipments are temporarily on hold. I am investigating options for continuing the tradition of sending "thank you" care packages to deployed troops, and hope to share military care package ideas again soon.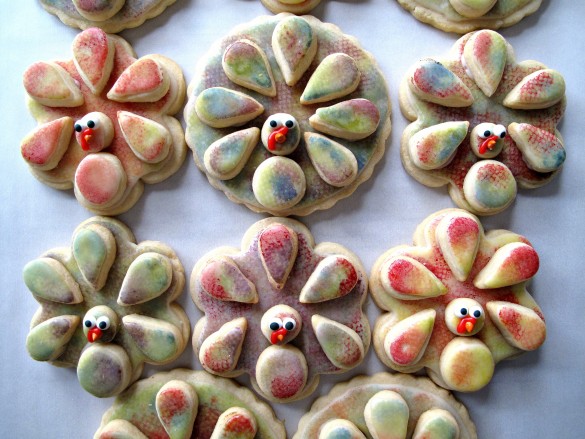 These 3-dimentional turkeys were inspired by a recipe for stained glass cookies in "Rose's Christmas Cookies" by Rose Levy Beranbaum. Stained glass cookies are beautiful to look at, but I am not sure that they are meant to be eaten.
Cookie dough plus melted Jolly Ranchers is, in my opinion, disgusting. It's all crunch, crunch, stick in your teeth, fruity, then cookie. I was not impressed with the flavor and texture combination.
I was impressed though, with the cookie dough. The cookies are crunchy with a light citrus-vanilla scent. They are great make ahead cookies and store (or ship) beautifully for at least 2 weeks.
For 3-D Turkey Cookies I kept the dough and left out the candy. Instead of candy for color, I sponge painted the cookies with natural food coloring.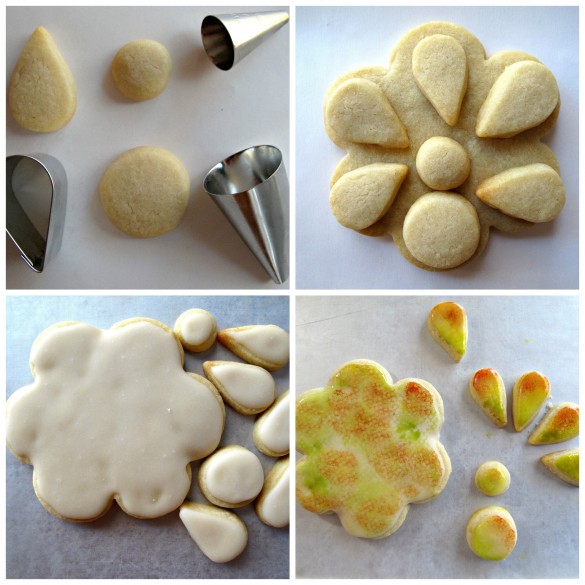 Sponge painting is the technique I used for Gingerbread Fall Leaves. Preparing the cookies takes a little time and planning, but the actual decorating is just as easy as the sponge painting kids do in preschool.
The watercolor look and the texture is created using paper towel daubers to dab food coloring on top of dry white icing. India Tree makes natural food colors (no chemicals) that produce beautiful muted fall colors, perfect for fall leaves and turkeys. Regular food coloring can be used, but the colors will be brighter with a slightly less watercolor effect.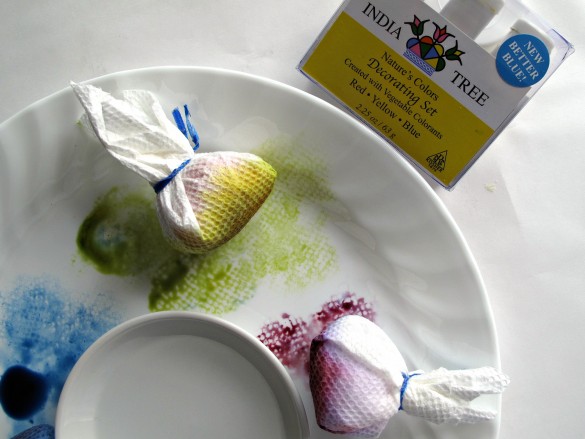 Three inch round or flower cookie cutters are used to cut out the background feathers cookie. The turkey head and body, as well some feathers, are "glued" onto the base with icing to make a 3-D cookie.
A large and a regular piping tip are used as improvised cookie cutters for the head and body. A teardrop shaped canape cutter is used for the feathers. Add candy eyes and an orange rainbow chip sprinkle beak and you have 3-D Turkey Cookies!

Each colorful cookie is a unique work of delectable art! They are super for care package travel, whether the destination is nearby or across the globe.
Packaged in individual clear plastic gift bags, these 3-D turkeys would also make great gifts or edible decorations on a Thanksgiving table.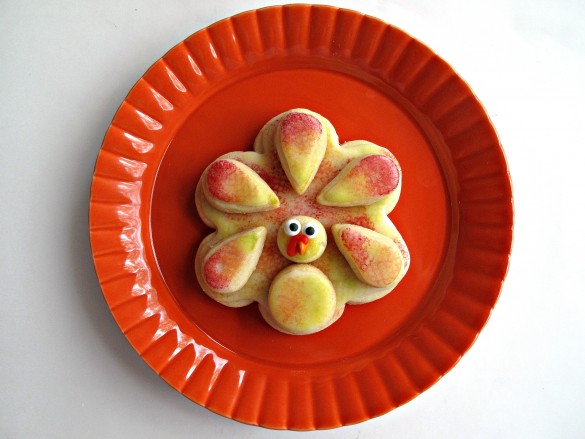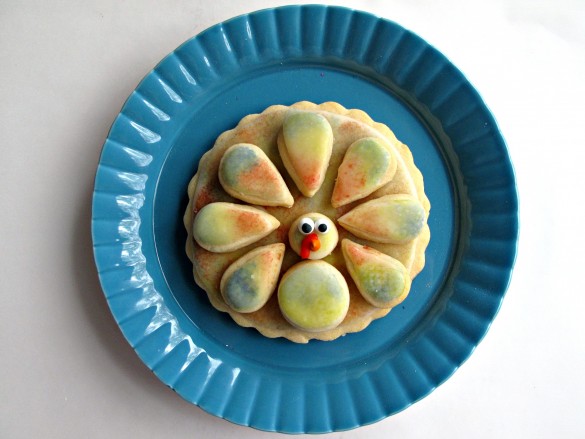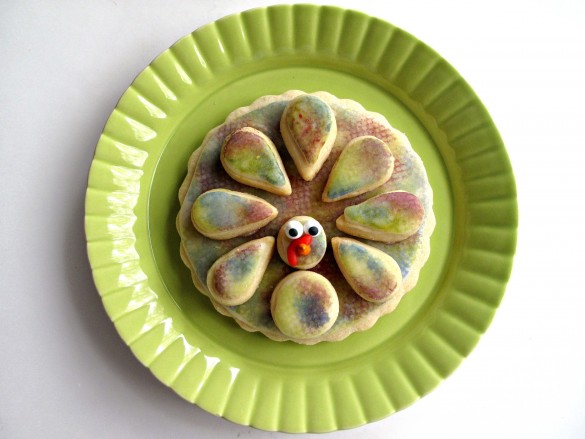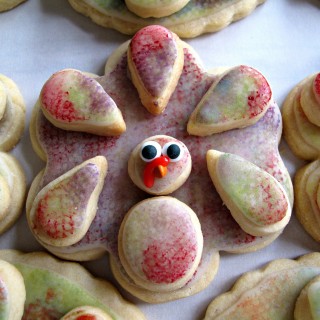 Print
3-D Turkey Cookies
Servings
9
- 3" cookies with added cut-outs
As an Amazon Associate I earn from qualifying purchases.
Ingredients
DOUGH

2 ¾

cups

all-purpose flour

½

teaspoon

baking powder

¼

teaspoon

salt

1

cup

unsalted butter

room temperature

2/3

cup

granulated sugar

2

teaspoons

lightly beaten egg

1 ½

teaspoons

vanilla extract

1/8

teaspoon

lemon extract or Fiori di Sicilia flavoring

ICING

4

cups

confectioner's sugar

3

tablespoons

milk

add more to thin icing to desired consistency

3

tablespoons

light corn syrup

1

teaspoon

vanilla extract

DECORATING

food coloring

gel or liquid (India Tree natural food colors recommended)

paper towel squares

1 for each color being used

plastic wrap

1- 6" strip for each color being used

twisty ties

1 for each color being used

small bowl of water

candy eyes

orange rainbow chip sprinkles
Directions
In a medium bowl, whisk together the flour, baking powder, and salt. Set aside.

In the bowl of an electric mixer, cream together the butter and sugar until light and fluffy.

Beat in the egg and extracts.

Gradually add the flour mixture and mix just until combined.

Form the dough into a disc, wrap in plastic wrap, and refrigerate until firm (30 minutes- overnight).

WHEN READY TO BAKE: Preheat oven to 350° F. Line a baking sheet with parchment paper.

Use ½ of the dough at a time, keeping the remaining dough refrigerated until ready to use. Between two sheets of plastic wrap, roll out the dough to 1/8 " thickness.

Remove the top plastic wrap and cut out cookies, 5 tear-drop shaped feathers for each cookie, and 1 head and 1 body circle for each cookie. Place cookies on the prepared baking sheet about 2" apart. The large cookies should be baked separately from the feather and head/body cookies.

Bake for 10-12 minutes until the edges begin to turn golden brown. The small cookies will require less time than the larger ones, so should be baked separately and watched carefully to avoid burning.

Allow the cookies to cool 10 minutes on the baking sheet before removing to a wire rack to cool completely.

ICING: In a medium bowl, mix together the confectioner's sugar, milk, corn syrup and vanilla until smoothand glossy. Add additional milk in teaspoon increments until desired consistency. (Icing consistency should be thin enough to spread easily but thick enough not to drip off the cookies. It should resemble a thin paste but not glue.)

Remove ¼ cup of icing into a small bowl. Color the icing red, then place in a piping bag with a very small round tip (Wilton #2), or cut off a tiny corner of the bag when ready to add the red icing over the turkey beak (snood).

To apply the icing choose 1 of the following suggested methods:

SPATULA METHOD: Use icing that is a spreadable consistency. Spoon the icing or use a piping bag or ziplock bag with a small part of a bottom corner cut off to place some icing onto a cookie and use a knife or offset spatula to spread the icing evenly over the surface of the cookie. Allow the icing to dry overnight. (Reserve left over icing to attach head, body, and feathers later.)

OUTLINE/ FLOOD METHOD: Two consistencies of icing will be used. First, spoon about 1 cup of icing (thin paste consistency) into a piping bag or ziplock bag with a small part of a bottom corner cut off. Outline the top of each cookie. Thin all remaining icing to the consistency of glue and spoon into a piping bag or ziplock bag. Set aside and allow the icing outline to dry for about 1 hour. When the outline has set slightly, pipe the remaining icing onto each cookie filling in the outlines. Allow the icing to dry overnight. (Reserve left over icing to attach head, body, and feathers later.)

DECORATING (ADDING COLOR): You will need 1 paint dauber for each color. To make paint daubers, cut a paper towel sheet into 4 pieces. Scrunch a piece of plastic wrap into a ball and place at the center of a paper towel square. Twist the paper towel around the plastic wrap and secure with a twisty tie.

Dispense about 5 drops of each color food coloring onto a plate. Leave room between colors.

Moisten a dauber slightly in the water. Dip the dauber in a food color, blot off excess color, then pat onto the cookie. Use a different dauber for each color.

Cookies should be dry before they are stored. Drying time varies. My India Tree natural food colors required overnight drying.

When the coloring is completely dry, the body, head, and feathers can be "glued" onto the cookie using the icing as glue. Add the eyes and beak. Use the red icing to pipe on the snood (the red thing that hangs off a turkey beak).

Allow the icing glue and snood to dry completely (1-2 hours) before wrapping or storing.

Store cookies in an airtight container at room temperature for up to 2 weeks.
Packing Tips
Double wrap each cookie in plastic wrap, then place in an airtight container or zip lock bag. Use crushed tissue paper or other packing material to assure that the cookies do not move during transit.