Warm Caramel Apple Mug Cake is a cozy treat that can be enjoyed literally at a moments notice!  Moist vanilla cake is filled with spiced apple slices and melted caramel. This cake mix microwave mug cake can be ready to eat in just one minute!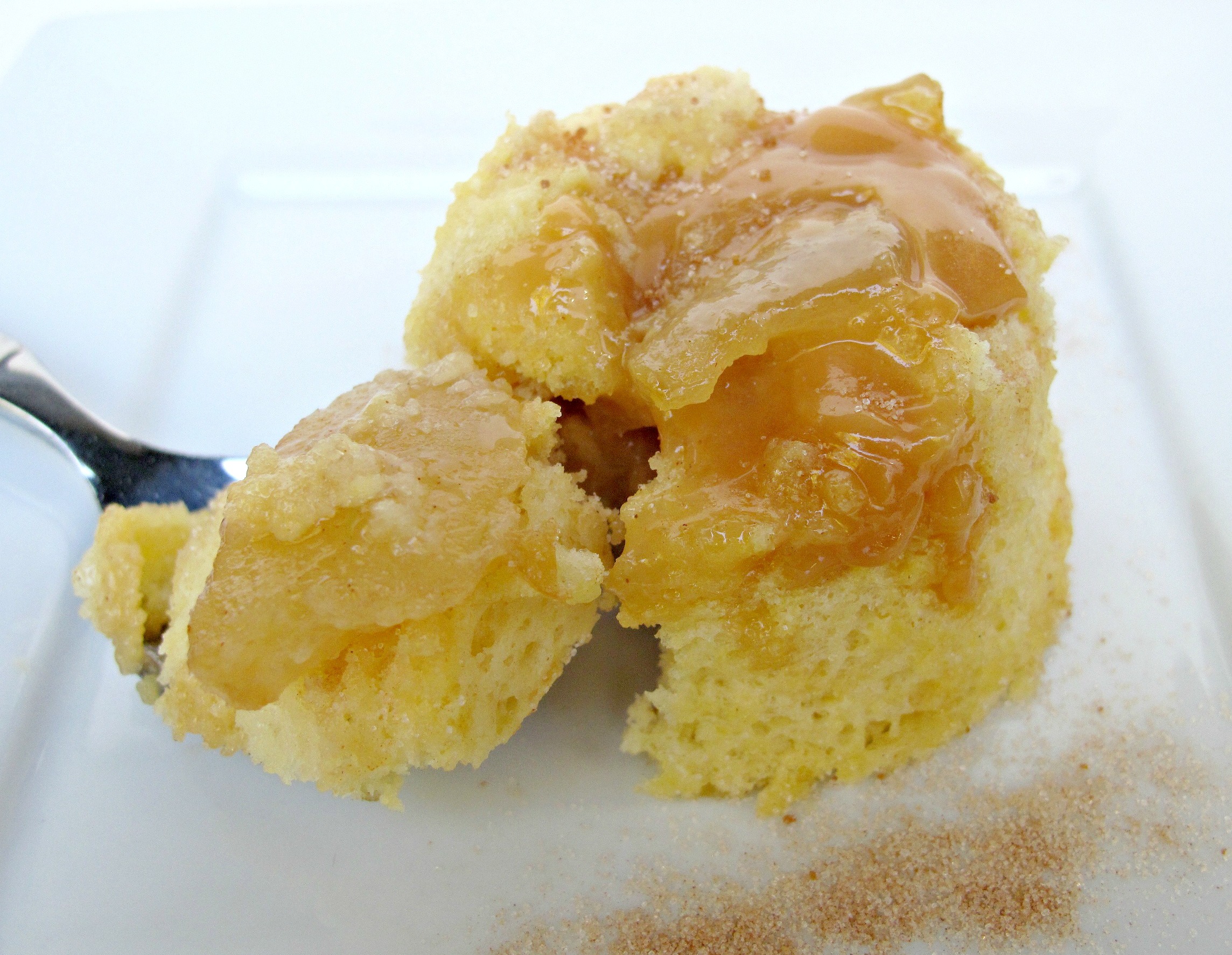 Baking away in my cozy little niche of care package recipes, I can't always be a part of blogging trends when it comes to seasonal flavors. The summer flew past without any Monday Box recipes using fresh fruits or vegetables.
Due to the high moisture content, baked goods containing fruits and vegetables don't travel well and are more prone to spoil. (Read my guide to Shipping Baked Goods in Hot Weather ) Instead, Monday Box bars and cookies using extracts and colorful chips offered a taste and look of summer.
Now the buzz is all about fall flavors; Halloween candy, pumpkin, caramel, and apples. These flavors are mailable. Caramel Apple Mug Cake is fall in a steamy mug of vanilla cake, gooey caramel, and spiced apples.
A sweet autumn treat that goes from craving to reality in 1 microwave minute! This fall flavors care package is perfect for anyone with access to a microwave.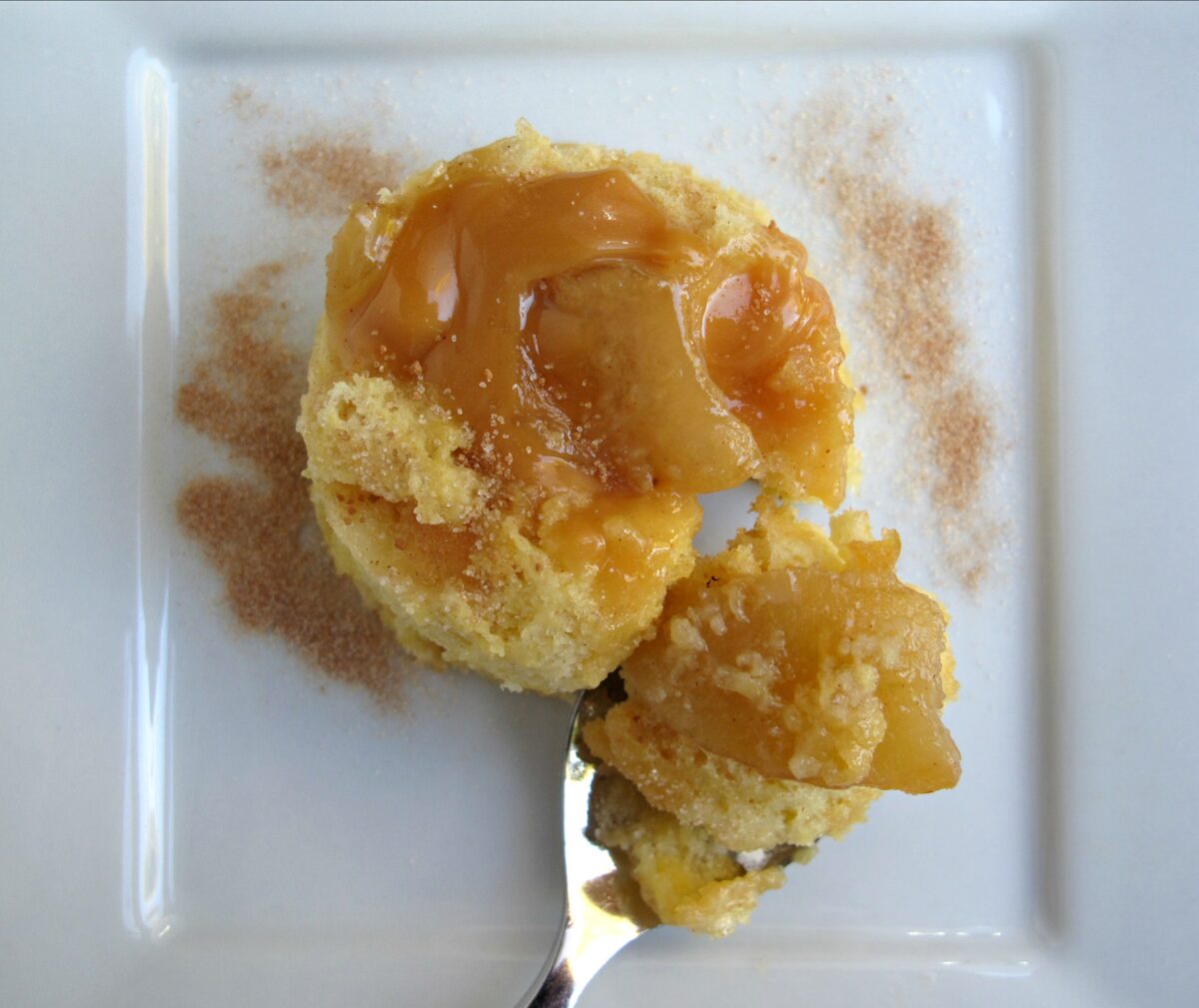 At the end of last school year, I went to retrieve my son in Chicago after his grueling round of sophomore year finals. He owned 6 mugs. All 6 were stacked in his room awaiting washing (I don't want to think about exactly how long the wait had been.)
My son's room was on the 4th floor and the only kitchen sink was in the basement. The studying time crunch of Exam Week required 3 a.m. munchies and provided no time for dish washing. 3-2-1 mug cakes excellently filled the bill for quick sugar fixes at odd hours, but left that pile of mugs.
Too bad I hadn't though then to send him disposable microwave safe cups/mugs. I am suggesting it now. If your 3-2-1 Caramel Apple Mug Cake care package recipient is a college student, include disposable microwave safe cups with handles.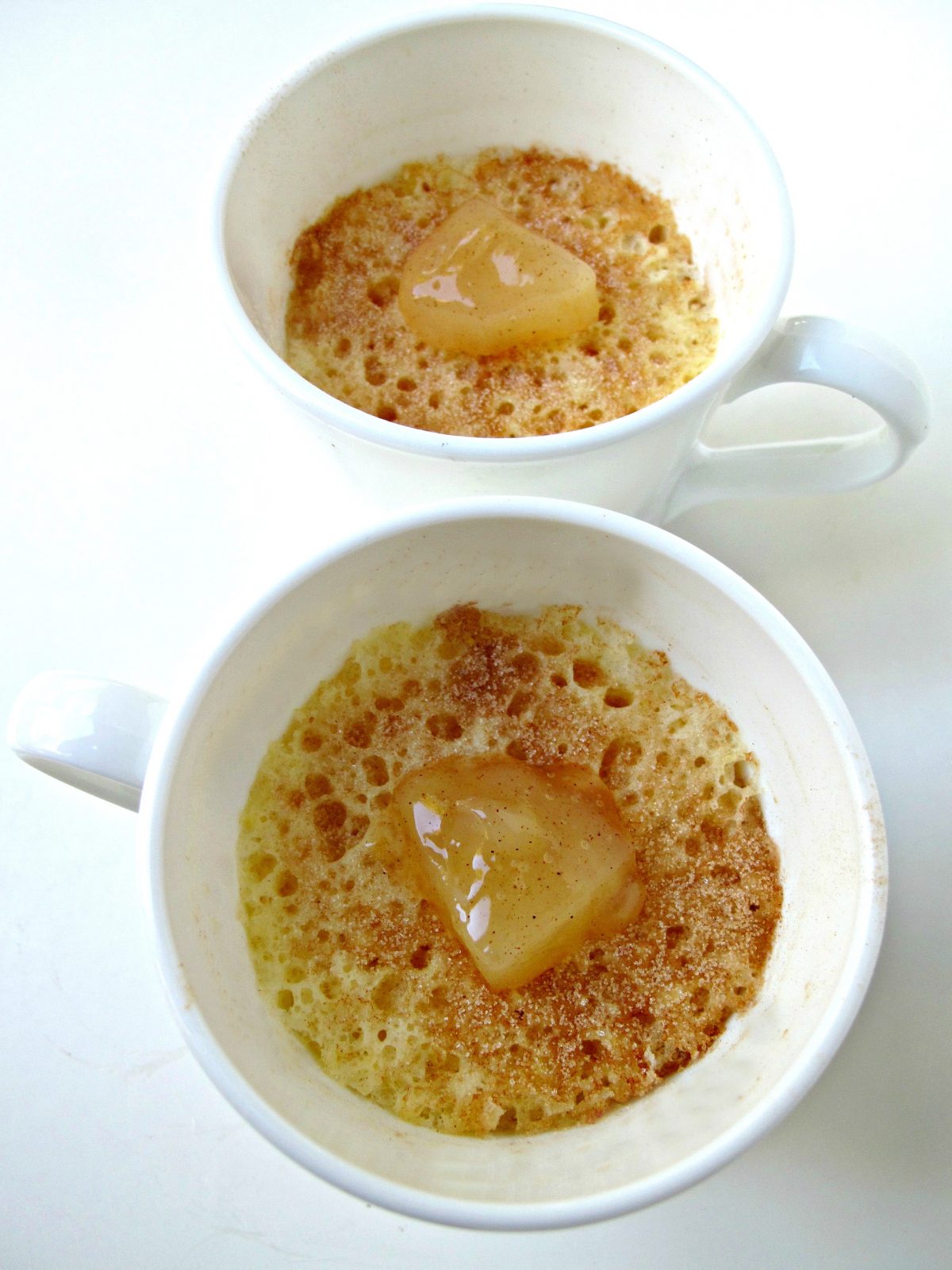 My friend and fellow blogger, Gina, commented the last time I posted a 3-2-1 cake recipe, saying she thought that aerosol cans were not allowed in overseas military care packages. I double checked, and confirmed that the aerosol cans of Pam I had previously suggested can not go in overseas 3-2-1 mug cake care packages.
No worries. The disposable microwave safe cups are also perfect for military care packages to troops with access to a microwave. I will update my previous posts.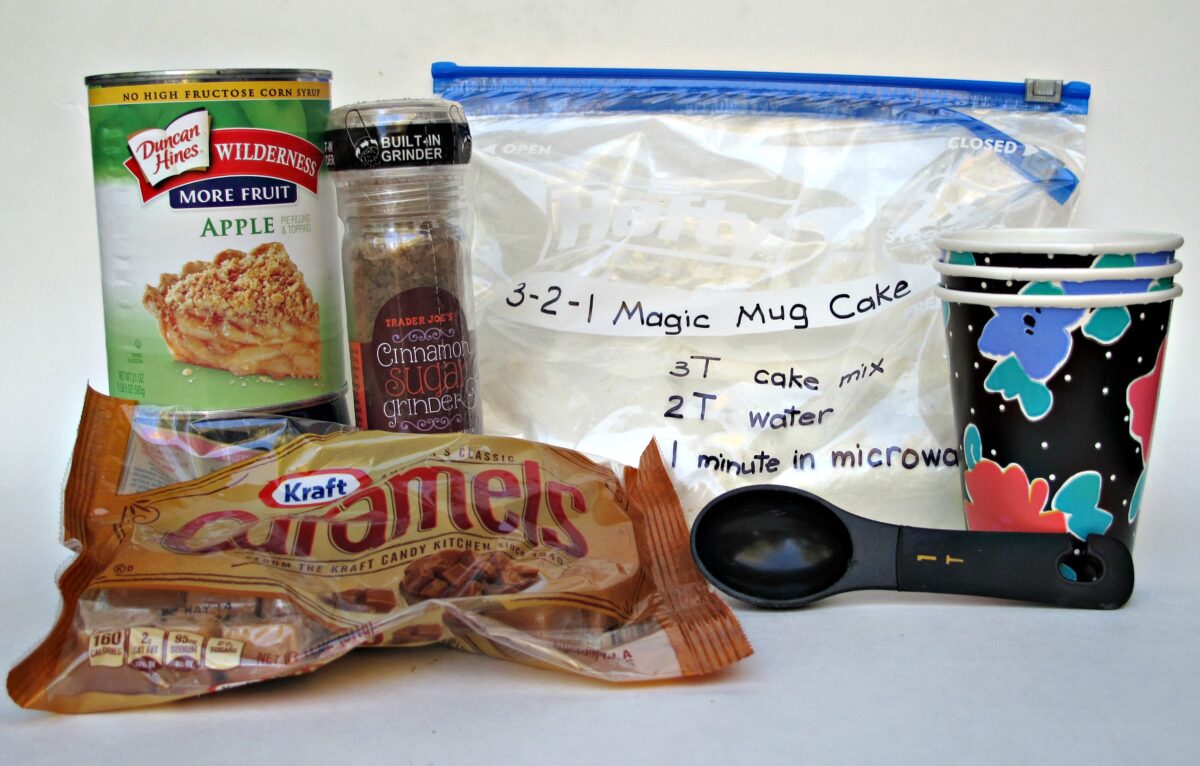 Ready to bake? Join the free membership group to get new recipes and a newsletter delivered to your inbox! You can also stay in touch on Facebook, Pinterest, and Instagram. I'd love to stay in touch!
 
3-2-1 Caramel Apple Mug Cake
A mug filled with fluffy, vanilla cake , sweet cinnamon apples, and buttery, melted caramel.
Print
Rate
Ingredients
1

box Angel Food Cake mix

1

box yellow cake mix

Non-stick spray

if not using disposable cups

Water

72

Caramel squares

3 per mug

1

can

apple pie filling

1-2 slices of apple per mug (I used Duncan Hines Comstock/Wilderness)

1

jar

cinnamon sugar
Instructions
In a gallon sized ziplock bag, combine the two boxes of cake mix. Shake the bag to mix thoroughly.

Lightly coat the inside of a microwaveable mug with non-stick spray or use a disposable microwave safe paper cup. (Without the spray the cake will not transfer out of the mug and the mug is harder to clean.)

(Here comes the 3-2-1 part) Into the prepared mug, stir together 3 tablespoons of cake mix and 2 tablespoons of water. Cut a slice of canned apple in half and place on top of batter in cup. They will sink in. Gently press together three caramel squares one on top of the other forming a tower. Push the caramel squares down into the center of the batter. The cake will rise around the tower, so don't worry if some of the caramel is not submerged.

Microwave on high for 1 minute.

Sprinkle the top of the cake with cinnamon sugar then eat it right out of the mug. If you want to transfer the cake onto a plate, run a knife around the edge between the cake and the mug to loosen, dump out onto a plate, then sprinkle with cinnamon sugar.
Notes
Packing tips
Combine the two cake mixes into a labeled gallon-size ziplock bag.
Include a measuring spoon, bag of caramels, can of apple pie filling, and a jar of cinnamon sugar.
If the care package is international, include microwave safe paper cups. If the care package is domestic, add either a can of non-stick spray (for use with a ceramic mug) or microwave safe paper cups.
Write out directions on an index card or directly on the ziplock bag.
For a special touch, include a mug and spoon.
Nutrition
Calories:
294
kcal
|
Carbohydrates:
56
g
|
Protein:
4
g
|
Fat:
8
g
|
Saturated Fat:
2
g
|
Cholesterol:
2
mg
|
Sodium:
382
mg
|
Potassium:
194
mg
|
Fiber:
1
g
|
Sugar:
37
g
|
Vitamin A:
20
IU
|
Vitamin C:
1
mg
|
Calcium:
96
mg
|
Iron:
2
mg
First Published: October 27, 2013. Last Updated: July 28, 2022. Updated for better reader experience.