Chocolate Peppermint Shortbread Cookies are speckled with tiny morsels of mint chip dispersed throughout rich chocolate shortbread. This easy and convenient slice-and-bake recipe deserves a spot on your baking list!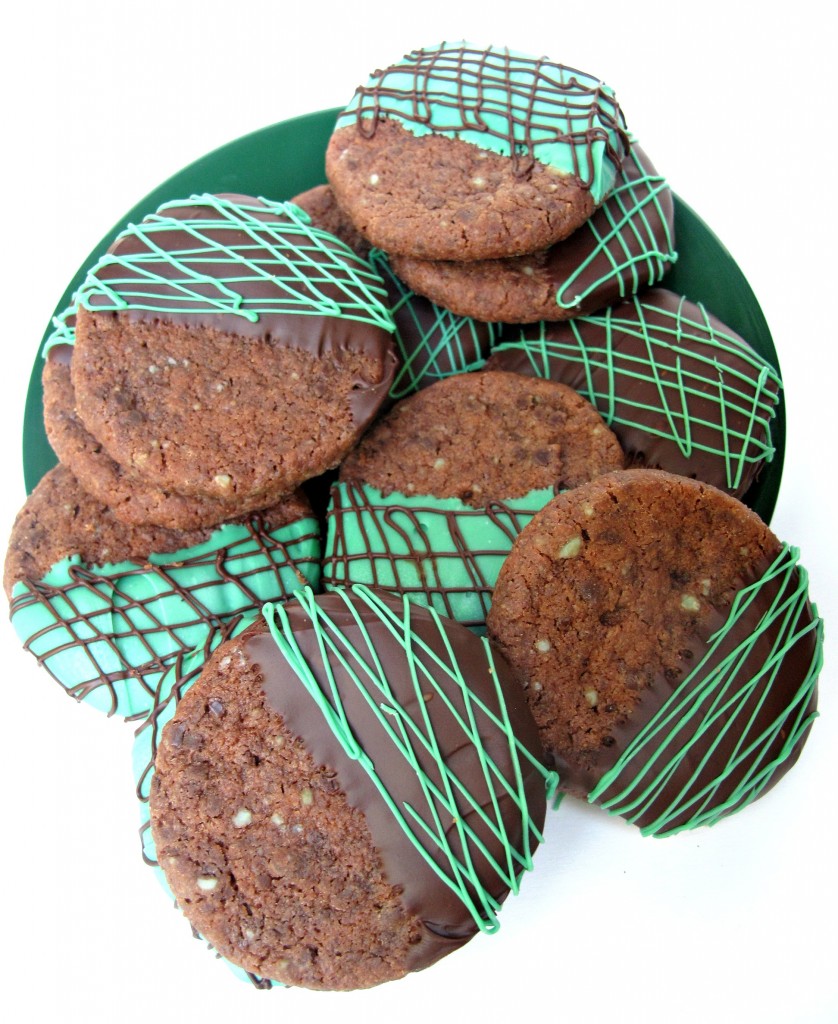 I have been an enthusiastic reader of food blogs for about 4 years. Our meals are frequently cooked from recipes gleaned from my trusted blog haunts. I love reading about the cooking adventures of this group of talented home chefs. Sure, I have plenty of cookbooks written by professional chefs/bakers and test kitchens. But you can't email a test kitchen with a question and get a timely (if ever) response or see a photo of the professional baker's toddler enjoying their birthday cake. Bloggers seek and give feedback. While sharing an enthusiasm for cooking, with tid bits of life stories thrown in for flavor, bloggers forge virtual (and sometimes real life) friendships with their readers.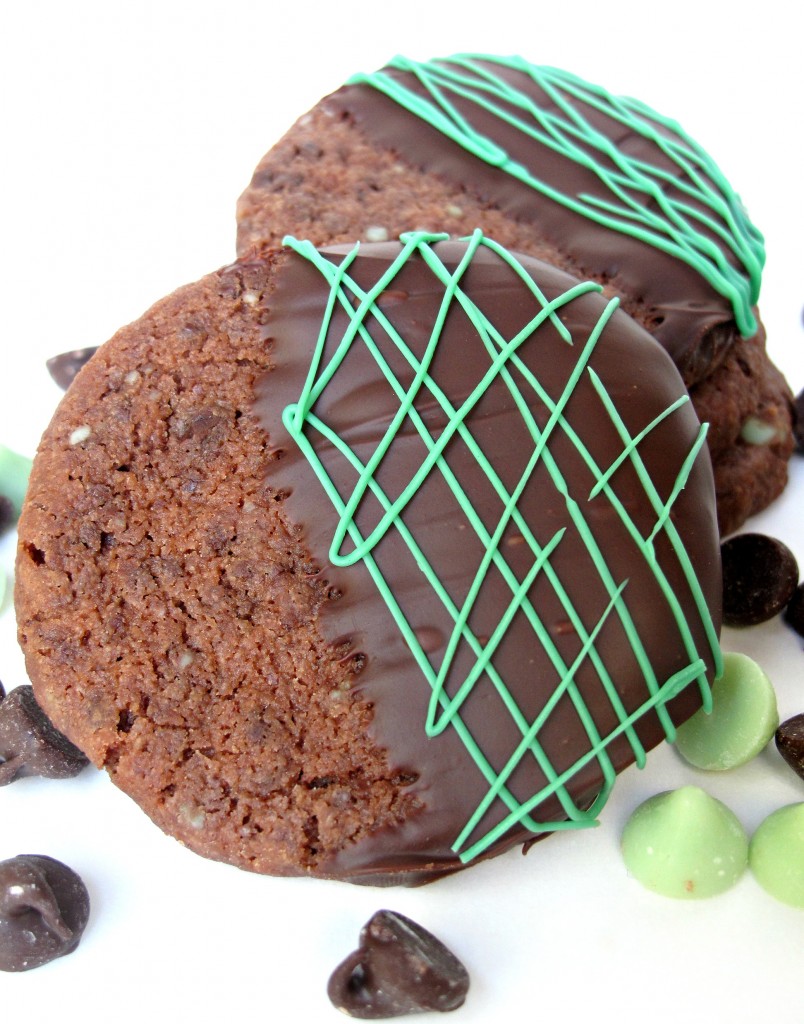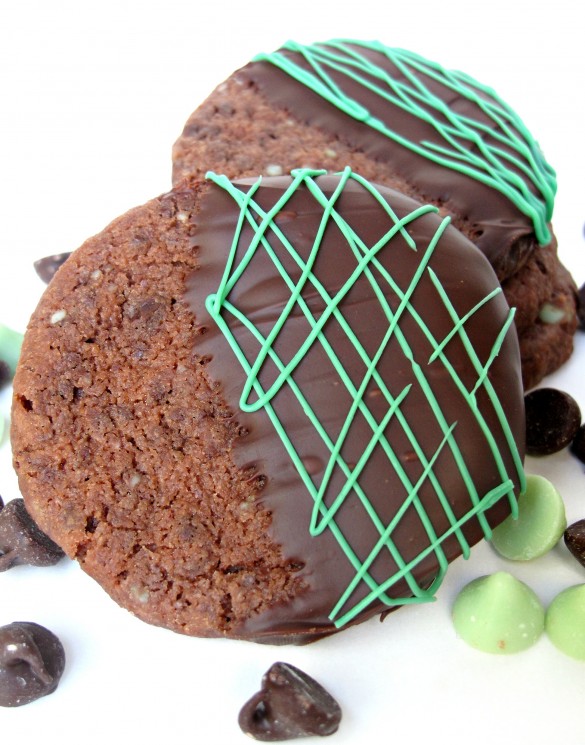 Inspiration abounds in the blogisphere. Sometimes I am looking for a specific kind of inspiration; flavors to pair with white chocolate, Thanksgiving sugar cookies, brownies that survive being shipped to the desert. Sometimes inspiration finds me, resulting in deliciousness like these Chocolate Peppermint Shortbread Cookies.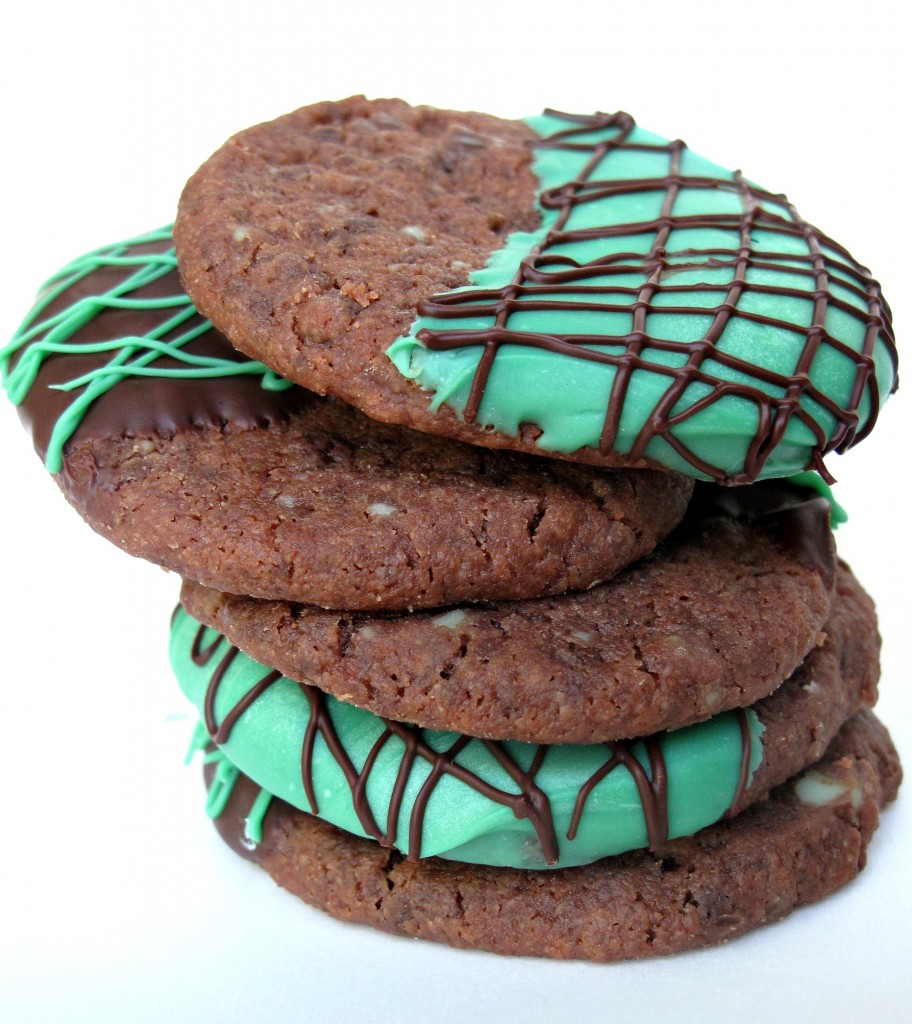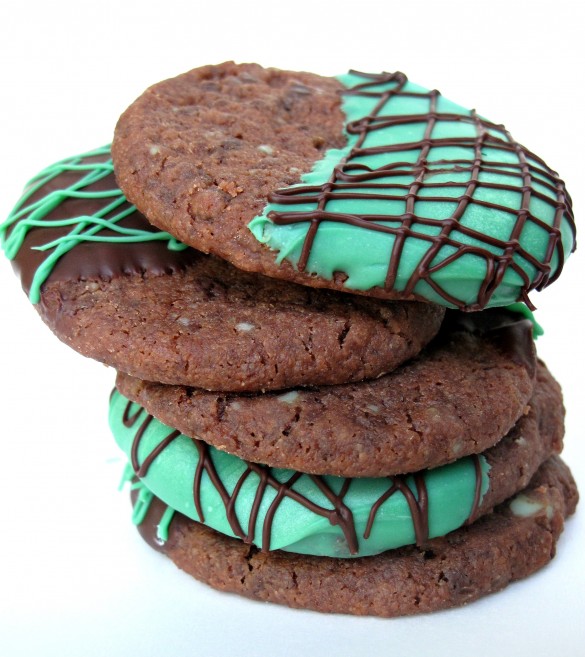 I don't even remember what I was searching for when I came across Sweet Hope Cookies. It was not a blog I had seen before. I was quickly drawn in by Anita's story, her humorous conversational writing, and her recipes. Anita bakes and sells beautifully decorated FLAVORED sugar cookies. One hundred percent of her cookie profits go to the ALS Association in honor of her brother Randy. That tells you already that she has a giving spirit, but she also cheerfully shares her baking secrets on her blog. If you want to order cookies, she can help you out. If you want to bake them yourself, she can help you there too!
There are a number of cookie concepts percolating in my mind using some of Anita's baking methods. There is one method that I am especially excited about and I put to immediate use in these Chocolate Peppermint Shortbread Cookies.  This fantastic idea, that Anita frequently  uses to flavor her cookies, is referred to by the very technical term, "de-chipping" by which baking chips (chocolate chips, peanut butter chips, mint chips, etc.) are chopped to smithereens in the food processor before adding them to the cookie dough. These tiny morsels of flavor disperse throughout the dough, boosting flavor and texture. They can even be added to roll-out or slice-and-bake dough. Regular or even mini-chips give a bumpy surface to roll-out dough and make it difficult to evenly cut a slice-and-bake log. The "de-chipped" flavor bits are so tiny that rolling or cutting are no problem.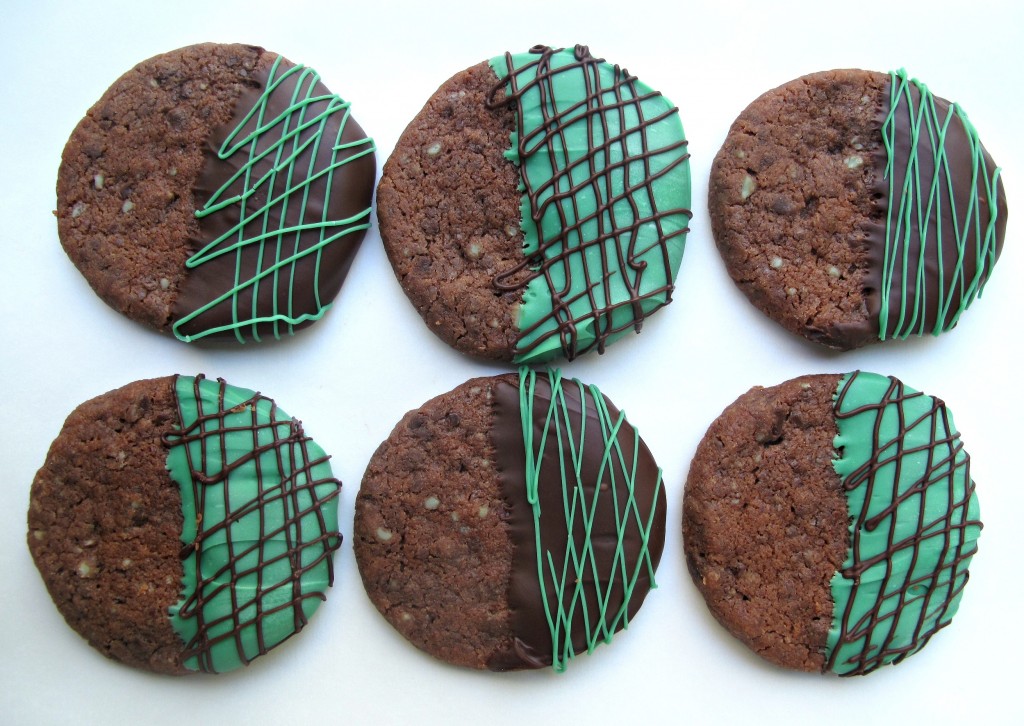 I baked  Chocolate Peppermint Shortbread Cookies using the "de-chipping" method with Nestle's Winter Mix baking chips (dark chocolate and mint chips). Mint chips seem to be a Christmas season item. If you aren't a chip hoarder like I am, and find yourself in the middle of July without access to mint baking chips, use chocolate chips and add ¼ teaspoon of peppermint extract to the dough. I think you could probably use Andes mints year round as well, but I haven't tried "de-chipping" them.  When "de-chipping", be sure to process on "pulse". Short bursts will eventually chop up the chips without melting them.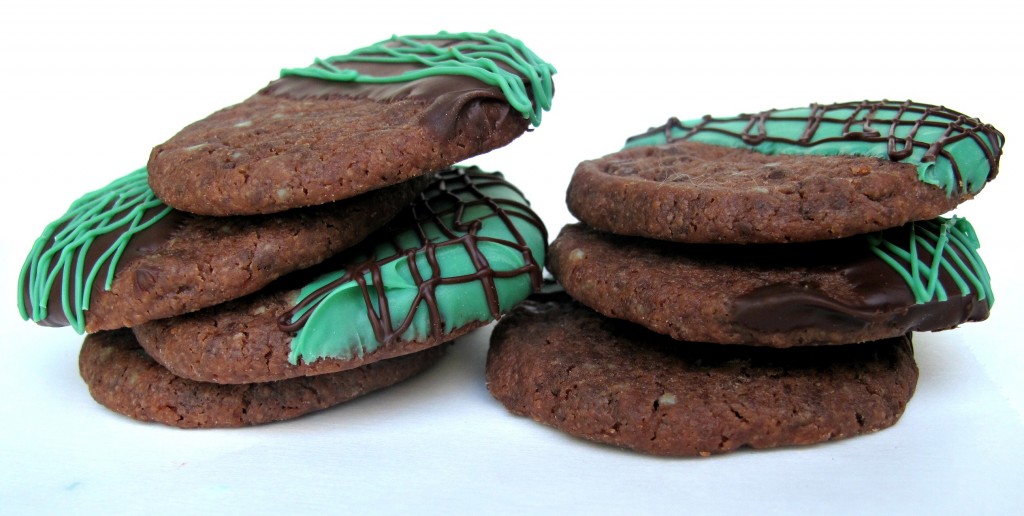 For comparison, I did bake a batch of Chocolate Peppermint Shortbread Cookies with whole mini semi-sweet chocolate chips. The flavor seemed identical. The texture was different. With the tiny "de-chipped" bits dispersed throughout the dough, the cookie has a slight crunch mixed with the melting texture of shortbread. With whole mini chips, there was no crunch, just melty-ness. Both were good. I prefer the crunch. Also, I found the mini chip dough log difficult to slice without the cookies crumbling.  For mini chip dough, I recommend following the directions from the original recipe which called for rolling the cookies into individual balls, then flattening with the bottom of a glass.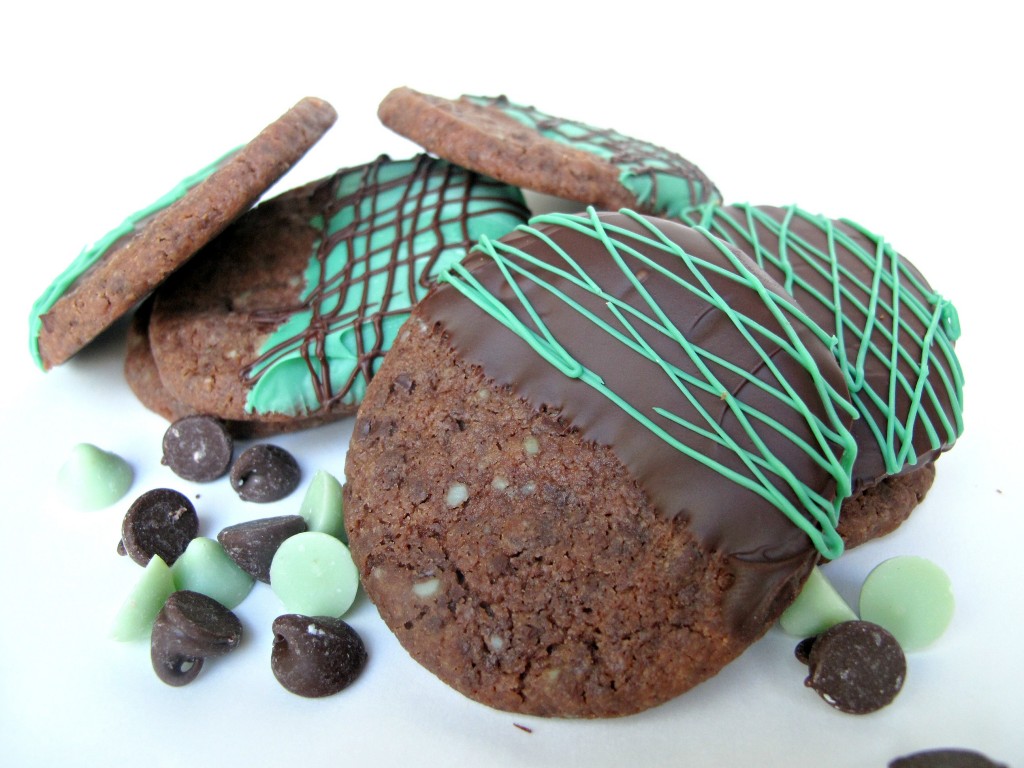 Shortbread cookies are great cool weather (I don't like sending butter cookies in hot weather) care package cookies. When stored in an airtight container at room temperature Chocolate Peppermint Shortbread Cookies will stay fresh for at least 2 weeks. For long storage/shipping, no or minimal chocolate dipping is recommended. The chocolate coating will begin to look dull and whitish while the cookies remain delicious.
**Important storage or shipping fact** Mint cookies will share their minty-ness with any item they are stored/packed with. Think mint banana bread, mint peanut butter cookies, or mint sourdough loaf. Not a good thought, is it? Store your Chocolate Peppermint Shortbread Cookies separately from other cookies. If mailing, make it a mint themed care package.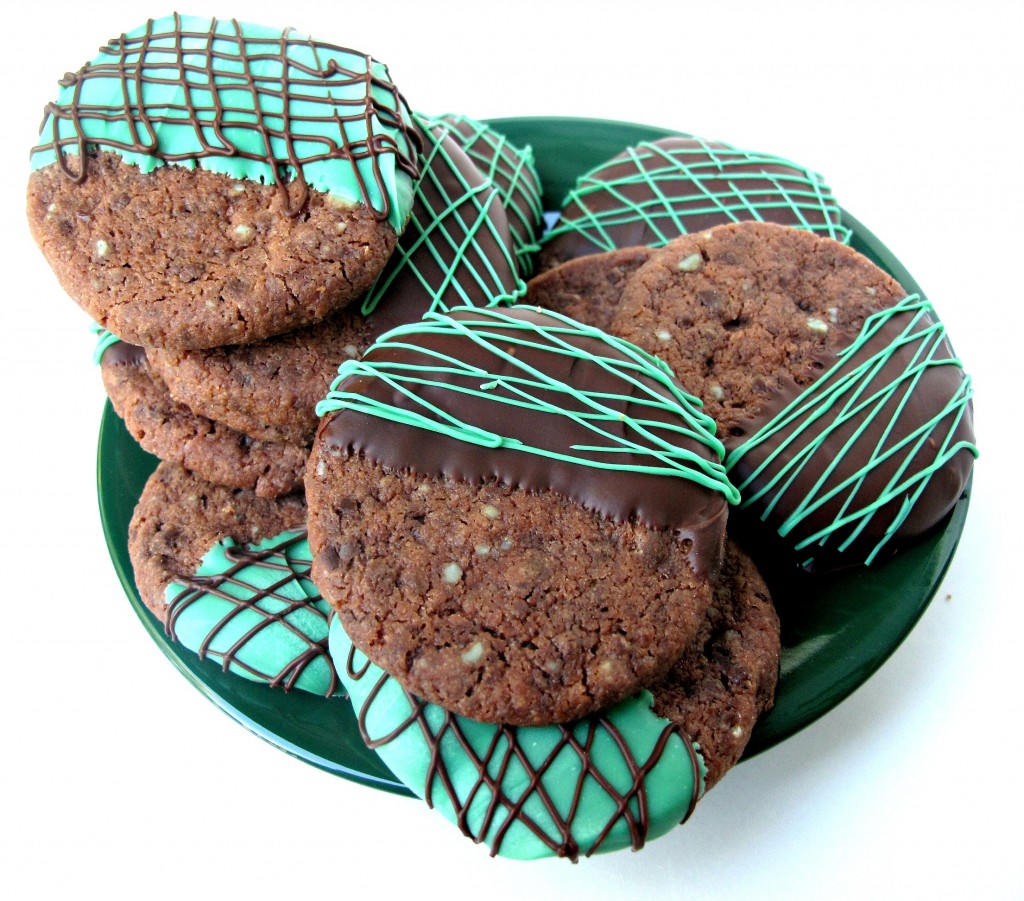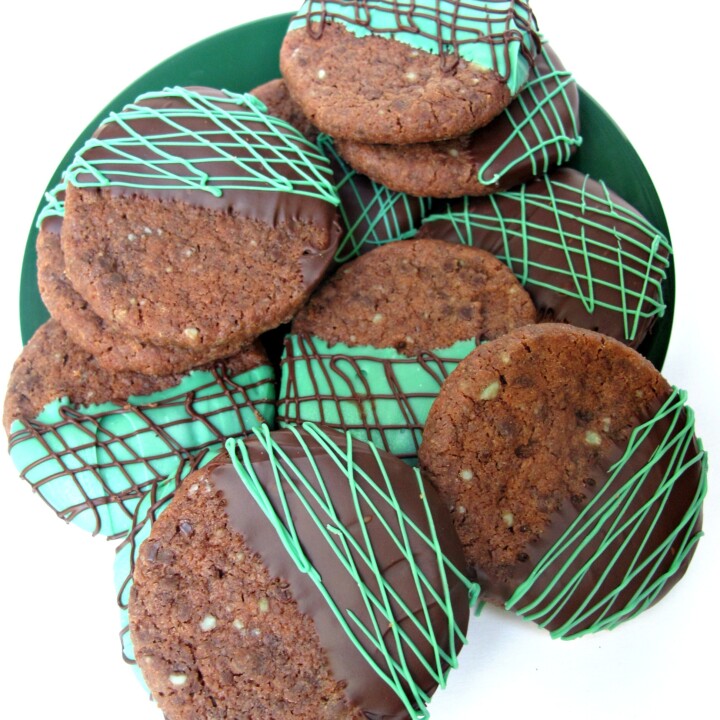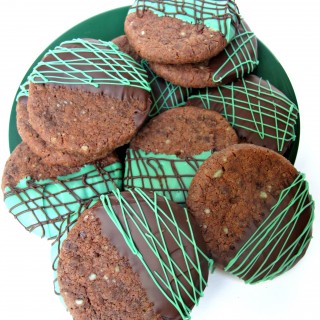 Chocolate Peppermint Shortbread Cookies
These crunchy, chocolate cookies are speckled with bits of mint chip.
Print
Rate
Adapted From:
Landolakes.com
Ingredients
¾

cup

unsalted butter

room temperature

½

cup

confectioners sugar

2

ounces

unsweetened baking chocolate

melted, cooled slightly

1 ½

cups

all-purpose flour

1

cup

combination mix chocolate and mint chips

or ½ cup chocolate chips and ½ cup mint chips (or 1 cup chocolate chips and ¼ teaspoon peppermint extract)

Dipping chocolate

optional: About 1 cup chocolate chips melted/ About 1 cup mint chips melted
Instructions
To "de-chip" the chocolate/mint chips, place the chips in the bowl of a food processor. Pulse until finely chopped. Do NOT run the processor with the "on" setting or the chips with melt.

In the bowl of an electric mixer, cream together the butter, sugar, and melted chocolate. If using peppermint extract, add it now.

Slowly add flour until a dough forms.

Stir in "de-chipped" bits.

Form into a log, wrap in wax paper and plastic wrap, and refrigerate until firm enough to slice (about 15 minutes in the freezer or 30 minutes in the fridge).

When ready to bake: Pre-heat oven to 375 degrees F. Line a baking sheet with parchment paper.

Slice the dough into ¼ – ½ " thick slices and place on the baking sheet about 1" apart. These cookies spread very little.

Bake for 8-9 minutes, until set but not dry looking.

Cool for a few minutes on the baking sheet then move to wire racks to cool completely.

If dipping in chocolate: In a small bowl, melt the chocolate in the microwave.

Dip the cooled shortbread into the melted chocolate and place on waxed paper until set.

For drizzle decorating, additional chips can be melted in a zip lock bag. Cut a tiny corner off the bottom of the bag in order to pipe drizzle lines.

Cookies must be completely cool and/or chocolate completely set before storage. Store at room temperature in an airtight container for at least 2 weeks. Uncooked dough logs can be refrigerated for 3-4 days or frozen for 1 month.
Notes
Packing tips
Double wrap pairs of cookies (with bottoms together) in plastic wrap, then place in an airtight container or zip lock bag. For longer storage, vacuum sealing is recommended.
Mint cookies will share their minty-ness with any item they are stored/packed with. Think mint banana bread, mint peanut butter cookies, or mint sourdough loaf. Not a good thought, is it? Store your Chocolate Peppermint Shortbread Cookies separately from other cookies. If mailing, make it a mint themed care package.
Nutrition
Calories:
81
kcal
|
Carbohydrates:
7
g
|
Protein:
1
g
|
Fat:
6
g
|
Saturated Fat:
4
g
|
Trans Fat:
1
g
|
Cholesterol:
12
mg
|
Sodium:
1
mg
|
Potassium:
24
mg
|
Fiber:
1
g
|
Sugar:
2
g
|
Vitamin A:
142
IU
|
Calcium:
4
mg
|
Iron:
1
mg