If you are a lover of all things pumpkin, then you have come to the right place! Even if you are only a fan of a few things pumpkin, you have still come to the right place! Make plans to bake these scrumptious (and adorable) little Pumpkin Butterscotch Cakes, then browse through the list of more than 100 other bloggers who are sharing their best pumpkin recipes today for #virtualpumpkinparty.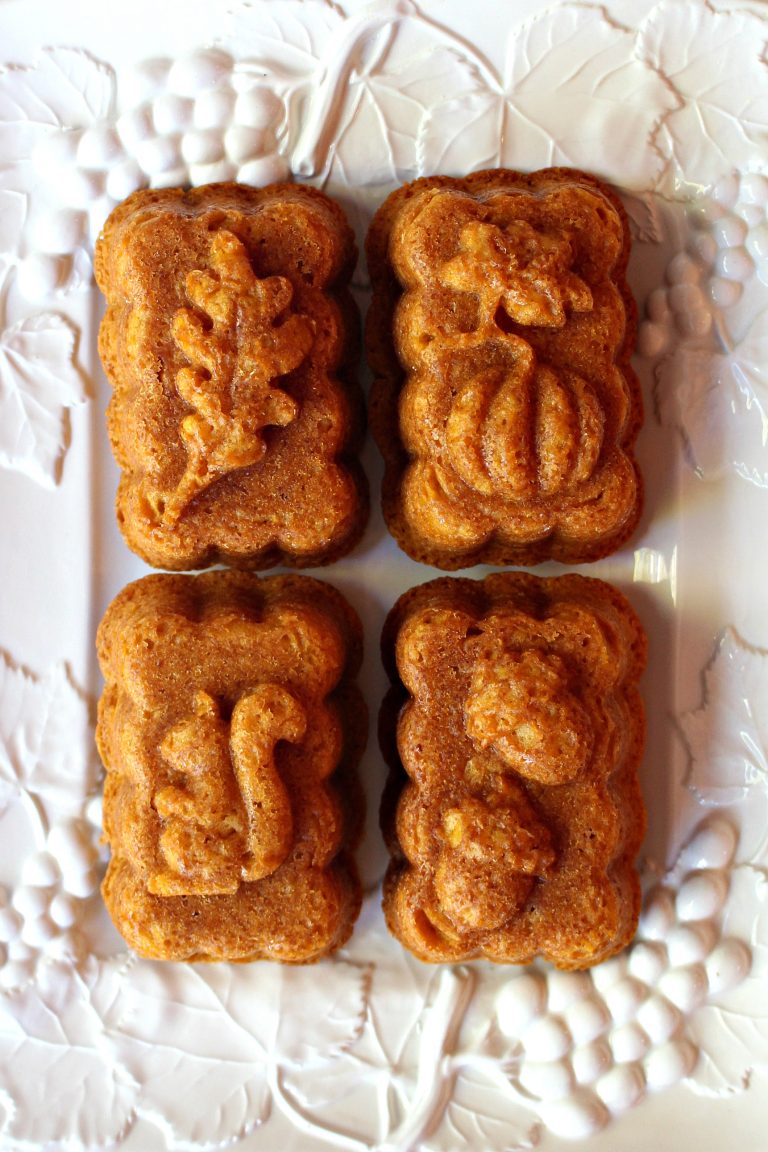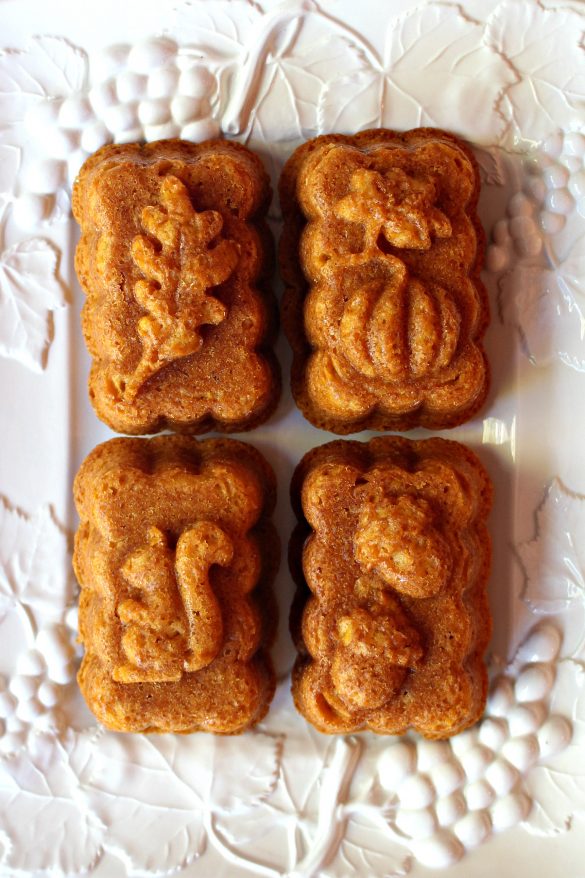 Out of the almost 200 recipes on The Monday Box, only a handful are for muffins, loaves, or mini-cakes. There are two reasons for this. The first reason is that it's difficult to find/create recipes for cake-y items that stay fresh for more than a few days. Baked goods made with a packaged mix stay fresh longer due to the preservatives used. The second reason for the lack of cake-y recipes on The Monday Box is that cakes are difficult to pack, especially if frosting is involved.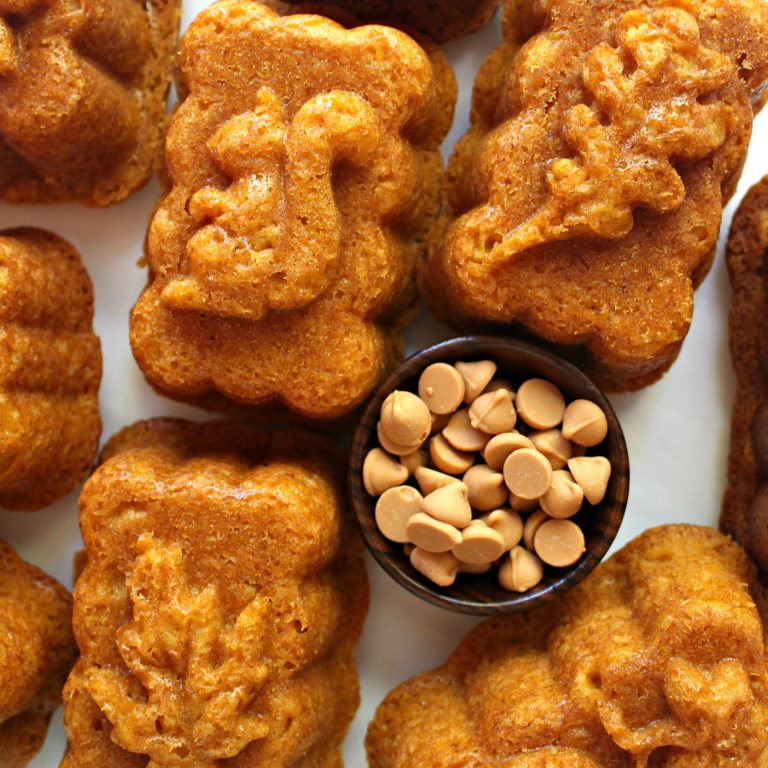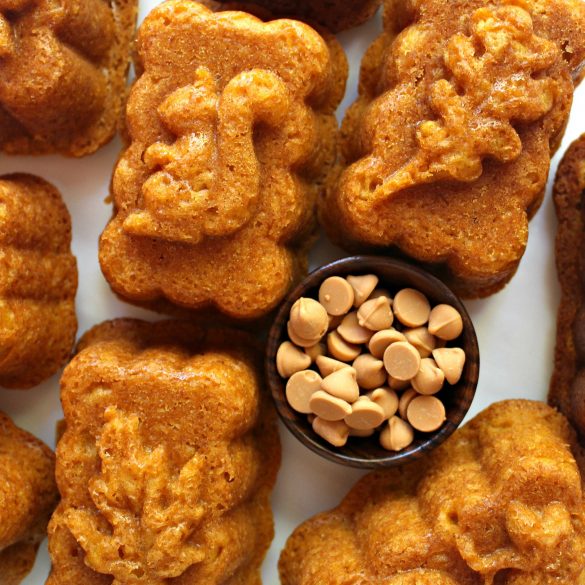 Pumpkin Butterscotch Cakes, with a wonderful moist texture and individual portion size, pack well, travel well, and taste delicious. Though I wouldn't ship Pumpkin Butterscotch Cake in hot weather(moist cake is more prone to molding in warm weather), in cooler temperatures these cakes will stay fresh for at least 5 days. This recipe also conquers the frosting issue. Though additional icing isn't needed, you can sprinkle the little loaves with confectioner's sugar or drizzle a bit of spiced icing. I think that by using my Nordicware Harvest Mini Loaf Pan (not sponsored, just adored), Pumpkin Butterscotch Cakes come out of the oven too cute to cover up. The variety of molded shapes on top (leaves, turkey, squirrel, and acorns) are fun for all fall cake eating occasions.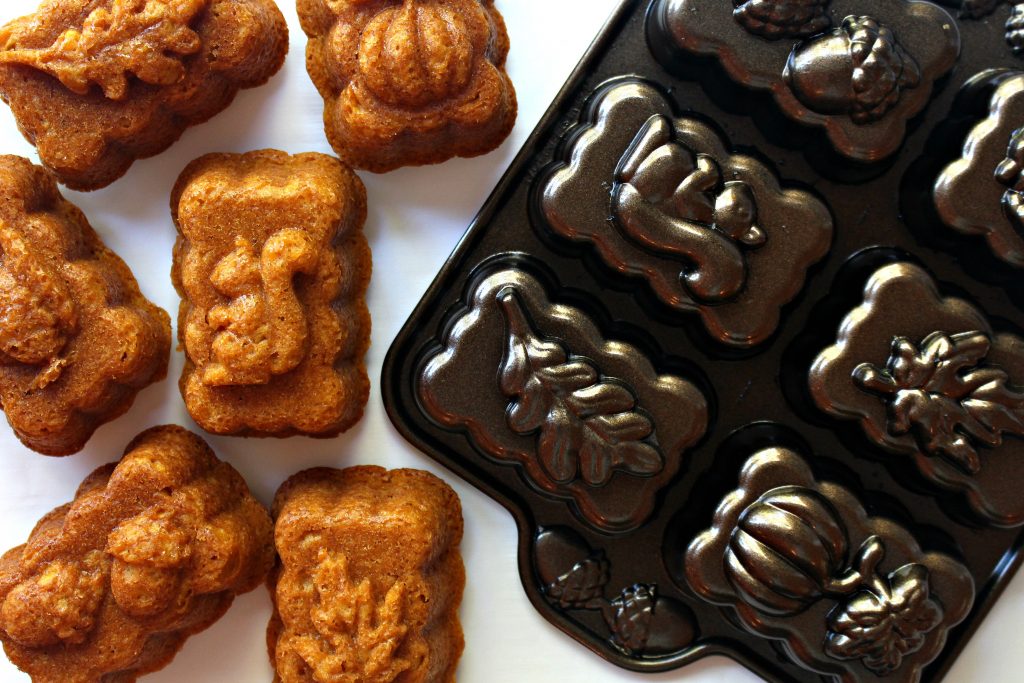 Though I lean toward un-iced Pumpkin Butterscotch Cakes, icing can make it easier to cater to a variety of tastes with one recipe. I don't like nutmeg, allspice, and clove, so my recipes tend to rely on cinnamon for their spiced flavor. Others I bake for love pumpkin pie spice. Instead of putting the pumpkin pie spice in the cake, I put it in the icing. Some get icing and some don't. Everyone is happy!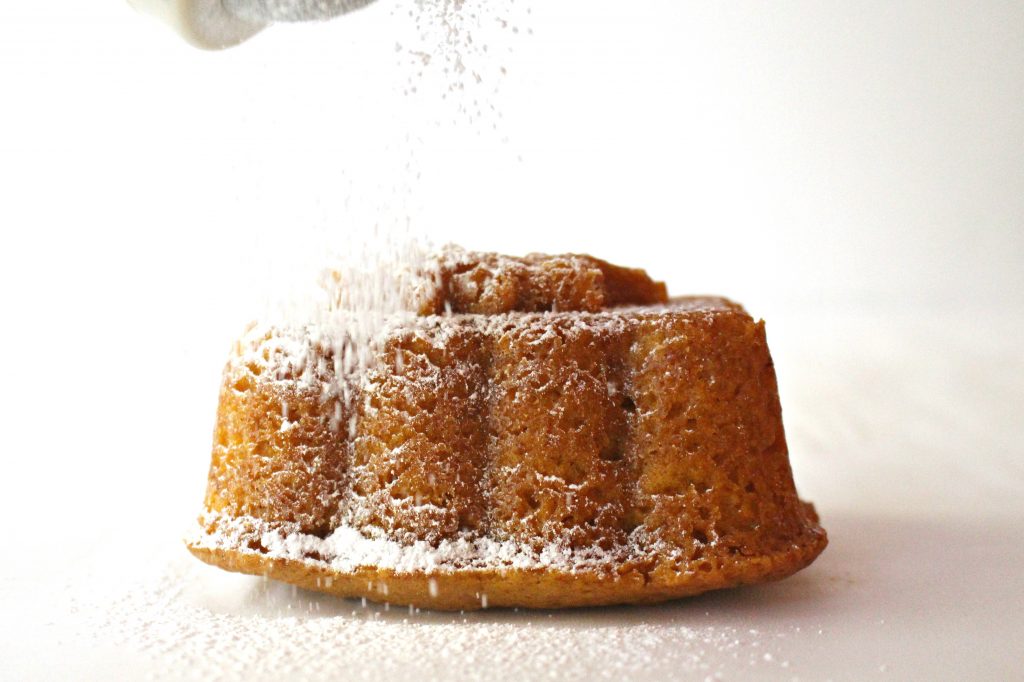 If using icing, I recommend adding it to the individual Pumpkin Butterscotch Cakes right before eating. For shipping, the cakes and the icing ingredients should be packaged separately. A super easy way to package the icing is to premeasure the dry ingredients into a small ziplock bag. Include directions to add 1- 1 ½ teaspoons of water, massage the bag to mix the contents, cut a tiny bit off one bottom corner of the bag, and drizzle onto the cake.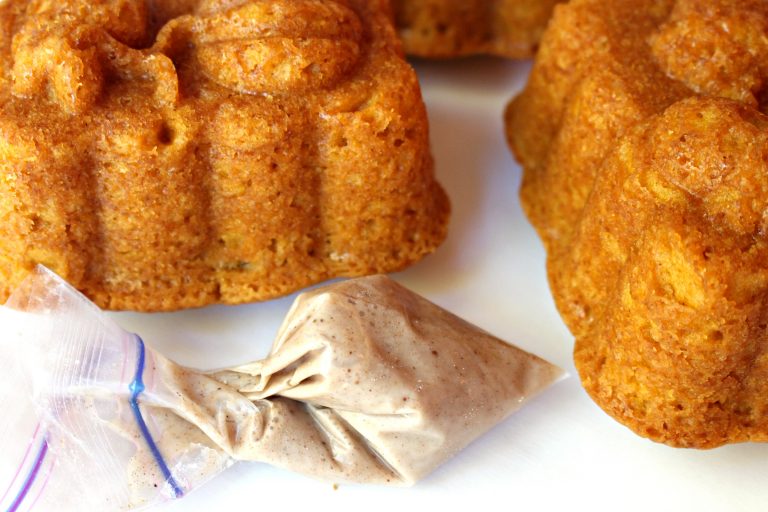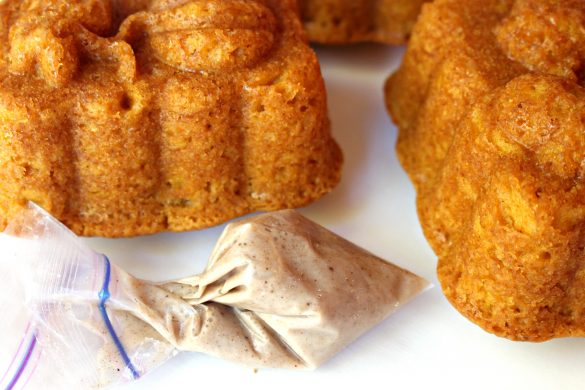 Pumpkin Butterscotch Cakes are quick and easy to make, two bowls and no mixer! In addition to sending the cakes in care packages, I'll be making them as gifts, and keeping a few for a treat with my afternoon coffee/tea. The flavors are warming and the little characters on top make me smile. I played with several recipes before finalizing this one, and it's a keeper. Give Pumpkin Butterscotch Cakes a try and I think you'll agree.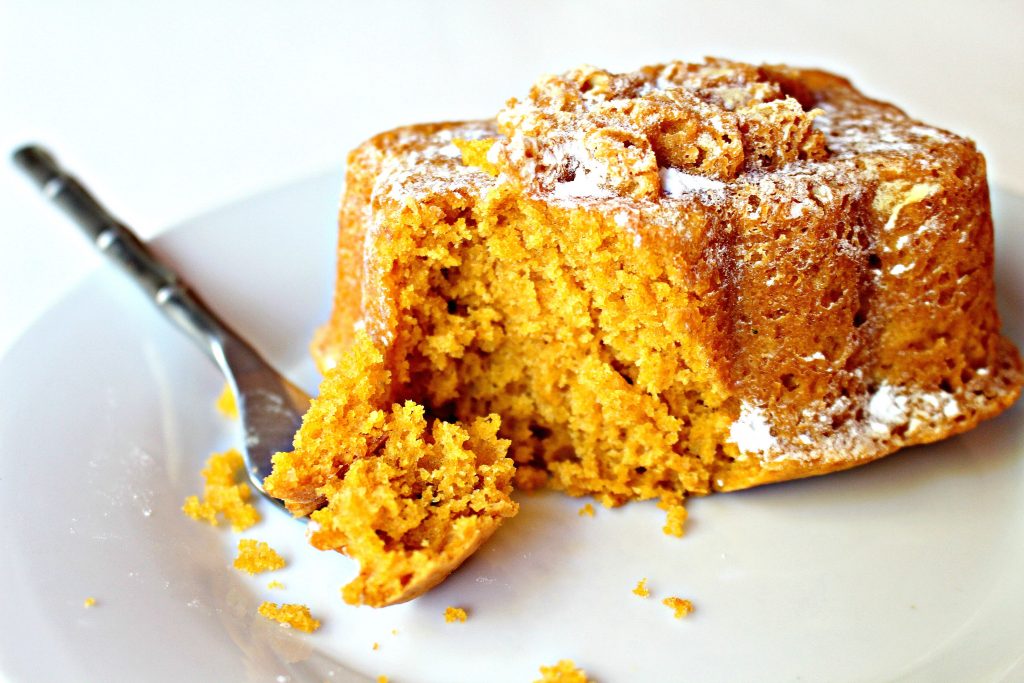 Thanks to Sara from Cake Over Steak and Aimee from Twigg Studios for organizing the Virtual Pumpkin Party. There are so many talented cooks, chefs, and bloggers sharing recipes for this party. Everyone is sure to find recipes to swoon over on this list! Enjoy!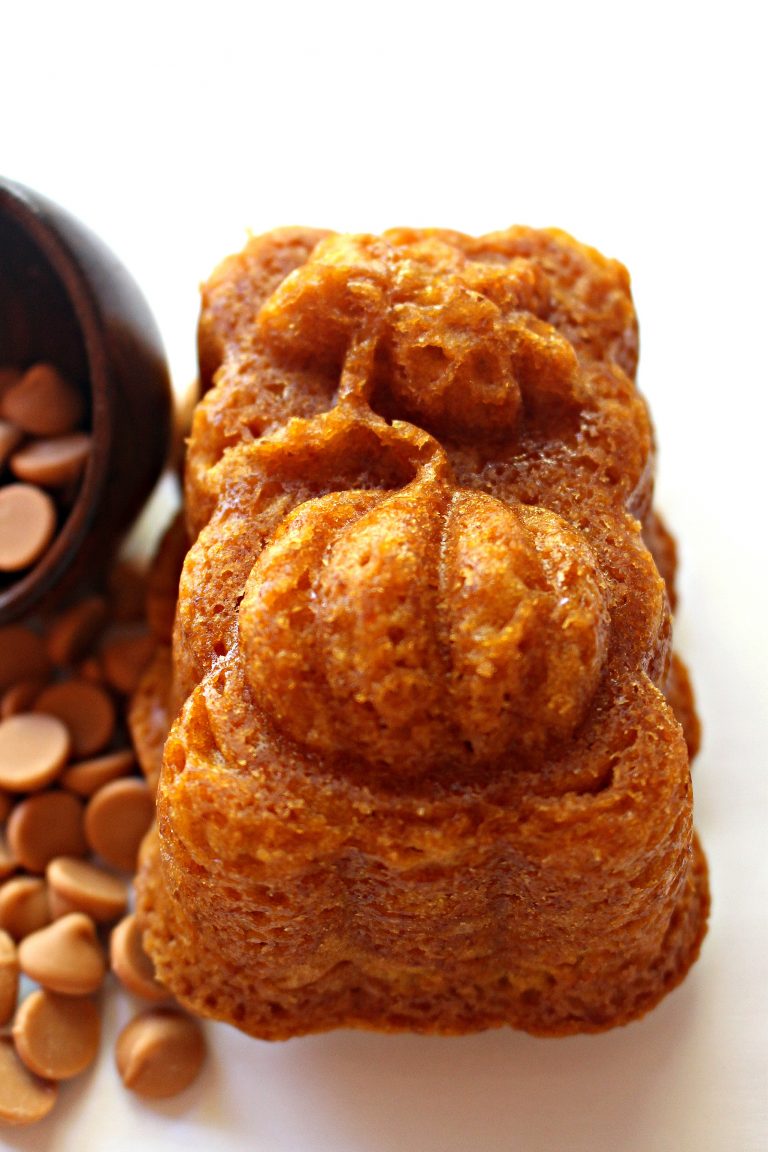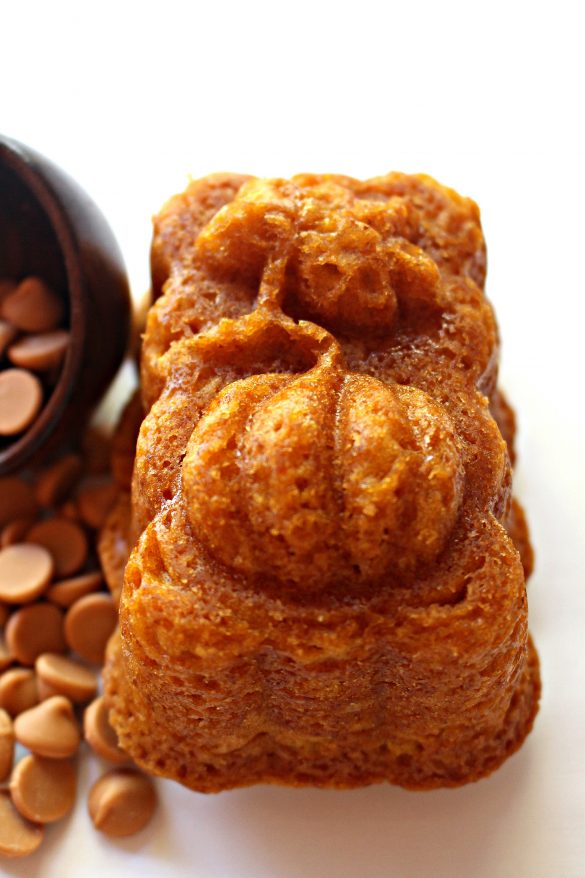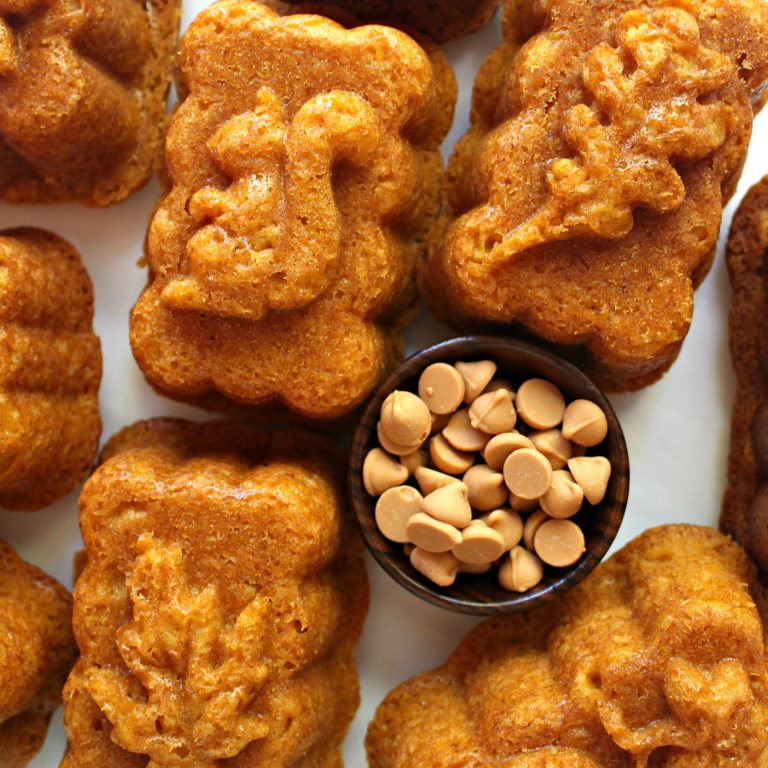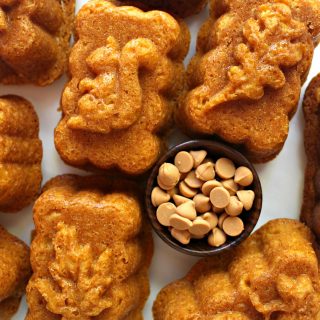 Print
Pumpkin Butterscotch Cakes
Servings
10
mini cakes or 1- 12-cup bundt
As an Amazon Associate I earn from qualifying purchases.
Ingredients
For cake:

2

cups

all-purpose flour

1 ½

cups

granulated sugar

1

tablespoon

baking powder

2

teaspoons

cinnamon

½

teaspoon

salt

1

cup

butterscotch chips

1

cup

canned pumpkin puree

½

cup

vegetable oil

3

large eggs

2

teaspoons

vanilla extract

For optional icing:

4

tablespoons

confectioner's sugar

¼

teaspoon

pumpkin pie spice

1-2

teaspoons

water
Directions
Preheat oven to 350° F. Coat baking pan with non-stick vegetable oil spray.

In a medium mixing bowl, whisk together flour, sugar, baking powder, cinnamon, and salt. Set aside.

In a large mixing bowl, microwave butterscotch chips at 70% for one minute. Stir. If not completely melted, return to microwave for an additional 20 seconds or until melted.

To the melted butterscotch, mix in the pumpkin puree until blended. Then stir in the oil, eggs, and vanilla.

Add the flour mixture to the pumpkin mixture and stir to combine.

Spoon the batter into the prepared pan, no higher than ¾" from the top of each mold.

Bake for 18-23 minutes for mini cakes, 40-50 minutes for large bundt pan. Cake is done when a toothpick inserted into the center of the cake comes out clean. If the batter rose above the top of the molds, and the cakes are touching each other, use a knife to score the touching edges before cooling.

Cool the cakes in the pan for 30 minutes before inverting to unmold onto a wire rack to cool completely.

Store at room temperature (or refrigerate) in an airtight container for about 5 days.

Optional: Pumpkin pie spice icing ingredients can be mixed with 1-2 teaspoons of water and drizzled on the cakes immediately before serving. If shipping the cakes, put the dry ingredients for the icing in a small ziplock bag with directions to mix with water and drizzle.
Packing Tips
Wrap individual cakes in plastic wrap. Place wrapped cakes snuggly in a plastic storage container with no room for movement during shipping. If there is excess room at the top or sides of the container, use crinkled wax paper to fill the spaces.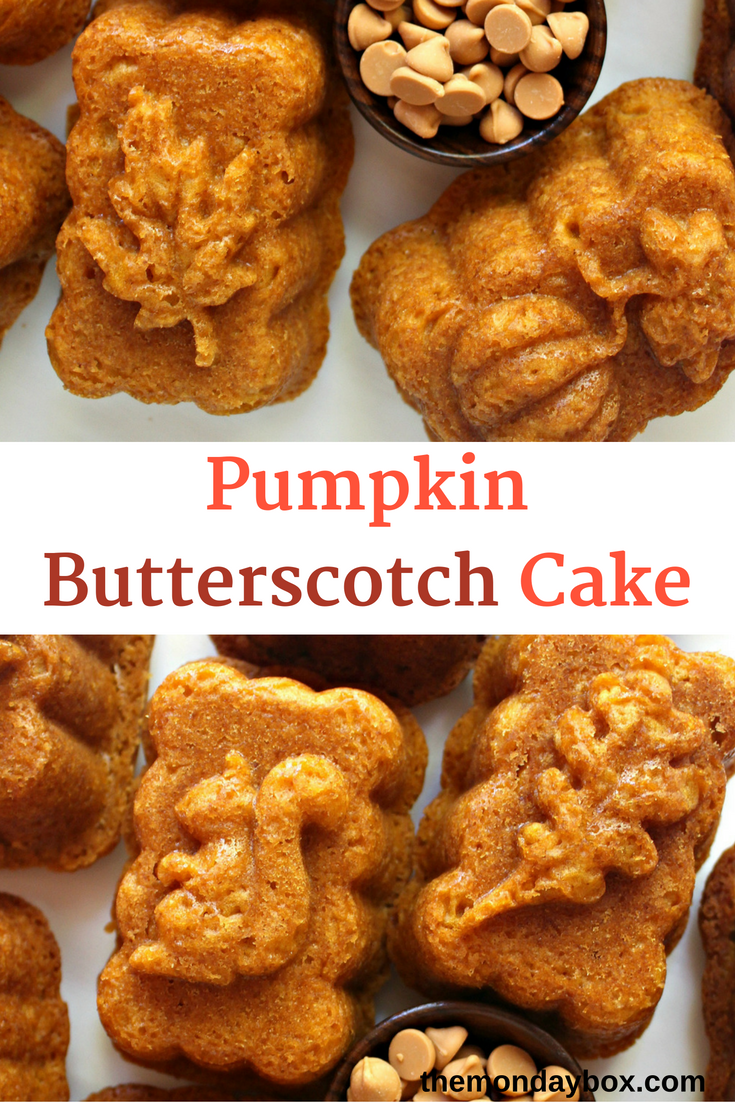 It's a Virtual Pumpkin Party! Enjoy the flavors of fall!
Cake Over Steak • Quick Pumpkin and Kale Risotto + Arancini
Twigg Studios • Sausage Stuffing Baked in a Pumpkin
Jewhungry • Mini Pumpkin + Kale Mac n' Cheese Pot Pies
Cloudy Kitchen • Pumpkin Cake with Vanilla German Buttercream
Vegetarian Ventures • Smoky Pumpkin & Black Sesame Hummus
Eat Boutique • Pumpkin Scallion Dumplings
A Little Saffron • Pumpkin Stuffed Shells
Two Red Bowls • Pumpkin & Maple Caramel Baked French Toast
Wallflower Kitchen • Mini Pumpkin & Cinnamon Sugar Donuts
Wit & Vinegar • Pumpkin Butterscotch Banana Split
Style Sweet CA • Pumpkin Creme Brulee Cake
Nommable • Pumpkin Biscuits with Mushroom Thyme Gravy
With Food + Love • Cinnamon Raisin Pumpkin Seed Bread
Hortus • Creamy Roasted Pumpkin Soup
Sevengrams • Vegan Pumpkin Pie Ice Cream
Grain Changer • Pumpkin Spice Baked Oatmeal
Girl Versus Dough • Pumpkin Cranberry Flax Crisps
Earthy Feast • Pumpkin Grits + Pumpkin Home Fries + a Fried Egg
Harvest and Honey • Truffled Pumpkin Papardelle Alfredo with Frizzled Sage
Tasty Seasons • Pumpkin Chocolate Chip Cake
Broma Bakery • Pumpkin Butter Pop Tarts
Tending the Table • Roasted Pumpkin and Barley Salad
The Sugar Hit • Super Soft Pumpkin Cinnamon Rolls
Delicious Not Gorgeous • Waffles with Spiced Pumpkin Butter and Brown Sugar Walnut Crumble
Taste Love and Nourish • Pumpkin Bread Pudding
The Green Life • Pumpkin Spice Chocolate Chunk & Hazelnut Skillet Cookie (Vegan)
Foolproof Living • Pumpkin Creme Fraiche Pasta with Sage
The Monday Box • Pumpkin Butterscotch Cakes
Design Crush • Pumpkin Bourbon Hot Toddy
The Road to Honey • Pumpkin Pie & Chocolate Layer Cake
My Name is Yeh • Roasted Pumpkin with Yogurt and Hazelnut Dukkah
Give Recipe • Orange Chocolate Pumpkin Bread
Eat Within Your Means • Vegan Pumpkin Blender Muffins
Snixy Kitchen • Pumpkin Tapioca Pudding with Candied Pumpkin Seeds
Ruby Josephine • Moroccan Sweet Pumpkin + Beef Tagine
An Edible Mosaic • Pumpkin Spice Chia Seed Pudding
Hey Modest Marce • Mascarpone Pumpkin Pie
Inspired By the Seasons • Pumpkin Applesauce Smoothie
CaliGirl Cooking • Pumpkin Praline Cinnamon Rolls with Spiked Cream Cheese Glaze
Sally's Baking Addiction • Pumpkin Cream Cheese Bundt Cake
Well and Full • Spicy Chipotle Pumpkin Hummus
Appeasing a Food Geek • Cheese Fondue Stuffed Roasted Pumpkin
SweetPhi • Pumpkin Chili Biscuit Bake
Mademoiselle Poirot • Cinnamon-Pumpkin Mousse on Honey Panna Cotta topped with Hazelnut Brittle
Heart of a Baker • Pumpkin Sticky Buns with Vanilla Bean Frosting
Flourishing Foodie • Massaman Curry with Pumpkin and Chickpeas
Ginger & Toasted Sesame • Pumpkin Jeon
Fix Feast Flair • Hokkaido Pumpkin + Sage Mac and Gouda
Will Frolic for Food • Pumpkin Kale Patties with Coconut Cilantro Rice
A Couple Cooks • Pumpkin Pecan Baked Steel Cut Oats
Vermilion Red • Pumpkin Pie Souffle
Britnell • Vegan Pumpkin Pie
Displaced Housewife • Brown Butter Pumpkin Donuts
Sweet Gula • Pumpkin Cake with Cream Cheese Frosting
La Pêche Fraîche • Pumpkin and Condensed Milk Cakes
Kitchen Konfidence • Pumpkin Ricotta Gnocchi with Rosemary Brown Butter Sauce
Loves Food, Loves to Eat • Savory Pumpkin Bread Pudding
Kale & Caramel • Goat Cheese & Sage-Stuffed Pumpkin Challah
Okie Dokie Artichokie • Pumpkin Chorizo Chili with Sweet Potatoes + Pinto Beans
Salted Plains • Easy Pumpkin Bread
Vermilion Roots • Sweet Rice Dumplings with Pumpkin
Celebrate Creativity • Pumpkin Mini Cheesecake Tarts
Serendipity Bakes • Pumpkin Chocolate Cheesecake
So Much Yum • Vegan Maple-Glazed Pumpkin Spice Doughnuts
The Brick Kitchen • Pumpkin, Pecan & White Chocolate Ice Cream Sandwiches
Cookie Dough and Oven Mitt • Pumpkin Pie Dip
The Speckled Palate • Pumpkin Caramel Cream Cheese Swirl Blondies
Cook Til Delicious • Fall Cliche Cake (Pumpkin Spice Cake / Maple Cream Cheese Frosting / Apple Cider Caramel Sauce)
Floating Kitchen • Chicken and Pumpkin Chili
The Wood and Spoon • Pumpkin Pecan Cake with Burnt Sugar Frosting
Fork Vs Spoon • Pumpkin Streusel Muffins
Lemon & Vanilla • Pumpkin and Coconut Caramel Flan
Dunk & Crumble • Pumpkin Chocolate Icebox Cake
Chicano Eats • Pumpkin Butter Pan de Muerto
Rough Measures • Cosy Pumpkin Spice Latte (Caffeine and Dairy Free)
Brewing Happiness • Pumpkin Ginger Breakfast Cookies
The Little Loaf • Pumpkin Oatmeal Chocolate Chunk Cookies
Fork to Belly • Pumpkin Gnocchi
The Little Epicurean • Chocolate Hazelnut Pumpkin Pie
Bourbon and Honey • Spicy Roasted Pumpkin with Honey and Feta
What to Cook Today • Spicy Pumpkin Noodle Soup
Food by Mars • Pumpkin Pie (Grain-Free, Diary-Free)
The Bojon Gourmet • Pumpkin Butterscotch Pudding
Oh Honey Bakes • Pumpkin Cake with Gingersnap Toffee
Long Distance Baking • Layered Pumpkin Cheesecake
The Jam Lab • Pumpkin Madeleines Dipped in White Chocolate
The Lemon Apron • Pumpkin Gingerbread Loaf with an Olive Oil Glaze
A Cookie Named Desire • Pumpkin Shrubs
Eating Clean Recipes • Vegan Pumpkin Chia Pudding
Kingfield Kitchen • Vegan Fresh Pumpkin Soup
Drink and Cocktail Recipes • Pumpkin Dirty Chai
The Pig & Quill • Pumpkin Sage Cannelloni (Dairy-Free)
My Lavender Blues • Pumpkin, Banana & Olive Oil Bundt Cake
Betty Liu • Pumpkin + Pear Butter Baked Melty Cheese
Happy Hearted Kitchen • Cinnamon Roasted Pumpkin with Tahini Yogurt + Hazelnut Dukkah
InHappenstance • Pumpkin Scones with Maple Butter
Live Eat Learn • Pumpkin Gingerbread Hot Cocoa
Save
Save
Save
Save
Save
Save
Save