We moved into our home 18 years ago today. My kids, 7 and 2 years old, were the only young children on our street. That meant no spontaneous play dates with neighbors. It also resulted in very few trick-or-treaters on Halloween, but that never stopped me from buying several bags of candy "just in case".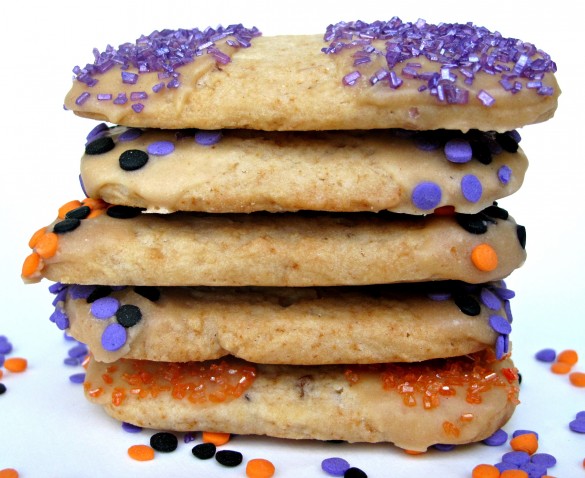 There are two possible approaches to buying Halloween candy when you know it is unlikely that it will be given away. You either buy candy you love, so that you enjoy eating the left overs, or you buy candy you don't like, so that you won't be tempted to eat the left overs.  I need no willpower to ignore coconut or mint candy. Even plain chocolate is easy for me to leave alone. Add in peanuts or peanut butter though, and it's a lost cause. Milky Way bars can sit. Snickers disappear mysteriously.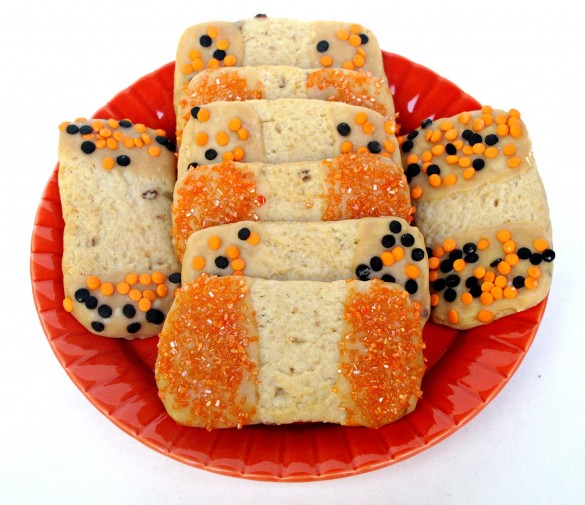 My favorite trick-or-treat bounty as a child were Mary Janes. I am relatively certain most of you have never heard of them. Mary Janes are the kind of candy most kids put in the trade pile; stick-to-your-teeth peanut butter and molasses chews with a small creamy peanut butter center. They are still available today from vendors with names like, "Good Old Days", making me feel quite ancient. When I began thinking of cookies for Halloween care packages (and leisurely at-home munching), my thoughts predictably went to peanut butter and evolved into Peanut Butter and Jelly Cookies.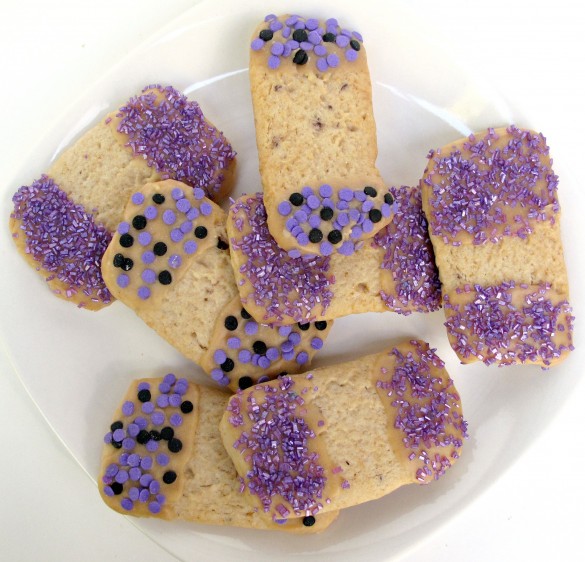 I seem to be making a habit of turning cookies inside-out. When I recently made Caramel-Chocolate Cookies, I found that in most caramel chocolate cookies, the dough is invariably chocolate and caramel is an accent. I turned those inside-out with caramel dough and chocolate accents. This week, I found that Googling "peanut butter and jelly cookies" gets lots of peanut butter cookie recipes with jelly thumbprints or jelly filling. Instead of joining the crowd, this recipe is for jelly/jam cookies. The peanut butter is in the frosting and not in the dough. These are convenient slice-and bake cookies. Make the dough ahead and have it on hand for holiday baking, care packages, and cookies-and-milk time.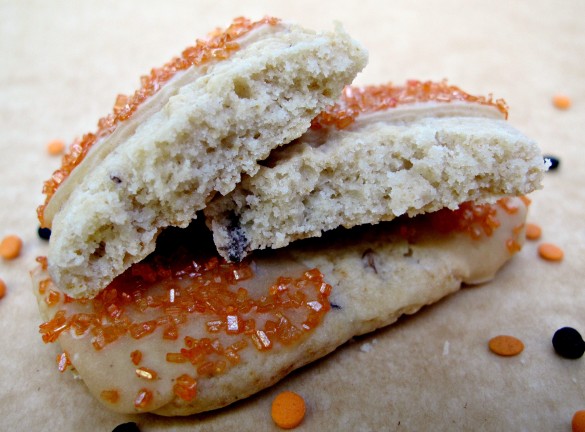 Though some of these cookies are decorated in Halloween colors, peanut butter and jelly is a year round flavor combination. These Peanut Butter and Jelly Cookies are soft and chewy. Any flavor of jam or jelly can be used.  I used blackberry. If you use jam, there will be speckles of fruit pieces in the cookies. Google image and  Pinterest have photos of vividly colored jam cookies supposedly getting their color from jam. No jam, jelly, or fruit syrup I tried produced vividly colored dough. If you want pink, purple, orange, or whatever colored dough, use food coloring.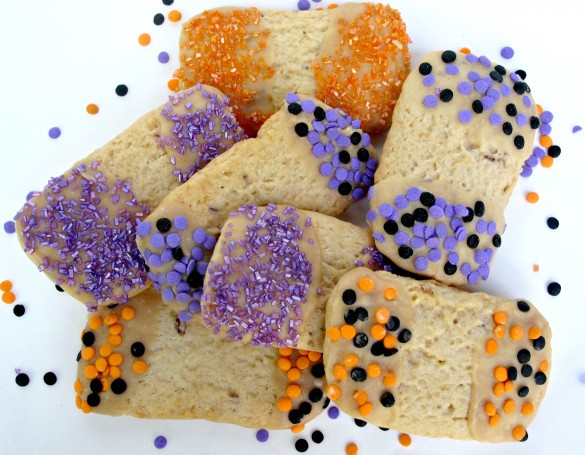 The jelly cookies are delicious on their own, lightly fruity and chewy. For those who don't like peanut butter (or are allergic,) change up the frosting by using a tablespoon of jam instead of the peanut butter.  Soy nut butter, sunflower seed butter, or other nut butters can also substitute for the peanut butter in this frosting. If you are baking these for eating at home (NOT mailing), another wonderful way to enjoy these jelly cookies is to turn them into sandwich cookies with a cream cheese frosting filling. Please do NOT mail cream cheese frosting. It is food poisoning looking for a place to happen. Cream cheese frosting should always be refrigerated.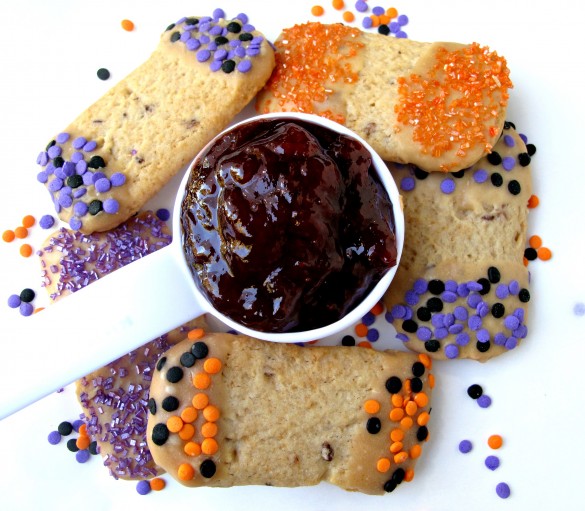 Peanut Butter and Jelly Cookies
Soft and chewy jam flavored cookies with peanut butter frosting.
Print
Rate
Ingredients
Cookie ingredients:

2 ½

cups

all purpose flour

½

teaspoon

baking powder

½

teaspoon

salt

½

cup

unsalted butter

1

cup

granulated sugar

1

large egg

1

teaspoon

vanilla extract

¼

cup

jam or jelly

Frosting ingredients:

½

cup

confectioners sugar

1

tablespoon

creamy peanut butter

1

tablespoon

milk

½

teaspoon

vanilla extract
Instructions
In a medium bowl, whisk together flour, baking powder, and salt.

In the bowl of an electric mixer, cream the butter and sugar until light and fluffy (about 2-3 minutes).

Add the egg, vanilla, and jam. Beat until smooth.

Gradually add in the flour mixture until combined.

On a sheet of plastic wrap, form the dough into a log about 11" long. Wrap in plastic wrap and refrigerate until firm enough to be shaped (about 20 minutes).

Remove dough from refrigerator and, while still covered in plastic wrap, press the dough against the counter to flatten the log into a rectangle about 11" long x 3" wide x 1 ½" high. Chill in the refrigerator or freezer until very firm (about 30 minutes in the freezer). Dough may be frozen for up to 1 month and used as needed.

When ready to bake:Pre-heat oven to 375 degrees F. Line a baking sheet with parchment paper.

Slice the dough into ¼" thick slices and place on the baking sheet about 1" apart. These cookies spread very little.

Bake for 9-11 minutes, until edges begin to brown. For less chewy cookies bake until golden brown all over.

Cool for a few minutes on the baking sheet then move to wire racks to cool completely.

FROSTING: In a small bowl mix the confectioners sugar, peanut butter, milk, and vanilla extract until smooth. If necessary, more milk can be added to thin the frosting or more confectioners sugar can be added to thicken the frosting.

Spread the frosting on the cookies. Decorate with sprinkles or sugar. Allow to dry completely before storing.

Cookies remain fresh for up to 5 days when stored in an airtight container at room temperature.
Notes
Packing tips
Double wrap pairs of cookies (with bottoms together) in plastic wrap, then place in an airtight container or zip lock bag. For longer storage, vacuum sealing is recommended.
Nutrition
Calories:
141
kcal
|
Carbohydrates:
23
g
|
Protein:
2
g
|
Fat:
4
g
|
Saturated Fat:
3
g
|
Trans Fat:
1
g
|
Cholesterol:
17
mg
|
Sodium:
65
mg
|
Potassium:
26
mg
|
Fiber:
1
g
|
Sugar:
13
g
|
Vitamin A:
129
IU
|
Vitamin C:
1
mg
|
Calcium:
11
mg
|
Iron:
1
mg