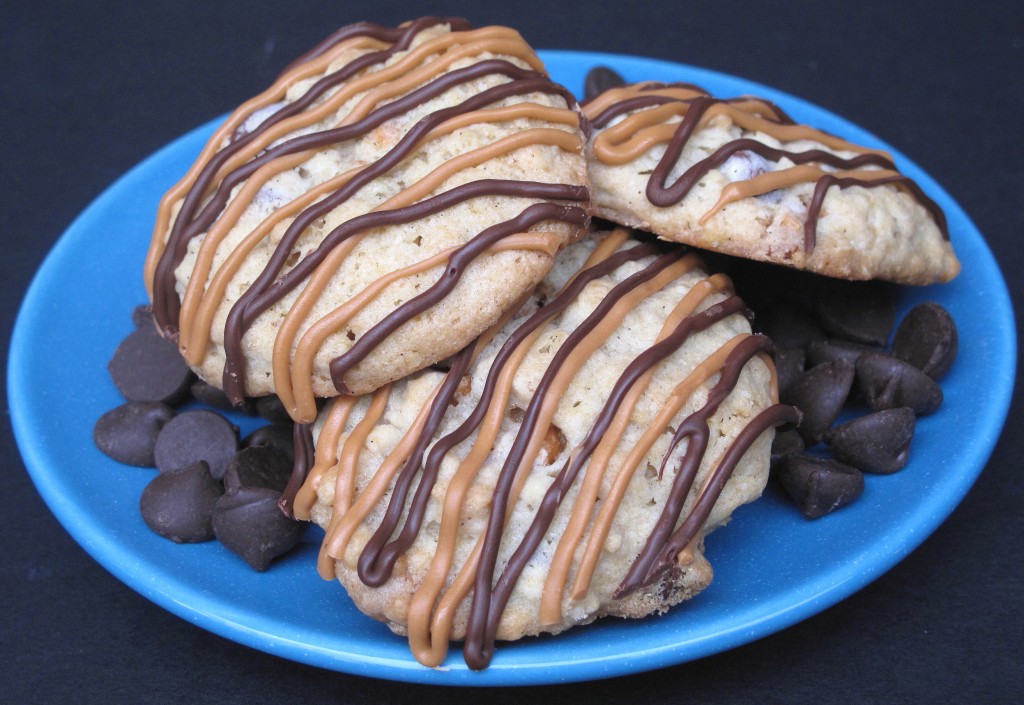 This week I struggled with baker's block added to a mild temporary case of baking burn-out. Last week I had a lot of fun baking a lot of cookies. I was baking as a gift for my friend Laurel's daughter, Dara. Dara had her bat mitzvah ceremony on Monday. Afterwards, there was a beautiful luncheon celebration. I baked dessert for the 120 guests.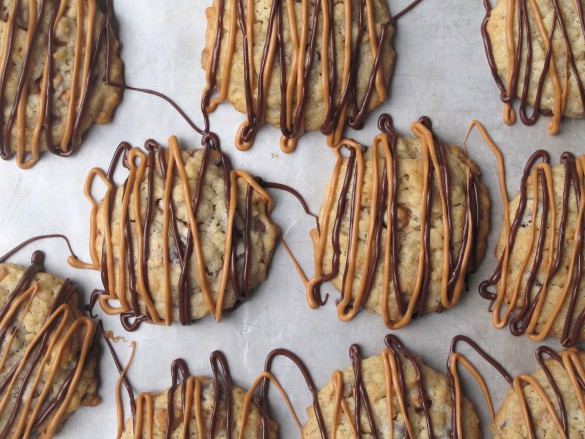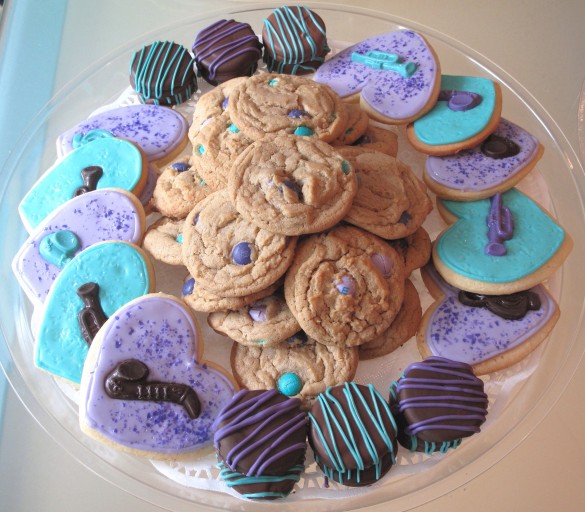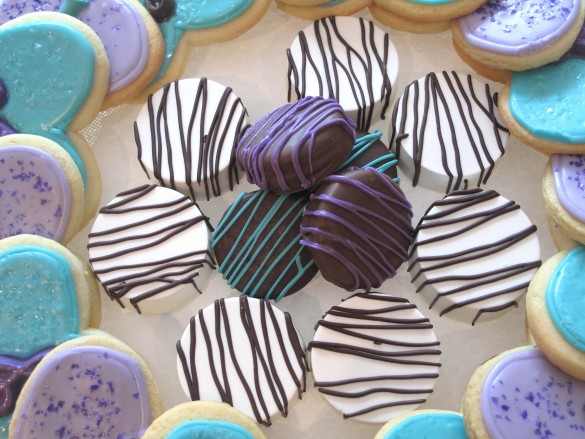 I filled 6 trays with baked goods made with a few of my favorite food blogger recipes. When decorating, I kept in mind the party colors of teal and violet and the theme of music. The sugar cookies with faux royal icing are from Bakingdom (5 dozen).  The cookie tastes delicious and is just firm enough to handle well. The icing is great for a decorating novice like me. There must be a reason that people use real royal icing with egg whites but I can't tell you what the reason could be. This icing dries hard and shiny. It is super easy to mix up and use. I also made Jen's Biscoff Blossoms (3 dozen), Sally's chocolate fudge cupcakes for the mini cupcakes(4 dozen),  my own M&M cookies(3 dozen), brownies (2 dozen) and chocolate dipped oreos (some in molds and some hand-dipped, I lost count of how many dozen). It was crazy, but crazy in a good way. I consider my resulting baking burn-out minimal.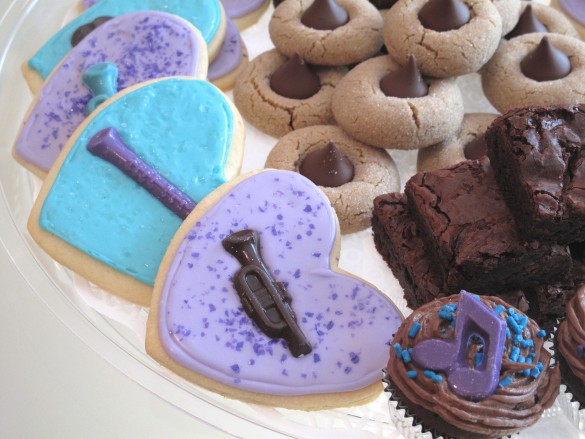 But my baker's block was due to the nature of this blog. There are few resources for care package recipes. Cookbooks rarely indicate how long a cookie stays fresh. It's frustrating. In order to audition a recipe for The Monday Box, I bake and wait.  If my taste testers give me round one approval, I wrap 4 cookies as I would for shipping, double wrapped in plastic wrap and stored in a zip lock bag. Once a week, for up to four weeks, I take out a cookie and nibble, checking freshness, so that I will know what to write on the blog.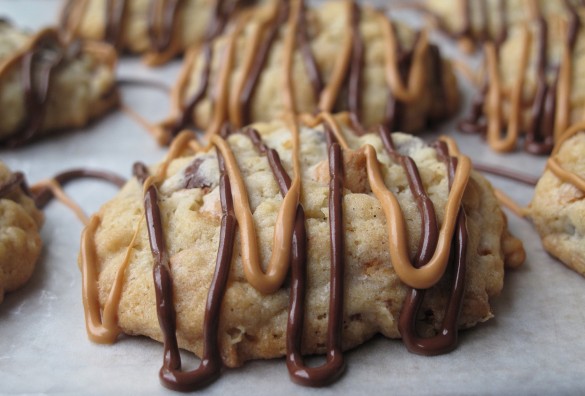 All of that obsessive quality control makes it necessary to plan ahead. (Yeah, I know I should be doing that anyway, but I am a professional procrastinator.) The only time I bake a new recipe and post about it the same week is when I am baking a variation on a recipe I've already posted or if I find a long lasting recipe published by a trusted baker.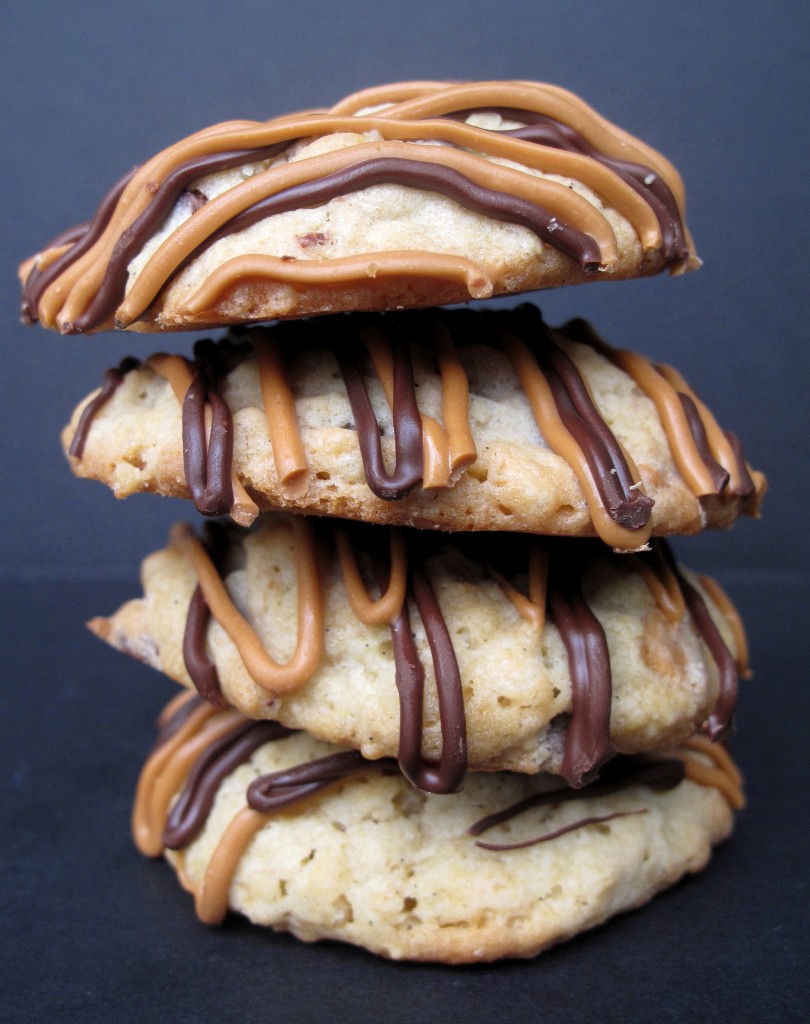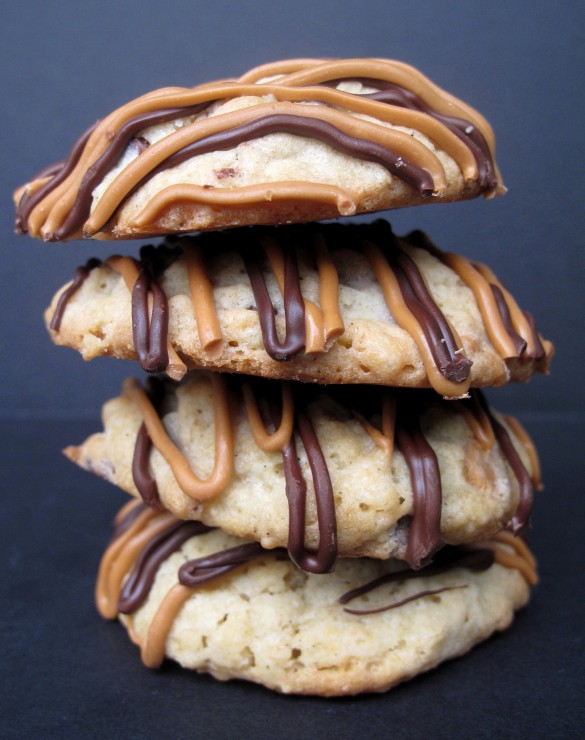 Because I appear to enjoy making my life difficult, I am trying, during the hot summer months, to post only recipes that can be desert safe adapted.  The swap out of Crisco instead of butter seems to work in many recipes. It's the use of granulated sugar only that is difficult. So many cookie recipes are based on the moisture and flavor from brown sugar, molasses or honey.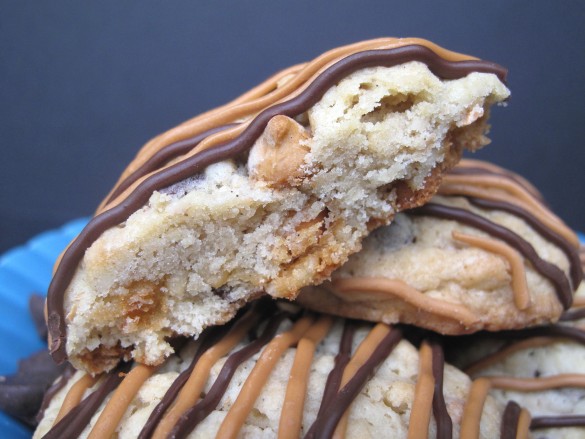 The perfect cookie solution is biscotti. I adore biscotti and would happily rename this blog The Biscotti Box, but the general cookie eating world hasn't embraced biscotti deliciousness. Even my rich, sweet and decadent  Chocolate Espresso Biscotti and Oreo Biscotti received minimal attention. I will continue to include biscotti recipes because they are just too delicious and too care package perfect to ignore but they can't be the main content.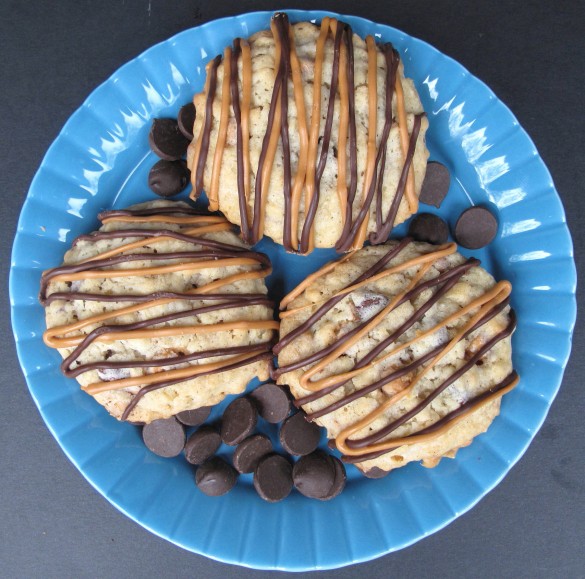 Meanwhile, I wasn't having any recipe epiphanies. Perhaps I was sleeping too soundly to think cookie thoughts in the middle of the night when I normally have my best cookie thoughts. In desperation (that is a tad dramatic, I admit) I just began baking. Most of what came out of the oven will never be posted here. But then my cookie thoughts finally clicked in and I adapted a desert safe bar cookie recipe by Nestle's Test Kitchens, into a regular cookie with some ingredient changes that offered a different taste and texture profile.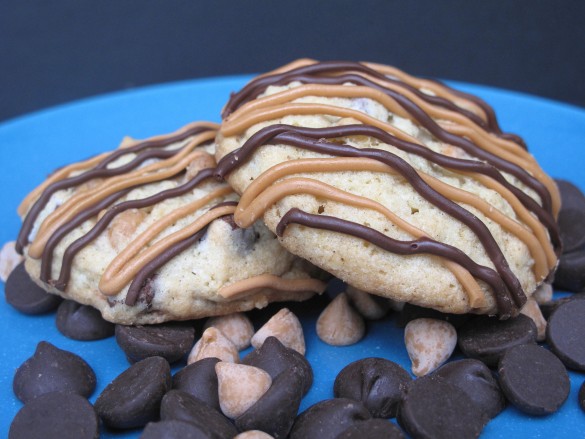 I am calling these Butterscotch Chocolate Chip Crunch Cookies due to the addition of Rice Krispies that give this chewy cookie a slight crunch. Though chewy for more than a week, the cookie does get crunchier over time.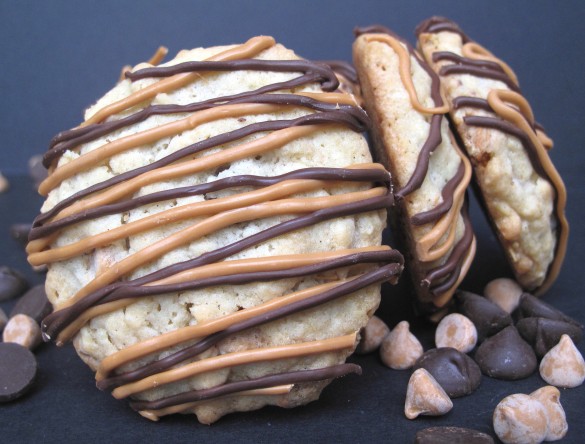 You can read more about desert safe ingredients and find an index of all of the desert safe recipes on The Monday Box by clicking here.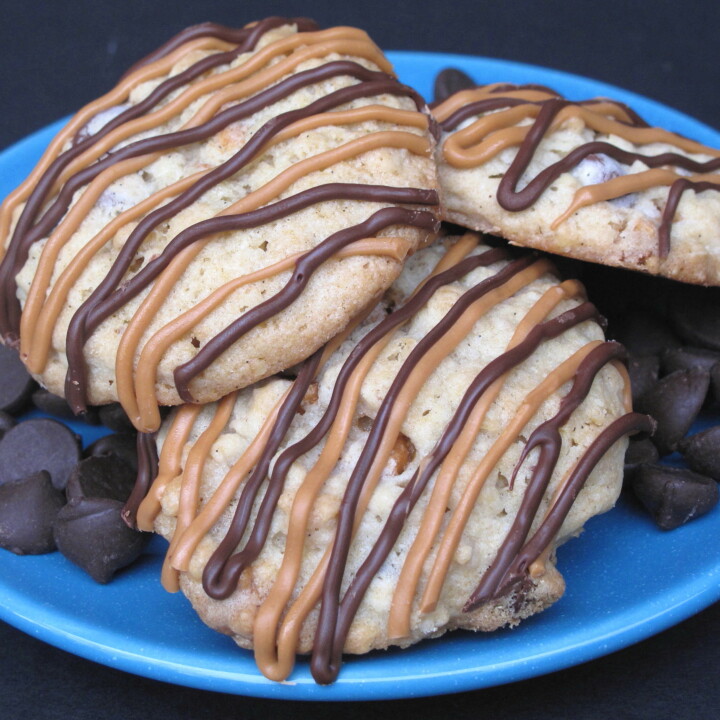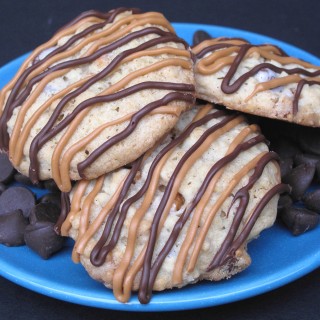 Butterscotch Chocolate Chip Crunch Cookies
These chewy cookies get their crunch for crisp rice cereal and their smooth butterscotch flavor from butterscotch chips.
Print
Rate
Adapted From:
verybestbaking.com
Ingredients
Cookie dough
1

cup

all-purpose flour

½

cup

quick-cook oats

½

teaspoon

baking soda

¼

teaspoon

salt

¼

teaspoon

cinnamon

½

cup

+ 2 tablespoons granulated sugar

½

cup

butter

or butter-flavored vegetable shortening

1

large egg

1

tablespoon

water

1

teaspoon

vanilla extract

½

cup

dark chocolate chips

or semi-sweet

½

cup

butterscotch chips

½

cup

Rice Krispies
Drizzle topping
½

cup

chocolate chips

½

cup

butterscotch chips
Instructions
Preheat oven to 375 degrees F. Line a baking sheet with parchment paper.

In medium bowl, whisk together flour, oats, baking soda, salt, cinnamon.

In bowl of electric mixer, combine butter(or shortening) and sugar until creamy.

Add egg, vanilla, and water. Beat about 3 minutes until fluffy.

Slowly add flour mixture until combined.

Stir in chips and Rice Krispies.

Chill batter about 15 minutes until firm enough to scoop.

Scoop batter into golf ball sized (2 tablespoon) balls and place 2 inches apart on prepared cookie sheet.

Bake 10-12 minutes or until edges begin to brown. (Slightly under-bake if shipping cookies for a long time period.)

Cool on baking sheet for 5 minutes then complete cooling on wire racks.

To top with decorative drizzle: Place chocolate chips in a small zip lock bag and microwave about 1 minute until melted. Cut a tiny bottom corner off the bag and pipe zig zags over cooled cookies. Repeat with butterscotch chips. Allow drizzle to harden completely before storing.

Cookies will remain fresh 2 weeks or longer when stored at room temperature in an air tight container or zip lock bag.

***Desert safe adaptations: Use vegetable shortening. Do not use drizzle decoration.
Notes
Packing tips
Double wrap pairs of cookies (with bottoms together) in plastic wrap, then place in an airtight container or zip lock bag
Nutrition
Calories:
171
kcal
|
Carbohydrates:
24
g
|
Protein:
2
g
|
Fat:
7
g
|
Saturated Fat:
5
g
|
Trans Fat:
1
g
|
Cholesterol:
24
mg
|
Sodium:
114
mg
|
Potassium:
54
mg
|
Fiber:
1
g
|
Sugar:
15
g
|
Vitamin A:
233
IU
|
Vitamin C:
1
mg
|
Calcium:
21
mg
|
Iron:
1
mg