Orange Creamsicle Bars are a chewy, citrus treat that taste like summer sunshine. White chocolate chips turn these orange bars into creamsicle bars ideal for snacks, picnics, and care packages.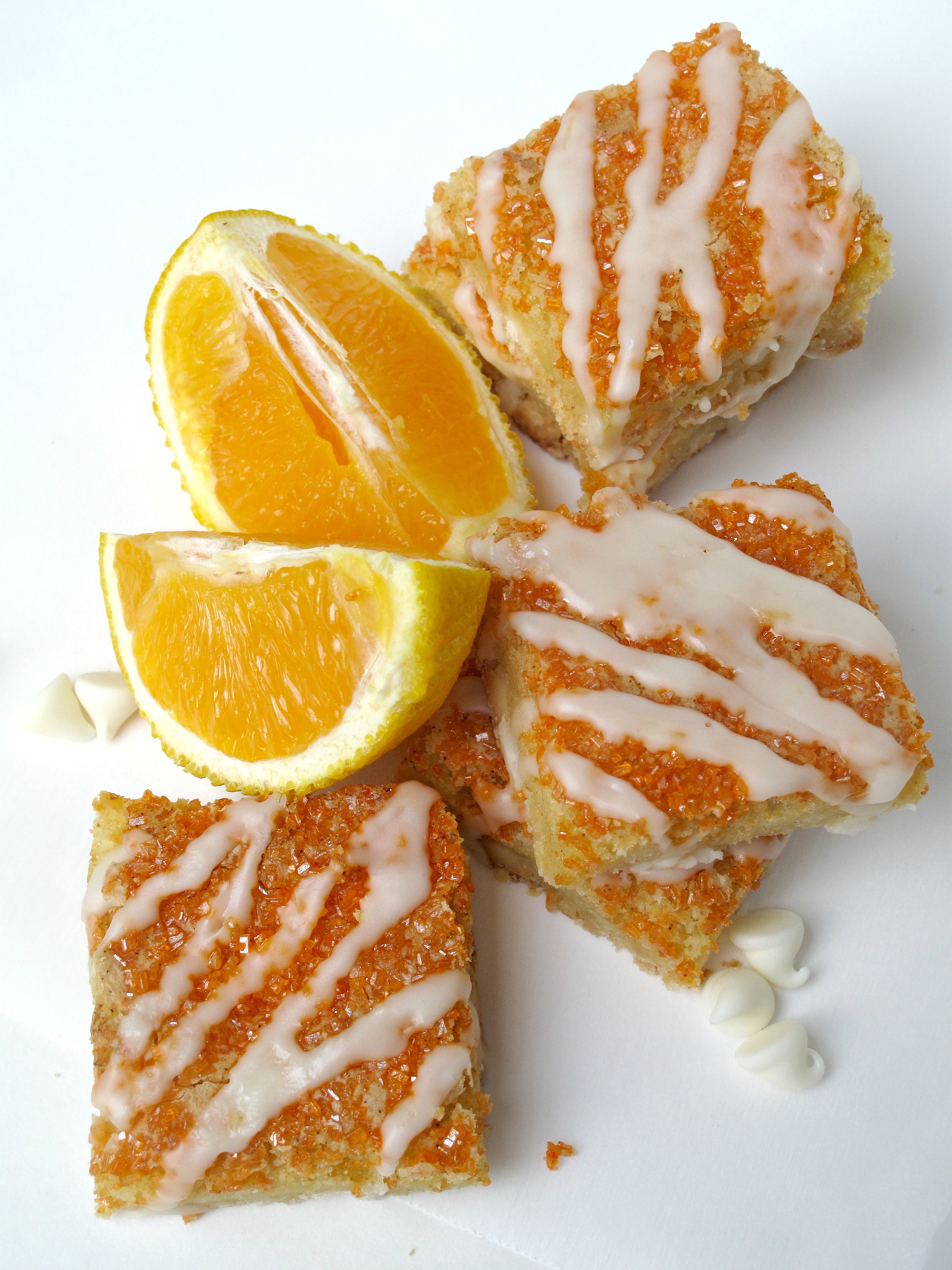 Last weekend I attended my first food blogger conference, The Saint Louis Food Media Forum. The conference isn't just for food bloggers.
There were all kinds of people involved in food and media; chefs, photographers, newspaper/magazine writers and publishers, social media techies, cookbook authors, and food company representatives.
It was great!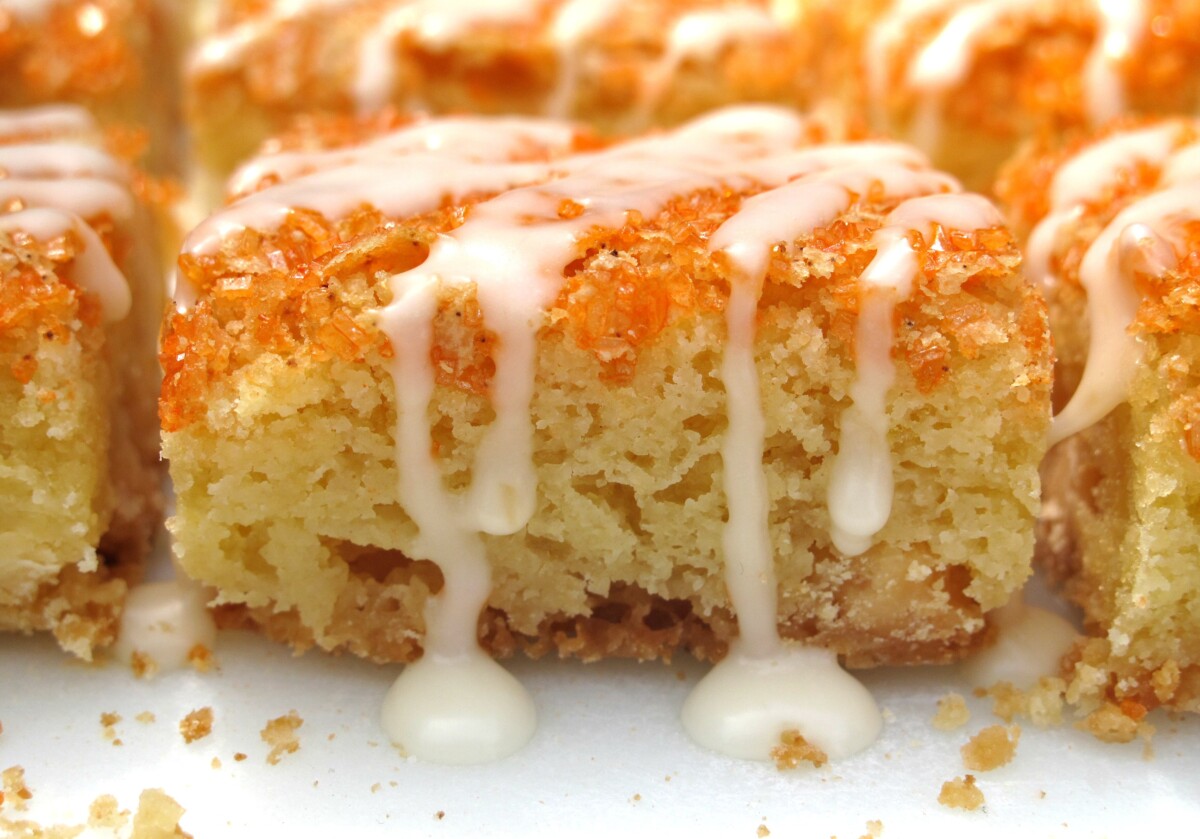 In its second year, the forum is small but growing. This year's group of about 100 participants was plenty big enough to provide networking opportunities without being overwhelming.
I was amazed at the talent located right here in St. Louis! There is something almost magical about meeting a person "in real life", who you had only known before from words/photographs on a screen.
One of the best parts of my weekend was attending the keynote opening event with the incredibly talented Shannon from The Periodic Table Blog. We have been commenting on each others blogs for awhile, often suggesting meeting, but never actually doing it until this weekend. She is every bit as friendly, creative and supportive in person as she is in print.
The forum took place at the Culinary Institute of St. Louis, a gorgeous facility that provided many perks. In addition to offering classrooms and professional kitchens, the Culinary Institute students cooked and served our delicious meals.
Each day started with a breakfast buffet of savory and sweet dishes including waffle/pancake/French toast bars, egg dishes, and fruit parfaits.
Lunch highlighted the specialties of the sponsors, offering salmon prepared in various ways and uncommon grains used in salads and spreads. Nerone Black Rice Pudding with blackberries was my very favorite item of the weekend!
The students couldn't have tried any harder to be helpful and accommodating. I was impressed by their sincere enthusiasm.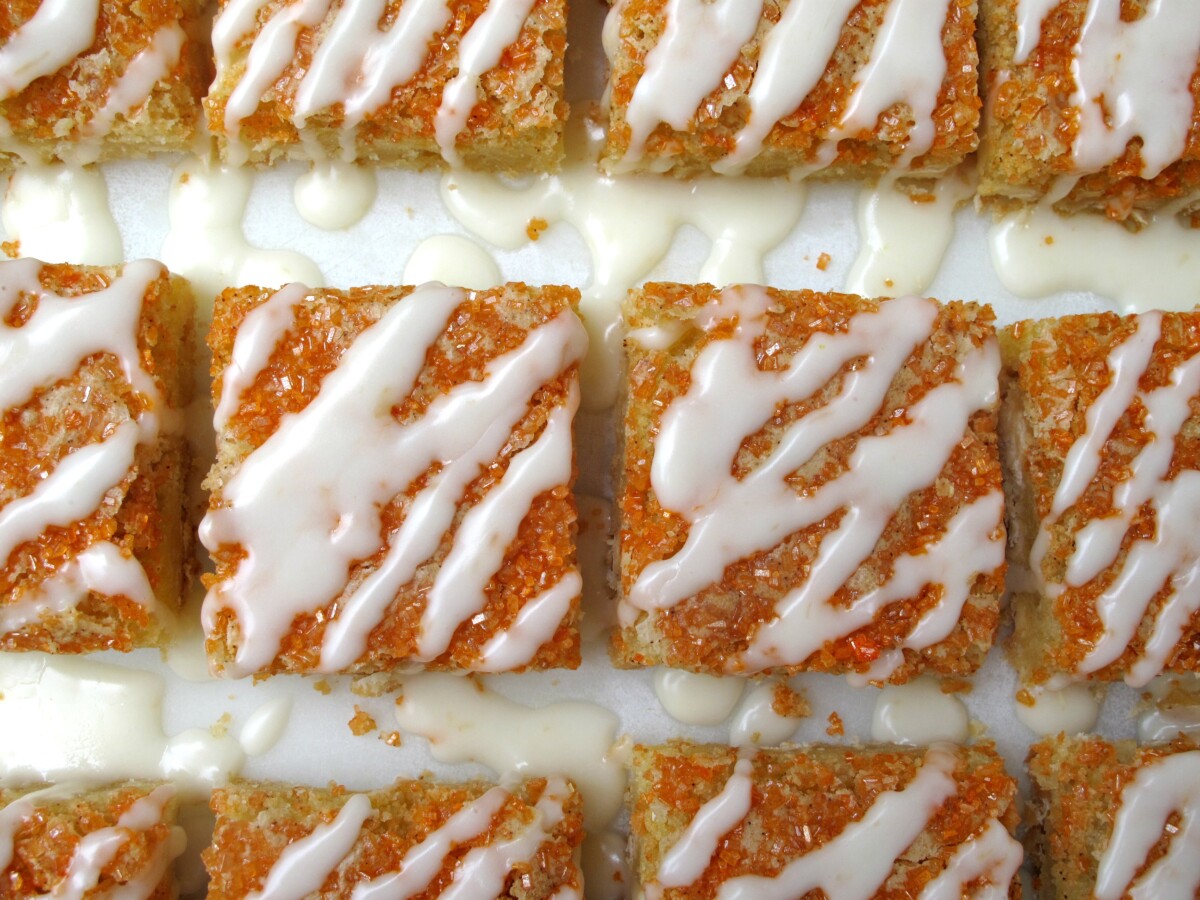 So what did I learn? There are as many different approaches to blogging as there are bloggers. Not exactly an earth shaking news flash.
No approach is right or wrong as long as it is working, getting the blog where you want it to go. It's helpful if you know where you want to go. I don't know where I am going long term, but I do have short term goals.
I know I want to provide delicious recipes with easy to follow directions. I want my photos to improve so that the food is enticing and for my writing to communicate a snippet of my thoughts. Most importantly, I want The Monday Box to be a go-to resource for care package recipes.
The Food Media Forum gave me ideas and tools to tweak, apply technology, and "extend my reach to grow my numbers". (Figuring out what the acronyms and jargon mean would help too!)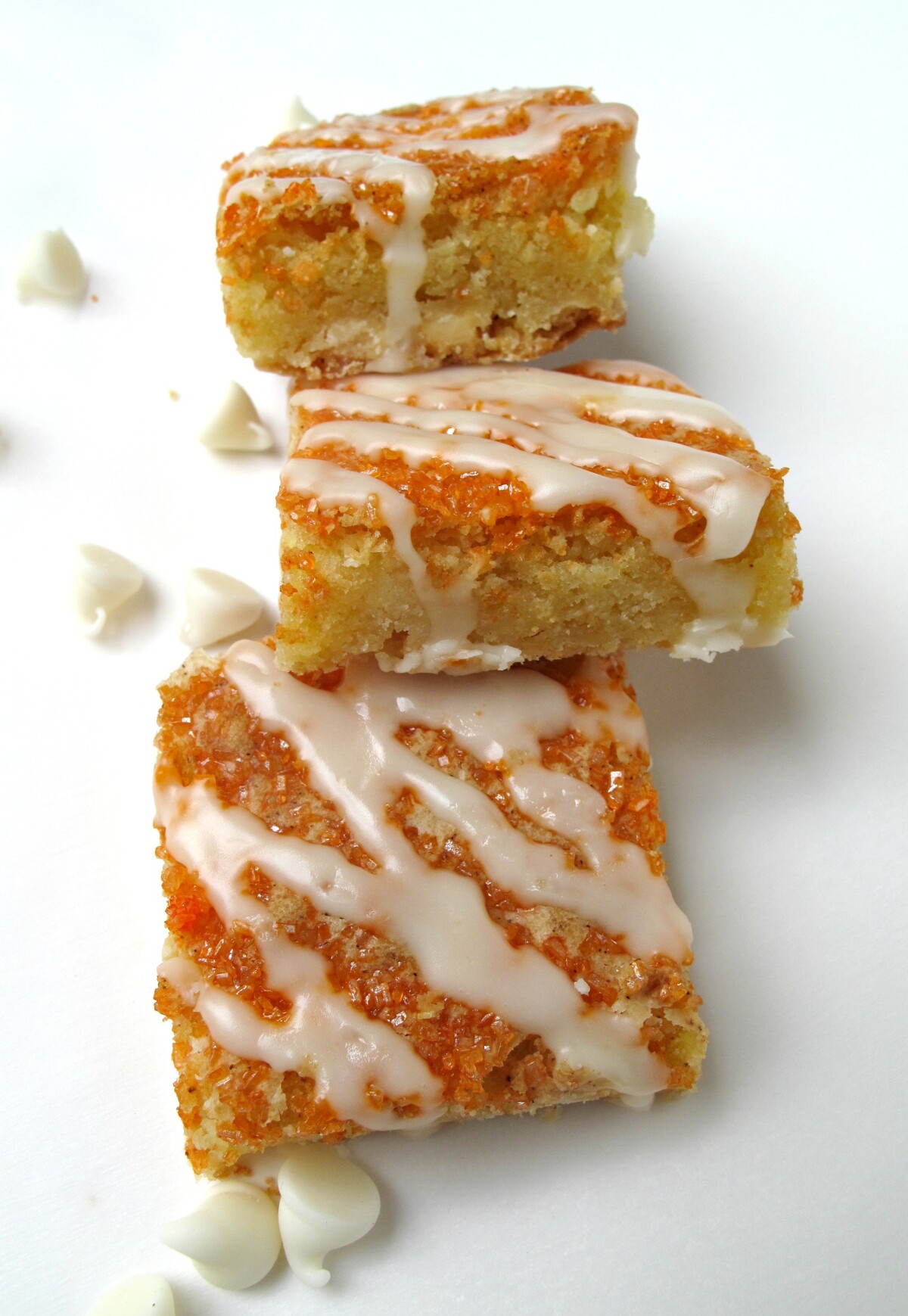 Inspired by the Forum to get more involved with social media (not being born in the same century as the iPhone, this may take me some time), I started working on my Facebook skills. The Monday Box has a Facebook page but I haven't done much else on Facebook.
This week, on the recommendation of my blogging friend Gina, I joined Soldiers Angels. These dedicated and compassionate volunteers regularly send home baked care package goodies to deployed military.
I am excited to share Monday Box recipes with them and put to use their experienced tips and suggestions!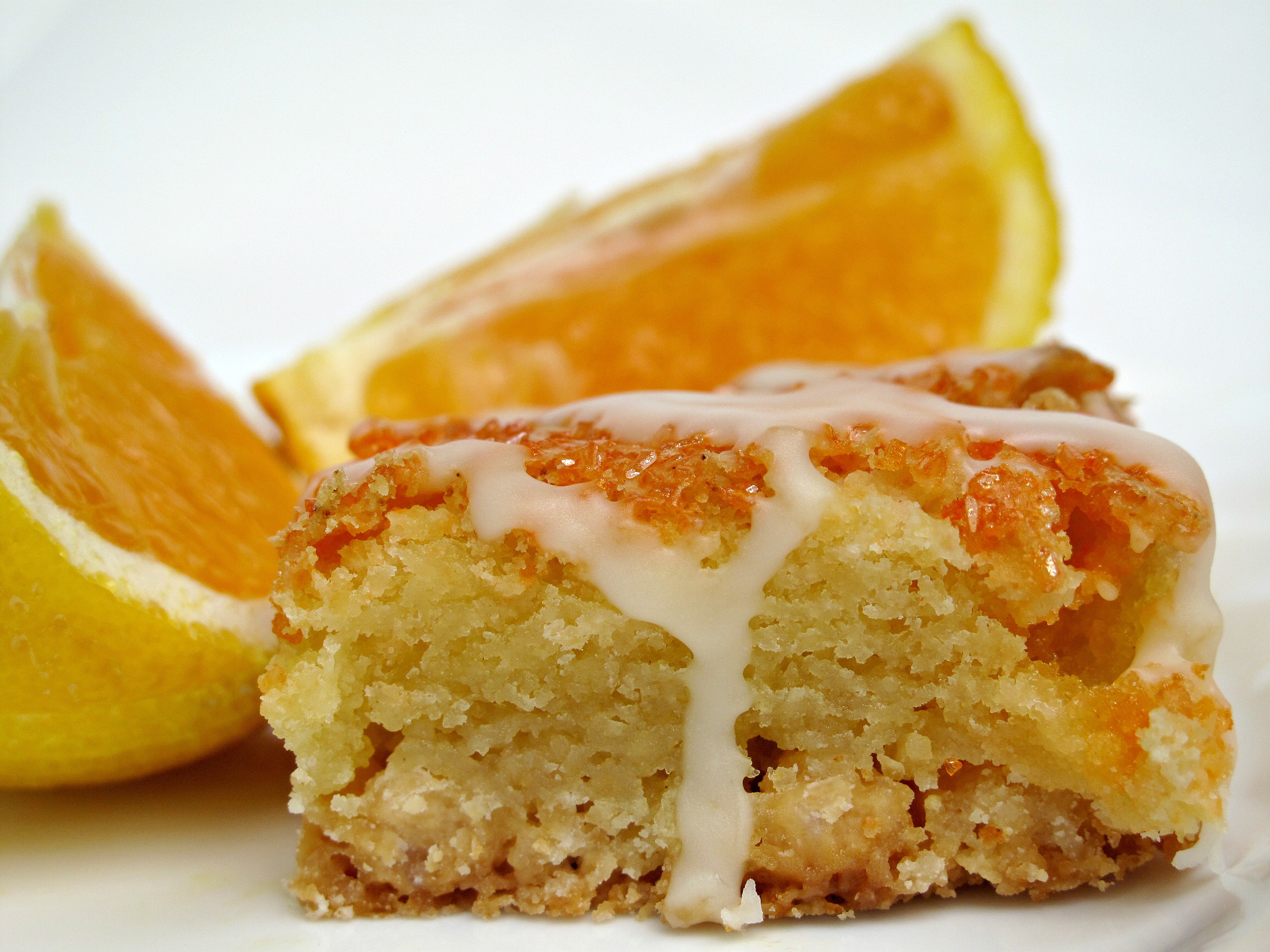 Though fall is in the air here, it is still very much summer in many parts of the world. If, like the Soldiers Angels bakers you are sending a warm weather care package, these chewy orange creamsicle brownies are a desert safe recipe that will travel well in the heat.
Any other time of year, their orange citrus scent and flavor will bring back summer flavors to your taste buds. I realize the bars are more yellow colored than orange (you could always add food coloring) but the flavor is definitely orange. The white chocolate chips add a creamy taste that gives these bars their creamsicle name.
The sparkling orange sugar on top of these orange bars is pretty on its own, whether or not you choose to add the icing.
No orange sugar in the house? No worries. I put 3 tablespoons of white decorating sugar in a ziplock bag with 1 drop of Americolor orange gel food coloring, mushed it around until the sugar was orange, then let it dry for about 30 minutes before using it on the creamsicle bars.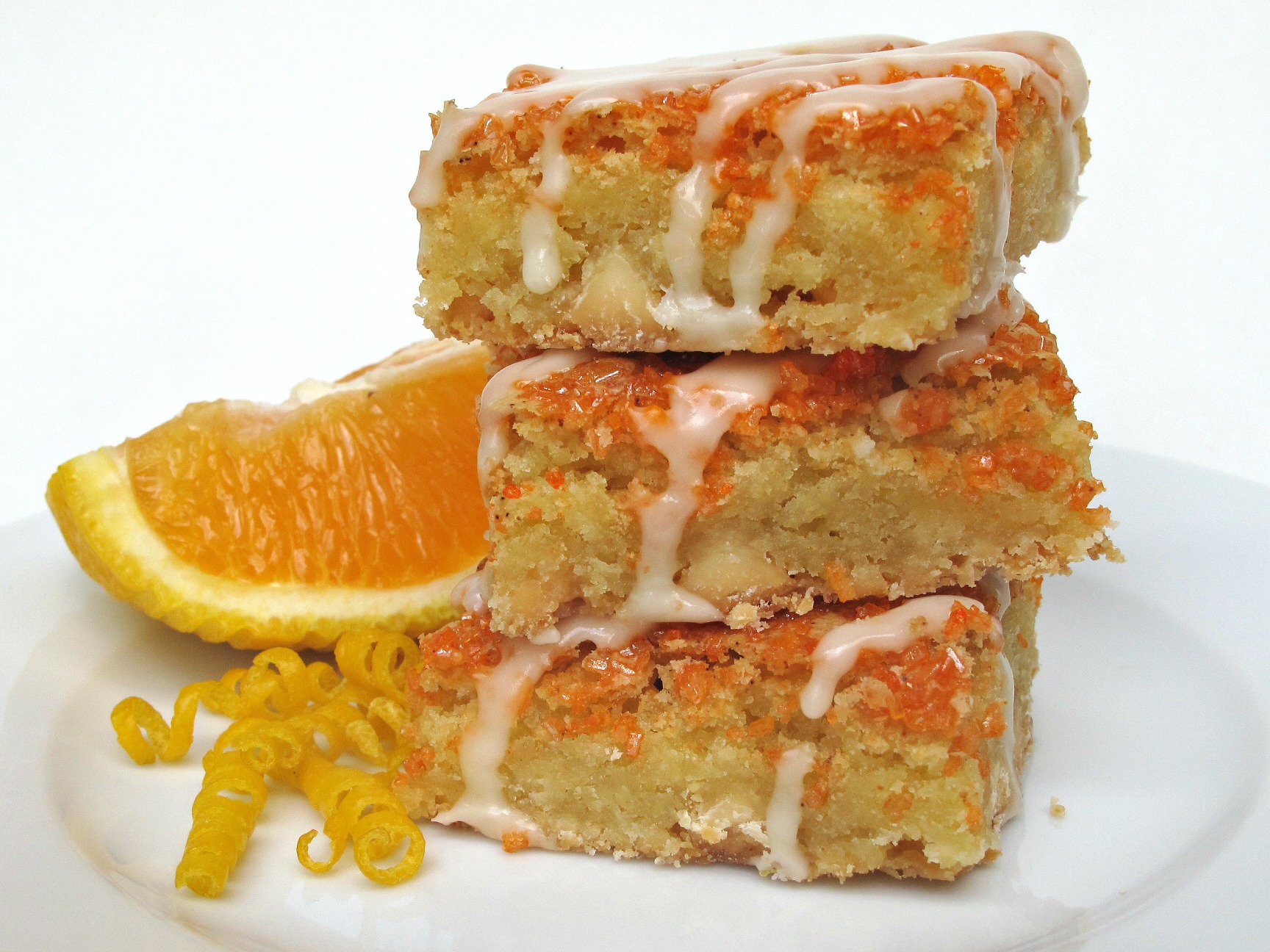 Ready to bake? Join the free membership group to get new recipes and a newsletter delivered to your inbox! You can also stay in touch on Facebook, Pinterest, and Instagram. I'd love to stay in touch!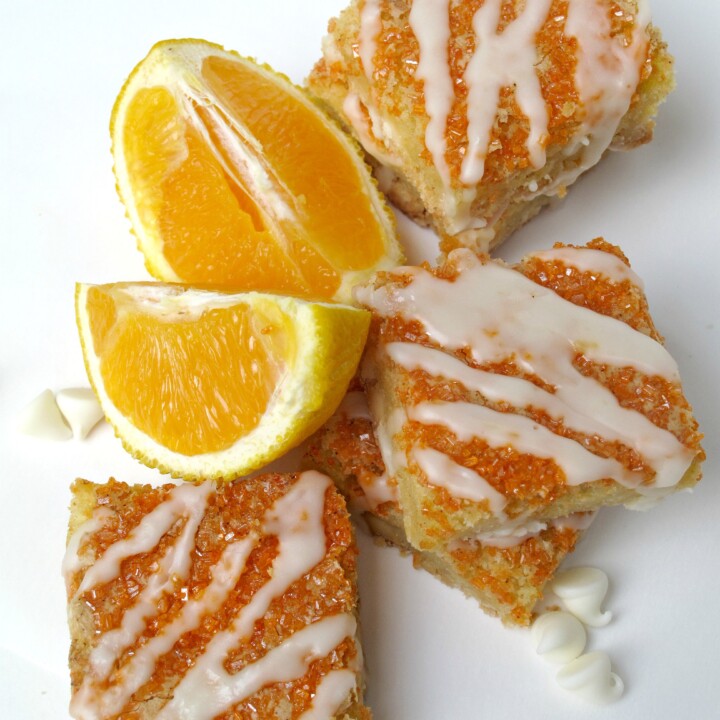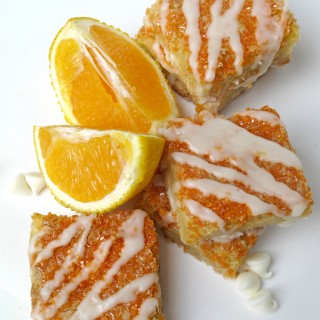 Orange Creamsicle Bars
These chewy, orange bars with white chocolate chips are ideal for snacks, picnics, and care packages.
Print
Rate
Adapted From:
PillsburyBaking.com
Ingredients
1

cup

all-purpose flour

½

teaspoon

baking powder

¼

teaspoon

salt

½

cup

butter flavor vegetable shortening

1 ¼

cups

granulated sugar

2

large eggs

1

egg yolk

1

teaspoon

vanilla extract

2

teaspoons

orange zest

1 ½

tablespoons

orange juice

1

cup

white chocolate chips

2-3

tablespoons

orange decorating sugar
ICING (optional)
½

cup

confectioner's sugar

1

tablespoon

orange juice
Instructions
Preheat oven to 350 degrees F. Line a 9" x 9" pan with foil extending over the edges. Spray the foil with non-stick spray.

In a medium bowl, whisk together flour, baking powder, salt.

Place vegetable shortening in large microwave safe bowl and microwave about 1 minute until melted.

Into the bowl of melted shortening add flour mixture, sugar, eggs and yolk, vanilla, and zest plus orange juice or orange extract. Mix with a large spoon until smooth.

Stir in white chocolate chips.

Spread the batter evenly into pan then sprinkle with orange sugar. With fingertips, press the sugar gently to make sure it sticks to the batter.

Bake for 20-30 minutes until golden brown and toothpick inserted in center comes out clean.

Cool completely in pan on wire rack.

When cool, remove from pan by lifting the overhanging foil.

Cut into bars.

If icing, mix together orange juice and confectioners sugar until smooth. Adjust consistency if necessary by adding more sugar or juice. Drizzle over bars. Allow icing to dry completely before wrapping or storing.

Store at room temperature in an airtight container or ziplock bag for 2** weeks. For longer storage, I recommend not cutting into individual bars, but wrapping the entire square.
Notes
Packing tips
Double wrap bars individually or in pairs in plastic wrap before placing in airtight containers or ziplock bags. Wrapping the entire pan of orange creamsicle bars, without cutting, will preserve moisture and keep the bars chewy for longer.
Nutrition
Calories:
192
kcal
|
Carbohydrates:
27
g
|
Protein:
2
g
|
Fat:
9
g
|
Saturated Fat:
3
g
|
Trans Fat:
1
g
|
Cholesterol:
28
mg
|
Sodium:
55
mg
|
Potassium:
45
mg
|
Fiber:
1
g
|
Sugar:
22
g
|
Vitamin A:
45
IU
|
Vitamin C:
1
mg
|
Calcium:
29
mg
|
Iron:
1
mg
Save