A bright and cheerful color theme makes this Orange Care Package simple to create and fun to receive. Using an "Orange you glad" pun adds extra smiles.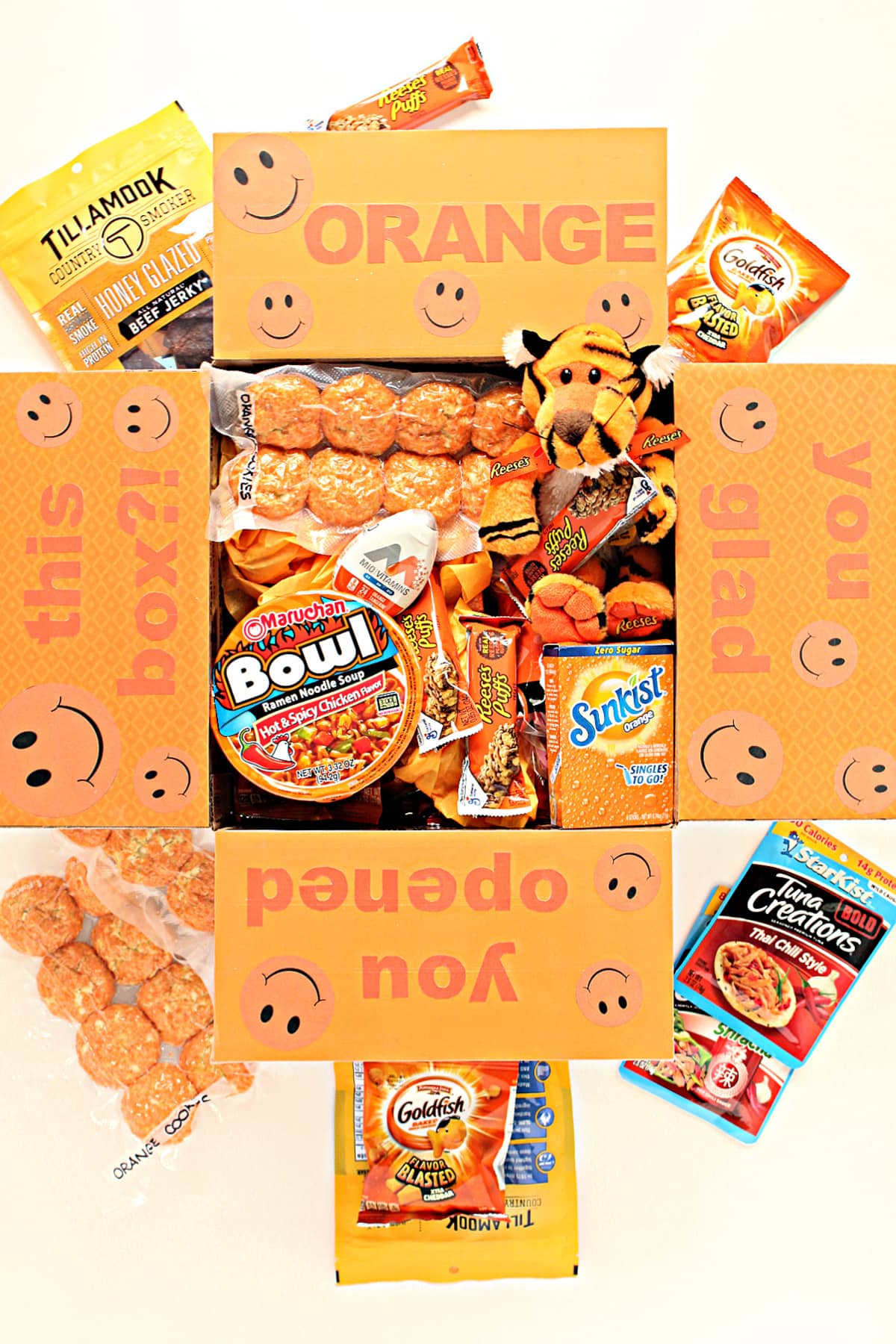 Why you'll love this care package theme
Using a theme for care packages makes decorating and filling so much easier. This color themed box is especially simple and the "Orange you glad..." pun adds a bit of humor.
Orange colored or flavored items to include in the package are easily found at the supermarket, Dollar Store, or Target. The decorating is simple. Plus, the wording is adaptable to many situations.
Try one of these puns for the wording on your care package.
Orange you glad...
...you're coming home!
...it's summer!
...the semester is over!
...we're friends!
Decorating supplies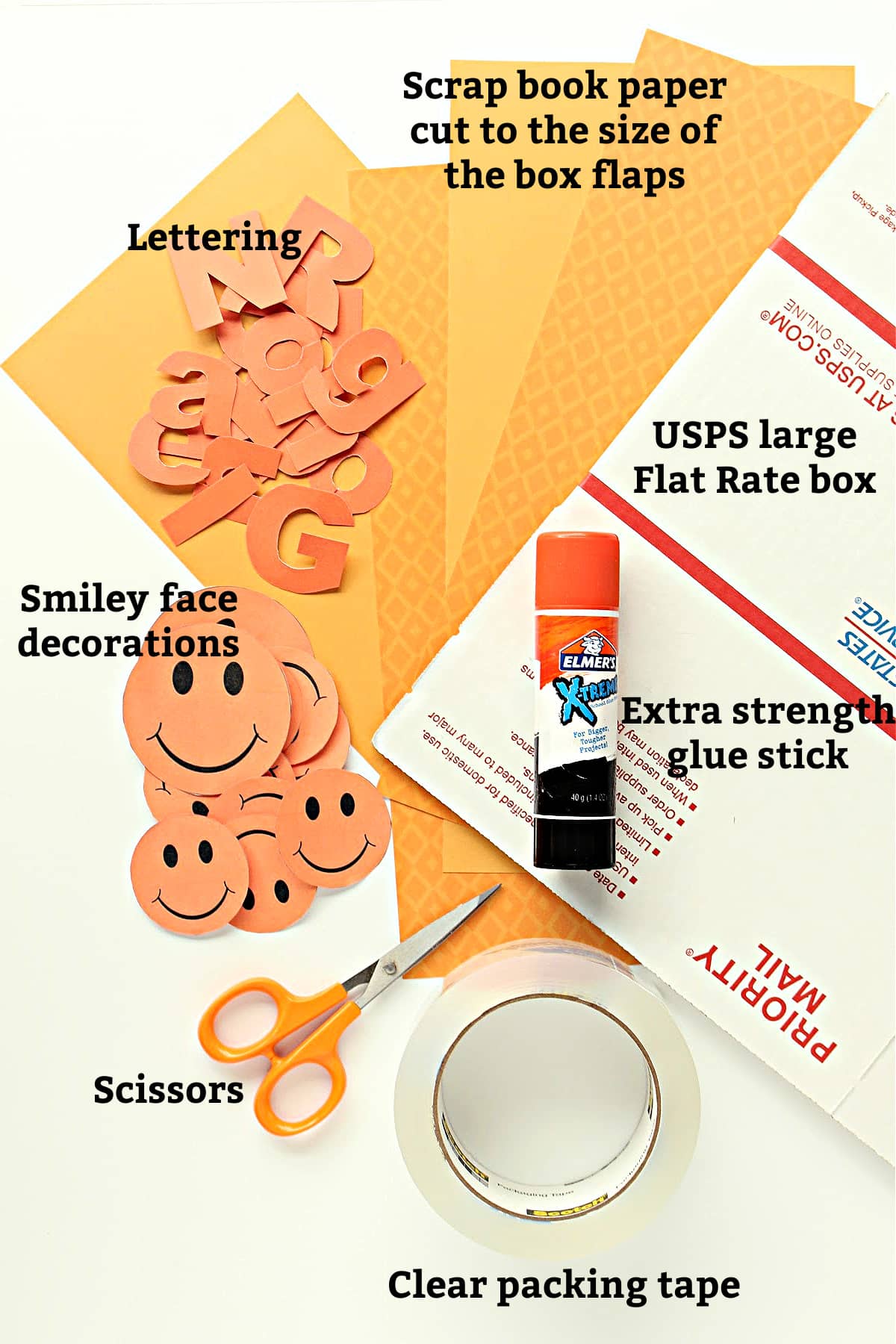 Scrap book paper is a great choice for covering box flaps. It is sturdy and comes in a huge variety of colors and patterns.
Lettering can be purchased at the Dollar Store in the school supplies aisle. Those letters can also be used as stencils to trace and cut out in any color or pattern you choose.
The smiley face decorations were printed from online images found by searching for "orange smiley face".
Instructions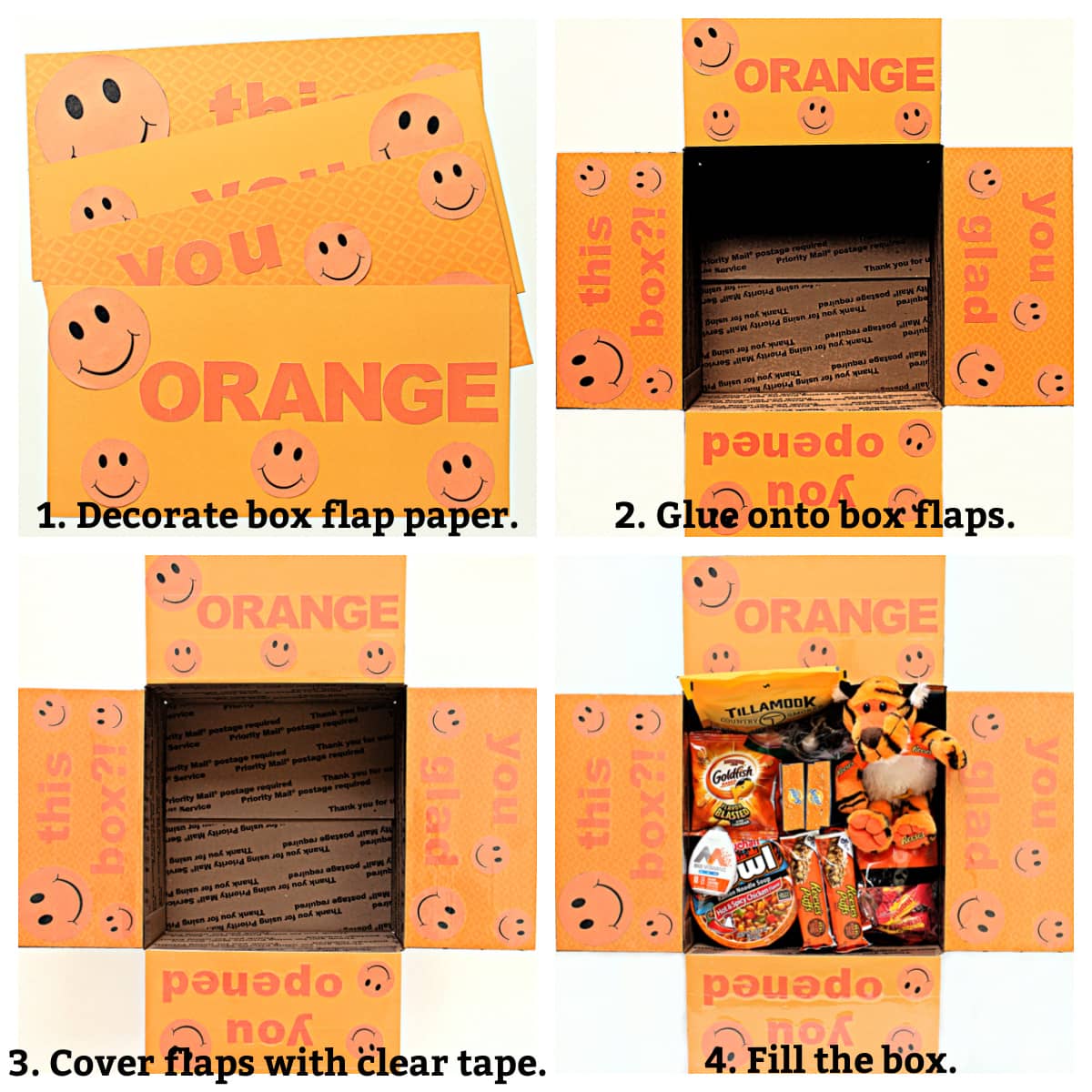 Cut the scrap book paper to the measurements of the box flaps. Use the glue stick to attach the words and decorations to the paper.
Glue the decorated paper to the box flaps.
To ensure that the decorations won't fall off during shipping, cover the box flaps with clear packing tape.
Fill the box with orange colored and flavored treats, activities, and gifts.
Care package contents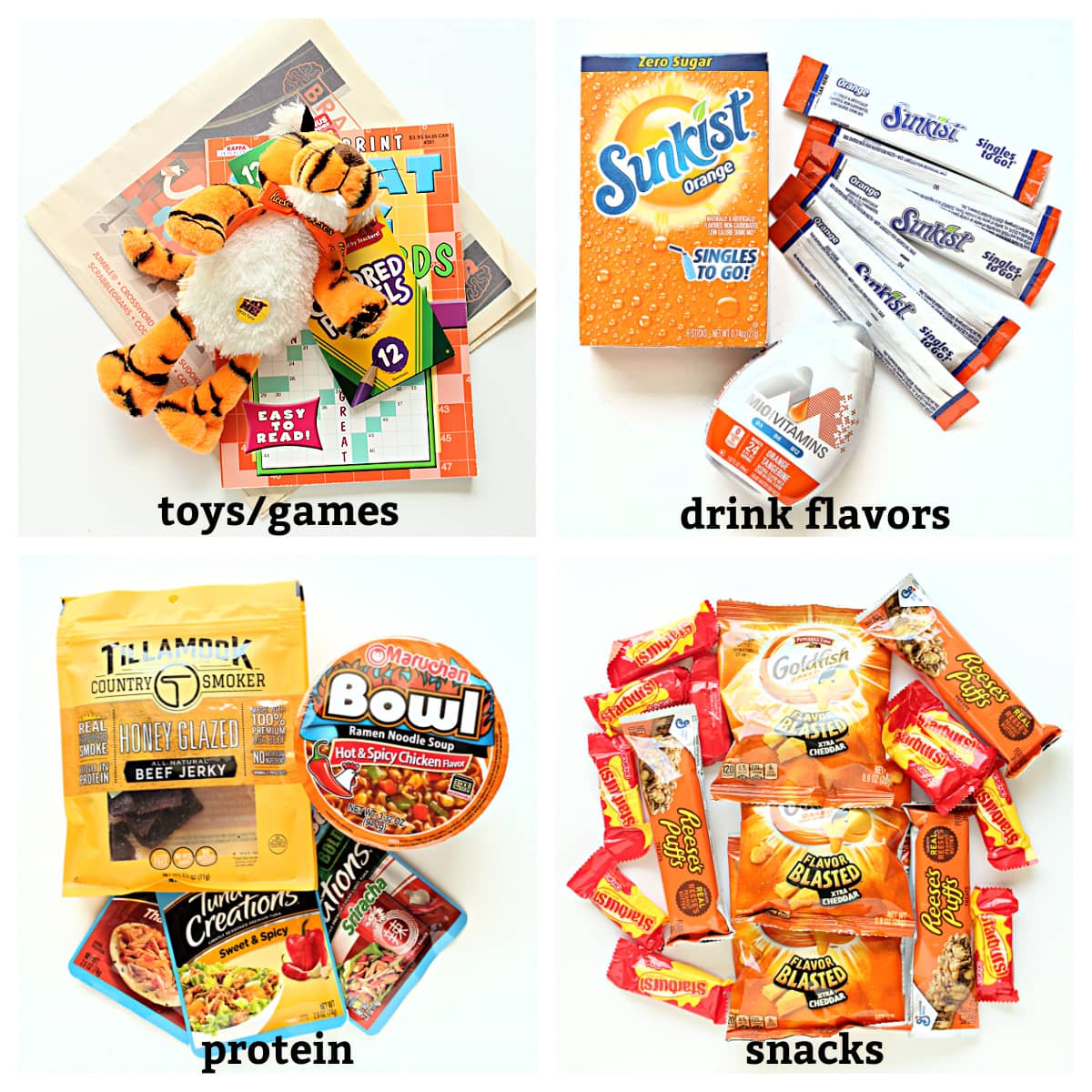 You are sure to find lots of color coordinated inspiration just wandering down the aisle of a supermarket or Dollar Store. Keep an eye out for anything that is orange colored or flavored
I like to include a variety of snacks (homemade and purchased), protein, and time filling games and puzzles.
Especially in deployed military care packages, water flavoring packets are always appreciated.
Tips and variations
To save time, the words for this box could be printed and cut out as whole words, rather than individual letters.
Other materials for covering box flaps include construction paper, contact paper, gift wrap, and plastic party tablecloths.
Before sealing the box, close the flaps and shake the package. If there is any movement inside, use tissue paper or other packing material to fill any unused space.
Use more packing tape than you think is necessary! Packing tape helps the box hold together despite rough handling. It also keeps sand out in dessert locations.
Recipes for an "Orange you glad" theme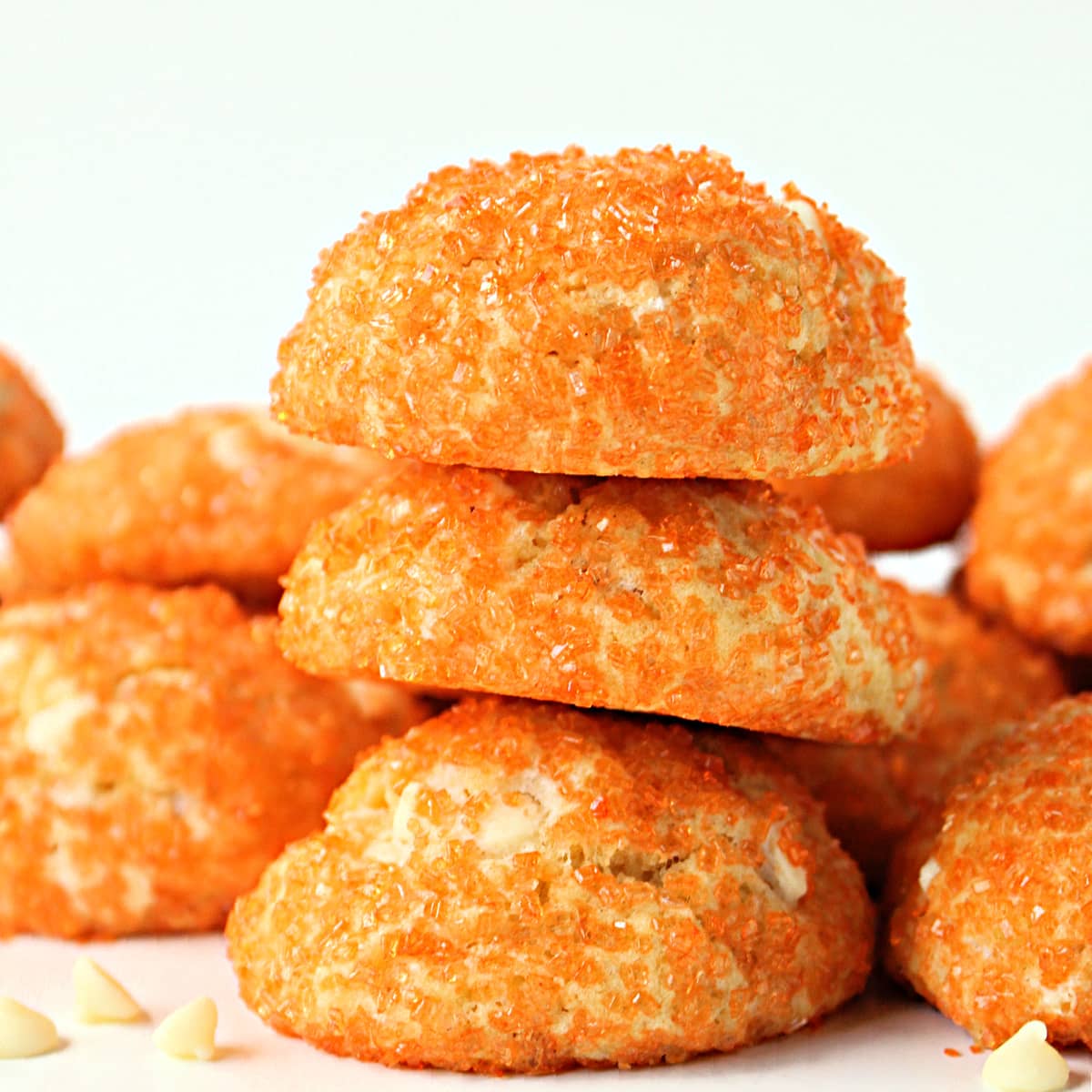 I baked Orange Drop Cookies for this care package. These soft, cake-like cookies shine with orange flavor and sparkle with a crunchy sugar coating.
Orange Bars are a chewy citrus treat with white chocolate chips a creamsicle combination.
Send the shelf stable ingredients for a microwave Orange Mug Cake that can be enjoyed hot and fresh in minutes.
Orange Olive Oil Cake is a quick and easy loaf that stays moist and delicious for a long time. So good with a glass of iced tea!
More care package themes
Your canine friends (and the humans they live with) will love this dog care package. Use the peanut butter dog treat recipe to include some homemade doggie cookies!
Wizard fans will be so excited to get this Harry Potter Care Package filled with sweets straight from Diagon Alley!
This Halloween Care Package celebrates the flavors and symbols of October.
You have to see the easy to decorate cookies themed cookies that go with this Nutcracker Care Package. So cute!
Need fun ideas for a Thanksgiving Care Package for college students or service members? Don't miss this box full of delicious treats and encouragement.
My care package story
I used the generic "Orange you glad you opened this box!" for this care package that was sent to a deployed service member. For this soldier far from home, I filled it with a variety of snacks and time fillers.
I've also used "Orange you glad you're coming home!" for an end of deployment package. In that case, I filled the box with things I thought the soldier might enjoy on his long trip home; snacks, magazines, earplugs, eye mask, and a gift card for airport coffee!
Closer to home, I've used this theme for a college care package at the end of the semester and filled it with energy boosting snacks for late night study sessions.
Ready to create? Join the free membership group to get new care package ideas, recipes and a newsletter delivered to your inbox! You can also stay in touch on Facebook, Pinterest, and Instagram. I'd love to stay in touch!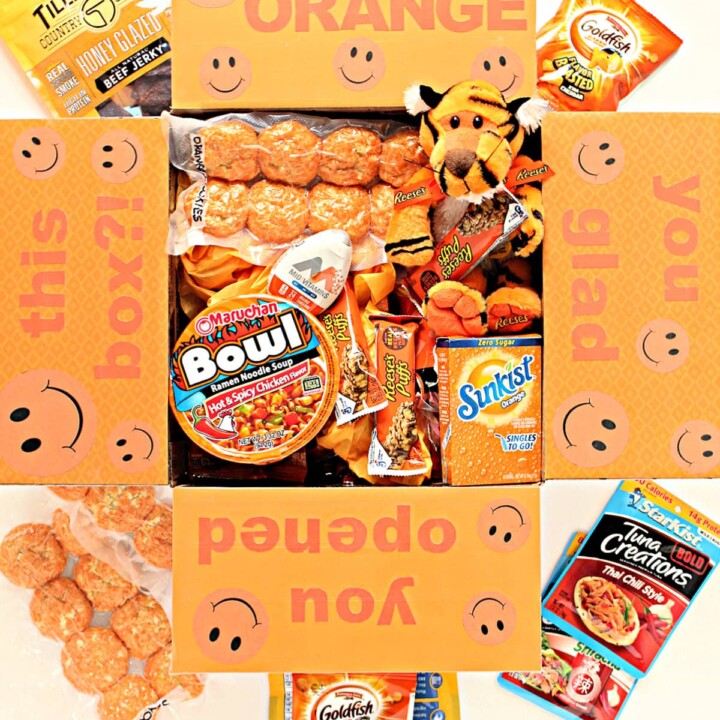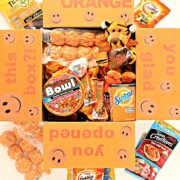 Print
Orange Care Package
An orange themed care package filled with orange flavored and colored treats. Humor is added to the decorated box flaps with "orange" puns.
As an Amazon Associate I earn from qualifying purchases.
Materials
orange lettering

orange smiley face cutouts

4

orange scrap book paper

cut to box flap size

1

large USPS flat rate box

1

heavy duty glue stick

1

roll clear packing tape
Instructions
If using purchased lettering, arrange the letters needed for the words being used on the box flaps. If printing out lettering, print and cutout the individual letters or groups of words.

Print and cutout orange smiley face decorations from online images.

Cut 4 sheets of orange paper to 6" x 11 ¾" ,the size of the box flaps.

Glue the words and decorations to each sheet of orange paper.

Glue the decorated paper to the box flaps.

Cover the flaps with clear packing tape to hold the decorations in place.

Fill the box. Be sure there is no movement in the carton before sealing.
Notes
Large flat rate boxes from the US Postal Service are expensive to mail (about $20), however you can fit quite a bit inside and don't have to worry about weight (up to 50 pounds). Not only are the cartons themselves free, but you can order them online and the postal service will deliver them to your door.
Covering the inside flaps is like wrapping a gift inside-out. The purpose is to make the box bright and cheerful. In addition to the scrap book paper used on this box, flaps can be covered with construction paper, wrapping paper, contact paper, patterned duct tape, or plastic table cloths.
When mailing a short distances, taping over the flap decorations probably isn't necessary. However, military care packages have to withstand rough treatment and temperature extremes. Taping thoroughly inside and out, helps keep the care package intact.
The Dollar Store, supermarkets, Target, and Amazon are good resources for orange flavored and packaged care package goodies.
First Published: May 28, 2021. Last Updated: April 13, 2022. Updated for additional information and better reader experience.