Cranberry White Chocolate Cookies are really big cookies that are both crunchy and chewy. The crunchy comes from crispy rice cereal. The chewy comes from the brown sugar cookie dough. Sweet-tart cranberry, creamy white chocolate, and the delightful scents of orange zest and vanilla make these cookies hard to resist.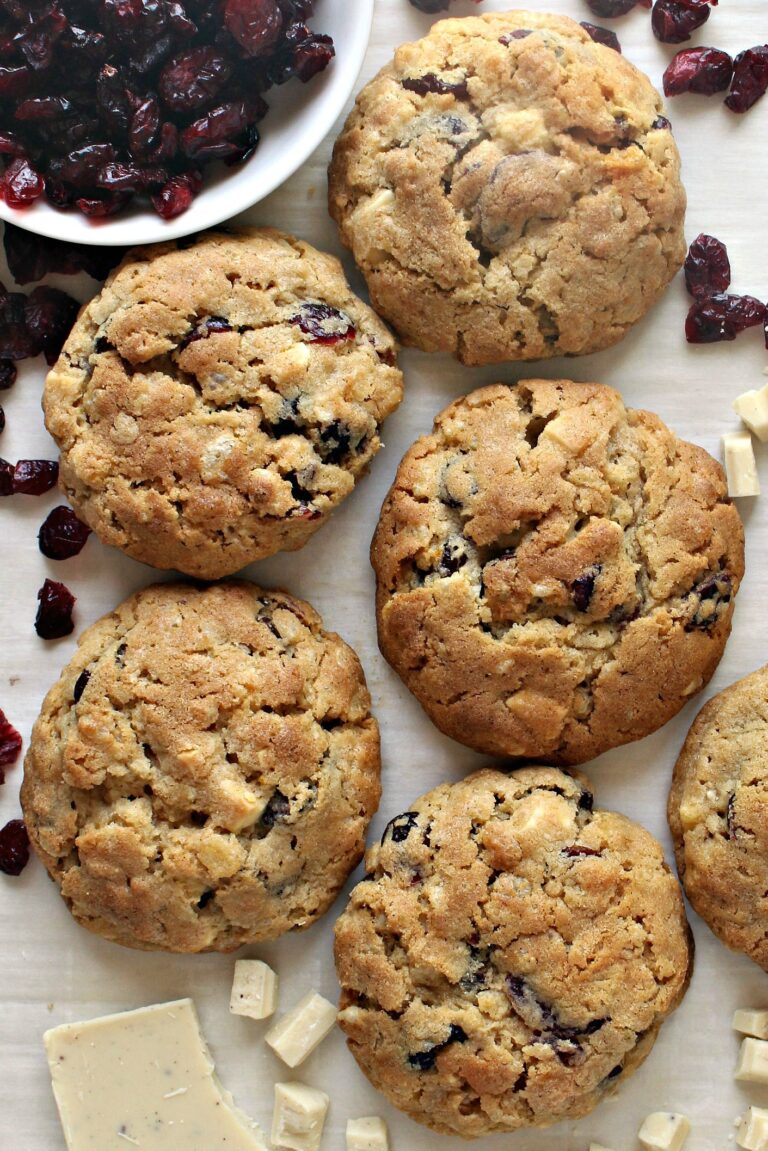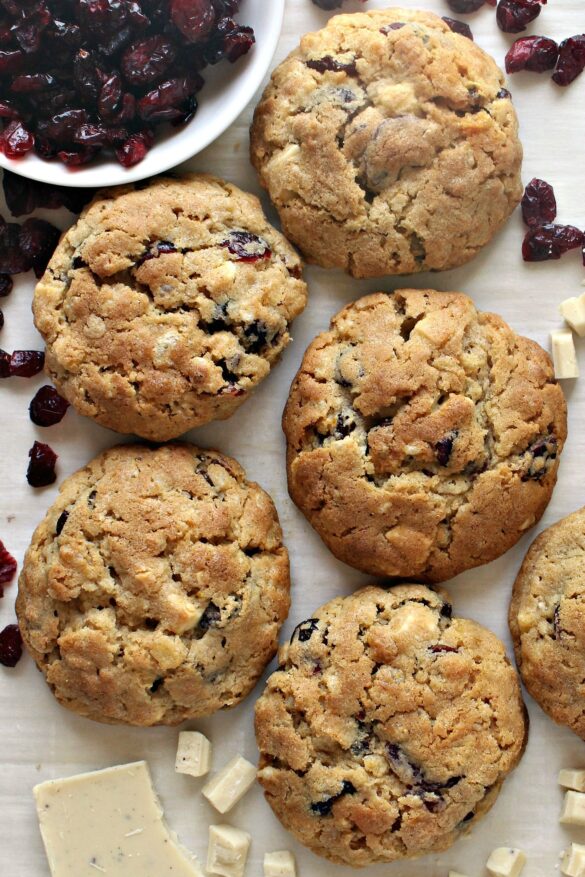 (The Monday Box participates in affiliate marketing programs. As an Amazon Associate I earn from qualifying purchases. Additional affiliate programs may be linked when applicable. If you chose to purchase a product after following a link on this page, I will receive a small commission, at no cost to you, which helps make The Monday Box possible.)
These cookies reminds me of the saying, "When life gives you lemons, make lemonade." No, there are no lemons in Cranberry White Chocolate Cookies, but they are full of crispy rice cereal that showed up at my house quite unexpectedly.
We have been getting our groceries delivered. In general, the deliveries have been quite successful. The Instacart shoppers are usually communicative and helpful. If the item I want, or a reasonable substitution, is available at the store, my shopper brings it to me.
For a few items that are not sold at the Instacart stores, I have been trying to use Amazon Whole Foods delivery. Unfortunately, their stock is frequently low and their shoppers use computer generated substitutions. Artificial intelligence makes a lousy grocery shopper.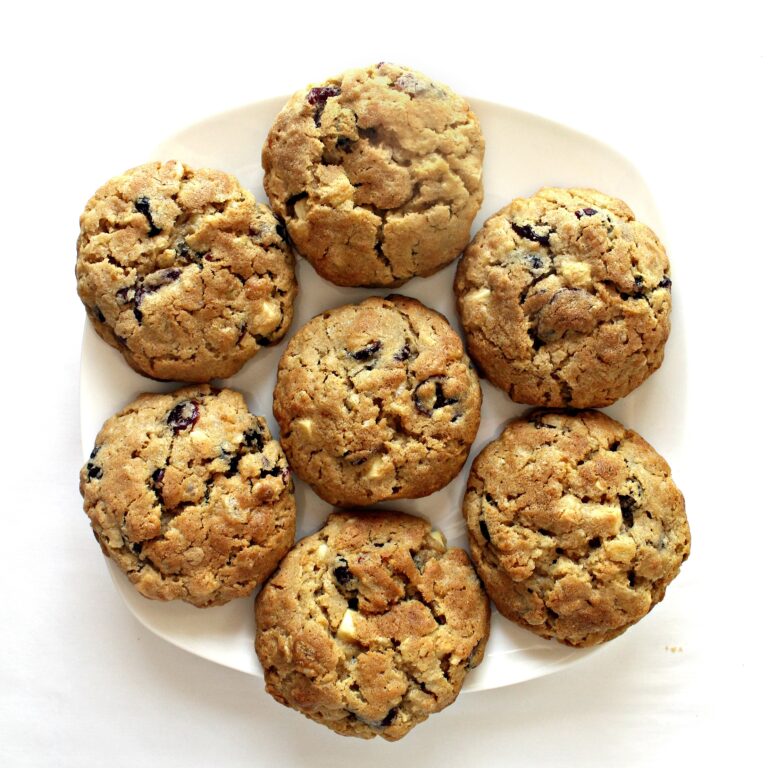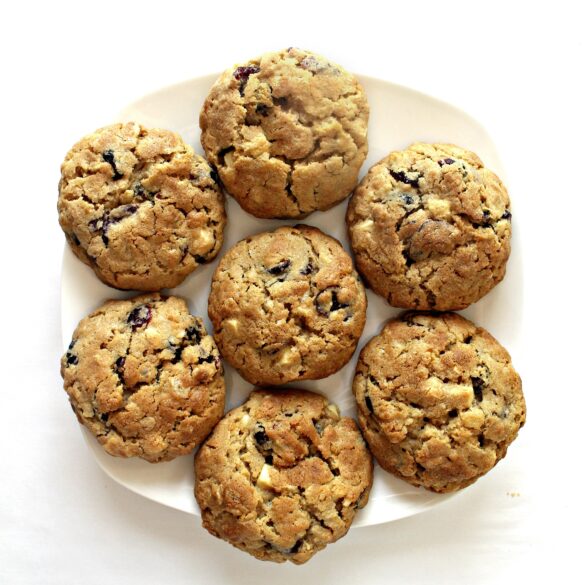 I requested 2 boxes of brown rice. To be fair, I did mark the box that allowed substitutions. I foolishly thought that meant that I might end up with a different brand of rice or a different sized box. I understood that it was possible that I could end up with white rice or some other type of rice.
All of those possibilities were fine with me. What I didn't expect was to end up with 2 giant boxes of Crispy Brown Rice Cereal. We don't eat cereal.
So, I made "lemonade" out of this funny situation in the form of cookies. Cookies that are so delicious, crispy rice cereal will now be standard on my grocery list! I strongly suggest you do the same.
Directions
With an electric mixer, cream together the butter, sugars, and orange zest until fluffy. Mix in the vanilla and eggs.
In a medium bowl, whisk together the flour, baking powder and baking soda. Combine with the butter mixture.
Fold in the Craisins, chopped white chocolate, and cereal.
Scoop the dough into balls and place on a wax paper lined baking sheet. Freeze for at least 2 hours.
When ready to bake, bake desired number of dough balls on a parchment lined baking sheet at 375°F for 13-16 minutes, until golden.
Remaining dough balls can be stored in the freezer, in a freezer weight ziplock bag.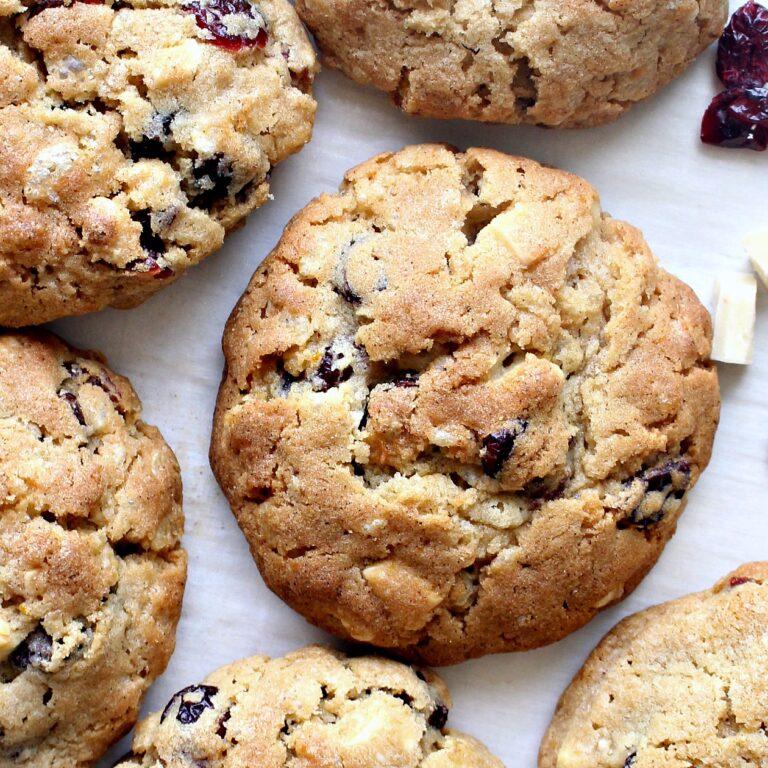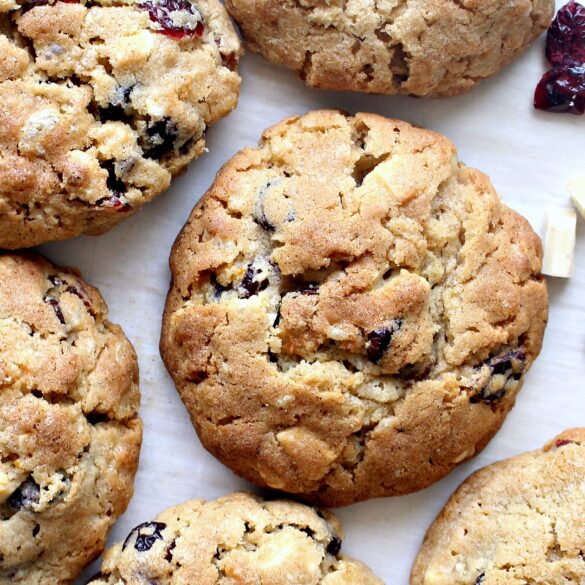 Baking tips
If you don't have or don't like Craisins, substitute with another dried fruit such as raisins, cherries, or currants.
Instead of crispy rice cereal you can substitute with another crunchy cereal such as corn flakes, Chex, or Wheaties.
For a sweet-salty mix, substitute potato chips for the crispy rice cereal. No need to crush the chips. Just add them to the mixer just as you would add the cereal. The chips will crush as the dough mixes.
Those who like nuts in their cookies can add up to 1 cup of chopped or slivered nuts.
These cookies are frozen before baking to keep them thick and rounded and to allow time for the flavors to develop. You can bake these cookies without freezing. They will only spread a little bit but the flavor won't be the same if the dough isn't frozen. Also, the baking time will be shorter, 12-14 minutes.
Though I prefer these cookies very large, they can be made smaller, but end up crunchier. Smaller cookies lose their chewiness faster. If you make them smaller, the baking time will be around 10 minutes. Smaller cookies lose their chewiness faster.
Tips for gifting and shipping
These cookies have a relatively short time that they remain soft and chewy. Over time they become only crunchy. To lengthen shelf life, wrap pairs of cookies in plastic wrap as soon as they are completely cool.
For care package travel longer than 5 days, vacuum sealing is recommended. Vacuum sealing prolongs the shelf life to 2-3 weeks.
For gifting locally, wrap pairs of cookies,with the bottoms together, in plastic wrap. Place the wrapped bundles in a cellophane bag and close with a twist tie or ribbon.
Tools you may need
My favorite baking sheets for cookies are Airbake cookie sheets. The insulated pans help keep the bottoms of the cookies from baking too quickly, allowing for even doneness inside and out.
I consider cookie scoops to be an essential baking tool. When your cookies are all the same size, they all are perfectly done at the same time. No more sheets of mixed over baked and under baked cookies. I used a heaping large (3 tablepoon) scoop for the ¼ cup of dough for this recipe. I also recommend owning a medium (1 ½ tablespoons) and small (1 tablespoon) scoop.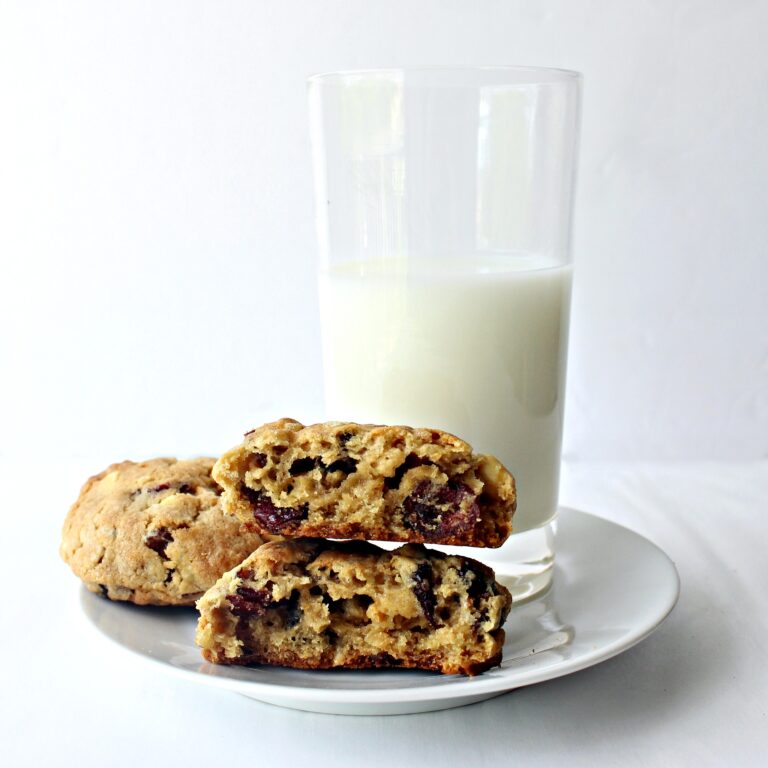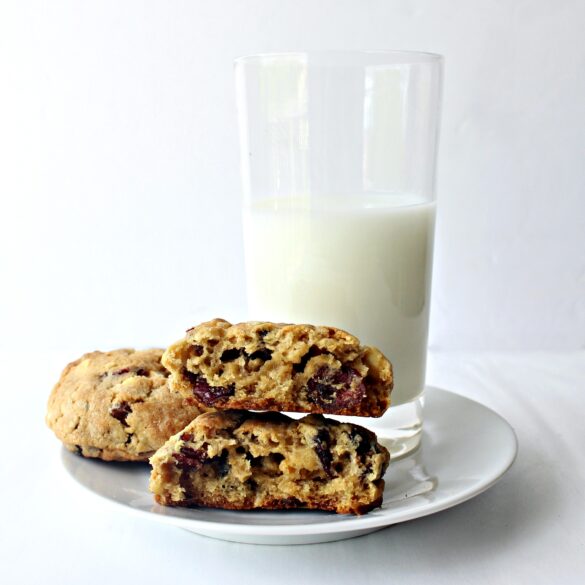 More cereal cookie recipes
No Bake Chocolate Peanut Butter Cookies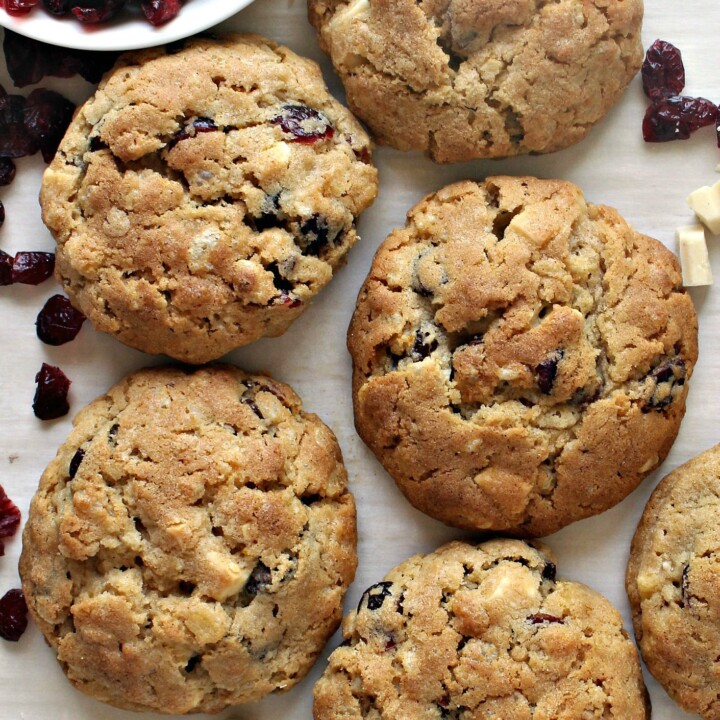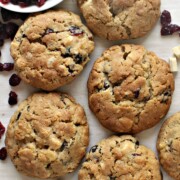 Print
Cranberry White Chocolate Cookies
Servings
23
large cookies
As an Amazon Associate I earn from qualifying purchases.
Ingredients
2

sticks unsalted butter

room temperature

1

cup

brown sugar

packed

⅔

cup

granulated sugar

1

tablespoon

orange zest

2

teaspoons

vanilla extract

2

large eggs

room temperature

2

cups

all-purpose flour

1

teaspoon

baking powder

½

teaspoon

baking soda

1 ½

cups

Craisins

6

oz.

white chocolate chunks

3

cups

crispy rice cereal
Directions
In the bowl of an electric mixer, cream the butter, brown sugar, granulated sugar, and orange zest until light and fluffy. Scrape the bowl

Mix in the vanilla and eggs, one at a time, scraping in between additions.

In a medium mixing bowl bowl, whisk together the flour, baking powder and baking soda.

Gradually add the flour mixture to the creamed mixture on low speed, until combined

Fold in the Craisins, white chocolate, and crispy rice cereal, until well distributed.

Line a baking sheet with wax paper.

Scoop dough (¼ cup/61 grams/ 2.2 ounces) and roll into balls.

Place the balls close together, but not touching on the cookie sheet.

Place the filled cookie sheet in the freezer until the dough balls are frozen (about 2 hours).

Once frozen, the dough balls can be placed in a freezer weight zip lock bag in the freezer until ready to bake.

When ready to bake, preheat the oven to 375° F and line a cookie sheet with parchment paper.

Place the desired number of cookies on the cookie sheet 2"-3" apart.

Bake for 13-16 minutes, or until they turn golden brown all over and are slightly undercooked in the center.

Remove from oven and transfer to a wire rack to cool completely.

Store in an airtight container at room temperature for up to 7 days. These cookies will lose their chewiness over time.
Notes
Wrap pairs of cookies, bottoms together, in plastic wrap. Stack the bundled cookies in a freezer weight ziplock bag or snugly in a plastic storage container.