During the hot weather months, care package contents should fit in the "unlikely to melt" category. Iced sugar cookies don't make the cut. To continue sending decorated circle cookies in military care packages, I have to come up with alternative decorating methods. This summer I've used shapes, colors, and sparkle to enhance eye catching potential for circle cookies. For the final hot weather month of the year, Stay Cool Imprinted Cookies, use a stamped method often reserved for holiday cookies.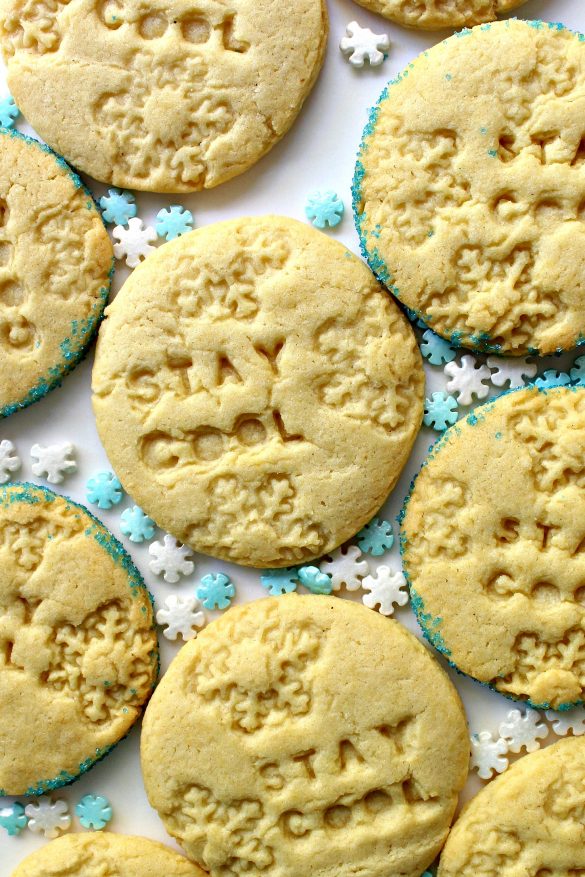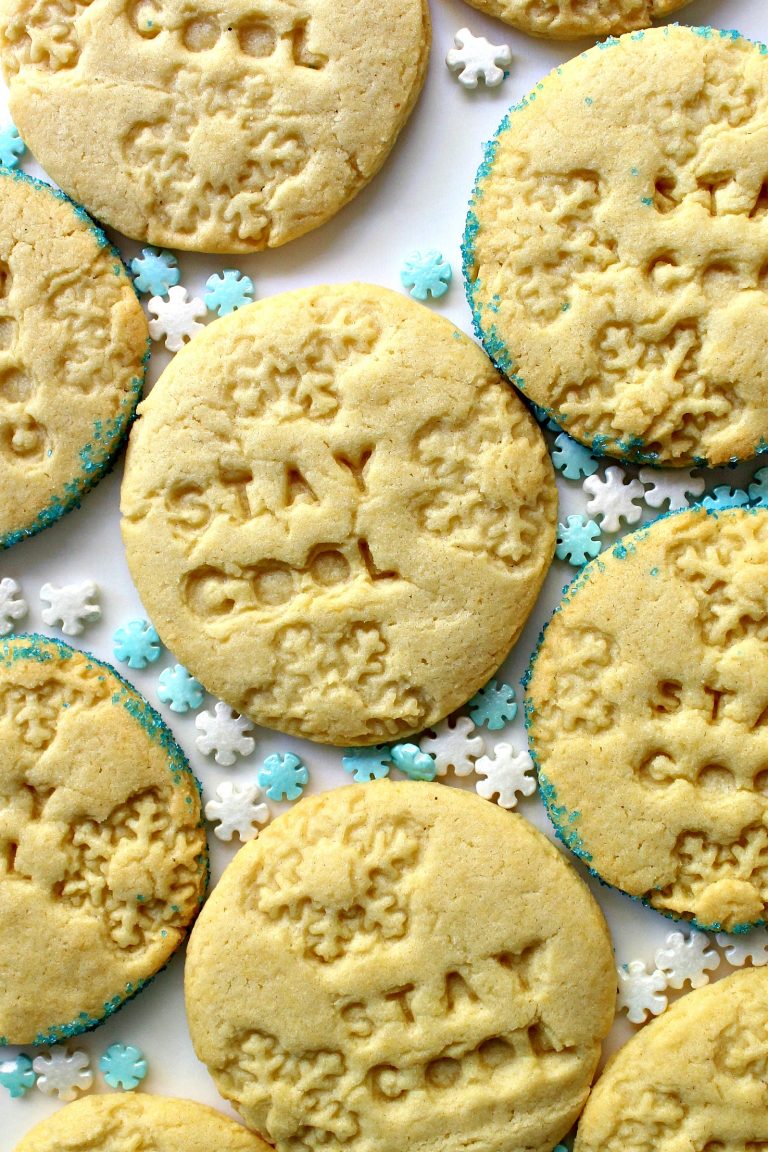 The theme of this care package is "Stay Cool" with a double meaning. The box is filled with items I hope will help Soldier L. feel a little less overheated in the still very hot temperatures in Kuwait. Perhaps thinking about cool temperatures will provide some "mind over matter" relief too! Snoopy's Joe Cool persona let's Soldier L. know I think he is a pretty cool guy regardless of the weather.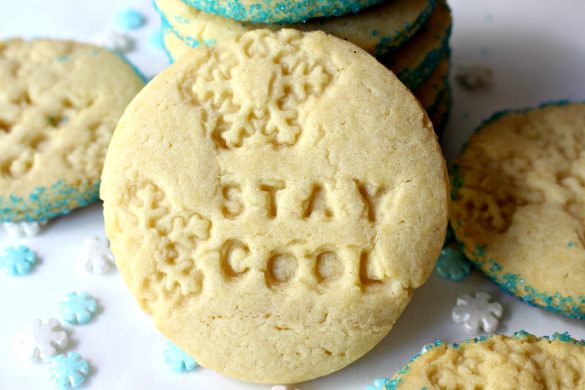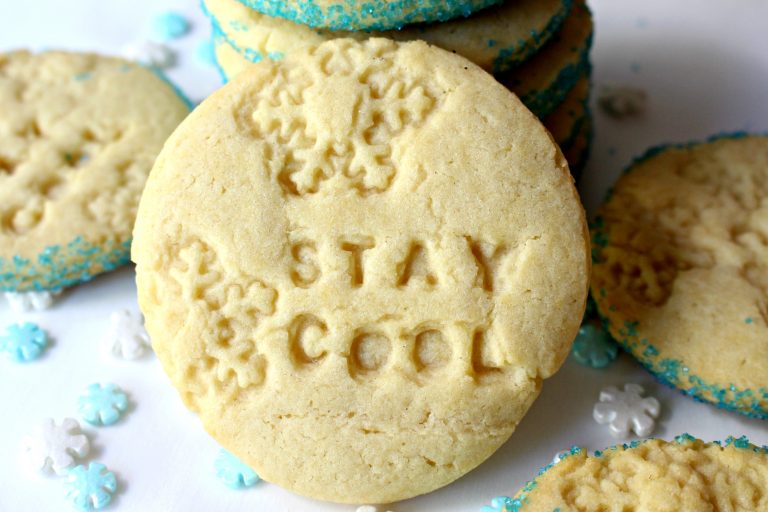 Part 1 Care Package Contents: To get the "cool" mind set going, the box is lined with snowflake wrapping paper, clip-art Joe Cool figures, and thought bubbles urging Soldier L. to "Think Cool", "Be Cool", and "Stay Cool". I attached Soldier L.'s address to the flap that is empty in the photo.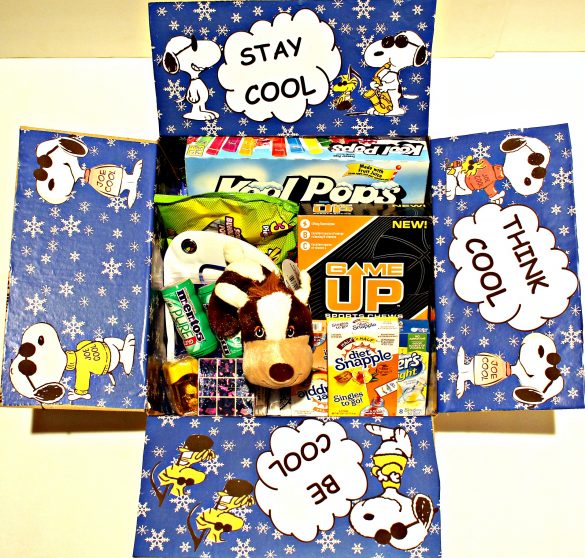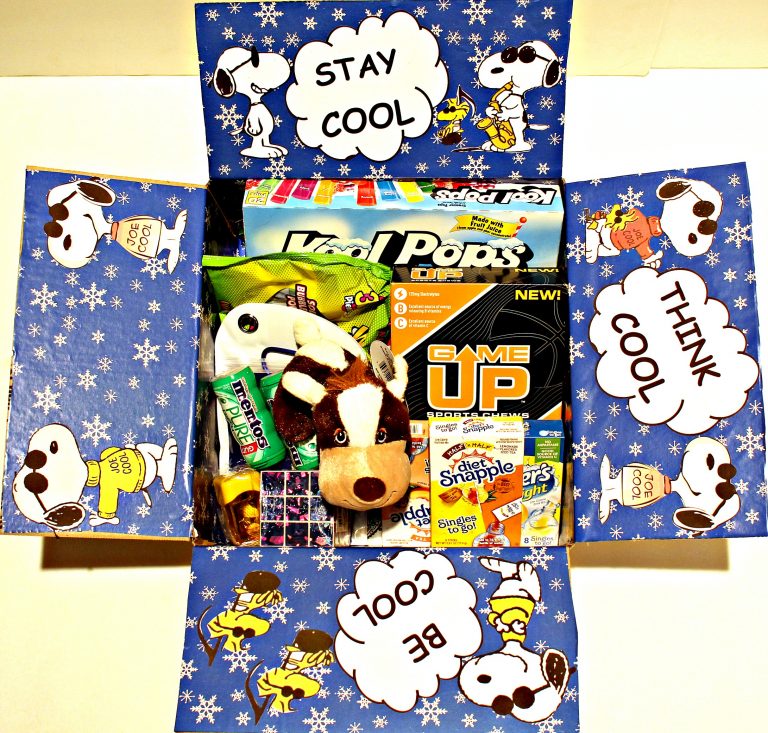 The box is filled with anything I could find that offers cooling to the body, taste buds, or spirit. A cool- down towel, wipes, icy puzzle cube, coloring books, and a stuffed puppy aid the body and spirit. Mint gum, cooler candy, drink mix, and popsicles should chill the taste buds.
Part 2 Circle Sugar Cookies: Stamping is a quick and easy way to add interest (and a message) to many types of plain cookies. For imprinting or molding, usually the less rising agent in the recipe the better. Designs won't be clear on a cookie that puffs up when baked. Recipes for molded Christmas springerle and gingerbread, often have no rising agent at all. I used my favorite desert safe sugar cookie recipe for Stay Cool Imprinted Cookies, even though the recipe does use 2 teaspoons of baking powder. I knew from past uses that the cookies rise very little and this crunchy vanilla cookie doesn't need add-ins to be delicious.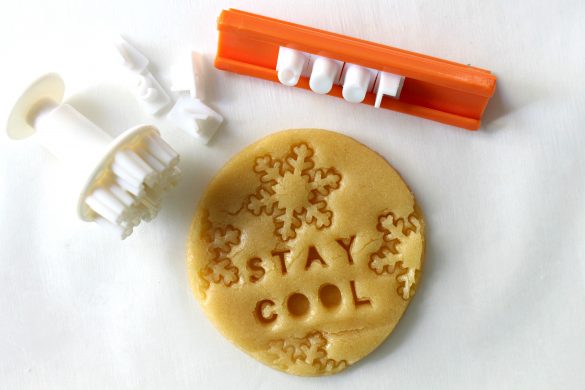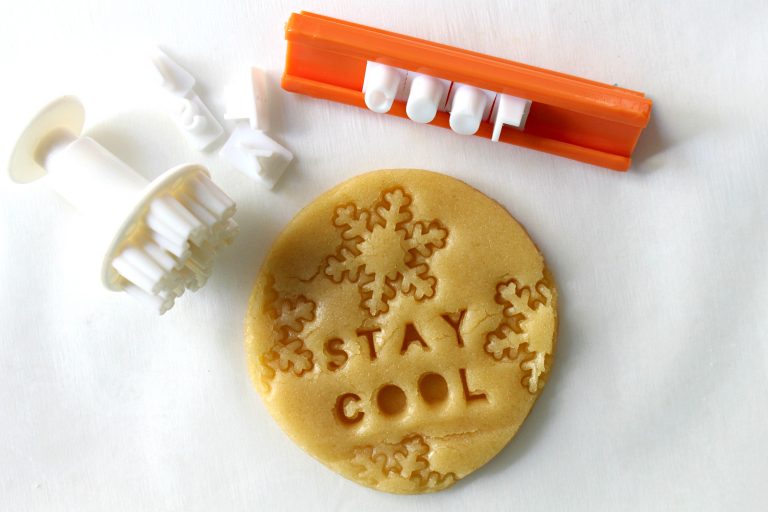 I purchased my imprinting set from World Market. It comes with three cookie cutters, several pre-set imprinting phrases, and a bag full of alphabet letters (plus duplicates). The only trick to imprinting words, is to remember to slip the letters into the holder in reverse (mirror image) order. Any cookie cutter, pressed gently, partially into the dough can be used to imprint shapes.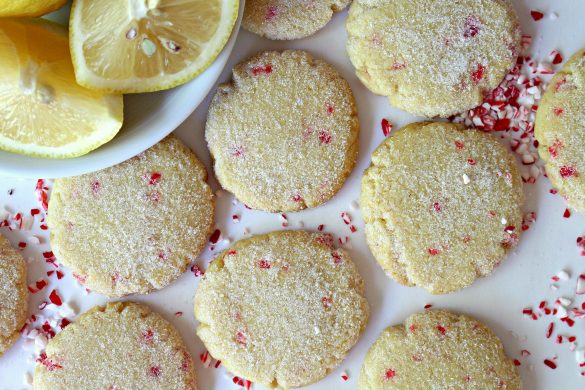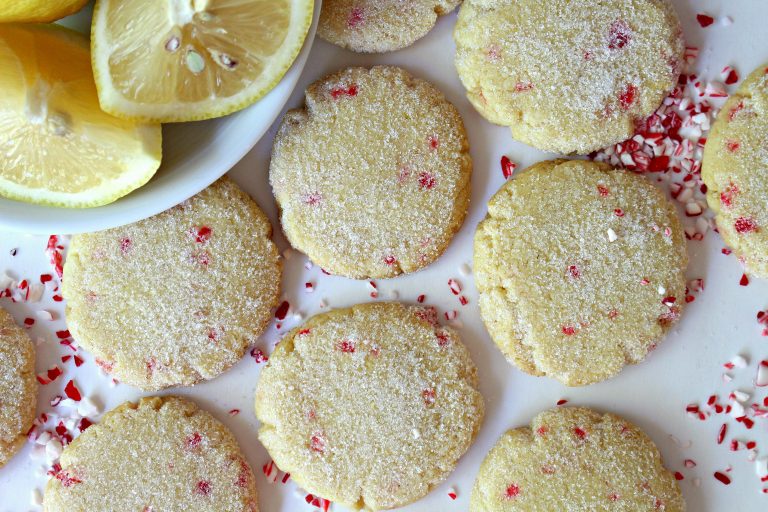 Part 3 New Recipe: Lemon Peppermint Cooler Cookies are the new recipe in this package. They provide a cooling rush of mint and citrus in each crunchy bite. These flavorful cookies are a year round favorite. The refreshing lemon-peppermint combination is perfect in the heat. The peppermint bits sprinkled throughout the cookie make them a popular Christmas cookie as well!
Part 4 Other Recipes for a "Stay Cool" Theme:
Whatever the holiday or occasion, a message on a cookie is sure to create smiles twice. The first smile happens when the message is read. The second smile comes with a bite of cookie. Stay Cool Imprinted Cookies may take longer to send than an email, but the message tastes a lot better!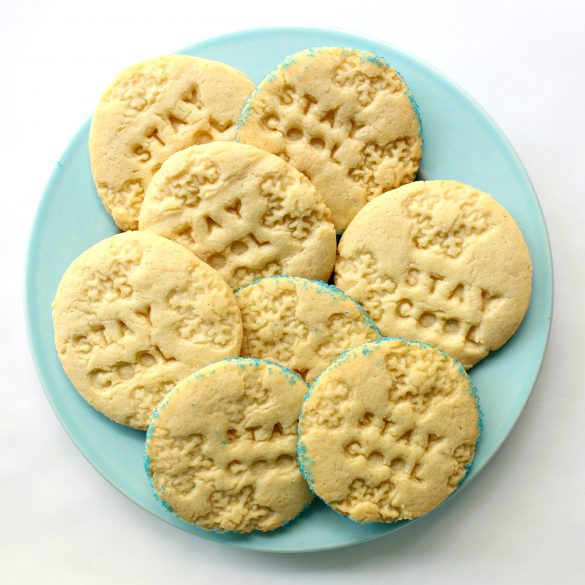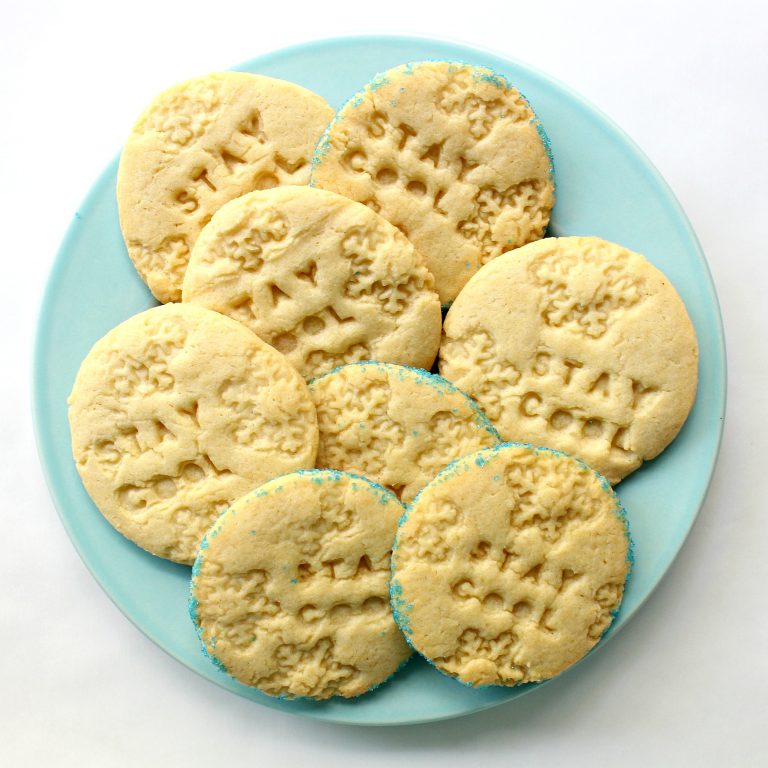 You can read more about desert safe ingredients and find an index of all of the desert safe recipes on The Monday Box by clicking here.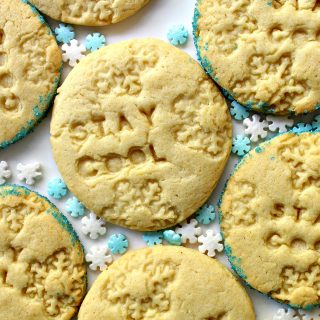 Stay Cool Imprinted Cookies for Military Care Package #24
Makes
32
- 2 1/2" cookies
Ingredients
3

cups

all-purpose flour

½

teaspoon

salt

2

teaspoons

baking powder

⅔

cup

of butter flavored vegetable shortening

Crisco

1 ¼

cup

granulated sugar

2

large eggs

1

tablespoon

milk

2

teaspoons

vanilla

Optional: ¼ cup decorating sugar
Directions
Preheat oven to 350° F. Line a baking sheet with parchment paper.

In a medium bowl, whisk together flour, salt, and baking powder. Set aside.

In the bowl of an electric mixer, cream together the shortening and sugar.

Add in eggs, milk, and vanilla. Beat to combine, until smooth.

Gradually add in the flour mixture until fully incorporated.

Refrigerate the dough for at least 1 hour, until no longer sticky.

Roll out the dough to 1/4" thickness, between sheets of parchment paper.

Cut out circles. Remove excess dough. Imprint the dough circles with words and/or shapes. Repeat to use up the dough.

Optional: Press the edges of each circle into decorating sugar.

Place the cookies 1"-2" apart on the prepared cookie sheet.

Bake for 10 minutes. (The cookies will not be browned.) Allow to cool on the baking sheet for3 minutes before transferring onto a wire rack to cool completely.

Store in an airtight container at room temperature for at least 2 weeks.
Packing Tips
Double wrap pairs of cookies, with bottoms together, in plastic wrap. Place in airtight containers or ziplock bags.
These desert safe cookies have also been care package favorites!
Save
Save
Save
Save
Save