A Grinch Care Package is a box full of smiles. Adults and children alike love this green Mean One who reminds us that true Christmas spirit is found in the joy and love shared with friends and family.
(The Monday Box participates in affiliate marketing programs. As an Amazon Associate I earn from qualifying purchases. If you choose to purchase a product after following a link on this page, I will receive a small commission, at no cost to you, which helps make The Monday Box possible.)
Packed with sweet treats, a stuffed Grinch and the book, this care package is sure to delight. The Grinch Who Stole Christmas is an especially bright and heartwarming military care package idea that can transport holiday cheer to service members far from home.
This is a very green care package! The decorations are green and the treats are green. When we think "Grinch" we think green, but did you know that the original Grinch in the book "How the Grinch Stole Christmas" by Dr. Seuss, was black and white? It wasn't until the book was adapted for film that the Grinch became green!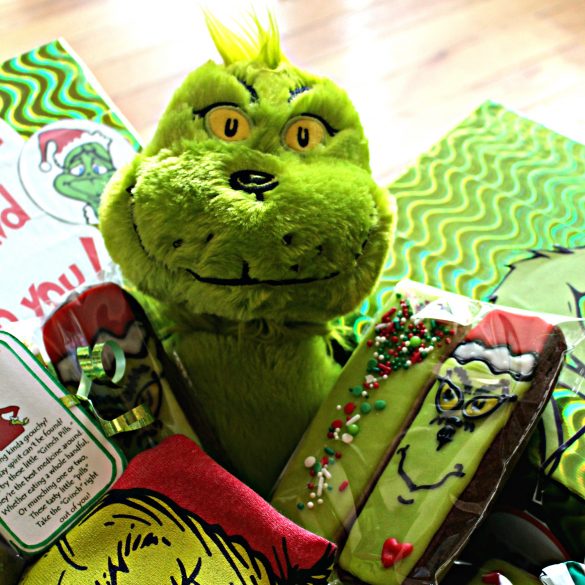 Whether the Grinch in your mind's eye is the animated character, or one of the Grinches from the two live-action movies, that mean, mopey creature has a place in our hearts. His joyful transformation and newly found Christmas spirit is the essence of each item in this care package.
This guide is the final post in a series; Grinch Brownies,  Decorated Grinch Cookies, and today's  Grinch Care Package Resource Guide.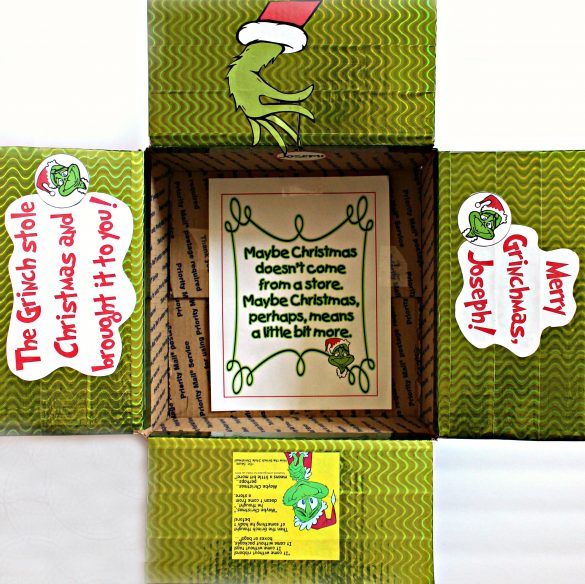 Decorating
I use a large flat rate box from the US Postal Service. Though expensive to mail (about $18), you can fit quite a bit inside and not have to worry about weight (up to 50 pounds). Not only are the cartons themselves free, but you can order them online and the postal service will deliver them to your door!
Decorating the box is, of course optional, but basic decorating takes no artistic skill and I think it adds tremendously to the festiveness of the package. Using simple, inexpensive (Dollar Store) materials, you can add pizzazz and play up the theme.
For this Grinch Care Package, I printed Grinch illustrations and quotes found by searching Google and used them to decorate both inside and out. On the outside of the box, I use a glue stick or Mod Podge to attach the graphics, then use plenty of clear packing tape over the entire surface.
The inside flaps were covered first with strips of holographic green duct tape (Dollar Store) before gluing the graphics in place. I had fun downloading Grinch fonts to my computer (see link below), and typing out personalized messages. Again, I cover the decorated flaps completed with clear packing tape. (At this point, I really should consider buying stock in packing tape. I go through a LOT of tape!)
Care package contents
Stuffed Grinch and book set. I include a stuffed toy in most of my care packages. I learned this tip from Operation Gratitude, an organization that has sent more than 2 million military care packages. The toys serve as tokens of the care and good wishes that go into each box. Stuffed animals become mascots or gifts for local children. Some have been brought home to the children of service members!
DVD of any Grinch movie if your care package recipient has access to to watch it.
Themed clothing. I included a t-shirt, but pajamas and sweatshirts are also popular.
Grinch Pills. A cute printable tag with a poem gets attached to purchased candy. There are two types of printables available for these "pills" (see links below). One gets clipped to the top of bags of green M&M's or green jelly beans. The other is glued to the outside of boxes of green Tic Tacs. Tic Tacs mints are not being made at this time, but Tic Tacs green mint gum is available in the same small plastic containers.
Grinch Green Candy Canes. A cute printable tag (see link below) with a poem explains how the Grinch licked all the candy canes turning them green. Attach the tags to individual green candy canes which are available in mint or sour apple flavors.
Baked goodies. There are so many fun and delicious homemade treats that would travel well in a care package! For my Grinch Care Package I made Grinch Brownies, Decorated Grinch Cookies, and Grinch Pretzel Bites. See all of the links below for a variety of tasty snacks.
Resources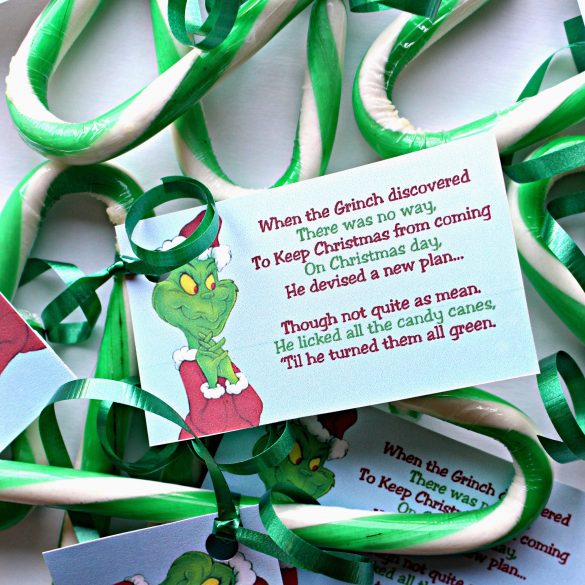 Printables
Tags for Green Grinch Candy Canes. Print off these tags, punch a hole in the corner, then attach the tags to the candy canes with a piece of green ribbon. Be sure to pack candy canes carefully so that they don't break in transit.
Labels for Grinch Pills (Tic Tacs). These labels take a little work. When the printable was originally published, readers were able to click on a link to a printable file. That doesn't appear to be working at this time. Because I couldn't find another source, I decided to adapt this printable. First copy-paste the illustrations of the label onto a Word document and adjust the size (trial and error) to fit your Tic Tac container. Those labels can be glued directly onto the container or the illustration of the container wrapper can be copy-pasted and adjusted, then glued to the container before gluing on the printed label.
Labels for Grinch Pills M&M's. Put a handful of green M&M's or green jelly beans into a snack sized zip lock bag and zip the bag shut. Print off the labels and staple to the top of each bag.
Downloadable Grinch fonts are so much fun! The fonts are available on numerous sites, but this is the site that worked for me. Once downloaded, Grinch font becomes a permanent option on your computer fonts menu. I used the font on Word to make decorations for the box flaps. I typed "Merry Grinchmas, (name of recipient)" and "The Grinch stole Christmas and brought it to you!"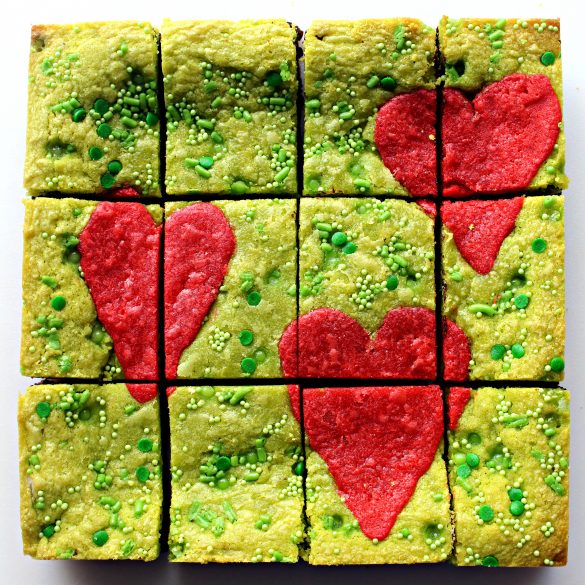 Recipes
Brownies
Colorful Grinch Brownies have a layer of fudgy brownie is topped with white chocolate blondie, tinted Grinch green. Three red hearts are a reminder that, "in Whoville they say, the Grinch's small heart grew three sizes that day!" The Monday Box
Popcorn
This Grinch Popcorn is coated with a homemade green sugar syrup before adding sprinkles and hearts! Imperial Sugar
Grinch Popcorn can also be coated in green candy melts and sprinkled with red candy hearts! Cooking With Curls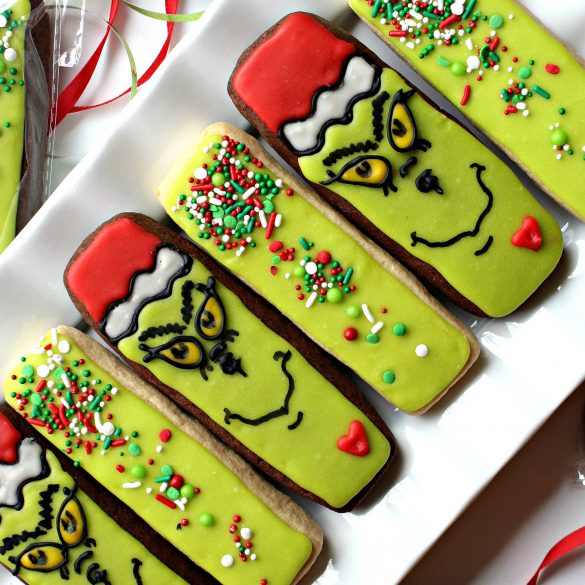 Cookies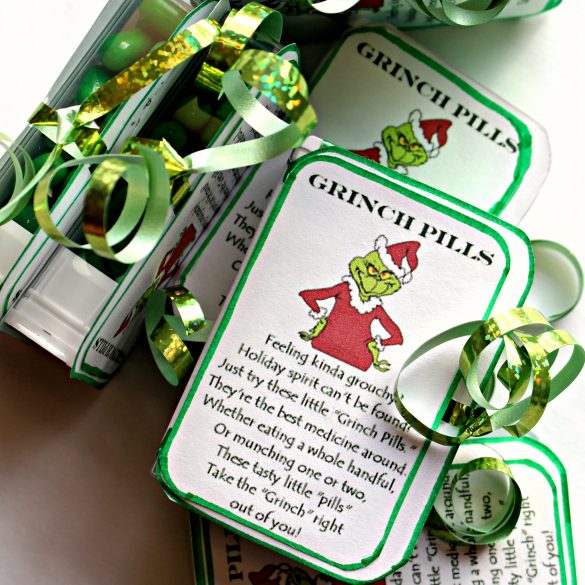 Candy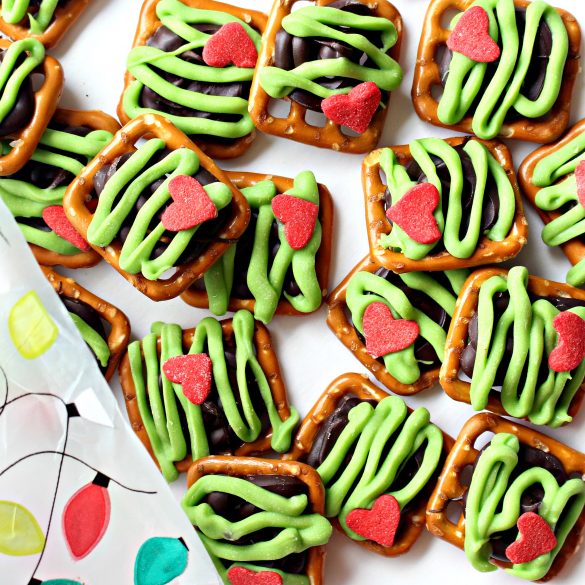 Pretzel bites
Grinch Pretzel Bites are sweet, salty, crunchy, and Grinchy! Use the candy melts shown in this recipe or replace them with real chocolate piped onto the pretzels! Two Sisters Crafting
Grinch Pretzel Bites are an even more simple version of pretzels topped with green candy melts (or green colored white chocolate if you choose.) Sara's Baking Studio
Rice Krispie treats
Cake
Grinch Loaf Cake has a surprise inside! When the luscious green loaf cake is cut into slices, a red heart is revealed on each slice! The Bearfoot Baker
This Grinch Resource Guide offers the choice
To make Grinchy goodies that are cause to rejoice
Pack it all up with tape, wrapping, and glue
Mail your care package labeled
"Merry Grinchmas to you!"