With all of the wacky Dr. Seuss books to choose from, packing fun into a Dr. Seuss Characters Care Package is easy! A Dr. Seuss theme care package is a great way to send smiles to children or adults.
Receiving a box filled with gifts and snacks inspired by classic Dr. Seuss books can help children find joy in reading and remind adults of their childhood favorites. The ridiculous rhyming words are unforgettable. The lessons within the silliness are timeless.
(The Monday Box participates in affiliate marketing programs. As an Amazon Associate I earn from qualifying purchases. If you choose to purchase a product after following a link on this page, I will receive a small commission, at no cost to you, which helps make The Monday Box possible.)
Followers of The Monday Box know that I am a member of the Soldiers Angels Deployed Adoptions Team. As an active member, I commit to sending one letter a week and one care package per month to my adopted service member for the length of his/her deployment.
Sometimes, the adopted service member writes back and we can get details about favorite things or something that is needed. Usually, we hear nothing and have to wing it when sending packages.
I use care package themes to help me decide what to bake and what to buy. The themes can be anything that might help the military personnel smile and temporarily un-stress.
My themes are often silly and make me smile while I am putting them together. My hope is that some of those smiles get packed up with the rest of the contents.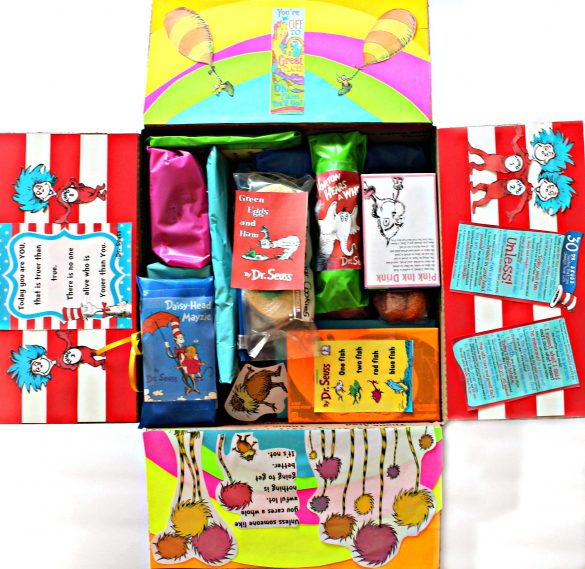 The idea for this Dr. Seuss Characters theme came from a fellow Soldiers' Angel, Gina Smith. What a great idea for eliciting laughter and happy childhood memories! Everyone has a favorite Seuss book!
When Gina posted a photo of her care package, I knew I had to try something similar. This is basically Gina's idea on steroids. I'm crazy like that.
This theme worked wonderfully as a military care package and I think it would be just as wonderful for college care packages, missionary care packages, and care packages for children! Dr. Seuss is quite versatile!
Frequently asked questions
What was Dr. Seuss's real name?
Dr. Seuss's full name was Theodor Seuss Geisel. Seuss was his mother's maiden name. He began using the name Dr. Seuss while an undergraduate in college.
What was Dr. Seuss's first book?
In 1937, Dr. Seuss published his first children's book, And to Think That I Saw It on Mulberry Street.
How many Dr. Seuss books are there?
Theodor Seuss Geisel wrote more than 60 books. Fourty-six of those are children's books written under the name Dr. Seuss.
When is Dr. Seuss Day?
Dr. Seuss Day, also known as Read Across America Day, is observed each year on March 2nd, Dr. Seuss's birthday. This holiday was created to both celebrate Dr. Seuss and promote reading. Many schools and libraries hold special events.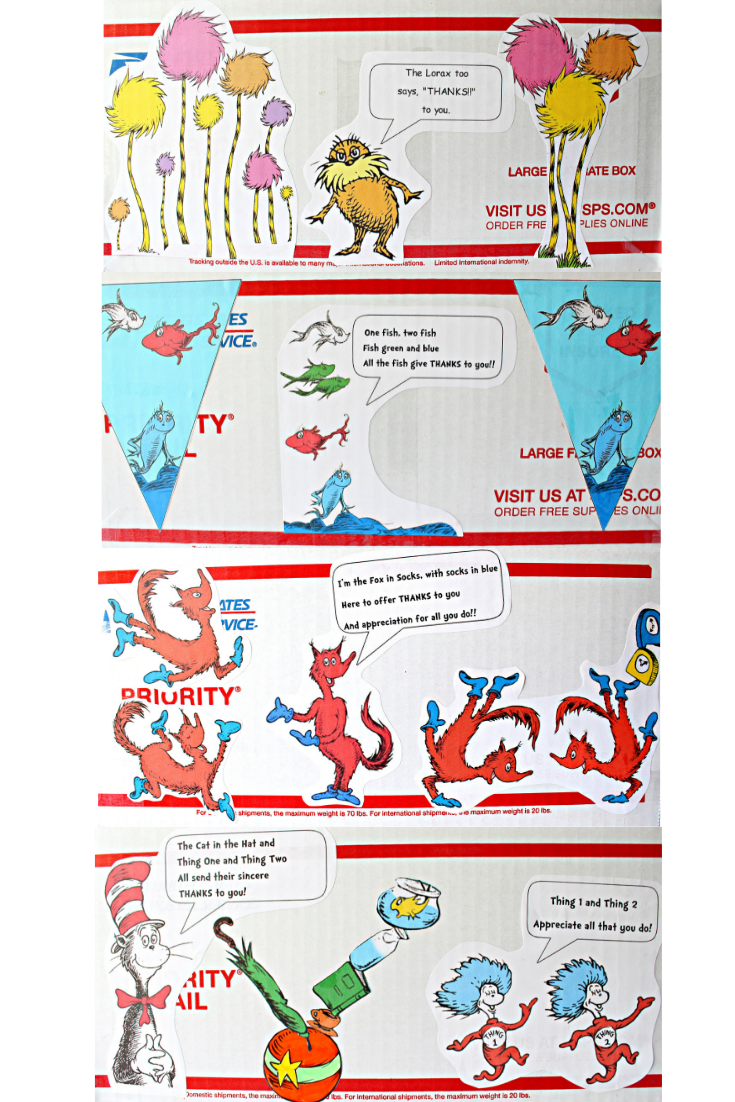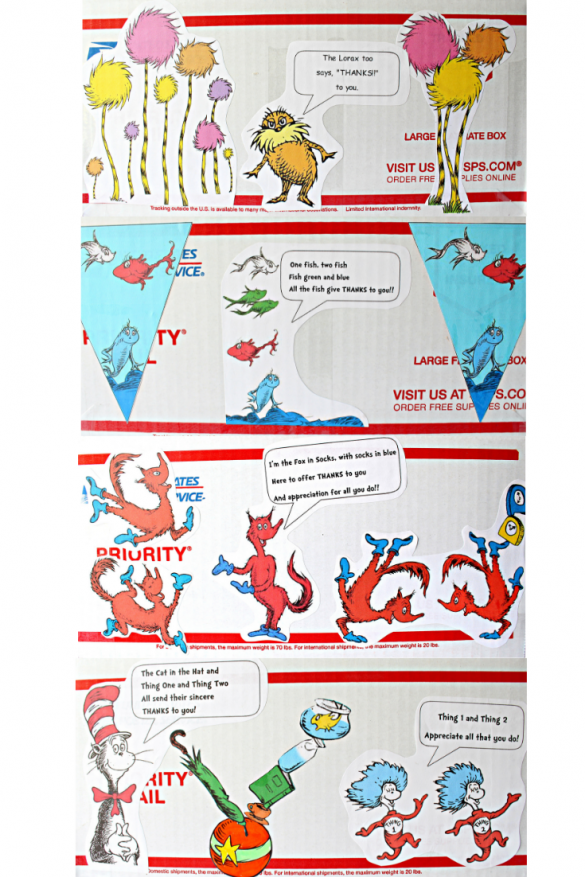 Directions
Decorating care package boxes can be fun, but is certainly not required. If you don't have the time or interest just skip straight to the contents. However, if you would like to play with paper and scissors, I am including my designs to give your individual creativity a kick start.
I used the Dr. Seuss characters generator at redkid.net to create characters with blank conversation bubbles. After, copy and pasting the image into word, I used a Dr. Seuss font to type in messages of thanks.
The Dr. Seuss characters and their messages are cut out and glued to the outside of the box. I chose to make each side of the box represent a different Dr. Seuss book; The Lorax, One Fish, Two Fish, Fox in Socks, and The Cat in The Hat.
I decorated two of the inside flaps with alternating stripes of red and white construction paper. To those flaps, I added character cut-outs and quotes from The Cat in the Hat. On one side I used a printable Cat in the Hat frame and typed in the quote using the Seuss font. On the other side I used a list of 30 Dr. Seuss quotes.
The two remaining inside flaps were decorated with uneven, rainbow-like arches of colorful construction paper. To one side I added a quote and balloons from Oh, the Places You Will Go. On the other side I added Truffula trees and a quote from The Lorax.
Small versions of Dr. Seuss book covers are printed and cut-out to glue or tape onto the corresponding wrapped gifts. See the contents section below for gift suggestions.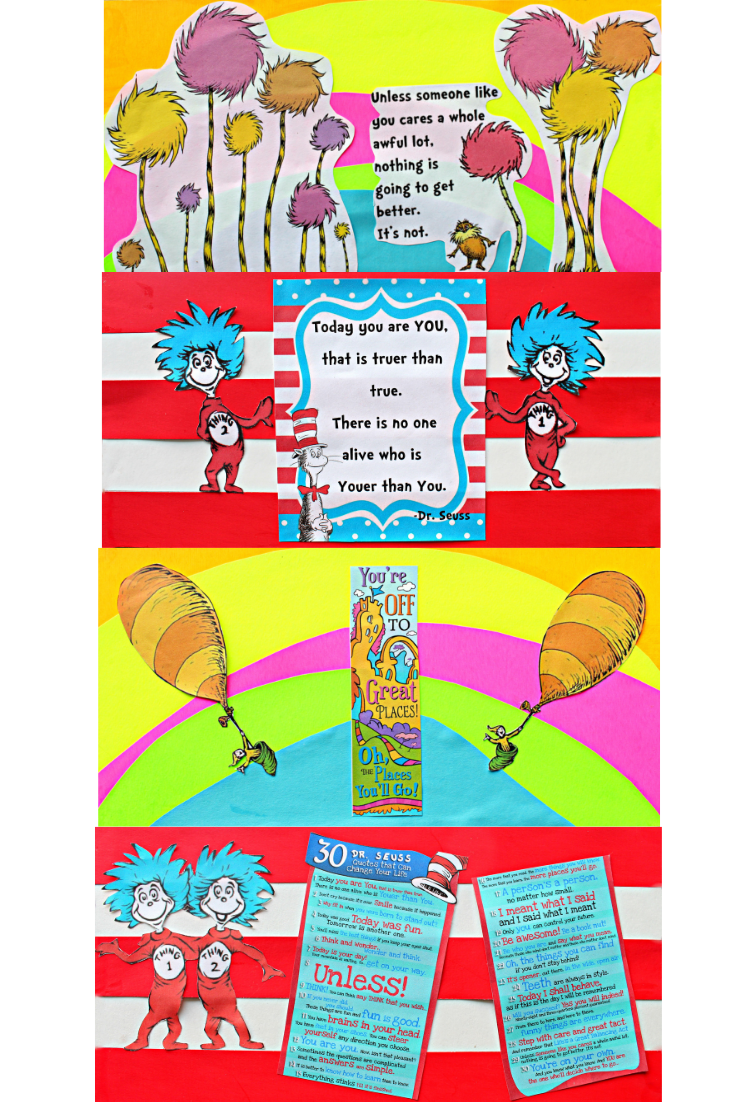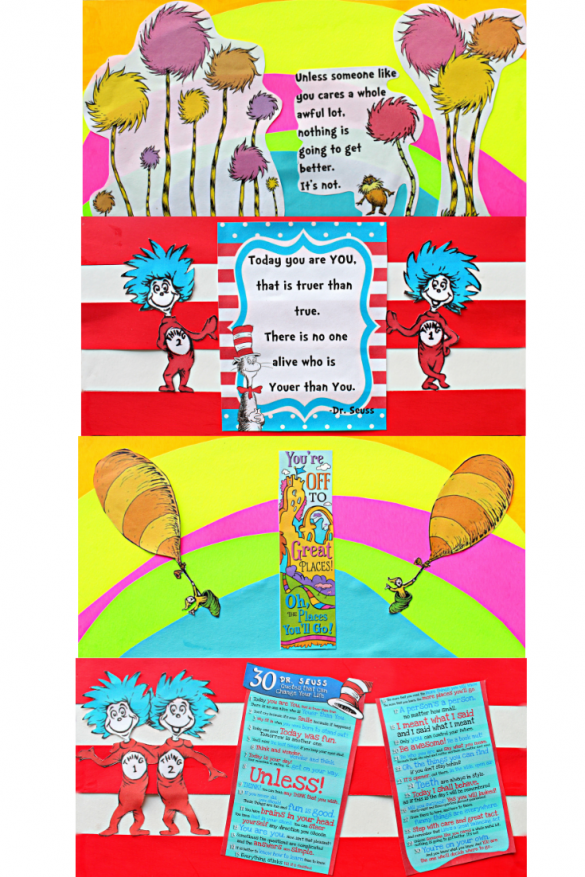 Care package tips
Do not pack food and scented toiletries in the same box. The scents from the toiletries will transfer to the food during shipping.
Though my Dr. Seuss Day care package was sent to an adult in the military, the care package contents you choose to represent each book can be easily adapted to a wide range of ages and interests of the recipient.
If your care package is going to a child, I highly recommend including at least one Dr. Seuss book. Animated videos and movie adaptations of Dr. Seuss books are also readily available.
Invest in good quality, clear packing tape. If decorating the outside of the shipping box with glued-on decorations, the outside of the box must be covered in tape to secure the decorations.
If the box is for a military care package, additional tape should be used over every open edge to keep out sand. Taping over the address label will make the label more resistant to weather that could make the address illegible.
Items you might need


More fun care package themes
Birthday Party in a Box Care Package
Care package contents
The goodies in this care package are all inspired by the titles of Dr. Seuss books. The gifts are each wrapped and labeled with a picture of a book cover. My care package contained a combination of baked items and purchased items.
For each book, this guide includes a recipe for Dr. Seuss snacks. Some of the recipes were developed especially for the Dr. Seuss theme. Other recipes become Dr. Seuss treats by changing the name of the recipe to go with the book.
My package was sent to a male deployed service member. Adapt the purchased items to your care package recipient, if you feel the suggestions here aren't appropriate.
Cat in the Hat
Dr. Seuss Recipe: Cat in the Hat Muddy Buddies are pillows of rice cereal coated in white chocolate, tossed in powdered sugar and mixed with red M&M's. Red and white just like the Cat's hat!
Related gift: Any red and white office supplies would work, but Target often has a selection of Seuss themed items in their Dollar section. Everyone could find a use for Cat in the Hat note pads, pencils, and pencil case.
Daisy Head Mayzie
Dr. Seuss Recipe: Daisy Spritz Cookies can be made in a flash, in your choice of colors! This easy recipe starts with a cake mix and uses a cookie press to create dozens of daisies in minutes.
Related gift: Daisy scented room fresheners, daisy jewelry, or flower themed coloring books would all relate to this book.
Fox in Sox
Dr. Seuss Recipe: Ok, so this isn't really a recipe, but when I saw the idea on Pinterest (with no one I could attribute the brilliance to) I just had to share it. In this book the Fox makes a "quick trick chick stack". When these Peeps chicks are placed on a wooden skewer, it becomes a "quick trick chick stick"!
Related gift: Socks are the obvious gift here!

Green Eggs and Ham
Dr. Seuss Recipe: Green Eggs Cookies are a slice and bake recipe that is easy to create. No one will have to be convinced to try these crunchy sugar cookies!
Related gift: Sam-I-Am was insistent that green eggs and ham are worth trying. For those who aren't convinced, some alternative breakfast foods, like protein bars or Pop-Tarts, might be preferable.

Happy Birthday to You
Dr. Seuss Recipe: Every birthday needs cake or at least Birthday Cake Cookies. These three layer cookies look like little birthday cakes, and also contain a surprise inside!
Related gift: These popup balloons are a great way to send balloons in the mail. You can find them online or at the Dollar Store. Great for birthday or unbirthday celebrations!

Hop on Pop
Dr. Seuss Recipe: Caramel Popcorn is not part of this book. However, the title does have the word "pop" in it, and the story does mention having a snack. What better to snack on than caramel popcorn?
Related gift: Packets of microwave popcorn make it easy for the care package recipient to prepare their own snack to eat "with Mr. Brown and Mr. Black".
Horton Hears a Who
Dr. Seuss Recipe: Peanut Cookies are surely what an elephant would choose to munch on while hatching an egg. These crunchy gourmet cookies would be any peanut lovers first choice!
Related gift: Horton had to wait a very long time for his egg to open and the Who to hatch. Luckily, these candy-filled, plastic Easter eggs don't take that kind of patience. If plastic eggs aren't available, a bag of peanuts also fits this book theme.
How the Grinch Stole Christmas
Dr. Seuss Recipe: Grinch Brownies are delicious, fudgy, Grinch green treats decorated with hearts that are symbolic of how the Grinch's heart grew.
Related gift: Heart shaped candy will be sure to win the heart of your care package recipient!

If I Ran the Zoo
Dr. Seuss Recipe: Bear Brownies show an animal that is found at the zoo, even if it isn't a rare creature preferred by Gerald McGrew.
Related gift: Animal crackers in a box or bag are full of traditional zoo animals. Unfortunately, Seuss zoo animals aren't available!

The Lorax
Dr. Seuss Recipe: Truffula Cookies look like the tufts from the Truffula trees so cherished by the Lorax. By coating these lemon cookies in jimmy sprinkles instead of colored sugar, the cookies are transformed.
Related gift: Any recycled item or ecology minded item would be ideal with this book. I chose a reusable water bottle.

Mr. Brown Can Moo
Dr. Seuss Recipe: Mr. Brown loves to imitate sounds. He would love imitating the crunch, crunch sound these coconut cookies make when you bite into them. In his honor we can call them Mr. Brown's Crunch Crunch Cookies.
Related gift: Cow Tales are a packaged caramel candy with a cow on the box. That cow can moo. Can you?
Oh the Places You'll Go
Dr. Seuss Recipe: The colors of these Swirl Cookies look just like the swirling illustrations in this book! The cookies can be made completely from scratch or from refrigerated cookie dough.
Related gift: The large swirl lollipop brings to mind the swirls of color in this book. An atlas or puzzle books are symbolic of the travel and games mentioned in the story.
One Fish, Two Fish, Red Fish, Blue Fish
Dr. Seuss Recipe: With Fish Brownies or Fish Cookies your fish can be made in any quantity or color!
Related gift: Fishy treats are easy to find. Swedish fish candy, Goldfish crackers, or pouches of tuna all make sea creatures a tasty gift.
Ten Apples Up On Top
Dr. Seuss Recipe: Apples are featured in this story and in these cookies. Caramel Apple Cookies taste like caramel apples in cookie form.
Related gift: Other apple related treats include apple chips or apple sauce.
Would You Rather Be a Bullfrog
Dr. Seuss Recipe: I'm not sure that anyone would want to be a bullfrog, but with these chocolate covered Bullfrog Oreos, everyone will want to eat one!
Related gift: Bullfrog sunscreen is a useful item that has very little scent and absorbs quickly without a greasy feel. Stuffed frog toys, or an "It's not easy being green" tshirt are other possible frog themed gifts.