I love playing in the kitchen, creating recipes and experimenting with ingredients. Baking is even more fun in the company of friends, even if they are virtual friends! This week I joined a group of 9 other bloggers to celebrate World Baking Day! Granite Mill Farms is sponsoring our posts, providing us with their organic sprouted grain flours. My recipe contribution for this event is Honey Sesame Cookies baked with Granite Mill Farms sprouted hard white wheat flour.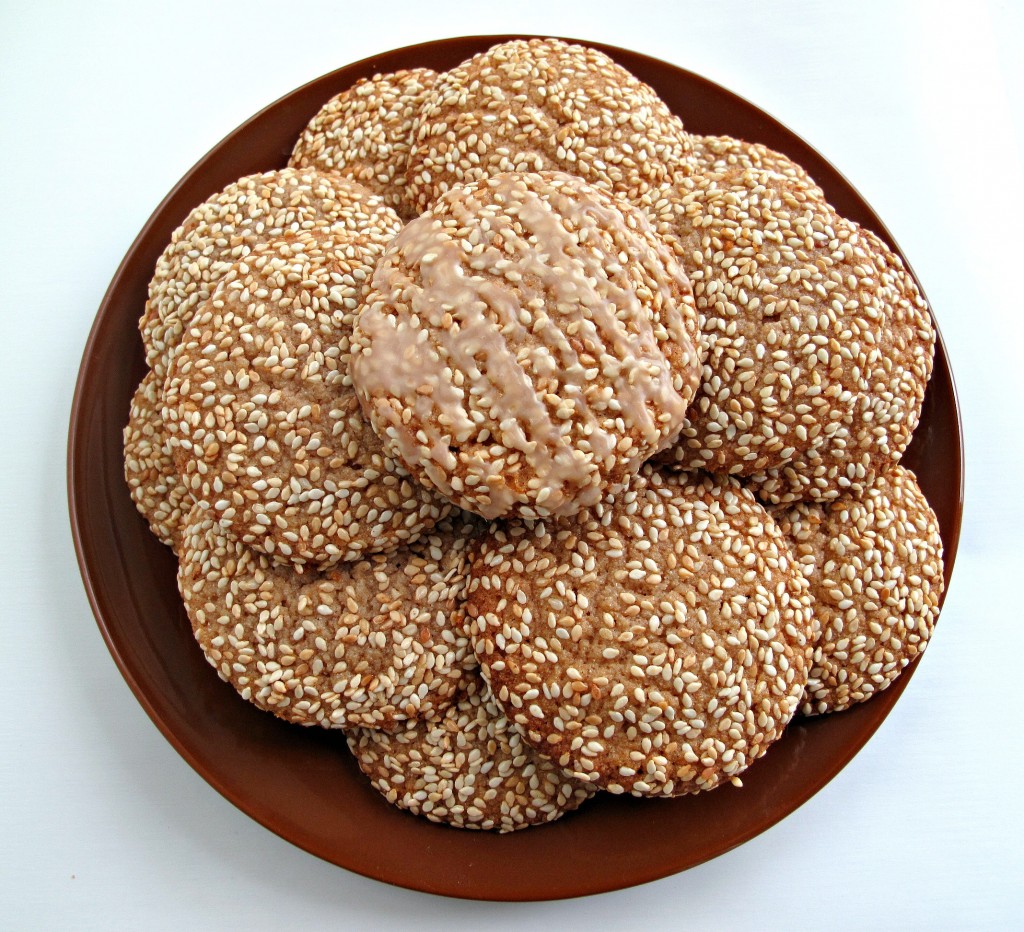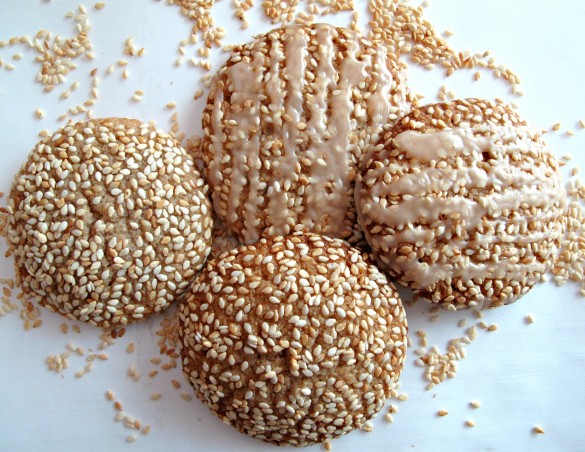 Sprouted flour is milled from grain that has been soaked in water until it sprouts. The process of sprouting converts some starches within the grain to vegetable sugars, resulting in a grain that is easier to digest and more nutritious.
For numerous years I have started my day with toast made from Trader Joe's sprouted grain bread. I eat it because it's lower in carbs and higher in nutrients than traditional grain breads, and makes flavorful, crunchy toast. I had no idea that I could buy sprouted grain flour to add those lower carb/higher nutrient benefits to my home baking.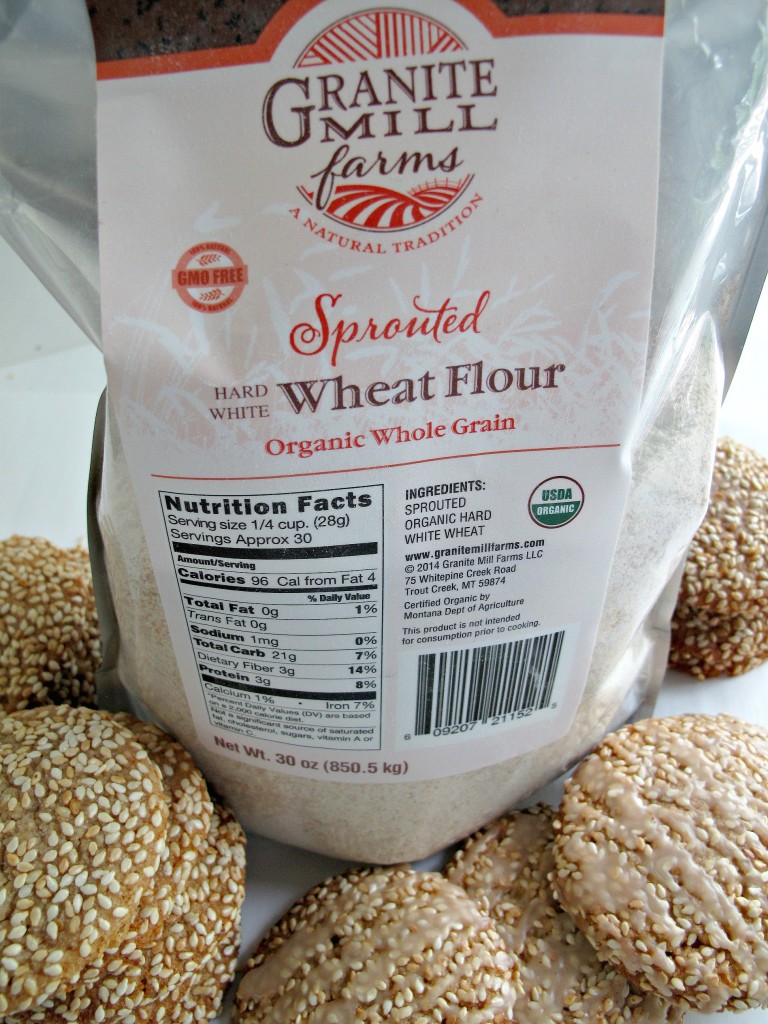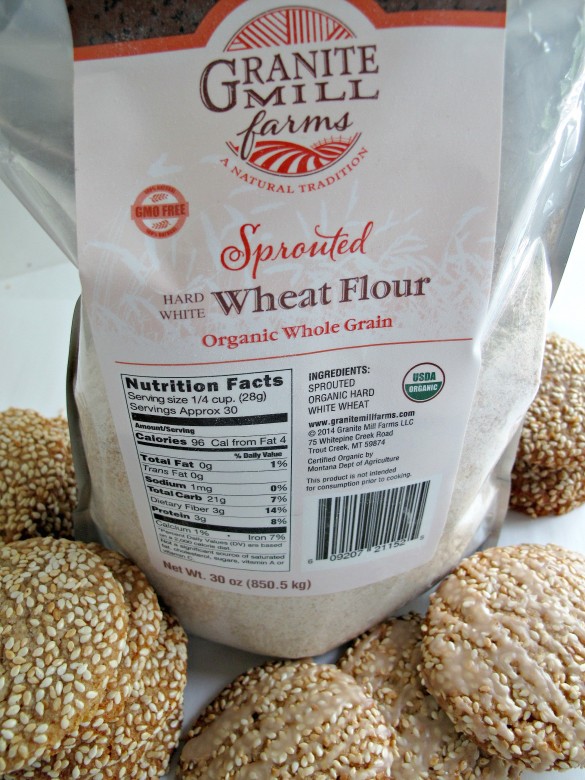 Granite Mill Farms is a family run business in Montana that produces and sells a wide range of organic, sprouted berries and flours. I decided to enter the world of sprouted grain baking cautiously, choosing to work with sprouted hard white wheat flour, which I read could be used like regular all-purpose flour.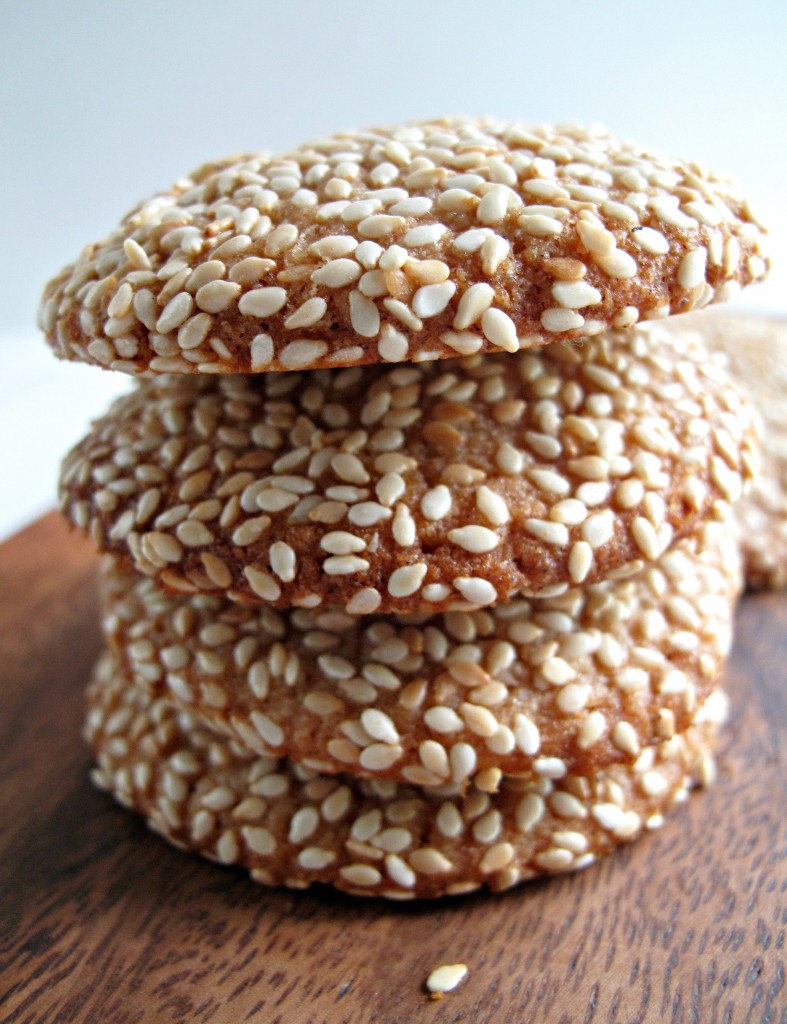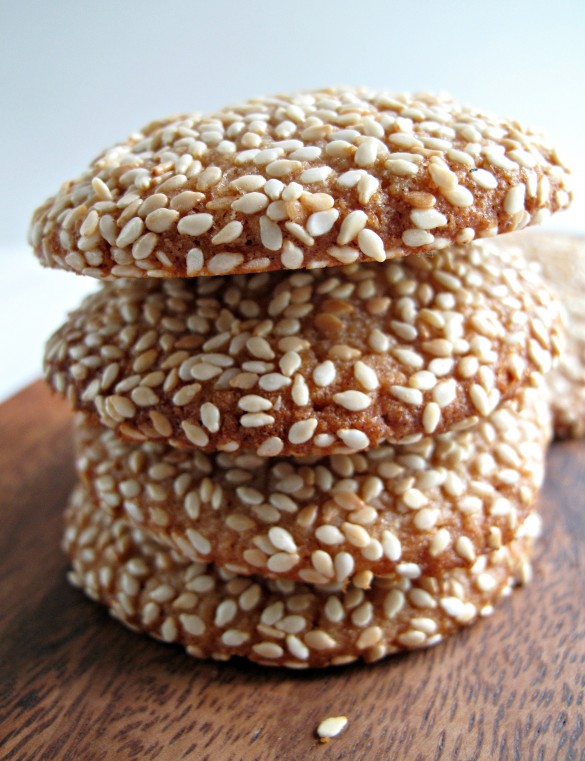 For this baking challenge I wanted a recipe that would highlight the nutty flavor of the grain and the light texture of the flour. Honey Sesame Cookies are exactly what I was looking for.
Soft cookies made with honey sweetened dough get a double dose of sesame flavor from sesame puree (tahini) and sesame seeds. Though these cookies can be made successfully with conventional flour, I found that the cookies made with sprouted wheat flour were especially flavorful and cake-like.
This is a slightly more delicate cookie than I normally recommend for shipping, but Honey Sesame Cookies are so delicious, they are worth a little extra packing care.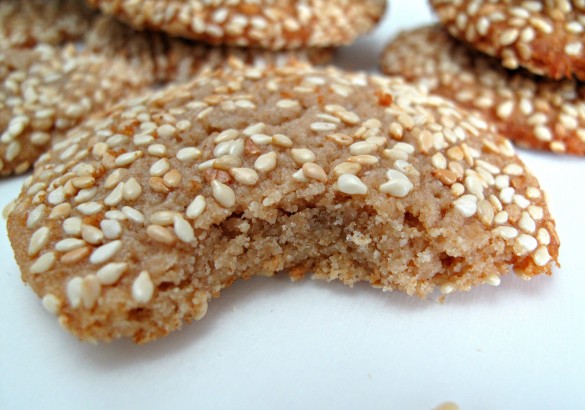 The warm toasted sesame flavor in these cookies reminds me of halvah, a sweet sesame candy I grew up loving. This sesame paste and sugar confection is common to an unbelievable number of cultures.
Wikipedia lists South Asia, Central Asia, West Asia, North Africa, the Horn of Africa, the Balkans, Central Europe, Eastern Europe, Malta and the Middle East, as places where halvah is enjoyed.
Honey Sesame Cookies get their halvah-like flavor from tahini (sesame seed puree) and sesame seeds. Tahini is carried at many regular supermarkets (often in the "ethnic foods" aisle) and I have seen it at Target ( the Joyva brand in a can) next to the peanut butter.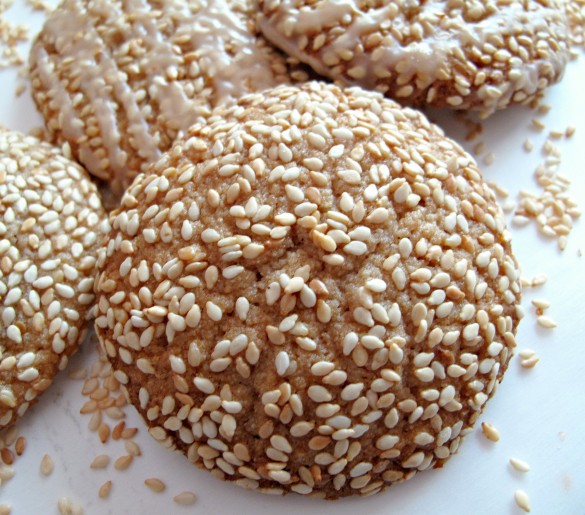 Honey Sesame Cookies, with their multi-cultural halvah flavor, are a delicious way to celebrate World Baking Day this Sunday! For more recipes celebrating World Baking Day using a variety of sprouted grains, be sure to check out the recipes from my blogging friends (see the links below my recipe)!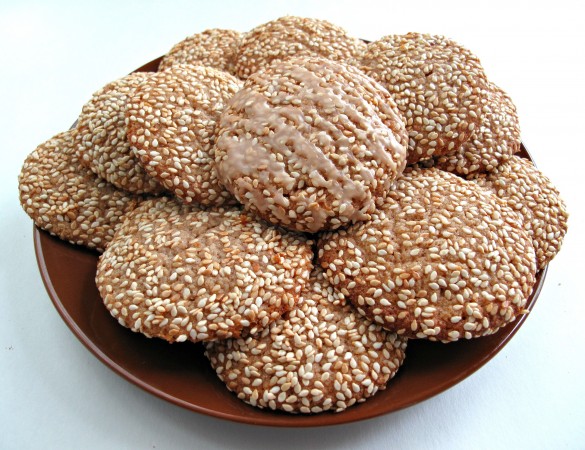 MORE SESAME RECIPES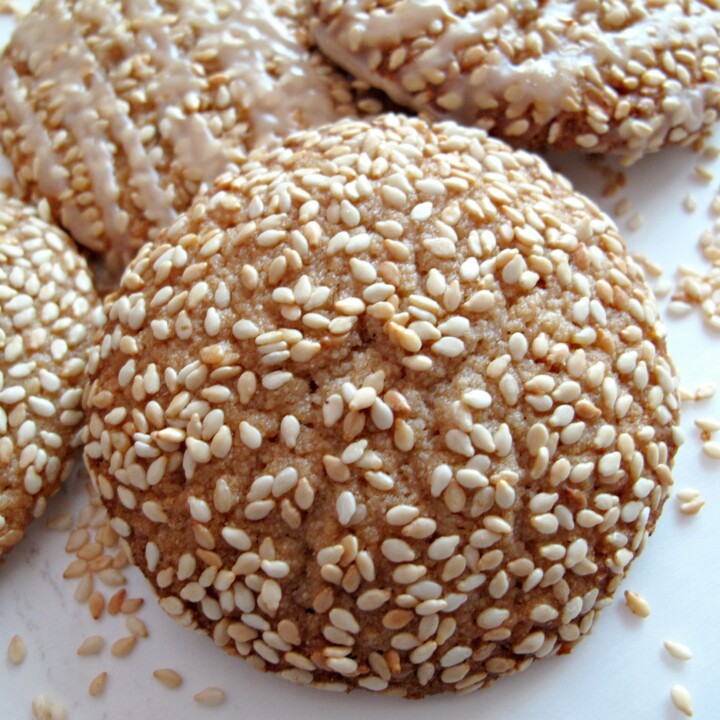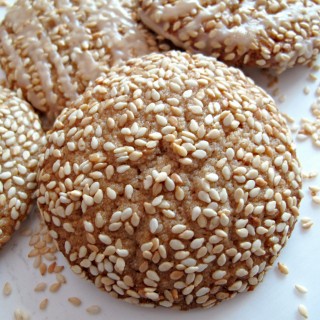 Honey Sesame Cookies
These soft cookies are made with honey sweetened dough and lots of sesame flavor.
Print
Rate
Adapted From:
Epicurious.com
Ingredients
Cookies
1 ¼

cups

sprouted hard white wheat flour

I used Granite Mill Farms

½

teaspoon

baking powder

¼

teaspoon

salt

½

cup

unsalted butter

room temperature

½

cup

honey

½

cup

tahini

puree of roasted sesame seeds, stirred well

2

teaspoons

vanilla extract

⅔

cup

toasted sesame seeds
Honey Glaze
½

cup

powdered sugar

1

tablespoon

honey

1

teaspoon

vanilla extract

2-4

teaspoons

milk
Instructions
To roast sesame seeds: Place the sesame seeds in a frying pan over medium heat. Use a spatula to stir the seeds continually until they are golden brown (about 5 minutes). Set aside to cool.

In a small bowl, whisk together flour, baking powder, and salt.

In the bowl of an electric mixer at high speed, cream together butter and honey. Then add tahini and vanilla. Mix until completely combined.

Reduce speed of mixer and gradually add flour mixture, beating until incorporated.

Cover the dough with plastic wrap and refrigerate until firm (1 hour-overnight).

WHEN READY TO BAKE: Preheat the oven to 350°F. Line a baking sheet with parchment paper.

Use a small, 1 tablespoon scoop to form 1" balls of dough. Roll the balls in the roasted sesame seeds to coat completely. Place on the prepared baking sheet at least 2" apart. These cookies will flatten and spread while baking.

Bake for about 12 minutes, until the cookies are puffy and golden brown.

Cool on the baking sheet for 10 minutes before moving to a wire rack to cool completely.

FOR HONEY GLAZE (OPTIONAL): Mix together the powdered sugar, honey, vanilla, and milk until smooth and a drizzle consistency. Place cookies over wax paper and drizzle with glaze. Allow to set for several hours before storing.

Layer cookies between wax paper in an airtight container and store at room temperature for up to 5 days.
Notes
Packing tips
Do not add the optional glaze to the Honey Sesame Cookies if shipping.
Layer the cookies in a plastic storage container between sheets of wax paper.
Be sure to use crumpled wax paper between the top layer of cookies and the lid to keep the cookies from moving at all in transit.
For extra airtight packing, wrap the storage container in plastic wrap.
Nutrition
Calories:
144
kcal
|
Carbohydrates:
16
g
|
Protein:
3
g
|
Fat:
9
g
|
Saturated Fat:
3
g
|
Trans Fat:
1
g
|
Cholesterol:
10
mg
|
Sodium:
36
mg
|
Potassium:
56
mg
|
Fiber:
1
g
|
Sugar:
9
g
|
Vitamin A:
123
IU
|
Vitamin C:
1
mg
|
Calcium:
59
mg
|
Iron:
1
mg
The sprouted flour in this recipe was graciously provided by our sponsor Granite Mill Farms. Be sure to check out my other World Baking Day Partners: Angi from SchneiderPeeps – Chris from Joybilee Farm – Jami from An Oregon Cottage – Kathie from Homespun Seasonal Living – Liz from Project Pastry Love – Lynda from Me and My Pink Mixer – Rhonda from The Farmer's Lamp – Sheila from Life, Love, and Good Food – Susannah from Feast and West