Slice and Bake Golden Raisin Butter Cookies look like little stained glass windows sparkling in shades of brown. These crisp, buttery cookies are especially wonderful with a glass of milk or a mug of tea. The dough freezes beautifully for slicing and baking just the right number of cookies, whenever a lightly sweet treat is needed.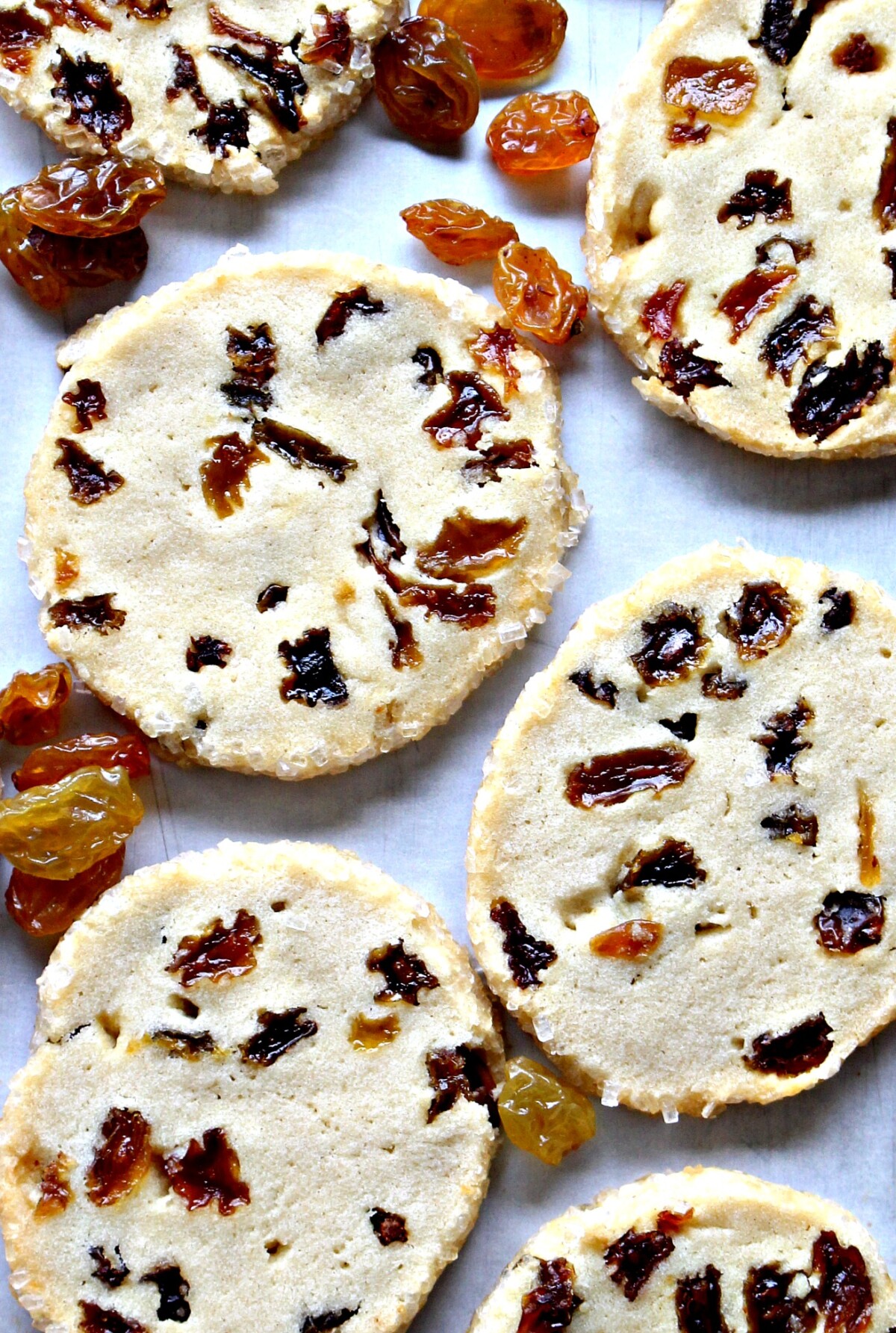 Being a food blogger means wearing many different hats. Blog posts involve research and recipe development, followed by baking (often re-baking several times to tweak the recipe).
The baked goods are photographed and the photos are enhanced with editing software. Finally, a post is written (with search engine optimization in mind), photos attached, and the publication button is pressed. That process requires wearing the hats of a baker, photographer, and writer.
It doesn't end there. Having created the post, the next step is getting the recipe into the hands of those who would enjoy it. On with the marketing hat. Promoting the post on social media, blog link parties, and recipe sharing sites sends the post out into the world.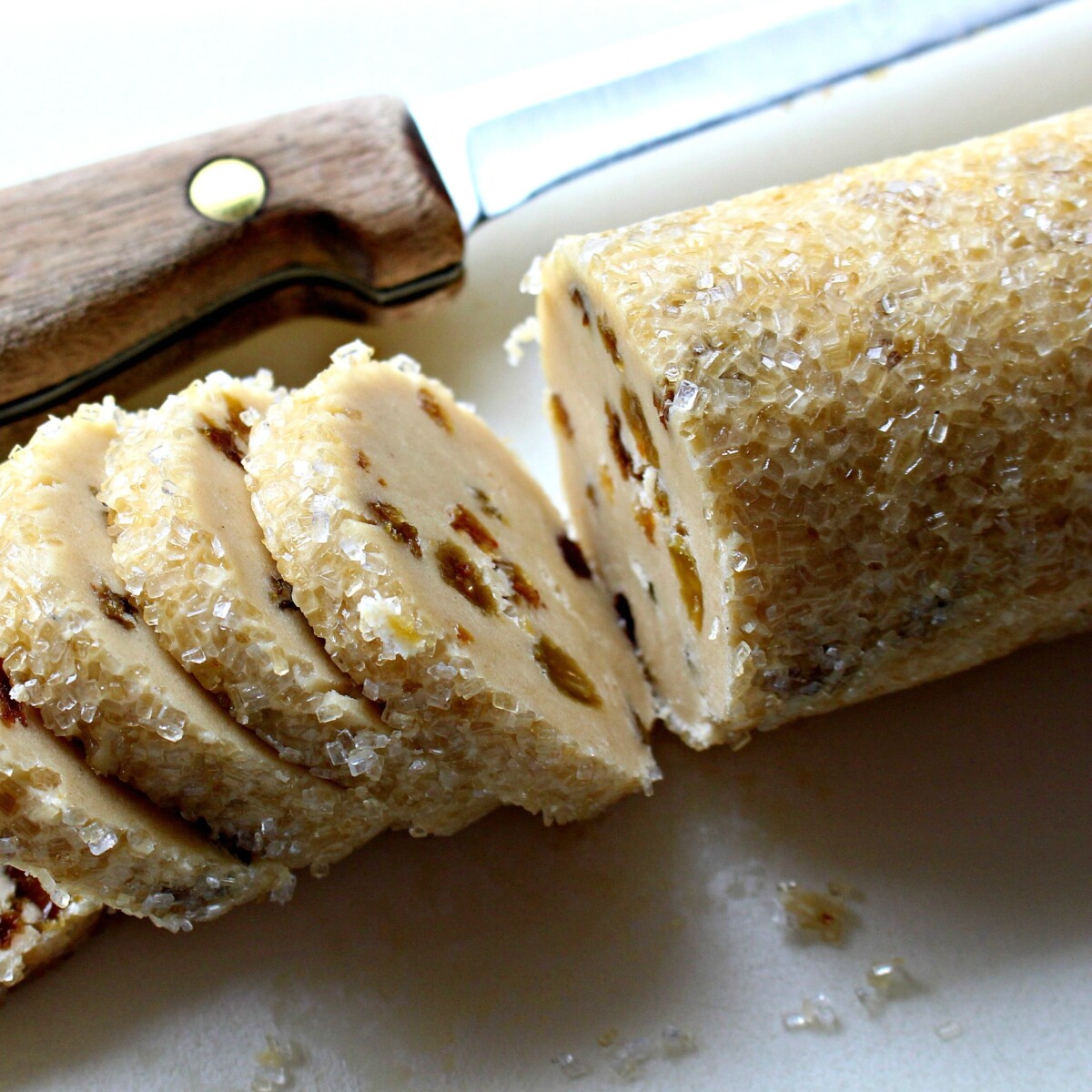 "If you build it, they will come," only works if the photos somehow capture deliciousness. We eat with our eyes first, and ugly food is rarely appealing.
Personally, I can't even get past gross names for food, but apparently I am in the minority because "unicorn poop" is an incredibly popular baking trend!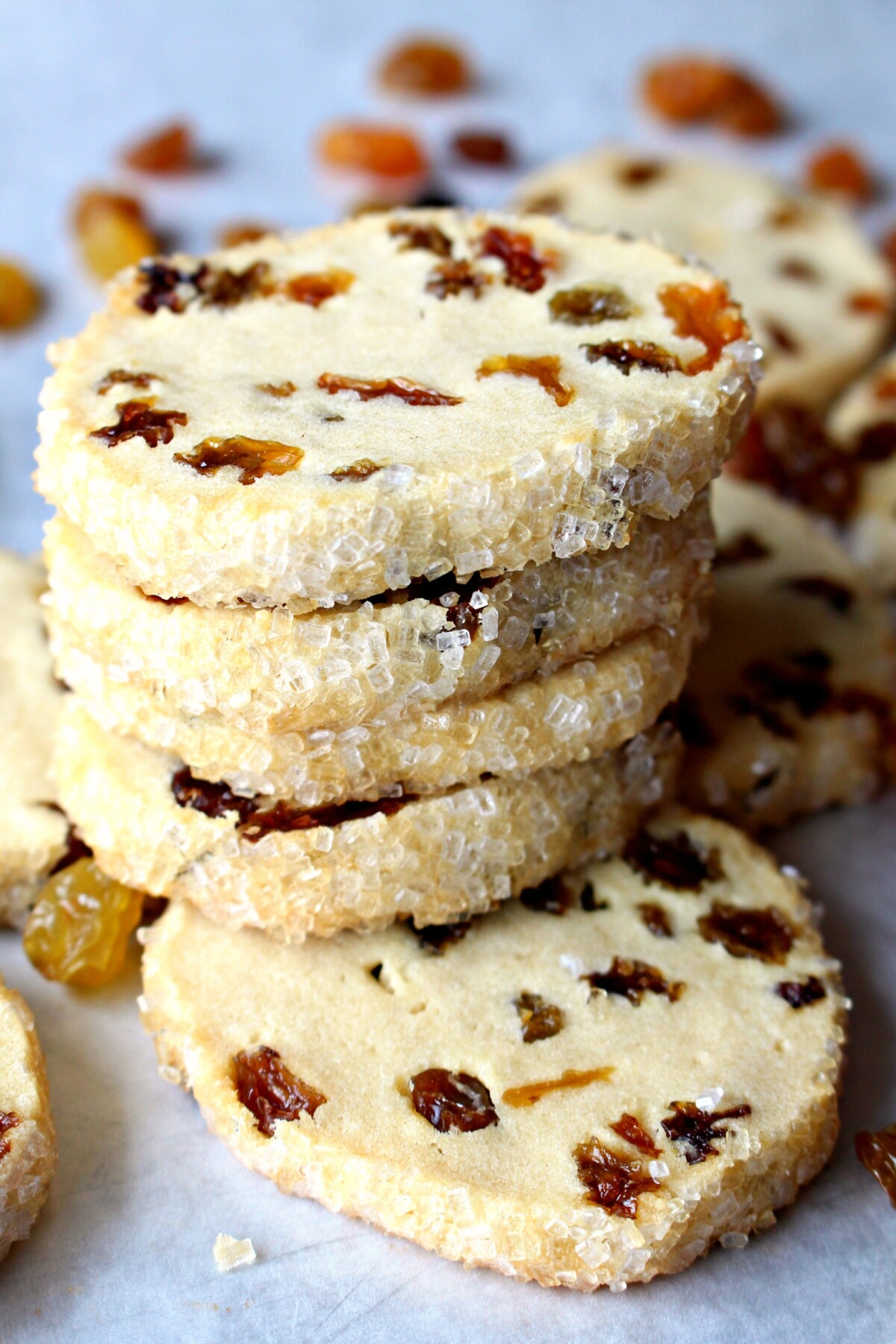 I often struggle under all of those hats. Photography is my biggest struggle.
After over 200 posts, I can see improvement (looking back at first year post photos can be cringe worthy), but I've also learned how much more there is to learn!
Photography books and courses help. Baking photogenic food helps more. As delicious as some recipes may be, if I can't make them pretty, even with tons of sprinkles, then the recipe doesn't make it onto The Monday Box.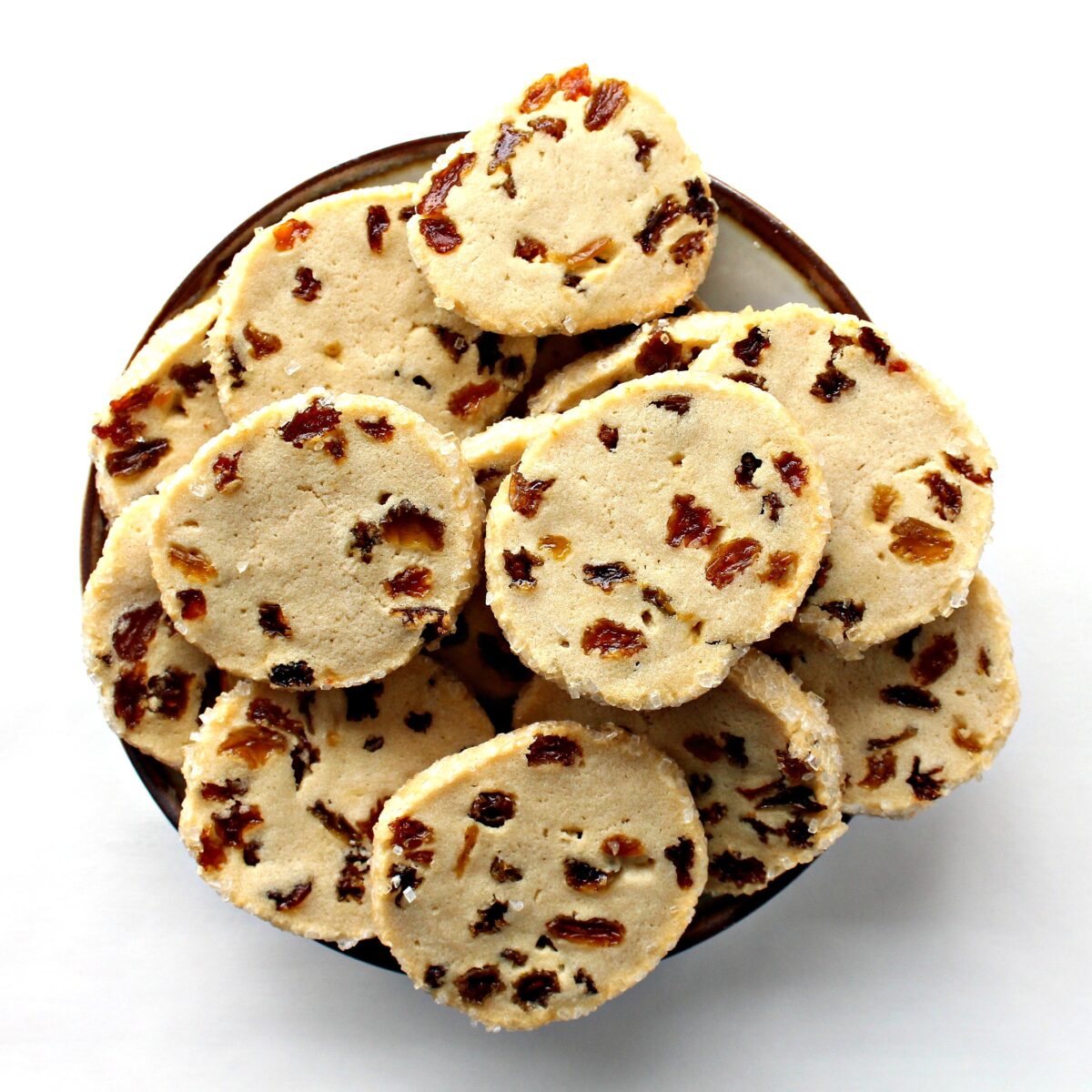 Which brings me back to these incredibly delectable Slice and Bake Golden Raisin Butter Cookies. They almost didn't make the cut.
Though I think the multi-hued raisins make the cookies look like stained glass, the dough doesn't brown when baked. The cookies get firm and crunchy, but they stay creamy white.
I hope the light color doesn't keep you from trying and sharing Slice and Bake Golden Raisin Cookies, because they are amazing. The recipe comes from Tish Boyle's "The Good Cookie" cookbook. Every recipe I've tried from Tish Boyle's cookbooks has been great, and these cookies are no exception.
Tips
 Slice and Bake Golden Raisin Butter Cookies put butter front and center. I highly recommend using the highest quality European-style butter possible for the best creamy, rich flavor.
I coated the dough logs in a combination of large crystal decorating sugar, for sparkle, and turbanado sugar for golden brown color.
Creating a compact dough log eliminates air bubbles that can cause crumbling when slicing the dough. Using parchment paper and a ruler or bench scraper makes uniform compact logs. For photos and detailed directions see the Chocolate Toffee Cookies post.
To keep dough logs rounded on all sides while chilling or freezing, place the wrapped dough log into a paper towel tube. Cutting the cardboard tube down it's length makes it easy to insert the dough.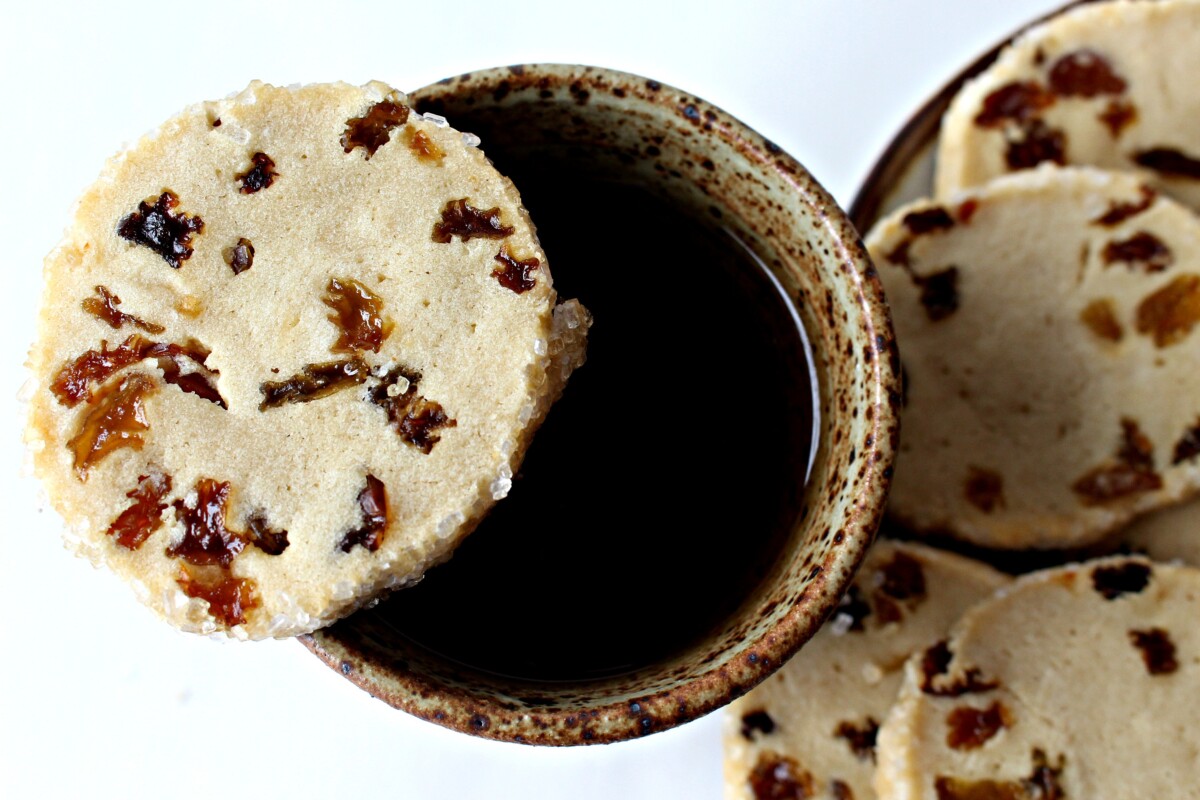 Keeping the freezer stocked with a few types of slice-and-bake cookies makes it easy to quickly bake some goodies for a care package, unexpected guests, or an after-school snack.
I highly recommend adding Slice and Bake Golden Raisin Butter Cookies to your freezer stash of tasty treats!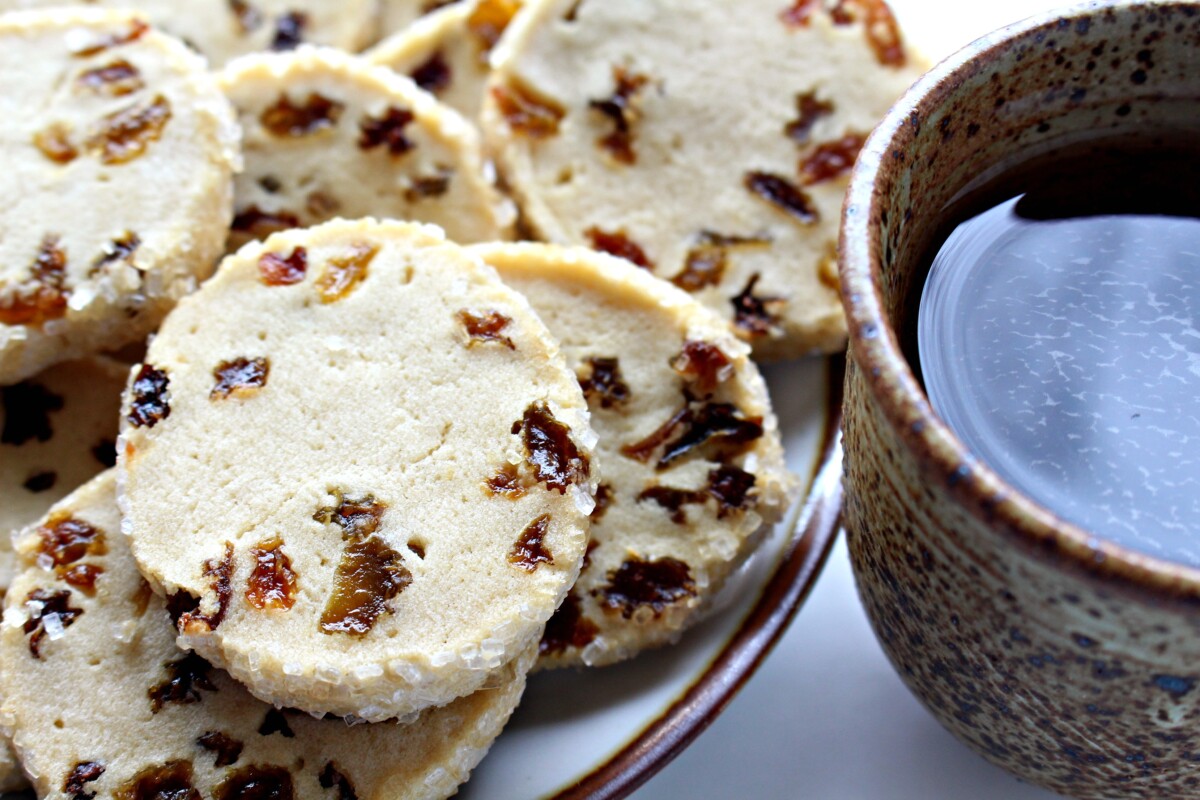 More slice and bake cookies
Green Eggs and Ham Slice and Bake Cookies
Orange Ginger Turmeric Slice and Bake Cookies
Ready to bake? Join the free membership group to get new recipes and a newsletter delivered to your inbox! You can also stay in touch on Facebook, Pinterest, and Instagram. I'd love to stay in touch!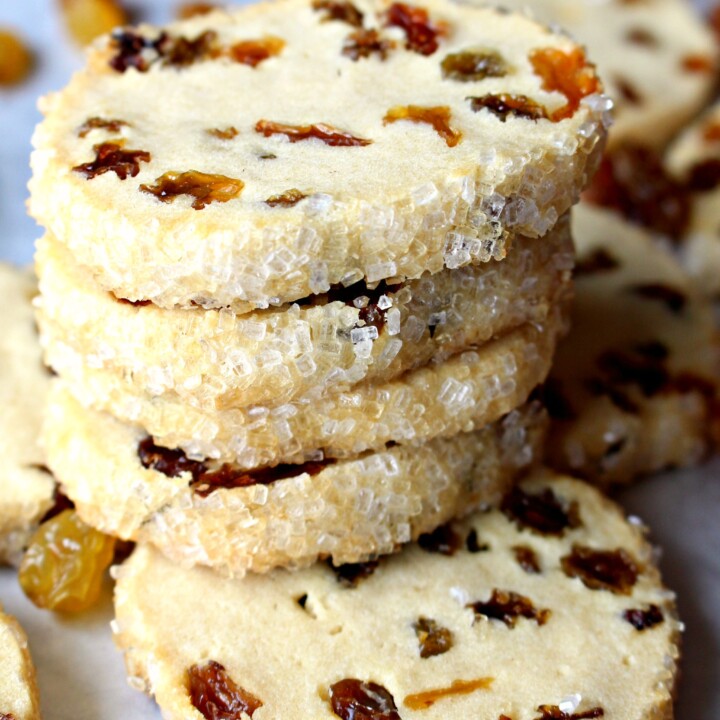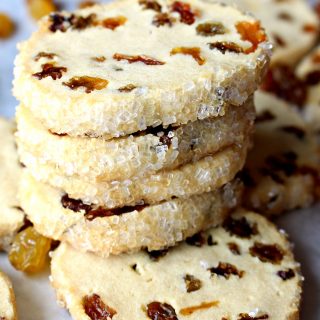 Slice and Bake Golden Raisin Butter Cookies
Slice and bake as many as you need of this crisp, buttery cookies.
Print
Rate
Adapted From:
"The Good Cookie" by Tish Boyle
Ingredients
½

cup

unsalted butter

room temperature

½

cup

confectioners' sugar

1

large egg

Pinch

of salt

2

teaspoons

vanilla extract

1 ⅔

cups

all-purpose flour

1

cup

golden raisins

½

cup

sparkling decorating sugar
Instructions
In the bowl of an electric mixer, cream together the butter and confectioners' sugar until light and fluffy.

Beat in egg, salt, and vanilla. Scrape bowl to be sure all ingredients are incorporated.

Add the flour and mix until blended.

Stir in raisins.

To make a compact, round dough log, scrape dough onto a sheet of parchment paper. Form the dough into a log by hand until roughly 12 inches long and 1 ¾ inches in diameter. Place the log into the center of the parchment paper. Fold the parchment over the dough and push a ruler edge or dough scraper against the bottom of the log to remove air pockets and compress the dough.

Spread the decorating sugar onto one half of the parchment paper. Roll the dough log over the sugar pressing gently. Repeat until the dough log is completely coated in sugar.

If refrigerating (for at least two hours), the dough can be wrapped in the parchment before slipping it into a paper towel tube to preserve the rounded shape. If freezing, wrap the log in plastic wrap, with or without the parchment paper, before inserting into the tube.

When ready to bake, preheat the oven to 350° F and line a baking sheet with parchment paper.

Cut the dough log into ¼"slices. Place at least ½"apart on the prepared baking sheet.

Bake for 9-11 minutes. The bottom edge may begin to brown slightly but the top of the cookie does not brown.

Remove from oven and cool on baking sheet for 5 minutes. Transfer to wire racks to cool completely.

Store in an airtight container at room temperature for up to 10 days.
Notes
Packing tips
Wrap pairs of cookies, with bottoms together, in plastic wrap. Place bundles in a column in a freezer weight ziplock bag or airtight container.
Nutrition
Calories:
97
kcal
|
Carbohydrates:
16
g
|
Protein:
1
g
|
Fat:
4
g
|
Saturated Fat:
2
g
|
Polyunsaturated Fat:
1
g
|
Monounsaturated Fat:
1
g
|
Trans Fat:
1
g
|
Cholesterol:
15
mg
|
Sodium:
4
mg
|
Potassium:
50
mg
|
Fiber:
1
g
|
Sugar:
9
g
|
Vitamin A:
110
IU
|
Vitamin C:
1
mg
|
Calcium:
6
mg
|
Iron:
1
mg