Crunchy Maple Biscotti are the perfect side-kick to coffee, tea, or milk! The warm flavor of maple syrup shines in this munchable dunkable treat.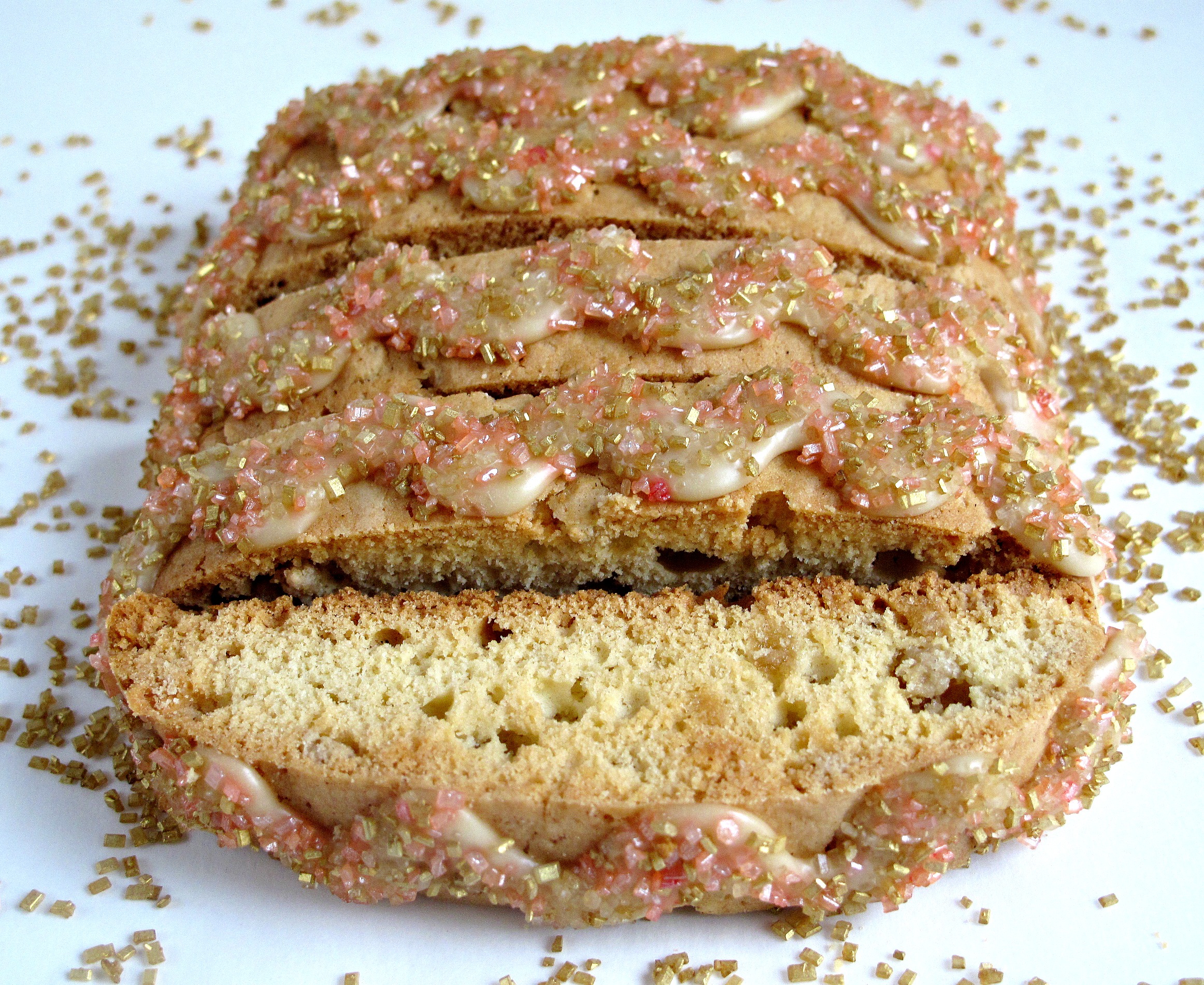 Why you'll love this recipe
Biscotti are the ultimate travel cookie. They are meant to be dunking cookies, with a dry, crisp texture which enables the biscotti to stay fresh for a long time.
Traditional Italian biscotti are very hard, as in "you could break your teeth" hard. They are meant to be dunked, not nibbled on their own.
I prefer a "dunking optional" sort of biscotti, sturdy enough to hold up to dunking, but tender enough to be munched on independently.
Biscotti made with dried fruit or jam (like Fig Jam Biscotti) often soften if stored more than two weeks, but most other biscotti (like Snickers Biscotti or Chocolate Espresso Biscotti) will stay fresh for up to a month.
This Maple Biscotti recipe makes a long lasting cookie, ideal for care packages as well as cookie jars.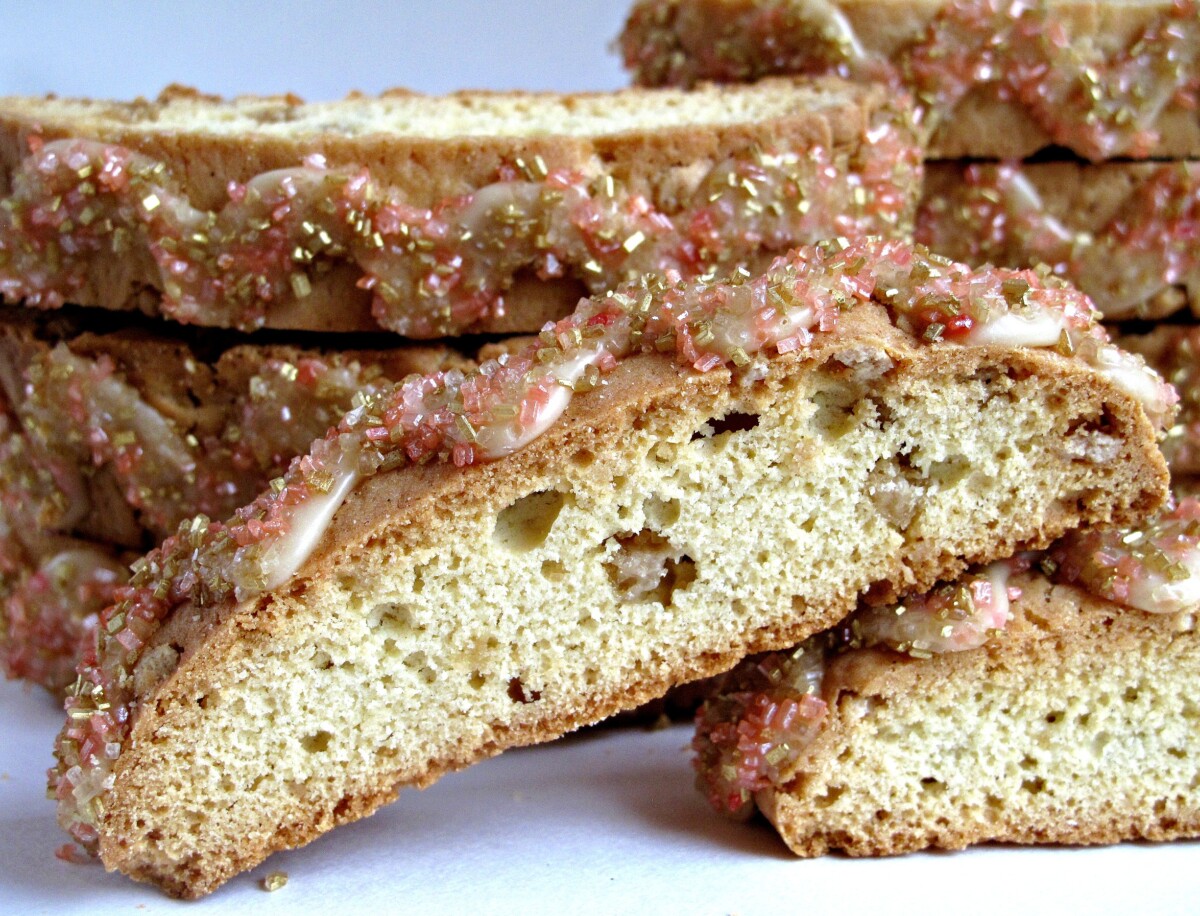 The dough can be made with either maple sugar or maple syrup. The recipe includes directions for both.
Maple sugar is made from 100% maple syrup and pours just like granulated sugar. Using maple syrup requires a little more flour and a short chilling time to accommodate the extra liquid in the dough.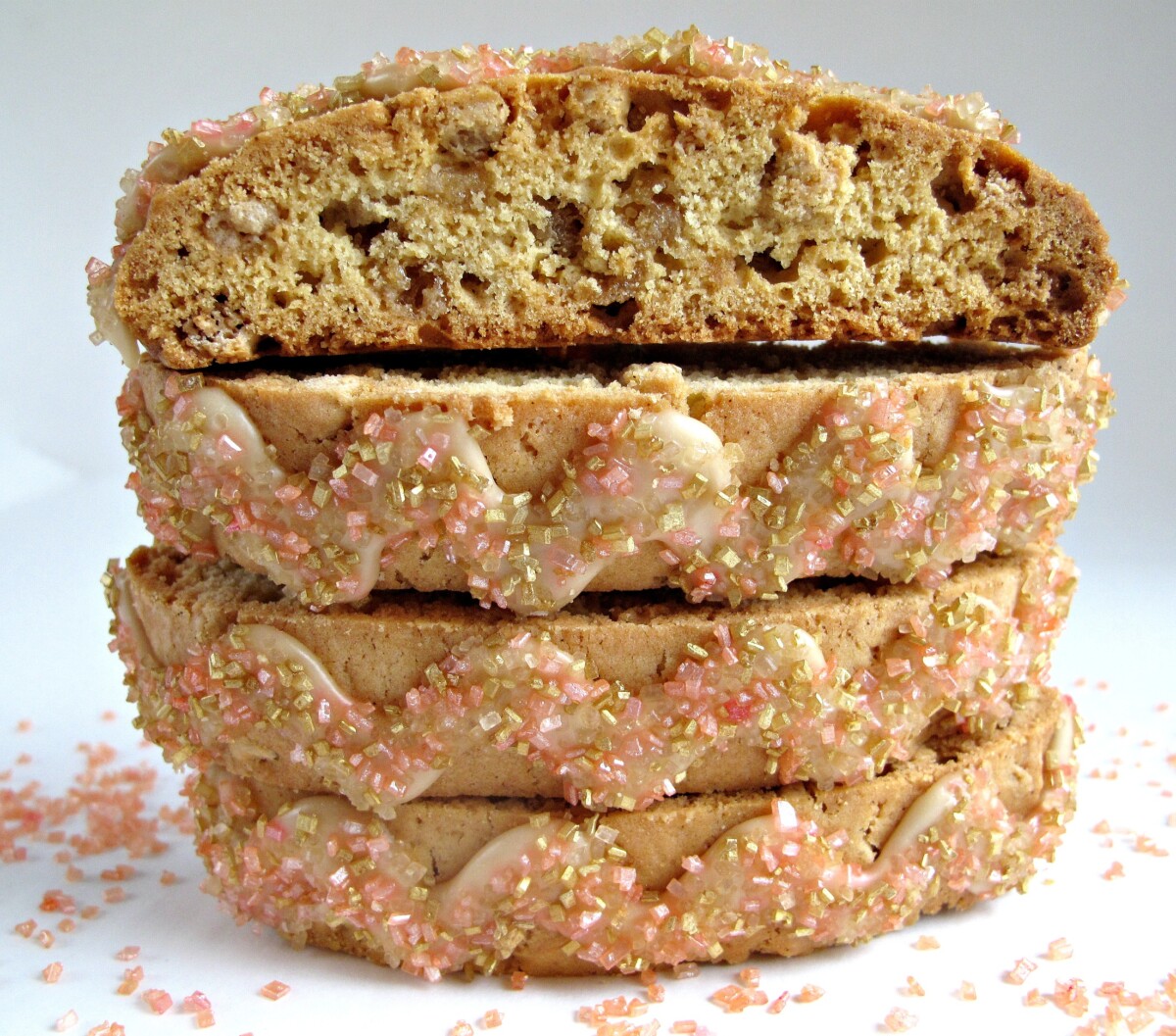 Care package shipping tips
The goals of sending a care package include the joy you get from sending your love in a box and the joy of the care package recipient when they open their care package and indulge in the contents.
Getting the contents to their destination intact and as fresh and tasty as possible requires just a bit of know how. These are my five top tips for care package mailing success.
Choose your recipe wisely. Not all cookies are created equal. The best shipping cookies are sturdy and stay fresh at least five days.
NOTHING REQUIRING REFRIGERATION (NO CREAM CHEESE FROSTING) SHOULD BE SHIPPED. That may seem obvious to some people, but I have learned that it is not obvious to everyone.
When you pack there should be zero wiggle room. Cookies that wiggle while traveling do not arrive intact.
Gently shake your box before taping it up. If you hear something moving around, fix it.
Use whatever method is available to you to wrap the baked goods as air tight as possible. A vacuum sealer virtually ensures freshness, but not everyone has one. Double wrapping in plastic wrap or bags may be the next best option.
Never store soft and crunchy cookies in the same bag/container. The cookies will share the wealth of moisture and neither will have the right texture when they arrive.
Plastic wrap/bags do NOT keep out strong smells. If something mint flavored is in a package, let it fly solo or with other mint items, otherwise, everything will arrive minty whether you intended it or not.
The same advice goes for not including scented soaps or toiletries in the same box as baked goods. Axe, Brut, and Irish Spring are not meant to be cookie flavors.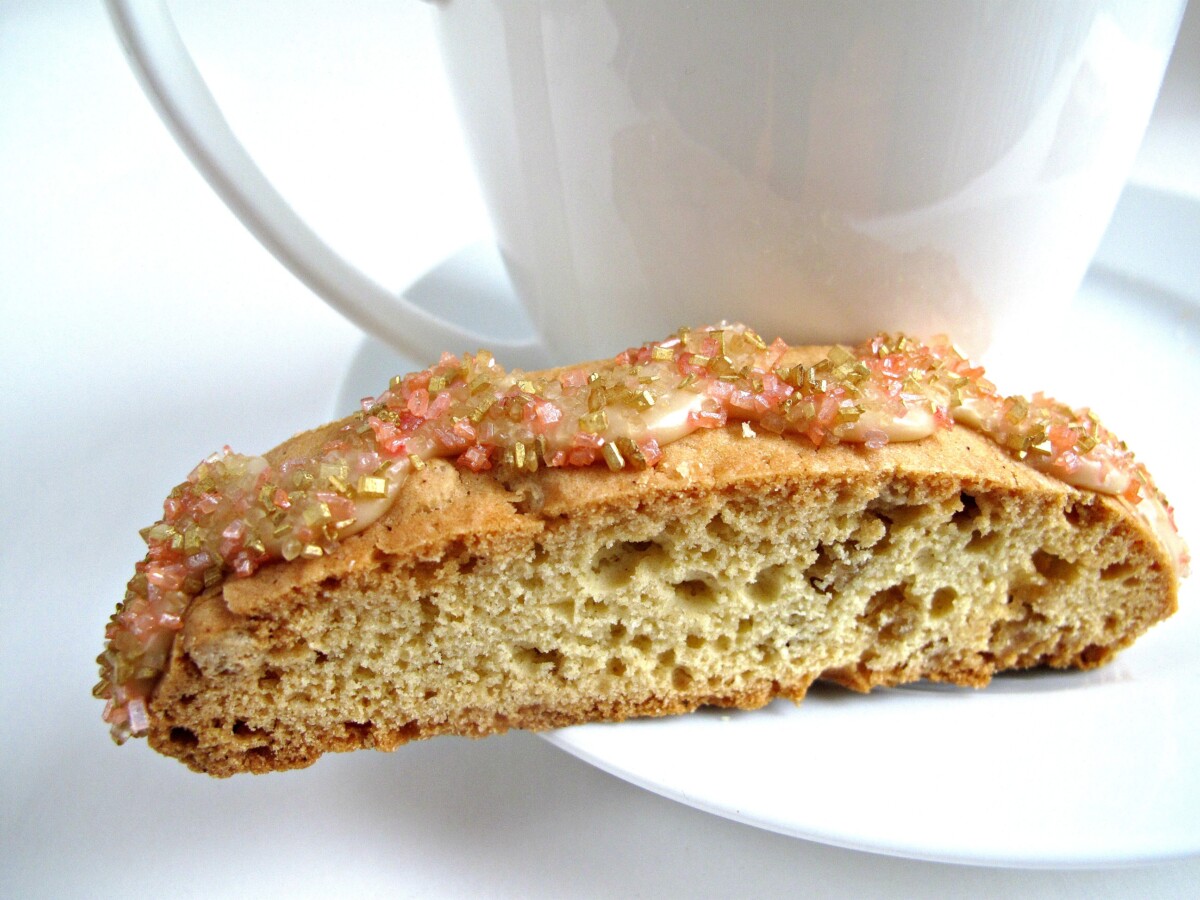 Ready to bake? Join the free membership group to get new recipes and a newsletter delivered to your inbox! You can also stay in touch on Facebook, Pinterest, and Instagram. I'd love to stay in touch!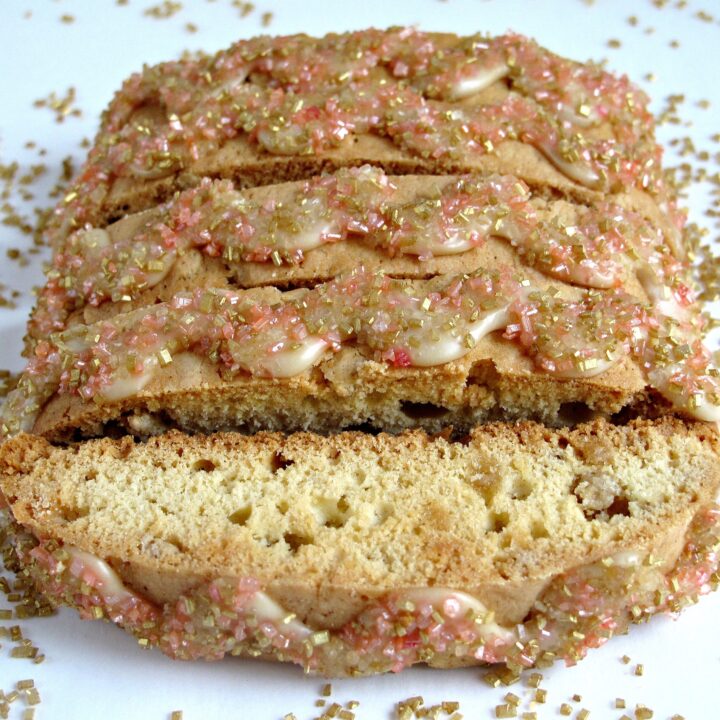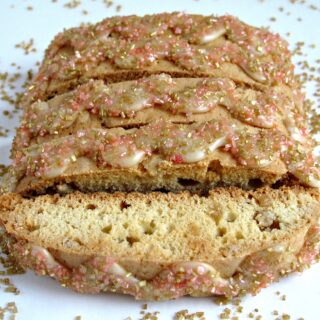 Maple Biscotti
Sweet, fragrant maple cookies for munching and dunking.
Print
Rate
Adapted From:
KingArthurFlour.com
Ingredients
BISCOTTI INGREDIENTS:

6

tablespoons

unsalted butter

room temperature

⅓

cup

granulated sugar

⅓

cup

maple sugar

**see note below for using maple syrup instead

¼

teaspoon

salt

1

teaspoon

vanilla extract

¼- ½

teaspoon

maple flavoring

1 ½

teaspoons

baking powder

2

large eggs

2

cups

all- purpose flour

1

cup

King Arthur maple Flav-r-bites

optional but recommended

**NOTE** for using maple syrup in the dough to replace maple sugar: add ¼ cup maple syrup

grade B, use an additional ½ cup flour, and chill the dough in the refrigerator for about 30 minutes before shaping into logs to reduce stickiness.

ICING AND DECORATING INGREDIENTS:

1

cup

confectioner's sugar

4

tablespoons

maple syrup

3

tablespoons

decorating sugar (I used 1 tablespoon each turbanado

orange, gold
Instructions
Preheat oven to 350˚F. Line a baking sheet with parchment paper.

In the bowl of an electric mixer, combine butter, sugar, (maple syrup if using), salt, vanilla extract, maple extract, and baking powder.

Beat in eggs.

Gradually add flour just until combined.

Stir in Flav-r-bites.

Place half of the dough onto the prepared baking sheet and, using your hands and a spatula, form the dough into a smooth log approximately 10"x 2" and about ¾" thick. If the dough is too sticky to handle easily, refrigerate for 15 minutes. Repeat with the other half of the dough. Allow at least 4" between loaves for spreading.

Bake for 20-25 minutes or until golden brown.

Allow dough logs to cool on the baking sheet for 10-20 minutes before slicing. Slice straight across the log, cutting about 12- ¾" thick biscotti from each log.

Stand the biscotti on the baking sheet, close but not touching.

Bake for an additional 15-20 at 325˚F, just until sliced sides of biscotti turn golden.

Cool completely on a wire rack before icing.

Icing: Place confectioner's sugar in a medium bowl and add maple syrup 1 tablespoon at a time until desired consistency.

Using a spoon to drizzle or a piping bag, add icing on the top of each biscotti.

To add decorating sugar, immediately after icing each biscotti, hold over a bowl of decorating sugar, sprinkle the sugar to cover the wet icing. Gently tap excess sugar back into the bowl. Sprinkle each biscotti with decorating sugar before going on to the next.

Allow to dry completely (about 1-2 hours depending on humidity) before moving.

Store in an airtight container at room temperature for at least 2 weeks.
Notes
Packing tips
Do not ice the biscotti if mailing to or from a hot location. Double wrap 2 or 3 biscotti in plastic wrap, cut sides together. Place bundles in an airtight container or zip lock bag.
Nutrition
First Published: October 15, 2014. Last Updated: May 8, 2021. Updated for better readability and user experience.
Save